Lake Placid, NY is one of our favorite winter wonderlands. We've traveled there for a few winter breaks now and even Christmas. It's closer than Canada and often a better value than the resorts across Lake Champlain in Vermont.
As long as the weather remains cold and snowy, and you pack clothes that will keep you warm outside, there is a lot of fun packed into this Adirondack town.
There are plenty of things to do with kids. Most are fun for all ages. And you don't have to be super outdoorsy or athletic to enjoy this town (though it certainly helps).
We usually aim for a five day stay because there is a enough to do and it's a good six-to-seven hour drive from New York City. But plenty of people do weekend getaways, especially if they're in town to see any of the races and competitions that happen all winter long.
What's New: In 2023 Lake Placid is hosting the World University Games, the largest amateur multi-sport competition after the Olympics. So they have been doing a lot to modernize the winter sports facilities and spiff up the town (you can admire newly paved Main Street,for starters).
Here are 10 things to do in Lake Placid during a winter vacation with kids.
Read more:
My review of 2 great family-friendly hotels right in town.
• Read about our favorite Lake Placid's Top Kid-Friendly Restaurants.
11+ Essential Things To Do on a Lake Placid Winter Vacation With Kids
Try A Winter Sport
Lake Placid hosted two winter Olympic Games, in 1932 and 1980, and has remained an important training and competition center for snow and ice sports. Regular folks like you and me have access to some of these facilities, which makes for great skiing and skating. And when you aren't participating you can often still watch.
Go Skiing at Whiteface Mountain:
Skiing at Whiteface Mountain Ski Resort is a not for sissies. There are longer, more challenging runs than you often find in the Northeast and it isn't crowded. And they've gotten new snow-making equipment ahead of next year's games.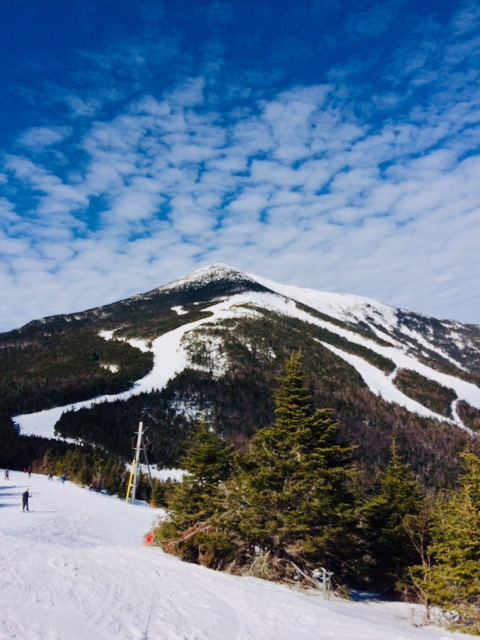 Even if you don't ski you can take the scenic gondola ride. It's worth it for the views and for the bird's-eye view of the skiers and snowboarders heading down the slope. Once the cold wind hits, they might be jealous of you stepping back into the warm gondola for the ride down.
Whiteface is about a 20-minute drive from Lake Placid; give yourself a good half-hour to get there, park and find your way around, especially if you're taking lessons.
Whiteface Mountain Weather: Skiers sometimes call the mountain Iceface because it's always five to ten degrees colder on the mountain than it is in town and it's known for being windy and icy at the top. Dress in lots of layers before you head out to ski and consider bringing a stash of hand and food-warmers, especially for kids, who get cold quickly.
Ski Lessons:
The ski school is expensive and I'm sorry to save we've had a somewhat mixed experience with it.
On our most recent visit we got a three-hour private lesson for Teen Traveler and a friend. Neither had skied in a few years and had not yet gotten past snowplowing down the hills. The instructor had both girls confidently doing more advanced turns by lunchtime.
When she was 5, Tiny Traveler did two morning half-day (90-minute) classes and they pushed her enough that we saw her skills improve.
But even on a day when it was 9º they didn't take any warm-up breaks and Tiny Traveler was a frowning popsicle when I picked her up at lunchtime.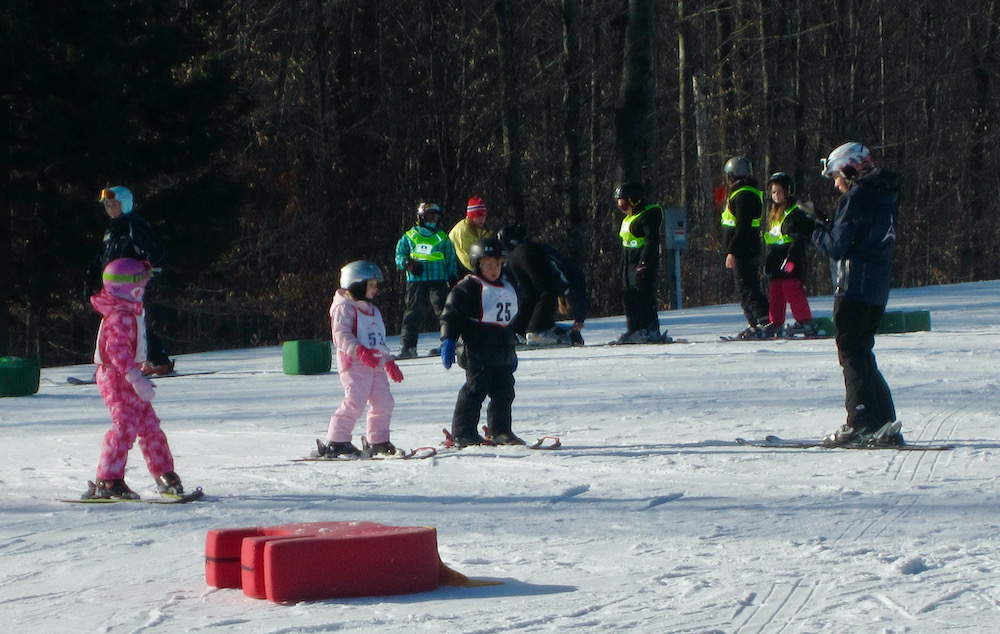 At age 7, despite it being Winter Break week she was with an instructor and one other child for the whole day. She spent the whole day on the long gentle junior slope and improved a lot in her skills and confidence.
But we went back at age 9, I told them when I registered by phone and when we checked in that she was an experienced, intermediate skier and we wanted her to learn to keep her skis parallel. She still wound up on the bunny slope all morning "learning" to snowplow.
While they did take her on the lift in the afternoon she didn't learn anything new. My husband saw groups of kids at her level kids on the slope and when I called customer service afterward they confirmed that they do offer intermediate group classes. Clearly there was a miscommunication but at the very least the instructors should have realized once the lessons started that she was in the wrong group.
We felt we'd somewhat wasted $180 and she would have been better off skiing with her dad for a $58 lift ticket.
My advice: When you drop off your child, especially during a busy brake week, ask to speak directly to the instructor or stick around until the classes start to make sure your child is in the right group.
Tip: The ski school is in a separate building from the main lodge and has its own parking lot. Coming from Lake Placid, pass the main entrance and turn in at the next parking for the school and the junior hills. If you park at the main lot, getting to the school will mean taking a shuttle and it's a bit of a pain.
Go Cross-Country Skiing:
If there is snow on the ground—and these days this isn't a certainty—Lake Placid has great cross-country skiing.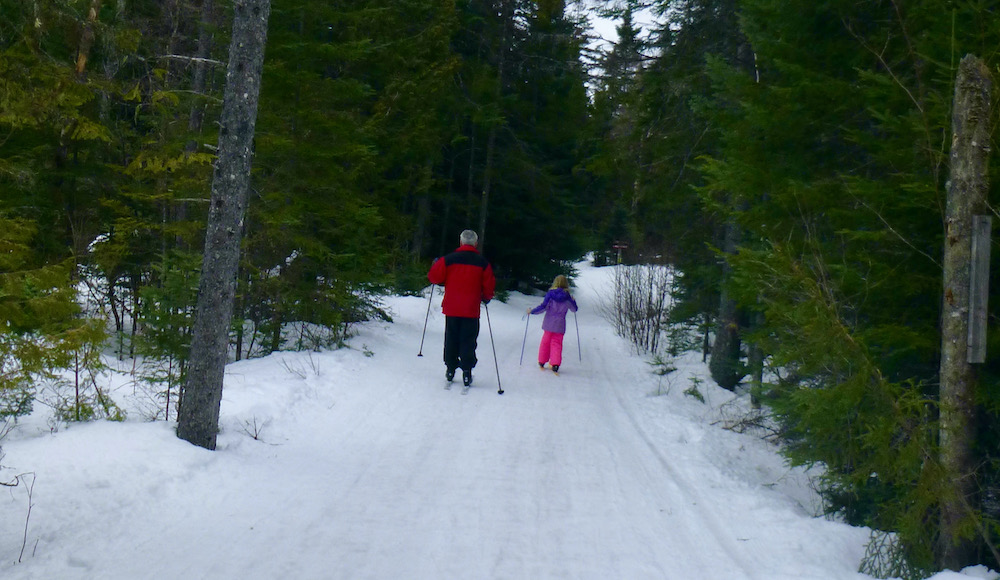 1. We really like Cascade Ski Center and have returned a half dozen times now. It's close to town, the trails are scenic and well maintained and we can find enough paths that suit our level for a good couple of hours of skiing.
They had a comfortable lodge where you can have take a lunch break or have a beer and hot cocoa after you're done skiing (though it was has been closed for Covid.
They've had the same great ski instructor there for ten years or more. At age 7 he had tiny traveler happily sliding along the trails in about an hour. At age 9 he taught her to deftly use poles in about as long. At 14 he gave her and our friends a refresher that had to two kids racing ahead of us on the trails.
Rentals and trail passes for a family of four is about $120. Lessons for two adults and kids was another $100, a fraction of what downhill skiing costs.
Weather & Clothes: The trees block the wind so it's often warmer on Cascade's trails than it is in town. On days when it's been too cold to downhill ski we've skied here quite comfortably. Keep in mind that this is a very aerobic activity and your core will heat up quickly. But your fingers and toes can get cold; so wear your warmest gloves and warm socks that are not too bulky.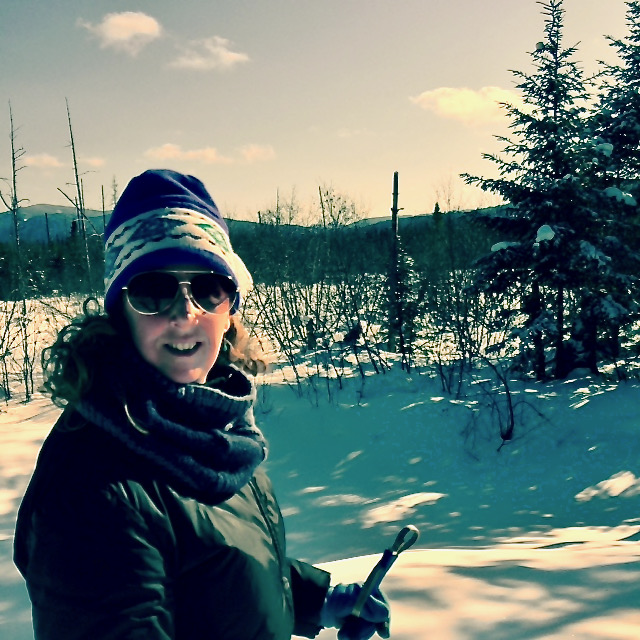 Note: The Adirondack Mountain Club bought Cascade from the family that had owned. It intends to keep the Nordic skiing and snowshoeing and also use it as a base for hiking and educational activities in the other seasons. They hope to keep the lodge, too. But still, be on the look out for changes next winter.
2. There is also cross-country skiing at Mt. Hoevenberg, which hosted the Nordic ski races during the Olympics and still hosts competitions and training. We've never skied there because it's further from town and costs a bit more than Cascade—and I'm kind of intimidated by the idea of skiing trails made for Olympic athletes.
But it has new snow-making equipment, which means there could be skiing there when other trails have no snow on the ground. And it has a new lodge with a café and nice places to sit and warm up. If you are a real cross-country enthusiast I would say you have to give a go at least once.
3. If you have your own skies there are plenty of other trails in the area. The 15-mile-long Jack Rabbit Trail runs from Keene through Lake Placid and Saranac Lake with several trail heads along the way.
Ice Skate:
There's no winter activity that I like better in Lake Placid than gliding down the long stretches on the 400-meter speed-skating oval. It's fantastic.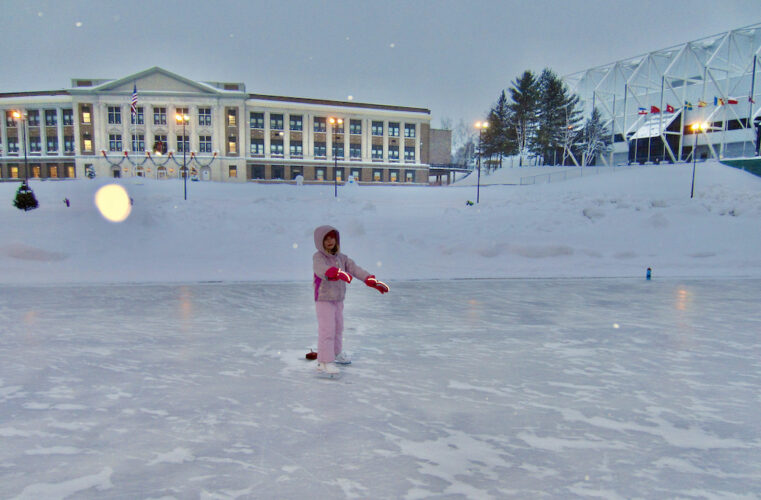 It's so big it took Tiny Traveler almost an hour to scoot around twice when she was 5. At 14 she zips around.
They've completed upgrades on the rink that include new buildings and a modernized freezing system. The main building wasn't open yet when we were there but there is a shed for renting skates and lean-tos for putting skates on. They protected us from the wind but when it was only 2º it was hard to tie our skate laces without getting a little frostbitten. They're making plans for keeping them warmer this winter.
They had warming lamps and piles of wood for bonfires but the fires weren't lit up when we were there.
Get Ready To Go!
Bundle up with these excellent cold-weather clothes for the whole family.
Download and print my winter packing list!
See The Olympic Sights
Tourism in Lake Placid centers on the Olympic Games it hosted in 1932 and 1980. You can enjoy these sites even if you aren't all that sporty yourself.
At age 6, Tiny Traveler was bored when we plied her with Olympic facts and history. I think tweens and teens who know some of the big Olympic names and have seen the winter Games will be a little more wowed by it all.
Still, the first time you visit you should see everything.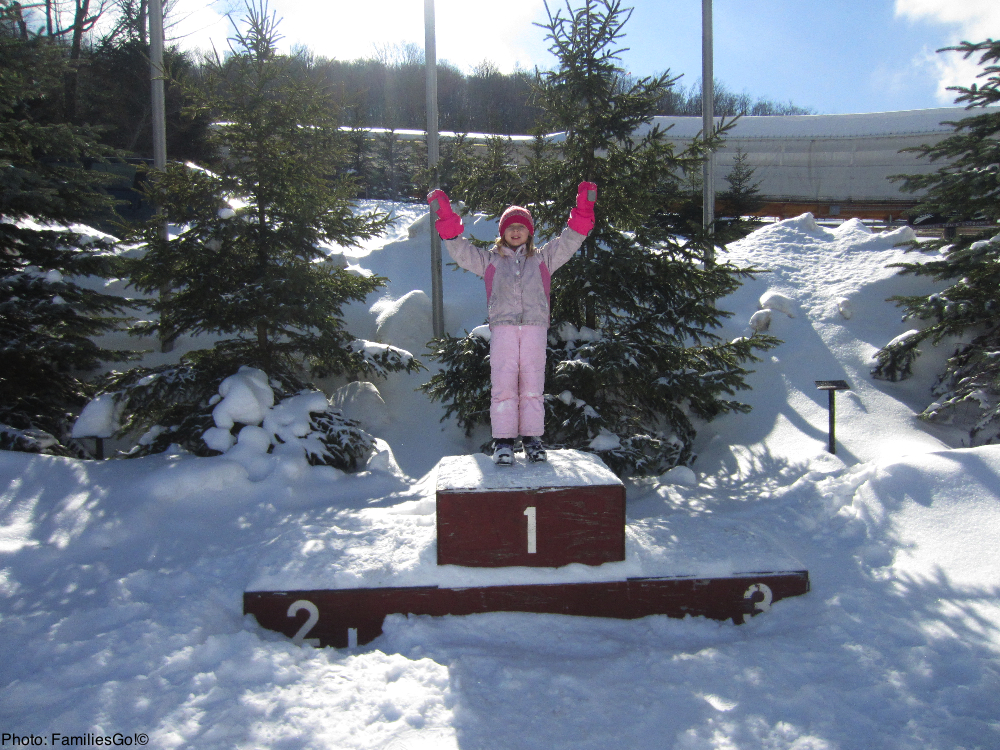 1. Hockey Fans and children of the Reagan era will want to visit the Olympic Center next door the skating oval. There's a small Olympic Museum with photos and memorabilia from both of the town's winter games. The Herb Brooks Arena, one of three rinks in the building, is where the 1980 "Miracle on Ice" happened. On most winter weekends you'll find hockey tournaments and figure skating competitions happening here.
2. At the ski-jumping center you can take a gondola to the base of the tower (another very welcome upgrade from the the old chairlift). Then an elevator that takes you to top of the jump. From here you can see just how high the ski jump is and appreciate how much fortitude the sport requires. There's also a nice view of the countryside.
3. Mount Hoevenberg is also the center for all the sliding sports: bobsled, skeleton and luge. Hope to catch some of the athletes are doing practice runs while you're there. It's amazing how loud and rumbling the sleds are on the ice and how fast they whiz past you.
Watching a skeleton rider shoot by high up on the track wall like Spiderman on a sled gives you new and profound appreciation how crazy brave and skilled those Olympic athletes are.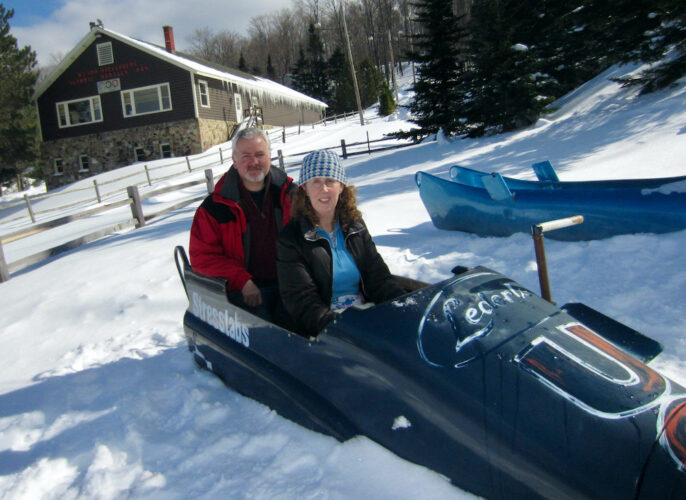 4. You can a an aweful lot of fun at Mt. Van Hoevenberg—and spend an awful lot of money.
The Bobsled Experience lets two people ride down the bottom half of the bobsled track with and experienced driver and a breakman. You can reach up to 55 mph during the 50-second run. The ticket price comes out to about $5 per second for two people.
Mount Hoevenberg also has a Cliffside Coaster, a mountain coaster that brings you to the top of the run and then you can control the speed of your descent along the track with a handbreak.
It's the longest such coaster in the U.S. and parrallels the complete bobsled track, so it's a less intense and considerably less expensive way to get a real sense of what the bobsledders do. It's $55 for an adult and child or a single person old enough to ride alone. It's operates yearround, but has to close when the temperatures drop too low. So we weren't able to try it on our last, very cold visit.
Money-saving Tip: All the Olympic sites have long sold an Olympic passport that includes admission to the major attractions and discounts on things like equipment rentals and the Mt. Van Hoevenberg attractions. They's suspended it partly for Covid-19 and I think because the sites have all been closed from time to time for their various upgrades. If you make the most of it, it's a good value. Hopefully it will make a comeback sometime in 2022.
Visit High Falls Gorge
High Falls Gorge is a mile from Whiteface going toward Lake Placid. They entry fee is higher in winter than summer but it includes entry to the Gorge, micro spikes to attach to your boots if its icy, marshmallows to roast over their outdoor fire and a warm drink after your walk.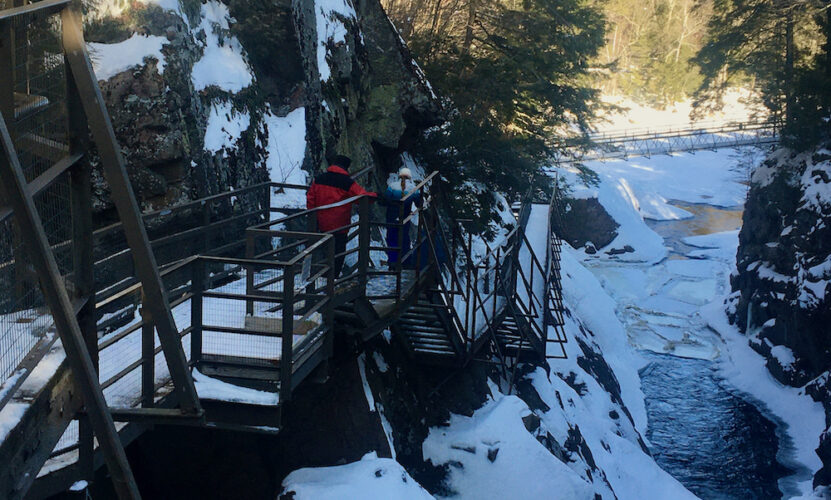 It's all ice if you visit during a cold snap, but the microspikes work really well. The half-hour walk across trails, steps and bridges was impressive with tumbling falls, ice formations and icicle curtains creating an exotic landscape.
After the walk we make a beeline for the campfire with marshmallows in our pockets for toastin). Then we head inside for cocoa, tea and lattes. It's usually quiet and easy to snag a café seat neat both the iron woodstove and the windows.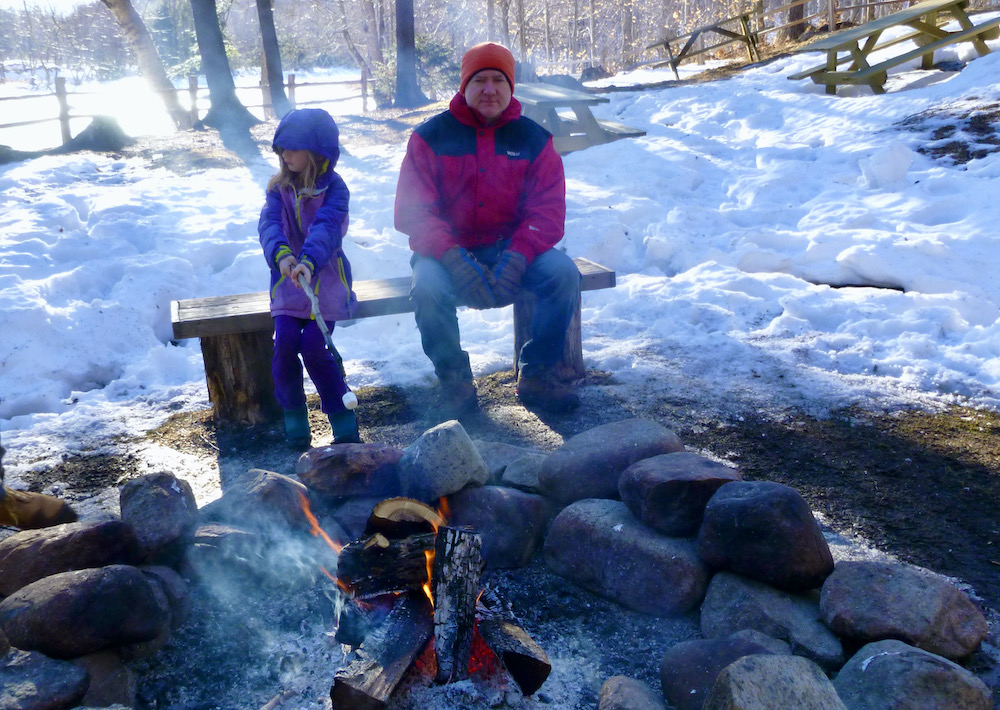 When it's not Covid-19 the café sells sandwiches and soup and has wine and a few local beers on tap. We've stopped by aprés ski just to warm up in the cafe without even visiting the gorge.
The admission fee seems a little steep for the amount of time we spend there but it's a nice way to spend a morning when you need a break from skiing and skating. And it's especially worth doing in the winter when most other gorges and chasms aren't accessible.
Take Some Mom Time: Spa Treatments & Wine
Since I don't ski I oten drop the family at the mountain and come back to town for some spa time.
1. This time around a girlfriend and I checked into the ADK Foot Sanctuary conveniently located right next to our hotel on Main Street. Sanctuary is the right word.
Our "simplicity" treatment started with us settling into a comfortable love seat with heated neck wraps and cozy blankets over us, which was enough to make us feel like taking a nap. Then the massage therapist did some aromatherapy and put our feet in an aromatic soaking bath with hot stones on the bottom. After our feet were loosened up a bit by the soak there was a very thorough and soothing foot massage, followed by a little more aromatherapy.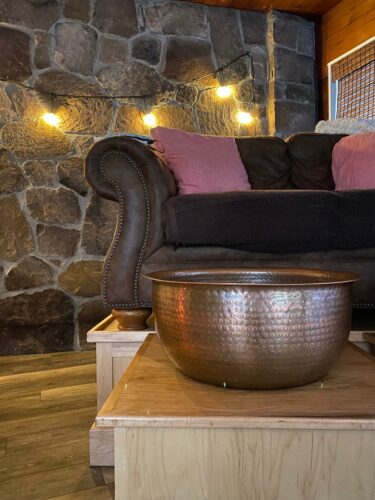 You can add on different kinds of aromatherapy, foot soaks and scrubs, moisterizing treatments and scalp massages. But "simplicity" was enought to make me feel like a whole new person after subjecting my feet into ice skates, cross-country ski boots, snow boots and freezing weather all weekend.
They were surprisingly busy and we go the last appointment available for a few days, so call ahead if you want to experience your own foot-massage zen.
2. On a previous visit I found a Groupon for the amazing spa at the Whiteface Lodge. The package I booked included a 50-minute massage, plus as much time as I wanted in the spa's steam room and sauna and access to the hotel's lovely indoor/outdoor heated pool and hot tubs.
I often find 50 minutes is just enough to leave you wanting more. But this was thorough and she worked out the kinks from my cross-country adventures the day before.
While there were a couple of families using the pool, it was nothing like very, very busy and splashy scene that plays out at most hotel pools in the afternoon when families return from skiing and all their various activities. It was a truly relaxing day.
3. In a town built around athletes it's not hard to find a good massage. If you aren't up for that much of a splurge or don't need to make a day of it, I've had very good experiences at Balanced Body Work on Main Street.
It gives excellent mixed-style massages in a cozy space. It can be hard to catch them in the office, but if you call to make an appointment they respond quickly.
If you have time to kill before meeting your with your skiers, stop into the Taste NY store upstairs in the Whiteface ski lodge. Have a glass of New York wine with cheese and other snacks produced around the state while you watch the skiers take their last runs of the day.
Hit The Lake
If you're lucky Mirror Lake, which is the lake the town actually sits along, will freeze while you're there, becoming a public backyard for snow forts, ice skating, hockey and dog-sled rides.
Skating on the lake is nothing like a zambonied rink. At ages 7 and 9 Tiney Traveler didn't like having to navigate all the bumps and cracks in the ice. At 14 she thought it was great to have the whole lake to skate on in any direction she wanted.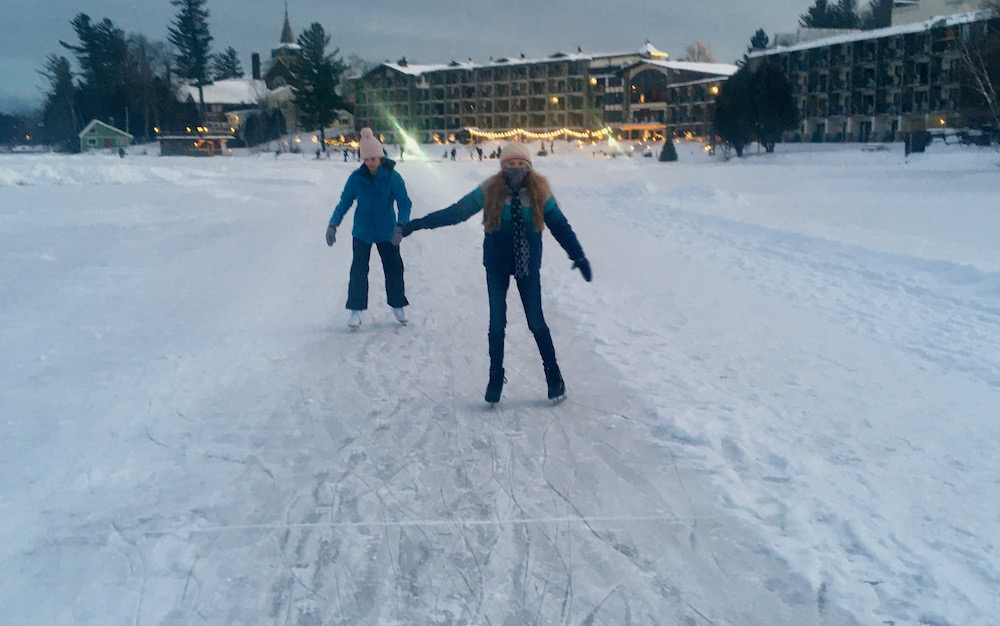 There is a toboggan run that shoots screaming kids onto the ice. We've never worked up the nerve to try it but our friends think it's tremendous fun. There's often a line on weekends but it moves quickly. You'll find the hours posted in hotels and around town.
If the lake isn't frozen:
Or even if it is, take a walk entirely around Mirror Lake. It's about a mile and easy to do with kids, but not definitely not with a stroller.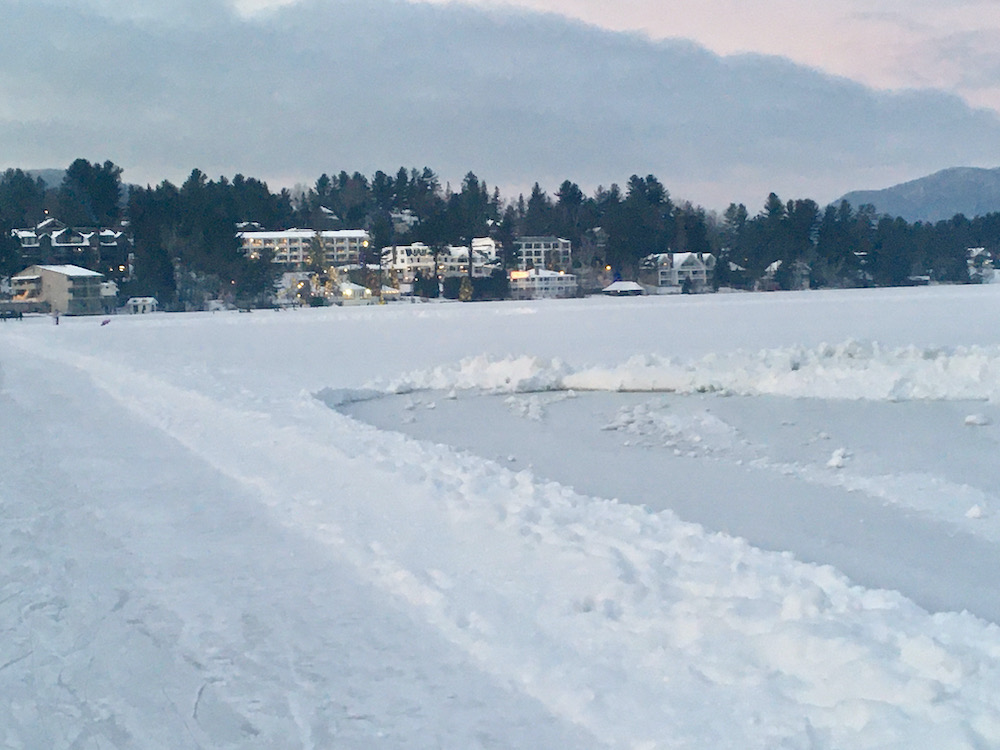 At dusk you get nice views of the lit-up town from the far side. And it's an easy way to get exercise without having to strap on skis or skates.
---
Planning a Trip?
• Find the best prices for rooms at the Golden Arrow and the Crowne Plaza.
• Check Rates for other Lake Placid hotels.
• Rent a cozy Adirondack cabin steps from the lake and town
---
Walk Around Town
Main Street in Lake Placid is good for a stroll. At 14 Teen Traveler spent a good hour on her own one afternoon, browsing the book store and souvenir shops, sampling fudge in the candy stores and selecting a handful of filled chocolates in the chocolate shop
When she was younger, Tiny Traveler liked the store windows, especially at Christmastime, decked out for the holidays with an Adirondack touch (think Santa Clauses in flannel, skis and moose).
There are also the requisite sporting good shops if you need glove or want to get your skates sharpened. And our most reason visit we saw a store called Just Bead It! at the far end of Main Street. They offer jewelry making with a lake view. We didn't try it but it seems like a good thing to remember if you have tweens and the weather turns against you, or they need a break from snow sports.
Pin it for later!
All photos by FamiliesGo! except ADK Foot Sanctuary, courtesy of the spa.