The Hotel: Gaylord National Resort
The Location:
National Harbor, MD (Washington, DC)
The Vibe:
Everything about the Gaylord National Resort is impressive and entertaining in the larger-than-life way Las Vegas hotels are. Everything is big from the soaring glass atrium and tall glass elevators to the sprawling cocktail lounges and dancing fountains.
Given that it's so big and that it connects to a convention center it's not surprising that it's also very busy. The elevators are never empty, the pool is always buzzing with kids, the lobby bustles like Times Square.
Hotels on this scale are not everyone's cup of tea, but I thought the visuals and the vibe were fun. The size does not detract from the polite, helpful service and the location and amenities makes it the most family friendly hotel among the several we've stayed in around Washington, D.C. over the years.
Read More:
• My 10 Tips for Visiting Washington, DC with Kids
• 10 Unique Things to do in Washington DC with Kids
The Room:
Our double room at Gaylord was a standard size and was pleasantly bright. It had two bathroom sinks that were separate from the rest of the bathroom, which is handy for families and free Wi-Fi.
We had balcony overlooking the glass atrium, which provided great views of both the harbor outside and activity in the busy shopping plaza below. We enjoyed sitting out there in the morning with our laptops and coffee (wish they had outlets out there!). It would have been a nice place to sit with a glass of wine or dessert while enjoying the nightly light show but we didn't have a chance.
The Amenities:
The focal point of the Gaylord National is the 19-story glass atrium and its shopping plaza, which resembles colonial-era Alexandria, just across the river, and has an open-air feel even while being indoors (which is nice in a hot Washington summer). We made a point of only riding in the glass elevators so we could feel ourselves rise above or descend down into this little village.
There are fountain shows three times an evening and a laser show at 9:30; both feature a lot of Aaron Copeland music, which is suitable to the resort's capital location.
The fountain shows are nice to catch but the laser show is a must-see. With effects we'd never seen before like ribbons of multi-colored lasers it put the planetarium laser shows of our youth to shame.
We watched the show from the Belvedere lobby bar, which has great views of the sunset, harbor and atrium for those who don't have inside-facing rooms.

La Pienza has a well-above-average breakfast buffet with quick made-to-order omelets, nice bakery items and fresh fruit. There are places to grab coffee and muffins if you want something simple.
We were there midweek but the weekend brings more extras for families, like live music and afternoon movies at the pool, which make the Gaylord a destination for an easy weekend family break.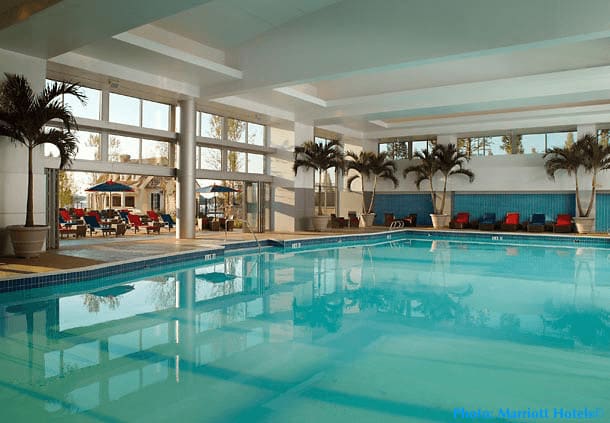 Given the emphasis Gaylord puts on splashy visuals we thought the pool was a surprisingly basic. It's big—half of an Olympic pool—but it's three-and-a-half feet all the way across with no bells and whistles.
The shady outdoor patio has plenty of lounge chairs (a rarity at hotels), a splash pad for little kids and two hot tubs for guests who are 18+ (the lifeguards enforce this rule even when the only people at the pool are families, which was a bummer). If I'd had a child old enough to swim without supervision or young enough to be happy with just the sprinklers, this is where I would have camped.
The pool has wide stairs for little kids to play on and apparently they open the glass walls on weekends to give room a more indoor/outdoor feel. The good thing about such a large pool is that even with a dozen or so kids in the water we didn't feel like people were on top of each other.
The downside is that sound bounces off the walls quite a bit and the room always seemed loud relative the number of people swimming (we have a kid who doesn't like loud so we notice these things). We swam and enjoyed it but would have spent more time poolside had there been better acoustics and looser hot-tub rules.
Wi-Fi is free. Parking is paid but your room key gives you access to come and go as you need to.
The National Harbor: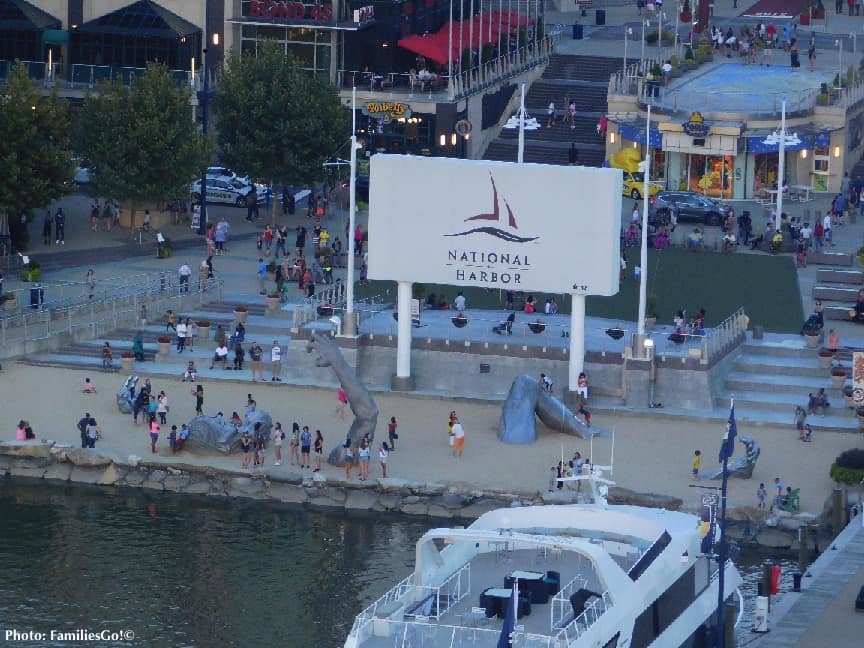 The Gaylord Resort anchors the National Harbor, a development across the Potomac from Washington, DC that is sunny and hot on summer days but that springs to life when the sun goes down.
There are lots of family friendly restaurants in all price ranges, places to play and shop and special summer events like outdoor movies. It's a relaxing place to come back to after a busy day of sightseeing on the Mall and a big part of what makes the hotel a good fit for families.
The Bottom Line:
The Gaylord Hotel and the National Harbor can be a family-friendly base for a visit to Washington, DC or a destination in itself for an easy getaway weekend. I can see coming here for the light shows, pools and dining and special events in summer but also if you are feeling cooped up and need to get away from home in the winter. It also does holiday decorations very well.
Pin it for later!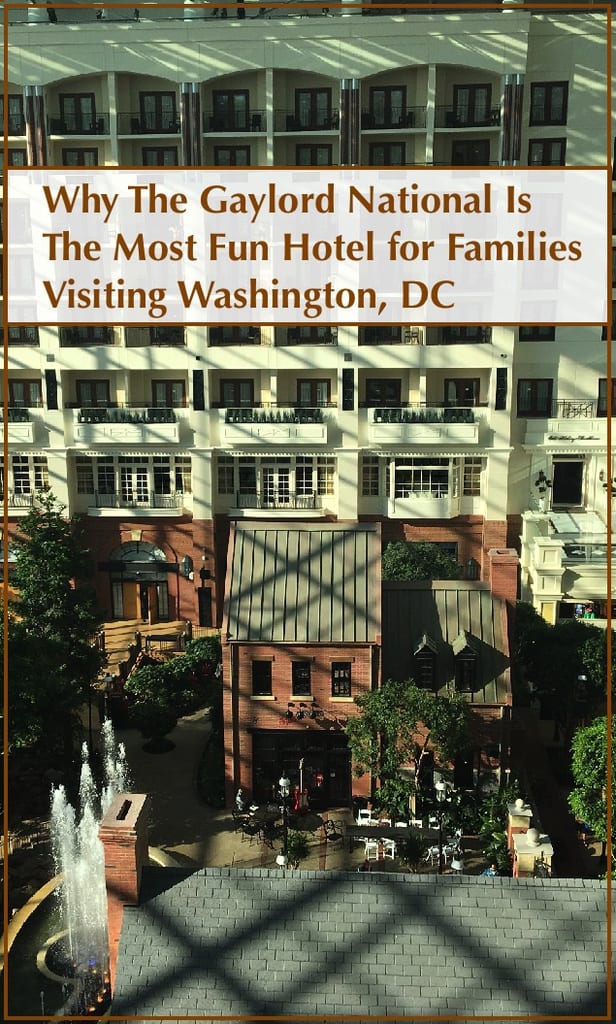 *We were guests of Gaylord Hotels for our stay and for breakfast. We did not agree to provide any particular coverage in exchange for the stay. Our opinions are always our own.