Have you ever had a vacation where you booked a quick stop in a place, arrived, realized you really like it and wish you'd allowed more time?
That was our reaction to Flagstaff, where we planned to spend 24 hours before flying back to NYC on our national park road trip.
Dotted with vintage neon, coffee bars, microbreweries and ample outdoor opportunities, Flagstaff is a crunchy, likable college town. And it's the right size for a long weekend getaway.
Here are some things to do with kids on a visit to this Arizona city, which will be longer than ours was, I hope.
My Flagstaff Hotel Pick
Flagstaff has chain hotels in every price category including several all-suites properties that many families favor.
Your choice of Independent hotels is limited. Aside from the two boutique hotels in town there are also a few rustic lodges and cabins outside of town, especially up toward the Arizona Snowbowl ski resort.
We stayed at the Drury Inn & Suites, bordering the NAU campus and quick drive to everything. It's a hotel brand we were unfamiliar before our stay with but quite impressed by. I would especially look for Drury Hotels if were traveling with several kids.
There was a lobby with a nice little fireplace, a good size pool and whirlpool and a comfortable room.
But the best part is the food. The room rate incudes breakfast and free popcorn and soda in the afternoon, which got a thumbs-up from Tiny Traveler.
There is also a daily "kick back" cocktail hour. Every adult guest gets two free drinks and there are hot appetizers like nachos, pasta and fix-your-own baked potatoes, along with other snacks. It could easily serve as dinner and is likely the reason many guests choose the hotel.
It all makes the hotel's room rate, which is a little higher than for comparable brands, more than worth it.
You might also like:
• Our Guide To Grand Canyon National Park
• Where to Find Albuquerque's Hidden Gems with a Tween
• 3 Unique & Fun Albuquerque Hotels for Families
5 Activities For a Flagstaff Weekend Getaway
Look at the Stars
The most unique thing we did was a nighttime visit to Lowell Observatory.
The 123-year-old stargazing center was built to take advantage of Flagstaff's high elevation and clear skies.
In recent years Northern Arizona University has moved its research further out of town and kept Lowell largely for tourists.
We enjoyed it in part because the evening had an old-fashioned feel to it with kids running around in the dark, getting excited about stars and telescopes.
And what telescopes!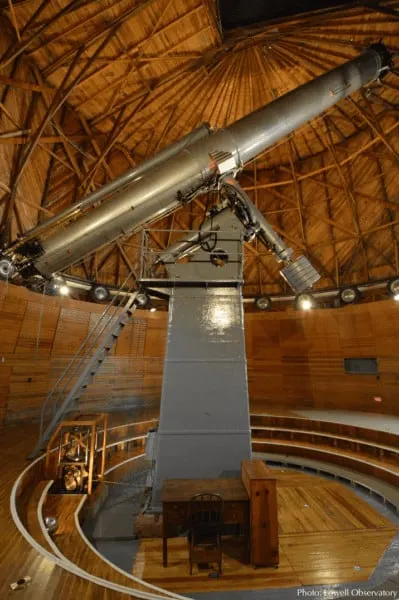 Portable telescopes stationed around the campus were strong enough to show us Jupiter and its moons, Saturn's rings, shooting starts and more. The longest line was for the giant 100-year-old Clark scope in its iconic wood house.
Eager students were on hand to answer questions and explain things like string theory. They also carry laser pointers Luke Skywalker would envy that can point to items in the night sky.
Fun Fact: they're reach is far enough that it's against the law to point them at passing airplanes.
There are more serious inside talks that parents and teens might like. We listened to an outside talk about the constellations that was geared to families..
Tiny Traveler liked a kids' exhibit on asteroids at the visitor's center. Some of the interactive features weren't working right but she learned quite a bit.
We recommend having early dinner and heading to Lowell as it's getting dark.
Explore Native American Ruins
On the way into town we visited Walnut Canyon National Monument, where a mile-long hike down into the canyon takes you past 800-year-old ruins of cliff dwellings of Sinagua Native Americans.
Some of the ruins are better preserved than others but these dwellings and explanatory signs give you a good sense of how people once lived in such a harsh and vertical environment.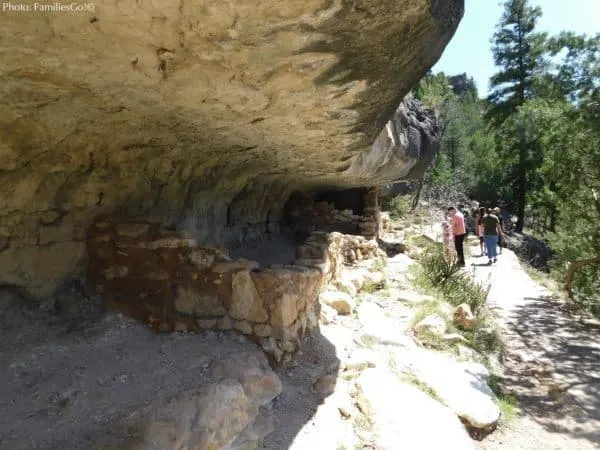 We came across a volunteer on the trail who was answering questions and explaining things, which enlightened us considerably. The valley was surprisingly verdant, with a good variety plants and trees and over all it was an interesting stop.
Keep in mind that like any canyon, the return trip up is much harder than the walk down and will take two to three times as long. Even though it's only a mile round trip, leave an hour or so to do it.
And make sure to get a junior ranger workbook on the way in. We all learned more by doing it.
We also considered visiting Wupatki National Monument and Sunset Crater Volcano National Monument, both potentially interesting. But they are both in the middle open, sunbaked desert and I though Walnut Canyon would be more scenic, less hot and a better bet with a child.
Ride a Horse
On the recommendation of Visit Flagstaff we did a two-hour horseback ride at Hitchin' Post Stables.
A two-hour ride takes you through national pine forests up to the edge of Walnut Canyon (a four-hour ride takes you into the bottom of the canyon, far below where the national park's hiking trail stops).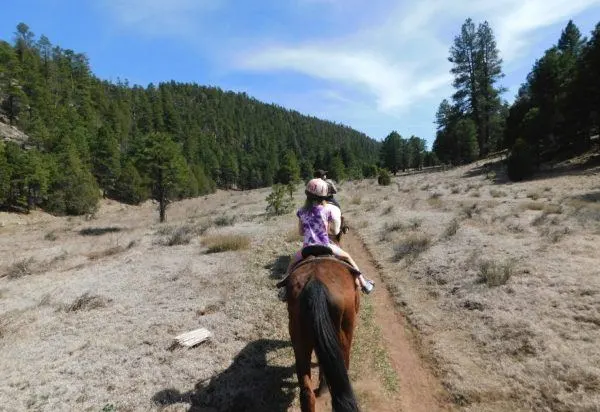 The landscape is not at all what we expected; there are none of the big spiky cacti you see in southern Arizona.
While the ride was slow there was a lot of up and down and uneven, rocky trail so I felt like I had to ride more actively than is sometimes the case on trail rides.
Tiny Traveler got a very gentle horse that she loved and overall it was a good ride; the only thing that would have made it better was spotting some elk or other wildlife among the trees, but that's just a matter of luck.
Tour a Pioneer Mansion
Also on the recommendation of the tourism bureau we spent a Sunday morning at Riordan Mansion State Historic Park. Built in 1904, this Arts & Crafts style house was home to two brothers—local logging magnates—and their families.
It was interesting to see their pioneers openness mixed with a desire to cling to propriety and formality even on the frontier.
One room had a swing instead of a couch and the women were active and outdoorsy. But the dining room had very formal place settings and and the women wore corsets even when venturing outdoors.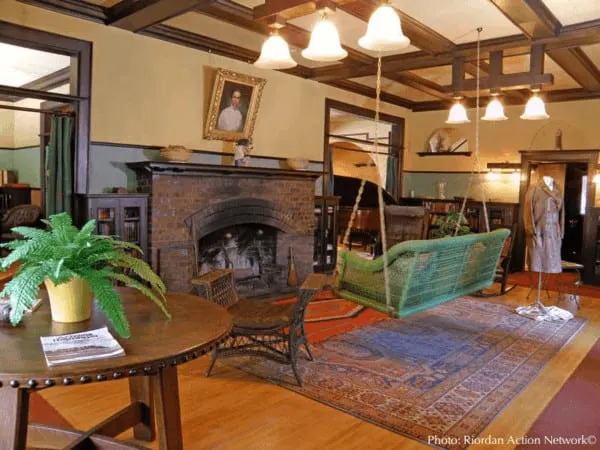 9YO Tiny Traveler does pretty well on house tours; she likes hearing about the people who lived in the house, see the kids' rooms and weighing in on the owners' choice of wall treatments and furniture (she approved of the indoor swing).
But if you have smaller kids you might choose the Arizona Historical Society-Pioneer Museum instead. It has a playroom and an exhibit on pioneer kids.
Walk Around Flagstaff
Flagstaff has a compact, walkable historic area, bordered on one side by an old train station (now the Visitors' Center).
We took a lot of photos of old neon signs, stopped into a mall where a phone booth offers dial-a-poem. And we stopped into the Babbitt's Back Country where we all enjoyed browsing the outdoor gear and books. Tiny Traveler found a book on knot making.
We also stopped into two very different historic hotels. I don't think I'd stay in either one with kids, but they are both worth taking a peak at.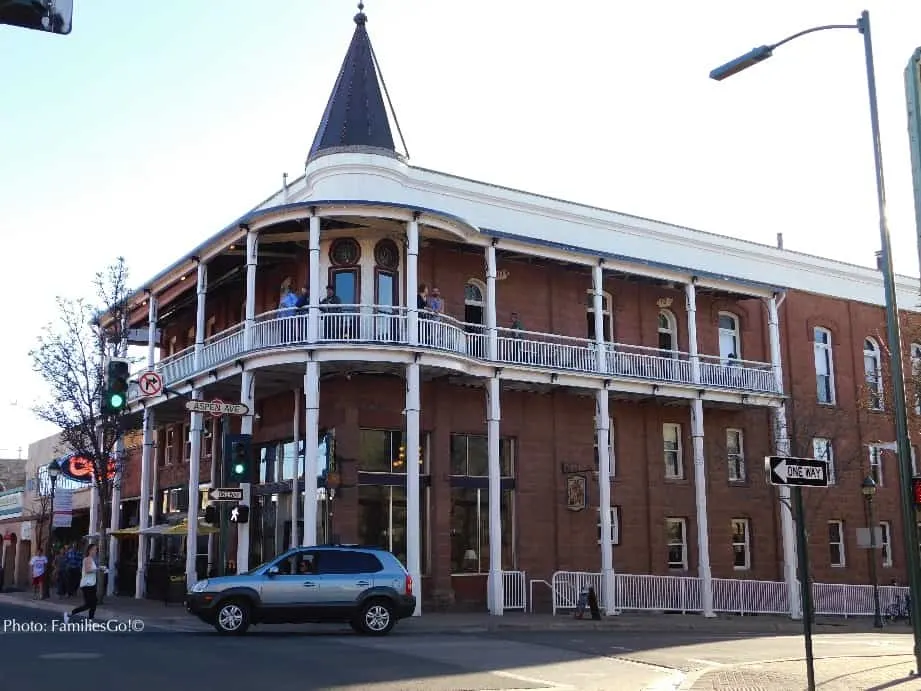 The Weatherford conjured up the old west. It had an alluring second-floor balcony bar that was either not open or too crowded when we wanted to try it. It's the better place of the two to stop into for a drink or a bite to eat with kids.
The Monte Vista had a 1960s flower-power feel and nice old fixtures. But the bar scene is decidedly grown-up and we hear it gets loud at night. So save this one for your kid-free getaway.
Flagstaff Restaurants
On the opposite side of the tracks from most of downtown, behind the visitors' center, the Lumberyard Brewing Company was the most kid-friendly of the brewpubs we checked out nearby.
They have good versions of all the typical brew styles and some inventive pub food.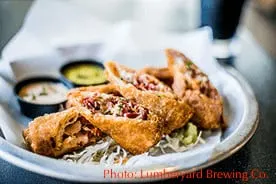 We thoroughly enjoyed Irish egg rolls filed with Corned beef and cabbage and spicy mustard on the side. Our wings came with their dry rub on the side, an ideal solution for parents who like spicy wings and a kid who doesn't.
Prior to visiting Lowell, we had dinner at 1899 Bar & Grill, a sit-down bistro on the NAU campus. It's casual and kid-friendly.
Rich and I both bypassed the regular menu for the Easter special, outstanding lamb with perfectly cooked spring vegetables. The regular menu is upscale casual with tacos, salads, steak and pasta.
Planning a trip?
• Browse Flagstaff hotels and find special rates on Trip Advisor.
• Stay longer and have more room with a vacation rental from VRBO.
• Shop for the best airfares and rental care packages on Expedia
Basic Flagstaff Information
Driving to Flagstaff
Flagstaff is less than an hour north of Sedona, two hours north of Phoenix, two hours south of Page and 90 minutes south of the Grand Canyon South Rim. It's also just under three hours west of Gallup, NM.
It's also a natural stopping point if your driving north or south through Arizona or if you're on a road trip that follows Route 66. Gallup and Flagstaff were both original stops on that historic road. Clearly we think it's worth more than just a quick layover.
Tip: We flew in to Flagstaff, and while we did have to change planes in Phoenix it's a central location and it made it a good starting point for our road trip.
Flagstaff Weather
If you're planning a trip to Flagstaff it's important to remember that altitude matters in the southwest. The city has a ski mountain just outside of it and that was still snowcapped in late spring. Despite it being desert the area gets a real winter.
Visiting in April it was sunny and warm during the day but not uncomfortable. The temperatures drop when the sun goes down. No matter what time of year you visit bring a hoodie or light fleece for the evenings.
I was still in my daytime capris and short sleeves at the observatory and was definitely underdressed.
Wear sunscreen no matter what you're doing during the day, the sun is strong. And drink water all day. The altitude and sun will dehydrate you even if you don't feel you've been very active.
Pin it for later!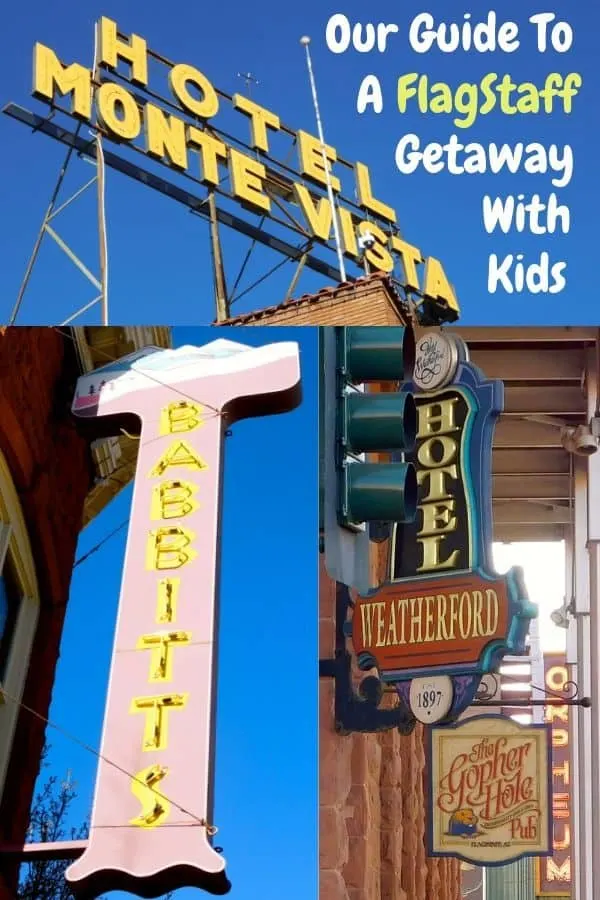 *We were guests of Visit Flagstaff at Lowell Observatory and Drury's Hotel. We did not agree to provide any particular coverage in exchange for the access. Our opinions are always our own.
Photos by FamiliesGo! except the Lowell Telescope (Lowell Observatory) Irish eggrolls (Lumberyard Brewing) and Riordan House (Riordan House).