Living in Colorado, our family enjoys spending weekend ski vacations, but driving to the ski resorts can mean battling traffic, weather and pretty precarious winter roads at times. So I was excited to discover The *Winter Park Express ski train from Denver to Winter Park Resort.
My husband and I recently tried out the 2-hour ride with our 3YO and 6YO. Since we live outside of Denver and the train leaves early Saturday morning, we decided to spend a night in the city before boarding the train.
Here are the highlights of our weekend and tips for families who want to try this trip, too
Your Plan for a Fantastic Denver to Winter Park Ski Weekend:
Day 1: Denver Stayover
Our Train Station Hotel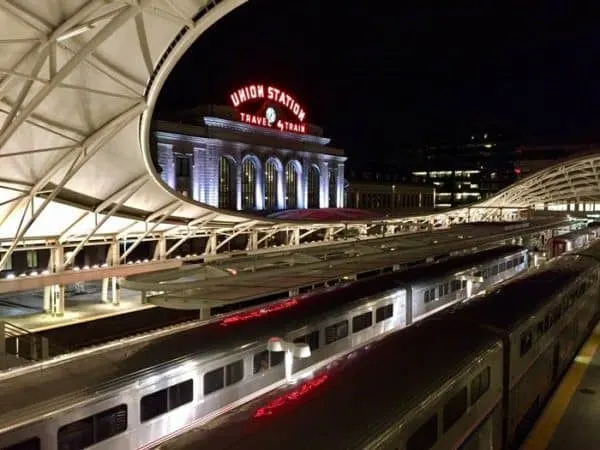 We had an afternoon check-in at The Crawford Hotel, located right inside Union Station downtown and ideal for two train-loving kids. If being inside the station wasn't enough they appreciated that hotel guests get a free scoop of ice cream from local Milkbox Ice Creamery. A 2014 renovation gave the station its stylish Great Hall, which houses a vibrant collection of shops and restaurants; very handy with kids.
Note: Downtown parking is limited, so visiting without a car is ideal (and plausible now that train service connects the station to Denver International Airport). But our kids still use car seats and we were transporting ski equipment, so we paid for a nearby garage.
Dining in Denver with Kids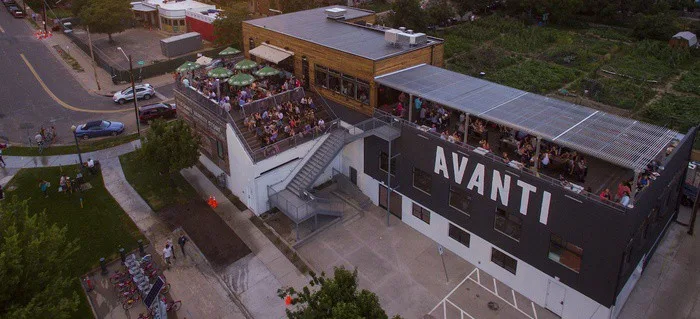 Denver now has several food halls — upscale food courts with different vendors offering a variety of food and drinks that will keep both parents and kids happy. Families with boisterous young children will appreciate the higher noise level of these shared eating spaces.
We had dinner at Avanti Food & Beverage, a food hall housed in modified shipping containers with great views of Downtown. Options include kid-pleasers like grilled cheese and basic pasta, plus some choices for more eclectic eaters. Some of our favorites dishes included a buttery lobster roll and tangy red chili pork dumplings.
We also enjoyed eating at the fast casual restaurants Brider and Parisi.
Things to Do in Denver
After dinner, we visited the Denver Aquarium, one of the few kid-friendly attractions that stays open late (until 10:00 PM on the weekends). We liked the shark tanks and jellyfish and the opportunity to touch stingrays. Other good family-friendly stops in the winter include The Children's Museum of Denver and the Denver Museum of Nature & Science.
Read More
• More Things To Denver with Kids
• A Christmas Season Weekend in Denver.
Day 2: Train to Winter Park
The Train Ride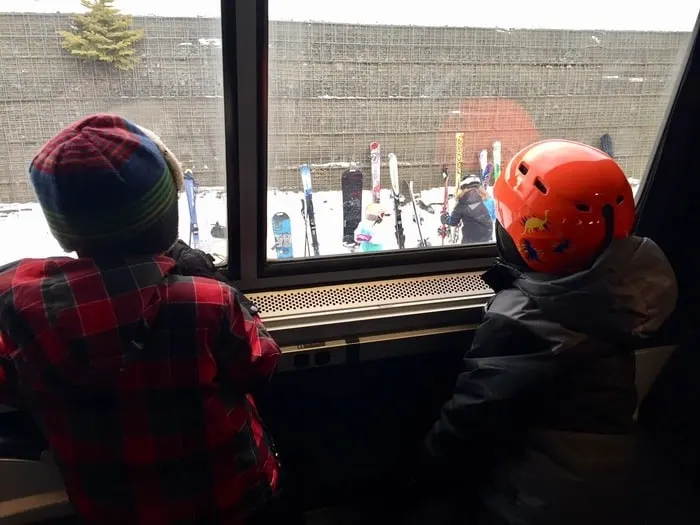 The Winter Park Express ski train departs at 7:00 AM (boarding starts at 6:15), so it was convenient to just take the elevator down to the train station. There were several people in the station directing us to the Amtrak train and finding our way was easy. The staff loaded our snowboards in one compartment and we carried our boots and other items onboard.
We were happy with the Amtrak set up. The seats reclined and had footrests and we had four seats facing each other. This was the first real train trip our kids had taken. They liked the novelty of it and the extra space to stretch out.
The train does not sell snacks or beverages on board so we grabbed breakfast pastries and empanadas at Pigtrain Coffee and got on board
Once the train started, it was nice to sit back and watch the views of Denver and the mountains go by. At the end of the trip, we passed through the 6.2 mile Moffat tunnel, and once we emerged we were at Winter Park Ski Resort.
Snowboarding With The Kids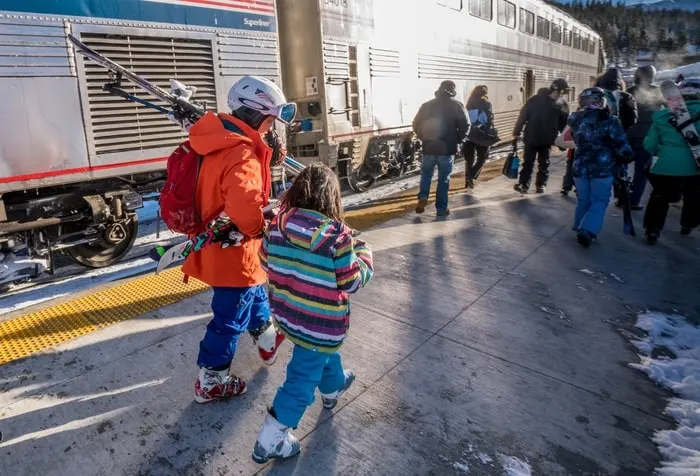 After we picked up our snowboards and left the loading gate, we were right at the base of the mountain. I was impressed by how close the train platform was to the Gemini Express lift, which leads to several beginner trails that are great for kids.
The magic carpets and puma lift at the base area are reserved for the ski school, and we didn't think our preschooler was ready for a lesson, so we spent some time on a small fenced-off hill letting him walk up the hill and snowboard down.
In the afternoon, we headed over to the Mary Jane base area, which has the smaller Galloping Goose lift. It proved to be a good option for our kindergartner. If you are planning to just ski Mary Jane, you can buy a $10 ticket for it alone, very handy with the youngest beginners.
To get to Mary Jane we had to walk through the village to catch a shuttle bus. The walk wasn't long, but it can be hard to get anywhere when you're carrying ski equipment and keeping track of little kids. Luckily, Winter Park Resort offers a fleet of complimentary wagons to transport kids and equipment, which we took advantage of.
Winter Park Activities For Non-Skiers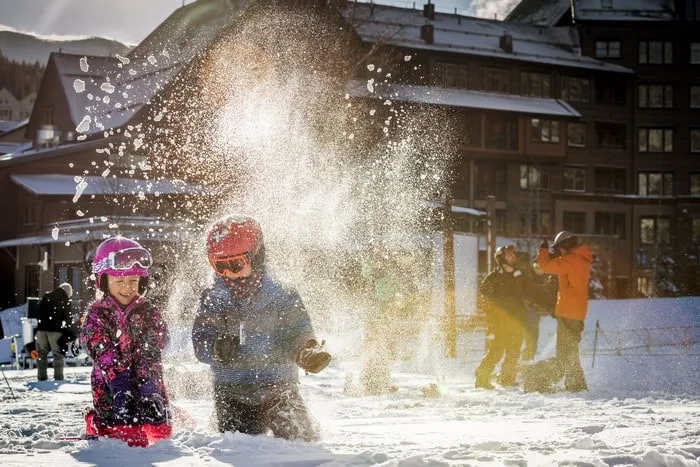 If some of your family members don't ski, the resort offers tubing and ice skating, and there's some shopping as well. There is also a child care facility for kids 6 months to 6 years with half and full day options. My husband and I opted to trade off watching the kids so we could do some more advanced runs.
Where to Eat at Winter Park
The resort base areas offer cafeteria-style eating and there are table-service restaurants around the resort, all family friendly. We found warming comfort foods like soup and hot pretzels at the base areas. We've also enjoyed eating at the Pizza Pedal'r and Backbowl Soup & Bistro on previous trips.
At the end of the day, we boarded the train to head back to Denver. The seats we had on the way up were reserved for us heading back so we actually left some personal items on the train.
As it pulled out at 4:30 PM we sat back and watch the sun set over the frosty trees and rivers—perfect! And way better than fighting the ski traffic on I-70.
Ski Train Details
Tickets for the Winter Park Express start at $34 each way for adults; children ride for half-price with an adult. The train runs on Saturdays, Sundays and a few Fridays from early January to late March, leaving Denver at 7 AM and returning at 6:40 PM. You can buy one-way or round-trip tickets and you don't have to return the same day you arrive.
Pin it for later!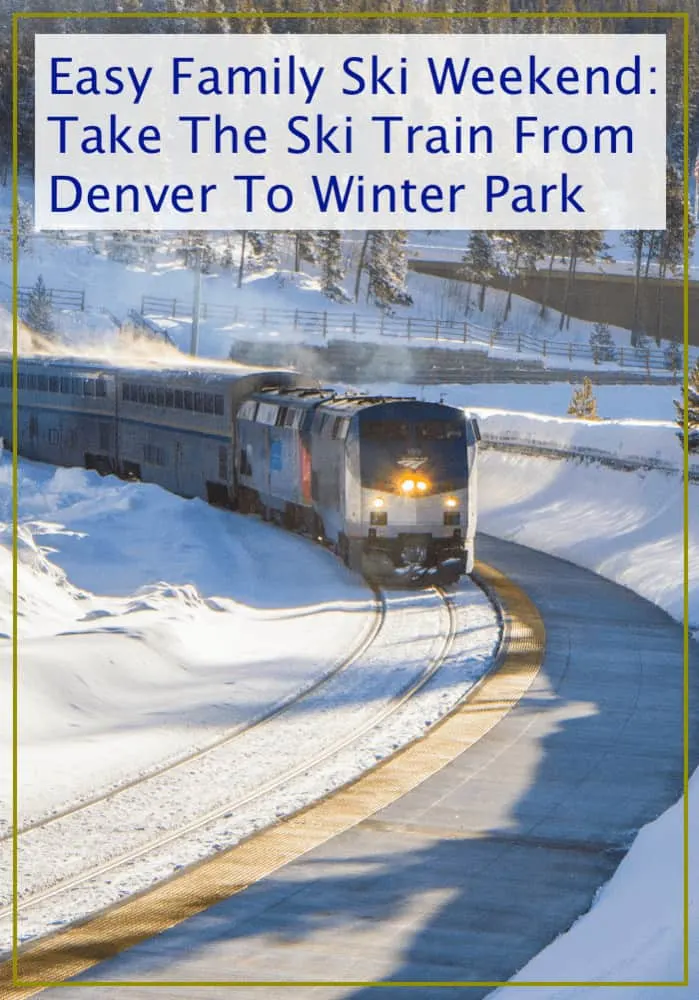 Julie Vick is a writer living in Colorado. You can read more of her work at julievick.com or follow her on Twitter or Instagram.
*Visit Denver provided Vick's family with the hotel stay, train tickets and lift tickets. They were also guests of Avanti for dinner and the aquarium. No particular coverage was promised in exchange for the travel and our opinions are always our own.
Photos courtesy of Visit Denver and Winter Park.