Queensland should be on the top of every family's list of things to do on a vacation to Australia. With its pristine beaches, the iconic Great Barrier Reef, exhilarating theme parks, tropical rainforests and plenty of opportunities for animal encounters this part of the country has a lot to offer, along with smaller crowds than you'll find in southern Australia.
Of course, this territory is big and you will want to see other parts of this giant country down under, too. So here is my list of the ten things you must do on a family vacation to Queensland.
Check our my itineraries for Bicycling with kids in Australia, too.
10 Essential Queensland Activities With Kids
1. Enjoy the Sun-Soaked Beaches
Queensland has to have some of the most stunning beaches in all of Australia. With its year round warm weather, you can enjoy these beaches whenever you happen to visit.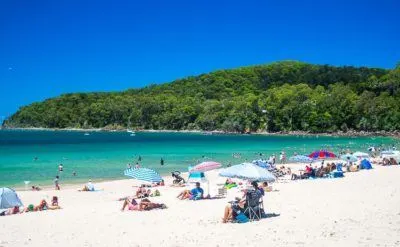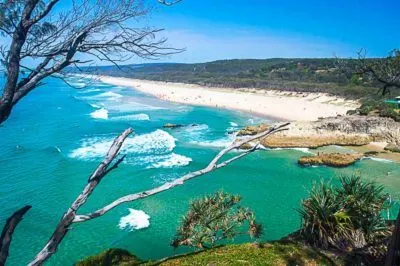 From Brisbane, Queensland's capital city, my recommendation for sun and surf is the Sunshine Coast north of the city. Stretching from Caloundra to north of Coolooa you will find some of my favorite beaches in the world!
First among these for me are the beaches around Noosa. Noosa National Park offers a variety of hiking trails from through the rainforest and along the gorgeous coastline. Rest up from your hike on one of its idyllic beach spots such as Tea Tree Bay, Winch Cove and Granite Bay. Just outside the park you will find my favorite local beach, Little Cove.
Beyond the beach is the calm, crystal-clear Noosa River, ideal for getting out and exploring in a kayak or standup paddleboard. You can bring your own, rent some locally or join a tour group. If you paddle right out to the mouth of the River, you will find many sand islands where you can hang out on your own deserted island for as long as you like. There are also several pathways around the area perfect for biking, walking and running.
Further north from Brisbane, Bundaberg also has some stunning beaches, the most popular being Bargara Beach and Elliot Heads. Bargara has plenty of accommodation and cafes. Elliott Heads is a little isolated. With no accommodation or shops it's best for a day trip with a picnic lunch. The area is also home to Bundaberg Rum and is the southern end of the Great Barrier Reef.
2. Swim in South Bank Lagoon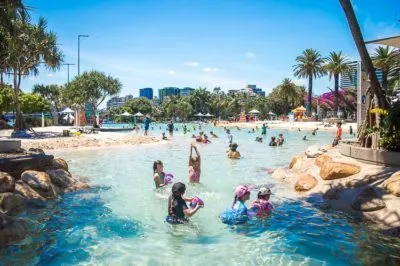 The South Bank parklands are one of the most frequently visited attractions in Brisbane and an excellent place to cool off in the city. You will absolutely love the man-made Streets Beach. There are also lagoon style swimming pools, rock pools to cool down in and great grassy areas where kids can run around and you can relax with a picnic with a river view.
Outdoor movies pop up in the warmest months, another kid-friendly BYO picnic opportunity. If you don't want to dine al fresco, Southbank's streets abound with cafes, restaurants and bars, almost all pretty reliable for friendly atmosphere and great food. If you're in the are on a weekday, check out the Collective Markets that set in the center of the neighborhood with local vendors selling handmade art, crafts, jewelry, candles, clothes and much more.
3. Dive to the Great Barrier Reef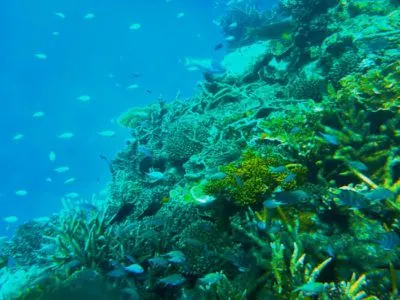 No Queensland family vacation an be complete without a visit to one of the natural wonders of the world. The Great Barrier Reef stretches more than 2,300 kilometers along Queensland's coastline from the tip of Cape York Peninsula southward.
Cairns in Far North Queensland is the most common jumping off point for a visit to the Great Barrier Reef and other area attractions.
There are a variety of options for exploring the reef: Some tours let you spend the whole day snorkeling, some will take you to a pontoon stationed out in the reef where you can snorkel and also board a glass-bottom boat, and other combine snorkeling with relaxation time on one of the stunning islands. (Read our post about exploring the GBR with kids.)
4. Ride the Historical Kuranda Scenic Railway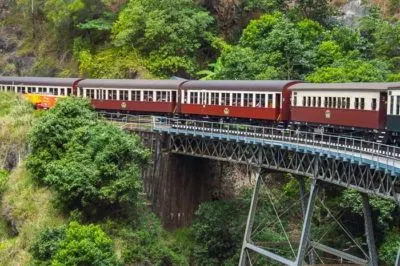 While in Cairns plan a day trip on the historic Kuranda Scenic Railway to the picturesque mountain village of Kuranda. This is a spectacular journey. The train winds its way through a dense world-heritage-listed rainforest with its breathtaking views of steep ravines, waterfalls and the Barron Gorge.
The Kuranda railway was opened in 1891 to transport supplies to area mine workers. Construction of the railway took five years, and many workers died lost laying the track 360 yards up the Macalister Range from sea level.
The train journey takes just under two hours and as you wind your way through 15 tunnels, 93 curves and 37 bridges mounted that cross ravines and waterfalls. Look for the spectacular bridge at Stoney Creek Falls, the breathtaking views of the Barron Falls and through lush dense tropical rainforest that closes in just before arriving in Kuranda.
In Kuranda you'll find plenty of kid-friendly things to do including a Butterfly Sanctuary, the Rainforestation Nature Park, river cruises and the Australian Venom Zoo, where you view many of the worlds deadliest spiders, snakes scorpions, centipedes, reptiles and Tarantulas. There's also a quaint village for lunch and a stroll.
5. Take Time Out for Theme Parks
If your family likes theme parks you'll want to carve out some relaxation time along the Gold Coast, which boasts six of them, all in close proximity to each other.
Here is a quick rundown:
Dreamworld: Australia's largest and arguably best theme park, with more than 40 rides, a wildlife park and live shows. If you only hit one theme park, this is the one. (Some say it rivals Disneyland!)
Whitewater World and Wet n Wild Water World: Are water parks. The former is next door to Dreamworld. The latter has the biggest slide in Australia. Both have slides and splash pads suitable for all ages.
If you need a touch of the U.S: In addition to Sea World there's a Warner Brothers Movie World where kids can meet popular Warner Brothers movie characters, go on rides and watch Hollywood inspired shows.
Paradise Country: More low key and idea for younger kids in particular, this park is home to all kinds of native animals as well as an Australian farmyard experiences. You can even book a farm stay on the property.
Note:If you plan to visit multiple theme parks look into buying a joint pass to save money on entry costs.
6. Escape to a Tropical Island
No matter what your budget or travel style you can find an island getaway off of the Queensland coast.
The Whitsunday Islands, north of Brisbane, are famous for postcard perfect beaches with white powdery sand and stunning turquoise water. You can stay on Hayman, Hamilton and Daydream or take a day trip from the mainland at Airlie beach.
Further north you can access Green, Magnetic, Lizard, Fitzroy, Dunk and Bedarra islands offering accommodations from camping to luxury inns.
Stradbroke and Moreton are favorites for those seeking a day trip from Brisbane itself.
7. Explore Gorgeous National Parks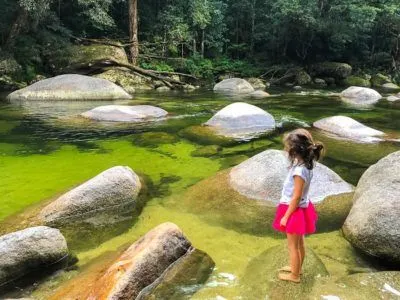 With more than 200 national parks no matter where you are in Queensland you can find beautiful nature within an hour's drive.
Along the Gold Coast, Springbrook National Park offers breathtaking views, lush rainforest and waterfalls. The Natural Bridge and Springbrook Plateau are two scenic areas to seek out among four sections of walking trails (keep your eye out for wildlife along all of them). Lamington National Park has more than 100 miles of walking trails scattered with waterfalls, ancient flora and wildlife.
From Cairns you can visit the UNESCO-listed Daintree Park with its same named river and the impressive Mossman Gorge at its southern point. (Read more about this park.)
8. Visit the Turtles in Bundaberg
Visit Bundaberg, 4.5 hours north of Brisbane, during the turtle season (November to March). Depending when you arrive you can see Loggerhead turtles come to the beach to lay their eggs or see the baby turtles hatch and scamper down to the ocean. The Mon Repos conservation park there is the largest Loggerhead conservation rookery in the southern hemisphere.
9. See Crocodiles in the Wild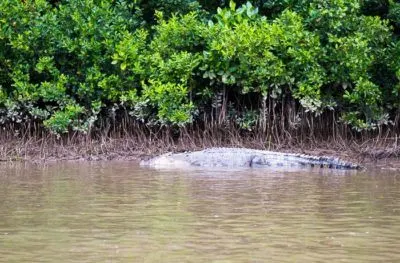 It's fantastic–and reassuringly safe–to see crocodiles in the various area wildlife parks in the region, but it's even more exciting to spot them in the wild!
The Daintree River, a short way from Cairns, is the best place to see crocs in the wild. Join one of the various boat tours available and get ready to see these massive beasts as they bask in the warm Aussie sun. My tip is to try to time your visit during low tide to get full views of crocodiles rather then just the tips of their snouts as they zigzag down the river.
Yes, crocodiles do eat people in Queensland! But from the safety of the boat it's marvelous watching these incredible archaic animals.
10. Get Up Close to Australian Animals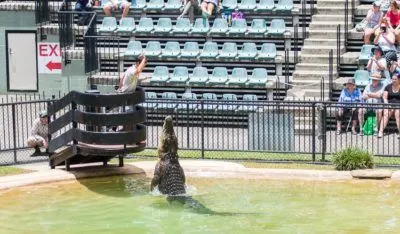 If you don't manage any great animal sightings on your trip, make sure to visit Steve's Irwin's Australia Zoo, an hour north of Brisbane on the Sunshine Coast.
You'll see Australian lizards, fresh and saltwater crocodiles, koalas, native birds of prey and kangaroos.
The main show, the Australia Zoo Wildlife Warriors, id held once a day in the Crocosuem and is not to be missed. You will see and learn about giant snakes, birds and saltwater crocodiles. They also do animal presentations where you can learn about tortoises, otters, koalas and birds of prey.
Pin it for Later!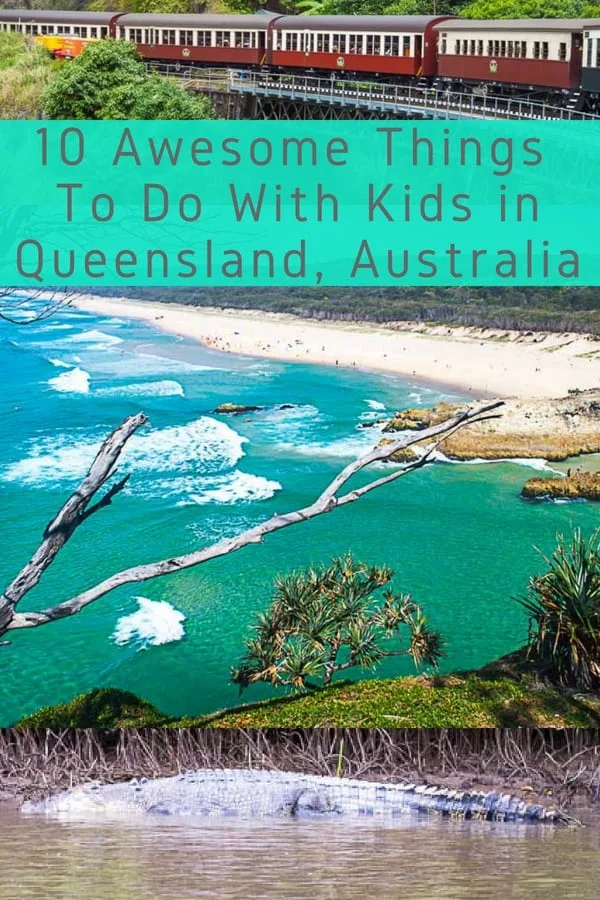 Melissa Delaware is created and writes for the Thrifty Family Travels website, which details her family's experiences traveling the world, experiencing new cultures, indulging in local delicacies and exploring every corner of our beautiful earth. She hopes Thrifty Family Travels inspires other families to travel to all the fantastic places the world has to offer.