The Berkshires are one of those regions that looms in my mind as a summer vacation paradise. The region stretches along the spine of Route 7 up the length of Western Massachusetts. And it offers a bounty of things for families to do on a weekend getaway or week-long vacation.
Book lovers can visit Edith Wharton's home or the Eric Carle Museum. Music lovers take in an outdoor concert in picturesque Tanglewood. Active families have their picks of state forests and nature preserves for hiking, kayaking and other pursuits.
Depending on what you choose to do you can base yourself in one of several towns along Route 7 and have your pick of kid-friendly hotels, inns and restaurants.
For us, the Berkshires seem compact enough that from almost any town you can get anywhere else for a day trip, but if you do want to do a lot at both ends then basing yourself in the center makes the most sense.
We spent a *weekend working our way from Great Barrington up to North Adams. We found room family-friendly hotels and a good variety of things to do and places to eat kid and parents all enjoyed.
We visited at the tail-end of summer. But most of the activities would also be ideal for a fall foliage weekend or a springtime mini-break.
While these ideas are only the tip of the iceberg, they are a good starting point for your own weekend getaway with kids in the Berkshires.
Read more:
• How Berkshire Mountain Lodge Wowed Us
• Find Family Summer Fun at Jiminy Peak
• Relax, Recharge & Bond on the Stowe, VT Summer Getaway
4 Awesome Towns in the Berkshires To Visit With Kids
StockBridge and Great Barrington
These two towns are close enough that we seem to spend a little time in both whenever we pass through the Berkshires.
Two Things To Do
1. On this trip we stopped at the Norman Rockwell Museum, which shares the grounds with his studio. My husband is not a fan of Rockwell and went into the museum skeptically.
He came out surprisingly impressed with the range of Rockwell's work over his seven-decade career. It's an easy museum to do with kids because it's not too big and Rockwell's art is very relatable. There's also a kids' art room with drop-in activities.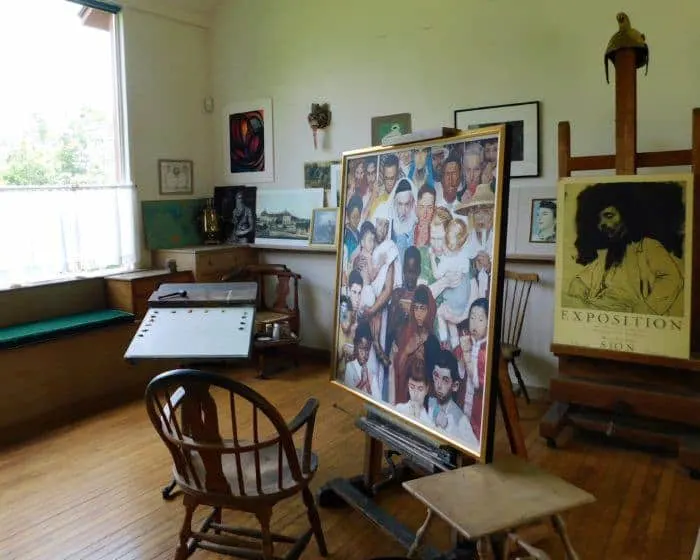 During WWII he produced magazine covers and posters that supported Roosevelt and the war effort. It seemed to free him up and make him appreciate his potential to influence national debates and opinions with his popular magazine covers.
Some of his civil-rights work in the 1960s is powerful and surprising for those of us who mostly know his depictions of idealized white America.
In his cozy studio we learned about his artistic process. He would photograph models, who were often his neighbors, in the scenes he had in mind and then paint large scale canvases from the photos that would be shot and shrunk to fit the magazine covers.
Whether or not you're a Rockwell fan the museum is worth an hour or two because of the length of his career and the insights his magazine covers offer into the evolution of American life over the 20thcentury.
2. The Berkshires are dotted with grand old estates and NaumKeag is easily among the most kid-friendly. You can visit the mansion on a tour.
We didn't but another family that was there the same day we were said it was well worth it for a peek at the rich, homey interior and to hear the story of the home and Choate family who used it.
We spent all our time in the extensive gardens, playing bocce, finding hidden sculptures and generally wandering around. We loved the hidden Asian pavilion, where we got to relax on exotic furniture and write haikus.
Each summer they offer unique, usually family friendly activities that make the most of the lawns and gardens. Last summer the staff turned the outdoor space into a celebration of children's classic books.
At various spots around the garden we helped Charlotte spin her web (top), had an Alice-inspired tea party on the grass and followed a robin to the Secret Garden, a cozy reading spot. I hope they revisit this theme again but it was really well done and fun. But they have special events on a regular basis. If you're visiting the southern Berkshires it's always worth checking to see what this estate has going on.
Where to Stay in Stockbridge
The Red Lion Inn might not look entirely child-friendly from the outside but the hotel has a variety of accommodations from traditional hotel rooms to entire guest home.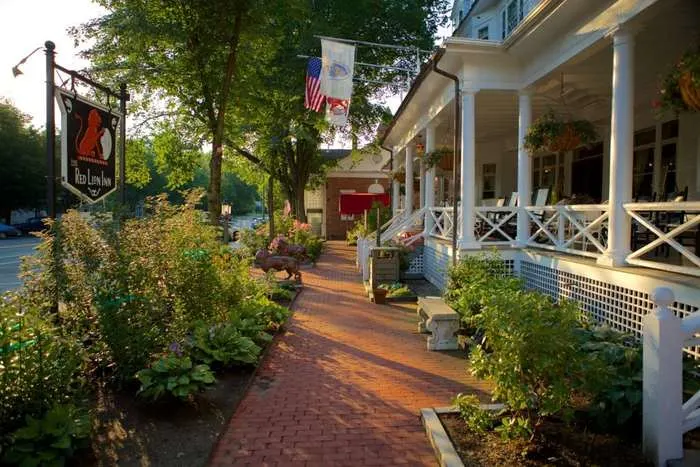 The main inn has a nice outdoor pool and the front porch is a delightful place to play a game or watch the world go by with a cold lemonade or local beer.
Where to Eat Around Stockbridge:
Great Barrington has more restaurants than Stockbridge. It's the place to go if you want to walk around and see what appeals to you. We don't have a favorite place in town but we've stopped in for Thai food and ice cream on various visits.
We're big fans of the Great Barrington Brew Pub, outside of town on Route 7. There's no kids menu but it's easy to find something kids will eat among the starters, sides and sausages.
The beers (made entirely with solar power) are reliably good, especially the seasonal brews, and the desserts are made from scratch in-house. You can get growlers to take home and we often do.
Lenox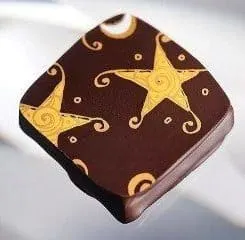 Midway up the Berkshires is Lenox. It's likely to be your base if you are going to Tanglewood or enjoying a yoga retreat at Kripalu,which has family programs in summer.
Lenox also has Chocolate Springs, one of my favorite artisanal chocolate shops anywhere.
Kids can do their best to choose from items like fancy peanut butter cups or Oreos, pretzels and marshmallows dipped in chocolate.
You can buy some truffles for the grown-ups, too in flavors like Paris tea, orange honey and Berkshire Bourbon. My favorite is the Chai This Bar, dark chocolate flavored with tea and Indian spices.
Two Awesome Things To Do
1. If your family needs some activity and a mild adrenaline kick, head to Jiminy Peak Mountain Resort, which turns itself in to an outdoor adventure park during the summer.
I loved the long mellow Alpine slide and shorter, faster mountain coaster (you can control your speed on both) while Tween Traveler and her dad spent a good amount of time on progressively harder rope courses.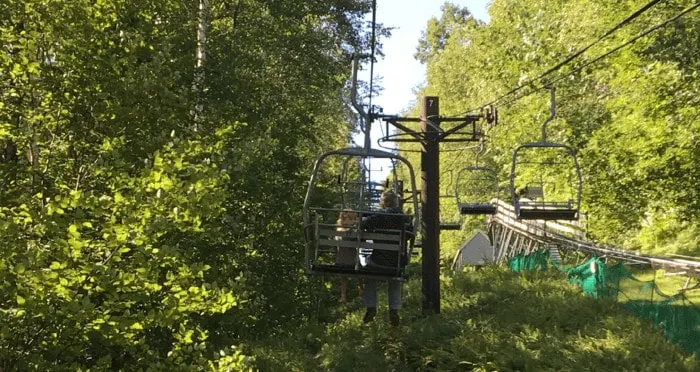 There is a mini rope course and play area for kids 8YO and under, and a bungee trampoline Tween Traveler loved. For more daring folks there is a giant swing and the screaming eagle, a long, fast, seated zip-line ride that is aptly named.
It's wise to get an early start to avoid lines at the trampoline, slide and mountain coaster. But we easily spent a whole day doing our favorite things over multiple times.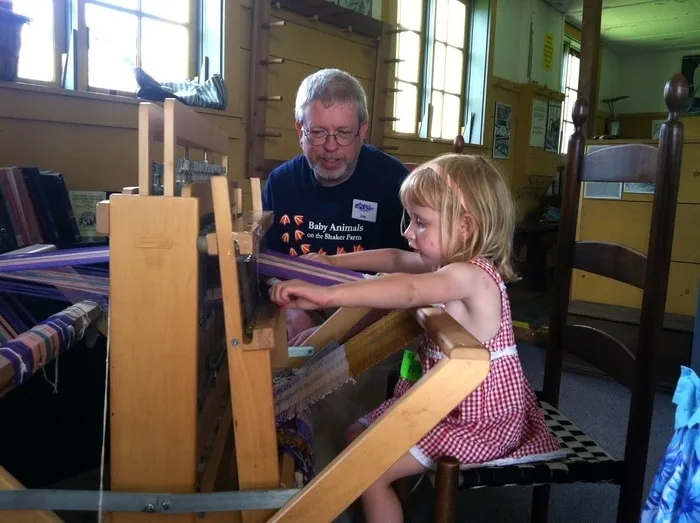 2. The 19thcentury Hancock Shaker Village is a great Berkshires destination with school-age kids and preschoolers. Explore the round communal barn, gardens and buildings, pet farm animals, try on Shaker clothes and learn to weave in the Discovery barn.
You can see demonstrations that explain all aspects of Shaker life. The onsite café uses ingredients from the farm.
Planning a trip to the Berkshires?
• Get more room for less money with a vacation house in the mountains from VRBO.
• Get the best rates available on the best Berkshire Mountain hotels on Trip Advisor.
Where to Stay around Lenox
We stayed at both the Berkshire Mountain Lodge outside Lenox and at Jiminy's Country Inn. We liked them both.
The mountain lodge is more centrally located and is just outside of Lenox, a good town for restaurants and shopping.
The Country Inn is the obvious choice if you're planning to spend a day at the Adventure Park.
Read More:
Read our Review of Berkshire Mountain Lodge and find the best rates on TripAdvisor.
Read our Review of the Country Inn at Jiminy Mountain Resort and secure your room on TripAdvisor.
Where to Eat Near Jiminy
Chistiansen's Tavern sits at the bottom of Jiminy's ski hill, in view of the trampoline. The afternoon we arrived we sat at the bar with waffle fries and beer while Tween Traveler ran around the playground area.
We had lunch on the outdoor deck during the full day we spent there and found the food really good, which s nice considering they have a captive audience; portions were large and we probably should have shared an entree.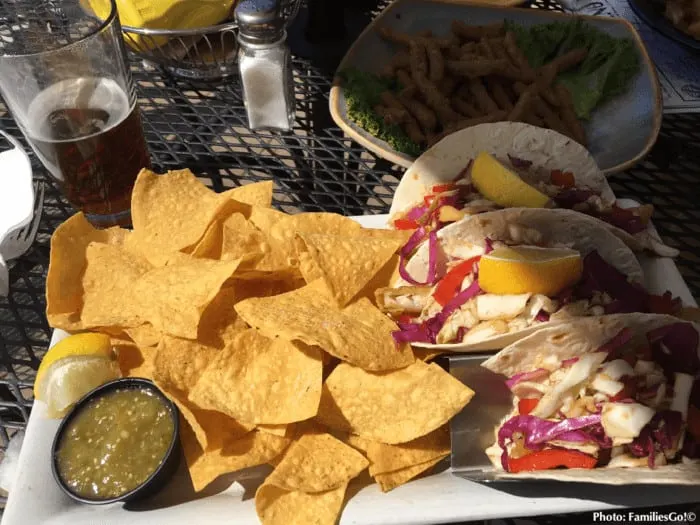 I had fish tacos with crunchy red cabbage slaw while Rich had grilled hot dogs that came with both potato salad and chips. We all shared and loved a side of crispy fried string beans with tangy dipping sauce. The kids' menu had the usual items.
For dinner we checked out the Old Forge on a friend's recommendation. It was too chilly to take advantage of the fantastic back deck with its Berkshire views, unfortunately. But we were happy to be inside the cozy, wide-beamed dining room with its lively bar scene.
The restaurant is popular for its friendly vibe and old-school classics like onion soup, spicy etouffé, and scallops in white wine sauce. Arrive early or plan to wait for a table.
North Adams
This is one of your last towns in the Berkshire Mountains before hitting Vermont and it's the place to soak up art and the area's college-town vibe.
Two Things To Do
1. We started our day with a bike ride along the Ashuwillticook rail trail, which extends for 11 miles south of Adams. It's a wide flat trail that winds through woods and along a reservoir. It has several access points and is perfect for biking with kids
Read my tips for biking on family vacations.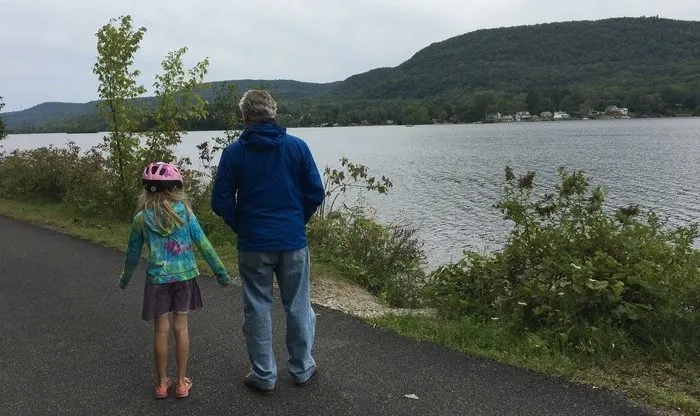 2. Then we headed to MassMOCA, which Tween Traveler dreaded since she has decided she doesn't like museums that aren't "interactive."
But this art museum sprawls across a 16 acres of converted mill buildings and even if you aren't the biggest fan of contemporary art (like me) you're bound to find something appealing among the permanent and guest exhibits.
We were all intrigued by Nick Cave's sparkly, celestial, interactive installation exploring gun violence.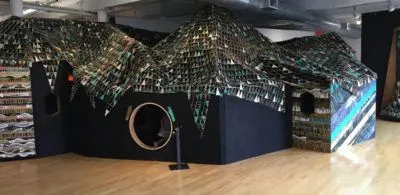 Tween traveler felt immediately at home in KidSpace. The museums commissions art for this room that kids can relate to and interact with (yay!). She spent time climbing in and around a structure called Courage before going to the desk to ask for an art kit.
These are lunch boxes with materials for projects that evoke the work you've seen in the galleries and they adapt well to a variety of ages.
Play with stripes of color like Sol Lewitt or use pipe cleaners to make trees inspired by the ones Natalie Jeremijenko hung upside down in the courtyard. While she made art I popped over to the nearby galleries to explore more.
Where to Stay in North Adams
The Porches is a relatively new hotel on the edge of North Adams. It adds a hip boutiquey option to the Berkshires hote scene.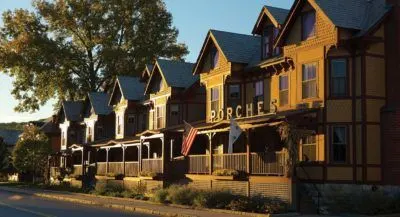 Created from a row of connected porch-fronted Victorian houses, it offers free breakfast, a comfortable lounge with fireplace and bar, and an outdoor pool and whirlpool.
It's funky in a casual way. With roomy double-queen rooms and one- and two-bedroom suites there's a lot to appeal to families.
North Adams Restaurants
North Adams is a college town with ample dining options. For starters, MassMoca has two restaurants, a cafe and a taproom.
Pedrin's Dairy Barn is a seasonal drive-in just south of town with whole-belly fried clams, burgers, onion rings and shakes.
We walked to PUBLIC eat + drink, a few blocks from the museum. It looks too industrial chic to be kid friendly but there were plenty of families there, including a few we recognized from the museum.

Their soups, sandwiches and tacos change a bit seasonally and pair up well for lunch. The fish & chips is a reasonable portion. Kids will be happy sharing that with a parent, or with a simple flatbread pizza, one of the soups or chicken tenders.
If they finish their lunch, treat them to an ice cream sandwich from the dessert menu.
Pin it for later!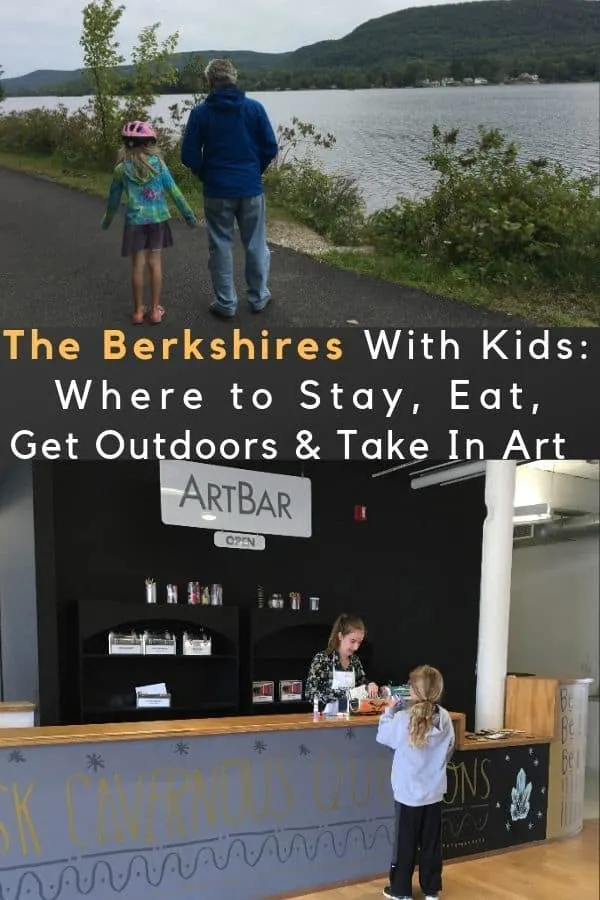 *We received complementary hotel stays and admission to some attractions for this story, in particular the Adventure Center at Jiminy. We paid for our meals and for admission to Naumkeag. I did not agree in advance to any particular coverage in exchange for the support. My opinions are always my own.
Photos of the Rockwell Museum, Naumkeag, Hancock Shaker Village MassMOCA are the property of FamiliesGo!©. All other photos are courtesy of the respective store, restaurant or hotel.