Tween Traveler headed off on a two-night camping adventure with her scout troop trip in early June, leaving Rich and I free to take our own 36-hour kid-free getaway. This year we chose New Hope in Bucks County, Pennsylvania.
New Hope has the combination of quaint inns, good restaurants and fun outdoor and cultural activities that we look for in a romantic weekend. It's a good destination for a girlfriend getaway, too, for many of the same reasons.
We stayed in New Hope, but also checked out nearby Doylestown. Here are our recommendations for a parents-only weekend away.
Read More
• A kid-free weekend in Dutchess County, New York, east of the Hudson.
• A couple's weekend in upstate New York, west of the Hudson.
• 10 kid-free getaways from busy parents who did them.
All You Need For A Romantic Weekend in Bucks County, PA
Things To Do in Bucks County
When of the great things about staying in New Hope is that you can get out of town and explore the larger Bucks County, PA area, which has hiking, bike trails and other nice towns.
After dropping our bags at our B&B we actually headed a few miles down the road to Doylestown.
Explore Local History in Doylestown
Doylestown struck us as a cute town that people actually live in (as opposed to made-for-tourists cute).
Our fellow pedestrians looked like a good mix of locals running their weekly errands and weekend visitors like us.
The forecast called for rain. So we spent most of the afternoon in the *Mercer Museum, which has to be seen to be believed. Henry Mercer was a businessman who made his money manufacturing Moravian Tiles. He was also an amateur archeologist and sociologist.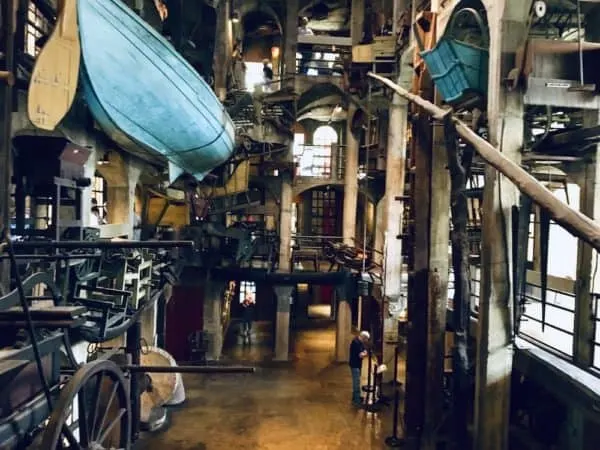 He was afraid that the onset of the Industrial Revolution in the 1800s would lead to traditional crafts and skills being wiped out and forgotten. He created this space to preserve and archive them.
Fearing fire, he built the museum out of cement, a new idea at the time. From the outside the building is a castle.
Inside, the cement walls, dim lighting and narrow spaces give the place the look and feel of a Dickensian tenement.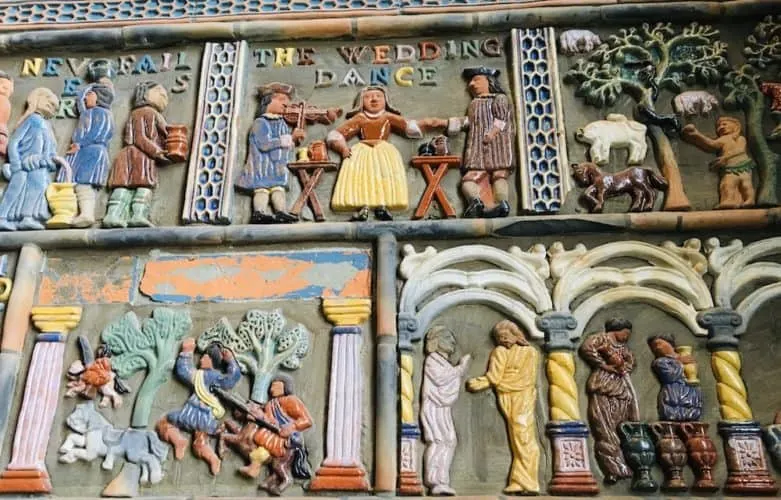 That said, the collections are interesting, Mercer's own Moravian tiles that are on display and they're pretty neat.
A towering central hall is surrounded by dimly lit warrens and coves that house collections representing every trade imaginable from bookbinding and farming to baking and hat making.
The ceilings and balconies have bric-a-brac like sleds, wagons and small boats hanging from them.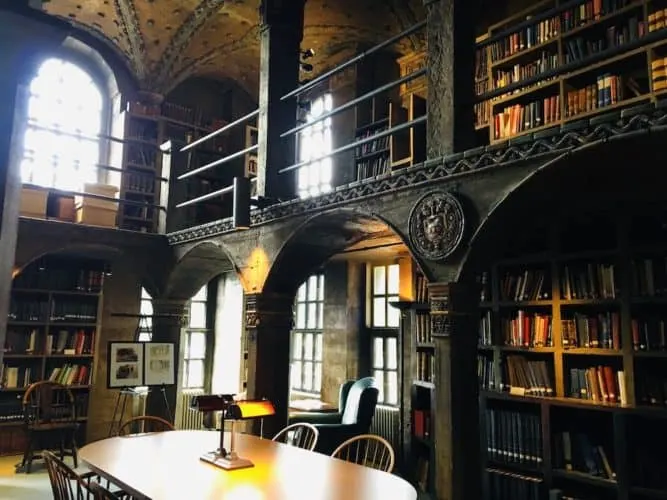 He included in his plans a library that would serve as the office for the local historical society. Part of it is now given over to records and research.
The small main library room features carvings and tiles depicting local history. Look for Washington Crossing the Delaware. It's stunning, especially in contrast with the rest of the space, and not to be missed. (It's the only room with air conditioning.)
On the other side of town you can visit his castle-like home and tile factory, which still operates.
From the outside the cement house reminded me of the dreary German village in Rankin & Bass's Santa Claus is Coming to Town. But Inside you'll find vaulted tile ceilings and other interesting details. You can only visit by tour, which lasts about an hour.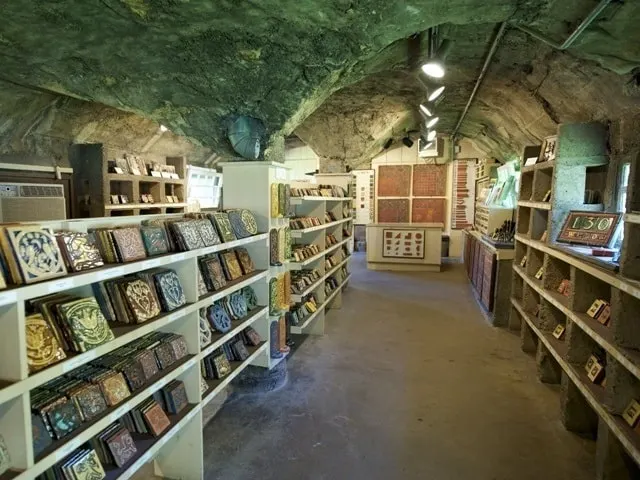 The factory tour is 30-minutes. It was getting on in the afternoon so we skipped those. But the factory gift shop is fun. You can find tiles in a variety of styles and sizes. Pick up an $8 souvenir or a home ornament for well over $100.
Local Spirits & Beer Tastings at Peddler's Village
Less than five miles outside of New Hope we stopped at Peddler's Village, an outdoor mall with shopping, restaurants and tasting rooms.
It's nicely done with some fun local shops, so it's worth a peak even if you aren't a "mall person." And its tasting rooms are perfect for day out without the kids.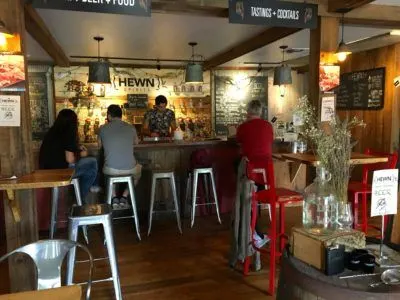 • Our first stop was the modern, comfortable tasting room of *Hewn Spirits.
Hewn has a comfy lounge area and table and chairs, but we sat at the bar with a friendly bartender and sampled a flight of spirits, which start with locally grown grains wherever possible.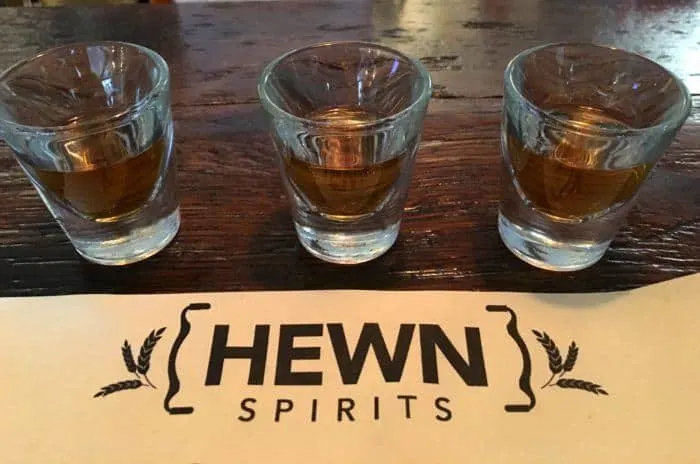 Our favorite was the rum, which had enough heft and complexity to sip straight, maybe over ice. At $27 per bottle it also seemed like a good value for the quality.
The rye and bourbon we tried were also good but lighter; they seemed made for mixing into cocktails. You can choose from a menu of cocktails made with the house spirits if you like.
Tip: They can put the cocktails in plastic cups because you're allowed to walk around the village with open containers.
• After exploring the shops a bit we stopped into the tasting room of Free Will, a local microbrewery that produces a large variety of beers.
The busy room has a nice couch area if you can snag it. If you sit at the bar like we did, a helpful bar tender can tailor a flight to your tastes.
Free Will makes good quality beer but it's going for the powered up flavors that are trendy now and that neither Rich nor I love.
The fruit-based sour beers were too sour with the fruit fermented out too much. A summer wheat beer was super hoppy.
A heavy Belgian dark beer was close to a barley wine and would have been great on a cold December evening but not a muggy June afternoon. The Kolsch was also too hoppy but it grew on us.
The Village also has a local winery's tasting room, too, but we didn't get there.
Getting Outdoors Around Bucks County
There are plenty of opportunities to get outdoors around New Hope You walk, hike, jog, go boating and more.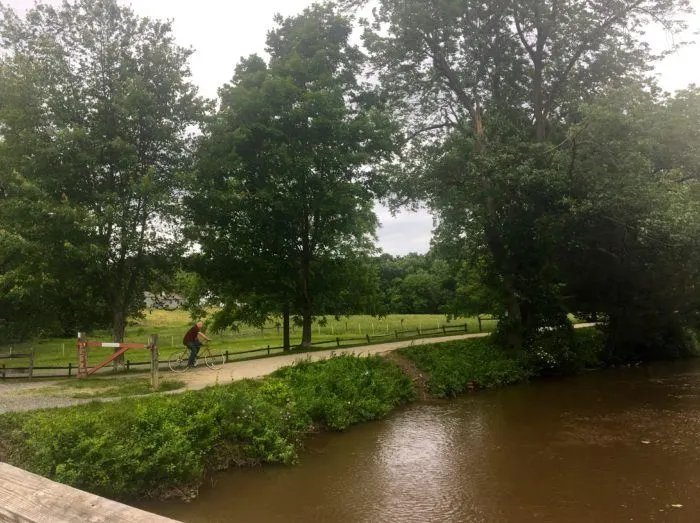 We brought our bikes with us and looked forward to the sort of long, uninterrupted ride that you can't have with a 10YO along (especially when the bike path goes past a playground).
Canal towpaths on either side of the Delaware River have been turned into bike paths. The New Hope path is skinnier, more rugged and hugs very close to the canal it follows.
Our B&B host told us it's better for mountain bikes than for our road bikes and suggested we cross the river to Lambertville, NJ, where the tow path is flat dirt, wide enough to ride two abreast and a safer distance from the canal.
It was a good choice and on Sunday morning we enjoyed a scenic 90-minute ride before heading home to collect our scout.
Note: If you don't travel with bikes you can rent from the New Hope Cyclery, a mile out of town.
Stroll Through Town:
New Hope is one of those towns that seems to have more tourists than locals, and with good reason.
It's an excellent town for walking around, shopping and dining.
In early June there were lots of rainbow-colored gay-pride flags hanging from people's homes and businesses, which was nice to see.
It's worth checking to see what will be playing at the Buck's County Playhouse while you're in town. If you're interested in the show, get tickets ahead. New Hope is too popular a weekend destination to count on last-minute seats.
Where To Eat Around Bucks County
Doylestown Restaurants:
For lunch on Saturday we wandered into the Main Street Marketplace, a small indoor food court with a gourmet pizza place, cheese and charcuterie bar, seafood restaurant and cocktail bar called Hops/Scotch.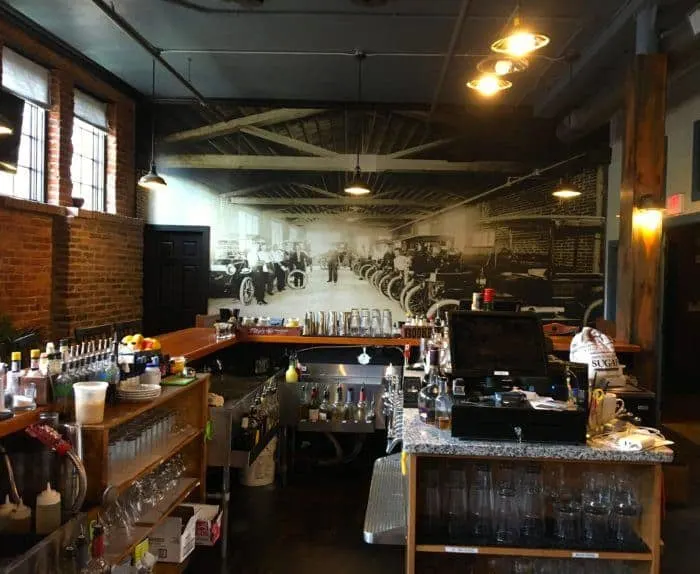 The bartender at the latter told us we could sit at the bar and order food from any of the restaurants to go with our drinks. That sounded like a thing you could only do without a kid in tow, so we did it.
It was a bit early in the day for the very promising handcrafted cocktails on the menu, but we ordered local beer and shared a brick-oven pizza. Charred, blistered and topped with fresh artichoke, peppers, onions and cherry tomatoes (four things our kid hates), it was the perfect light lunch.
New Hope Restaurants
The bartender at Hop/Scotch urged us to head to Mechanic Street in New Hope for dinner. This side street has a bunch of good-looking and popular places.
The Blue Moose had a two- or three- course prix fixe and an hour-long wait. There was also The Great Barn, a farm-to-table taproom that was equally popular.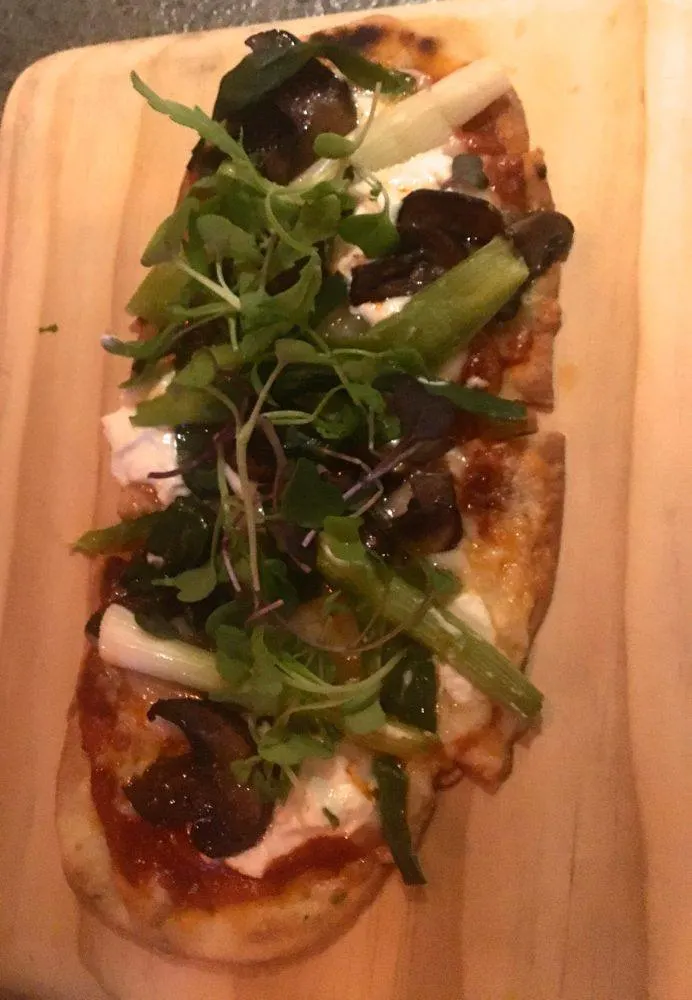 We managed to snag two seats at the bar at Nektar, our bartender's favorite spot, and had a series of small plates that were all fantastic.
Shrimp Santorini had rich bright tomato sauce and was the best dish hands-down. A duck prosciutto salad balanced smoky, sweet and salty with cranberries, apples and blue cheese. And a porcini mushroom-goat cheese flatbread had the right amount of both and a nice fistful of greens on top.
If you're in the New Hope at lunchtime check out the Ferry Market, a relatively new food court with stalls selling Indian and South American foods, artisanal pork sandwiches, poke bowls, bubble tea, smoothies, local wine and more.
Lambertsville Restaurants
If we hadn't had breakfast at our B&B we would likely have started the day at Blue Moon, a Lambertville diner with indulgent omelets and other breakfast classics.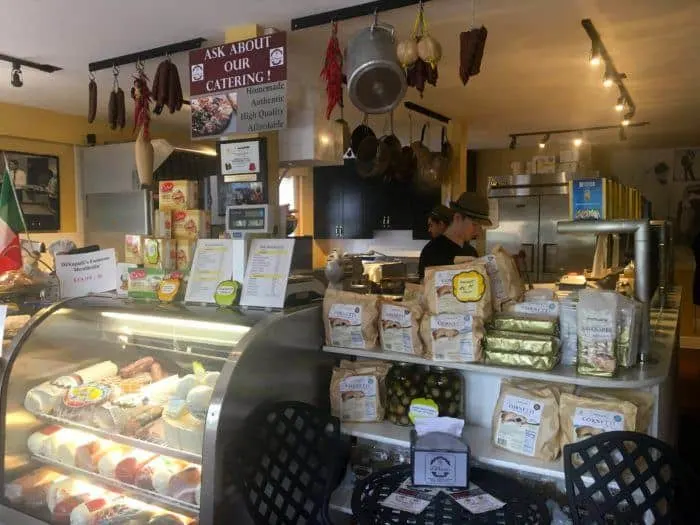 Looking for something we could take to go after our bike ride, we were lucky enough to find DiNapoli's Italian Deli on a side street one block from the bike path. It's what every Italian deli should be, with everything made-to-order and key ingredients imported from Italy.
Order the meatballs if you stay; they smelled heavenly in thick garlic-and-oregano-spiked sauce.
They were too messy to eat in the car so we ordered a hero with chicken, broccoli rabe (not bitter), sharp provolone and hot peppers on sesame-seed topped Italian bread. I rarely rave about a sandwich but this was one of the best I've ever had.
Where To Stay: Select New Hope Hotels & Inns
Bucks County is definitely the land of the B&B, which makes it popular couples retreat.
We stayed at the small, quirky *Wishing Well Guest House, exactly one mile from town. We felt more like we were staying over at a friend's house than at an inn, which might be a pro for some couples and and a con for others.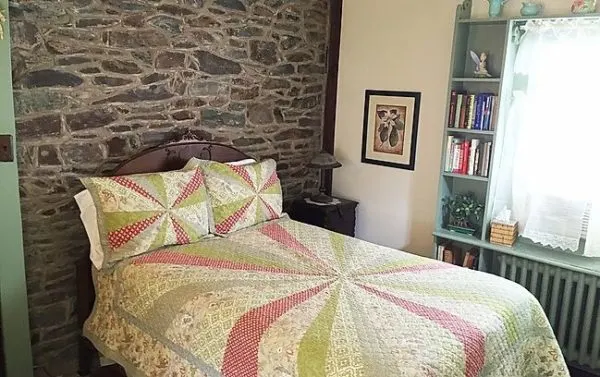 The rooms are small, but the property has a backyard with places to sit and drink your coffee and a short nature trail and a gazebo.
Breakfast was great with homemade pancakes, French yogurt, high quality jam, cereal, breads and pastries and very good coffee.
This in is known for being LGBT friendly, but I'm sure you could say that about quite a few places around town.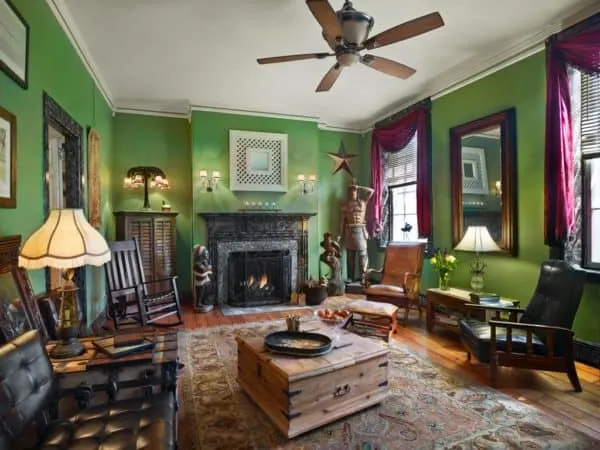 If you want to stay right in town, we thought Olivia's Bridge Street Inn had an ideal location and smart-looking lounge. It's right next to the canal just off of the main drag.
The rooms are upscale late-19th-century (ask for the Williams or Maris rooms if you prefer something a bit more modern and less flowery).
With 46 rooms, The Lambertville Station across the river is the place to book if you want a hotel experience.
You get the advantage of being in Lambertville with its attractive restaurants and nice main street. But New Hope is a short walk across the bridge.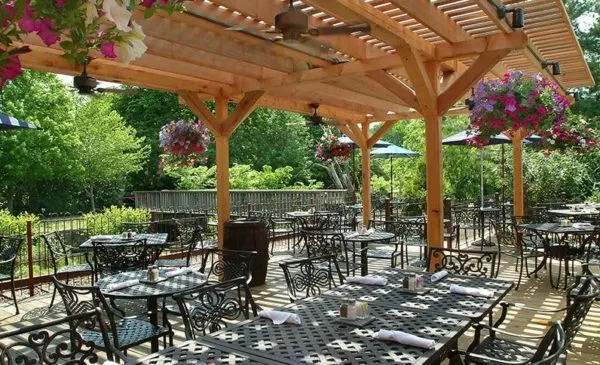 If you stay there make sure to have a drink or a bite at their smart-looking canal-side restaurant, especially if the weather is good. It's housed in stone former train-station building and has a lovely outdoor patio .
Getting to and Around New Hope
Doylestown and New Hope are a bit more than ten miles from each other. You could use either town as your base, but New Hope seems to have more hotels and inns and livelier nightlife.
New Hope is two hours from New York City and less than an hour from Philadelphia. On summer weekends I'd get an early start from New York to beat the shore traffic on the bridges and tunnels.
From either city driving is the best way to explore the larger area. I would plan to book a rental car if you don't own one.
You can take SEPTA from Jefferson Station in Philly to Doylestown, check out the town and then hop a bus or taxi to New Hope. But check the schedules; service isn't that frequent on weekends.
If you travel with your bicycle you could take the train and then bike to New Hope. Check the rules for bringing bikes on SEPTA before you go.
If you're comfortable with road biking you can ride bikes from either New Hope (five miles) or doylestown (seven miles) to Peddler's Village and a lot of people do. . And wear a helmet.
Pin it for later!
*Visit Bucks County arranged our visits to Mercer Museum and Hewn Spirits and our stay at the Wishing Well. We did not guarantee coverage or any particular coverage in exchange their support. Our opinions are always our own.
Photos of the property of FamiliesGo! except the tile factory store and Wishing Well Inn (courtesy of VBC) and Olivias and the Lambertsville Station Hotel (courtesy of the respective properties).