Would you like to explore Louisiana's Cajun's culture in ways that are inexpensive, family friendly and deeply authentic?
I had the opportunity to spend Mardi Gras week in Lafayette. I learned that it's the center of the Acadiana region and a good jumping off point for exploring Louisiana's unique food, music and history with kids.
Lafayette itself has only a small downtown with hotels and restaurants stretching out on all sides around it. You have to dig in to the city a bit to appreciate it and it's not a destination all by itself for more than weekend.
But it's a great place to base yourself for day trips around the region, especially if you want to time your visit around Mardi Gras. You'll be happy to come to Lafayette at night for its ample hotel selection and dinner at its many great restaurants.
• Read more: Where to eat with kids in Lafayette.
• Things To Do In San Antonio After You Visit the Alamo
• Do These Bucket List Activities On Your Dallas Getaway
Here are four daytrips you can take with kids and what to expect from Mardi Gras season.
5 Unique Things To Do With Kids In Lafayette
Walk through local history
Vermilionville is a historical village ten minutes from downtown Lafayatte. It offers the hands-on Louisiana history kids like and you can explore it at your own pace.
The site brings together a collection of houses and other structures built in the area in the 18thand 19thcenturies. These include modest farmhouses and the dwellings of prosperous professionals. There's also a metal forge, school house and shoemaker's workshop.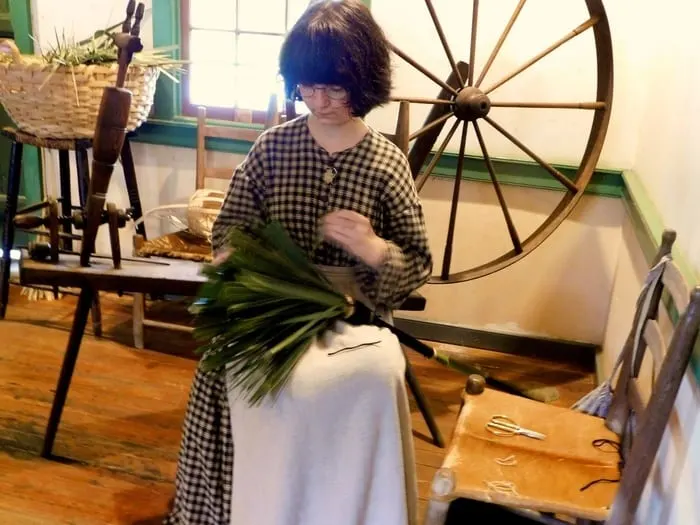 Costumed interpreters can tell you about the people who lived and worked in the buildings and the times they lived in.
Part of the regional history the village touches on is the suppression of Cajun' French in Louisiana's rural communities. In keeping with the region's Acadian roots, the interpreters speak French and tours are available in the language too.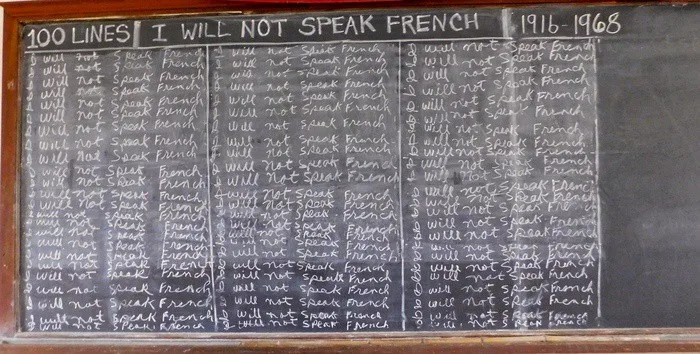 It's worth checking Vermilionville's calendar before you visit to see what activities are coming up.
If you visit on Saturday afternoon you'll find improvised music sessions. There are sometimes cooking demonstrations on weekends and special cultural activities for various holidays and cultural days.
On Sunday afternoon there's usually a fais-do-do with good live music. Watch dancers of all ages hit the dance floor wearing everything from jeans and Ts to their Sunday best.
Most are pretty good. And it's fine to jump in and try two-stepping yourself if you're inspired. People with kids definitely do.
Paddle the Bayou
A bayou is a forest that's been flooded. On a cold February day we went canoeing on Lake Martin, a cypress and tupelo forest that was swamped in the 1950s.
We went with Bayou Teche Experience, whose launch is about 20 minutes from downtown lafayette. Our guide knew the swamp and its critters and flora well. The paddling was easy. Kids ages above ages 8 or 10 could paddle with an adult in their canoe. Kids too small to paddle can sit between two people who can.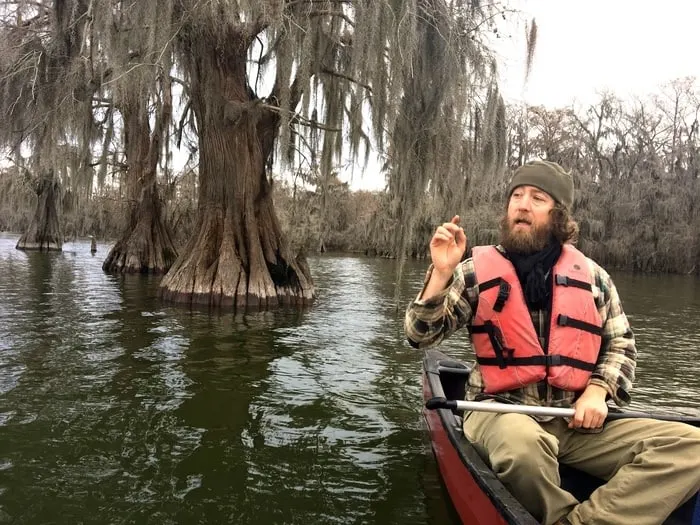 In the warm weather paddlers can see birds, turtles, bullfrogs, fish and enormous 'gators.
In February the alligators were at the bottom of the water hibernating. As exciting as it would have been to see a few (preferably at a distance from land), I was happy we didn't see any in the water with us.
We spotted a few birds but otherwise mostly just saw the bayou's distinct trees and Spanish moss. But Louisiana's Bayous set the mood in so movies and stories, it was cool to actually get a close-up look at one. This is a really easy, kid-friendly way to do it.
Taste Tabasco
Fact: Avery Island is technically an island.
Also fact: It's in the middle of Louisiana and not off the Gulf Coast, as most people assume it is.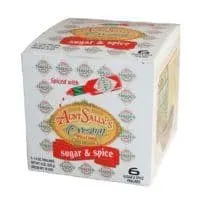 This "island" is a mound of earth surrounded by network of streams and small bayous. It's still home to the Tabasco factory and its pepper farm, as well as a factory tour, restaurant and museum, and the exotic Jungle Gardens.
About half of Tabasco's employees live on the island, as do founder Edmund McIlheney's descendants, who still run the company.
The Tabasco Tour
The tour is not long and is self-guided, so you can do it at a pace that suits the kids you're with, and take a break if they get antsy. If you want to, you can pay extra for occasional specialty tours, not all of which are open to younger kids.
The tour starts in a hot house where tiny, bright Tabasco peppers grow. Then you the peppers mixed with vinegar and locally mined salt and places into barrels to ferment and age.
The smell of peppers that comes off the sealed barrels is impressive. Eventually the fermented peppers poured into large tuns to be finished off, bottled and shipped out.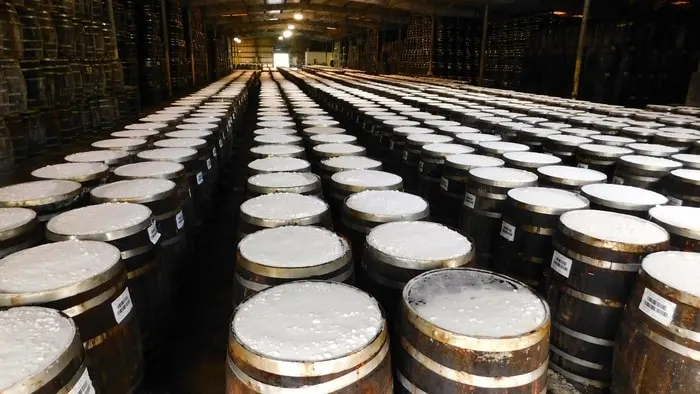 There's a small museum that will tell you everything you wanted to know about Edmund McIlheney, his little red peppers and the hot sauce empire that began during Reconstruction.
The gift shop is fun because you can sample every sauce and pickled vegetable McIlheney's makes, including a few that are only for sale onsite. You can also buy novelties like chocolates and praline cookies spiced up with Tabasco.
I didn't get to eat at the restaurant but it's casual, reasonably priced and kid-friendly. The regional menu looked pretty good. It seems likely they're going to try to produce good food to complement their hot sauce, which is on every table, naturally.
The Jungle Gardens
It was raining heavily the day I visited, so I mostly saw the Jungle Gardens through a car window.
McIlheney's son, an early conservationist, created a bird sanctuary on this property in the 1890s. He gradually brought in exotic plants from all over the world, converting the property to the Jungle Gardens in the 1920s and opening them to public in 1935.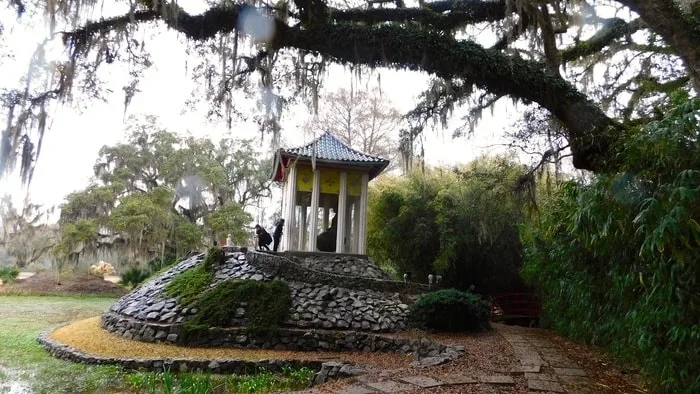 Today you can drive or walk around them, or ideally do a mix of both. There's still a large bird sanctuary, a pond with an enormous Buddha and lots of small ponds and trees that are home to all sorts of wildlife.
If you visit the Tabasco factory it makes sense to take at least a peak at them. If it's not raining, it's a good place to let kids romp a bit before the drive back. Just remember, this is Louisiana. If there's water there's 'gators.
Sample a Small Town Mardi Gras
I spent Lundi Gras and the early part of Mardi Gras outside of Eunice in St. Landry Parish, about an hour from Lafayette. I got to experience some unique rural Mardi Gras traditions festivities. It was absolutely the highlight of the trip.
Cook a Pig
On Fat Monday, I found myself listening to a Zydeco band in a very cold barn in an RV Park. I huddled under a heat lamp with people from all over the country. Many wore wore camouflage or cowboy hats. Two women had come France to teach locally. A large sequined disco-chicken hung from the ceiling.
We were all waiting to eat.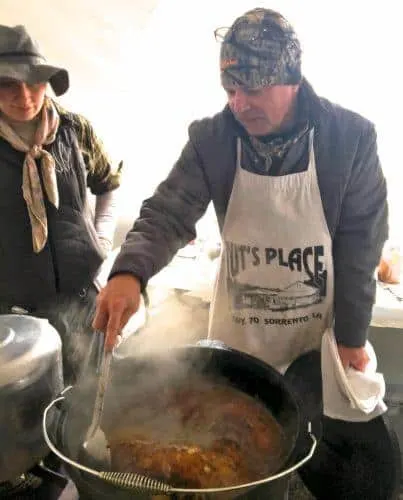 The event was a boucherie, loosely translated as a butchering.
Traditionally it was a feast that rural communities had in the fall to celebrate their bounty and fatten themselves up a bit for winter on the pigs they'd been fattening up all summer.
For this cookout local volunteers had woken up before dawn to kill a pig and divvy up its bits and pieces. Then seasoned amateur cooks then spent several hours grilling, stewing, frying and making paté and several kinds of sausage (boudin) from every part of the pig but the oink.
I didn't notice what the kids were eating because I was too busy making sure to get in line each time a new dish came out.
There were barbecued ham steaks and dry-rubbed ribs, which are pretty kid-friendly. They probably went for the fried cracklings, too, if they could get their hands on them. They were the item that disappeared the fastest.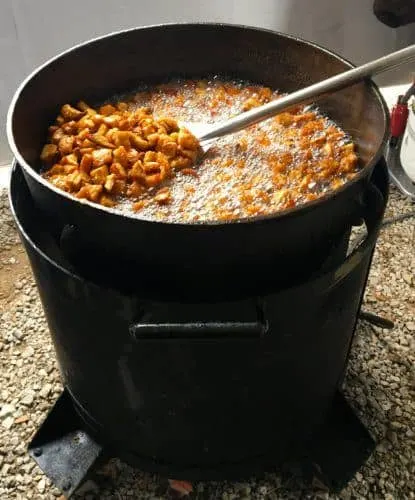 I was determined to try the more exotic stuff, though. Ponce was a round fat sausage that's cooked in the pig's stomach in thick brown gravy.
It and the chewy, sinewy backbone stew both tasted the way things thing only can after simmering for hours. Both came with rice and white beans seasoned with Tasso ham.
The local boudin is a loose rice-based sausage flavored with bits of meat. Boudin Noir is the same but with the pig's blood mixed in with the meat and rice. It's not for everyone, but I love it.
There was also a paté-like headcheese made with the pigs cheeks and other remnants. I was a little skeptical but it was mild and a great appetizer.
The only thing I skipped was fressures, a stew made from the organs that had a distinct livery smell.
Practical stuff: A man from Spokane Washington, told me he'd been on a waiting list for seven years to get a spot at the RV park for this event.
You don't have to stay at the RV park; anyone can show up. You buy tickets for the number of dishes you want to try for a few dollars apiece. I recommend buying enough tickets to try everything and sharing.
Doors open at 8:00 AM. People start showing up throughout the morning to hear the music and watch the cooking. Dishes start rolling out around 1:00 and continue into the late afternoon.
Chase a chicken
I returned to St. Landry's Parish the next day for the Courir du Mardi Gras, the Fat Tuesday run. The thing they're running after is a chicken.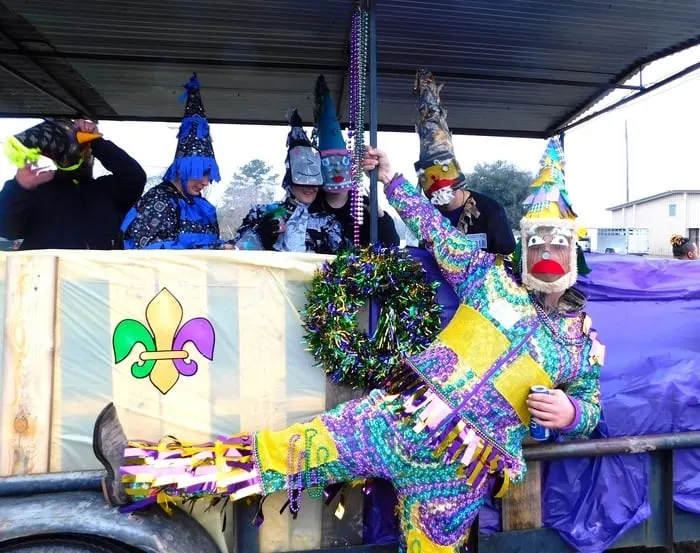 I loved this parade because it showed a community coming together to do something it's been doing for 100 years. Far more people participate than watch. And it's clear they are doing entirely for their own enjoyment, not as a show for tourists.
The participants dress up in colorful rag-tag costumes they make, with pointed hats and mesh face masks. They look strange, which is the point.
The masks hide who you are and transforms you into someone else, so you can make mischief for a day and then return to your responsible self.
A century ago, local folks in these beggar costumes went from house to house collecting ingredients for a communal Fat Tuesday Gumbo. If a farmer had a chicken to donate he'd have some fun by letting it go and making the "beggars" chase it.
Now they start cooking the gumbo at the community center in the early morning. But the parade still kicks off with a chicken chase.
They chase six more birds at intervals as a loose collection of floats, horseback riders, musicians and people on foot wind their way around the countryside and into downtown Eunice in the late afternoon.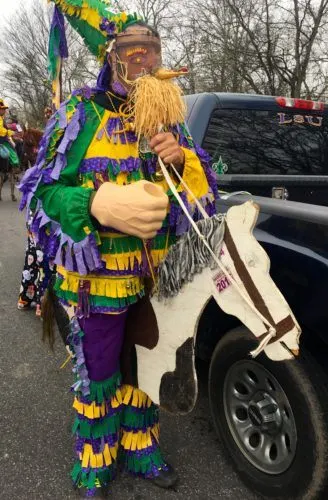 I wouldn't recommend following the parade the whole day. But it's worth getting up to the start by 7:30 or so to see the assemblage of costumes, musicians, horses and floats, and to see the chicken chase (the bird gives them a run for their money).
Then you can catch up with the end of the parade in Eunice around 3:00. There's a small street fair and live music all day. If you're lucky you'll find the gumbo.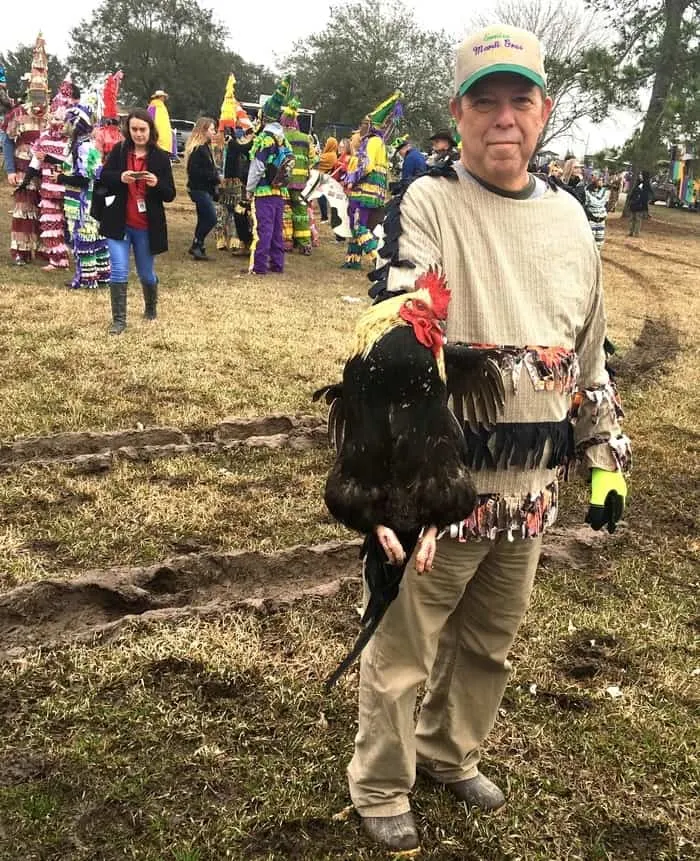 By the way, the chickens are returned to their owners after they're caught. All you get for catching one is bragging rights.
This is such a local event that I wouldn't recommend making your way to St. Landry's just to see it. But it's so unique and colorful. If you're in the area, you have to make your way to Eunice to see a bit of it.
Grab some beads
If you come to the Lafayette area during Mardi Gras season you have to check out one or two of its many parades. (Here is the complete Lafayette mardi gras parade schedule.)
It holds more than a dozen, from the small communal Krewe de Cannaille parade to the Queen Evangeline's parade, which features the Mardi Gras queen and her court and has some of the best floats. There's also a parade just for kids and one for dogs.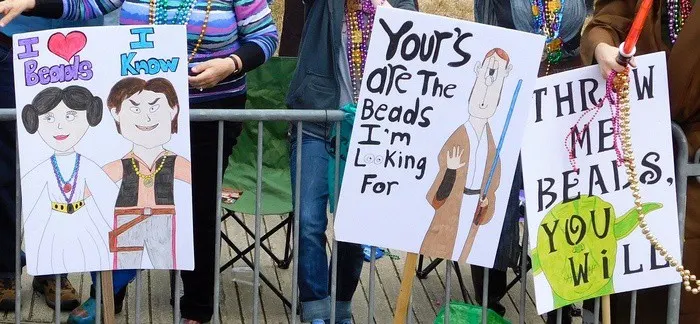 Lafayette makes a point of making its parades family friendly. There are kids everywhere. The people on the floats toss beads, plastic cups and small toys and seek out the kids. People on the sidewalk hold signs to attract their attention.
You will see people drinking along the parade route, surprisingly early in the day. But I didn't see anyone acting stupid at any of three parades I went to. If they were, I think the police would quickly dispatch them. Nobody is flashing any body parts.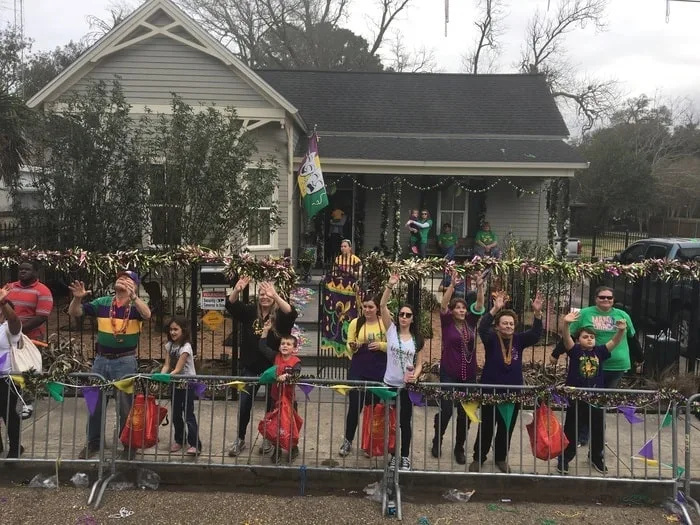 The main parade on Tuesday ends at Cajun Field on West Congress Street, where there's music, a midway, carnival rides and plenty more food.
Lafayette Hotels
---
Planning a Trip?
• Read reviews and find the best hotel rates on Trip Advisor.
• Rent a Cajun cottage for your family on VRBO.
• Shop for the best flights and air fare to Lafayette on Kayak.
---
The Juliet Hotel recently opened downtown, a few blocks from Parc Sans Souci, the Science and Children's museums, the concert stage and several good restaurants.
It's a boutique hotel, but the rooms are large open suites (left) and it has a small pool and whirlpool outside.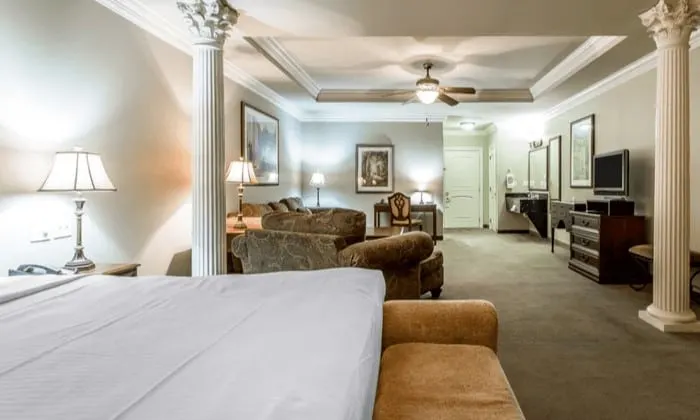 The Carriage House Suites is away from downtown in the walkable River Ranch neighborhood. Its two-room suites work well for families. It has an outdoor pool, tennis courts and a spa. There are a few places to eat nearby.
There are plenty of chain hotels around Lafayette at all price points. I stayed at the Doubletree by Hilton, which has good size standard rooms and a nice riverside outdoor pool for warmer months. It has two restaurants and a bar, but I didn't try them.
There's also a Drury Inn & Suites, which is popular with families for its triple play of free breakfast, afternoon snacks and an outdoor pool and hot tub.
St. Landry: If you want to stay in St. Landry overnight, you'll find your choice of affordable hotel chains, along with some B&Bs and vacation rentals in St Landry and nearby Eunice.
Pin it for later!