One of the challenges to visiting a New York City is finding fun, authentic, kid-friendly things to do, that every other tourist isn't also doing. Here's one good tip to help you avoid the crowds:
The Big Apple has more than 100 museums, many of them are smaller, far less crowded and easier to explore as a family than the marquee ones like the Met and the Museum of Natural History.
Here are nine lesser-known NYC museums for kids and adults, both. They offer unique educational and local experiences. Not surprising, they are some of my family's favorite city attractions.
Always check the museums' websites for days or evenings when admission in free.
Visit at least one on your first New York vacation with your kids. And try a few on a second visit.
You Might Also Like
• Tips For Visiting Museums With Kids.
• 24 NYC Desserts Worth Seeking Out
• 10 Unexpected Things To Do in NYC's Mid-Town with Kids
The Best NYC Museums For Kids…That Aren't Children's Museums
Manhattan Museums
1. National Geographic Encounter: Ocean Odyssey
I asked Tween Traveler if she would consider this interactive Nat Geo adventure to be a museum. She said, "Yes, it's just a fun museum." What else do you need to know?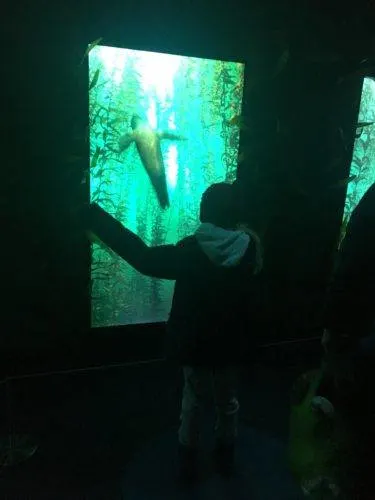 The exhibit takes you across the bottom of the Pacific Ocean from Australia to the Americas and up to the Arctic.
You'll walk along the ocean floor and see what it looks and sounds like by day and night.
You'll see giant squids battle, find your way through a kelp forest, play with a seal and get swallowed up by a 3D whale.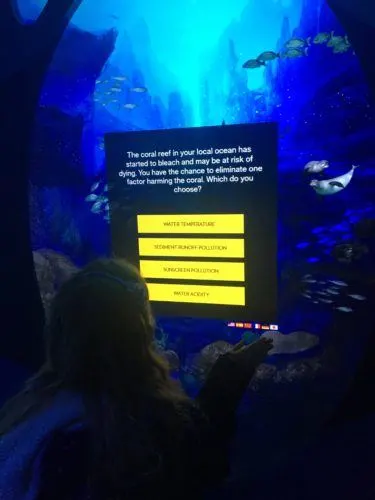 The final room has interactive stations that build on what you've learned on your journey, and the opportunity to take pledges to protect the environment.
The attention to detail and visual quality are as fantastic as you would expect from National Geographic.
We've all seen pieces of the interactive technology in other museums and theme parks. But I've never seen so many different kinds pulled together in quite the same way.
What Age:
The two 11 YOs I took seemed the ideal age. In general I think it's best suited to kids ages 7 and up who will have learned some the relevant science and geography.
Teens might not get as excited about some of the interactive goodies but some of the special effects will impress them. I'm not sure preschoolers will get enough out of to justify the ticket price for them.
Where is it?
On 44th street in Times Square, midtown Manhattan.
Our Best Tip:
Look for discounted tickets on Travelzoo and Groupon.
2. NY Historical Society
This is a museum we've only recently discovered but have visited a handful of times in the last two years.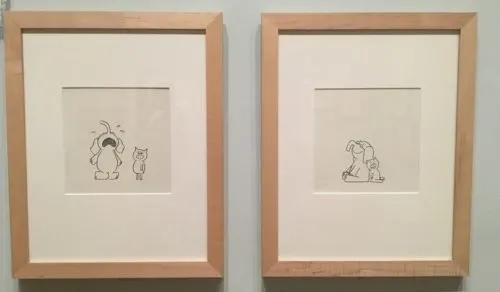 The lower level has a small children's museum that is packed with video screens, games and exhibits that focus on the aspects of New York City history that are pertinent to kids.
Learn about a day in the life of a "Newsy" and read letters from city kids sent to live on the prairies. The cozy reading room is an excellent place to take a time out from the noisy city, especially with very young kids.
The two upstairs floors have changing exhibits that are often family friendly. We've seen an exhibit all about the quirky children's author Mo Willems and another that looked at the history of the "real" magic referenced in the Harry Potter books. At Christmas they have a great little train show.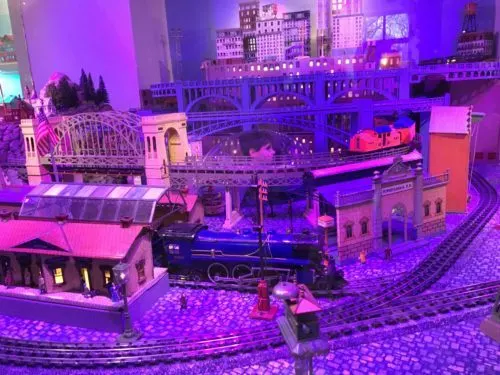 Your admission ticket includes New York Story, an 18-minute moview that traces the city's rise from a colonial outpost at the tip of Manhattan to a sprawling and diverse urban powerhouse.
It also recently added We Rise, which looks at the roles women have played in the city's history.
What Age:
The children's museum is fine for any age, but interest will start to fade by ages 11 or 12. Appropriate ages will vary for the rotating exhibits. But kids and tweens interested in American history can probably find something of interest almost any time.
Where is it:
One block south the Natural History Museum at 77thstreet and Central Park West.
Our Best Tip:
The large wooden Diane Ross playground is just inside Central Park at 81ststreet. And Beatles fans will want to visit Strawberry near 72ndstreet.
3. Federal Hall
This is one of two museums on this list that always has free admission.
George Washington was sworn in and sat his terms in office at this National Historic Site. As did the first Supreme Court and Congress.
The building had a few subsequent uses as a customs house and U.S. Treasury building.
Ideally you'll find a Park Ranger on hand to give you a tour. We visited on a national holiday and there wasn't a ranger free for tours.
But the staff gave Junior Park Ranger workbooks to the two 9 YOs and one 10YO I brought with me. And they spent more than an hour running around the museum looking at the exhibits and filling it in. I was frankly surprised as how much time we wound up spending there.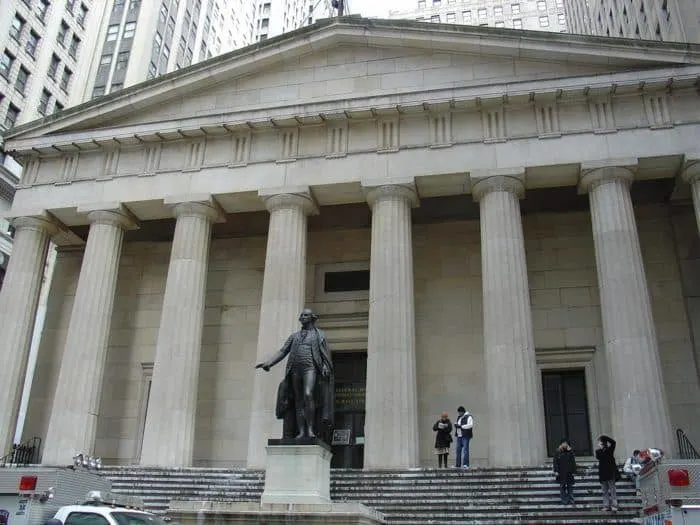 What Age:
You can bring anyone old enough to read the ranger workbook and know who George Washington was. It's a small museum, so good for younger kids' attention spans.
Where is it:
The Corner of Wall and Broad streets in the financial district.
Our Best Tip:
Admission is free. There are four 30-minute guided tours on normal days. If you catch the museum on an off day like we did there will still be at least one ranger around to ask questions.
4. The Museum of Illusion
New York has a slew of small novelty museums lately, with themes like slime and ice cream.
This museum was made for the Instagram generation. The point of going is to take photos of yourself interacting with the illusions and posting them on social media.
I spent a good hour here on a June weekday with another mom and 3 tweens. They absolutely loved it and were happy to try all the illusions over and over again.
Among the biggest hits were a kaleidoscope of your own face, a room where you can appear in photos to be upside or sideways, suspending gravity, and a set of inverted face masks that appear to be facing outward instead.
There was one illusion where a silver bar would appear or disappear between two loops depending on where you stood. My naked eye couldn't see the bar, but my camera could, which puzzled and intrigued me.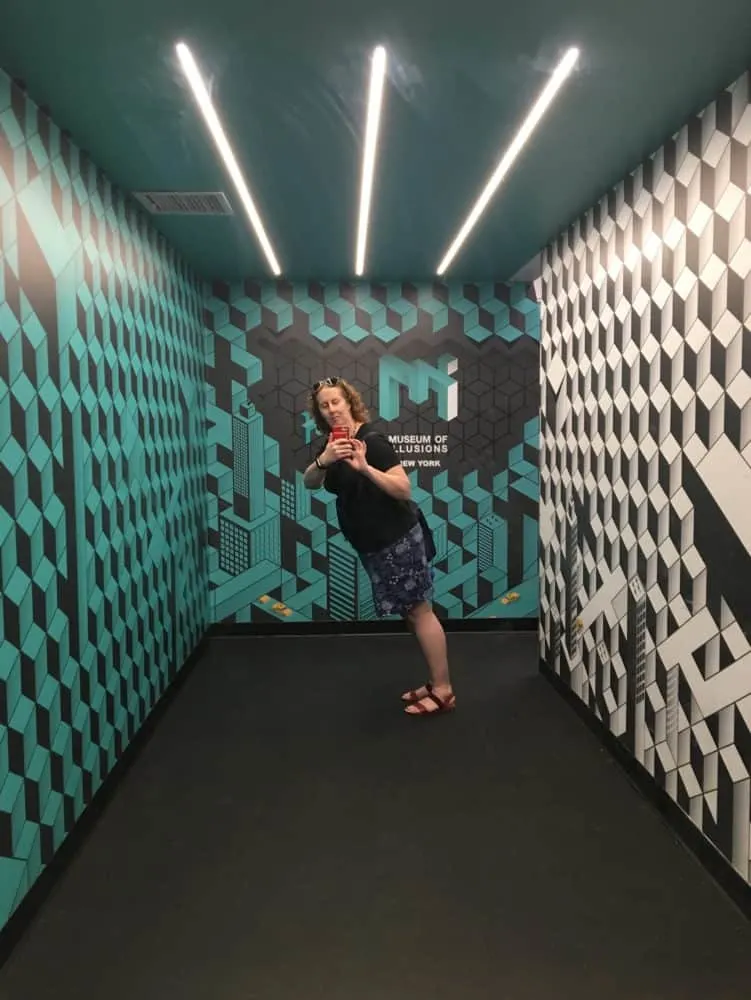 What Age:
Although you can go with any age, tweens and teens, who have their own phone cameras and maybe even Instagram accounts will get the biggest kick out of it. Kids under 7 or so will have a hard to interacting with things and might not "get" a lot of them.
Where is it:
In a beautiful former bank building at the corner of 14th Street and 8th Avenue. It's the ideal juxtaposition of classic and modern.
Our Best Tip:
It's a popular museum and the busier it gets the longer you have to wait for your turn to try out the illusions and take photos. I'd schedul a visit early in the day or at the tail end.
5. The Met Cloisters
The best time to visit this outpost of the Met is in the spring, and the best reason to go then is its lovely medieval garden. Learn about quince and medicinal plants herbs and admire all kinds of beautiful flowers.
Teen-age me loved the famous unicorn tapestries and the building itself, which has been built from pieces of five European cloisters.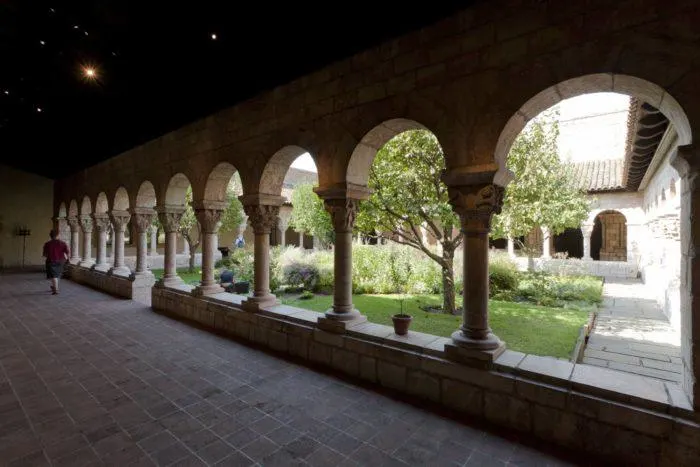 The museum offers free family tours for kids 12 and under on periodic Saturdays, which is probably the best way to see it with kids.
What Age:
Any age will enjoy the gardens. Kids old enough to have had some European history will best appreciate the art.
Where is it:
Inwood, on the west side of Upper Manhattan.
Our Best Tip:
Make sure to wind your way through woodsy Fort Tryon Park before or after your visit and admire the great Hudson River views.
6. The Morgan Library & Museum
There are two reasons to visit what was once JP Morgan's private library: The first is the gorgeous Italian-Renassaince-style east room in Morgan's original libary.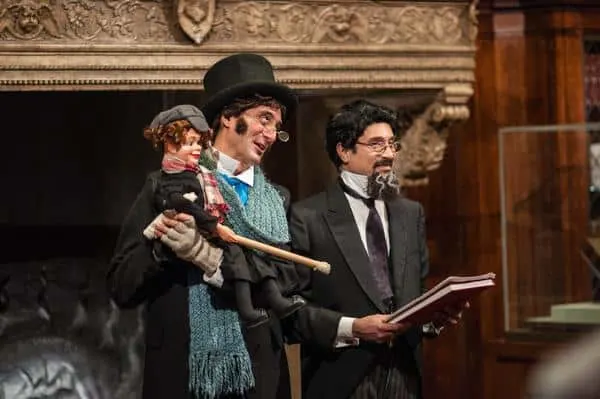 The second is the unique family programs the museum offers on weekends several times a month.
You might get a close-up look at items from the collection, make paint from bugs and flowers, or move words around a board to make poems as a team.
The first Sunday in December is usually a holiday fete with Dickensian players, music, special crafts and more.
What Age:
The family activities will skew toward preschool and school-age kids. the exhibits are always literary in nature and some, say illustrations from Lewis Carroll books, will be somewhat kid-friendly.
The library is not big, so if younger kids get bored you can go through quickly.
Where is it:
A few blocks south of Grand Central Station on Madison Avenue in mid-town.
Our Best Tip:
Grab a family guide at the admission desk to draw in school-age visitors.
Planning a Visit To NYC?
Find the best rates for your ideal hotel on TripAdvisor.
VRBO vacation rentals can save you money and give you more room.
CityPass can save you more than 40% on NYC's most popular attractions, plus let you skip the line.
7. Spyscape
Another new and highly interactive museum that kids and parents will both have fun exploring.
You will enjoy reading the panels about spies and the history of espionage in the U.S. and other parts of the world.
Your kids will mostly ignore that and spend their time doing and redoing the battery of tests you take to determine the type of intelligence job you'd be good at.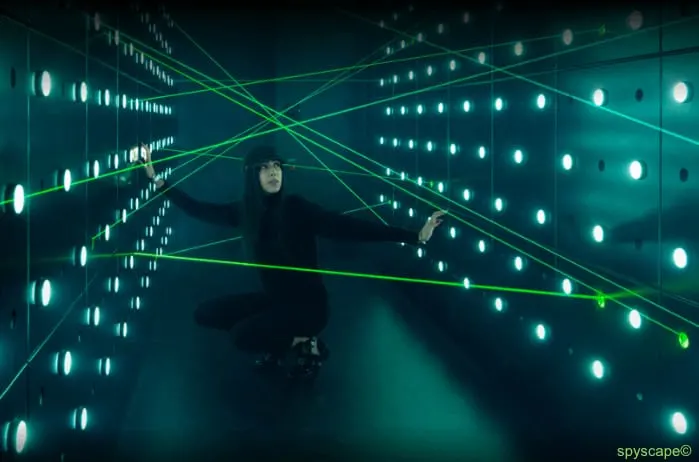 Prepare to have your intelligence, risk-tolerance, observation skills, memory and physical coordination tested with quizzes and challenges.
One information panel the kids might like is toward the end and looks at the gadget maker that inspired James Bond's Q character. You'll see all the things he learned to hid a bomb in, including dead rats (yuck!)
What Age:
Kids have to be old enough to appreciate with spying really is. It's a plum activity for tween and teens. Kids as young as eight might get it, depending on the kid.
Where is it?
On 8th Avenue in midtown, a few blocks south of Columbus Circle
Our best tip:
Don't visit on an empty stomach. Going through can take two to four hours, and it's not a place where you want to pause, leave and come back.
If you're hungry when you come out, walk a block west to 9th Avenue. It's New Yorkers' favorite street for food. You'll find pubs with food, Thai restaurants, pizza and plenty of other casual and ethnic options.
Queens
8. Queens Museum
This highlight of this museumis a 3-D scaled replica of New York City that includes every building in the city. It was made for the 1964 Worlds Fair and has been periodically updated to reflect new building.
Bring binoculars to help you find individual homes, hotels or other buildings.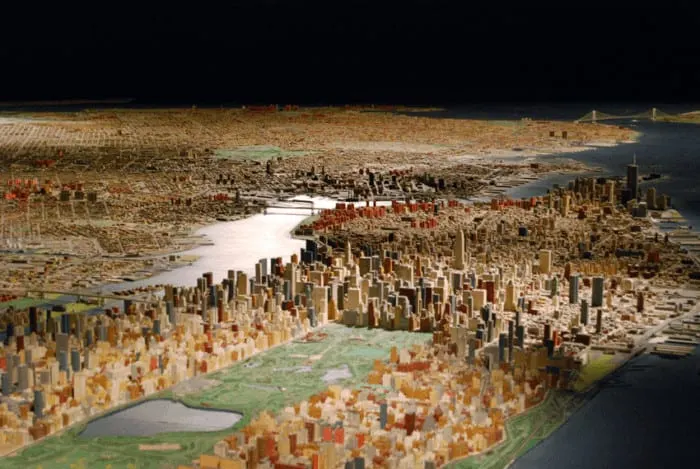 The museum also houses a collection of memorabilia from the two world's fairs the city hosted, much of it from private donors' collections.
Beyond that the museum has an eclectic roster of rotating exhibits. On different visits we've seen an extensive collection of Tiffany glass and a retrospective on the punk band the Ramones, who grew up a stone's throw from the museum.
When you're finished with the museum, head out the back door into Flushing Meadow Park.
Take a picture in front of the giant Unisphere, then take a break while your kids play hide and seek among the manicured paths, lawns and trees. If the weather is suitable, bring a picnic.
What Age:
It depends on what's on at the moment, but generally this is another 7 and up zone.
Where is it:
Corona, Queens. Take the local 7 train to Willets Point and follow signs for the Tennis stadium and Flushing Meadow Park.
Our Best Tip:
This museum and Natural History play key roles in the book and movie Wonderstuck. It's well worth a read for 8 to 12 year olds—and well worth watching with kids of any age, especially if you plan to visit either museum.
9. Museum of the Moving Image
We loved this museum dedicated to movies and television even before it opened its fantastic Jim Henson Exhibit.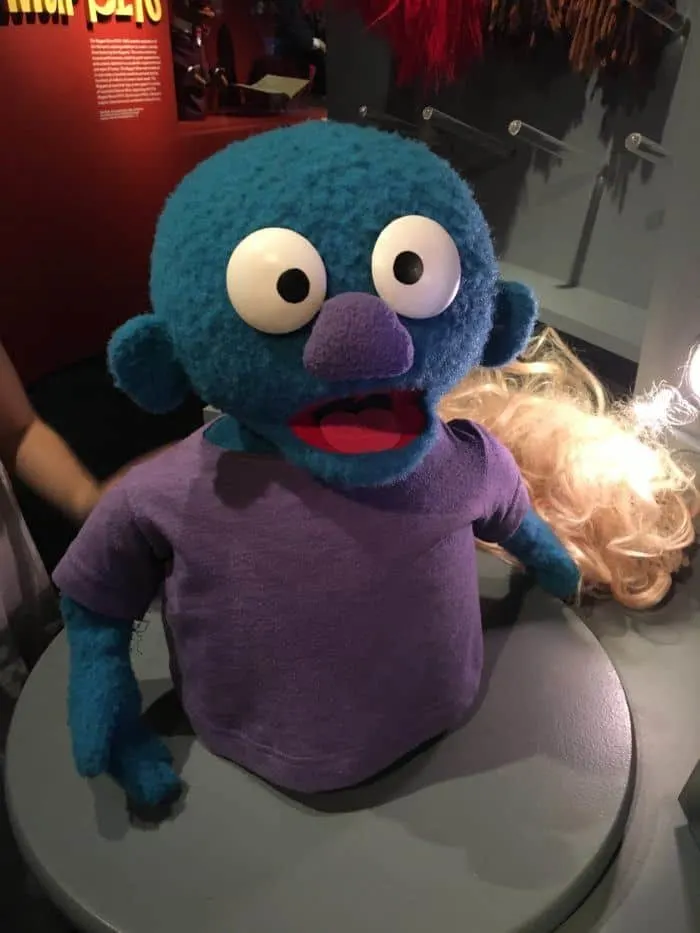 Make your own muppet, see big bird, Statler & Waldorf and Kermit among other muppet favorites and watch the very funny pitch reel for the muppet show.
This is one of those exhibits kids and adults both love but for different reasons.
The third floor delves into film making, with hands-on early motion-picture technology and opportunities for kids to make their own stop-motion videos.
Down one floor, you can play vintage arcade games.
Check before you visit to see what movies are showing. They usually screen kid-friendly films during school breaks and often on weekends. Tickets do sell out for these.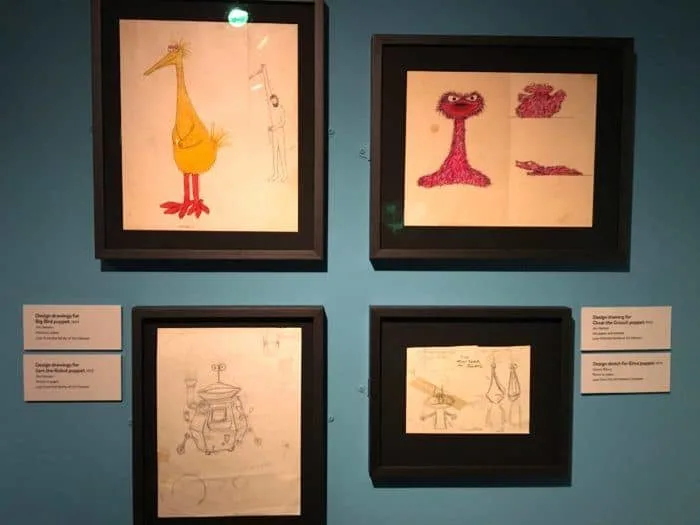 What Age:
Anyone from a toddler to a Gen-Xer will find something to like in the Henson exhibit. We started going around age 8, but it depends on your kids' interest in movie making and pop culture. Some of the movies and exhibits will be better suited to teens.
Where is it:
Astoria Queens, near the still working Kauffman-Astoria film studios. Close to the R, N, W, E and M subway lines.
Tip:
This is an evolving neighborhood. While there is a Pizzeria Uno right next door, a little digging will also turn up good Thai, French and Latino and Mexican food within walking distance.
Brooklyn
10. The NYC Transit Museum
How often do you get to visit a museum in a subway station?
When you get to the museum's entrance, go down the stairs into a 1936 Brooklyn station and go through the old-fashioned turnstiles.
The best part of visiting is going to the lower level to see Vintage subway cars from the past 100 years or so. It's fun to see the old ads and how details like the seats have changed over time.
Did you know that the windows on the subways used to open?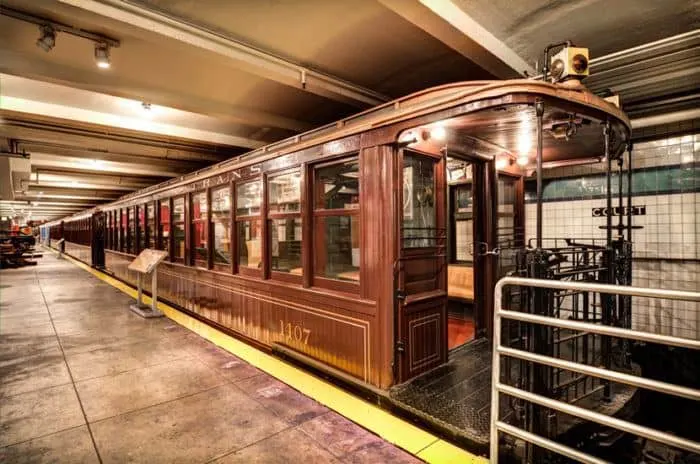 Other rotating and permanent exhibits look at the history, engineering and culture surrounding mass transit in New York City.
Kids aged 10 and up can join adults who are museum members on periodic tours of old City Hall station in Manhattan with its vaulted ceilings and fun history. Tours sell out fast, so plan ahead.
What age:
When Tween Traveler was a toddler we used to come here in on rainy or cold days to let her wander in and out of the vintage trains. So any age is fine, but if kids are fascinated with trains it helps.
Where is it:
Downtown Brooklyn, not far from the current Borough Hall Transit Hub.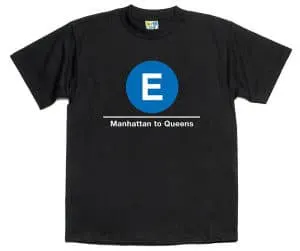 Our Best Tip:
This museum has an especially fun souvenir shop, so be sure to stop in. T-shirts that feature a subway line matching a person's first initials make great gifts.
Bonus! The New Slime Museum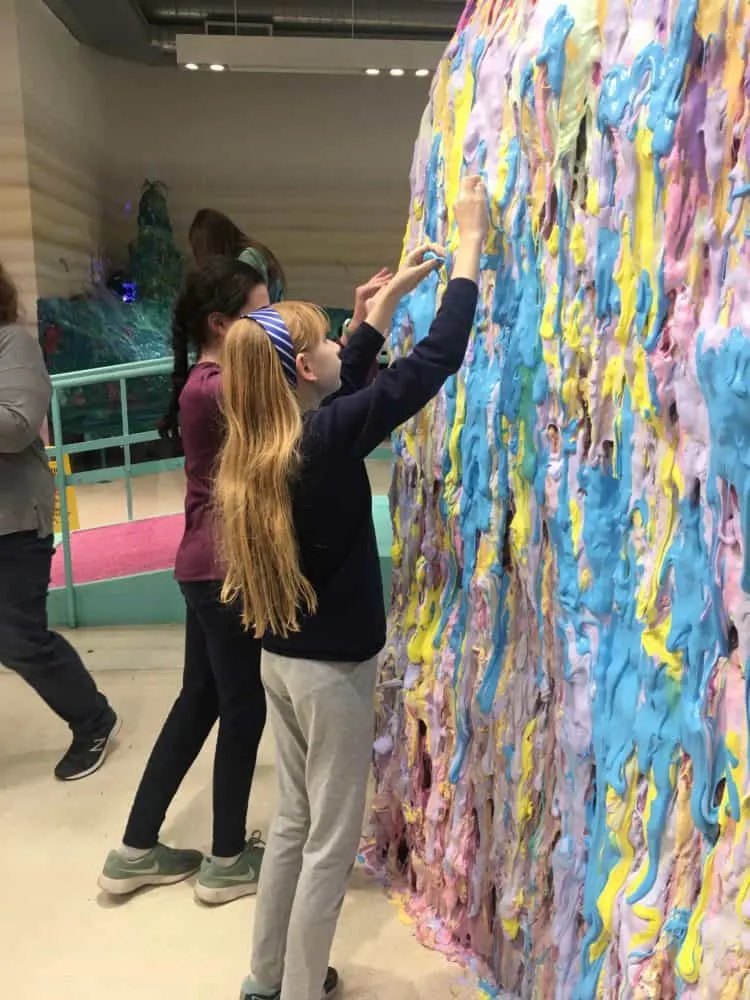 We had a chance to visit the Sloomoo Institute, a celebration of slime, over winter break. I'm not including it in the Top 10 because I'm not sure whether it's a pop-up or a permanent fixture.
I am sure the two 12YOs I had with me loved it.
They eschewed the chance to don rain slickers and have buckets of slime poured over them ("Gross!") . but otherwise plmged their hands into tubs of slime in a melange of colors, textures and scents.
The also got to walk on slime, throw slime against a wall and best of all, make their own tubs of slime to take home.
Every ticket comes with a ticket for the Slime Bar (and of course parents hand their tickets over to the kids). They choose their texture, color, scent and add-ins and then gleefully mix the goop with their hands.
Important things to know:
There is hand sanitizer and wipes all over the place, and instructions for how to get sime off clothes and out of hair should the need arise.
6 to 8YOs seem to be the ones who want the slime shower (which is an added fee). Even with the rain poncho they will wind up with slime on their clothes, feet and hands.
What Age:
I would reccomend it for ages 4 to 13 or so. Toddlers won't be able to reach all the slime pots and might or might not like the DIY part.
Where is it:
Two blocks north of Canal Street in SoHo.
Best Tip:
If you have allergies or sensitivities to artificial fragrances this is not the place for you. Scents have never bothered me before, but the cacaphony of fragrances here gave me a major headache.
Pin it for later!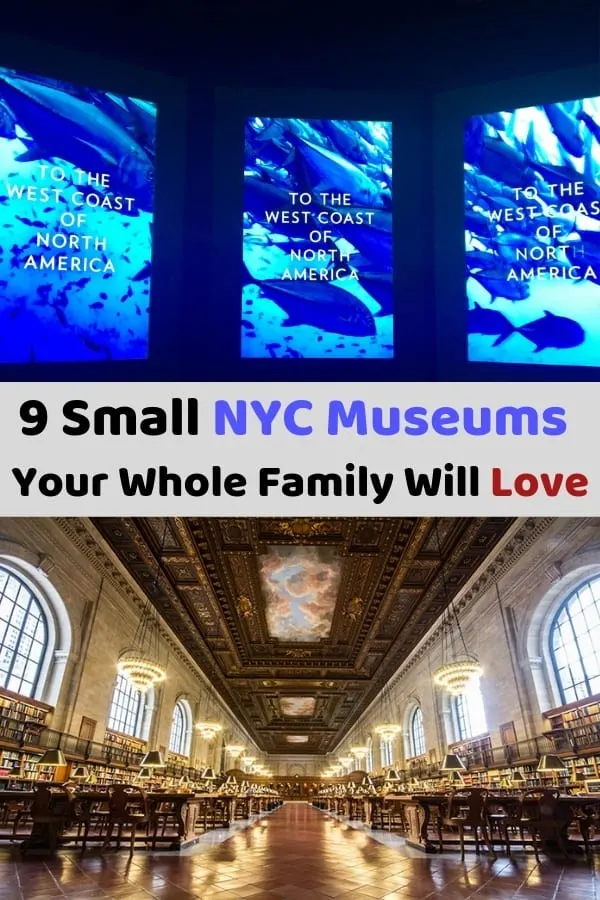 All photos are the property of FamiliesGo!© except Federal Hall (NPS), the NYPL reading room (NYPL), the Cloisters (Metropolitan Museum), and JP Morgan Library, Spyscape, the Queens Museum and the Transit Museum, which are courtesy of the museums.