The Hotel: La Fonda On the Plaza
Where: Santa Fe, NM
Review: My Family's Stay at La Fonda Santa Fe
How's the Location?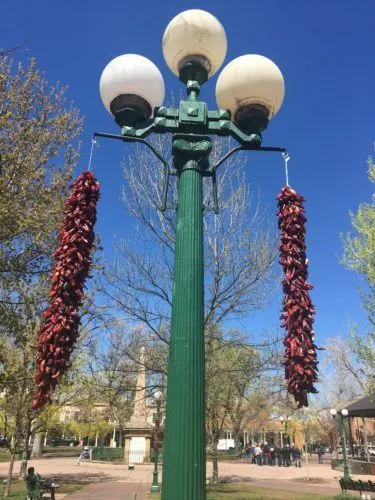 Visitors to Santa Fe tend to fall in love at first sight. Our family certainly did. The well-preserved Old Town has a charming central plaza surrounded by shops, museums and restaurants.
As picture perfect as it is for tourists, Old Town feels like a real neighborhood where people live and work; not a preserved-for-tourists zone where locals would never go.
La Fonda sits at one corner of the bustling plaza. It has this most ideal location because some iteration of a hotel has been on this spot since the 1820s, when Santa Fe was barely a dot on the map. The railroads and town grew up around it.
Within a block or two of this Santa Fe hotel you'll find a very good prickly pear margarita, freshly made piñon candy, the Palace of Governors, an excellent outdoor Native crafts market, museums, the old cathedral and the dime store that claims to have invented Frito pie.
The singular downside of the location is that the bells in the cathedral tower start chiming every 15 minutes starting at 7:00. If your kids are early risers anyway this won't be a problem.
Tween Traveler slept through them every morning; Rich and I weren't so lucky. If you aren't eager for an early start to your sightseeing, consider packing earplugs.
You need to drive if you want to visit Meow Wolf, Canyon Road's art galleries, the newish Railyard Arts District or Museum Hill with its four large museums.
But nothing seemed more than a few minutes drive. And it was pleasantly easy to stroll out of La Fonda and around the Old Town for lunch, dinner and sightseeing.
Find the best deals on La Fonda and other Santa Fe Hotels on Trip Advisor.
You might also like a 3-day Santa Fe Itinerary
Road-tripping? Read 3 Unique Albuquerque Hotels
and A Weekend Getaway To Taos.
What's the hotel's Vibe?
The minute you walk in La Fonda's door you know you're staying someplace special and that you're in for a treat.
This Historic Hotel of America is typical New Mexico adobe on the outside. Inside its dark wood, low ceilings and exposed beams. But light-colored walls and strategic skylights keep it from feeling heavy.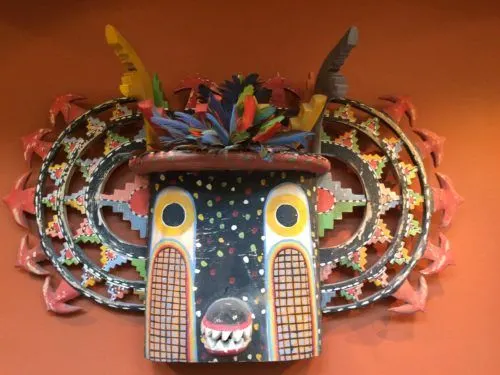 A curated art collection, much of it by American Indian painters and sculptors is on display everywhere.
The hotel has its share of colorful stories going back a century to the heyday of the Atchison, Topeka & Santa Fe Railroad when it was a Harvey House hotel.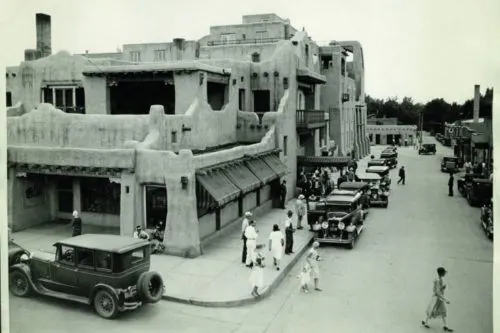 Then there are the World War II years when FBI agents hung out incognito in the bar. They're assignment: To keep Los Alamos scientists from getting too drunk and chatty about their work, in case a spy was sitting on the next stool.
But don't expect this Santa Fe hotel to be stodgy or staid. The art is quirky, the lobby bustles, the bar is lively, the shops are fun to look at, the staff is friendly.
We were there during NYC's spring break which doesn't coincide with New Mexico's or Texas's. Aside from some preschool-age children, Tween Traveler was the only kid we saw there during our stay.
But we didn't feel self-conscious having her along with us at any point, and the wait staff in the restaurant definitely understood kids.
We were told that during local spring breaks and summertime the hotel bustles with families. Given it has a prime location and a pool I'm sure it's true.
How are the Rooms?
The first thing you notice when you walk into the rooms are the brightly, hand-painted Mexican style headboards. The furniture is mission-style. But again, warm paint and plenty of sun keeps things light.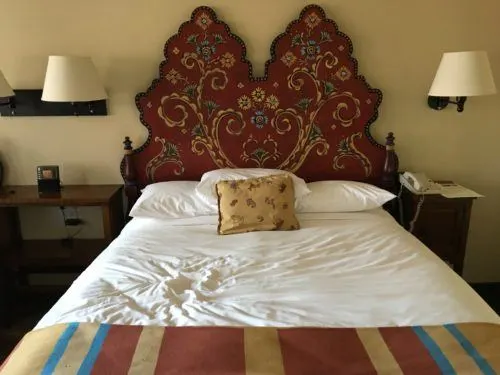 The rooms are about standard size, maybe on the small side. Definitely get a double room with kids; there isn't room for a rollaway or crib.
The bathroom is modern and stylish, but there aren't a lot of places to put things down and we had no bathtub. The few large suites might have one.
Do the Amenities Add Value?
Whether or not you stay at La Fonda, you take a free docent tour on two mornings a week (call for days and times).
The is a good size outdoor pool in an interior courtyard. They were doing pre-summer maintenance when we were there so we couldn't swim.
But we had the hot tub to ourselves and it was just the right temperature. It's on the small side though. I imagine it would have been crowded if the pool had been open.
A daily rate for in-and-out parking is the same whether you hand your car to the valet at the front door or bring it yourself to the garage at the end of the block. You receive a paper valet check that you have to hold on to.
We took advantage of the valet when we checked in and had bags to unload but afterward it seemed easy enough drive to the garage. Regardless of how you drop it off, you always retrieve your car from the garage.
The hotel was designed to have several retail shops on the first floor. One is Señor Murphy, a local candy shop that makes good use of New Mexico ingredients like chiles and piñon seeds (pignoli).
Try the turtles, toffee and Roca-like nougat rolls made with the latter. They're all good.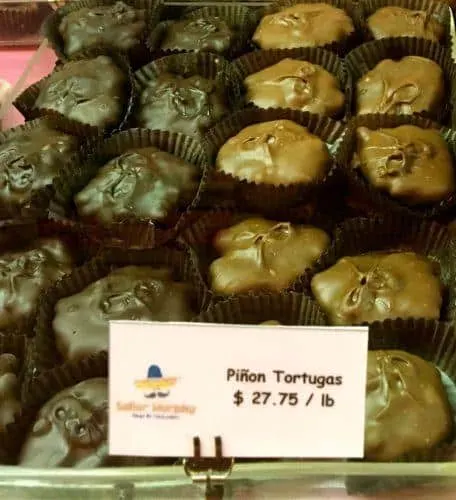 Fred Harvey believed in supporting real Native American artisans, made sure everything sold in his hotelshops was authentic and good quality and even handed out pamphlets explaining how to identify a fake.
This ethos continues today in what you see on the walls and in the shops. There is a wealth of quirky, interesting and beautiful items for sale and window shopping was fun.
Keep your eye out for a coffee-table book called La Fonda Then & Now, with plenty of interesting historic photos of the hotel and the corner where it now sits.
Is the Restaurant Good?
If you don't stay at La Fonda stop by for a meal at the restaurant or a cocktail at its rooftop bar. You won't be sorry.
La Plazuela, La Fonda's main restaurant, is a skylit room in the middle of the first floor. With a small fountain and trees with fairy lights It looks like a charming Mexican zócalo.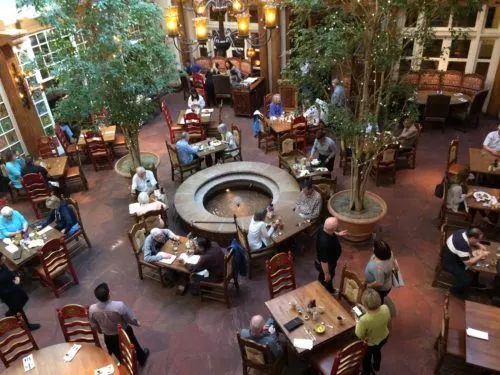 The portions are a good ample but not overwhelming. And the menu doesn't have the generic, all-over-map feel that hotel restaurant menus often resort to. Many of the dishes are sophisticated renditions of Mexican and Southwestern classics.
We all really enjoyed the breakfasts, which are often included in the room rate.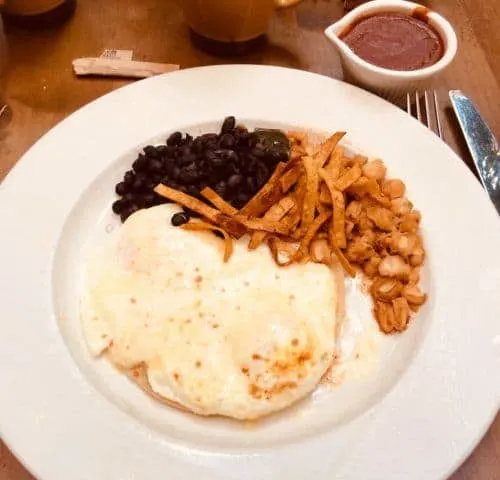 The portions are big. But Tween Traveler made breakfast out of sides including eggs, bacon, black beans and tortillas. They also had the usual kid-friendly options: waffles, French toast, pancakes, English muffins and bagels.
Rich and I ate scallion-cilantro scrambled eggs, omelets or huevos rancheros, all served with red or green chile sauce, posole and tortillas.
The Bell Tower bar is outdoors with excellent views of the plaza, the old town and the distant mountains.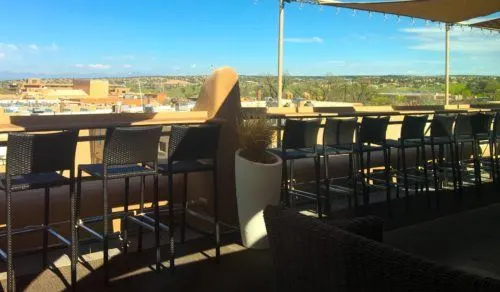 It's attractive but cozy; I imagine it could be hard to get a seat on nice summer nights.
It was still closed for the winter when we visited in April and I really regret not being able to sit out there with a fresh margarita.
In Short
Aside from missing out on some of the hotel's best amenities by coming too early in the season (May 1 seems to be the start of summer tourism), we had nothing bad to say about La Fonda.
We all liked the location. Rich and I loved the architecture, the art and the history.
Tween Traveler appreciated that it was unlike any place we'd ever stayed and had a lot to look at and cornes to explore. She liked it enough to even forgive the pool being closed. And that says a lot.
It's one of those hotels that might not look kid-friendly from the outset but has plenty to please kids and to make them feel welcome.
Pin it for later!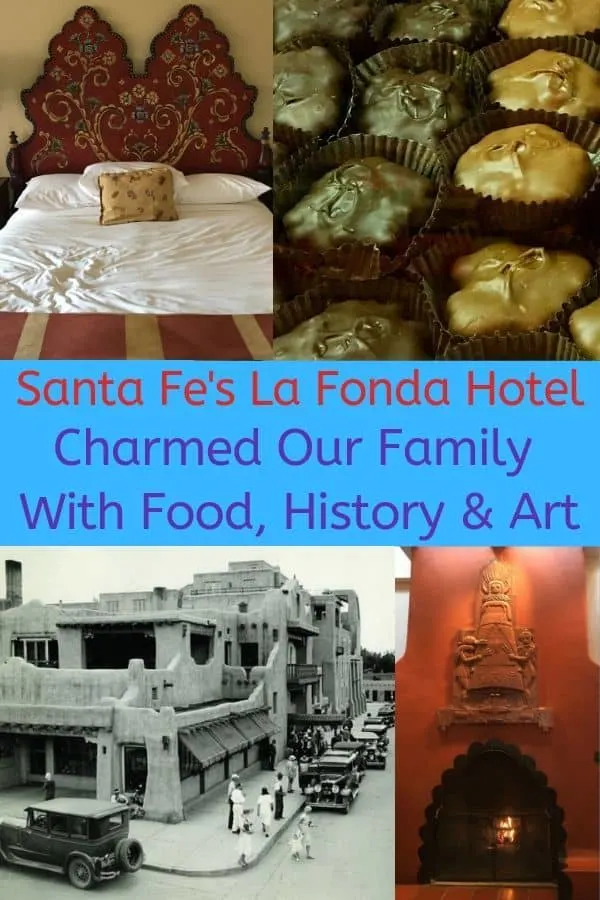 *We were very lucky to be guests of La Fonda and Visit Santa Fe. We did not agree to particular editorial coverage in exchange for our stay. Our opinions are always our own.
* Historic and exterior photos of La Fonda are courtesy of the hotel. All others are the property of FamiliesGo!©.