When I was a kid building sets met Lego or Lincoln Logs, and not much else. So I think it's awesome that there are so many different kinds of buildings toys out there today, incuding a few that are made specifically for the ways girls create and build (STEM-loving Tween Traveler gets a lot out of those).
Here are a dozen building sets that are innovative and spur creativity in different ways. And they all come in forms that your young builder can take with him or her pretty much wherever you travel. They are flat tiles or compact shapes and they incorporate magnets, suction or parts that clip together. So they fit easily in your child's backpack and are harder to lose from an airplane tray or restaurant table.
To make them more compact and portable consider taking them out of their box and putting them in a ziplock or Lay n Go pouch.
12 Innovative Building Sets Tots to Tweens
For Young Builders
1. I've long been a fan of Tegu's colorful wooden blocks with magnets. They aren't inexpensive but they're nicely made, just the right size for small hands and they appeal to both girls and boys.
They come in a few different size sets that work for travel. The 6-piece or 8-pieces, which both come with their own case is ideal for toddlers and preschoolers while slightly larger sets can travel with school-age kids.
They're handy for airplanes, cars and restaurants or anywhere that you don't want blocks spilling over and getting lost.
2. Bunchems are a soft creativit toy that 4-8 YOs were going crazy for when I saw them at a Toy Fair two years ago.
The Bunchems Travel Easel comes with a slew of little puff balls that you stick together and build with, or create pictures on the easel. Kids can also add stick-on eyes to make creatures (and more accessories are sold in other kits).
I wouldn't go younger than 4 with these because they're small enough to go in kids' mouths and I've also heard of toddlers getting them stuck in their hair!
---
Especially For Girls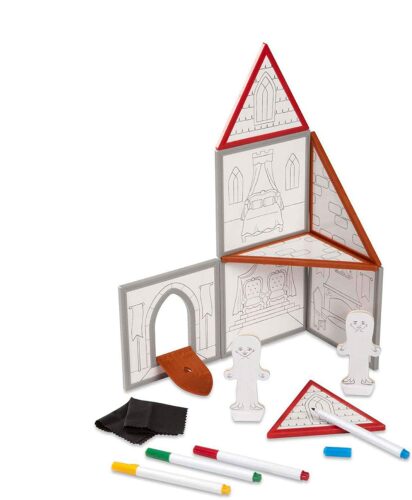 3. The Melissa & Doug's Magnetivity Draw & Build kit is a building set, arts & craft project and stage for imaginary play all in one. They market it as a co-ed toy, but girls gravitate more toward build-then-play sets.
The set comes with flat magnetic building pieces and 2 play figures that you can color in with dry erase markers (also included).
All the pieces are erasable so kids can change the house's style whenever they get new inspiration. They might want to pack some extra play figures to augment the playing part.
It's handy because it packs flat and your kids can have a play house anywhere they travel. I think it's small enough to work on an airplane tray, too.
They've expanded this line to include several types of buildings, and many come with more pieces for more different ways to build. But some also include harder-to-travel-with pieces like cars.
For Lego Fans
4. Three inexpensive products to make Legos more fun on the go.
Witar toy-block tape roles with removable self-adhesive backs let you build anywhere and from any direction.
Cut the three foot roles in lengths that you can stick it to an airplane seat back or tray table, a car ceiling or window and more. A set comes in four colors.
Creative QT's Baseplates do the same thing, but in the shape of four familiar 10X10-inch squares. They come in a choice of colors.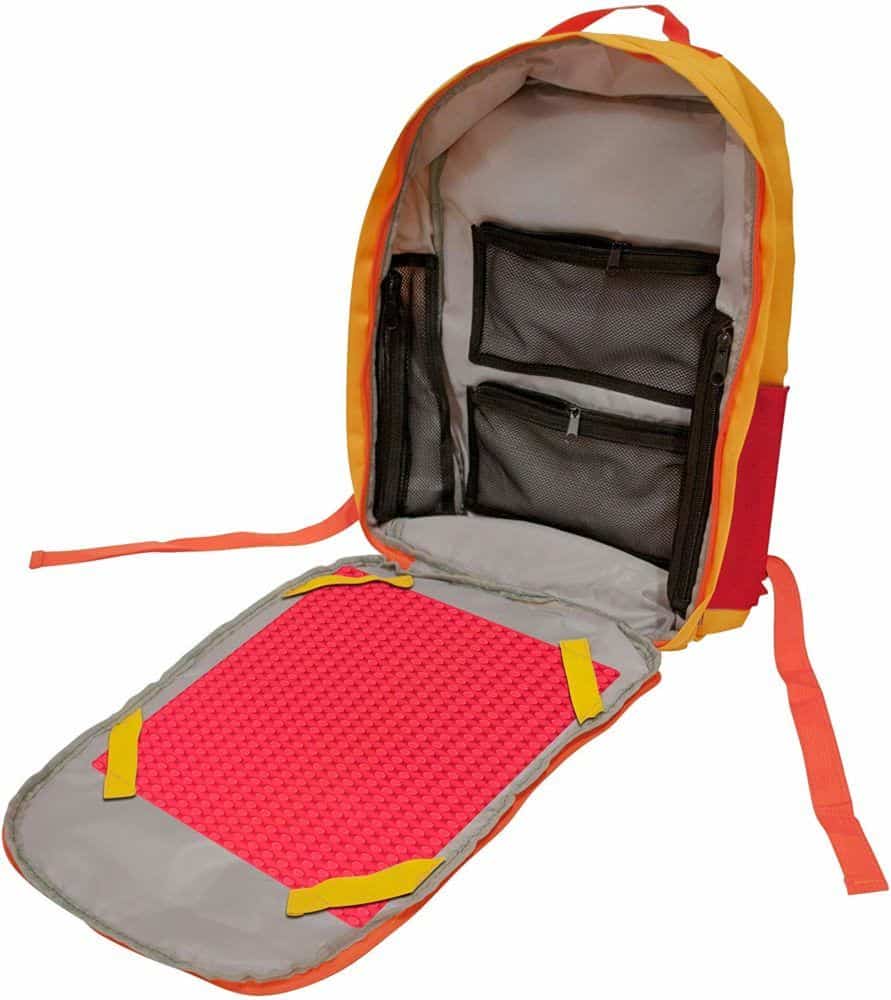 How cool is this? Cortex makes a backpack for carrying Legos. It has four internal pouchs to organize small pieces, an outside pocket and a Lego base attached to the front panel. Unzip the cover to lay it flat and start building!
Magnetic Blocks For Growing Builders
It's amazing how many magnetic building sets are out there these days and each is a bit different than the others in what they're made from, wtheir shapes, and how they connect with each other.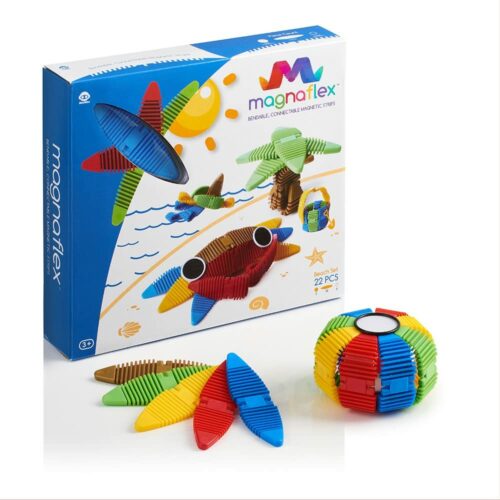 5. Just as the name suggests Magnaflex Construction Kits have building pieces that are both bendable and magnetic, which opens up a whole knew world of creative possibilities.
There are a half dozen themed kits, including animals, bugs and cars and wearables, but I find with this type of thing kids ignore that and just do what they want, which is fine. Combining kits is probably awesome.
The box says ages 3+ but I think 5-to-8YOs will find the most interesting things to do with these.
---
6. *Magformer Building Sets come in vivid colors, several sizes and shapes that include squares, triangles and pentagons. They're rings rather than tiles though, which makes they light for travel.
Buys a 14-piece pack or invest in a larger set for home and pack a few favorites to bring with you when you travel.
---
7. Guidecraft's PowerClix shapes (above left) are smaller than magformers, which can make 3-D and vertical building easier.
The box says 4+ but think 7-10 YOs will get the most out of building them.
---
8. If your kids prefer blocks for building, try Magna-Qubix 3-D building sets (above right). The translucent magnetic cubes and pyramids allow for more traditional building, with no tumbling.
Unique Building Sets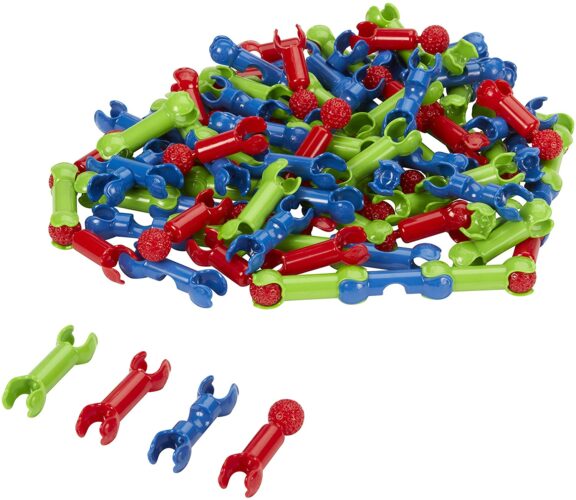 9. Kids use nubby, interconnecting Zoob pieces to build toys and figures they can then play with. They come in basic, neon, translucent or glow-in-the-dark colors.
They struck me as harder to lose than other building pieces. We had these in the back of our car for a few years and Tiny Traveler had fun with them well into her Tween Traveler years.
---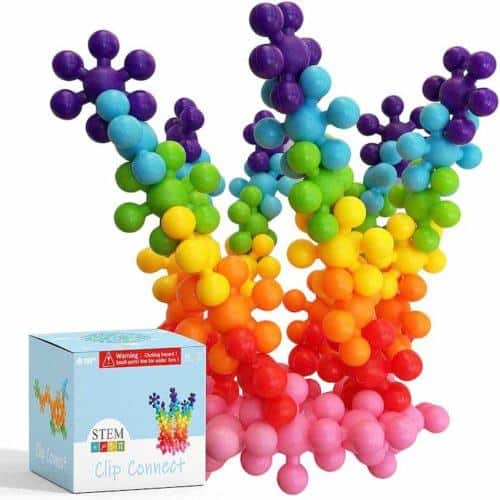 10. Clip Connect by Awesome Choice has the same principle as Zoob, but it's atom-like shape let's you build out in six directions. A box of 100 seems like a lot but it's not that big and you don't need to travel with all of them.
---
11. Dado interconnecting squares from Fat Brain, are great for compact spaces like airplanes and restaurants. A pack of 35 squares stack into a compact cube you can tossing them in your child's backpack for a long trip or quick sleepover.
Pack a few small play figures or cars with the blocks. The squares could easily be built into a "house," "hotel," or "garage" for pretend play. This makes a could option for both girls and boys.
---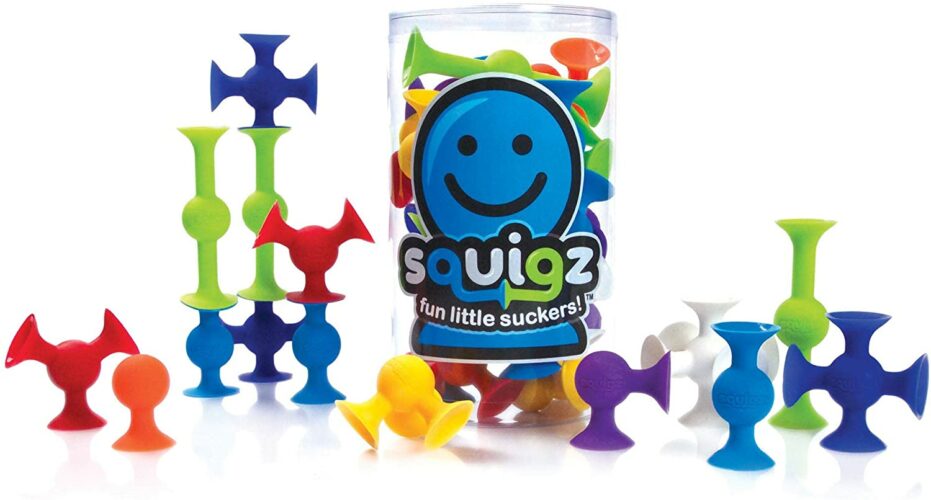 12. Fat Brain also has its Squigz, which come in a few shapes and connect by suction cups at either end. This means you can start with a secure base on a airplane tray or restaurant table. The 24-piece starter tube is just the right size for your child's carry-on.
I'd recommend these for kids 6YO and up, who have the dexterity to get the suction cups to stick.
Pin it for later!