Few things absorb a child's total attention like a good puzzle. So you'd like to bring them with you in the car or on the plane. But all those pieces—egad!
Well, here is a roundup of puzzles that travel well. Most are great for in-transit; others offer some variety that will keep kids entertained at your destination, too.
Plus, there are ideas here for almost every age from tot to teeen.
Need more gift ideas?
Try these building sets, table-top games, toys and crafts kits you can take anywhere
12 Challeging Puzzles That Travel For Tots, Kids & Even Teens
Tiny Puzzles for Teens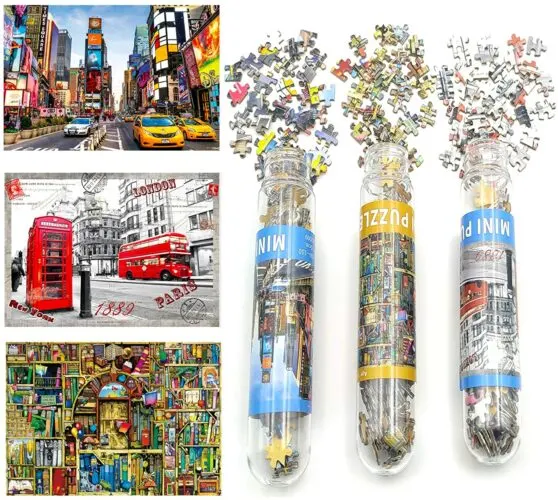 When I say these are tiny puzzles, I mean they are tiny puzzles. The three six-by-four-inch jigsaws have 150 pieces each.
So they're a challenge. They also very portable and small enough to do on an airplane tray table (on a long flight). Have your teen pop one or two into their backpack on your next ski or beach getaway.
4 Brain Teasers For Tweens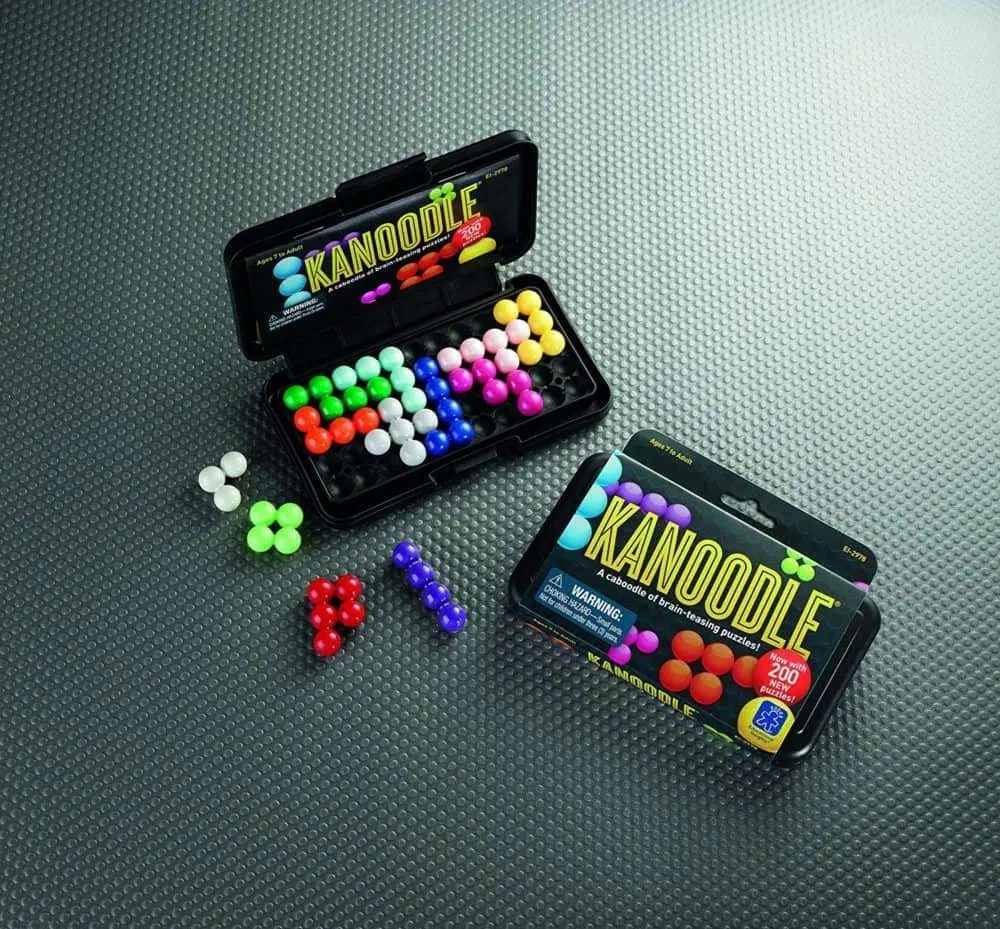 Education Insights makes Kanoodle and SmartGames has its IQ series. Both are brain teasers that come in their own case.
Try to fit the connected pieces into their base in particular patterns. A booklet with progressively harder problems comes with the set.
Ages: Older School-age kids and tweens.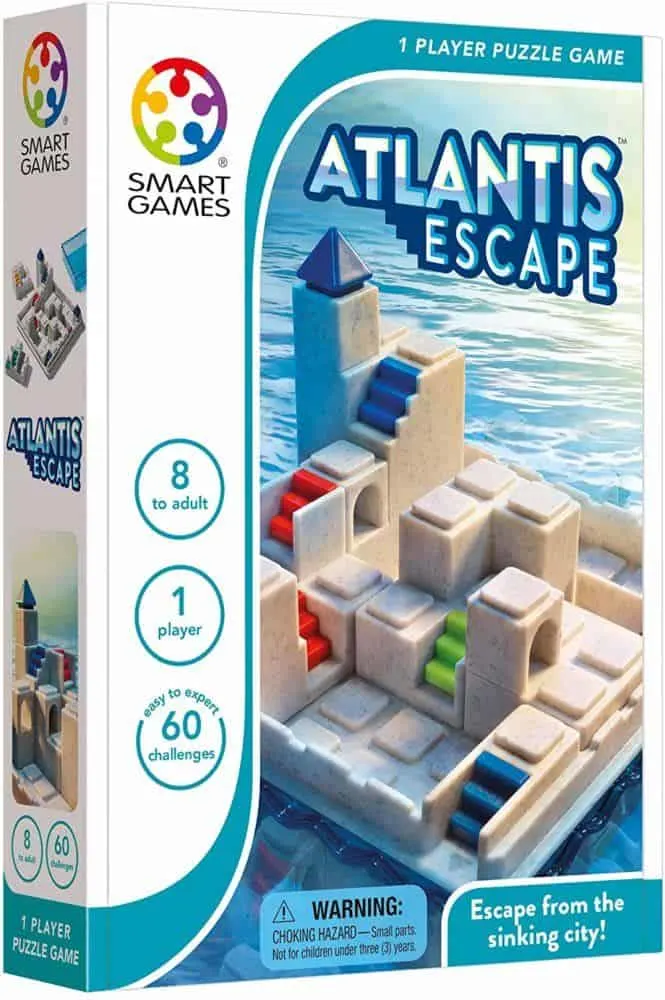 SmartGames also makes a series of brain-teaser games that are meant to use the same problem-solving skills as coding.
The most compact and portable ones are Asteroid Escape, where you must plot a path for a space ship through an asteroid belt, and Atlantis Escape, where you must find a way out of that sinking city.
Ages: School-age kids.
Puzzles To Teach and Engage Preschoolers & Kids
Fairy Tale Puzzles
The Purple Cow has Fairy Tale puzzles with 35 to 60 pieces that come in a compact, travel-friendly tin.
If the company made them magnetic like their games, and included a foldable magnetic pad, these would be the most perfect travel puzzles ever.
Now, their compact tins make them handy to throw in a suitcase for that rainy beach day.
Age: kindergarten to third grade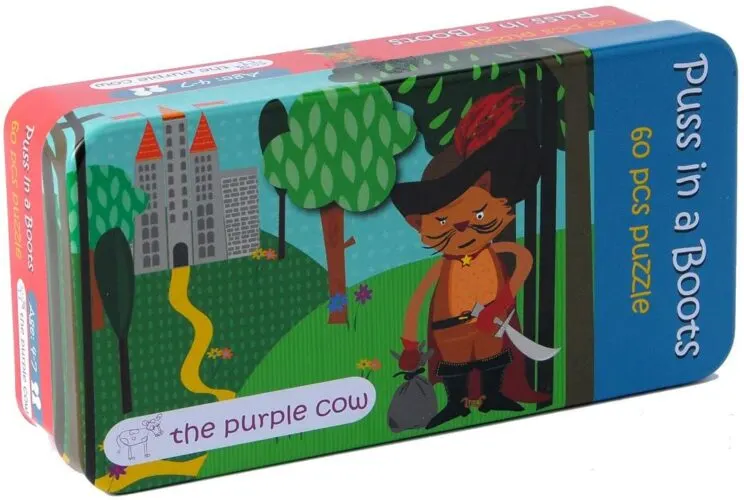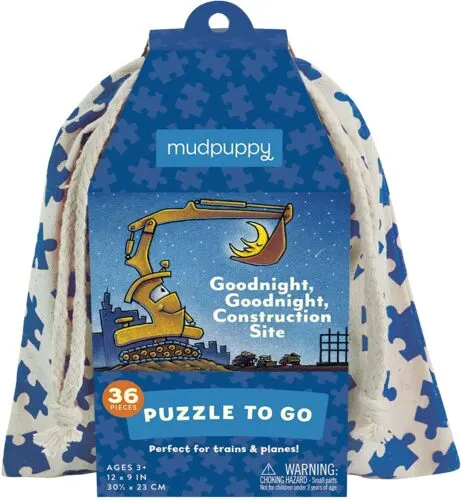 Puzzles In A Pouch
Mudpuppy has 36-piece jigsaw puzzles to go in made-for-travel drawstring bags. In addition to favorite books, the puzzles have llamas, airplanes and animals of the world, among other themes.
Age: Kindergarten to second grade
2-Puzzle Twin Packs
Mudpuppy does make magnetic jigsaw puzzles. Each kit comes with two 20-piece puzzles and a magnetic mat on which to assemble them. They come in day and night forest, cats and dogs and unicorns.
Age: preschool to first grade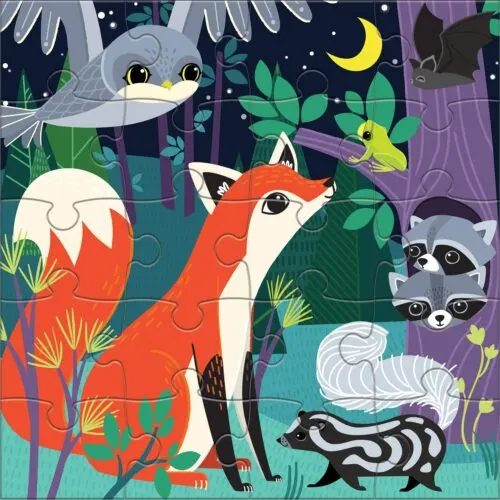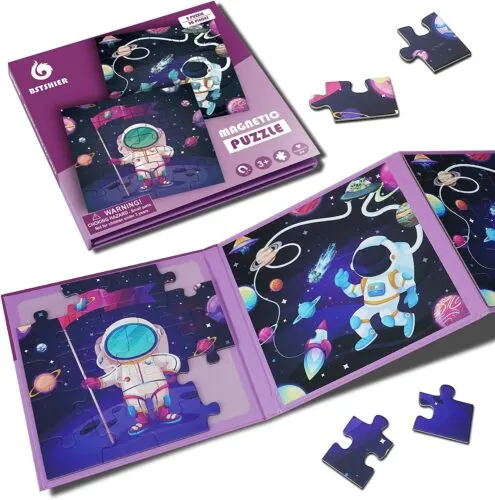 Puzzles in a Book
Readers like magnetic puzzles from BST Shier. Each set has two puzzles that folds up to book-size and slips easily into their backpack or your carry-on. Perfect for travel.
Choose from seven themes including dinosaurs, mermaid and several animals, as well as space.
Age: preschool to kindergarten
Puzzles For Your Baby and Tiny Tot
More Puzzles in a Pouch
MudPuppy (yes, I really love thisbrand!) also has 12-piece Pouch jigsaws for your littles puzzle-solver.
Themes incude lions, dinosaurs, sea creatures and unicorns.
Age: toddler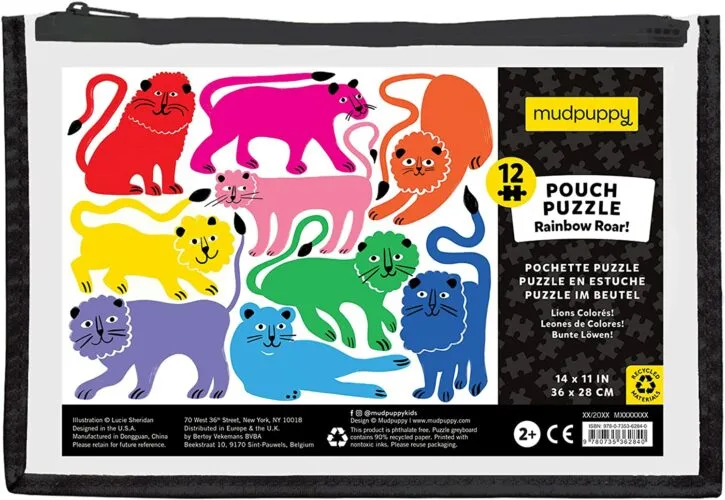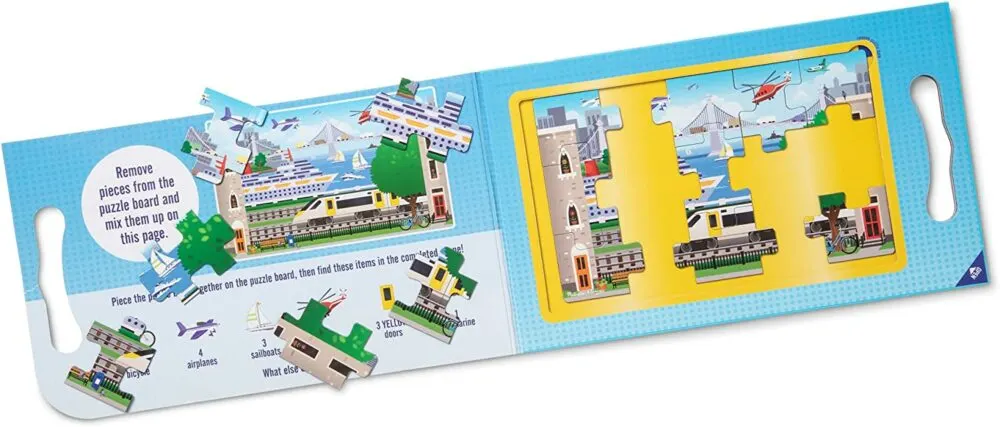 A Super Slim Puzzle Book
Melissa & Doug is another brand I relied on heavily when I had a smaller child. These Take-Along puzzle books in vehicle, farm and princess themes, each have two magnetic puzzles in a slim book that is super easy to pack.
Age: toddler
6-in-1 Block Puzzles
Block puzzles are handy to take along for toddlers. They fit fairly easily into a diaper bag or tote. They have six different pictures to complete. And little ones can play with them as regular blocks, too.
Crocodile Creek's three Make-a-Face block puzzles come in Faces, Build a House and Zoo themes. They are slightly larger than some of the others, but still totable, I think, and probably the best for building.
Age: baby to toddler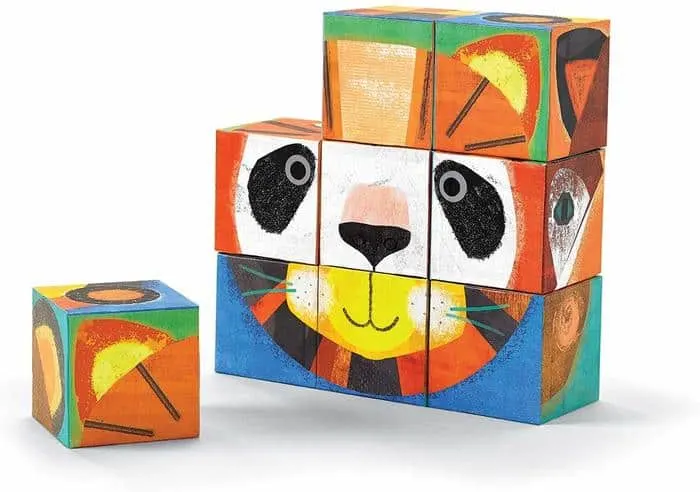 Pin It For Later!