A flight attendant on British Airways once complimented me for playing Go Fish with Tiny Traveler instead of letting her bury her nose in videos while I did the same (which I am guilty of, too, sometimes).
Rich and I don't mind playing games when we travel. Long Flights, car trips, layovers or just waiting for a slow table server can be hard on everyone. Games help the time pass for us, too. Our daughter loves the distraction-free one-on-one time with me and her dad.
Here are 27 Games that we have found work really well for travel because of their portability. You can put them under the tree or use them as stocking stuffers. Your kids will like them so much they'll want to play them at home, too!
Tip: Sometimes portable games come in very unportable boxes. Ziploc bags can make them much travel-ready.
27 Classic & New Tabletop Games For Absolutely Everyone in Your Family
Classic Games To Go
Innovative Card Games
---
Portable Games With Dice & Tiles
---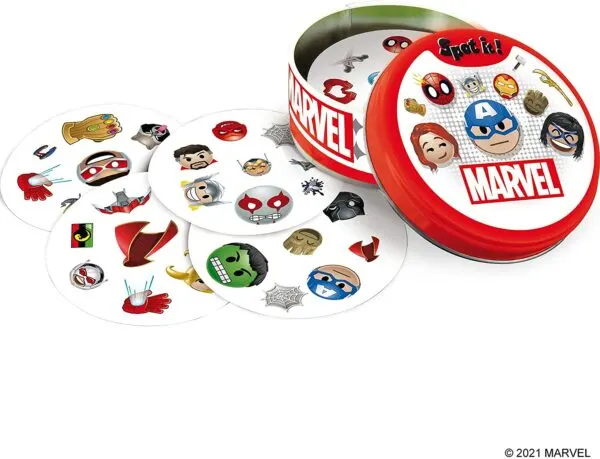 • Zygomatic's Spot it! is one of my perennial recommendations for 4 to 8YOs. We were hooked on this game for a while at one point. The tiny tins are portable, the rules are simple and there a few variations to the rules to mix things up a bit.
Plus, there are a dozen of variations including ones with Minions and now Marvel Comics emojis. Play this through the preschool and well into the elementary school years.
• Asmodee's Dobble is identical to Spot It! and comes in a Harry Potter theme, which will also please a variety of ages.
---
Maybe Travel Games
Pin it for later!