A flight attendant on British Airways once complimented me for playing Go Fish with Tiny Traveler instead of letting her bury her nose in videos while I did the same (which I am guilty of, too, sometimes).
Rich and I don't mind playing games when we travel. Long Flights, car trips, layovers or just waiting for a slow table server can be hard on everyone. Games help the time pass for us, too. And my daughter loves the distraction-free one-on-one time with me and her dad.
Here are 26 Games that we have found work really well for travel because of their portability. You can put them under the tree or use them as stocking stuffers. Your kids will like them so much they'll want to play them at home, too!
Tip: Sometimes portable games come in very unportable boxes. Ziploc bags can make them much travel-ready.
23 Travel Board Games & Card Games For All Ages
Classic Games To Go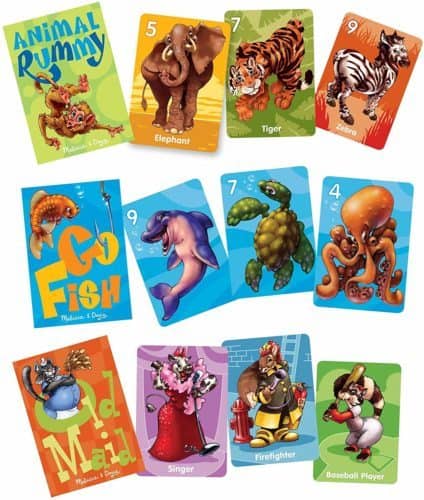 Classic games like Go Fish, Old Maid or Uno are perfect because you can play them absolutely anywhere. And you can adjust the rules to make them work with preschoolers or school-age kids.
Conveniently, Melissa & Doug sells a travel pack that includes Go Fish!, Old Maid and Rummy all featuring colorful gender-neutral graphics.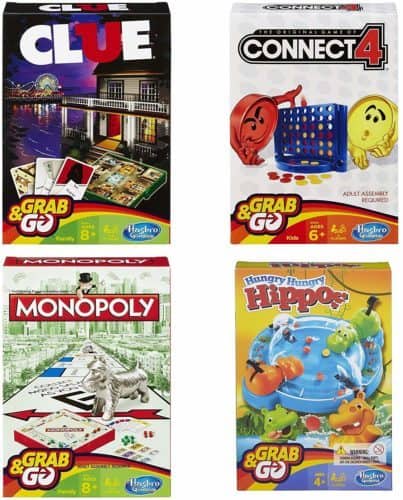 Hasbro has a series of mini travel-size versions of its best-sellers. Most of them need a table for play, but they're handy when you want an easy game everyone is familiar with, say at a family reunion or on vacation with friends.
Try compact versions of Boggle, or Yahtzee. Or buy a four-pack that includes surprisingly complete compact versions of Clue, Monopoly, Connect 4 and Hungry Hippos. They should offer something for every age group traveling with you.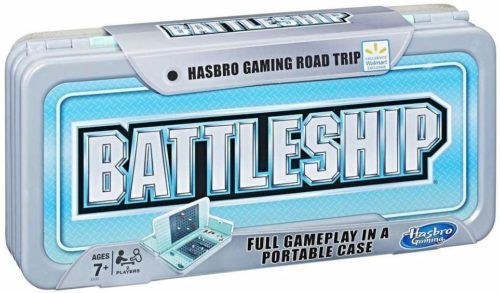 Hasbro also has a very compact "roadtrip" edition of Battleship for two people sitting next to each other on a plane, train or the backseat of a car. Younger school-age kids usually like this guessing and strategy game.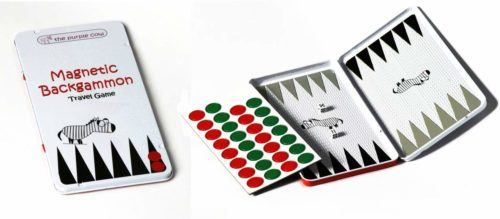 The purple Cow's collection of travel-size games inludes bingo and tic-tac-toe for little kids and chess, backgammon and code-breaking for older kids and teens. They're all magnetic and all come in slim, light cases you can tuck into bag.
Innovative Card Games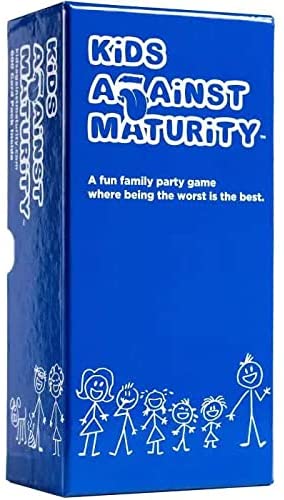 We played a print-at-home version of Kids Against Maturity when they were developing it, early in the pandemic. We had a blast.
In this PG-rated alternative to Cards Against Humanity, players hold several cards with words and phrases and use them complete sentences begun on other cards. The person with the funniest, most absurd or most sarcastic sentence wins the hand. Best for twens and teens.
There are expansion decks when you start repeating sentences too often.
Kids Create Absurdity is a G-rated alternative for school-age kids, but it might not be quite as much entertaining as Kids Against Maturity for adults who are playing along.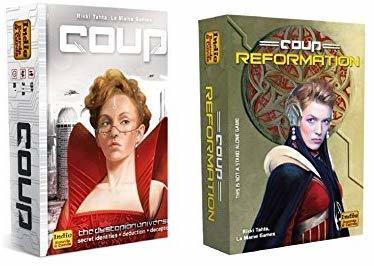 • Coup was my daughter's favorite game from about 4th to 7th grade. It's a strategy game that begins with each player getting two cards. Players try to acquire money, keep opponents from acquiring money and take each other out. The last person left holding a card wins.
You can play this game for tweens and teens with two people but it's better with three or more. Rounds go quickly. You don't need to put cards down or see each other so it works anywhere, including in the car.
---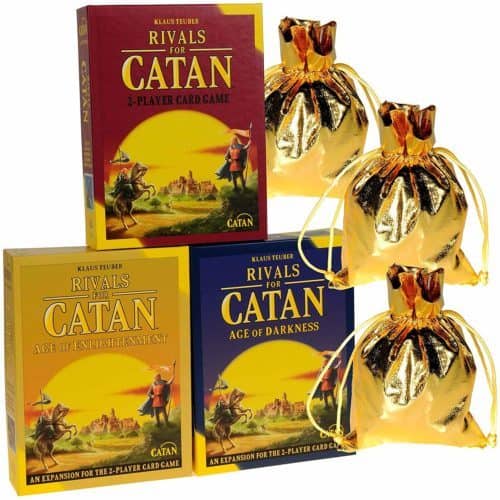 The popular strategy game Settlers of Catan has a two-player Rivals for Catan card game, where players vie for control of a newly settled colony.
It's simpler and quicker than the Cata board game, And two expansion packs mean you won't get board. Use the gold sacks to leave the box home when you go on vacation.
Another good choice for tweens and teens.
---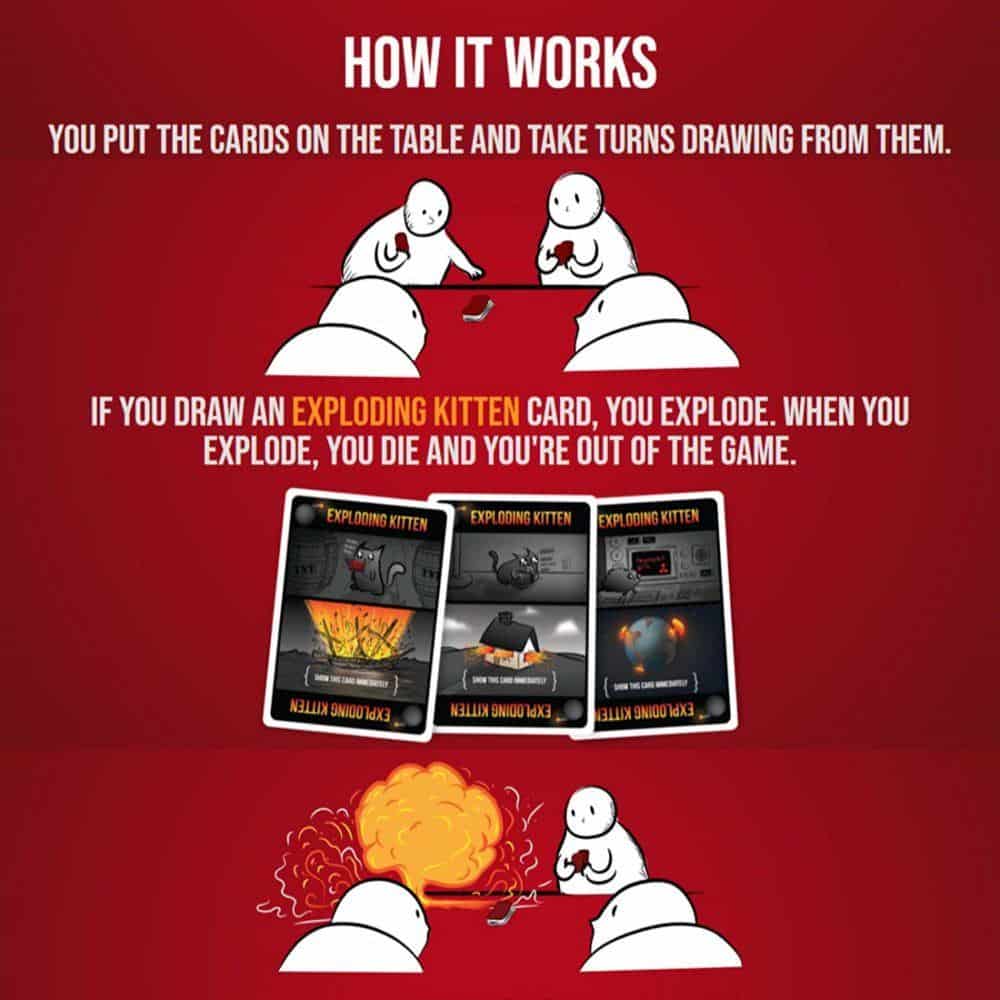 • If you haven't played Exploding Kittens, you really need to. Kids like the action but the real draw are the ridiculous drawings and characters on the cards, like TacoCat: a Palindrome.
This is the game you want to have your backpack when you've just discovered your flight has been delayed for two hours. It will get you laughing and kill a lot of time. Older school-age kids to teens.
• If you like Uno but want to take things up a notch try 7 Ate 9 for your 6-9YOs. Pairing the right cards involves basic arithmetic, and you can mod the game to mae subtraction an option, too, to make things interesting.
Portable Games With Dice & Tiles
I've recommended a lot of Blue Orange games over the years. Niya is a card-based strategy game set in Imperial Japan. The cards are pretty and the goal is to take over the Emperor's Garden. We haven't had a chance to try it, but it looks interesting and very portable. Try it with older school-age kids, tweens and maybe teens.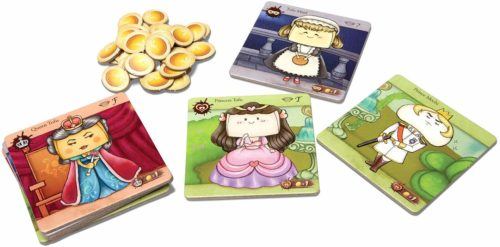 We forgot to pack games for our trip to the Pacific Northwest, so we picked up Tofu Kingdom in a Powell's Book Store in Portland. We bring it on almost every trip now.
After dealing one character tile to each player, the dealer has to figure out which player is the real Princess Tofu among palace denizens who lie and try to mislead him or her.
It's the most compact game we own and perfect for tweens and teens. And a round goes very quickly so it's ideal to play in restaurants. We manage with three players but it's better with four or more people.
Blue Orange makes Nada, a dice-based picture-matching game that fits in the palm of your hand and can be adapted for older or younger kids. Another one for preschool to school-age kids.
---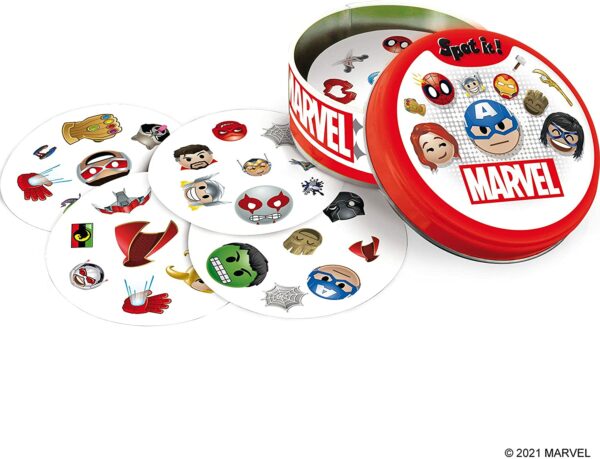 • Spot it! is one of my perennial recommendations. We've been hooked on this game for a while. The tiny tins are portable, the rules are simple and there a few variations to the rules to mix things up a bit.
Plus, there are a dozen of variations including ones with Minions and now Marvel Comics emojis. Play this throughout the preschool and elementary school years.
• Asmodee's Dobble is identical to Spot It! and comes in a Harry Potter theme, which will also please a variety of ages.
---
Maybe Travel Games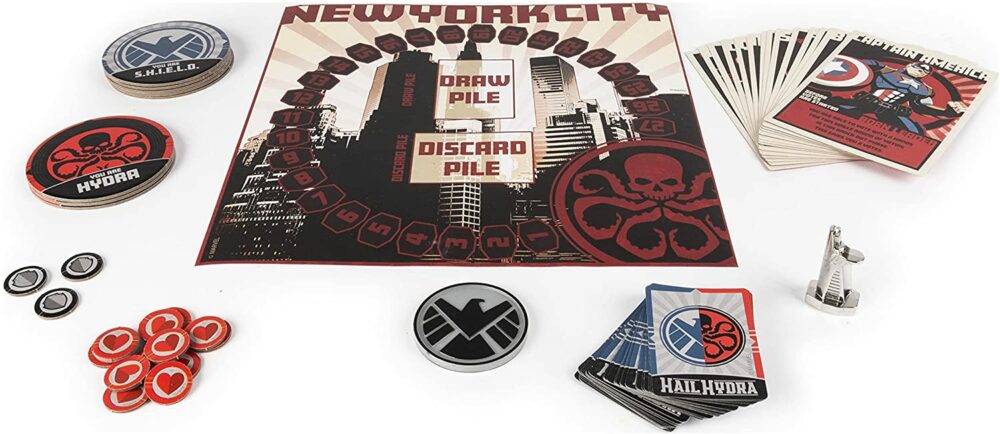 Hail Hydra is the game I would absolutely bring on any family reunion or group vacation.
Every player takes on a super-hero persona, but two or three players secretly work for Hydra. As the team battles a series of bad guys trying to destroy New York, the Hydra agents have to undermine them without being found out.
Between rounds players sideline the folks most suspected of being Hydra. This leads to finger pointing, accusations and debate and can be most fun part of the game.
It's a game for six to nine players and you need a space for a scoreboard and some chips but you don't need to be around a table to play.
Gamewright has several clever card games that we've gotten a lot of mileage from, including Sushi Go! and Sleeping Queens. The challenge is that their games often require spreading cards out, which isn't ideal for a car or plane. But they're great for after-dinner or on a rainy day Most of their games are great for older school-age kids and tweens.
• Ring It from Blue Orange is compact and pretty much made for travel. Imagine Slap Jack at a faster pace and with a bell.
I wouldn't play it on a plane or train because of the bell. But I think it could be fun with a crowd at a beach house. And it's ideal for picnics, camping and maybe a beer garden. For school-age kids.
Pin it for later!