Travel building toys sounds like an oxymoron. But building doesn't have to mean Lego or wooden-block edifices that sprawl across a rug. The best building sets for kids today are those that simply spark creativity. Kids can be creative anywhere, even the small confines of an airplane seat.
Here are 12 open-ended building sets that are innovative and will spur imaginative play and develop problem-solving skills in kids aged from 2YO to 12YO. They all come in forms that your young builder can take with him or her wherever your family travels.
They are flat tiles or compact shapes and they have either magnets, suction or parts that clip together. They fit easily in your child's backpack and can be used on an airplane tray table, grandma's coffee table, a restaurant. They can even play with a few in the car.
More Gift Guides For Tots, Kids & Teens:
• Really Cool Tech Gifts That Travel
• Board Games You've Never Heard of That Kids Love
• Engrossing Portable Puzzles For Every Age
Gift Guide: 12 Innovative Building Toys That Travel Anywhere Kids Do
The Best Toys for the Youngest Builders
1. OMGOD Sticky Puff Balls
I saw these Sticky puff balls at a toy fair and kids from 4YO-8YO were gathered around a box of them, completely engaged. Parents couldn't drag them away.
Take a bunch of each color from this pack of 640 for your next airplane or car ride, along with a few accessories. Kids can make bugs, animals or silly monsters wherever they go.
You might even hold some accessories back to change things on the return flight or drive.
I wouldn't go younger than 4 with these building toys. They're small enough to go in kids' mouths and I've heard of toddlers getting them stuck in their hair!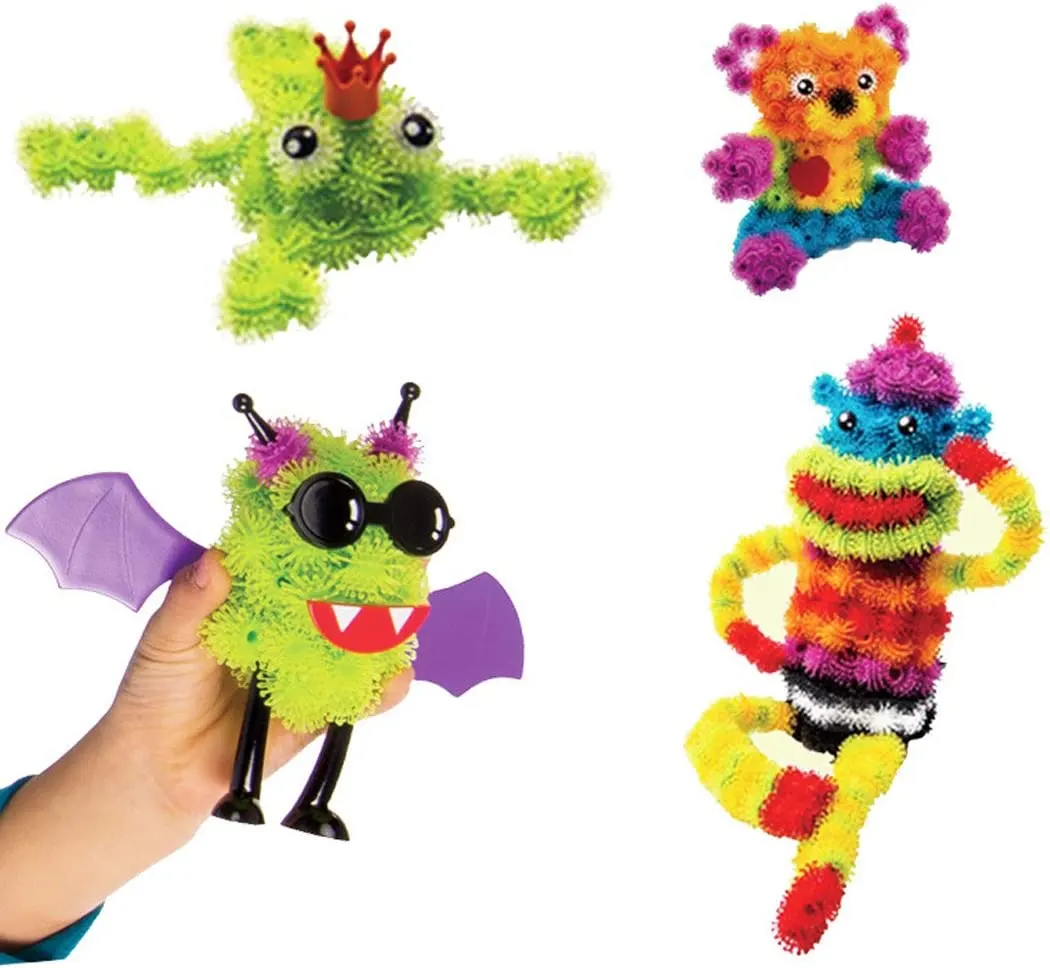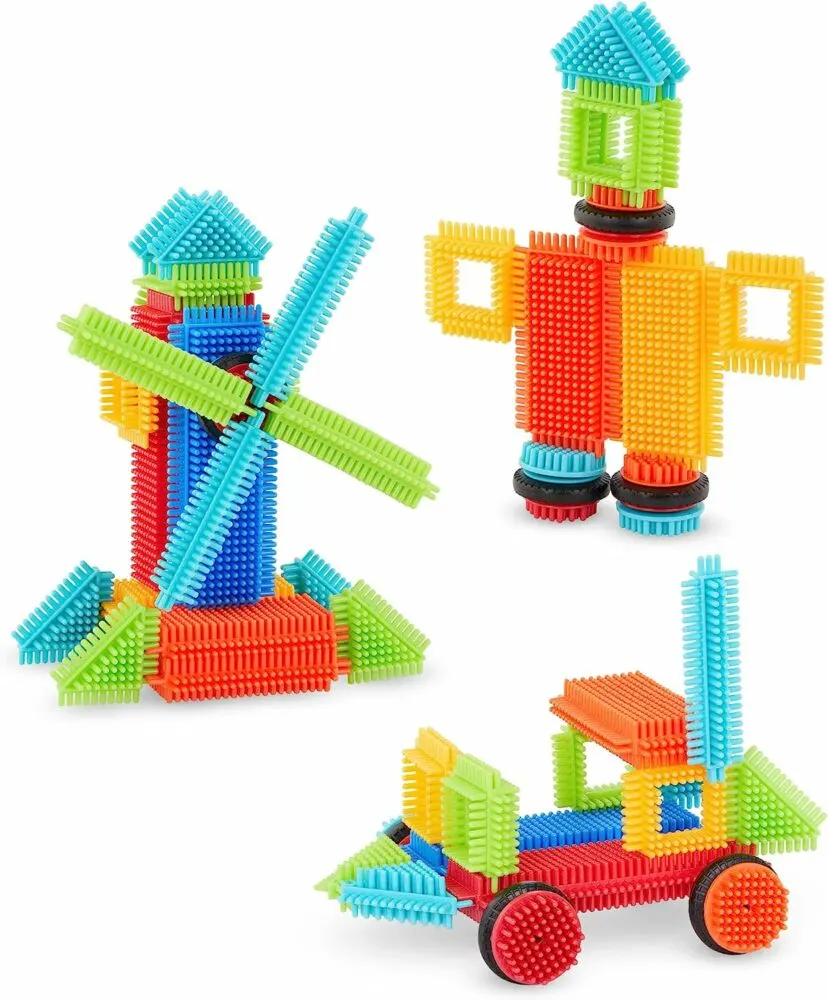 2. Bristle Blocks building pieces from Battat
Kids are never too young for the benefits of a good STEM toy.
Readers have told me they like these bristle blocks for girls and boys. They are colorful, kids love the textured feel and they're easier than some other interlocking blocks for little kids to handle.
They're perfect for helping the toddler-to-kindergarten set develop their fine motor skills.
Some sets include their own carrying case, but the 36-piece, which is best for travel, does not.
The Lay-n-Go drawstring bag is soft to fit easily into a backpack or tote and it opens to provides a play area. It's handy for these and some of the other toys listed here.
3. Tegu Magnetic Wooden Blocks
I've long been a fan of Tegu's colorful wooden blocks with magnets and my readers like them, too.
There are a few different sets that work for travel. The 8-piece block set or travel kits, which both come with their own case are ideal for toddlers and preschoolers. Slightly larger sets can travel with young school-age kids.
They aren't inexpensive but they're nicely made and hold up well. They're just the right size for small hands and also appeal to both boys and girls.
They're handy for building anywhere that you don't want building blocks spilling over and getting lost (including your own home).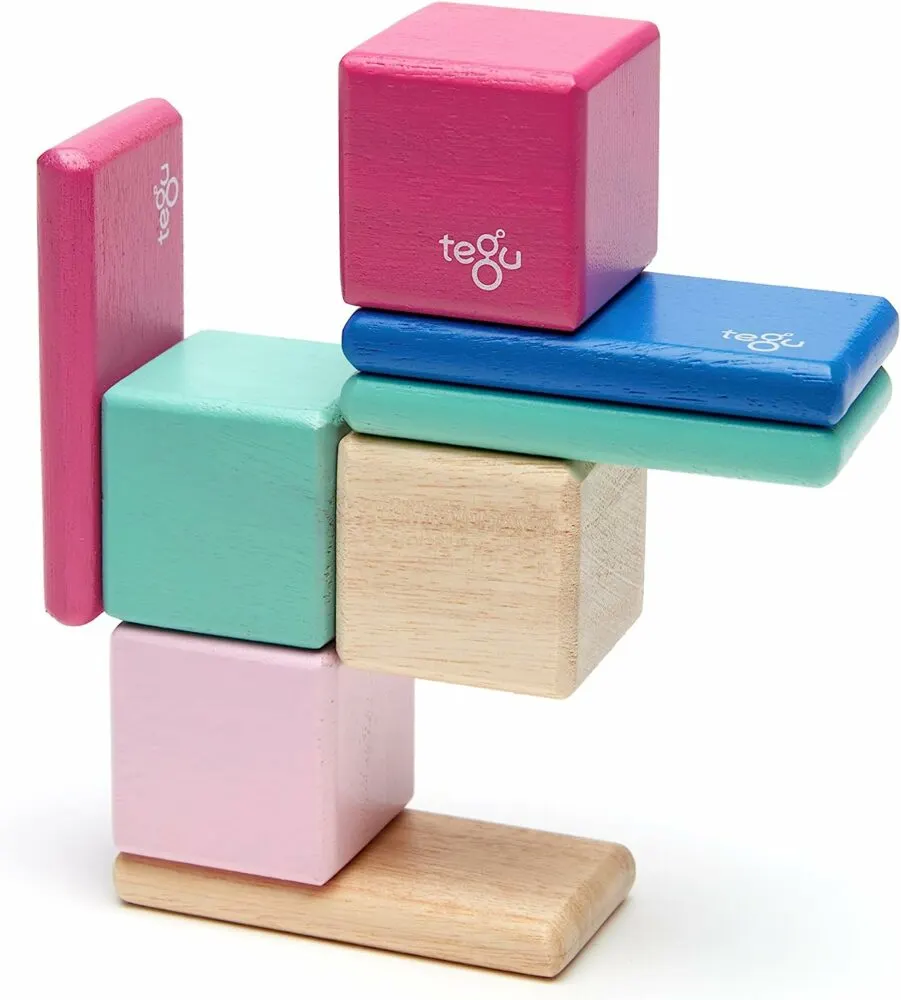 ---
Unique Building Sets For Kids & Tweens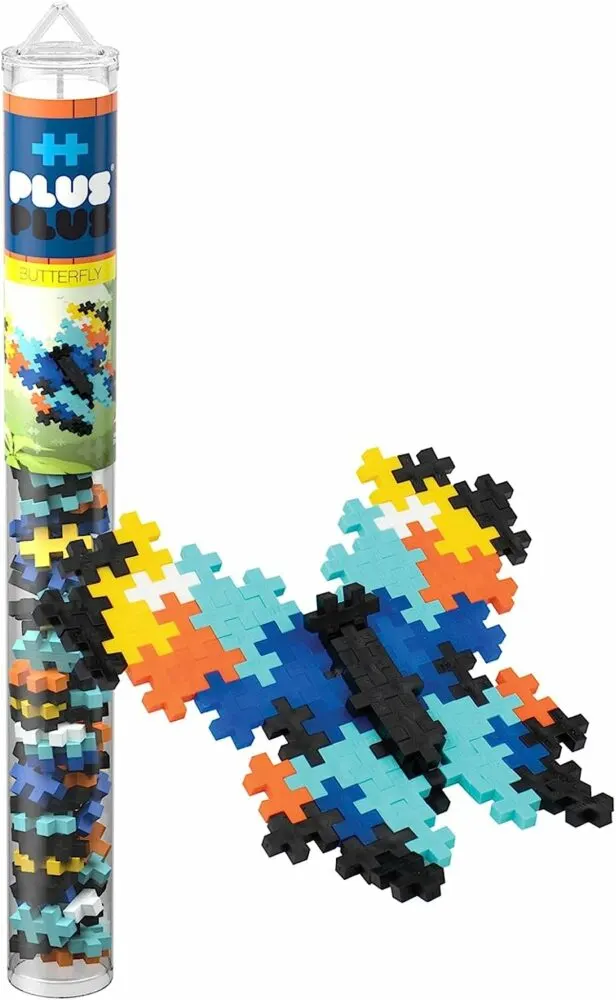 4. Plus Plus Puzzle Blocks
The absolute most popular building set with my readers right now are these tubes of puzzle-shaped pieces from Plus Plus.
The multicolored Butterfly set and monochrome robot set can make far more than their eponymous objects and have gender-neutral colors.
The Open Play tubes come in 11 sets of colors; choose the one most likely to spur your kid's creativity.
Kids probably won't travel with all 240 pieces. There are also 70-piece tubes in the Plus Plus store.
5. That Hinge Toy
I wish I'd discovered these Hinge Toy tiles when Teen Traveler was still in here building phase.
The tiles can connect flat or hinge like a door, making them much more versatile than a lot of other building toys.
A few readers have bought these in different color combinations; each pack comes with two.
They say ages 7 and up and I think this is a building toy that will grow with kids for several years.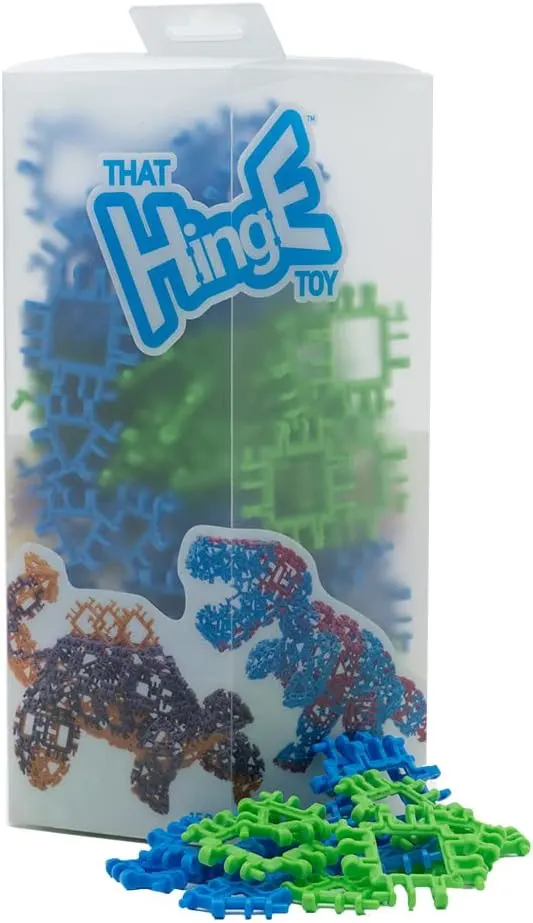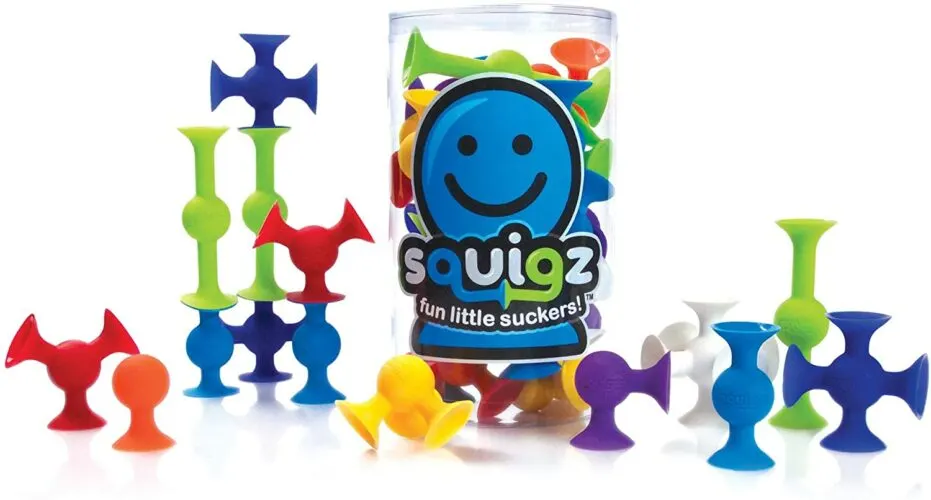 6. Squigz by Fat Brain
Fat Brain always has something cool on offer. Squigz, come in shapes that have two, three or four suction cups. Secure one to an airplane tray or restaurant table and you're ready to build up, over around.
The 24-piece starter tube is just the right size for your child's carry-on. They're another reader favorite. My kid loved traveling with them all through her elementary-school years.
I liked these because kids don't need a flat surface; my kid used them in the car. You just have to not be bothered if the kids stick them to the windows, which they inevitably will.
They say they're fine for ages 3 and up. But I don't think kids have the dexterity to get the suction cups to stick together until they're in the first grade or so.
7. Clip Connect by Chichalk
Clip Connect's atom-shaped pieces let kids build out in six directions. A box of 100 seems like a lot but it's not that big. With a Lay-n-Go sack kids can easily travel with some or all of them.
This is another great construction set for the car since, again, it doesn't really need a flat base.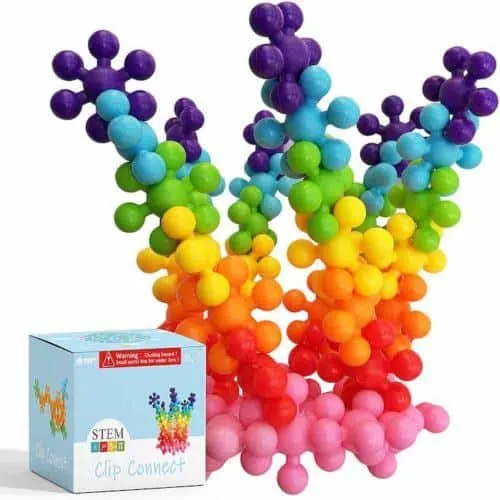 ---
Magnetic Tiles That Last For Years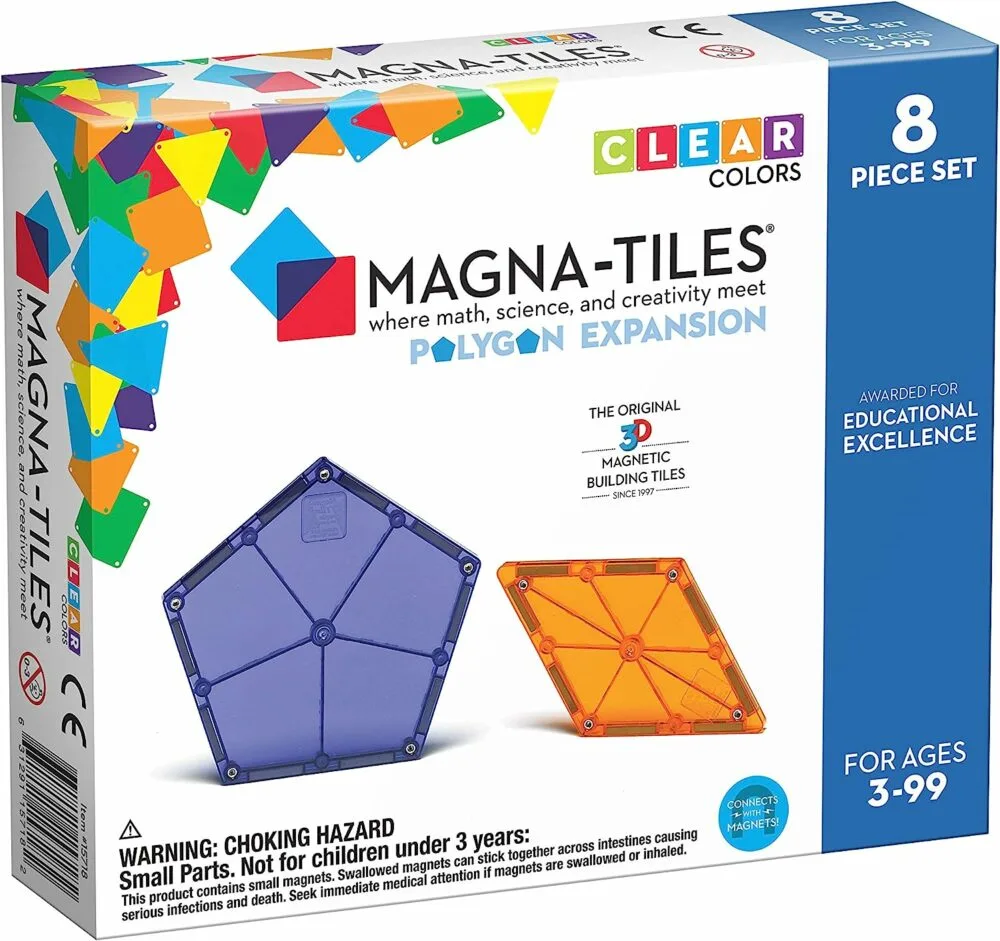 8. Classic Magna-Tiles
My daughter started using Magna-Tiles when she was 7YO and kept using them into middle school (they even staged a brief comeback during quarantine).
The classic 32-piece set of squares and triangles is a great place to start. But I would throw in the 8-polygon expansion, too; they can take building off in entirely new directions.
I can say from experience that these building toys stand the test of time.It was worth paying a bit more for them instead of cheaper imitations.
The 2-D pieces make kids think about building in a different way, encouraging them to build around as well as up.
And they can be organized into a flat stack that fits neatly into a backpack or suitcase.
9. Q-Bix by Magna-Tiles
I bought a Magna-Qubix 3-D building set by accident while trying to expand my daughter's Magna-Tile collection.
But I'm not sorry I did.
These are like traditional blocks, without the loud tumbling. And the mix of cubes, pyramids and pentagons is more versatile for building identifiable "things."
Better still, she found ways to use the two kinds of building sets together for even more versatility.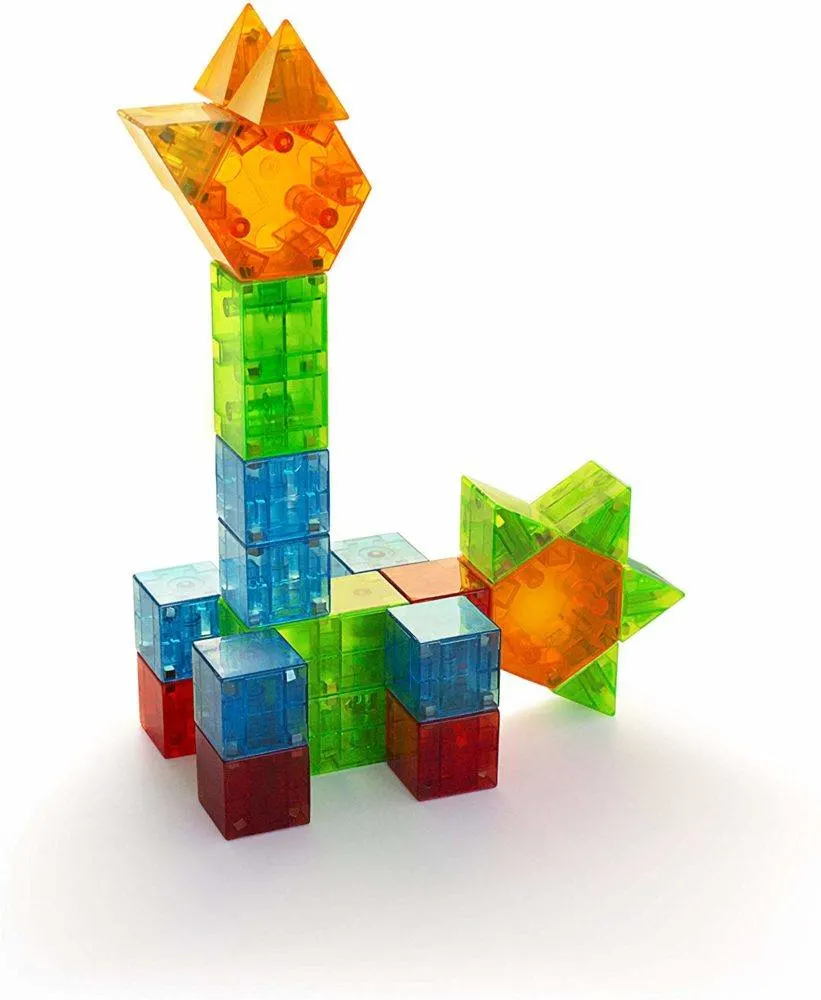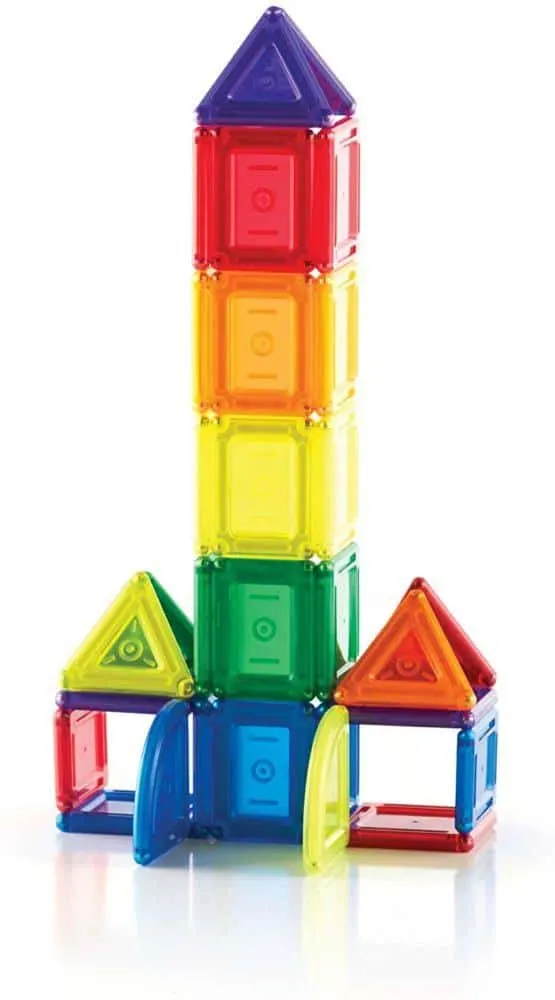 10. PowerClix by Guidecraft
I also liked adding these these PowerClix rectangles, triangles and quarter-circles to our mix of magnetic tiles.
They're smaller, which can make 3-D and vertical building easier, and kids don't need a large space to build with them; they're ideal for an airplane tray table.
They interact well with the Magna-Tiles and the opaque colors lends some nice visual variation. Like all of these kits, they easily pack up flat to take on the road.
---
2 Ways to Make Legos Portable
11. A Backpack Just For Legos
How cool is this? Cortex makes a backpack for carrying Legos. It has four internal pouchs for those pesky small pieces, an outside pocket and a Lego base attached to the front panel. Unzip the cover to lay it flat and start building!
There are lots of small Lego playsets that are very portable and will fit in here. But my kid always preferred a bag full of classic bricks, so she could build whatever she was in the mood for on a given day without a ready-made theme.
I might put Legos in a Ziplock bag (or a few) in the backpack, so the bricks don't come spilling out when your son or daughter opens it.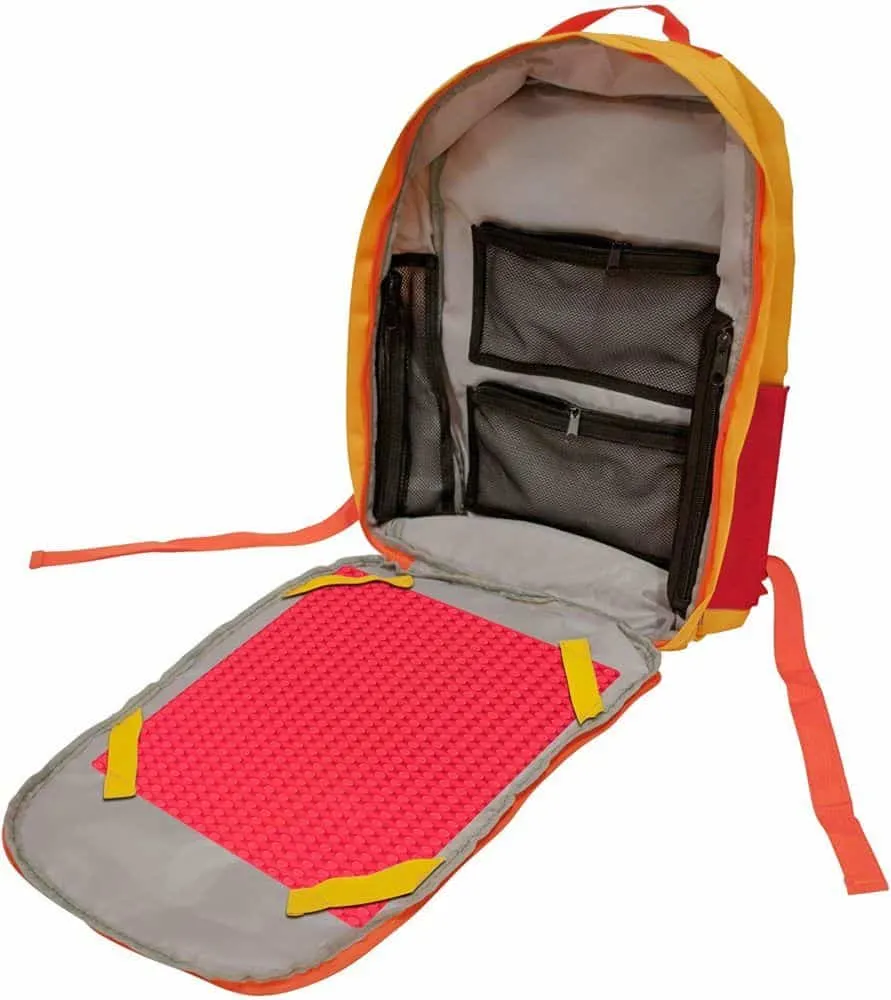 12. Lego Friends Cubes
I'm not sure how much building there is in these play-sets-in-a-cube. But they're entirely portable and interact with any other Lego blocks kids want to use to add to them.
There's a wider range of them; some come in animal-themed cubes, which make cute stocking stuffers and birthday presents for friends. Each comes with a "surprise pet."
Kids can set up two, maybe even three of these for a Lego town that takes up very little space.
Pin it for later!