Summer shoes: My daughter a new pair on feet on that first hot day in May. And I pry them off her feet sometime in late September. If they aren't falling to pieces I'm imprssed and buy the same ones the next summer.
Kids' summer have to play a lot of roles: They want them to be cool and comfortable and to look good. Schools and camps often want closed toes and grippy, non-skid soles. I need them to be durable and quick drying.
Ideally they carry my active kid from the school yard to the park playground, to the beach, to hiking and biking on weekends and to city sightseeing on vacation. Yes, girls summer shoes have to be durable as well as cute (sometimes a tall order).
Here are sport sandals, water shoes and sneakers for tots, kids and even tweens that will see you through the summer, regardless of what your youngsters do to them.
They're all meant to get wet and wash easily. They're not all inexpensive but all offer good value for their price.
---
Don't Forget:
• Cute Summer Sandals to go Everywhere You Do This Summer
• My Favorite Summer Beauty Short Cuts
• Stylin' Summer Vacation Clothes Designed With Moms in Mind
---
Top Picks: Shoes To Keep Kids Dry, Happy & Looking Good All Summer Long
Close-Toe Sport Sandals for Girls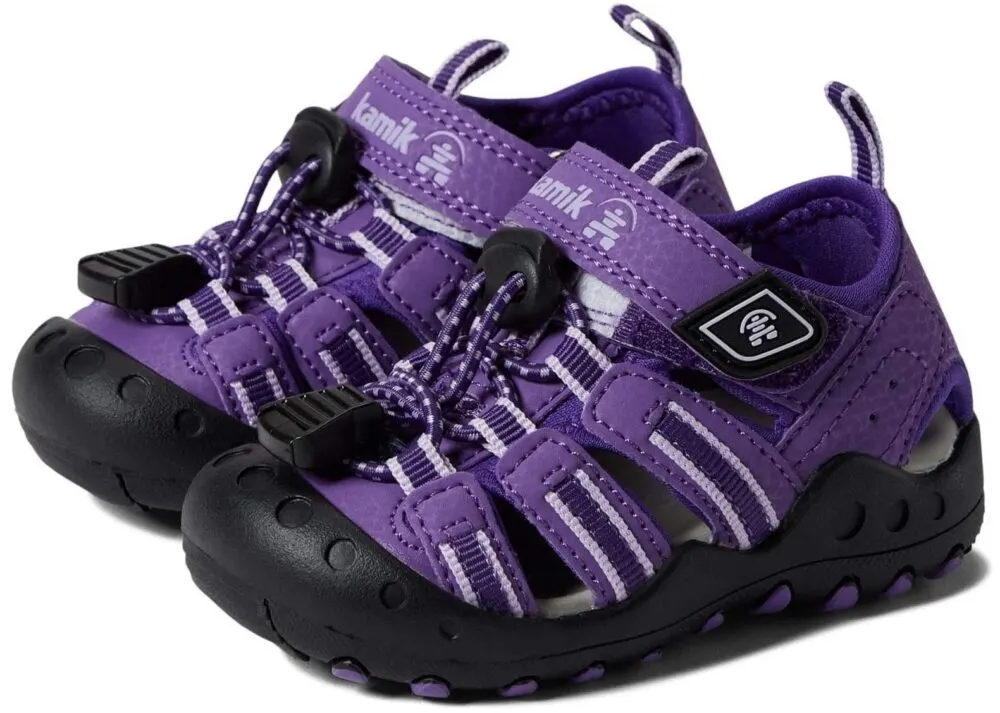 Kamik Kids Crab
I love these Kamik Crab sport sandals because they are made for girls but are sporty and sturdy and colors are not ridiculously girly.
Shown here as toddler shoes, they come in kid and big-kid sizes, too. And in navy with pink and light blue accents.
The rubber toe will pass muster with school and camps. Bungee laces, and an adjustable ankle strap make the easy for kids to get on and off. And the synthetic webbing upper will keep girls cool and dry fast.
Closed-toe Sport Sandals for Boys
Kamik Kids Seaturtle 2
The Kamik Seaturtle sport sandals come in black, olive or easy-to-spot gray and neon green.
They are the most open sport sandal of this bunch. But they still have protective covered toes, outdoor-ready soles and quick-dry, water-resistant uppers.
They run from toddler to big kid. And three velcro straps make them easy for big and little kids to take on and off.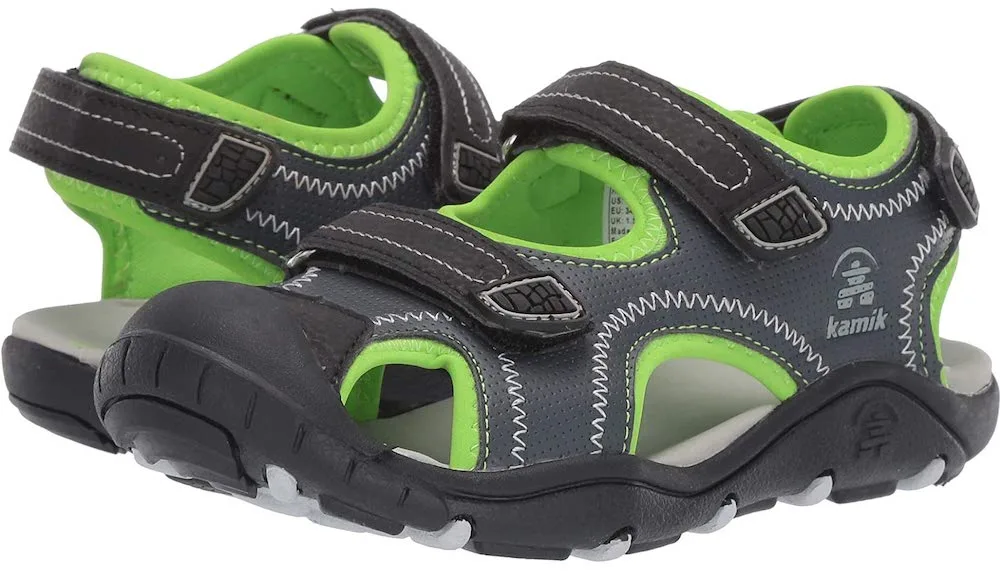 Closed-Toe Sport Sandals for Girls or Boys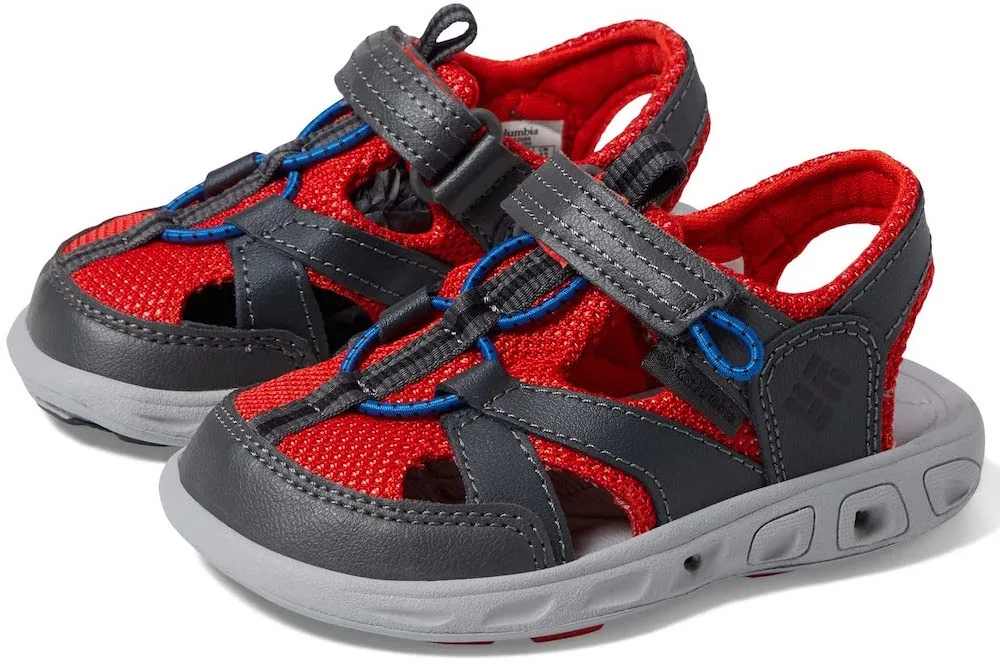 Columbia Kids Techsun Wave
Columbia's Techsun Waves are the most sneaker-like of the sport sandals.
They have Columbia's lightweight and supportive, water-resistant soles. And a velcro strap keeps a bungee lace in place.
In addition to red they come in salmon pink, black, bright blue and a purplish dark blue; something for everyone.
Open-Toe Sport Sandals For Girls
Native Charley Sandals
Native shoes are always cute, practical and vegan. These Charley sandals are one of the few sport sandals I've seen that I think kids would wear.
These gray or blue sport sandals have a molded, water resistant footbed, made-for-play grippy soles amd two adjustable straps will keep kids feet cool and dry all summer long.
Better still, when you're done with them, return them to Native to be recyled into playground equipment.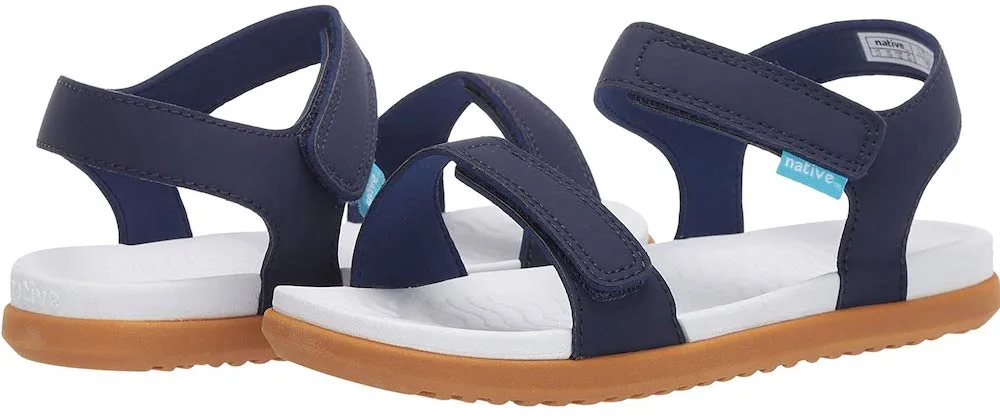 Lightweight Summer Sneakers For Girls and Boys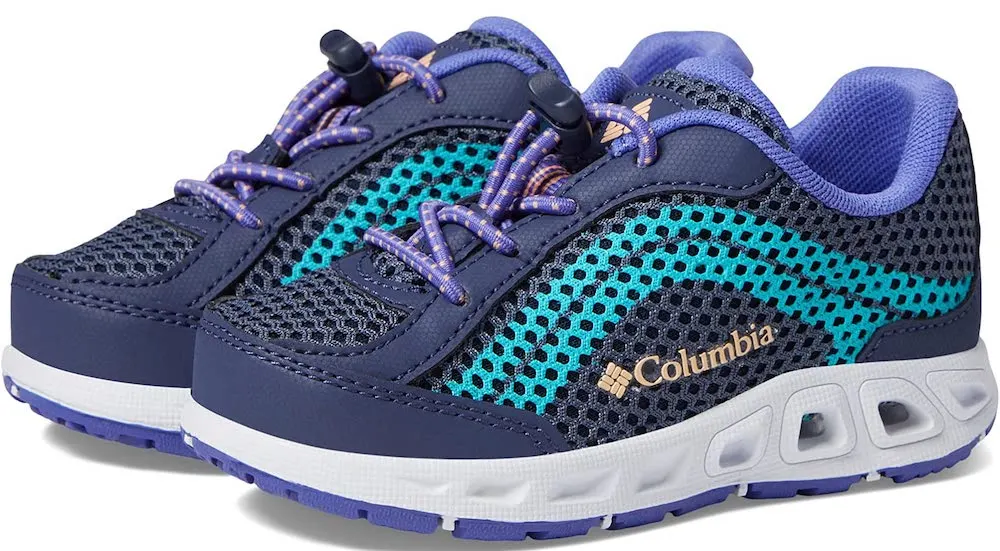 Columbia Drainmaker IV
Columbia loves patenting new clothing technology. The Drainmaker tech allows these bright blue sneakers to drain water and dry quickly.
So kids can stomp through streams and puddles and with dry feet.
These soles are also designed to be light, springy and supportive to take kids from backyard play to light hiking.
They're perfect for sleepaway camp and family camping.
Merrell Hydro Glove Sneakers
Merrell's Hydro line has gone through a lot of iterations in the many years I've been shopping for kids summer shoes; some better than others.
These Hydro Glove water sneakers have their own M Select Dry membrane, which wicks moisture away from the skin while keeping feet well ventilated in the heat.
Another option for kids who love their puddles and streams as well as park sprinklers.
Velcro and bungee combinatio make them quick to put on and off. THey come in this salmon and gray or blue and green with neon trim.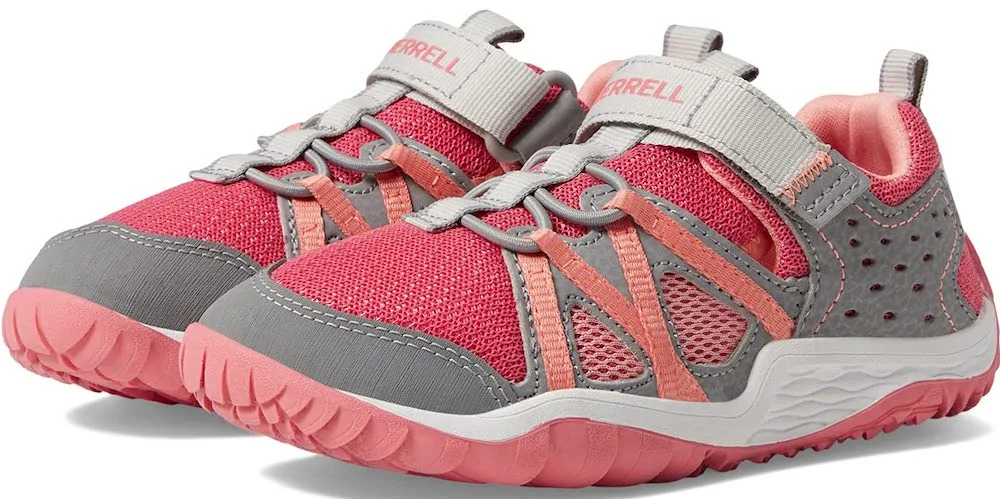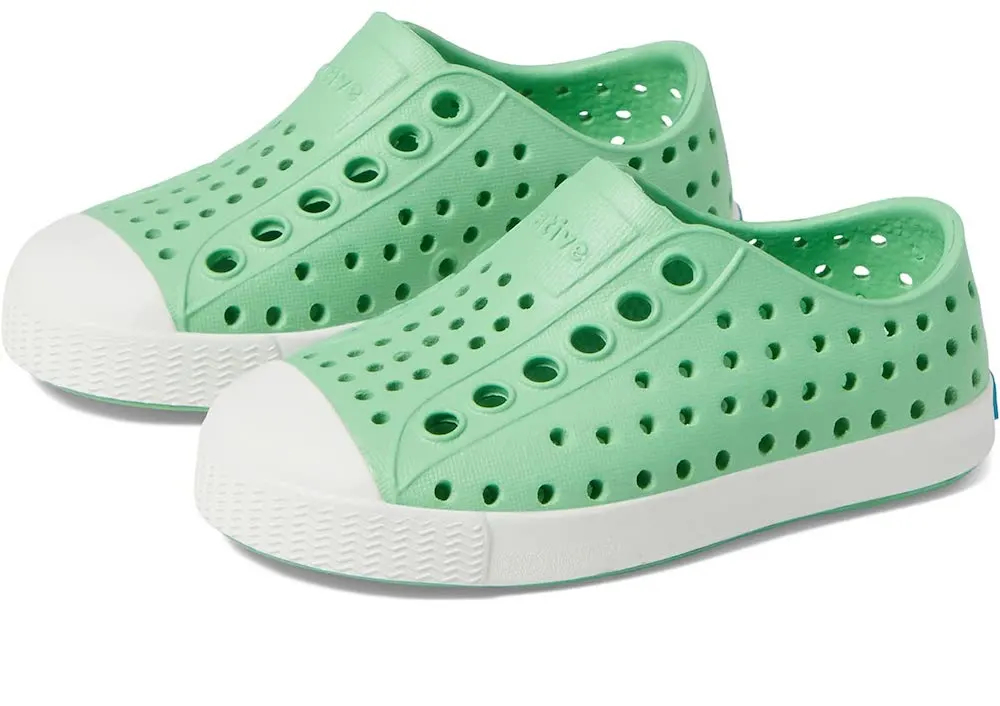 Native Jefferson Slip-on Sneakers
A few years ago, Native's Jefferson slip-on water sneakers overook Crocs as the most popular summer shoe on my neighborhood's playgrounds. And they've held their ground ever since.
They're vegan, odor-resistant, easy to rinse off and easy to slip on and off. Plus they come in several bright gender-neutral colors and can be recycled into playground equipment.
They're among the best summer shoes for toddlers though the early school years.
Croc-Alternatives For Girls & Boys
Adidas Water Sandals
If they had these Adidas water sandals when my teen was a tot I think I would have bought them every summer.
They're made of water-reisistant synthetic that can get wet all summer long.
Plus they have a velcro close to keep them secure and a padded inner sole for extra support and cushioning when kids are running and jumping a the playground.
And, you just caan't resists the classic Adidas-sneaker style.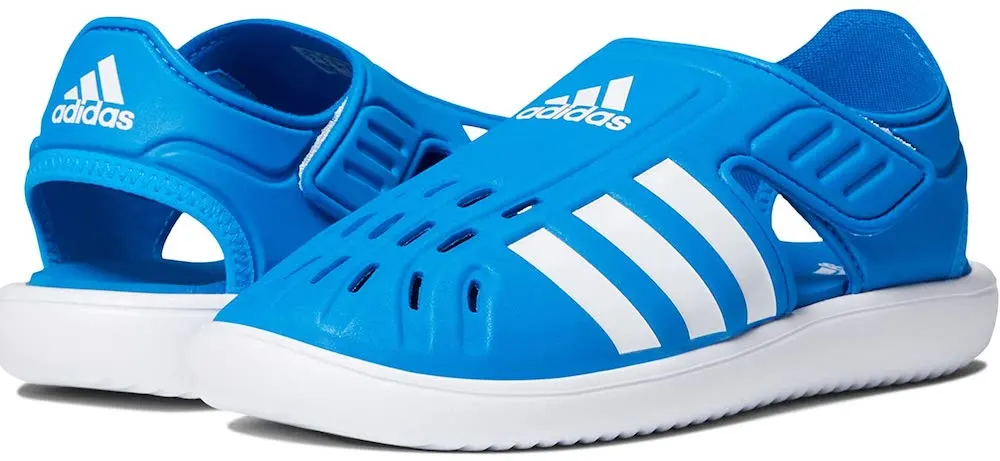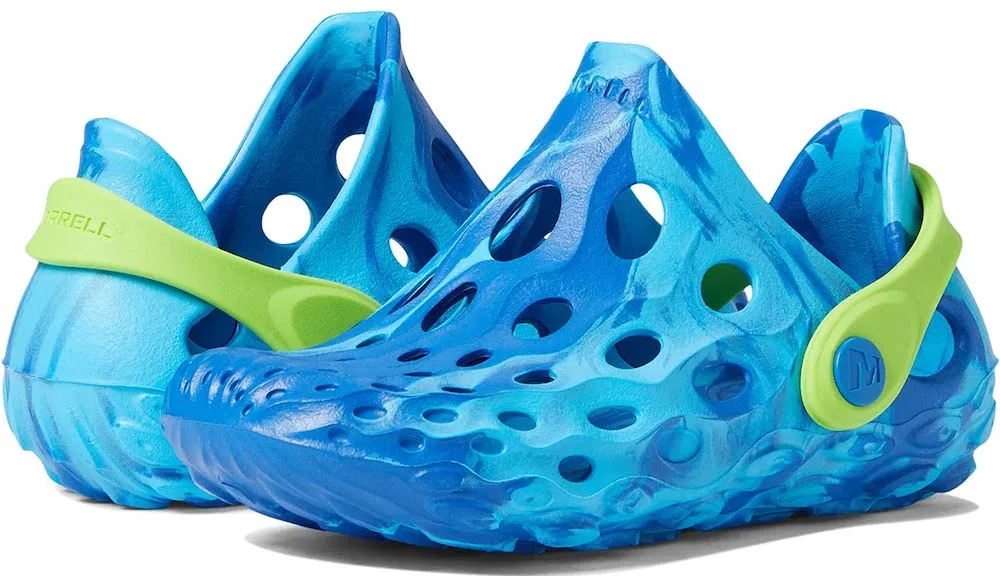 Merrell Kids Hydro Moc
Here's another iteration of Merrell's hydro line, and probably the most exotic looking of the bunch.
I like these Hydro Mocs for little and big kids because they offer all the ventilation and water-resistance of Crocs. But they cover kids' feet more and will stay on more securely when kids are keeping busy.
Flip-flops For Kids
Reef Kids Little Ahi
I'm not a big fan of flip-flops for kids, but I can't deny that they're handy around the pool and at the beach.
Reef Kids flip-flops are not flimsy and several styles have a strap on in the back to keep them secure when kids are running around.
The Kids Ahi comes in ten cool colors that older kids and tweens will like.
The Little Ahi, made for toddlers and preschoolers, has a chunkier sole to withstand more playground time. And they come in eight patterns kids will like.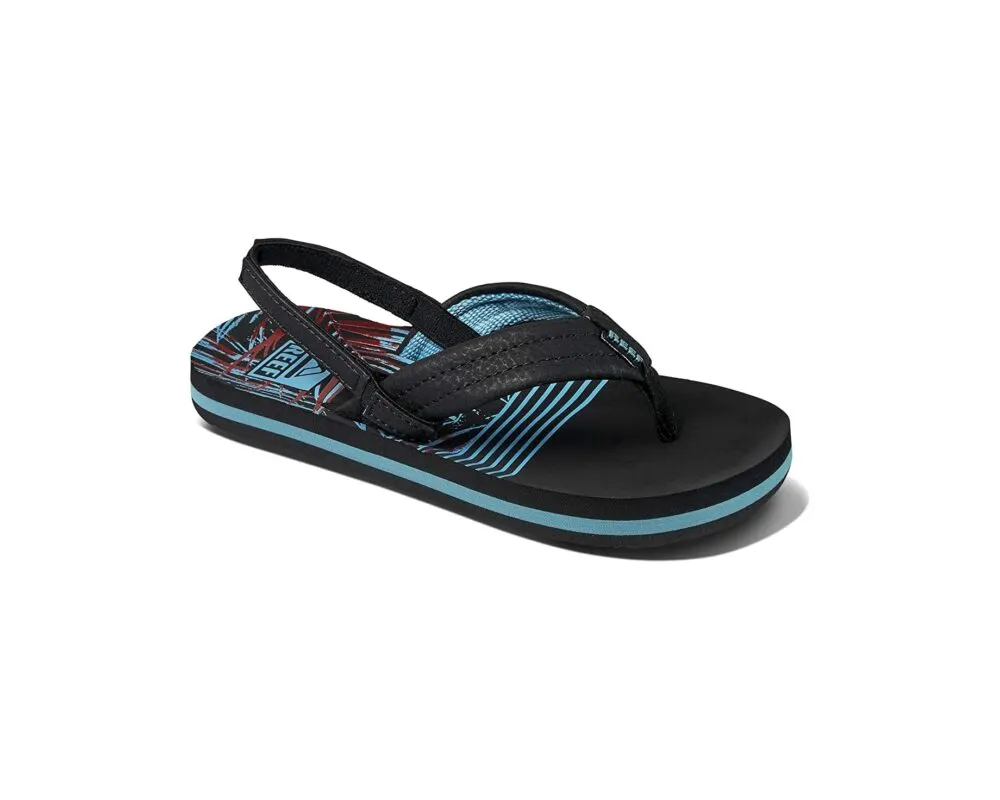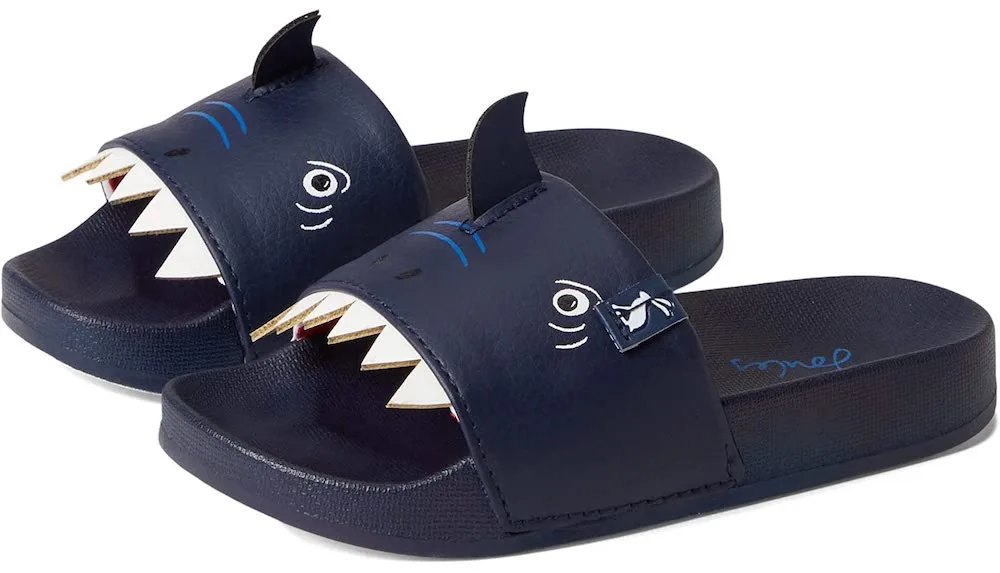 Joules Kids Poolside
These shark-themed Joules Kids Poolside slip-on sandals are pretty hard to resist. But on top of being fun they also have a non-skid sole that's ideal for pool decks and boardwalks.
They're a great option for kids who don't like the toe piece in regular flip-flops. And they come in a shark print, as well.
Summer Shoes for Tween Girls & Boys
Toms Slip-on Sneakers
Older kids and tweens love light-weight Toms Alpargata slip-ons.
They have a bit more support than basic Toms and you can toss them in the washing machine when they get dirty.
They come in colors that will appeal to buys as well as girls. And look just a little less casual than most lace-up sneakers.
For the eco-conscious kid you can buy Alargatas made from recycled cotton.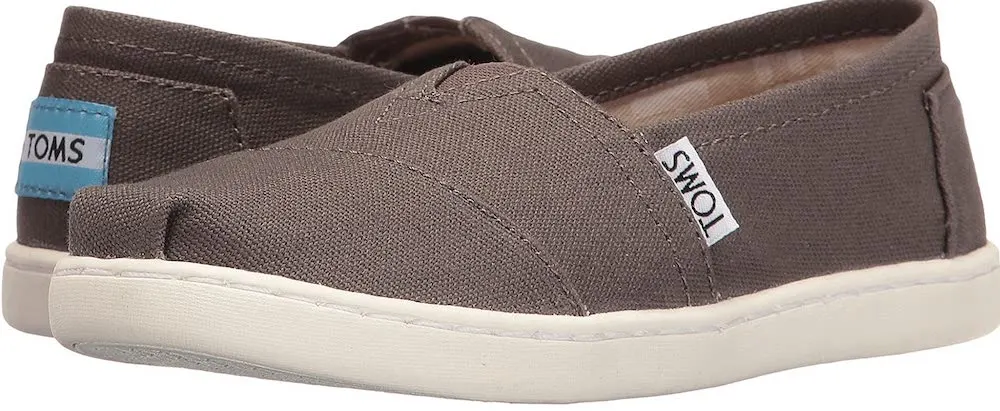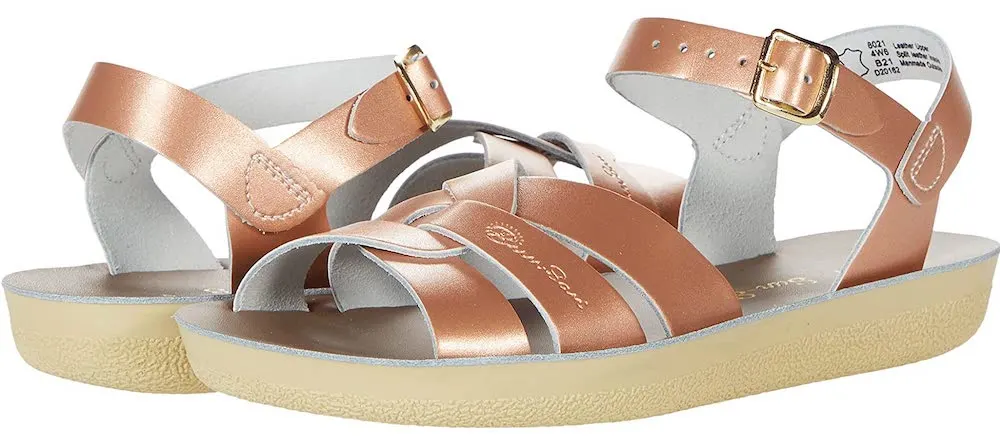 Hoy Salt Waters
Teen Traveler finds these faux leather Salt Water sandals super handy for beach vacations.
She can wear them to the pool and put them on with wet feet. She can get sand and salt water on them all day long.
Then at night she can wipe the sand off and put them on with a sundress and they are the perfect cute casual sandal.
The sole isn't thick enough or non-skid enough to wear them day-to-day. But for beaches and resorts they're perfect, especially if you're trying to not pack much.
Pin it for later!