Summer shoes: My daughter puts her favorite pair on in early May and I pry them off her feet in late September, at which point they're almost falling to pieces.
Kids' summer shoes have to play a lot of roles. Kids want them to be cool and comfortable. Schools and camps often want closed toes.
I need them to be durable, quick drying and to take my active child from the playground, to the beach, to hiking and biking on weekends to city sightseeing on vacation.
Here are 12 kids summer shoes — sport sandals and sneakers for kids, tweens and teens — that will see you through the summer, regardless of what your youngsters do to them.
You can get most of them wet; they're all washable. Most are not cheap but all offer good value for their price.
Our Top Summer Shoes For Boys & Girls
Lightweight Summer Sneakers
The breathable mesh upper on this sneaker will dry fast and keep your toddlers and preschoolers cool all summer, while the rubber toe and sole will stand up to lots of play. Stretch laces with Velcro means preschoolers can put them on by themselves. (Buy them!)
Croc's shoes just keep getting better.
School-age kids and tweens will like the bungee laces that keep shoes on well when they're running around but make them quick to put on and take off.
The soles and rubberized toe of this sneaker will stand up to summer sports, while ventilation keeps feet cool. And the croslite material can get wet, too.
Older kids and tweens love light-weight, washable Toms slip-ons. But they come in enough styles and colors for younger kids to find something they like, too.
Better still, they look la little neater than most kids sneakers, which is handy for travel. Just choose carefully: Some styles have thicker soles than others. (Shop Toms on Zappo!)
Sneaker-Style Water Shoes
Merrell has made its basic Hydro shoe more sneaker-like and less sandal-like, much to my daughter's chagrin. She lived in these closed-toe sport sandals for four summers in a row.
They still have ventilated uppers to keep feet cool and can get wet. The treads are good and they have good ankle support. But the mesh is a tighter weave and there's more material on the upper.
They're no longer my tween's style but they're a good choice if want a sturdy shoe that can get wet. (Buy them!)
These waterproof sneakers for toddlers and preschooler are light with plenty of ventilation, reinforced toe, flexible sole, and shock absorbing heel. The perfect sneaker/water shoe hybrid for the playground.
Parents love Stride Rite and this sneaker-style watershoe is just what you expect from the company: affordable quality and comfort for school-age kids.
The upper has plenty of webbing and enough coverage for good protection; the sole is playground-worthy. Velcro and bungee laces keep them secure. The blue and green color mix is gender neutral, at least for preschoolers. (Buy it!)
Probably the most heavy-duty shoe in the mix, this sneaker-watershoe hybrid for boys and girls will stand up to serious camping and hiking.
It has a reinforced toe, thick molded sole, mesh upper and an adjustable strap. (Get it now!)
Sport Sandals
My Tween has always had a place in her heart for Mary Janes, and these Hydro Sandals are great summer MJs.
They protect toes, have the same grippy sole as other Hydros and have a good velcro strap. But they are mostly open and definitely more sandal than sneaker. The blue and purple are colors older kids appreciate.
If you and your kids love the classic molded Crocs but wish they stayed on feet more securely, try these velcro-strap sandals.
They have the molded Croc look and feel that you can get dirty and hose off daily with a wide toe covering and adjustable strap.
Reef Kids Little Ahi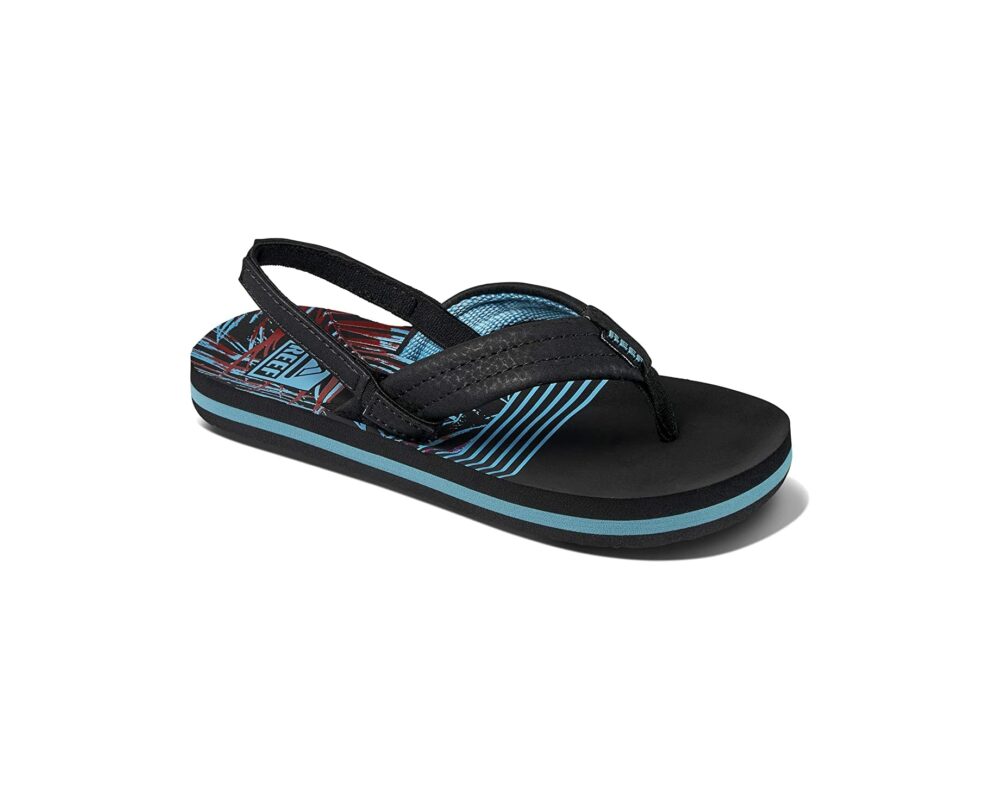 I'm not a big fan of flip-flops for kids, especially for very young kids. But they are very handy during the summer.
Reef Kids flip-flops are not flimsy and several styles, including Little Ahi, have a strap on in the back to keep them secure on the feet of active toddlers and preschoolers.
And both girls and boys can easily where this fun, beachy blue and black sandal
Sandals for Summer Play
These are the summer sandals for girls who are active but won't wear the sportier shoes. They come in a range of bright colors, strap on securely and can get wet.
They come in sizes from toddler to woman. They're only drawback is the flat soles can slip on wet playgrounds and pool decks. (Check out all the other colors, too.)
Extremely sporty water sandals with Teva's signature adjustable straps and outdoor-ready soles, in fun colors like bright teal and metallic silver.
These open-toe kids shoes are perfect for the girl or tween who wants a sturdy, grippy sandal in a great selection of fun feminine colors. (Take a look!)
These are what Tween Traveler chose to replace her Hydros. The open toes are not an issue this summer since she won't be heading to camp.
I'll let you know at the end of the summer how they hold up.
Pin it for later!