Cooperstown, New York, is home to the Baseball Hall of Fame. But the museum brings enough people to town every year to support hotels, restaurants, breweries and a fair number of other activities to keep visitors busy.
You can't avoid baseball during a visit, but you'd be mistaken to believe it's the only game in town. Cooperstown can be a fun weekend destination for families where only a few members love baseball, or even where no one does.
Here are six fun things to do in Cooperstown (in addition to the Hall of Fame), plus restaurant recommendations and aa review of the beautiful hotel we stayed in.
A Cooperstown Weekend With Kids:
What To See, Do & Eat
Top 6 Things To Do in Cooperstown With Kids
1. The National Baseball Hall of Fame
Yes, if you're here in town, you should go. The lady at the front desk told us that most visitors spend about three hours at the Hall of Fame museum. We were there for about two hours. A real fan could probably spend the day.
Start your visit upstairs, where a series of exhibits explore baseball's history. The game's evolution—starting out as a farm-country sport, then moving to the cities, then gradually absorbing a more diverse collection of professional players from around the world—follows the evolution of American Society.

Don't miss the room that explores the history of the Negro League and baseball's integration (which began in Brooklyn, I must point out).
Another room focused on the Latin American and Caribbean countries that are routinely sending us baseball players these days was probably my favorite. Listening to recordings of some these players talk about how they grew up with almost nothing, playing the game with improvised bats and homemade balls and mitts, was pretty amazing.
A small exhibit on women in baseball could have been better. It mashed together players, owners, club executives and even cheerleaders, which made it seem like they were grasping to find women to talk about. It's especially disappointing because they don't need to do that.
The Women's League has plenty of history to mine: How did those women find their way into baseball, what did they do afterward, and why were all the women's teams based in small towns rather than the cities that had major league teams?

The elevation of these women athletes during World War II and the expectation that they'd just go home and get married when the war was over paralleled the experience of a lot of women in the 1940s and 50s.
We spent a little less time here than I might have because Tween Traveler has no interest in baseball or its role in American society and culture and was vocally bored.
We skipped the exhibit celebrating the Hall of Fame inductees, which I think is a safe move if you aren't a huge fan and don't have favorite players.
Tip: The Hall of Fame is open until 9:00 pm during peak summer months. If you arrive after 3:00 your ticket is good for the whole next day. There's a scavenger hunt for younger kids or even slightly older kids who are really in to baseball.
More Baseball: If you are a real fan you can find shops in town dedicated to books, baseball cards and more. Doubleday Field hosts baseball all summer including Little League tournaments and Hall-of-Famer and old-timer games.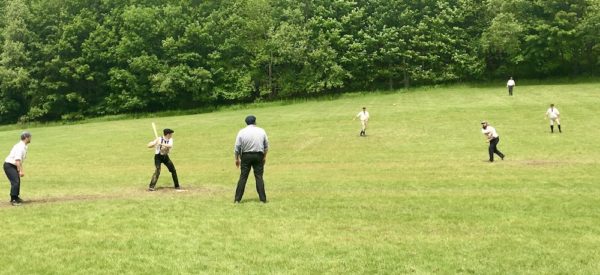 Around town you'll find people playing historic versions of the game, complete with the hats, uniforms, equipment and rules that would have been common in the 19th and early 20th centuries.
2. The Farmers' Museum
They need a better name for this museum because a farmers' museum sounds fairly dull and this was actually our favorite activity.
The heart of the museum is a small farming town with a village green where you can try old-fashioned toys (Tween Traveler always gets a kick out this and I'm not sure why), historic building and a general store where you can buy old-fashioned candy, books on all kinds of cooking and crafts and more.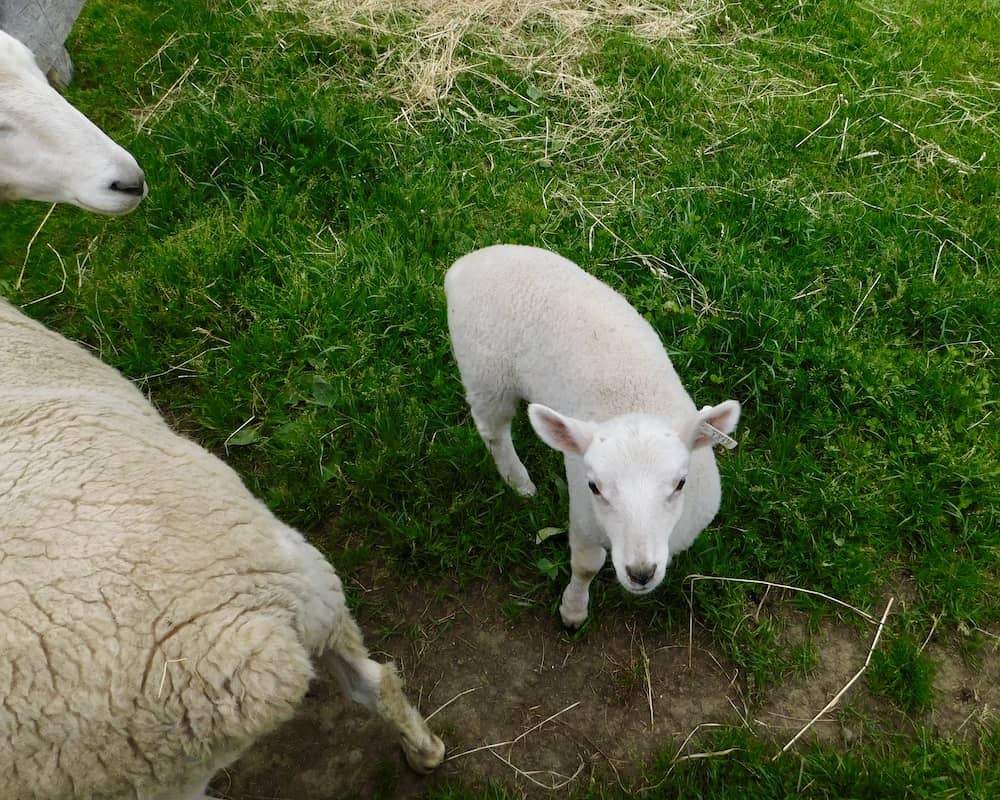 The farm has a lot of animals and if you visit in May or June, you're certain to see some babies. We were in time to see some fuzzy little lambs, calves and piglets, but we missed the baby chicks..
Tween traveler and another child had the opportunity to feed a calf with a very large bottle of milk from its mother (admittedly the younger kid was much more excited and willing to be photographed than my jaded 11YO).
There are other hands-on activities, too. We missed one at the print shop but caught a black-smithing demonstration where the smith helped our tween forge a ring out of nail—talk about a cool souvenir!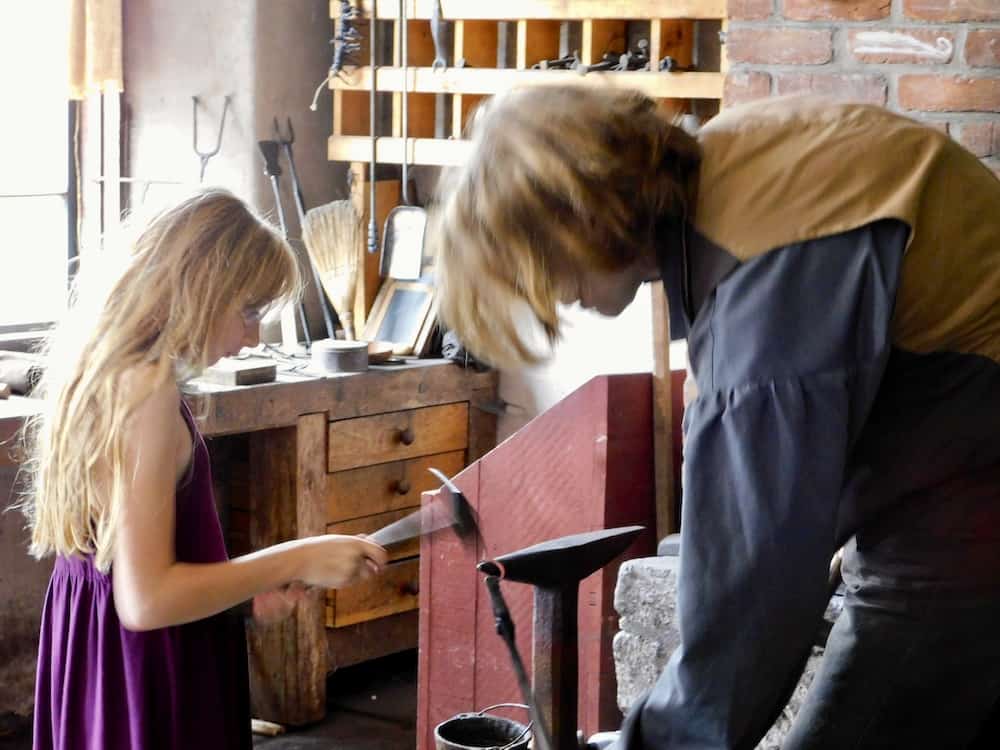 Before you get to the village, you can explore a former barn building with a handful of exhibits on agricultural history. There's also a play area that looks like a farm stand and farm kitchen, where kids can don costumes and play (Tween Traveler was definitely too old).
There was a whole room that explained the science of beer making and its history in New York State (which was once and is again a major hops producer). Tween Traveler found this pretty interesting, to my surprise. I guess kids always like learning how things are made.
Don't miss a copy of the Cardiff Giant, a famous 19th century hoax that originated in nearby Binghamton.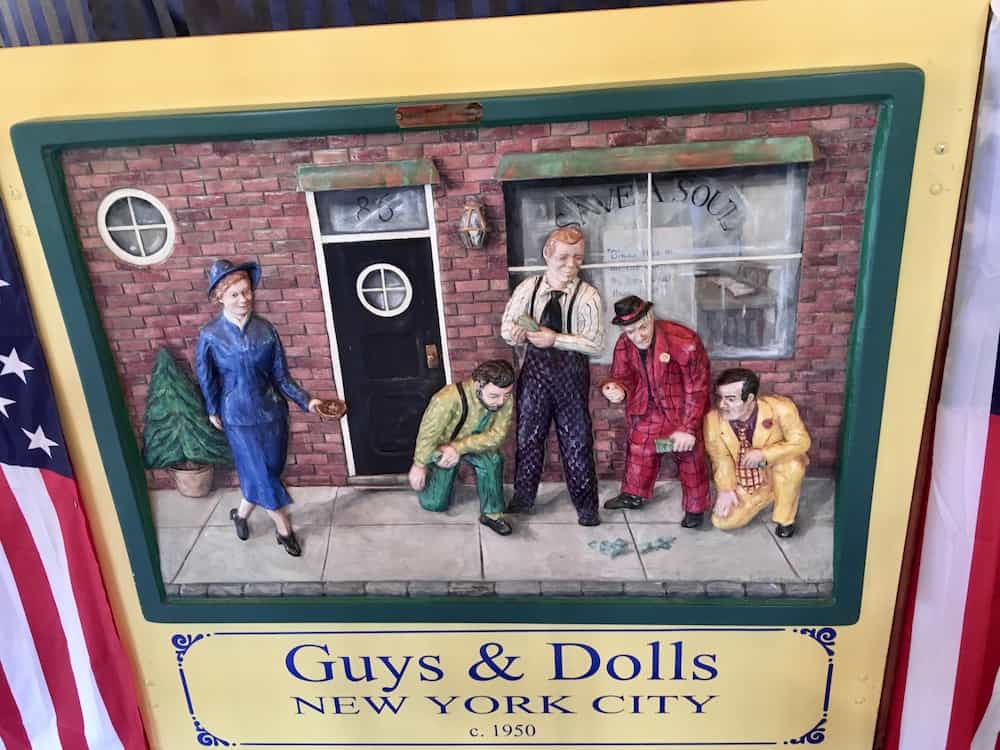 Between the museum and village is the Empire State Carousel, with elaborate art work celebrating the many products and famous people New York state has produced.
It's worth riding to get a close look all the decoration. Plus, it's one of those carousels that has a menagerie of animals. I rode a moose while Tween Traveler hopped onto a frog.
Read more
About the Empire State Carousel in my List of Top U.S. Carousels.
3. Glimmerglass state park
Glimmerglass state park is at the top of Otsego Lake. It's a lovely and really well-appointed park.
In summer you can use the sizeable beach, which has lifeguards on duty in season. There are two playgrounds near the beach, and you can rent kayaks and SUPs.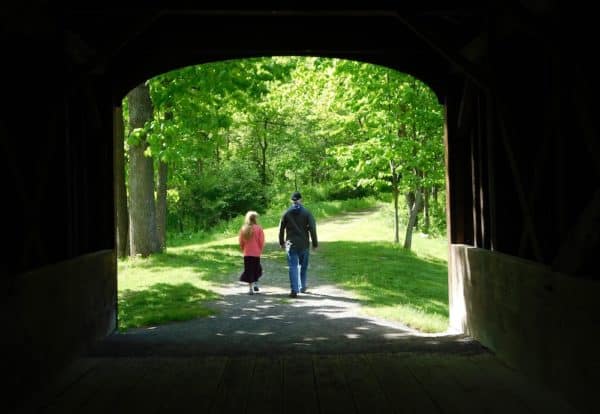 We visited the park to explore some of its several fun and easy woodland trails. They aren't the most well-signed trails but they're all a mile or less, so you can't get too lost.
The short ones are ideal if you want to get out in nature with younger kids. And you can combine loops if you want a longer hike.
There's also a two-mile trail up to a peak that rewards hikers with fantastic lake views.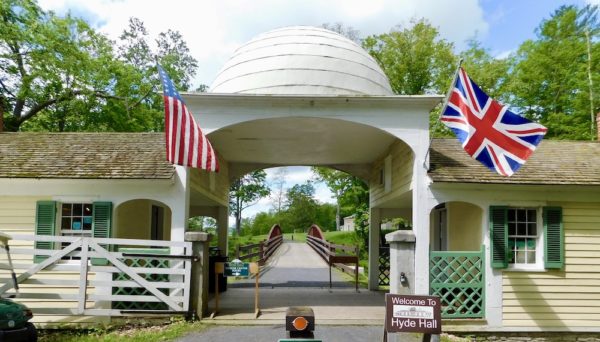 Check out the historic Hyde House property, not for the house itself but for its unique onion-domed gate house.
Inside the gatekeeper's cottage you'll find a small exhibit on the Hydes and the history of transportation in New York State, which is more interesting than it sounds and will only take a few minutes to see.
---
James Fenimore Cooper & Glimmerglass Lake
The Coopers of Cooperstown are the relatives of the American author James Fenimore Cooper, most famous for the book The Last of the Mohicans. You'll find references to the author and family all around town.
The area around Cooperstown inspired the fictional upstate New York locations in his books.
In some of the novels that comprise his Leatherstocking Tales there is a Glimmerglass Lake, which locals believe to be Otsego Lake, thus the eponymous state park and opera house.
Shop: The Fenimore Cooper Books
Read the classic Last of the Mohicans or all of the Leatherstocking Tales, which includes Mohicans.
Or watch the movie Last of the Mohicans with Daniel Day Lewis.
---
4. Fly Creek Cider Mill
We spent way more time and money at this Cider Mill than we thought we would. They sell all kinds of jams, salsas, fudge, snacks, and local dairy products and fruit wines and are generous with samples in normal times.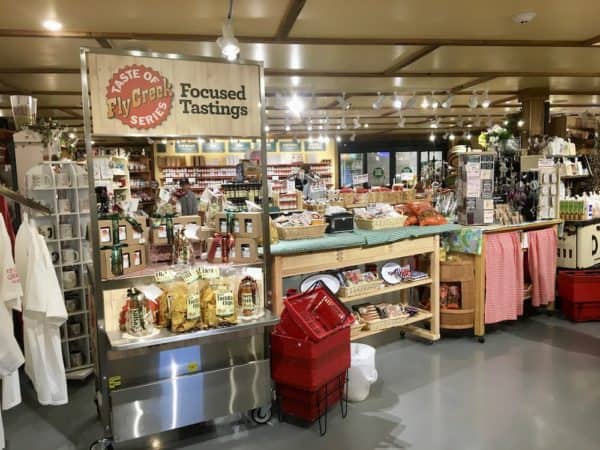 We sampled a bunch of salsas and fruit wines, fed some ducks in the stream next door and saw the water-powered cider press in action. We walked away with fresh cider, late-harvest apple wine, cheese curds and penguin-shaped pasta.
It's definitely worth a stop, even if you have more self-restraint than we do.
5. Fenimore Art Museum
We ducked into this museum during a rain shower and it was the most surprising discovery of the weekend.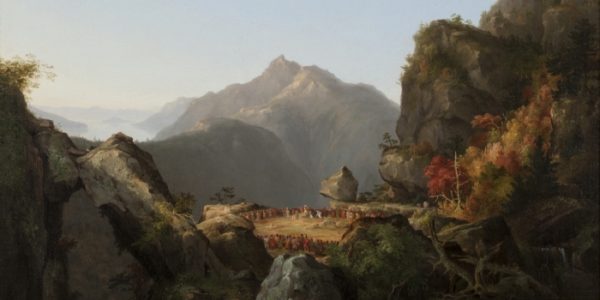 The permanent collection includes American folk and fine art, Native American crafts and a local history room where you can learn all about the Fenimores and Coopers.
The temporary exhibits are pretty wide ranging. Upstairs, we saw the series of bickering correspondence between Alexander Hamilton and Aaron Burr that culminated in their duel (which they are reshowing in autumn 2020).
Downstairs we saw a collection of Rock Star portraits by the photographer Herb Ritts.
We just missed an exhibit on Elephant & Piggy, Mo Willems' popular story characters.
This fall they're also showing photographs of presidents Obama and Reagan by White House photographer Pete Souza.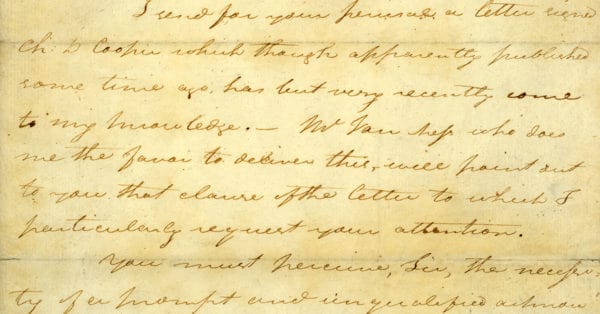 Tween Traveler was more interested in the Hamilton letters than the rock stars, but the museum is small enough that even if your kids don't love it, you can see what you want to and get out before they get bored.
One to two hours here is fine depending on what's on.
6. Fun on Otsego Lake
The June weekend when we visited Cooperstown was unseasonably chilly. While the lake beckoned, we didn't get out on it at all.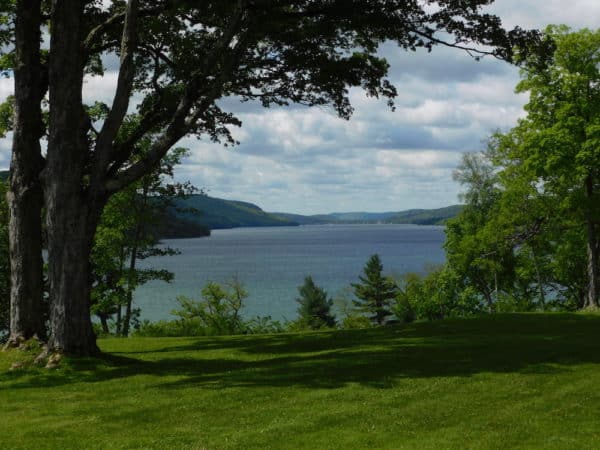 If you visit in better weather though, the lake is there for swimming, kayaking, SUPing, canoeing and even a scenic boat ride on the Glimmerglass Queen.
In addition to the state park you'll find places around the lake where you can rent equipment. Some of the motels on the lake will have stuff for guests to use.
7. Glimmerglass Opera House
This music space is as well regarded for its architecture as it is for its performances.
During a normal Glimmerglass summer season they'll mix in family favorites like the Sound of Music, which is ideal if you want to get a look inside this theater but know your kids won't want to sit through Don Giovanni.
The youth opera company offers a family friendly way to get a taste of opera. Check the schedule to see what's coming up.
It was being renovated and was under wraps when we were there, so we didn't get an actual peek at it.
Read More
About things to do in New York State west of the Hudson.
Select Restaurants and Breweries in Cooperstown
Given New York's history as a hops producer— which some people are trying to revive—it's no surprise that Cooperstown has several microbreweries. They're all good, and easy places to eat and hang out with kids.
1. Brewery Ommegang
Ommegang was making high-quality Belgian-style beers back when sour ales and bottle-conditioned dubbels were still relatively unknown in the U.S. And I'm glad to see them thriving.
The Tap Room, about six miles outside of town, is a nice space with a lively vibe. Busy, but not crazy.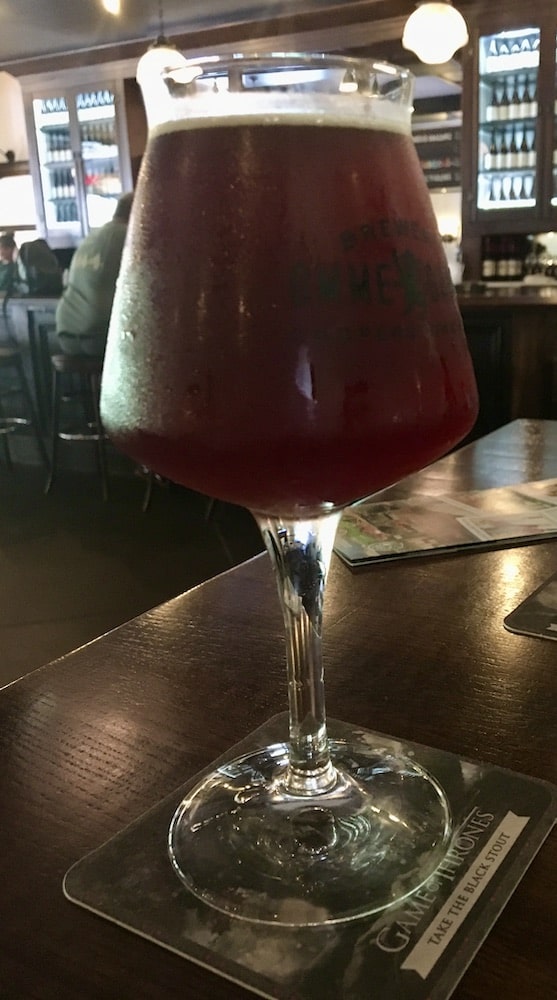 I was disappointed that the only Belgian food on the menu are the frites that come with aioli or as poutine. They are good frites, though. There are sandwiches but the menu is more gastropub than brewpub.
Grilled salmon, goulash and fried chicken with milk gravy were some of the specials on thew day we were there.
We snacked on very nicely seasoned local bratwurst, frites and crispy Brussels sprouts. Tween Traveler shared some of those things and ordered a pretzel, eschewing the caraway mustard and cheese sauce that came with it.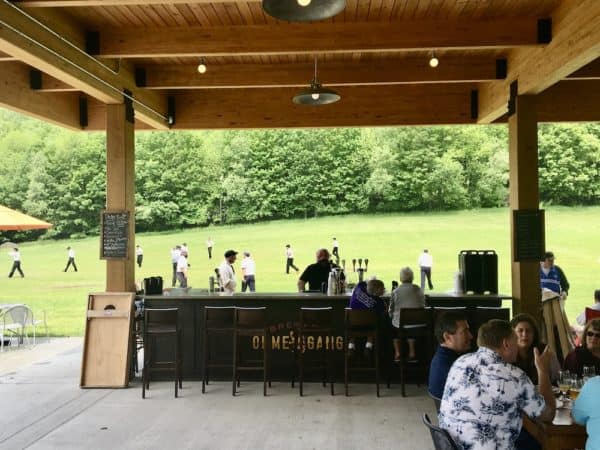 We ate inside because that's where a table was free. But there's a large outdoor patio that was full of families, especially those with smaller kids.
There was an old-fashioned baseball game on their back lawn, where they have other events during the year, too, like summertime bonfire nights. If the game wasn't on the kids would probably be running around out there.
2. Council Rock Brewery
We drove a few miles out of town to Council Rock because we were told they have good food as well as good beer. And they do.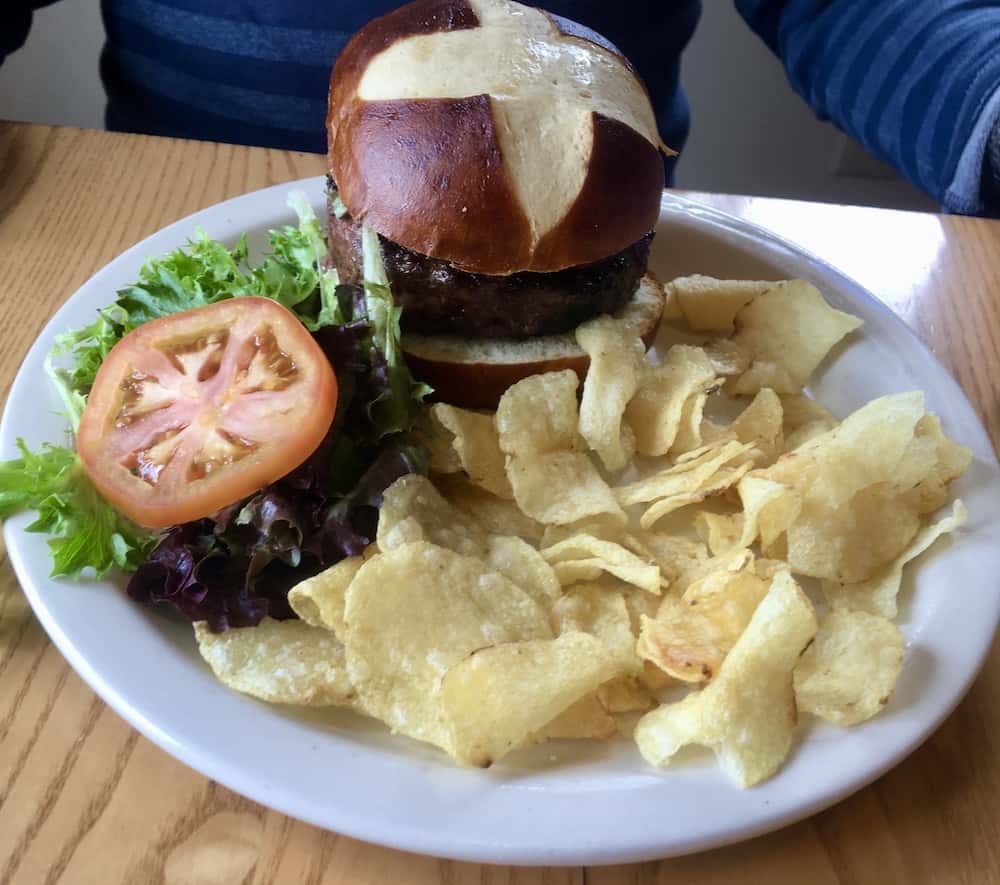 I had a house-made bratwurst with sauerkraut and red-potato salad. Rich had a hand-packed hamburger that came on a pretzel bun. Tween Traveler had a plump, locally made hot dog. Their plates came with chips and pickles.
Council Rock pays attention to its food, which you might not expect given the taproom's no-frills ambience.
If you can, sit in the front room, which has a couple of booths and a small bar. The back room is pretty drab, especially on a quiet day.
Their Vienna Lager was a great afternoon beer. It went with the food and wasn't hoppy at all (which I like). Rich appreciates hops more than I do and liked the red ale.
3. Red Shed Brewery
We stopped at this Brewery, a stone's throw from Ommegang, for an afternoon beer (and a Saratoga soda for Tween Traveler). Unusual for us, we shared a flight so we could try a few things. It's the kind of small brewery that does a small collection of beers reliably well.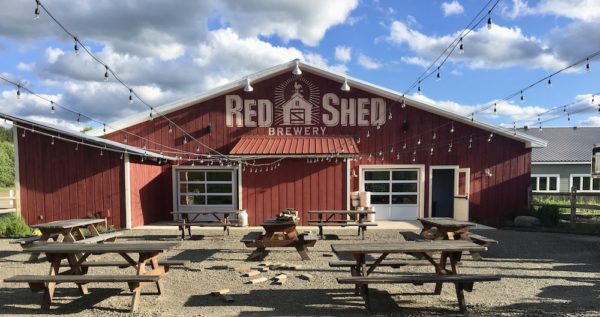 I liked the pilsner and the English session, a dark but not heavy beer that was perfect for the gray weather we had. Rich preferred the Golden Ale and the session IPA, which has lower alcohol than most IPAs.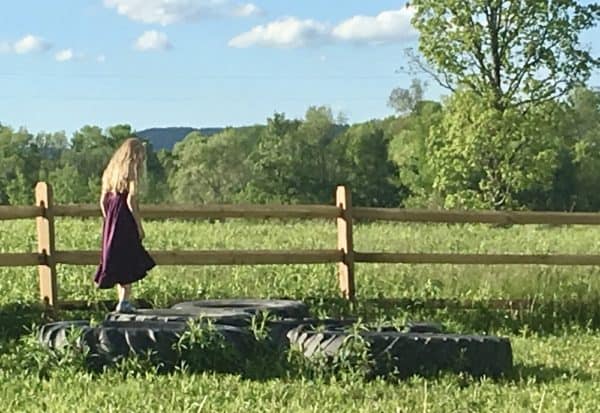 They have big backyard with picnic tables that I would expect to be hopping on a sunny Saturday. They had cornhole and a pile of tires for kids to climb on, which kept Tween Traveler well occupied. A small fire was going in case people wanted to venture outside with their beer.
They have a typical brewpub menu, with several burgers.
4. Blue Mingo Grill
The Blue Mingo is in a boat yard about three miles outside of town along the lake. We chose it because it looked more interesting than the options in town and it was on the water. It was our favorite meal of the weekend.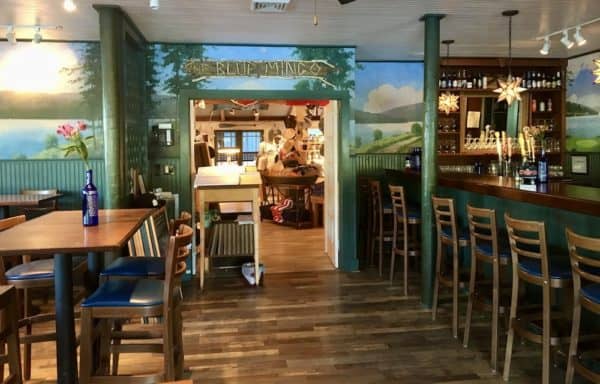 There's a homey dining room with a subtle nautical vibe, an enclosed deck and an outdoor patio. We chose the deck and they brought heat lamps to keep us warm.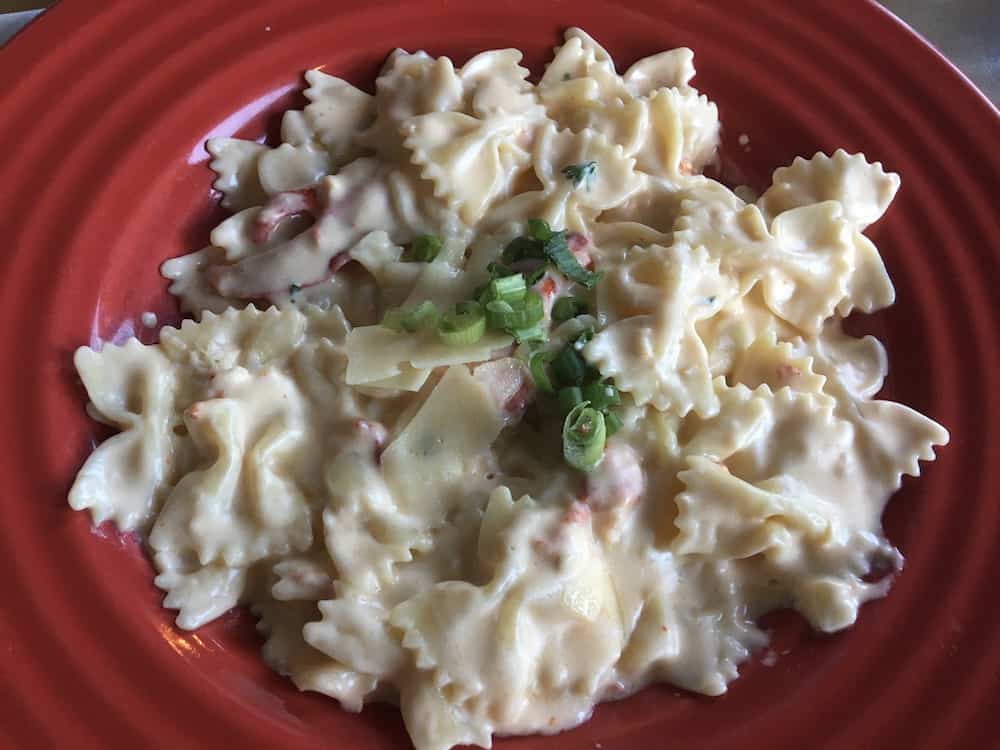 The menu is on a chalk board, so dishes come and go. Rich had chicken pot pie with a puff-pastry top. bowtie noodles with a light mascarpone sauce and chunks of lobster meat.
Tween Traveler was happy to see spare ribs on the menu. She liked the honey-based sauce and the portion was a reasonable size for a kid who's outgrowing kids menus.
They have burgers and other more casual items for lunch time.
5. Hawkey Bar & Grill
The Hawkeye is at the Otesaga Resort, but you don't have to be a guest to eat there. It's a good option if you want to dress up a bit and have a good cocktail, but still feel comfortable having kids along.
They have several meat, vegetarian and fish entrées if you want a full dinner. You can opt for homey meatloaf or splurge on swordfish or prime rib.
We were looking for something lighter after your tap-room lunch and stuck to the top of the menu.
I love seeing alternative grains and the menu and so opted for the Greek salad with Farro, chick peas, feta cheese and lots of veggies. Tween Traveler choes the plainest of the individual pizzas. Rich warmed up with gooey French onion soup.
We gave in to the very good dessert menu though, sharing a Key-lime tart in a shortbread crust—a family favorite—and some housemade vanilla ice cream.
Tip: Make a reservation for dinner, especially during Covid, but on any in-season window as well. It's popular with hotel guests.
6. Cooper's Barn Ice Cream
It's not really a vacation until we've had some local ice cream. And Cooper's Barn, just passed Council Rock a few minutes outside of town, is a fun place to go after dinner.
You pick either vanilla or chocolate semi-soft ice cream and then add up to three treats to mix in.
I went for vanilla ice cream and coconut while Rich chose chocolate and walnuts. Tween Traveler got a bit fancier: vanilla with marshmallows and Rice Crispies.
They have a small porch with places to sit and some lawn games as well.
Tip: It's conveniently located a few feet down the road from a Cooperstown Fun Park with mini-golf, go-karts and batting cages. It's on the way back in to town from Barnyard Swing, a second mini-golf spot.
7. Schneider's Bakery
We made a point of stopping here on our way out of town because we kept passing it on our walks through town and the iced sugar cookies in the window beckoned.

The baked goods are the kind I grew up with in Queens, NY and it was hard to choose between the bakery-style donuts (glazed or filled), almond and chocolate croissants, cakey brownies and those sugar cookies, which come shaped like baseballs, bees and so much more.
In the end we got a mix of those things to share and they kept us happy on the long ride home.
8. Cooperstown Diner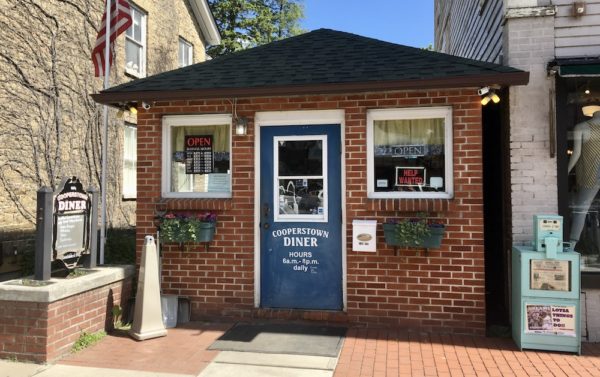 This is the one place in town I wish we had gotten to. It's small, so good luck getting a seat during busy times. But it seemed like a likely place to get good eggs, pancakes, burgers, onion rings, thick shakes and all the other diner standards that kids like.
Where to Stay in Cooperstown
I would go back to Cooperstown just to stay at the Otesaga Resort again; it's the type of hotel that's a destination in itself. The rooms are elegant but the mood is casual enough that you don't feel self-conscious bringing the kids, especially in the outdoor areas.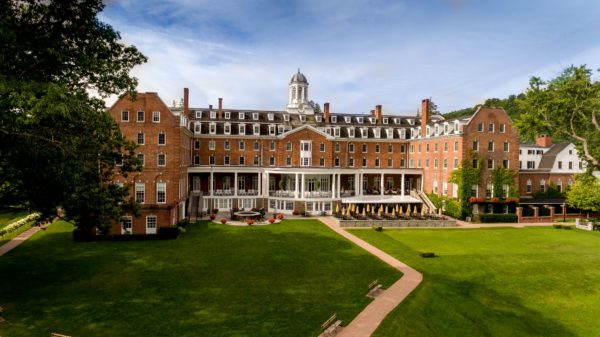 Built in 1909, it's a member of the Historic Hotels of America. Perhaps because it has old bones the rooms are big, with high ceilings and big windows with ideal lake views. For once the three of us didn't feel like we were tripping over each other.
There are tennis courts and a dock where you can borrow canoes, SUPS and kayaks.
A good-size heated pool is surrounded by a nice stone patio, but it wasn't quite warm enough to swim in when we were there thanks to some cold nights (we did try).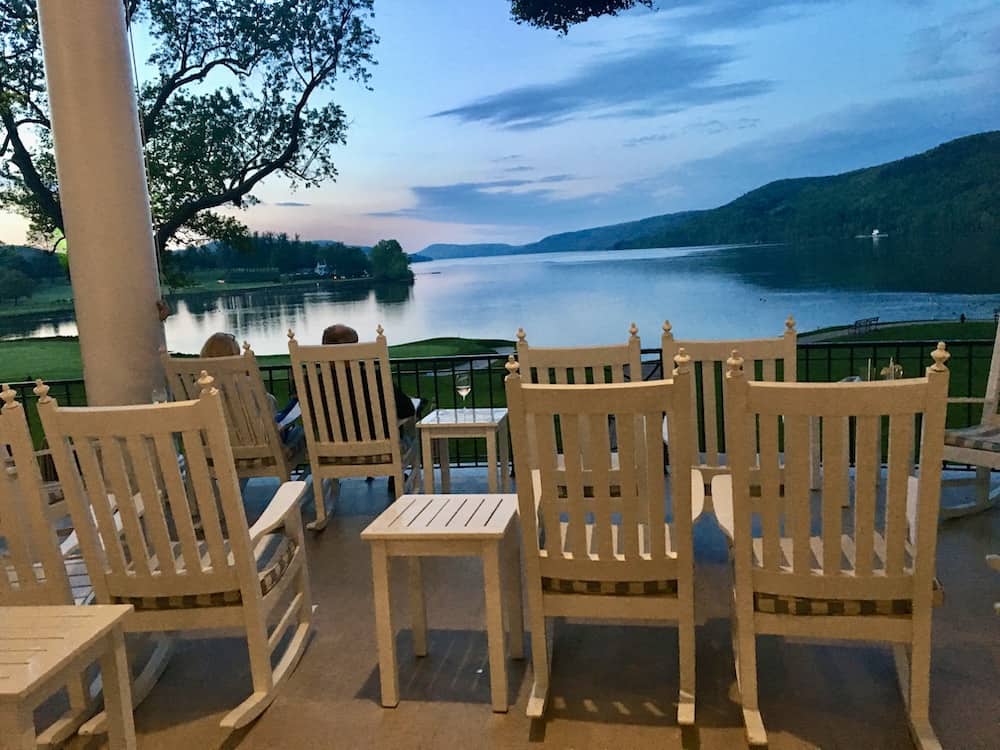 The hotels' second-best feature is a rolling lawn where they sometimes put out games like cornhole or croquet and where we saw kids running around while their parents lingered over drinks after dinner.
The best feature is the large balcony with rocking chairs. It's nice for watching the boats go by in the summer and for appreciating the area foliage in fall. If we'd had more time I would have been happy to spend an hour there with a pint of local beer and a good book.
We loved the outside "fire bar" a giant fire ring with a bar and stools all around in. I've never seen anything like it and it's ideally for the area's chilly nights. It has no bartender for obvious reasons, but staff will serve you drinks from inside.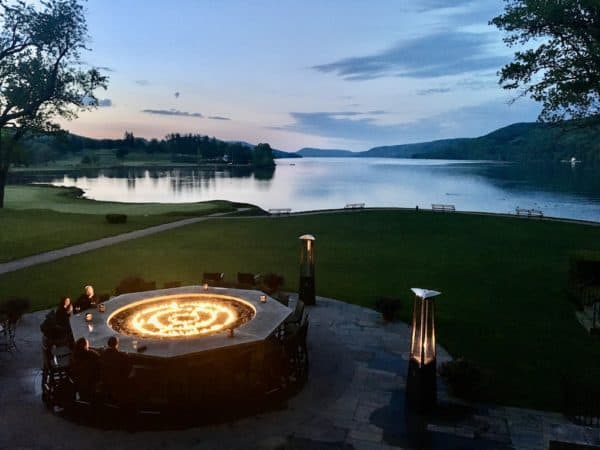 We had a good breakfast buffet with made-to-order eggs and plenty of breads and pastries in the Glimmerglass banquet room. Breakfast is still in that space. But it's for guests only, and is table service instead of buffet.
Fun Facts: The Otesaga was built by the Clark family, which still owns it today, The hotel was modern marvel when it opened, thanks to amenities like a telephone in every guest room, central heating that could be adjusted by room, and a refrigerator in the kitchens that required 30 tons of ice.
Other Cooperstown Hotel options
Other lodging options in Cooperstown include motels, B&Bs and small inns.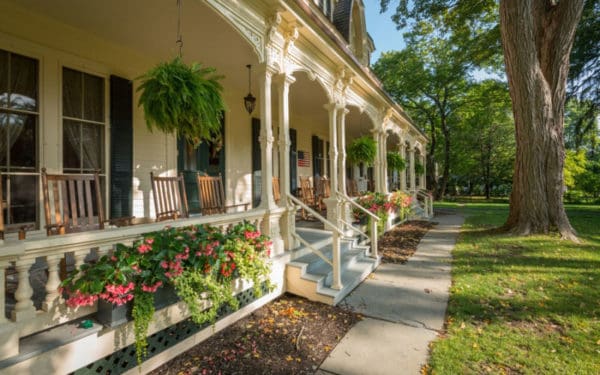 The Inn at Cooperstown is a B&B right in town where you can comfortably bring kids.
It has a nice porch with rocking chairs where you can finish your coffee and plan your day while young kids run around on the lawn.
It has family rooms and suites and serves breakfast. It also keeps a collection of board games to play in its sitting room at night.
If you want a pool and breakfast there is a Holiday Inn Express and Best Western Plus a few minutes outside of town.
In general I've been with the Holiday Inn Expresses I've stayed in. They usually look recently refurbished, and have free afternoon cookies and pretty good breakfasts.
There are a half dozen lakefront motels with beaches just outside of town toward the opera house. Some of them are pretty rustic.
Practical Information
Where is Cooperstown?
Cooperstown is 75 miles from the nearest exit on the New York State throughway, making it a little bit more out of the way than some other Upstate-New-York weekend destinations. But you pass through New York farm country, which means the opportunity to find farm stands in late spring, summer and early fall, and to do some nice leaf-peeping in mid-fall.
It's a four-hour drive from New York City, Buffalo, Philadelphia or Boston, give or take a half hour. It's less than five hours from Ottawa or Montreal.
Nearest airports: If you're flying in, the closest airports are Binghamton and Albany, both 90 minutes away.
What's the weather in Cooperstown?
It's upstate New York. Count on temperatures in the high 70s to maybe low 90s during the summer. If you're in the woods it will be muggy and there will be mosquitos and ticks. Wear socks and proper hiking shoes or sneakers.
The nights can turn cooler at the end of August, so pack a light fleece and long pants.
Winter and spring are unpredictable. They can be warm and sunny all season long, or winter can arrive in late October and stay through April. In the middle of winter be prepared for snow and low temperatures no matter what the forecast says.
A weekend getaway in early to mid-fall will offer fall foliage around the lake, plus small crowds and fresh apples at the farmstands. That can more than make up for chilly weather.
It was too chilly to swim when we were there the first weekend in June, but that was unusual. And it was fine weather for hiking and exploring.
Pin it for later!
We were guests at the Otesaga Resort and Hawkeye Bar & Grill, as well as at the three museums. We paid for all other meals and activities. I didn't agree to any specific coverage in exchange. My opinions are always my own.
All photos by FamiliesGo!© except the Baseball Hall of Fame and Fenimore Art Museum exhibits (courtesy of the respective museums) and the facade of the Otesaga Resort (courtesy of the resort).