Almost all my photos of Olympic National Park are of Tween Traveler climbing on things.
Olympic is an enormous park. It has alpine and rain forests, lakes, streams, mountains and beaches. All of these various environments offer a plethora of boulders, fallen tree trunks, enormous roots and giant piles of driftwood to leap, scramble and climb around.
Needless to say, she really loved Olympic. And so did we. In four days we managed to at least sample a little bit of everything this national park has to offer.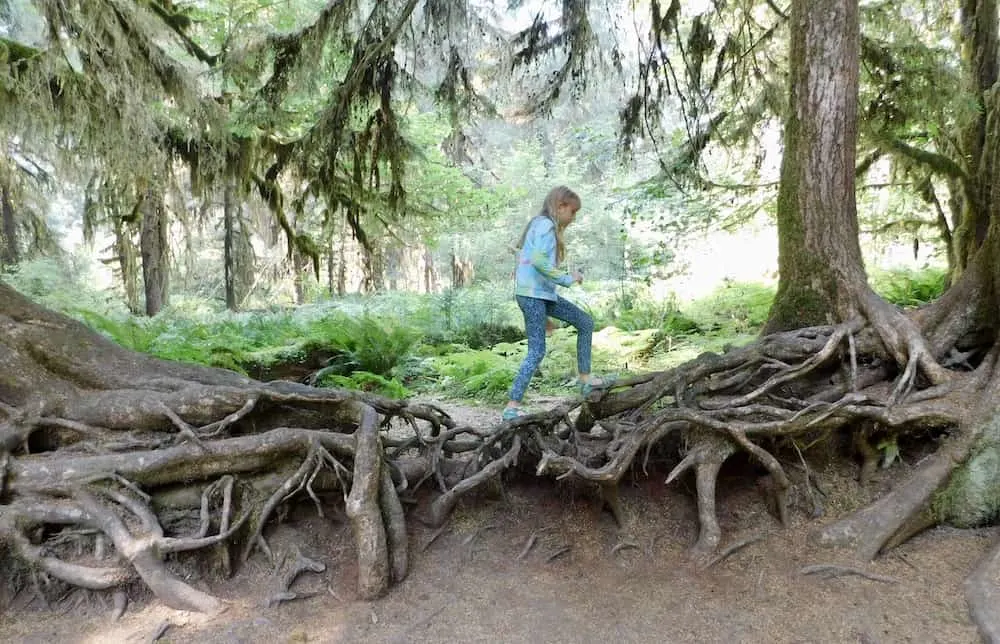 Here is my advice on exploring Olympic National Park's can't-miss highlights and the best things to do with kids. I'm also going to tell you what disappointed us and what we definitely would have seen with a bit more time.
Read More:
• We also visited Portland, Oregon, Seattle and Whistler, BC on this Pacific Northwest road trip.
• Here's my list of 13 Accessible National Parks for the Whole Family
• From Olympic's coast it's easy to continue south down Oregon's coastal road, too.
Visiting Olympic National Park With Kids:
Our Complete Guide
Things To Do
Take In the View From Hurricane Ridge
Hurricane Ridge is often a first stop for visitors to Olympic National Park. You can drive to the peak and have great views of the surrounding mountain range.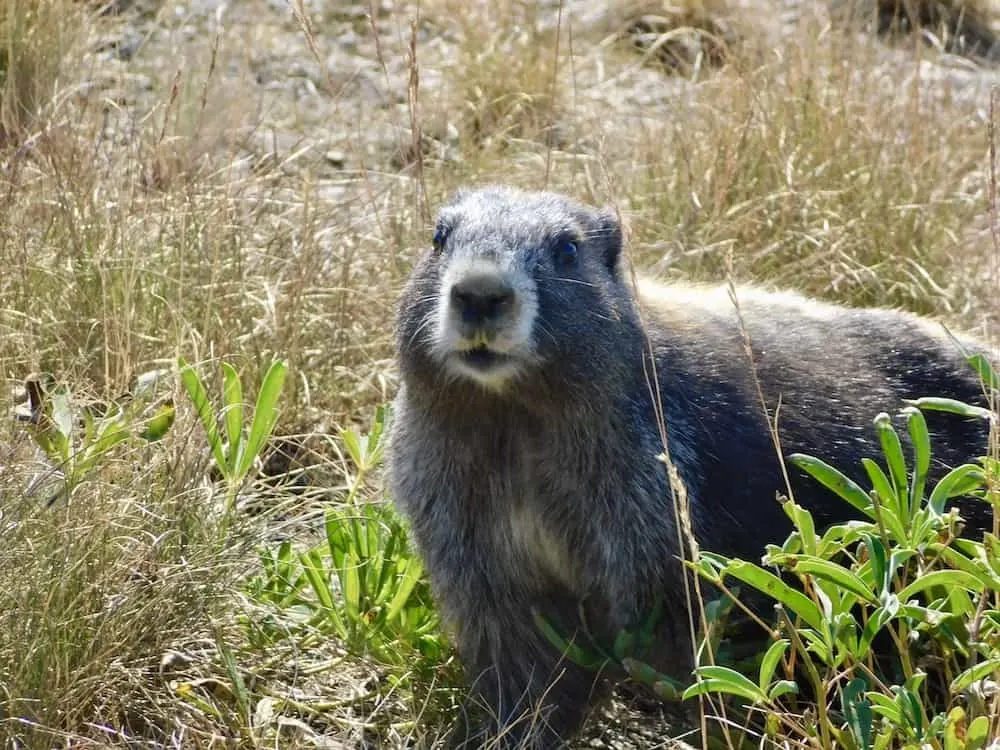 The deep grass near the visitors' center is a great place to spot the park's marmots, who are very photogenic if you can catch one.
There are quite a few hikes that begin here, including some six-to-eight-mile trails down into the valleys below. But there are plenty of easier ones, too.
Families traveling with todders, strollers, less-mobile grandparents or relatives in wheelchairs can walk along the Cirque Rim and Big Meadow, which are three-quarters of a mile combined (one way). They're paved and fairly flat.
We did the popular High Ridge to Sunrise Point hike, which is very doable with school-age kids or older and offers some really stellar views (see top photo).
High Ridge is a half-mile loop that follows a ridge for part of the way and definitely has some uphill.
If you take the Sunrise Point spur off of the loop, which I recommend, you'll do some more serious uphill walking but for only one-tenth of a mile. The vistas are worth the effort.
Pick up free Junior Ranger workbooks for your kids on your way in to the park or at the ranger station here (or try the souvenir shop; they often have them on hand).
You'll have to do a ranger program to complete the book and earn your junior ranger badge. Hurricane Ridge is a good place to find kid-friendly ranger activities.
We heard a 20-minute talk on the park's endemic animals. It also touched on the park's flora, fauna and geology. We learned the surrounding mountain range is isolated from other nearby ranges and this has a role in determining what animals and plants you will and won't see.
The rangers know their stuff and are very good at engaging kids so it was a fun talk, not an academic lecture by any means.
3 Fun, Kid, Friendly Hikes in Olympic National Park
1. In addition to Olympic's main attractions, we found plenty of shorter hikes that are fun for big kids and tweens and manageable with even smaller kids.
One of these, the first walk we took in the park, was a 1.8-mile hike through nice old-growth forest to Marymere Falls.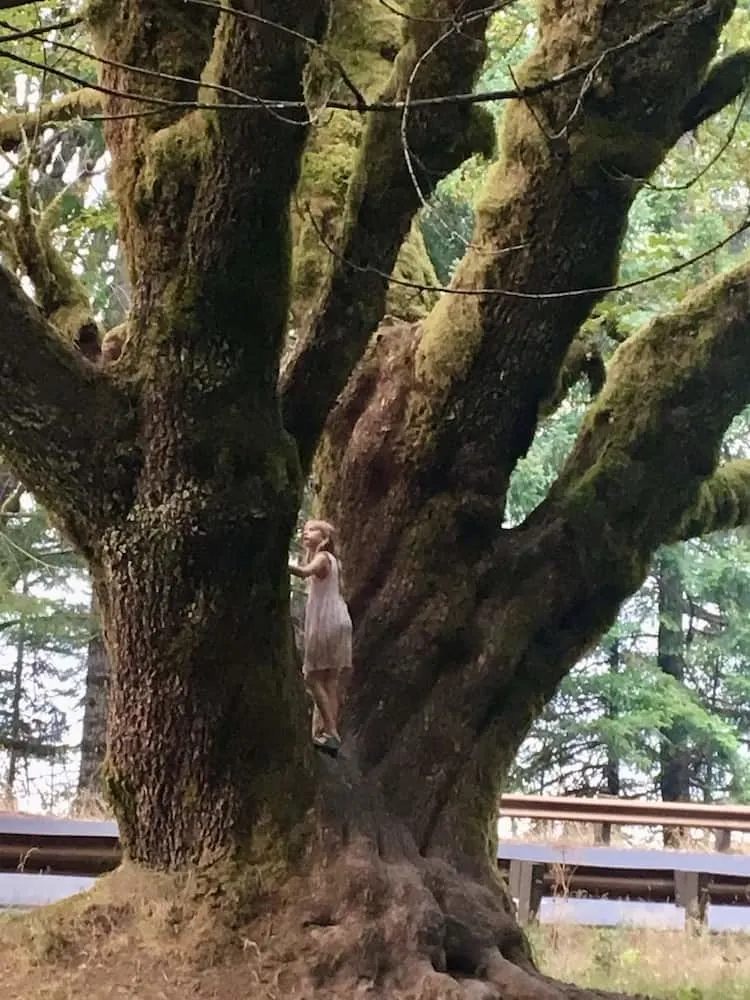 It took us nearly two hours to do this easy trail because it offered lots of large fallen trees for Tween Traveler to climb, hollowed trunks for her to step into and a few streams to wade in. All the climbing and wading and the look of the old gnarled tree roots made it one of her favorite walks on this trip.
The trail is fairly flat until you cross a small bridge, then there's a short steep walk up to the falls. And a steep walk down again.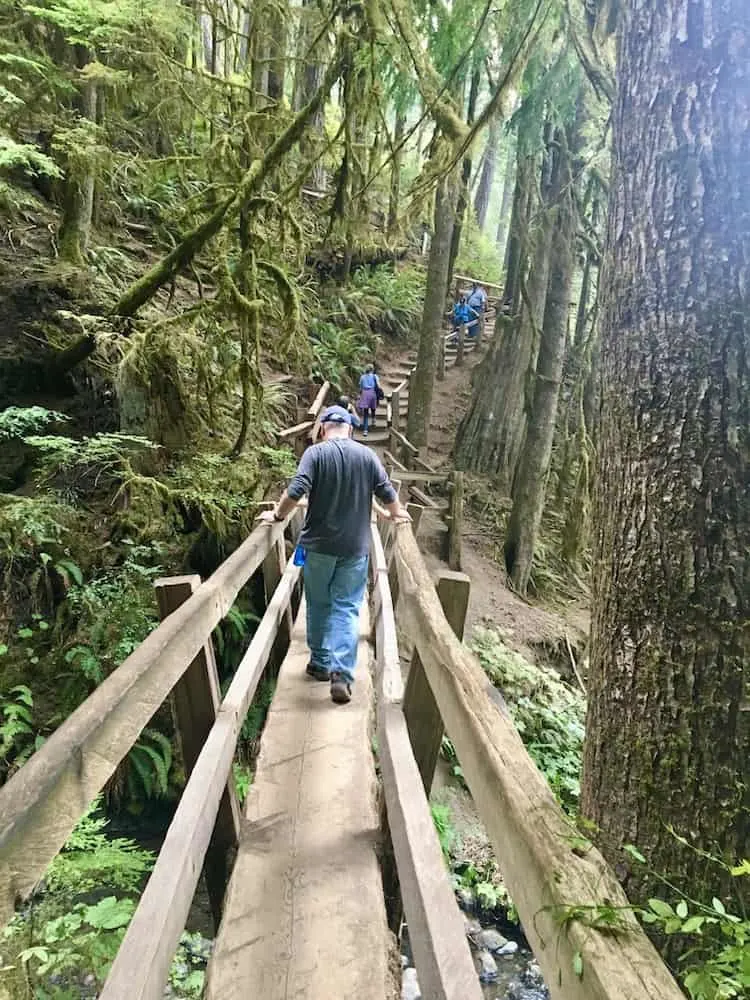 When we got to the waterfall it was one of those long skinny ones; probably more robust in the early summer. But it was almost beside the point because of all the other neat features on the hike.
Tip: Even though they are technically different kinds of forest, Marymere's old-growth woods look a lot like the Hoh rain forest. This is a good hike to do if you can't get to that side of the park.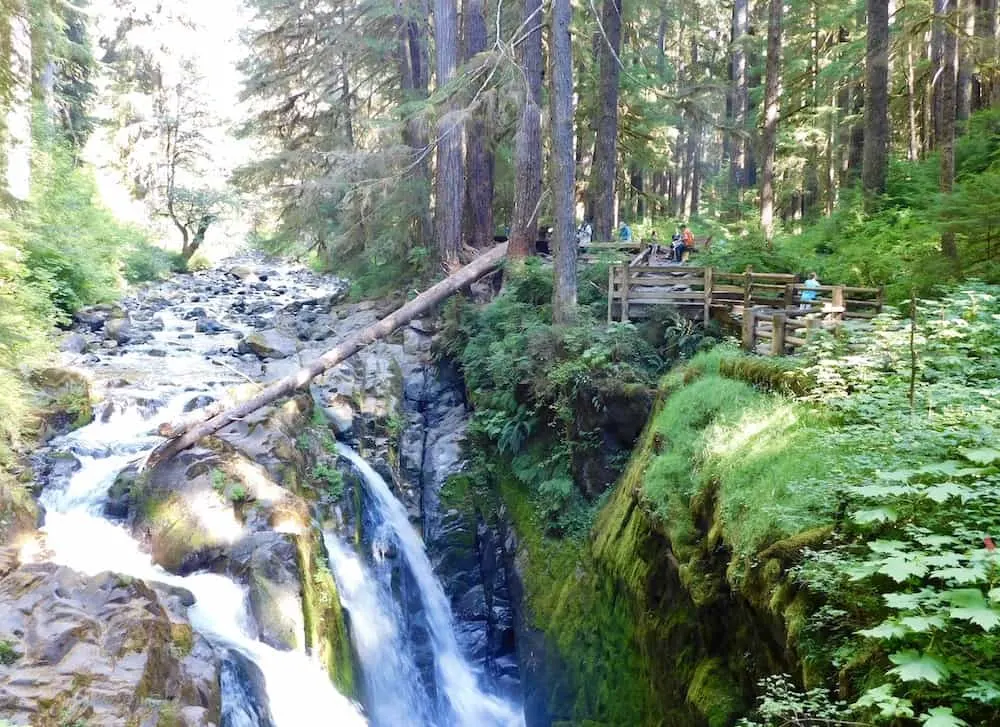 2. Before our dip in the park's hot springs we took a walk to Sol Duc Falls, another popular and fairly easy hike. The trail is rugged with a lot of rocks and roots to trip on, but the inclines are slight.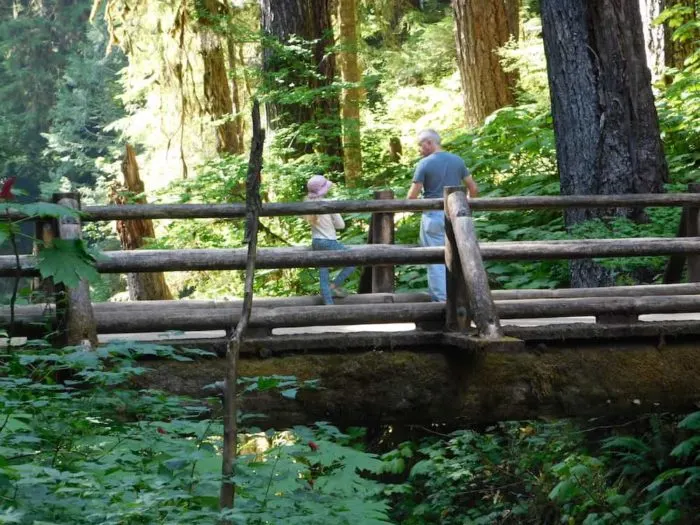 The falls are picturesque and there are some benches and logs to sit on, which makes it a scenic place to stop for a snack or picnic. If you're in the park in the autumn, look for salmon in the waterfall as you're crossing the bridge to the far side of the falls.
3. On the way in to the Sol Duc area, stop at the Salmon Viewing Station. It takes you down to the river, where the water is so crystal clear you would almost certainly be able to spot the salmon if you were there during spawning season.
(Spawning season starts about Mid-October but over the fall months you can some five types of salmon swimming upstream to lay eggs, too.)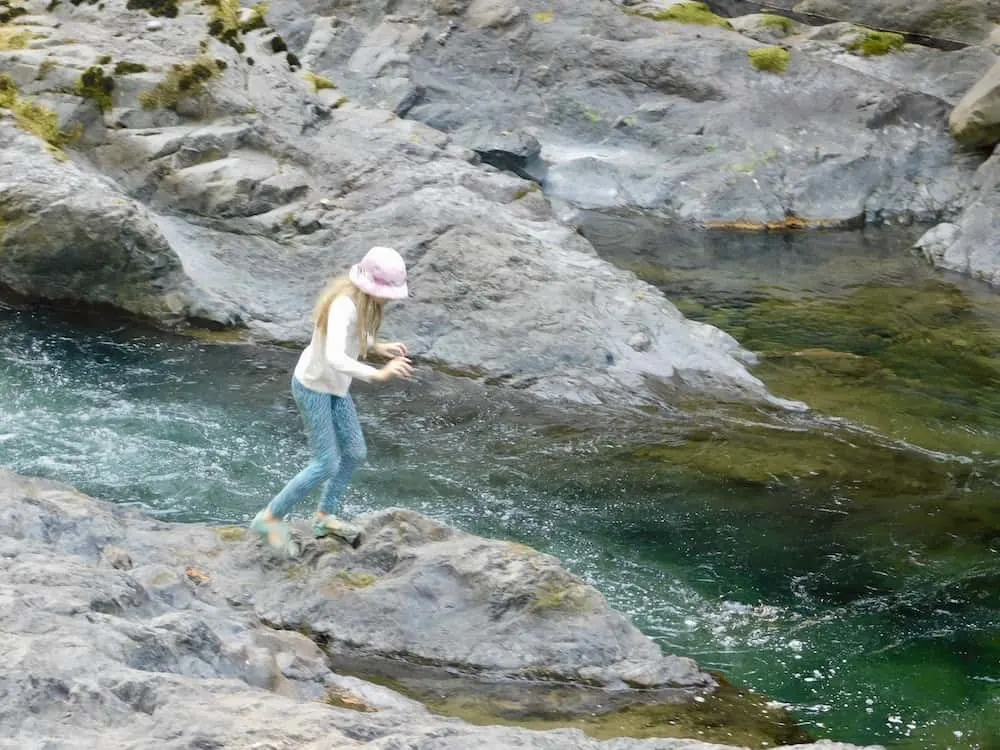 Tween Traveler bypassed the viewing platform to scramble down to and all over the big rocks in the river. She declared this climbing experience "amazing."
It's possible to wade or take a dip when the waters are low and calm, and we saw people doing it, but the water is pretty bracing and I honestly don't know if it's actually allowed.
Swim in the Olympic Hot Springs
Every guidebook and travel on Olympic strongly recommended going to the Sol-Duc natural hot springs, but none of them had photos of the springs or or any description of what they were like, so we didnt know what to expect.
After visiting them myself I have to think it's because none of these writers actually visited the Sol-Duc springs . It was a nice and somewhat unique treat, but not a you-must-do-this experience.
There are 3 warm mineral baths and a freshwater pool. The pool is huge, cold and quite refreshing after a day's hiking. Tween Traveler preferred it to the mineral pools and I imagine a lot of kids do because none of them had any problem jumping in.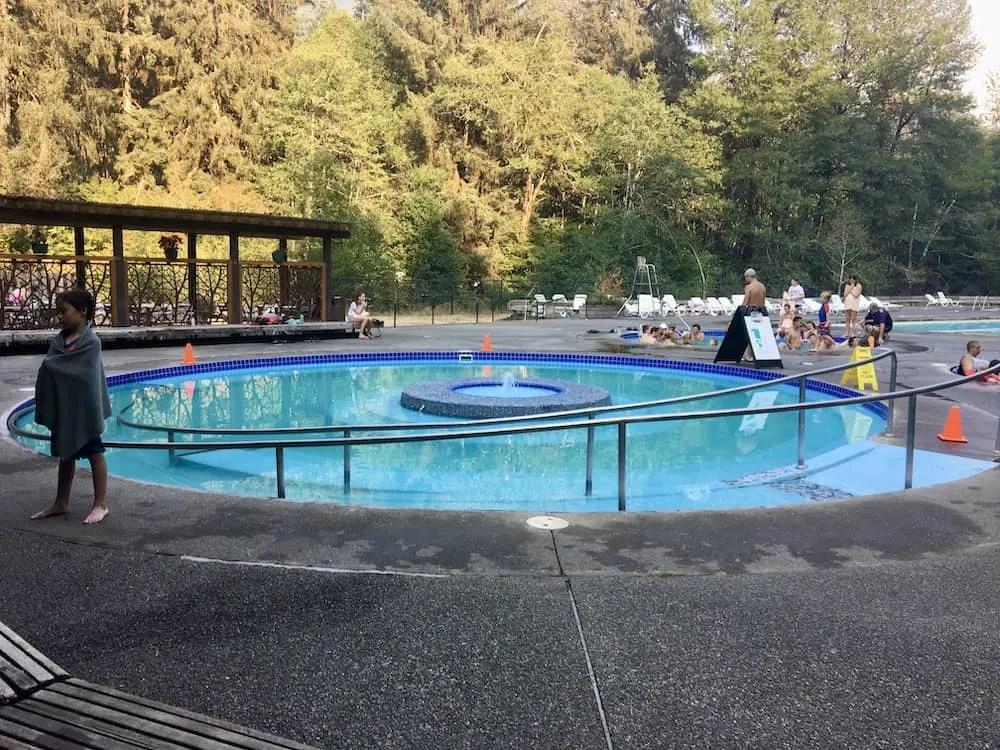 The mineral baths include a shallow wading pool, a large pool with a fountain, and a medium-sized soaking pool. The mineral baths don't bubble like a hot tub, which makes you feel a bit like you're sitting in a communal bath.
sulfurIt felt good on our sore legs but it was a little odd. Also, they smell heavily of sulphur (and your bathing suit will too, until you've washed it a few times).
The pools are open until 9:00 in the summer and I would recommend coming to use them after 7:00 pm when it's less busy and you pay a reduced fee. If you can't do that, make a plan to spend a morning here.
Avoid late afternoons when families staying at the Sol-Duc cabins go for a pre-dinner swim and park visitors drop by for their post-hiking soak.
Despite it being prime time (or maybe because of it), from 4:00 to 7:00 they close each of the warm pools for an hour in turn. Pay attention to which one closes when. We didn't and missed our chance to use the fountain pool, which was the best one. Also, when that one is closed, the soaking pool is very full.
Entry fees include a locker and are waived for kids under three. The locker rooms are fine; they even have machines to dry your bathing suit. But they are busy. I recommend packing a pair of flip-flops and bringing your own towel.
Explore the National Park's Beaches
Olympic National Park's coastal areas are really cool and unique as beaches go, and really, really great for kids. Despite being all the way to the west, they're closer to Port Angeles than the Hoh Visitors' Center. The closest one is an hour away and the furthest is 90 minutes.
1. We ended our day at Second Beach, which was probably the most-unique experience of the trip.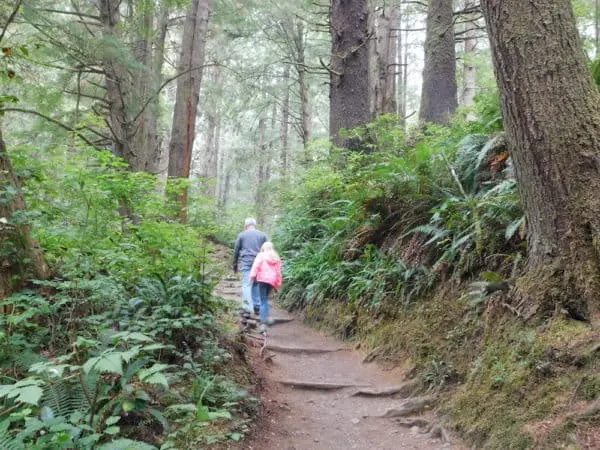 From the parking area we hiked about a half mile over a hill and through a bit of forest before descending to the beach. It was one of the nicest hikes we did.
At the end of the trail we had to climb over stacks of huge driftwood to get to the beach. It was quite an adventure and Tween Traveler, who loves nothing more than climbing and scrambling, loved it.
Once you're on the beach there is a long stretch of sand to the left. At low tide look for starfish on the large boulder at the edge of the shore.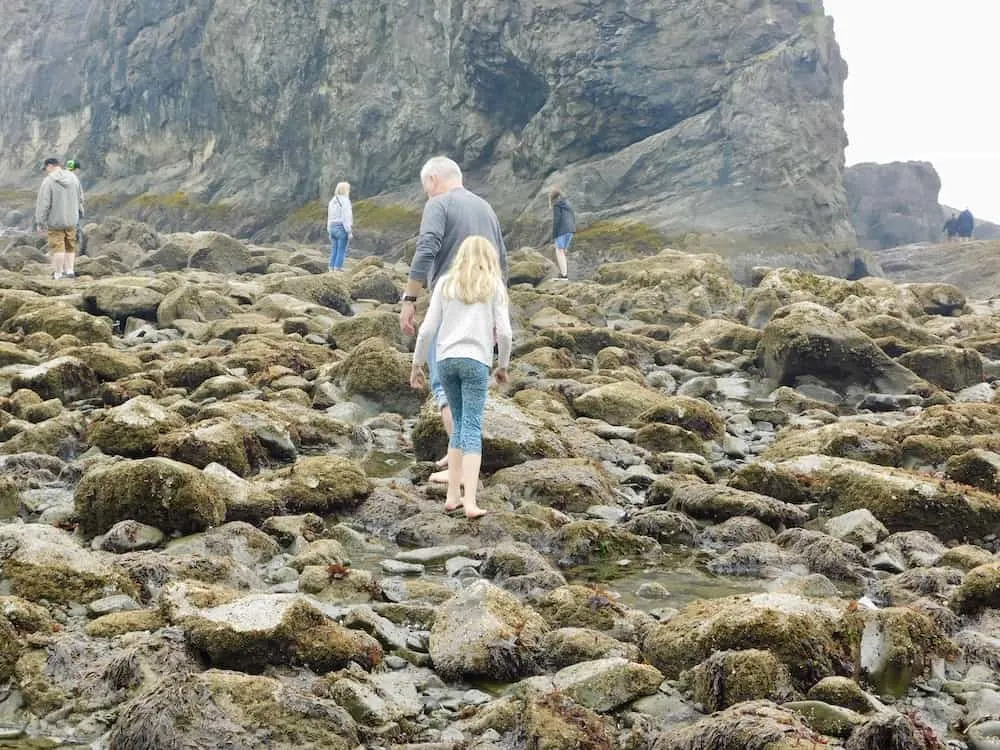 To the right are the rocks with all the tide pools. As your climbing around on the small rocks look for fish, starfish, muscles, crabs and snails.
You'll also see little white and green anemone. In the water the greens ones look like big blobs. Both kinds open when they're underwater and close tightly when the water level drops to hold the moisture in. Look for them in and out of the water to see the difference.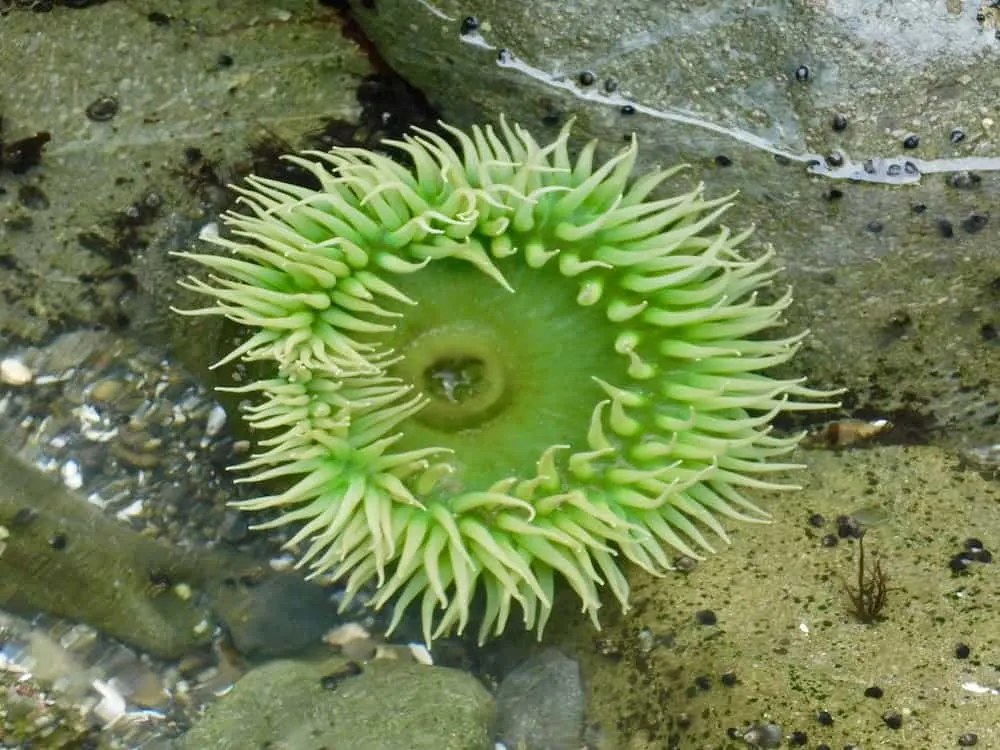 Give yourselves plenty of time here because it's the kind of thing that can keep kids and adults fascinated for a while.
Important: The rocks are covered in barnacles that will cut your feet to bits, so sport sandals or waterproof hiking shoes are ideal.
Rich and Tween Traveler managed barefoot but most people just kept their hiking boots on, which is fine as long as you manage to stay out of the water. This gets harder as the tide starts moving in.
Shop:
• A water-resistant hikig shoe like Merrell's MGM 3, with a Gore-Tex upper, is ideal for this trip.
Tip: Check out the NOAA Tide Tables for the area. Find out when low tide is and try your best to visit in between one hour before to one hour after low tide for ample tide-pool exploring.
2. Our first coastal stop was Rialto Beach. It was a bit foggy and windy, but you don't visit Pacific Northwest beaches to sunbathe and I thought it was scenic in its own way. It's a popular spot for surfers but we didn't see any.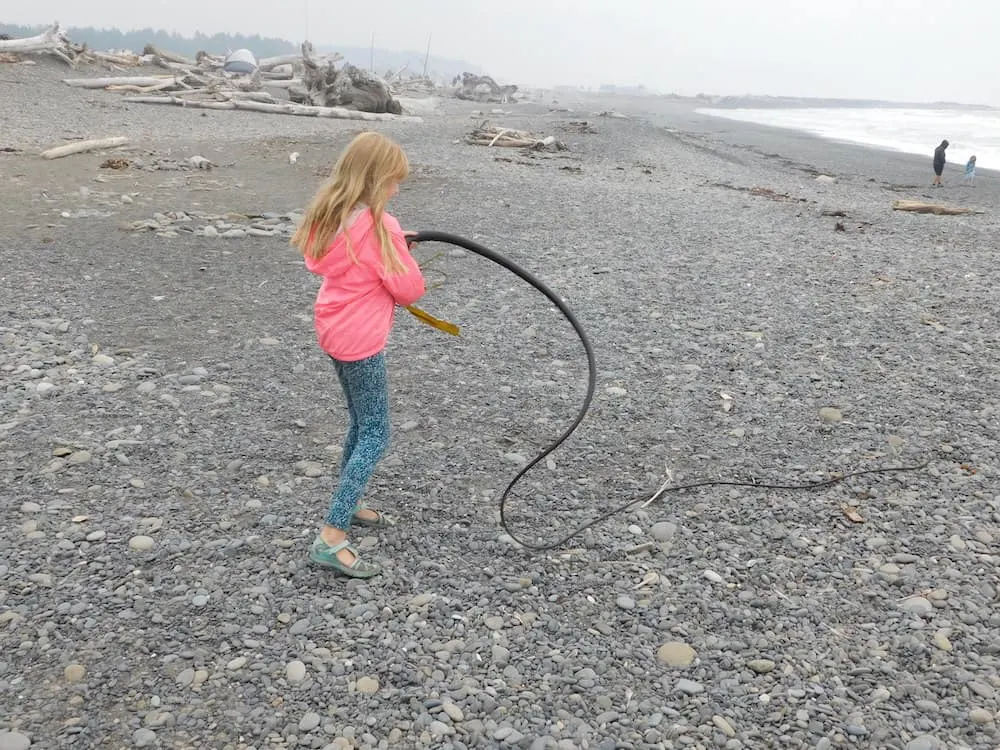 This expansive beach has cool rock formations and also had a lot of driftwood. Here it was scattered around and looked to me like the large bones a giant would drop from his dinner table. Kids were climbing all over them.
It doesn't have the tide pools but it's a good beach for climbing, running around with a soccer ball or flying a kite.
Should You Visit Hoh Rain Forest?
You will read a lot in your guide book and on the park website about how the Hoh rain forest is a unique environment and has weather and plant and tree life that is completely different from the rest of this national park.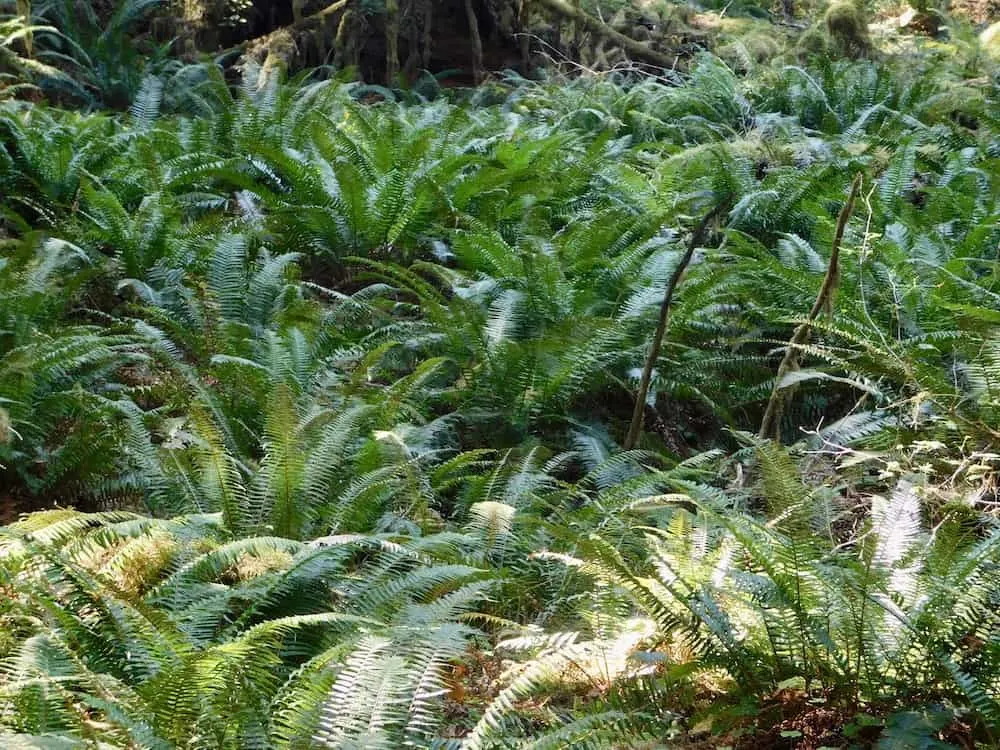 itsWhile this might be true scientifically, to the casual observer it doesn't look much different than the Alpine side of the park. They both have a lot of big old trees and Jurassic ferns. A guided ranger walk might help you to appreciate it's unique qualities and is probably a good thing to do if come here.
The Old Growth Trail is the quintessential one for this area and was the only trail I would describe as crowded rather than just busy. You can manage it with a rugged stroller and we saw more families with toddlers here than anywhere else, which is good to know if you have little ones.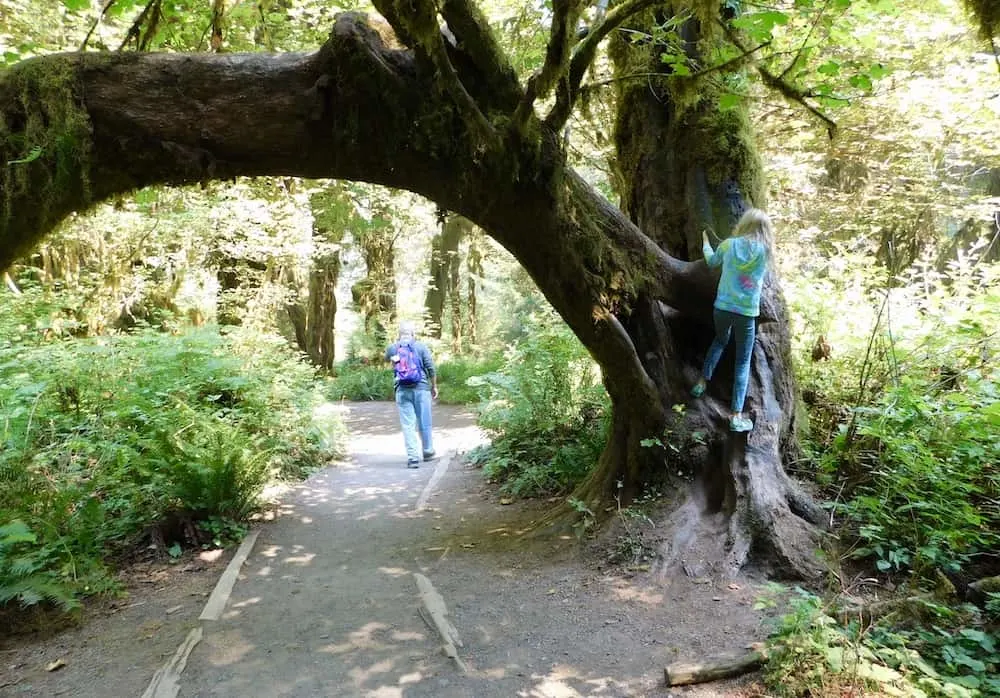 We like the adjoining Spruce Trail better. It had fewer people, Jurassic-looking giant ferns and big tree roots; we stopped by a river where we saw a beaver lodge.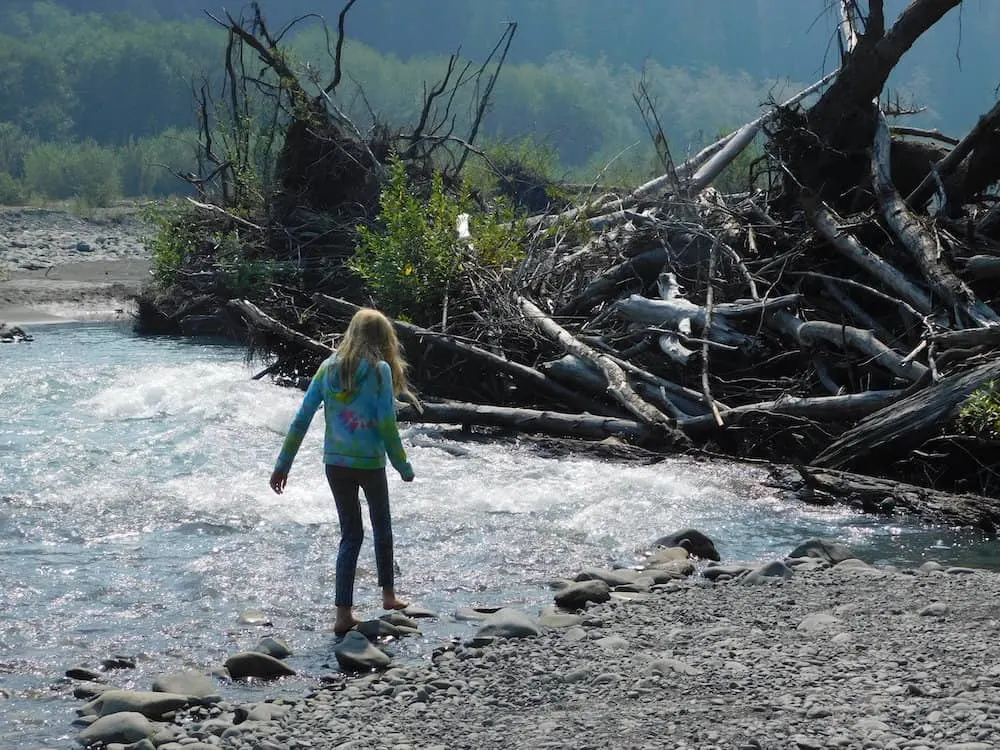 The Verdict: We thought Hoh was pleasant and we enjoyed at least some of our hike, but it's 88 miles from Port Angeles; a two-hour drive one way.
At the end of the day we wished we had skipped it and given ourselves more time to explore the seashore, which was both more interesting and more fun (and less driving).
Otherwise,It's worth a visit if you're staying nearby or if you're based on the southwest side of the park and don't plan to visit the Hurricane Ridge side. Otherwise, I would suggest prioritizing other places first and adding this in if you have time.
Get Out On Olympic's Lakes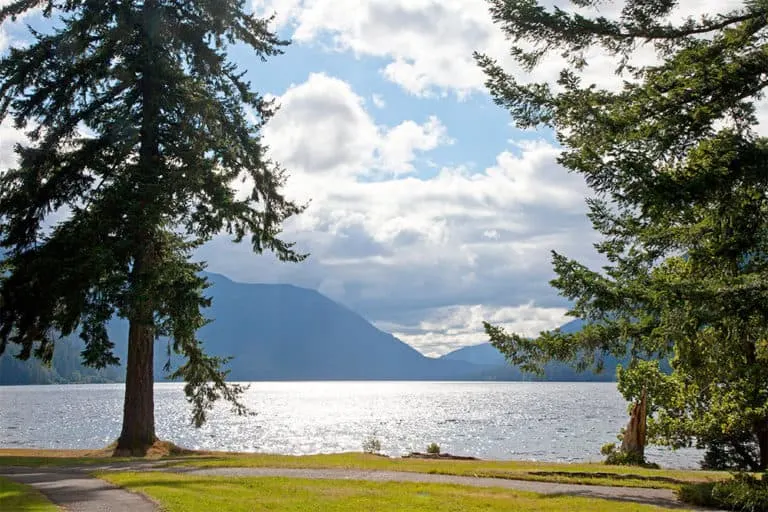 Lake Quinault, down on the southwest side of the park and Crescent Lake on the northeast side both have lodges and are popular places to stay.
You get to do lake activities like kayaking, fishing and SUPing for general vacation fun. But the key features of the part—the rain forest, alpine forest and coastline— are close by, too.
Where To Eat Around Olympic National Park:
Port Angeles Restaurants
While Port Angeles had plenty of dining options, it took a little work to find the places that weren't chains or aimed at tourists and overpriced.
Despite it being on the water we couldn't find a place that was inviting for an afternoon drink.
Breakfast & Picnic Provisions
Most of Olympic's lodges are on the park periphery. There isn't a lodge with a restaurant (or restaurants) inside the park. If you're planning to head into the park for the whole day you probably want to get provisions for a picnic lunch you can carry with you.
The trouble is, we had a hard time finding a deli or sandwich shop where we could get lunch provisions quickly and easily. Supermarkets with deli counters are your best bet,
Country Aire Natural Foods, a small supermarket, was the closest thing we could find to a deli and stopped in one day for both breakfast and lunch to go. Service was a bit slow. But our breakfast burrito was made to order with fresh ingredients and big enough to share.
The sandwiches we ordered for lunch were fine. But the bagel part of Tween Traveler's bagel with cream cheese was rubbery, the last thing you'd expect in a natural foods store that emphasizes fresh ingredients.
We did find good coffee pretty much anyplace we stopped for breakfast.
We discovered Blackbird Coffee House on our last morning in Port Angeles. We had a good ham-cheddar egg sandwich and sweet cream biscuits that were so good we didn't even bother to put butter on them.
Had we found this place earlier it would have been our go-to breakfast spot. It's also your best bet for sandwiches, quiches and salads to go if you want to bring lunch with you into the park.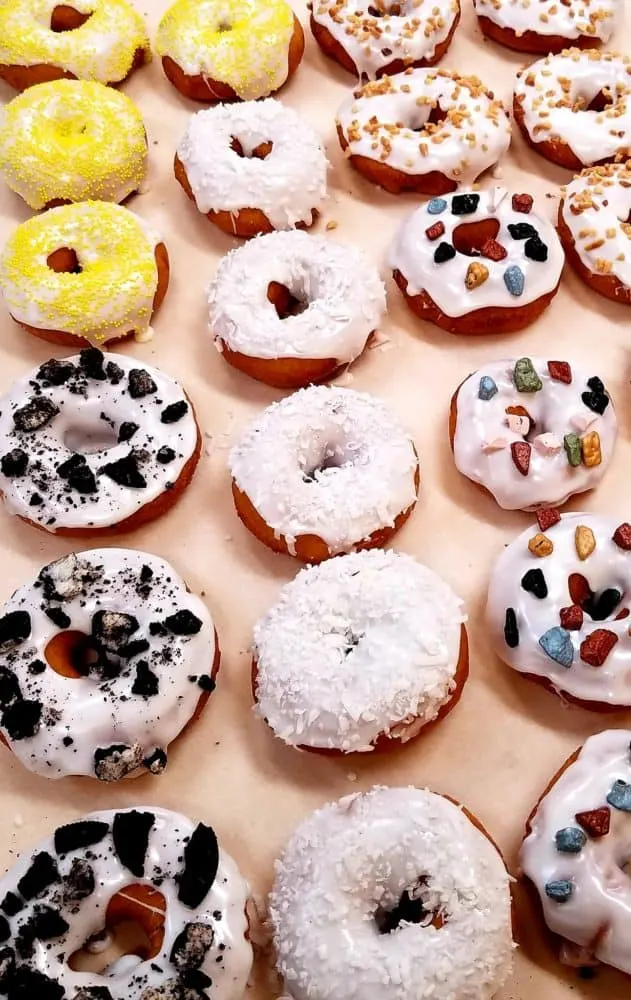 The doughnut shop Num Num has evolved into Sasquatch Bakery and their doughnuts have gotten a lot more creative when it comes to filling and toppings.
When were there the jelly doughnuts were the family favorite because they had plenty of jam inside them; I hate doughnuts that skimp on the jam. Based on this I'd bet their custard and cream-filled doughnuts are good, too.
Dinner Options For Families
We had a good dinner at family-friendly Kokopelli, a place that fuses Pacific-Northwest ingredients with southwest flavors. I had a southwest-style pasta with black beans, corn salsa, green chiles and queso fresco and a salad with prickly pear dressing, a new mix of flavors for me and I liked it.
Rich had Dungeness crab cakes and smoked salmon chowder. Tween traveler has house-made mac & cheese off of the kids' menu.
Prices for the entrées are steep for this part of the world, but they come with soup or salad and you don't walk away hungry. Vegetarians might like the quinoa-based veggie burger they make in-house.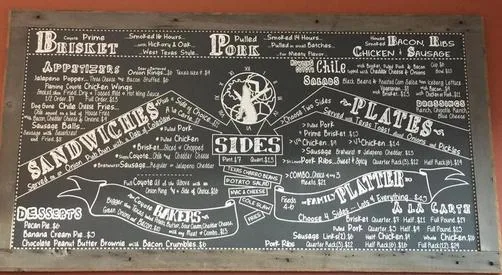 We had a more casual and really good dinner another night at Coyote BBQ pub. The three of us shared a bbq platter with pulled pork and St. Louis-style ribs.
The bbq was flavorful and good, but not all that smoky. The sides though, were standouts. We fought over the creamy mac & cheese and braised local greens were cooked perfectly. The corn muffins and beans with bacon were disappeared quickly, too.
To my chagrin, we somehow missed Barhop Brewing taproom, which is really unusual. We're generally good at sniffing out the local brewpub.
ut it's another option for families that want something local, casual, not too expensive and good. T
hey serve their beer, a handful of small plates and creative pizzas with house-made sourdough crust. The seasonal brews look creative and appealing. Oh, well. Next time!
The Best Meal We Had in Olympic National Park
On our way back to Port Angeles from the park's coastal areas, we stopped at Crescent Lake Lodge for dinner and it was easily the best dining decision we made here.
The lodge was built in 1915 and parts of it are on the national Registry of historic places. It's cluster of cabins around a main lodge have a feeling of yesteryear rustic comfort.
We ate in the Singer Tavern, which has its own room and extends into the lobby. We settled into the lodgy, dark wood room with a lake view and large stone fireplace. We played boardgames and drank local wine and cider while we waited for our food.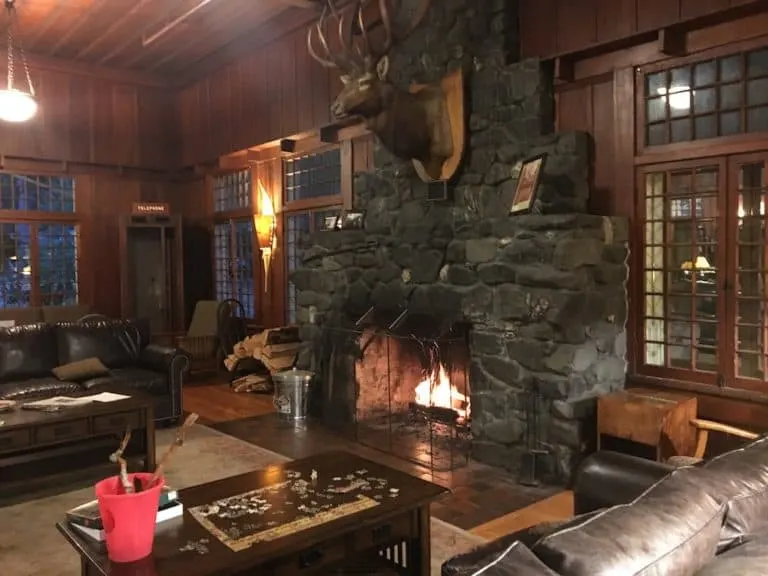 Our freshly battered fish & chips was top notch. But he salt-and-pepper wings were salt-and-salt wings. We decided in retrospect that they probably made a mistake with the seasoning and we probably should have asked for a fresh order.
But the wings were quickly forgotten when dessert came. Tween traveler kept the fudgy brownie with ice cream all to herself. But Rich and I were more than happy with our warm marionberry cobbler with a crumble topping and ice cream.
Marionberries are a small, sometimes reddish blackberry you find all over the Oregon and Washington in the summer.
Basic Information For Exploring Olympic National Park
Where Should You Stay?
Choosing a Town For Your Olympic National Park Visit
The Northeast Olympic Peninsula
1. Port Angeles is a working port town. It's not picturesque but it's a decent size with ample hotel and restaurant options. And its economy doesn't revolve entirely around the park the way it does in other national park base towns, which was appealing.
It's on the doorstep of the northeast entrance and your best bet for exploring Hurricane Ridge, the hot springs, Lake Crescent, and the many easy and moderate hiking trails on the northeast side of the park.
2. We really liked Port Townsend when we passed through to catch a ferry for the next leg of our trip. It's also a port town, but has a nice main street with a book store and other cute shops and a lively weekend farmers market.
It's an hour's drive from the park's northeast entrance. It's a fine option if you want to focus on that side of the park. It would be quite a drive to the western parts of the peninsula.
3. A fair number of people stay in Sequim, which seems to be a good bet if you're looking for a vacation rental instead of a hotel. It has a main street with shopping and restaurants, as well as a marina and lavender farms.
It's about a 30-minute drive from the Hurricane Ridge park entrance. So it's a good compromise between Port Townsend's charm and Port Angeles' convenience.
Where We Stayed
Port Angeles is a popular base for exploring Olympic and has a lot of small motels with rooms opening out onto the parking lot. That's not really our scene.
For full service hotels I was debating between the Olympic Lodge and the Red Lion Hotel, which is on the water. We chose the former; it had slightly higher rates but more consistent reviews.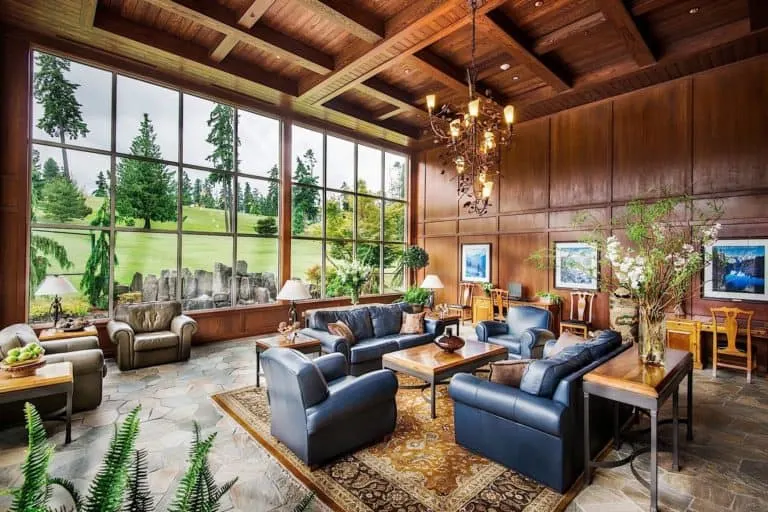 The Lodge, located a five-minute drive from the center of town, the Lodge was a better value for price than you often find in national park towns.
It has a roomy, comfortable lobby with a fireplace and a large glass wall overlooking a golf course. A good place to read or play games at night.
It also has a small patio with a rock garden and waterfall next to the golf course. But our long park days didn't give us a chance to enjoy these.
The standard double-queen room had space for the three of us. Breakfast isn't included with your stay but there's a restaurant if you don't want to hunt for breakfast in town.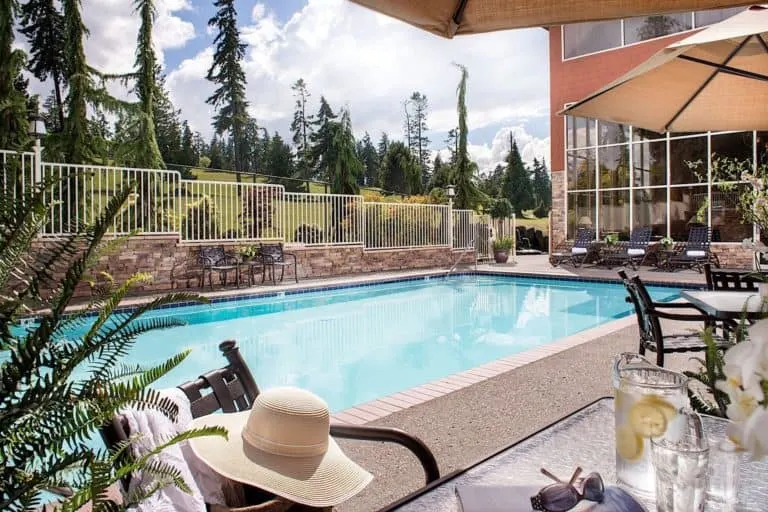 We really liked the good size outdoor pool, which was pretty well heated, and hot tub. But they close the pool to families at 9:00 pm to give adults a kid-free hour in the water. A staff member actually comes out at 9:00 to remind families to leave, even if there aren't any adults looking to use the pool.
Given that we often didn't get back from our day in the park and dinner until nearly 8:00 this definitely cut our pool time short and other families have said the same thing on TripAdvisor.
Aside from that the staff were friendly and helpful. Overall it's a reliable choice if you want a proper hotel.
West & Southwest Olympic Peninsula
4. On the way to the Hoh rain forest we bought sandwiches to go at a supermarket in Forks, which is known as the setting for the Twilight books and movies.
It's worth noting that none of the movies were filmed in Forks (there did use plenty of other Pacific Northwest locations) and the author herself had never been to Forks until after books came out.
I'm dubious as to how many places in the books have real-life counterparts in Forks, but this hasn't stopped fans from visiting or the town from finding ways to capitalize on its new fame.
Forks is more of a commercial crossroads than walkable down. There are a handful of motels and a couple of B&Bs and campgrounds. Dining options don't go much beyond your typical takeout genres: burgers, Mexican, Chinese, pizza.
On the plus side, it's very centrally located: Twenty minutes from Mora and Rialto Beaches, 45 minutes from Hoh rain forest and an hour from Port Angeles.
Unless your Twilight fan insists or the central location really works for you, I have to say there are better towns to stay in near Olympic.
5. Some of the coast is in on Native American land, so you won't find hotels and restaurants. But Kalaloch Lodge is a national park lodge on the coast about 45 minutes south of Forks.
It's a rustic seaside hotel with a main lodge, cabins with carports and a second hotel building. It's on the water, a few minutes from the Ruby and Kalaloch beaches.
Its Creekside restaurant has ocean views and an emphasis on Pacific Northwest seafood and produce. If you stay in Forks or Lake Quineault consider driving down for lunch or dinner here and a walk on the beaches.
It's 45 minutes from Hoh rain forest but there is a rain forest hiking trail and the Kalaloch Creek nature trail a few minutes up the road.
The Port Angeles park entrance is nearly two hours away so if you want to stay at this lovely lodge, you might want to also plan a night or two on the northwest side of the park.
6. Lake Quineault is another popular destination with probably the nicest of the Park's lodges. The upscale Lake Quineault Lodge hosted Franklin Roosevelt shortly before he signed Olympic National Park into existence.
The lodge has an indoor pool, hot tub and sauna. Its Roosevelt dining room has lake views. And rooms might offer balconies, lake views and fire places.
The lobby, with its plaid curtains, leather couches and antlers over the fireplace has the mix of rustic comfort that a Roosevelt would have appreciated.
There are rain forest trails nearby and the lake offers walking trails, scenery and water activities like kayaking.
The lodge and lake alone are worth a night or two here, but you almost certainly want to pair a stay here with a few nights on the other side of the park.
It's 45 minutes to the Kalaloch beaches, 90 minutes to Hoh Rain Forest, nearly two hours to Second Beach and three hours to Hurricane Ridge.
Best Time of Year To Visit
Olympic National Park is open year-round and its high season is June through September. This is when everything is open, you'll find a full roster of range programs and the weather is most likely to be good.
it's worth mentioning that we were there during a summer when the West Coast was having a lot of wildfires. Even though we were well away from any of the fires, smoke travels very long distances.
We noticed it stinging our eyes when we were up on hurricane ridge and had heard that it had been obscuring the views on some days.
If you want to visit in the winter, the coast areas will be temperate and probably reliably open. But expect snow on Hurricane Ridge and check before you go for weather-related closures around the park.
Tip: No matter when you visit expect changeable weather. The temperatures vary by ten to 20 degrees around the park even in summer. And you never know when a rain shower will pass through. Layering is the way to go, and keep rain jackets handy.
How Many Days Do You Need?
The park is large and famous for its diverse environments. I would say the attractions you can't miss are hurricane ridge and the seashore. Each of those is at least half a day plus driving time, so plan on two days to do both of them leisurely.
If you plan to visit Hoh Rain forest or spend a lot of time at any of the lakes that adds another day or two.
Then it all depends on how much additional time you want to spend on the park's many lovely hiking trails.
Getting to Port Angeles
We drove to Port Angeles From Portland, which is four hours away. The town is two-and-a-half to three hourses from Seattle, whether you take the ferries across Puget Sound or drive south around it. It's four-and-half-hours from Vancouver, BC, including a short ferry ride.
If you're flyng in I'd price airfares to Seattle and Olympia.
From Portland and Olympia, Route 5 is the fastest route but it's a boring highway. At Olympia, we switched to route 101. It's more direct, which helps to make up for it being a slower local road. More important, it hugs long, skinny Dobbs Bay and is more scenic.
We stopped at Potlatch State Park to stretch our legs and enjoy some of that scenery. It was too chilly to entertain the notion of swimming, and the beach has a lot of rocks and oyster shells, so it's not easy on your feet.
But it was pretty and we saw clusters of oysters growing in the water, which I'd read about but never seen before. There are bathrooms and picnic tables, too.
We didn't pass many towns. There were restaurants here and there. Cell-phone reception isn't reliable so you have to take your chances with what you come across.
We stopped at a place called Geoduck, 28 miles up the road from Potlach. It looked questionable from the outside. But we ate on a lovely back porch with a view of marshes and the bay. And the food was good.I can recommend the fried oyster BLT.
Pin it for later!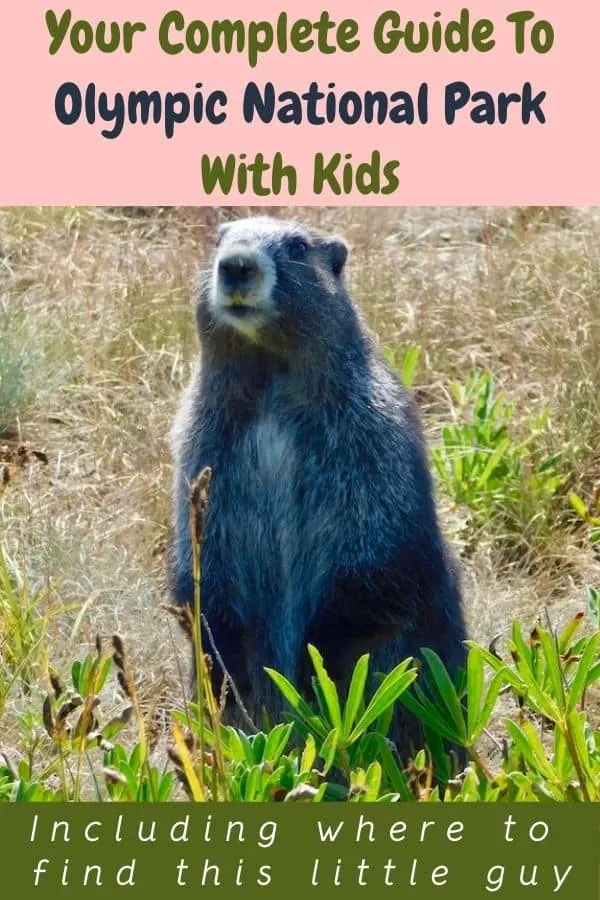 All photos by FamiliesGo!© except the doughnuts (Sasquatch Bakery), the chalkboard (Coyote BBQ), Crescent Lake Lodge (NPS) and Olympic Lodge (Olympic Lodge)