With summer coming and everyone needing to get outdoors as soon as possible, I thought I would pay tribute that to amusement park classic, the carousel.
It's a ride that remains remarkably unchanged through the decades. And unlike with other rides, the older the merry-go-round, the more caché it has. This is probably because those old merry-go-rounds are built to be beautiful in a way the latest, steepest, fastest roller coaster just isn't.
You hop onto a hand-carved carousel animal and saunter past murals and mirrors while a calliope plays. Part of joy of the ride is taking the time to notice all the beautiful details.
And who couldn't use that these days?
Below are 14 merry-go-rounds that are noteworthy for their age or their unique approach to the art of the carousel. I hope you and your family get to ride at least one this summer.
You might also like these staycation ideas:
• The 10 Best Theme Park Tricks for Families
• 11 Amazing Children's Museums
• 9 Staycation Day Trips From 12 U.S. Cities
14 Unique Carousels For Kids Of All Ages
The Ride: Tom Mankiewicz Conservation Carousel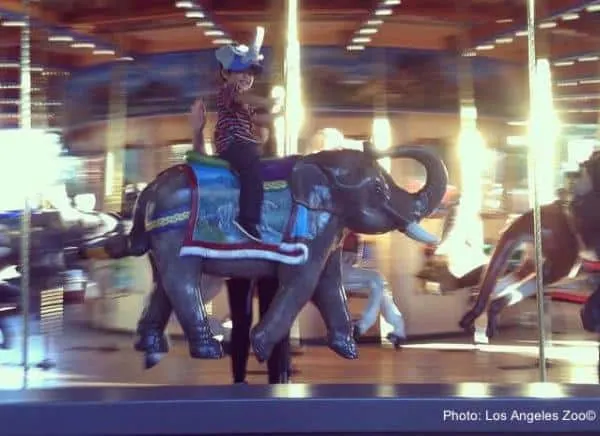 Where: Griffith Park, Los Angeles
Why It's Unique : Located in the Los Angeles Zoo, this carousel features several of the Several residents the zoo has worked to keep from extinction. Riders will notice the flora and fauna of California in the artwork and appreciate the "California sound" of the 1960s and 1970s AM radio.
The Ride: San Francisco Carousel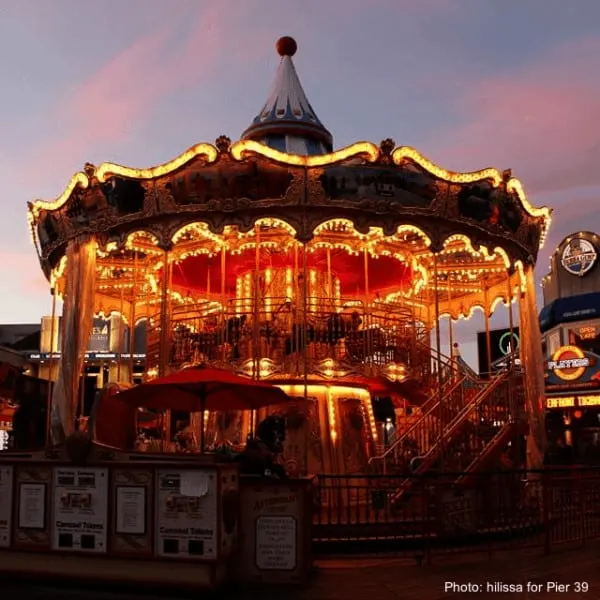 Where: Pier 39, San Francisco
Why It's Unique: Handcrafted in Italy, this double-decker merry-go-round at Pier 39 features local landmarks such as the Golden Gate Bridge, Coit Tower, Chinatown, Lombard Street, Alcatraz and the California sea lions that hang out near the pier.
The carousel has 1,800 LED lights and its 32 animals include panda bears, horses, dolphins and sea dragons.
The Ride: The Carousels Columbia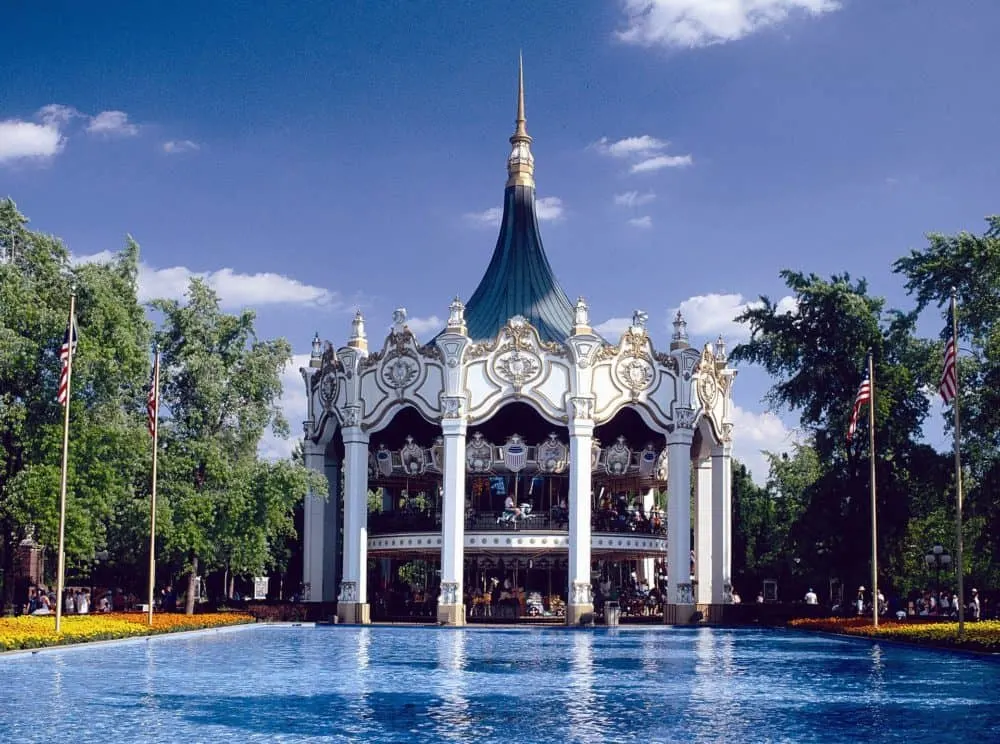 Where: Great America Park, Santa Clara, CA and Six Flags Great America, Gurnee, IL
Why They're Unique: These twin carousels were built when both parks were owned by one company; These two-story confections have gold spires that makes them the world's tallest carousels. Meanwhile the reflecting pools and water fountains in front make them among the most photogenic.
Go upstairs to ride one of the stately horses or stay down to hop on a rabbit, fish-eating cat, camel, reindeer or dragon.
The Ride: Crescent Park Carousel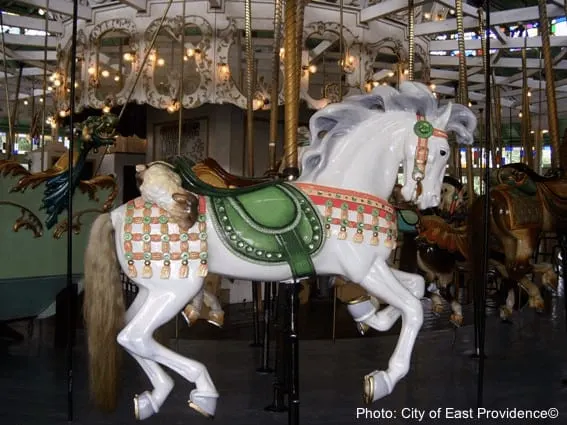 Where: East Providence, RI
Why It's Neat: This very swift carousel, proclaimed the State Symbol of Folk Art in 1985, offers 66 figures designed in 1895 by Charles I.D. Looff. Its band organ is carved with moving figures in neo-baroque style.
The Ride: Riverview Carousel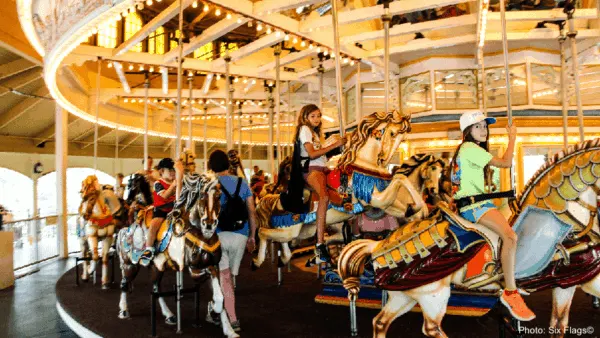 Where: Six Flags, Austell, GA
Why It's Unique: Built in 1908, this wood carousel features 56 galloping horses and 4 chariots and a sky full of cherybs around the outside.
This is one of four 5-row carousels built by a company called Philadelphia Toboggan Company and the only one still in its original configuration.
The Ride: Smithsonian Carousel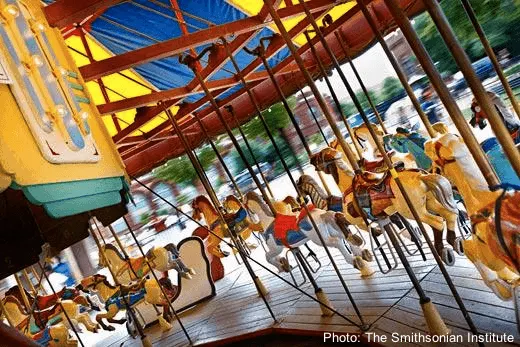 Where: The National Mall, Washington, D.C.
Why It's Unique: Built in the 1940s by the Allan Herschell Co., this little merry-go-round has a unique, antique feel to it. Hop aboard any number of horses or chariots, but if you're really lucky you'll get to ride the brightly colored dragon.
The Ride: Cedar Downs Racing Derby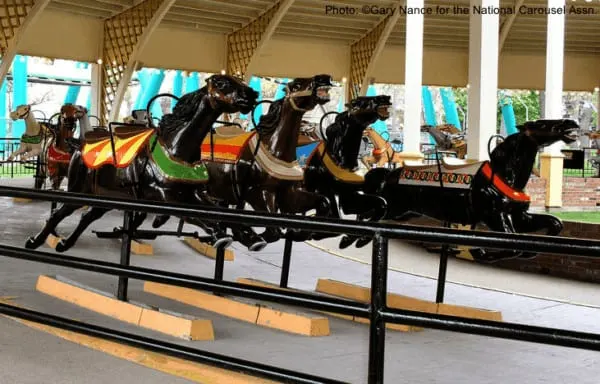 Where: Sandusky, OH
Why It's Unique: This 1920 carousel makes its home at Cedar Point amusement park. Its 64 horses move forward and backward in rows of four to create one of a rare breed of racing carousels. Hope you win!
The Ride: The Empire State Carousel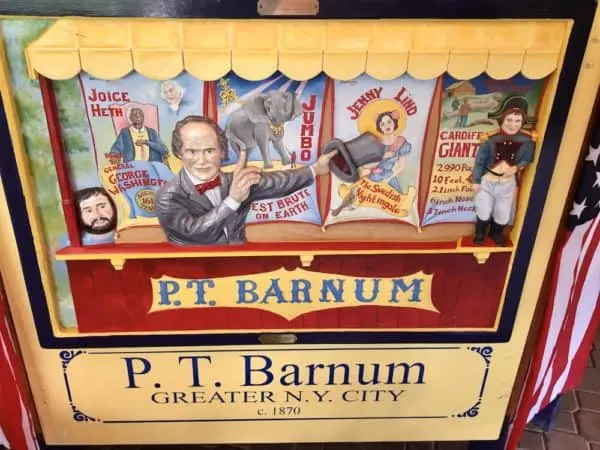 Where: The Farmers Museum, Cooperstown, NY
Why It's Unique: This is young carousel, conceived in the 1980s and opened in 2006, displays the work of 1,000 volunteer artists. It's a celebration of New York state.
Look for state produce like apples, grapes and maple syrup as well as famous residents including Teddy Roosevelt, Jackie Robinson and Susan B. Anthony. See how many nods to history you can spot, such as Henry Hudson' Half Moon, an Erie Canal Boat and scenes from the Revolution.
The Ride: Jane's Carousel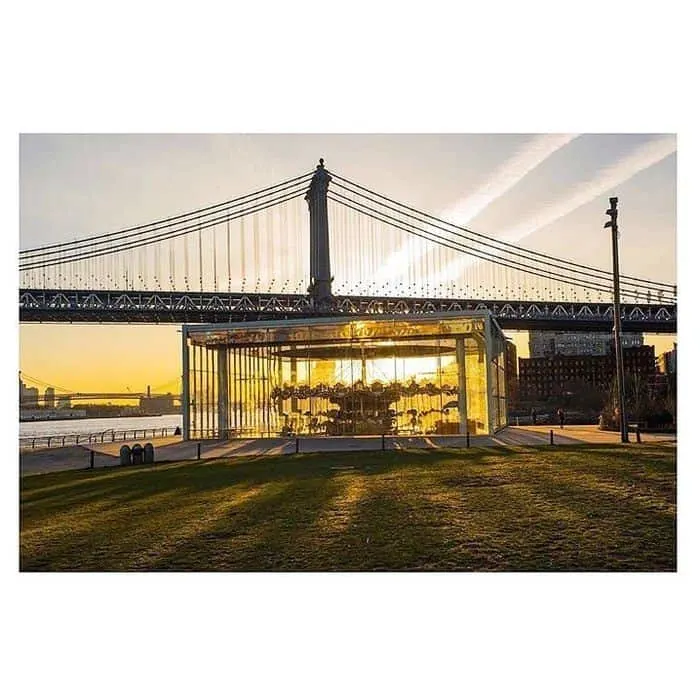 Where: DUMBO, Brooklyn, NY
Why It's Unique: This is carousel that's near me, and we ride it as often as we can.
Built in 1922 by Philadelphia Toboggan Company, it features 48 carved horses and two chariots. It was originally installed in Idora Park in Youngstown, OH.
It's new glass-walled home along the East River keeps it open year round and no doubt makes it the carousel with the best skyline view anywhere.
The Ride: The Sea Glass Carousel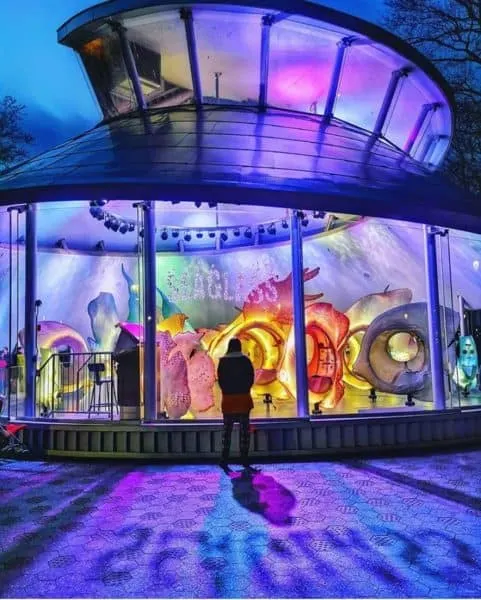 Where: Battery Park, New York City
Why It's Unique: Inspired by one of the nation's first public aquariums, built nearby in 1896, this is less a ride than an experience.
Forget the typical wooden carousel animals. Here riders climb into glass fish that emit LED lights to make them look bioluminescent. The fish move up and down and around in groups of four as well as around the larger circle while lights and music add to the aquatic feel.
The Ride: The Bug Carousel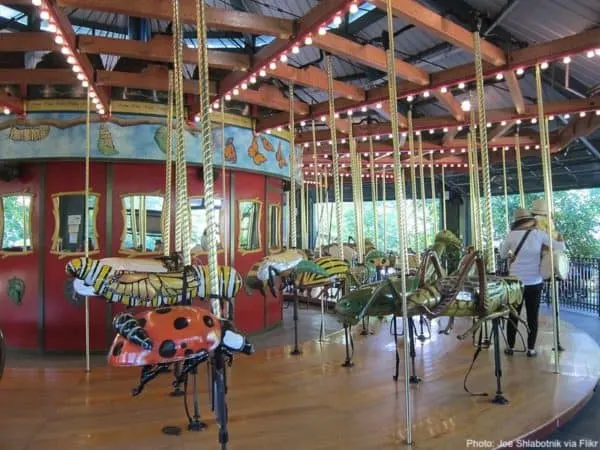 Where: The Bronx Zoo, New York City
Why It's Unique: No carousel horses here either. On this carousel you can take flight on a grasshopper, mantis, firefly, bumble bee, lady bug or any of several caterpillars.
The ride, which sits next to the buttefly exhibit, traces a caterpillar's journey to butterfly. And it's carved from sustainable wood. It's a young 15 years old but it's an essential stop when we visit this top-notch zoo.
The Ride: The Prince Charming Carousel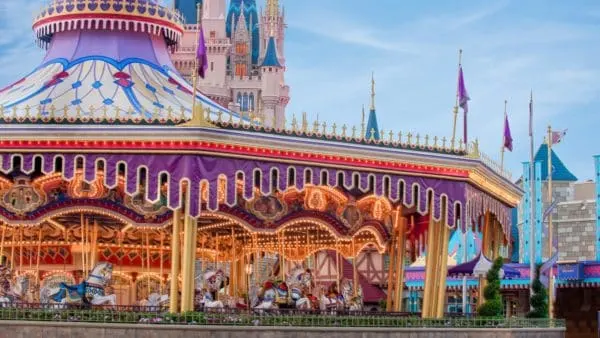 Where: Walt Disney World, Orlando, FL
Why It's Unique: I love this enormous and colorful carousel, which was also built by the Philadelphia Toboggan Co. more than a century ago and moved to Disney World in 1971.
It sits inside a pavillion that looks like a renaissance tent. The carousel itself has 90 ornate horse that gallop past helmets, shields, flower garlands, jewels and feathers. And of course, there are scenes from Cinderella.
The Ride: The Carousel at the House on the Rock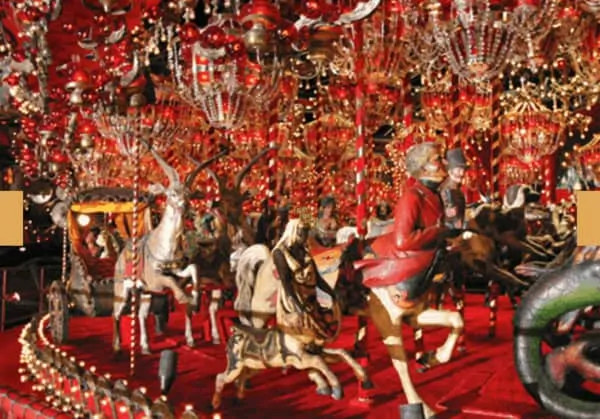 Where: Spring Green, WI
Why It's Unique: To Call the House on the Rock an ecclectic museum is like calling the Titanic a cute little boat.
Situated among collections that include theater organ consoles, a recreated 19th century street, one of the world's largest fireplaces, a 200-foot-tall sea creature and an infinity room, you know the carousel won't be typical.
The largest indoor carousel has 269 animals, including fantastic creatures like serpents, centaurs and unicorns, 183 chandeliers and thousands of lights. A chorus of angels who watch merry-go-round from the room's ceiling.
The Ride: The Lark Toys Fantasy Carousel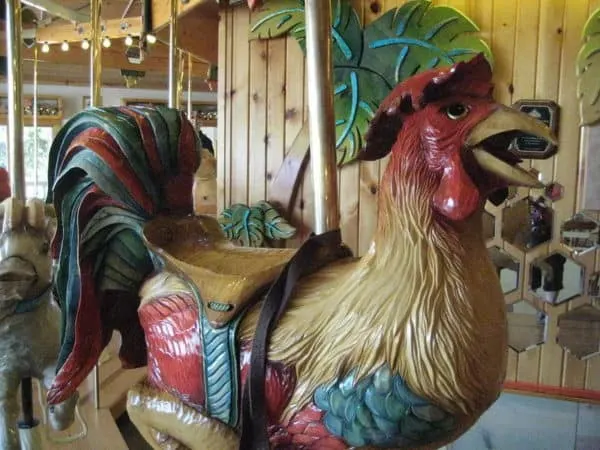 Where: Kellogg MN
Why It's Unique: Lark Toys is at heart a family-owned store where you can watch artisans craft wooden toys. The carousel, Handcarved from local basswood, looks like it came from the mind of a cheeful and imaginative toymaker.
Share a dragon with a wizard or a pig with a happy gnome or a giraffe with some monkeys. Rather than aspiring to grandeur like most carousel's, this one aspires to be bright, whimsical and welcoming.
Pin it for later!