We began to relax over our decision to visit Siem Reap, Cambodia with a 2YO the first time our hotel bellhop lifted our son onto his shoulders for a ride, a treat that would be repeated many times to his delight.
Cambodians love children and nearly all of them greeted ours with broad smiles. A woman at a barbecue restaurant where we ate one night even brought him across the street (in our full view) to dance.
Any visit to Cambodia is likely to start in Siem Reap. Here are our best six tips for Siem Reap and touring the temples at Angkor with a preschooler. I offer tips for a traveling with bigger kids, too.
You Might Also Be interested In:
• The Top Things To Do in Sri Lanka With A Toddler
• 5 Unique Things To Do With Kids in Hanoi
• 5 Amazing Things To Do in Borneo With Kids
Tips & Ideas for Touring Siem Reap With Kids
Exploring Angkor's Temples With Kids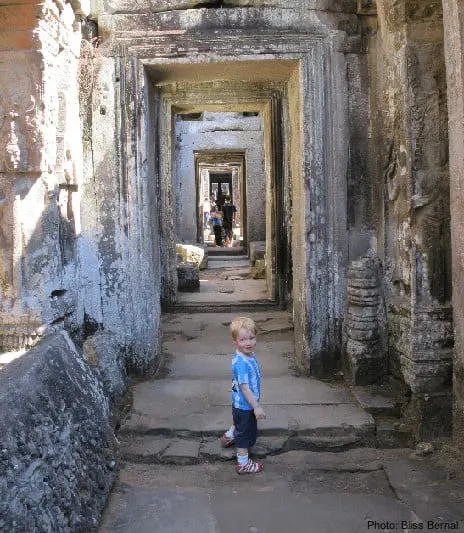 The Temples of Angkor include several large complexes around Siem Reap, you can focus on AngkorWat and Ta Prohm and a few others on a one-day visit, or you can spend three or four days exploring more in-depth.
Either way I highly recommend going with a guide; either a private guide or a very small group. Make sure it's a licensed guide so that you're supporting responsible tourism and so you know they'll speak English well and provide good information.
The temples have a long history and they've been touched by everyone from French colonizers and the Khmer Rouge. They're mostly Hindu but some incorporate Buddhism, too. A few have long tableaus illustrating Hindu mythology (akin ot stained-glass windows in Catholic churches).
If you've traveled all this way to see them then why wouldn't you want someone on hand to explain all the history and the stories, and to pass along some local tips as well.
This is especially true given that hiring a local guide and driver all to yourself won't cost very much. You can do it through your hotel or book a package with a hotel, driver and guide before you leave.
The Most Toddler Friendly Angkor Sites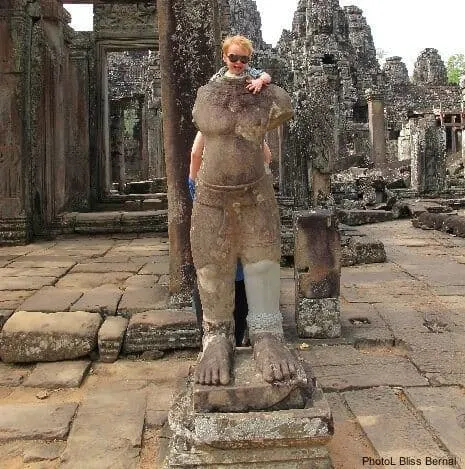 The Temple complexes are not the hushed cathedrals of Europe. They're busy and lively and some of the tour guides are loud.
Moreover, time, tree roots and the Khmer Rouge have broken anything fragile and no one will look askance at your child's climbing around the ruins.
Don't rely on having cordons and warning signs, though. For the most part it's up to you to judge what your kids can handle and to keep them out of danger. Also, getting in the way of people's Instagram shots will earn you withering looks.
There are a few temples where little kids aren't allowed because it isn't safe and others where having little kids with you would be challenging.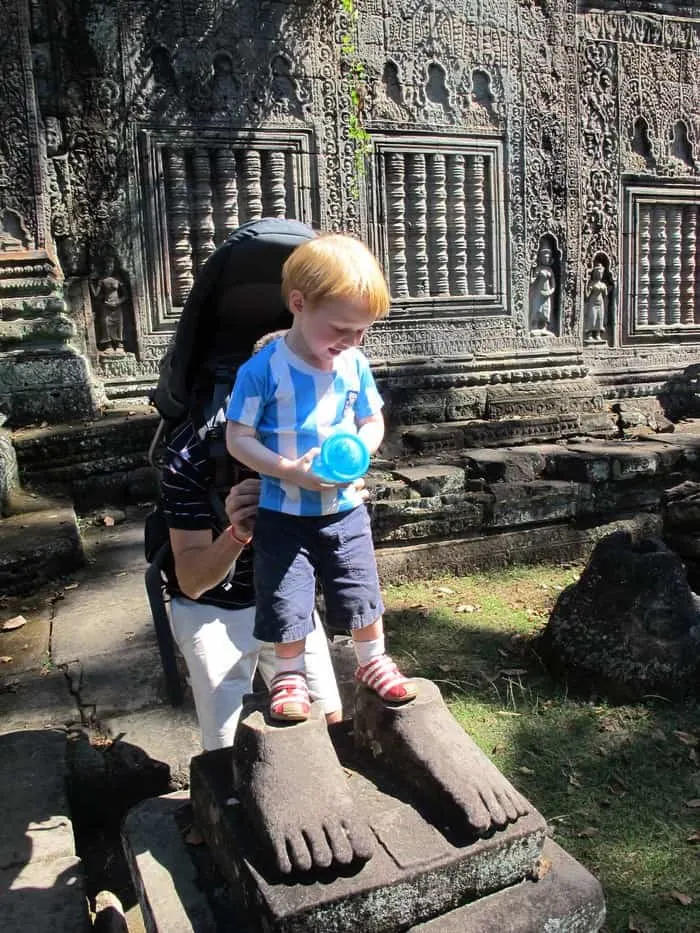 The best temple for letting our tot explore on his own was Preah Khan. It was large and mostly flat; He could wander through rooms without any steep climbing and there was plenty for us to see.
Ta Prohm—known for its picturesque overgrown silk-cotton trees and its scenes in the Tomb Raider movies— is also good for kids with ample but not steep climbing.
Baphuon temple at Angkor Thom was restored and officially reopened in 2011.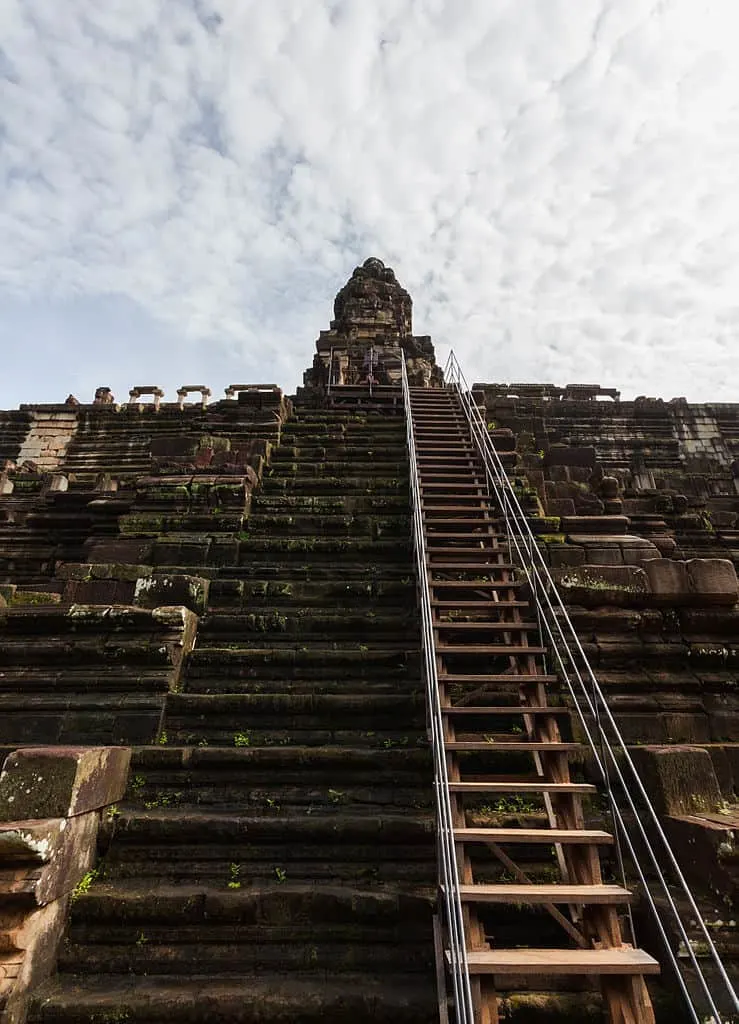 The French took apart the temple to restore its foundation and carefully laid out and numbered the stones. But they had to abandon the decades-long project when the Khmer Rouge came to power.
The plans were lost in the khmer's chaos and so experts spent subsequent decades essentially solving a giant stone jigsaw puzzle
Parts of it are roped off and reinforced in parts, but otherwise it's remarkably restored with ladders aiding the climbing in parts.
Take Kids and Teens To These Angkor Ruins
We let our son run around the hotel gardens with a sitter while we went out on our own. It gave him a break from touring and let us see some temples that weren't suitable for very small children.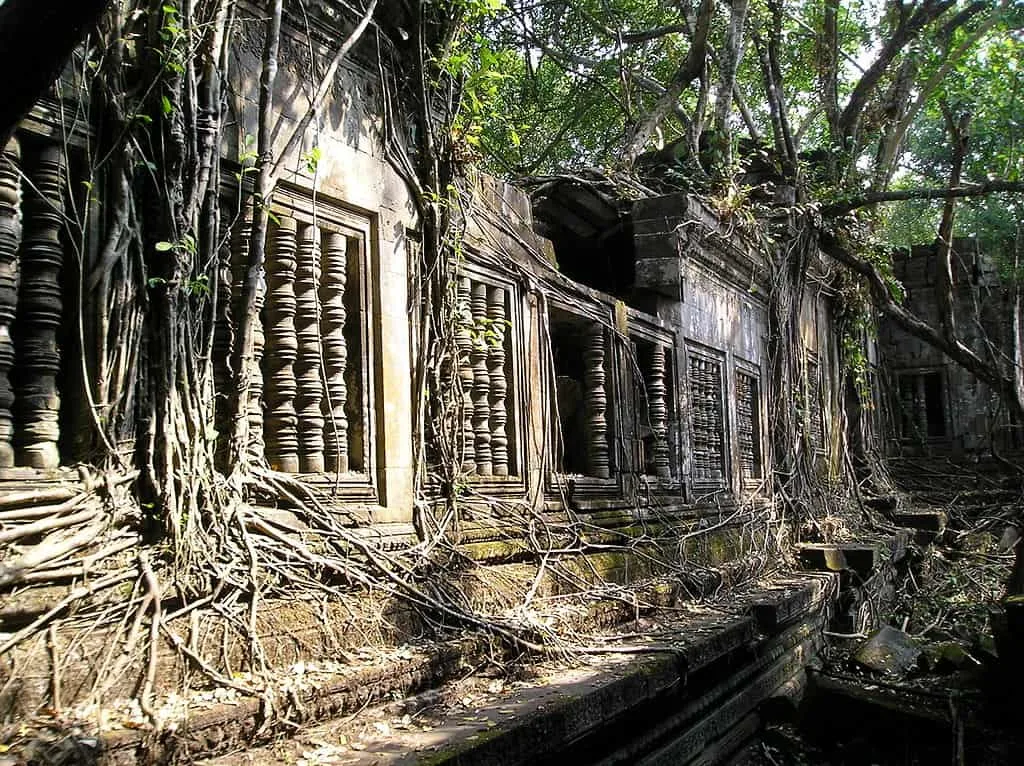 In particular, Beng Mealea, the wildest and most overgrown of all the Angkor temples, is amazing but best for children over 8.
It's one of the larger temples and older and has some Buddhist elements intertwined with the Hindu motifs. It's also one of the most ruined with tree roots and plants winding over an around the carved stones. It's interesting but invites scrambling around.
The day we toured it sans our toddler we saw two parents trying to manage three smaller kids and looking pretty frazzled and exhausted. The two oldest were in dangerous looking climbing situations and the youngest was crying because she wasn't allowed to join them.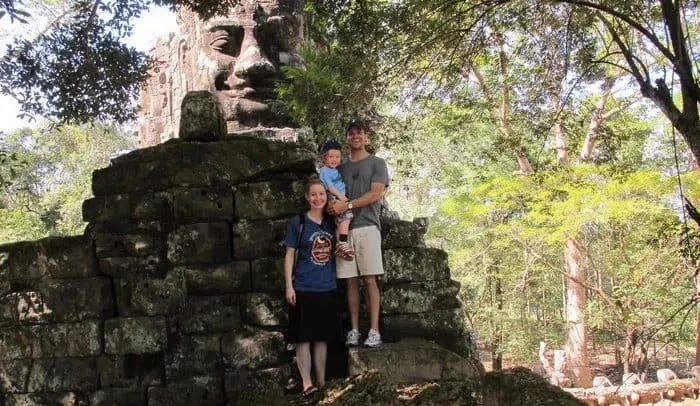 Children under 8 are not allowed on the third floor of the main temple at Angkor Wat. Good call!
The stairs were steep and pretty terrifying frankly. I honestly could not imagine climbing them with a toddler. But it was totally worth taking turns to go up on our own. The view of the temple complex and surrounding countryside is spectacular.
Sunrise over Angkor Wat
The quintessential Angkor Wat experience is to get up early and watch the sun rise over the temples on the west side of the northern reflecting pool.
We got up at 4:15 to be at Angkor Wat by 5:00 for a 6:15 sunrise. We had front-row view but also had many, many people around us. We actually thought the view was better around 7:00 when the sun was a little higher in the sky and the crowd had thinned.
Most visitors go back to their hotels for breakfast, but we asked our hotel to pack a picnic breakfast for us. We ate it alongside excellent coffee we bought from peddlers just outside the entrance.
We ate sitting on stone stairs by the southern reflecting pool watching the sun climb higher and higher. After breakfast, we walked around Angkor Wat and had entire sections all to ourselves until about 9:00, when the first tour buses began rolling in.
This is a dry season activity though. Unless you really luck out it's overcast for the better part of the rainy season and you can sleep in without missing anything.
More Things To Do Around Siem Reap
People come to Siem Reap for the temples, but there are other activities. Particularly with kids, it's a good idea to intersperse your temple
The Night Market:
Night markets are a big part of the street life in Asian cities but have only come to Siem Reap in the last 15 years. There are a few different markets and they vary in size and the quality of the good for sale.
You'll find food, too, of course. Night market stalls can be a cheap and easy way to sample a few different local foods. My rule for street food in developing countries is that if the stall is busy, the food is cooked on-site and it looks good, it's probably safe.
Our 2-year-old was very interested in all the colors, sounds and items for sale and the night market we visited here was less crowded and more spacious than others we visited in South-East Asia. It was actually easy to navigate and fun to pick up inexpensive souvenirs.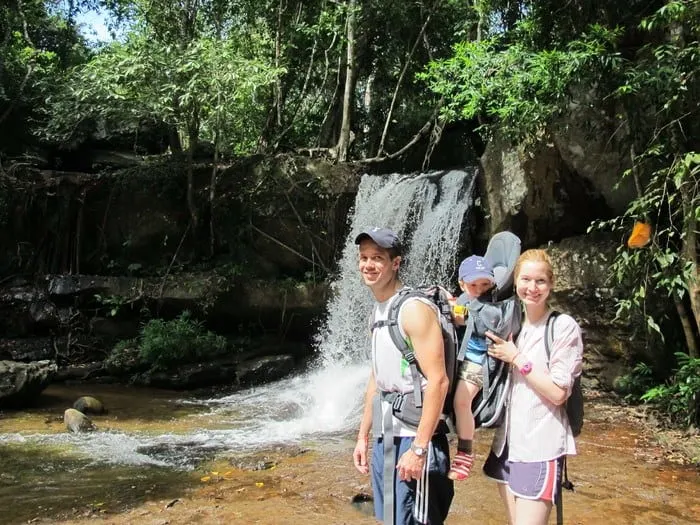 Do a Waterfall Day Hike:
We took a day hike to the Kbal Spean waterfall, which had beautiful carvings believed to be about 1,000 years old on the rocks under and next to the water.
We paid a local man who was milling around to show us the best carvings, which turned out to be downstream from the end of the hiking trail.
Wear shoes and shorts that can get wet so you can splash around a bit to cool off after your hike.
The Floating Villages of Tonle Sap
The floating villages on Tonle Sap outside Siem Reap are a very popular day tour, The lake expands and contracts considering between the rainy and dry season.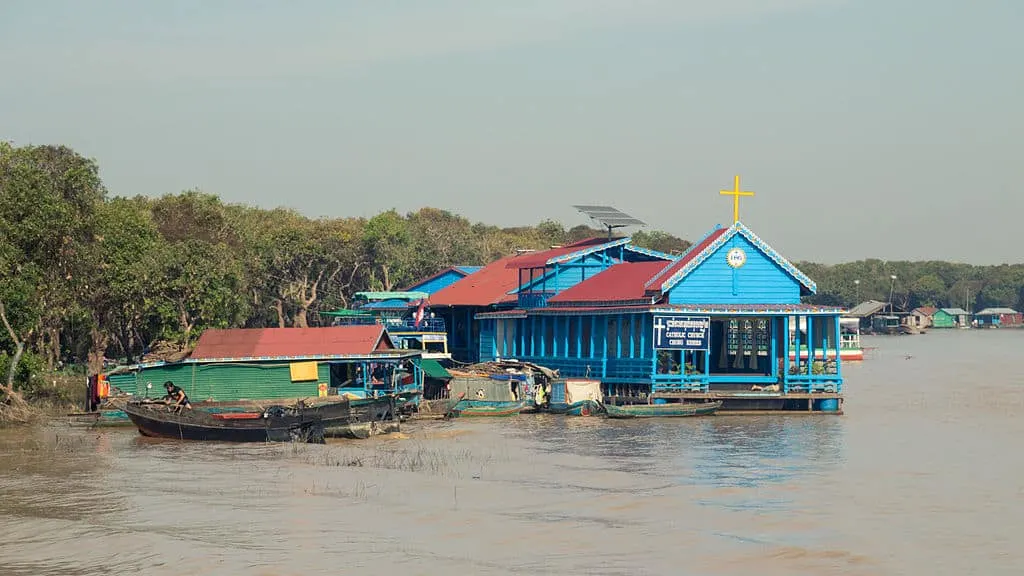 Some houses are built on stilts and are 20 feet off the ground in the dry season. Other homes and buildings are built to float yearround.
An older couple we met said the full round trip took them 14 hours. This was a particularly long day fon this trip. But some of the roads are poor and if there is a holiday the traffic is insane with local families going to the lake to picnic. It seemed a too long and unpredictable day for a young child.
The villages are unique and the lake is quite scenin. But it's best to do in in the rainy season when the lake is higher (which makes the drive shorter) and you get more of the affect of these villages on waten.
If it's a local holiday or the dry season it might not be worth the drive time.
Cultural Experiences With Older Kids
Food is a hands-on relatable way for kids to dive in to any culture. If you have time take one of the several food-themed walking tours or cooking classes on offer around Siem Reap these days.
Depending on the tour they might lead you through daytime produce markets or night market. They'll introduce some of the key ingredients to their food that you've probably heard of but have never seen.
You'll probably also have the chance to sample local foods you might otherwise overlook. And they'll explain all that exotic fruit you've been seeing but don't know how to eat.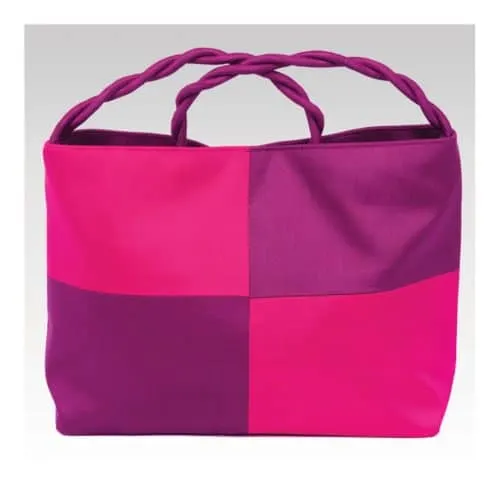 No matter what age your kids are, find some time to shop at Artisans d'Angkor. This well established organization trains young adults in silk weaving, wood and stone carving, ceramics, jewelry-making, silk painting and other traditional crafts.
Once the training is done they can join the 800 artisans that now make up the collective. It allows young rural people to break out of poverty without moving far from home. And the collective practices fair trade principals
You can take a free guided tour of their crafts studio in Siem Reap and their silk farm about 20 minutes outside of town. They also have several stores now, including at the airport.
Their silk scarves and purses are gorgeous and the artwork makes for a unique souvenir (the Laquer paintings travel well). The prices are higher than what you'll pay in the markets, but the quality is stellar and they do good work.
What To Eat in Siem Reap With Kids
Many hotels will have some western items like eggs, bread, yogurt and cereal at breakfast. Given Cambodia's history as a French colony don't be surprised to find croissants, baguettes, butter, jam and foiled-wrapped triangles of Laughing Cow soft cheese.
Tip: Grab the laughing cow for the kids to snack on later; they don't really need to be refrigerated and travel pretty well.
Hotels will also have western items at dinner if you need something easy here and there. You'll find ice cream around the tourist sites.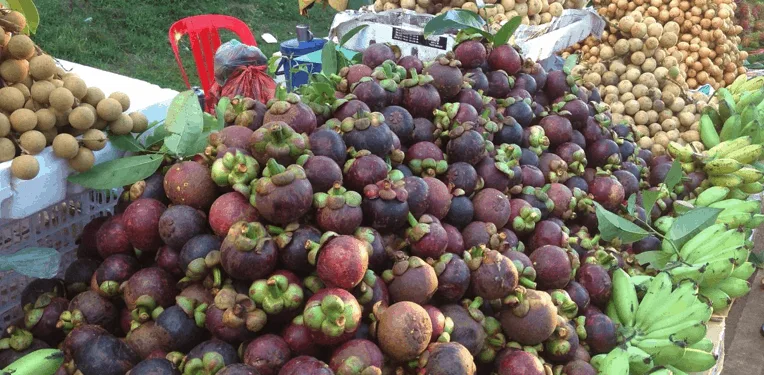 Even picky kids will be able to find local food they'll eat. You'll readily find rice, rice noodles, tropical fruit and fresh fruit juices (the pink, football-shaped dragon fruits are mild, sweet and very hydrating). It's easy to find chicken and shrimp in restaurants.
Cambodian food has ingredients and flavors you'll recognize from other Asian food. But like most Asian cuisine, it relies on a lot of seasonings and sauces. If you want some plain grilled chicken, shrimp or fish, ask what they can do.
We were thrilled to discover Cambodian barbecue. It's delicious, inexpensive and fun for kids, especially if they're old enough to help with the cooking.
You order fish or meat, which arrives with sides and broth. You grill the protein at your table on a skillet that slopes down into a trough. While they cook, you pour broth, mushrooms, tofu, noodles and water spinach into the trough to warm up.
You can eat the meat and fish right off the grill or add to your bowl of soup. There are hot sauces, black pepper and lime on the side.
We found that the barbecue joints in downtown Siem Reap allowed for great people watching and some even have live music, which kept our toddler thoroughly entertained (if a bit too distracted to eat much).
Tip: There are restaurants in Siem Reap and Phnom Penh that give young people training for jobs in the food and hospitality industry. Their food is good and not necessarily more expensive. They provide opportunities to kids who otherwise would have dim futures. Seek out at least one or two.
Planning Your Siem Reap Vacation
Siem Reap Hotels
You'll find western hotel brands in Siem Reap if you want them, but frankly they can seem a bit sterile. There are plenty of local boutique hotels that are lovely, have a more authentic feel and are very affordable.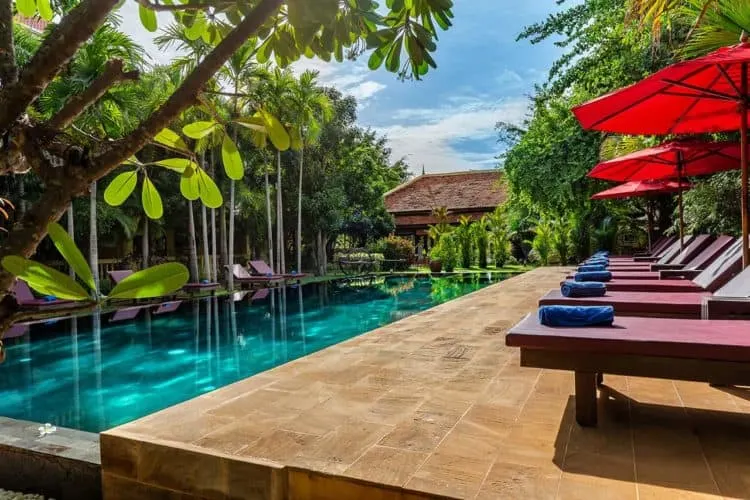 It's easy to find a hotel that has a pool and includes a good breakfast with the room rate. You won't pay a premium for those amenities so hold out for them.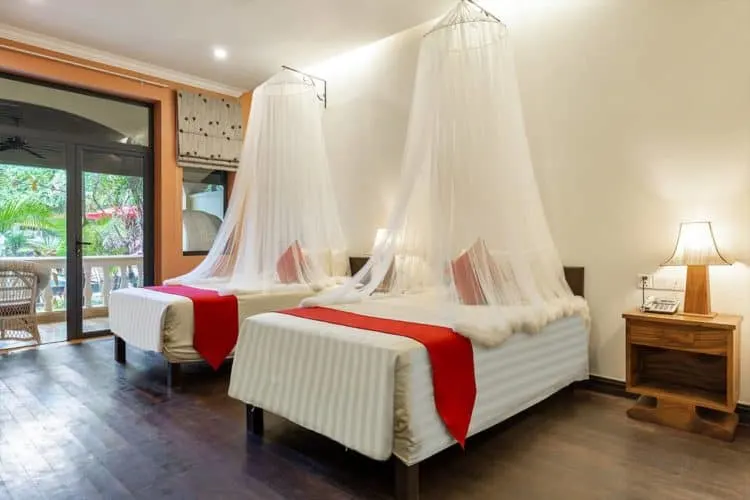 We stayed at the inexpensive Pavillon d'Orient, halfway between Angkor Wat and Siem Reap. It has nice grounds, a good size pool and stylish rooms. They have AC but provide mosquito netting as an extra precaution. Most important the staff was lovely and it's very child-friendly.
Another option is the Golden Banana, in downtown Siem Reap. We didn't stay but heard good things from fellow travelers. Its rooms are colorful but simpler and a bit smaller. Many have balconies that overlook the pool.
Both come in at well under $100 a night. Paying a bit more will possibly get you a bigger and more stylish room, a fancier hotel restaurant or bigger pool. More significantly it might get you a quieter, more secluded location to retreat to after sightseeing.
Plan Your Trip
Find the best Siem Reap hotels at the best rates on TripAdvisor.
Search for flights with Flighthub and save.
Book top-rated tours through Viator.
Cambodia Weather
Cambodia is hot and humid all year round, but November through April is considered the dry season and the best time to visit.
In the rainy season, expect the most rain in the morning and later afternoon and overcast skies all day. You're unlikely to catch a good sunrise or sunset but it is a bit less crowded then.
Make a point of taking breaks, staying in the shade and staying hydrated, especially the kids. Wear sunscreen even if it's cloudy.
Wear bug spray in the rainy season; their mosquitos are nothing to mess around with. They do have dengue fever outbreaks (though they mostly affect local people).
Stay in a hotel that's good enough quality to have air conditioning. Chances are good your windows won't have screens and you don't want to sleep with them open.
To combat the heat and humidity tour guides often take their visitors out in the morning, then back to their hotels for lunch and a swim or nap. Then they do more touring in the late afternoon as things cool off.
If you are touring on your own it's still a good schedule to follow. If your kids are early risers, make the most of that by getting to the temples between 7:00 and 9:00 A.M., before the crowds.
Getting around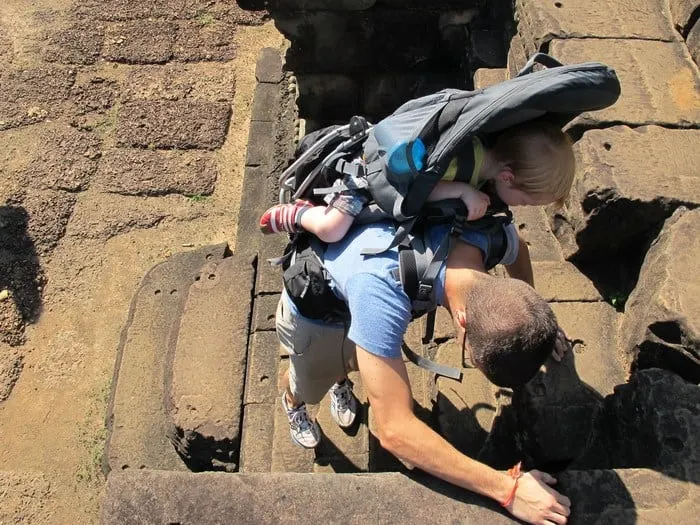 Despite the obvious hassles, we brought a toddler car seat and hired a car through the hotel when we ventured to distant temples or to go to the airport.
We used tuks-tuks for short hops around Siem Reap, say to go into town for dinner or to Angkor Wat early in the morning.
We had the same tuk-tuk driver, hired through our hotel, for our full stay. He had a 2YO at home, too, and took it easy. While it probably wasn't ideal, we felt reasonably comfortable doing it.
If you prefer your hotel can help you find a regular taxi for the week. If you book a hotel/tour package or a guide for your stay a car and driver will most likely be part of the deal, which makes things easy.
Packing Tips:
You'll be in a lot of places where a stroller will do you no good, even in town so think twice before packing one. We got a lot of mileage out of a good backpack carrier that offered him and us plenty of structure and support on long days; one with sun protection is ideal.
Baby diapers are widely available but not larger sizes. If you have toddler pack enough for the trip, including swim diapers.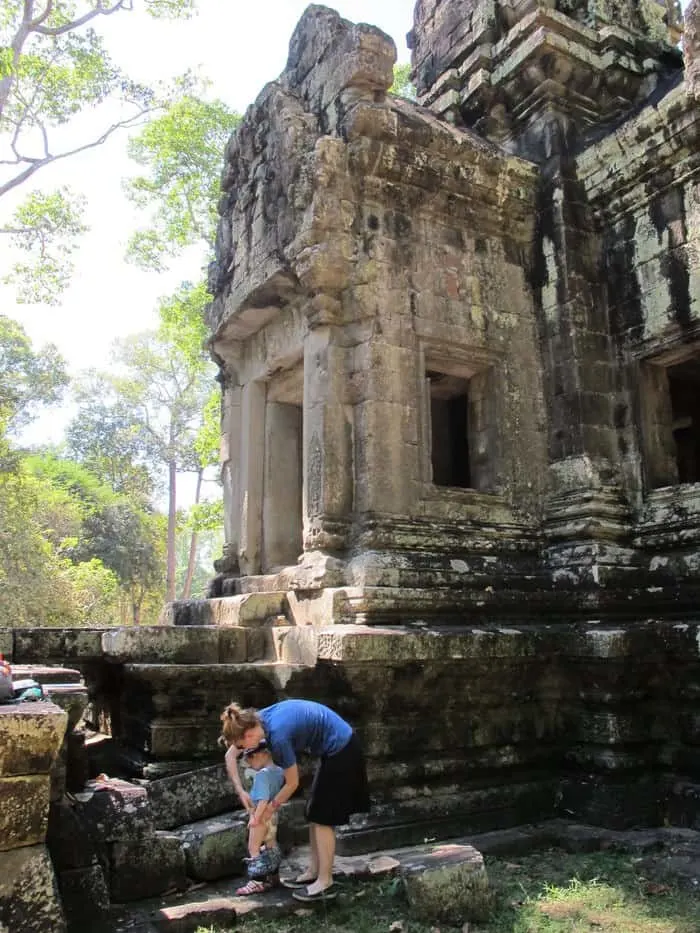 Pack a few of your go-to toddler snacks like pureed-fruit pouches, fruit-and-grain bars and freeze-dried yogurt drops to pop into your daypack.
You won't readily find snacks you recognize in stores and you'll be glad you have these when a day's touring is longer than expected, there are travel delays or you wind up some place with limited food options.
A Word About Hawkers
As soon as you jump out of your tuk-tuk, you'll be approached by vendors selling souvenirs, drinks and guidebooks. They're usually polite but very persistent. It can be intimidating even for older kids who aren't used to being approached this way.
If you're not interested, say "no" politely but firmly. Patrick offered a "maybe later" to be polite, but quickly realized it was a bad strategy. The vendors will remember and are all too willing to lay a guilt trip on you if you don't buy something later.
A tip for cellular service
For most of our travel outside the U.S. our cellular service charges us $10/phone/day in roaming fees. This adds up, even when we agree that only one of us can have roaming service at a time. So I was very happy when a fellow traveler writer introduced me to Airalo. It was a where-have-you-been-all-my-life moment.
Airolo is an app that provides virtual SIM cards, so you can access a local cell network without having to replace your actual SIM card and risk losing it. In most international locations now I can all the data I need for about $5/phone/week.
For $15, all three of us can have full use of our phones for a weeklong trip, instead of $70 for one of us to be able to. Big difference! Will I be using Airalo for all our overseas trips from now on? Yes, I will.
Pin it for later!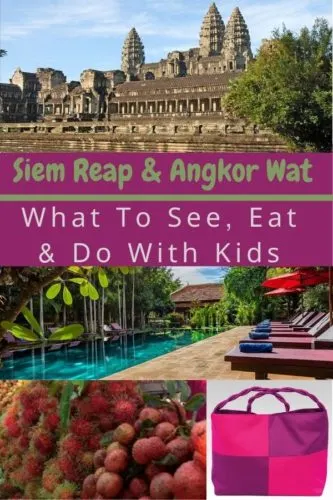 Bliss Bernal and her husband, Patrick left Brooklyn in August 2011 to travel around the world with their two-year-old son. They now live in Vermont.
Photos by Bliss Bernal except Baphuon Temple (creative commons), Beng Mealea (Diego Dells/CC) and Tonle Sap (Dmitry A. Mottl), pile of mangosteens (Get Your Guide) purse and scarf (Artisans D'Angkor) and Pavilion D'Orient (the hotel).