You've heard about the turquoise waters and the powdery sand of Turks and Caicos. They really are the reasons you go. And if you are traveling with kids what more do you need?
You do need more? Ok, how about the short flight from the U.S. compared to islands further south. This helps when the kids are very small and when you're looking for a shorter getaway.
Then there are the amazing hotels and great mix of other things to do outside around the islands.
Here are 13 practical tips for planning a beach vacation to Providenciales including where to stay and things to do, plus some practical information.
Read more:
• Our printable Packing List for a Caribbean Vacation
• Things to on Turks and Caicos with Teens
• 5 Reassuring Tips for Vacationing With a Toddler
13 Local Tips For Taking Kids To Turks & Caicos
1. Hotels & Resorts:
High-End All-Inclusives
Beaches Resort and The Sands at Grace Bay are two top all-inclusives that offer great deals….from April-June. In those prime winter months expect to pay top dollar.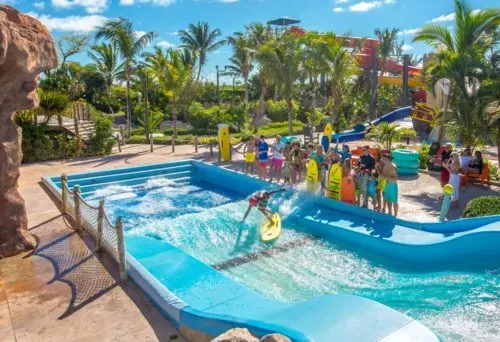 If your family is into big resorts with enormous pools, shops, non-stop activities, character breakfasts and tons of other families, head to the Beaches Resort Village.
The feedback FamiliesGo! has gotten on Beaches is that the quality adult amenities are well worth the steep rates– if you get to enjoy them.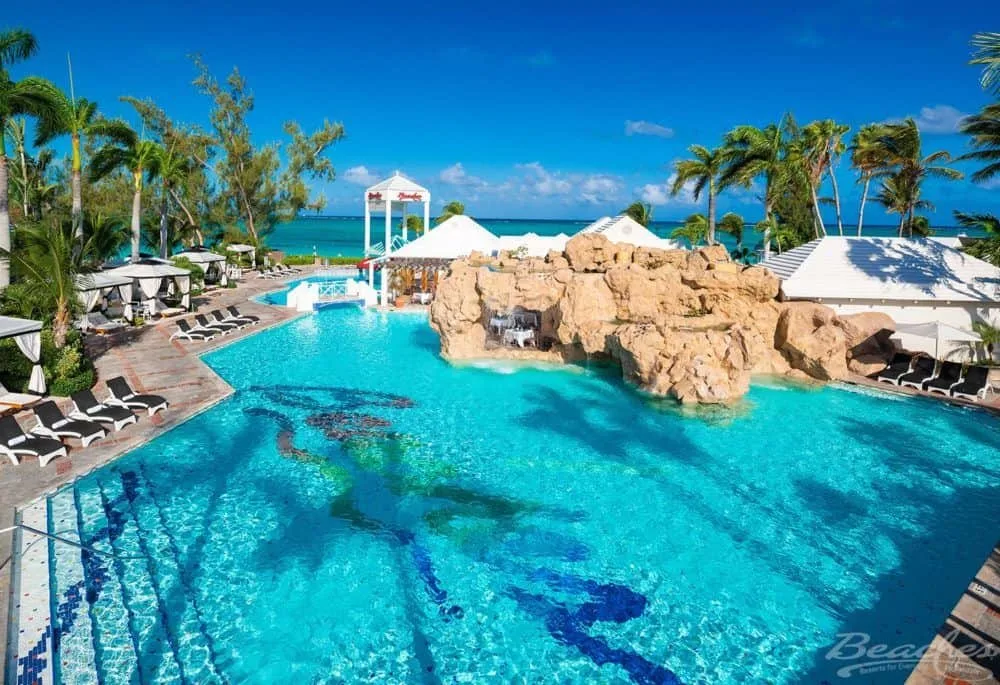 It's a good fit with school-age and tween kids who'll like being able to go around on their own and will jump in to the activities.
It will also work out well if your toddler or preschooler will spend time in the kids' club and give you some R&R time.
For my family, and especially my 2YO, the large number of kids, noise and activities was overwhelming.
Laid-Back resorts with lots to do
There are plenty of small, laid back resorts that still have activities, kids clubs, a family pool, kids menus and round-trip hotel transfers. This type of hotel was more relaxing and a better fit for us.
Many hotels that are not big all-inclusive resorts offer all-inclusive meal plans. This can be an easy option when you have a baby or very small child along.
It's also easy enough to find non-all-inclusive hotels and resorts that include breakfast in your room rate, so don't book one that doesn't.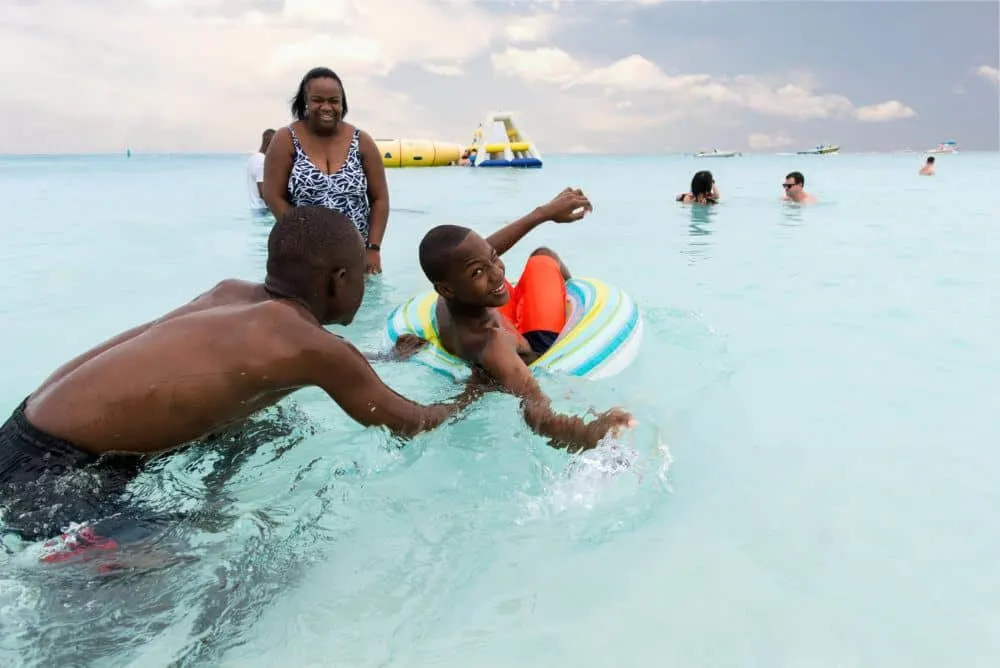 The Seven Stars, Grace Bay Club, Alexandra (above) or Blue Haven sister resorts and The Sands at Grace Bay are high-end but definitely have plenty kid- (and parent-) friendly amenities.
2. Options For a a DIY vacation
If all-inclusives are not your scene, you can also find several smaller beachfront hotels in Turks & Caicos with spacious rooms for families and kitchens.
They have the caribbean vacation amenities you want, like a pool, private beach, activities, breakfast and a concierge to help you with excursions. Some places will prestock groceries for you.
But you can prepare food for your little ones, which is always helpful. Cook or order in if you like. And you'll have some space to hang out and get grown-up time when you kids are napping or in bed for the night.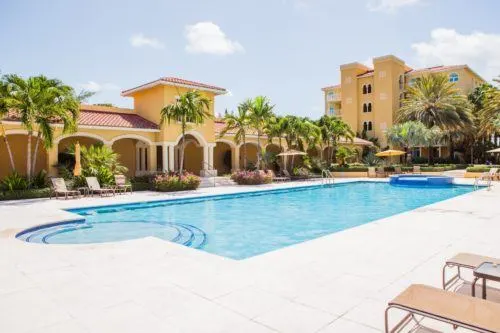 Check out The Tuscany and Ocean Club Resort for this sort of experience.
TCI is an expensive destination. If you're having a hard time finding a hotel in your budget you can also find gorgeous vacation rentals, some with private pools or resort amenities, on VRBO.
3. Stocking Up on Groceries
You can find most supermarket basics at the Graceway IGA or Graceway Gourmet or Graceway Smart, whichever is closest to your hotel.
But, as is usually the case with islands, items will be more expensive than you're used to and they might not have familiar brands.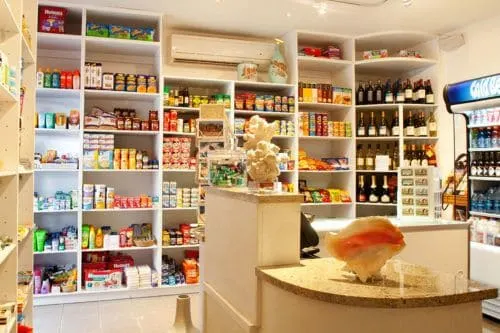 Several of the resorts also have convenience stores where you can pick up milk, snacks or a bottle of wine. But don't plan to use these for any serious stocking up.
I packed basics like Pedialite, pain reliever, first-aid ointment, bug repellant, deflated beach toys, band-aids, and our favorite snacks. I was glad I did.
I recommend bringing a few basics like that as well as any snacks or shelf-stable foods your kids can't live without.
Things To Do on TCI
4. Breakfast at Beaches Resort
If you want a taste of Beaches, but not a whole week of it, Call the sales department there and ask for seats at one of the Sesame Street character breakfasts.
If there's availability (easier in the off-season of course), you can get some quality Elmo and Zoe time for your kiddos for less than $25/per person a person and then return to your hotel to relax.
Beaches and some of the other big all-inclusives offer day passes, too, an easy way to try them out.
5. Explore Other Beaches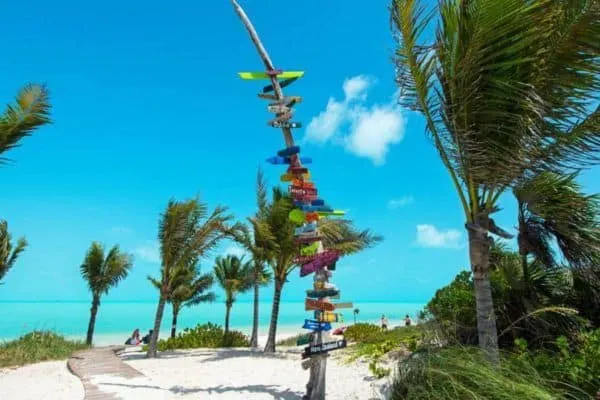 • From local Sue Nickason: We've done a bit of exploring and have finally chosen Long Bay Beach, located on the east side of the island, as our favorite. Long Bay has waves but small children can still have fun exploring its clear, shallow waters.
Its reliable, gentle breeze makes it a favorite spot for kite boarders—the colorful sails contrast beautifully with the turquoise waters. We often take a kite with us for onshore kite flying, too.
With Older Kids: Take a scenic horseback ride along Long Bay Beach.
• One of our favorite Sunday excursions takes us to Chalk Sound and Taylor Beach. No matter how often we go we're amazed at how clear and calm the surf is. We wade way out in shallow water hunting for starfish.
When we're hungry we brush the sand off and head to lunch at Las Brisas, a fantastic waterfront restaurant at Neptune Villas, which happens to have a playground. If you still have energy after lunch you can rent kayaks there, too (we haven't yet, but it's on our to-do list).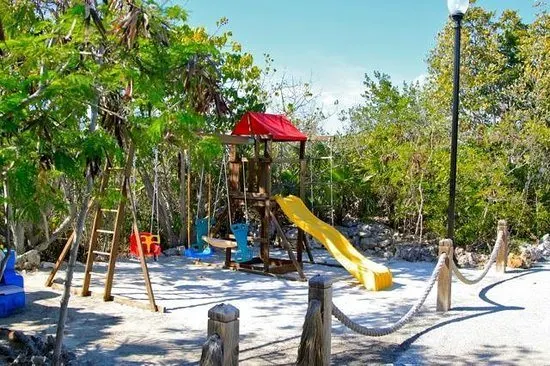 • Grace Bay Beach, the most famous destination in the Turks & Caicos, sits along the broad pocket on the north side of Provo. There's less wind, smaller waves and a gentler surf for youngersters who are just learning to swim.
While Gracy Bay is scenic, it's also a busy beach. It's also bright and hot during the day, so be sure to stake out a spot with some shade. And it can be windy, too.
Head to southern Sapodilla Bay and Taylor Bay for calm, clear, shallow, child-friendly waters. Just be prepared for little shade.
6. Explore Under the Sea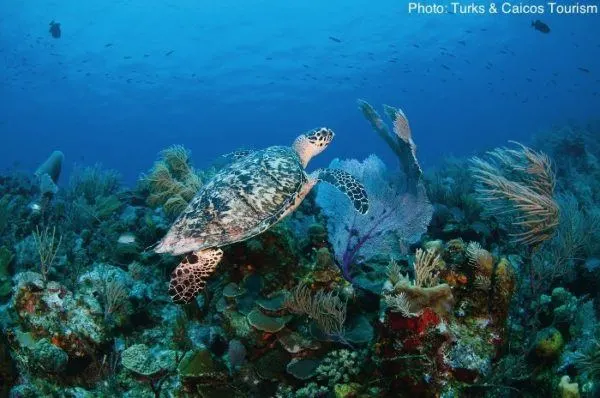 TCI has a treasure trove of tropical sealife including coral formations, exotic fish, stingrays, turtles, and even whales.
Most resorts have snorklet gear so you can try your luck off of your beach. And it's easy to book day trips to snorkel spots.
If you're kids are still too small for that, try this glass bottom submarine tour that we liked a lot. We looked through windows from a below-deck viewing area, rather than through a floor. My daughter got to see fish to her heart's content.
7. Find More ways To Explore Outdoors
TCI has bays with calm water where you can safely kayak with a toddler and even SUP with a child you can trust to not jump off.
Kayaking eco-tours will show you local marine life and you might even spot turtles, sting rays, starfish and small sharks beneath the clear water, which is always a hit with kids.
Sailing and motorized boating is an option as long as the ride isn't too long. The novelty of the boat will entertain tots and tire them out, so they just might nap on the way back.
There's very little in the way of hiking, but the Bird Rock Trail and Northwest Point Marine National Park offer some scenic walks you can do with a little one on foot or in a backpack carrier.
8. Take a Ferry Ride
From Sue: This past spring we had the chance to take our daughter on the fast-ferry service that takes travelers from Provo to South Caicos and back in a single day.
We went to watch the annual May regatta, an island-wide celebration that features big parties and boat races. But at any time of year you can enjoy its less touristy, more local vibe.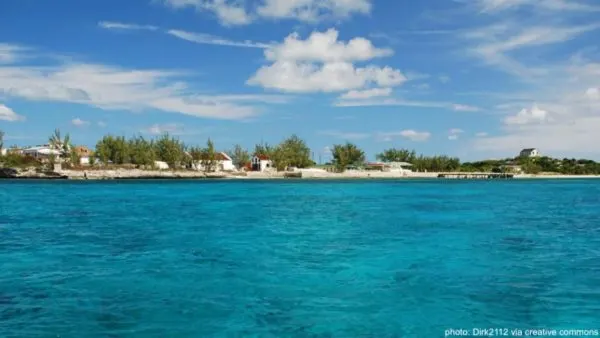 We also like to walk around historical Cockburn Harbor and enjoy watching flocks of flamingos in the salt pans. My daughter's favorite part, of course, was the ferry ride itself.
With older kids: South Caicos has excellent fishing and SCUBA diving.
9. Do A Little Shopping
The Shopping Plazas are colorful and worth walking around a bit for window and souvenir shopping.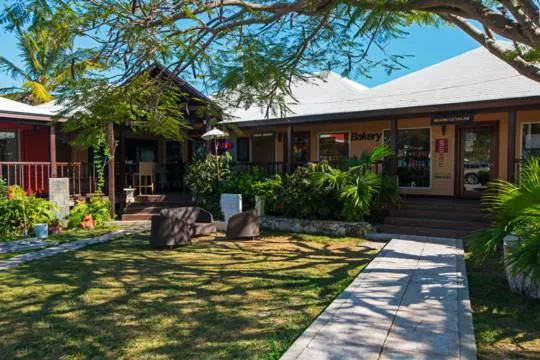 Regent Village and Saltmill Plaza are the largest. Caicos Café Plaza has a bakery, shaded porches and small grassy quad. Grace Bay Plaza has an ice cream shop with a small play structure out front.
10. Have Some Fun Indoors
From Sue: If you want to mix a little eco-education into your vacation, check out The National Environmental Centre (NEC) on Lower Bight Road.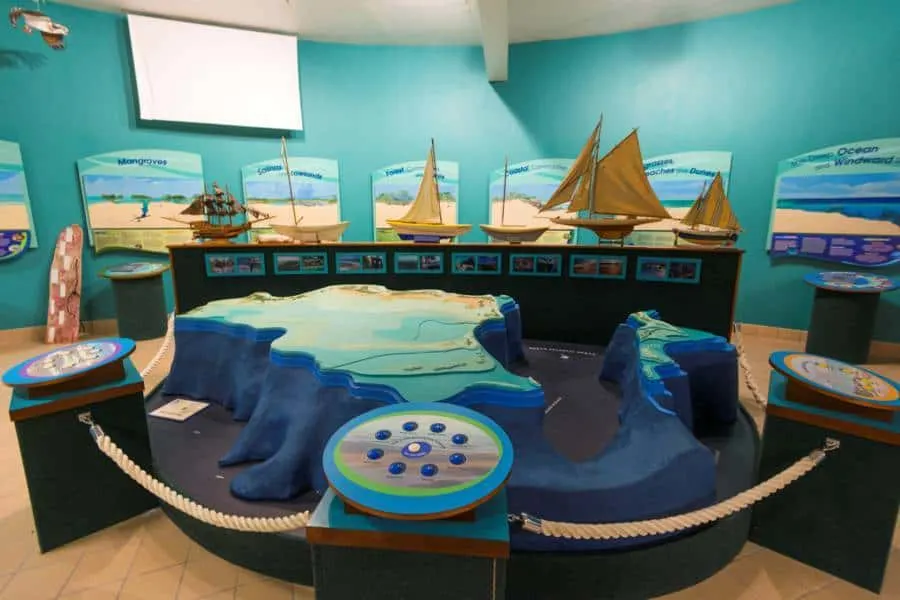 Opened in 2007, the center does a great job of explaining the natural habitats and ecosystems of the Turks & Caicos Islands. My daughter especially likes the exhibits that explain sharks, snakes and other local sea creatures.
The excellent Children's Park at Bight Beach (top) across from the NEC has slides, swings and jungle gyms as well as plenty of shade for parents.
You'll find cold drinks in several nearby shops and the beach is just a few feet away. When we're done on the swings and the jungle gym we cool off with a dip in the bay.
---
If you get a rainy day with very small kids along, or need to get out of the sun, head to Playland TCI, an indoor playspace in the Regent Village shopping center.
Ball pits, giant blocks and climbing structures will help your energetic tot get their ya-yas out. Just bare in mind that on rainy days you won't be alone.
11. Go On A Date!
If your resort has baby-sitting and you manage to swing some couple time, head to my favorite grown-up retreat, The Spa at The Palms Resort. It's one of the best resorts on Turks and Caicos.
After trying some of their many fantastic services, enjoy a bite to eat at the resort's gourmet food store (which my daughter refers to as the fancy treat shop) or find a beachside restaurant for dining under the stars.
Essential TCI Information
---
Plan Your Trip
Find the best prices on Flights to Providenciales with Kayak.
Secure the best best deals on all-inclusive resorts with TripAdvisor.
Book a beach-front vacation home on VRBO.
If you do want to rent a car, use Kayak to find the best value here, too.
---
12. Get Passports
Turks & Caicos might be close to Florida but it's international. Get baby and everyone else in the family a passport! Request that passport at least 2-3 months ahead of when you'll need it to avoid rush fees and stress.
13. Think Twice About Driving
If you plan to drive yourself around, keep in mind that most cars are left-handed drive cars imported from the United States, but traffic drives on the left as in the UK.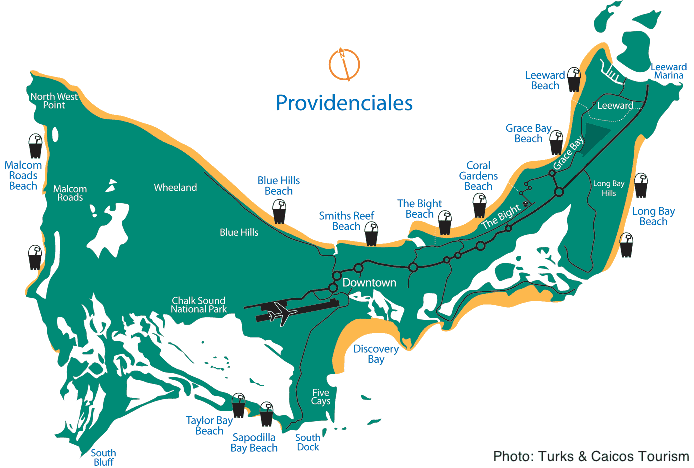 If that's not enough to pursuade you to stick to taxis and shuttles, Avis and local Grace Bay Rentals are the most popular rental options on TCI.
If you need a car seat, request it well in advance, be specific about what you need (rear-facing, booster, etc.), and confirm before departing.
If you are a parent who really worries about having an appropriate seat, bring your own.
A tip for cellular service
For most of our travel outside the U.S. our cellular service charges us $10/phone/day in roaming fees. This adds up, even when we agree that only one of us can have roaming service at a time. So I was very happy when a fellow traveler writer introduced me to Airalo. It was a where-have-you-been-all-my-life moment.
Airolo is an app that provides virtual SIM cards, so you can access a local cell network without having to replace your actual SIM card and risk losing it. In most international locations now I can all the data I need for about $5/phone/week.
For $15, all three of us can have full use of our phones for a weeklong trip, instead of $70 for one of us to be able to. Big difference! Will I be using Airalo for all our overseas trips from now on? Yes, I will.
Bonus Tip: Adapt Your Pace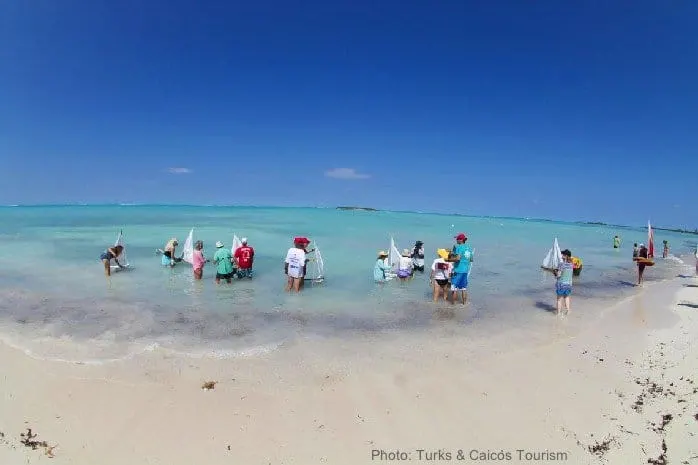 Once you arrive, you're on Island time. Put your food and special requests in to the concierge, front desk and room service a good hour before you'll need them.
Then chill out. That's what you're here for!
Pin it for later!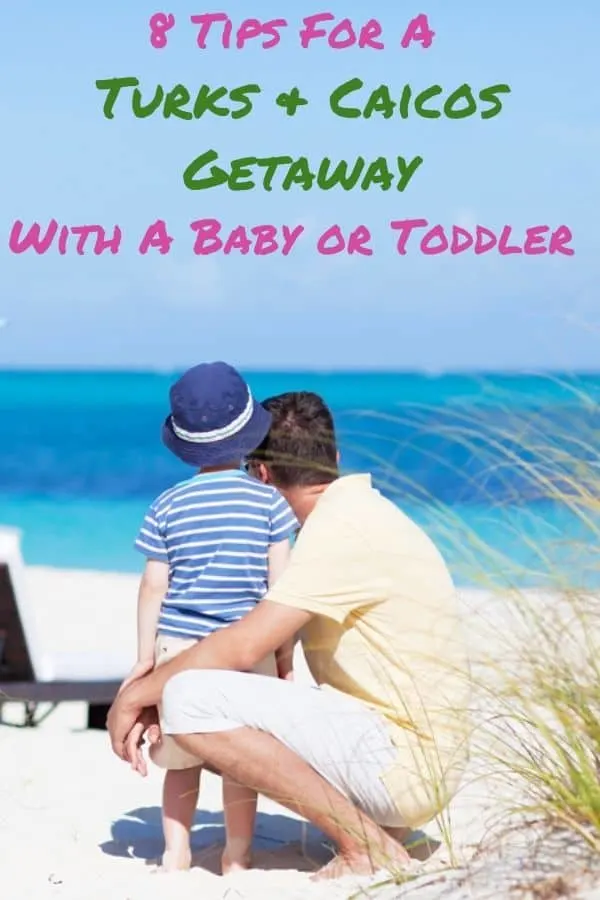 Stella Psaroudakis and Sue Nickason contributed to this post.
Sue moved with her family to TCI from Canada. She does marketing for The Shore Club, a vacation community on Provo's Long Bay Beach, and for several TCI resorts.
Stella is a mom who loves traveling with her kids. When she's at home she's a consumer marketing consultant.
*Resort photos are courtesy of the individual resorts. The convenience store photo is courtesy of the Sands at Grace Bay, and the island photos are courtesy of Turks & Caicos Tourism. Cockburn Harbor is via Creative Commons.