Puerto Rico is a no-brainer for a family beach vacation. It's a reasonable, often direct, flight from the East Coast, you don't need a passport, you can use American money and everyone speaks English.
Better yet, the food is delicicious, the beaches are roomy and there are a lot of fun outdoor things to do and interesting cultural activities. It's also a better value than other islands. Yet parents often bypass it for its various Caribbean neighbors.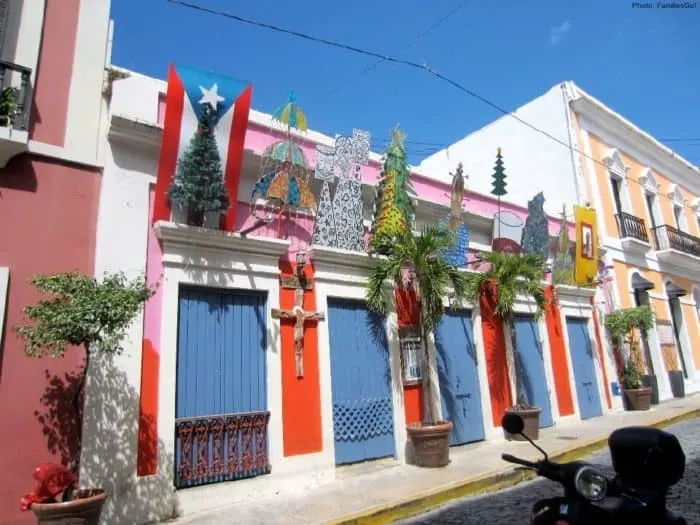 We spent a week at The San Juan Marriott Resort, in a resort area called the Condado, an easy cab ride from Old San Juan, with another family one February (so we had two Tiny Travelers along).
Here are our tips for making the most of a Puerto Rico vacation with kids.
More Caribbean Travel Ideas:
• 5 Caribbean Resorts For Every Family
• Make the Most of Grand Bahama With Teens: 11 Local Tips
• Spice Up Your Grenada Vacation With These 9 Things To Do
Top Puerto Rico Family Hotels & Resorts
Puerto Rico doesn't have all-inclusive resorts that you find on other islands, but it does have an ample choice of hotels and resorts in all price ranges and for different travel styles. Here are just a few.
San Juan, the Condado and Isla Verda are the older resort areas. They have great pools and beaches in a semi-urban setting with restaurants and shopping nearby. We liked this because we were able to try different things every night and didn't need to eat all your meals at the hotel.
They have babysitting if you want a night out in Old San Juan, which is enticing. But don't look for sprawling resorts with mini-golf, kids clubs and water slides.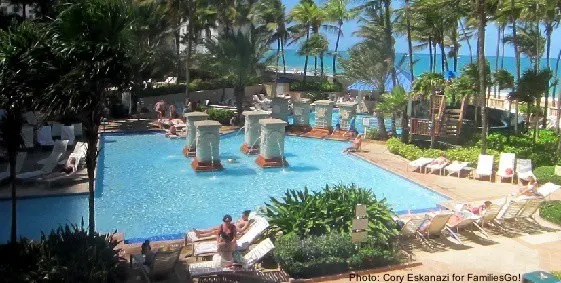 We stayed at the San Juan Marriott Resort & Stellaris Casino, which was teeming with families drawn by the wide beach and kid friendly pools. It's a popular choice for people who want to bookend their cruise with a hotel stay near San Juan.
Our kids probably would have joined in to kids activities if they had more of them but didn't really need them.They had ping pong, boardgames to borrow and free cookies in the afternoon. And our kids loved the chicken fingers on the menu at the poolside grill, which made lunch easy. They kept themselves busy enough that we could relax and it made us realize a kids club isn't as necessary as we thought on a family vacation.
The Condado area was perfect for a vacation that mixes resort relaxation with a little culture, activities like paddle boarding local dining. It's an easy jumping off point for day excursions like visiting El Yunque National Forest.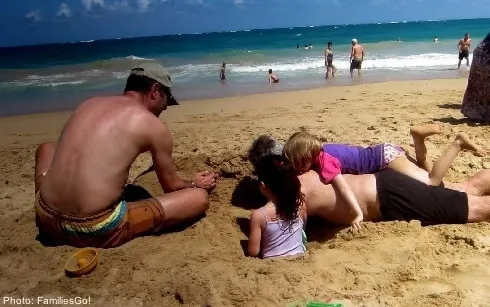 If you're looking for a full-on resort experience with a kids club, lots of water sports, onsite activities and meals, look to bigger hotels further from San Juan like the Bahia Beach Resort, or the Margaritaville Vacation Club resorts. Both are in the Rio Grande area, about 30 minutes east of the airport.

Embassy Suites by Hilton Dorado Del Mar Beach Resort is in Dorado, another resort area 30 minutes west of San Juan. It has a sprawling pool and a beach protected by a sea wall. All of its rooms are two-room suites with refrigerators and microwaves. And the room rate includes breakfast, which is not common here.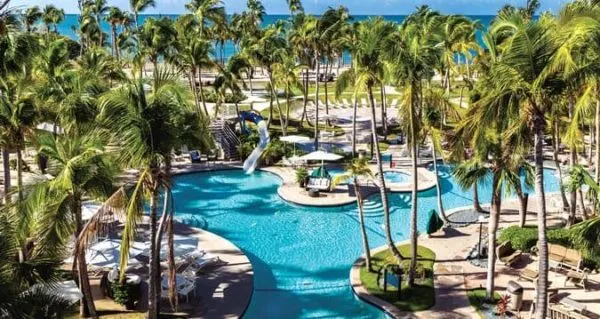 The Hilton Ponce Golf & Casino Resort is on the south side of island, a 90-minute drive from San Juan airport. But it's on the calmer, clearer Caribbean sea. And it has family amenities like a playground, splashpad, huge pool with a water slide and mini-golf, along with golf and tennis and grounds to roam around.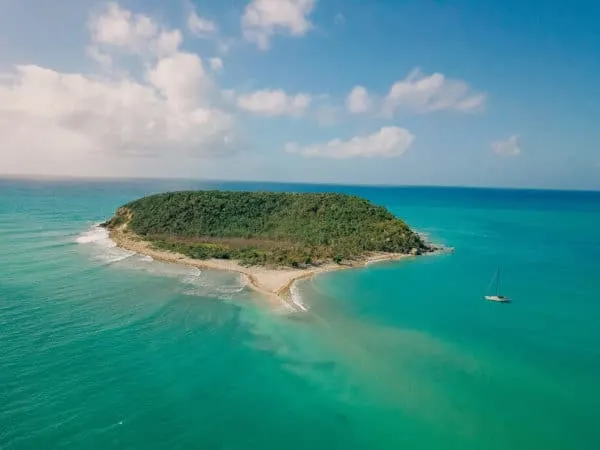 For a very laidback vacation, the island of Vieques offers small inns and sparsely populated beaches on the Caribbean Sea. Much of the island is a wildlife refuge.
There are some small hotels on the island but it's more common to rent a house, villa or condo. They're inexpensive and can have some nice amenities, like private pools.
This is the spot for families who eschew water parks and crowded tour boats for hiking, snorkeling, kayaking in the bioluminescent bay and eating in local fish shacks. It's where I'd go with toddler and teenagers.
What To See, Eat & Do On a Puerto Rico Beach Vacation With Kids
Things To Do With Kids Outdoors
The island is still recovering from Hurricane Maria; some of the water parks I used to recommend are no longer open and even some natural attractions still need to be cleaned up and made safe again.
There are still a lot of fun things to do in Puerto Rico, and more outdoor adventures than you might imagine. Regardless of where you stay on the main island, get away from your resort, rent a car or book some tours, and soak in some local culture and scenery.
Explore El Yunque National Forest
We spent a day exploring El Yunque, the giant rain forest 45 minutes southeast of San Juan. We explored on our own and did fine, but having a guide might help you to see more in a day and learn more about the local ecosystem.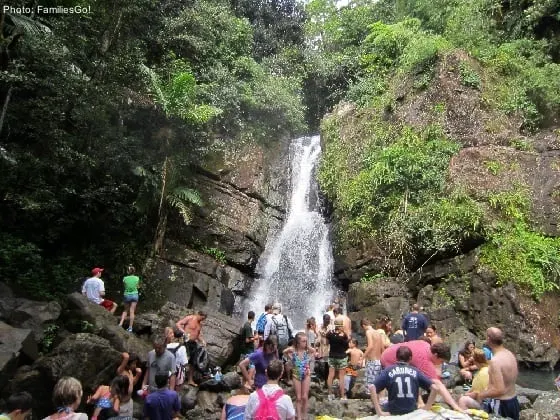 The highlight was a hilly, 30-minute hike that ended at a picturesque waterfall with wading pools for swimming.
We opted for a shorter walk, mostly uphill back out again. It followed the river and smaller falls and was even prettier than the walk in. Rich followed the road back to the car while Tiny and Traveler and I spotted gekkos.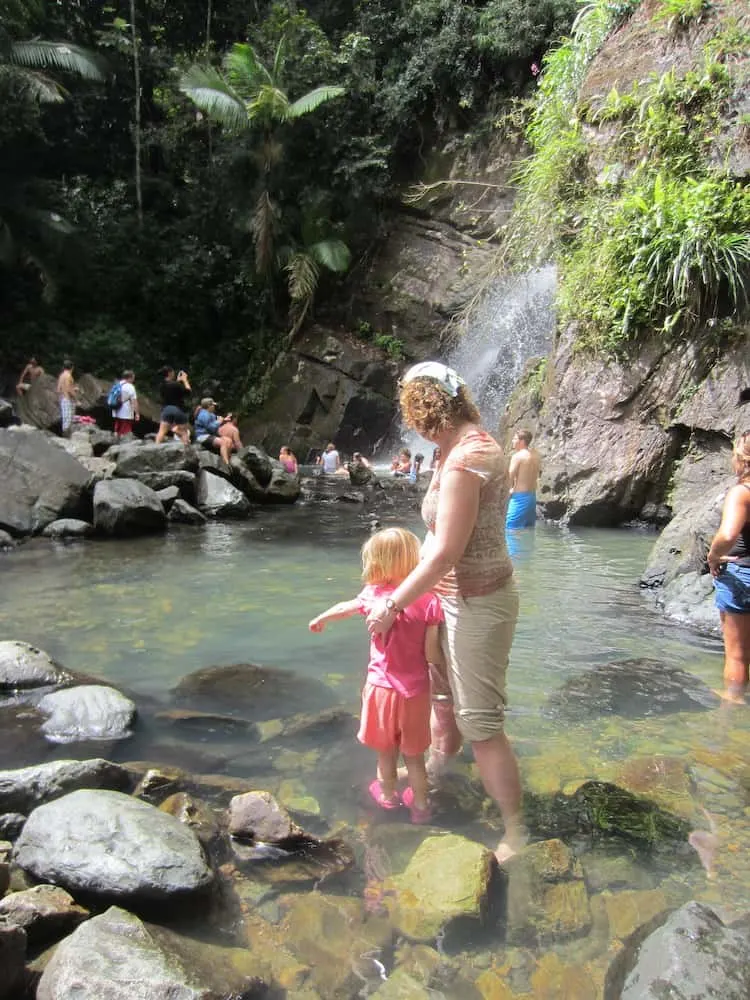 Tip: We saw people setting off on this trail in flip-flops, and expected a short, easy walk. It's a real hike and we were happy to have sneakers on. I recommend wearing sport sandals or waterproof hiking shoes so you can wear your shoes in the falls.
If you want to take a dip in the falls having your bathing suit on under your clothes or wear quick-dry shorts and Ts.
2 Cool Places To Paddle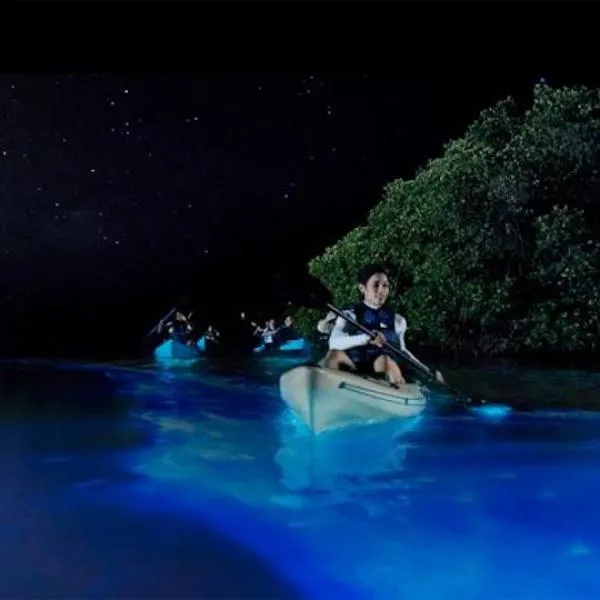 If you can make your way to the south side of the island for a nighttime excursion don't miss taking a kayak trip through one of three rare Bio-luminescent Bays. People say it's like paddling through stars. This is on the the top of my to-do list for our next visit.
The other outdoor activity we wish we'd done was to explore the Camuy Caverns National Park. Hidden inside a tropical forest, the extensive caverns house the third largest subterranean river in the world.
The Camuy River Park also has a boardwalk that follows the river through the rain forest. It's probably not the drive-to destination the caverns would be, but it might be more accessible than the caverns with younger kids. And it's scenic. If you're in the area stop by and enjoy the walk.
There are also other cool caves to visit, including a noteworthy one near Arecibo, thought none are as extensive as Camuy.
Things To Do In San Juan With Kids
We spent a morning exploring Old San Juan, which entertained two 5YO old girls far more than we expected it to.
Squares & Markets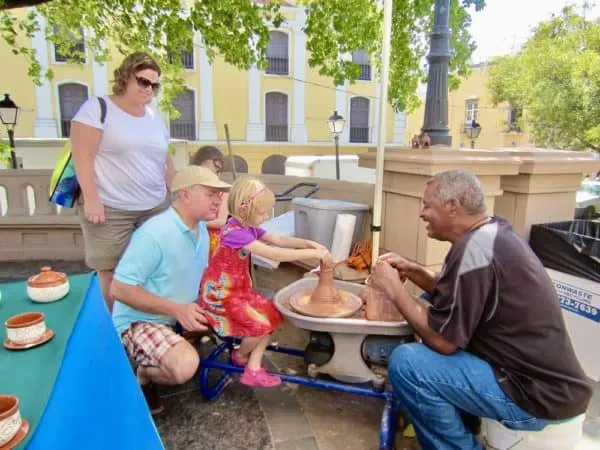 They ran along the narrow streets, pointing out the bright colored buildings, especially the pink ones! And climbed and danced in the squares. Plaza De Armas was a favorite for its fountain and statues.
There is an outdoor food and produce market nearby on Saturdays, which we didn't get to, but really wish we had.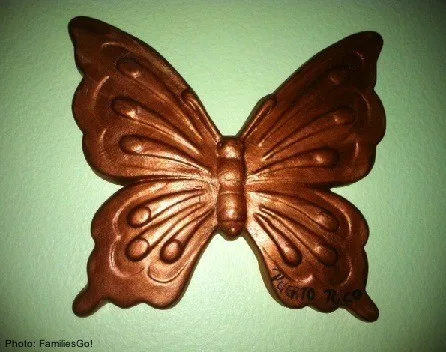 We did come across a small crafts market in Plaza de Colón. To the kids' delight a ceramics maker let them try shaping small cups on his wheel. His necklaces and bright butterfly wall hangings made for affordable souvenirs.
If your kids ae old enough, a walking tour would be inciteful and help you appreciate the historic old town (and they can tell you where the good food is).
El Morro Fort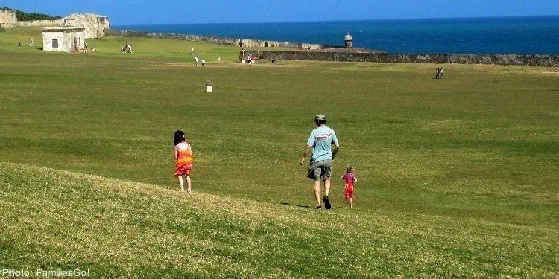 We ran around, tumbled and flew kites on huge the lawn leading up to El Morro, the giant fort that dominates Old San Juan's waterfront. Then we spent a good amount of time exploring the fort, which is a U.S. national park site.
The kids weren't especially interested in the historical content and we didn't even look for a Junior Ranger Program. But it was old and creepy enough to be exciting and we were able to read plaques and signs while they clambered on cannons.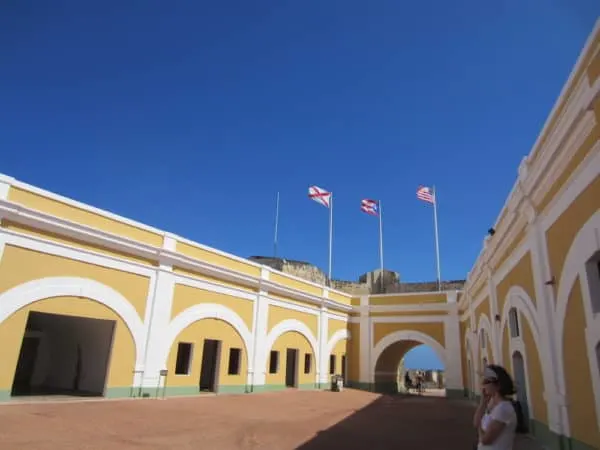 Tip: Rich has several kites that fold up compactly for travel and goes almost nowhere without one. And we were happy to have two with us that day. You can't beat a good sea breeze for kite flying.
Spend a STEAMy afternoon at Arecibo
Puerto Rico is home to the Arecibo Observatory, about 80 minutes west of San Juan. It's "a world-leading radio astronomy, solar system radar and atmospheric physics facility." But its most-well-known for its 1,000-foot-wide radio telescope.
It was also battered by Hurrican Maria but the upshot of that is that it has a refurbished and expanded visitors' center. It strives to be a center for STEAM education for local kids and visitors.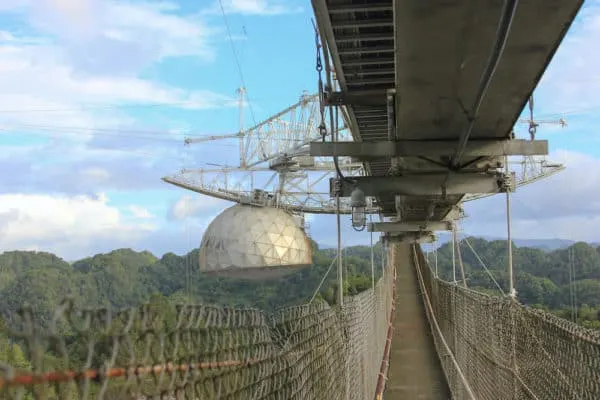 The visitors center has interactive exhibits and movies that tell about Arecibo's history and most important accomplishments among other things. There's also an observation deck for viewing the telescope.
You can visit on your own (check for Covid closings). But if you aren't otherwise planning to rent a car, an organized tour might be better then hiring a round-trip taxi. You'll have a guide and might see a bit more of the area as well.
---
Plan Your Trip
Kayak is the best tool I've found for booking low airfares and good rental car deals.
Find the lowest prices on beachfront resorts with pools with TripAdvisor.
book your private Vieques villa on VRBO.
---
Tips For Eating Out With Kids in Puerto Rico
At night we walked around the Condado and Old Town and stopped into whatever restaurants looked good. We had excellent Argentine, Spanish and Cuban food and surprisingly food burgers and no real clunkers at all.
Prices seemed reasonable for most meals, especially by resort-area standard. Except for the Cuban place, where they needed our table, restaurant service was very, very leisurely.
Even burgers took two or three times longer than they would have at your local 5 Guys. They were all helpful in finding foods the kids would eat. And always brought the kids' meals quickly, so we didn't have hungry, cranky kids.
But we did have to keep them busy— for quite some time —while we ate. Twice we broke our no-electronics-at-the-table rule and let them play games on a tablet.
Must-Try Puerto Rican Foods
Make sure to try some authentic Puerto Rican foods. The local restaurants tended to be more casual and inexpensive than some of the other resort area options. The food is usually cooked to order and we found lots of kid-friendly fare.
Almost daily our girls gobbled up chicharrones de Pollo, chicken fingers made with cracker crumbs. They are super crisp on the outside and moist and chickeny on the inside.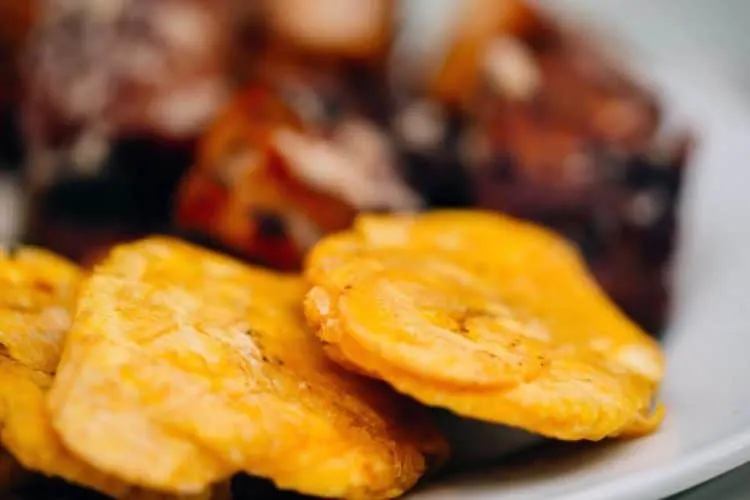 Finger shaped ham or chicken croquettes, which are soft inside and lightly crisped outside, are more kid-friendly finger food, and are easy for toddlers to ear. Adults can try them with fried cod (bacalau).
You can find empanadas filled with meat, cheese or veggies in local delis, markets and restaurants for $1 to $3 apiece.
Most kids will happily dig into arroz con pollo, rice and beans and tostones, which are crispy, salty and sweet fried plantains.
We found fresh shrimp and fish on some kids menus, so they didn't eat pasta every night. Tiny Traveler didn't have a chance to try lechón asado or pernil, (two kinds of roast pork, usually with crispy skin). But if she had I'm fairly certain she would have devoured it.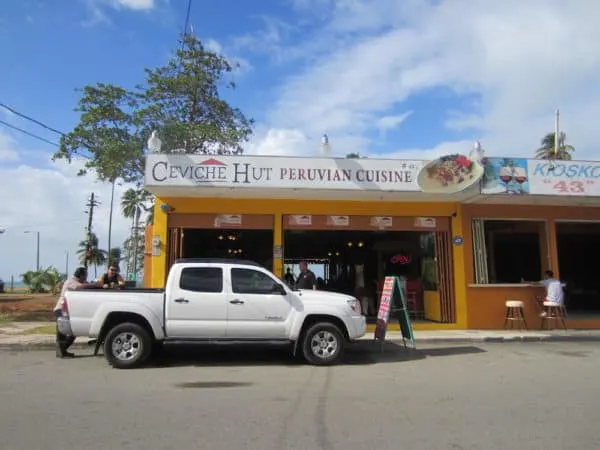 Puerto Rico being an island there's also seafood on Puerto Rican and other types of menus. While driving home from El Yunque we passed a collection of food stalls where we took a chance on ceviche made with local shrimp and scallops. It was fresh and very good!
If you're walking by a panaderia and the baked goods call to you, by all means, answer them. In Old San Juan we found a baker that was so good, we stopped in twice in one day.
Tiny Traveler devoured an excellent cream horn before lunch and a pink-frosted donut after. The grown-ups enjoyed fresh coconut cake that wasn't overly sweet despite a generous dollop of icing.
Pin it for later!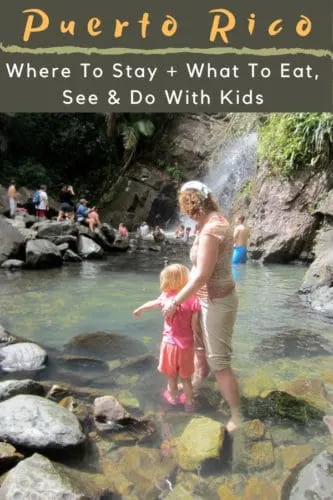 Photos by FamiliesGo!© except the Embassy Suites and Hilton Ponce (courtesy of the hotels), Vieques (Pixabay), the bioluminescent bay the tostones (courtesy of Discover Puerto Rico) and Arecibo (Courtesy of NAIC).