Hanoi is my pick for the best place to begin a visit to Vietnam with kids, especially smaller kids.
The country's capital and second-largest city, Hanoi has plenty of fun things to see and do. Plus, its size, traffic, noise and congestion are more manageable than Ho Chi Minh City's, which you'll appreciate with younger travelers.
You can head off from Hanoi on one-to-three-day side trips to Halong Bay (see below) to the east, Sapa and Ninh Binh in the north, and Hue and Hoi An down south (Hoi An is small and charming and has a nice wide beach nearby).
Before you leave the city here are our suggestions for fun things to do, see and eat in Hanoi with kids.
You Might Also Be Interested In
• 5 Amazing Things To Do in Borneo With Kids
• Our Guide To Siem Reap & Angkor With Kids
• 5 Can't-Miss Activities in Hong Kong With Kids
10 Top Things To Do in Hanoi With Kids
1. Explore the Colorful Shops of the Old Quarter
I highly recommend you start your visit exploring the narrow streets in the Old Quarter. This is the heart of the city and you'll notice the streets are streets arranged by the products sold: paper street (selling gift wrap and cards), spice street, toy Street and cooking utensils street, to name a few.
The French influenced buildings are brightly colored, tall and skinny, typically no more than three meters wide.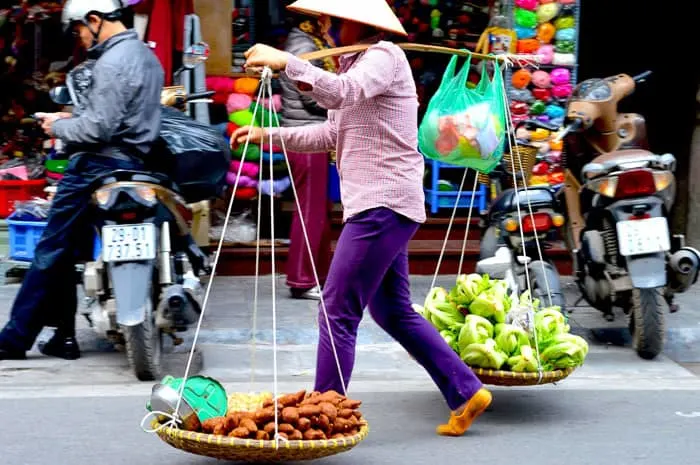 You will be bombarded with the sounds of the traffic, motorbikes and cars continually beeping their horns. The sidewalks are full of vendors selling all kinds of wares, fruits and vegetables from little stalls that spill onto the pavements. It's absolute chaos and completely mesmerizing.
When you need a break from the noise and humidity or just from walking, pop into a café for a fresh-squeezed limeade or other fruit juice, beer or potent Vietnamese coffee.
You can also jump on board one of the many cyclos to take you to your next stop or back to your hotel. Be sure to agree on the price before you get in the cyclo.
Note: Crossing the street in Hanoi is not for the faint-hearted. The best thing to do is to walk across at a quick but steady pace so motorbikes can steer around you. When you can find local people cross and go in sync with them.
2. Take a Food Tour
A food tour is the best introduction to both Vietnamese food and the Old Quarter. I love food tours because there's usually quite a bit of walking between stops and kids get introduced to new foods in a way that is fun and not intimidating.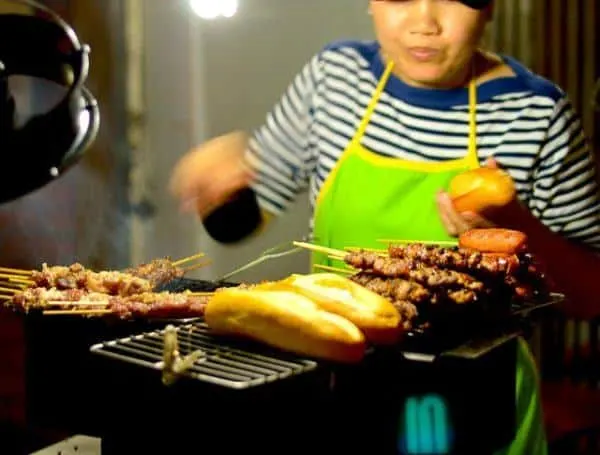 This gives you an opportunity to see more and to digest some of the food you're eating. I really enjoyed strolling through hidden alleyways I would never have found on my own.
And it was handy to have a guide in the produce markets to tell us what some things were and how the Vietnamese used them.
3. Get a Unique Tour From HanoiKids
I highly recommend a HanoiKids, which pairs tourists with Vietnamese teens and college students who want to practice their English.
It's a great opportunity to see the city from a young, local perspective.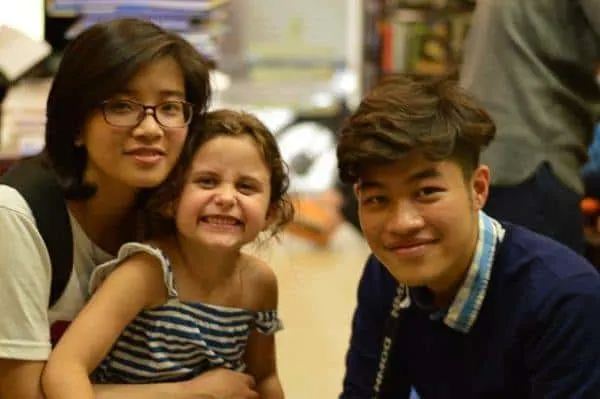 These tours are free and can be whatever you want them to be and so are ideal for families. You only have to pay for any entrance fees, transport and food for both yourself and your guides.
We had two lovely guides who took us to the Hoa Lo Prison Museum and the Museum of Ethnology, and for a walk around Hoan Kiem Lake. They also steered us to some delicious local food.
Our daughter absolutely loved spending the day with them, especially when they gave her piggyback rides along the way.
4. Visit the Museum of Ethnology
The Museum of Ethnology is fantastic for kids! The Museum explores the various ethnic minority groups in Vietnam.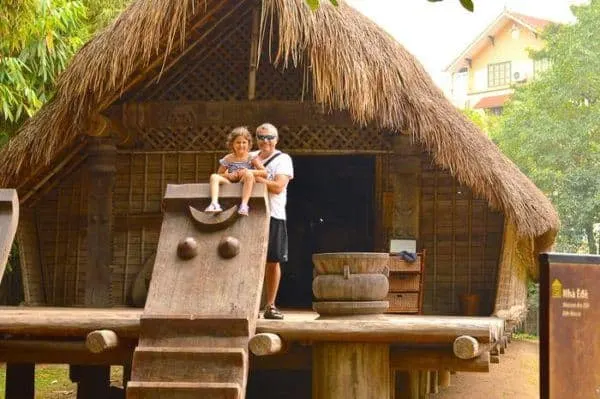 All displays are labeled well in English. While my daughter loved exploring the full-scale replicas of traditional village houses we also learned a lot about the traditional ways of different Vietnamese people.
5. Walk Around Hoan Kiem Lake
A stroll around Hoan Kiem Lake (also known as Sword Lake) takes no more than 30 minutes and is a lovely way to observe the Hanoi residents actually relaxing and taking their own break from buzzing around the chaotic city streets.
Perhaps one of the better-known parts of the lake is Jade Island.
Take the bright red, photo-ready Huc Bridge to the island in this center of the lake.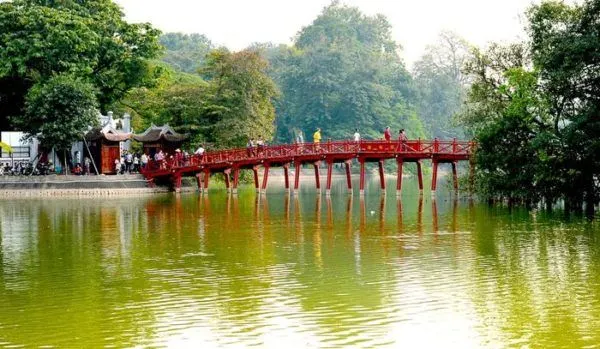 You'll find a lovely 18th century Buddhist temple and can learn the legend behind the turtle tower a stone's throw away.
6. Have a Foot Massage
There are massage stores every few meters in Hanoi, or so it seems! After all that walking you can treat the entire family to foot massages without spending very much money.
There is a whole array of other treatments, too, including full body massages, pedicures, manicures and facials. Be daring and try them all!
7. Watch a Water Puppet Show
Hanoi is famous for its water puppet shows, which are, literally, puppet shows on water. The shows are in Vietnamese, but you and your children will love the beautifully made puppets and traditional music and you can guess at the stories.
You can catch these unique puppet shows multiple times a day, every day of the year at various places around town. The most famous theater is the Thang Long Water Puppet Theater, near Hoan Kiem Lake.
8. Visit the Railway Village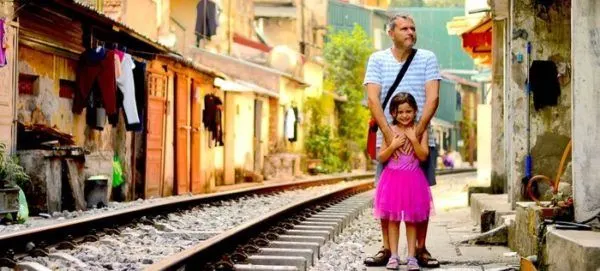 The village referred to as the "Railway Village" or sometimes "Train Street" is a fascinating stop. It's a small village built within meters of an operating railway line.
Twice a day, trains leaving Hanoi to go the south pass through this village Locals know when the train is due and ensure all their belonging and children are safely tucked inside before they pass through.
It's interesting to see the locals go about their day-to-day life with the railway line only meters from their homes.
9. Explore Recent History
These two main attractions will be fine for some preschoolers and school-age kids but could be a bit too much for others. They are probably best done with teens.
Many say a visit to Hanoi isn't complete without checking out the Ho Chi Minh Complex, where the main attraction is the embalmed body of Ho Chi Minh.
I found seeing him to be quite intriguing, but didn't find the complex that interesting otherwise. Consider whether your young kids will also intrigued or freaked out by "Uncle Ho's" preserved remains and whether it's worth a visit to you.
You probably know Hoa Lo Prison by the nickname American POWs gave it during the Vietnam War, the Hanoi Hilton. You can walk through the prison and see life-size mannequins depicting the gruesome life the prisoners endured.
Display boards and video footage offer an in-depth understanding of how the prison operated. Again, this is not for every kid but might be worthwhile for teens who have studied the war in school.
Planning A Vietnam Trip?
• Find reviews and the lowest rates on the best hotels available on Trip Advisor.
• Search for the best air fares to Vietnam with Flighthub.
Take a Side Trip: Halong Bay
If you are visiting Hanoi then you absolutely must take a few days to visit the stunning Halong Bay. It is one of the most scenic regions in Vietnam.
Located northeast of the city, Halong Bay is a UNESCO World Heritage Site. It's well known for the thousands of spectacular limestone cliffs and caves emerging from its beautiful emerald green waters and topped with tropical rainforests.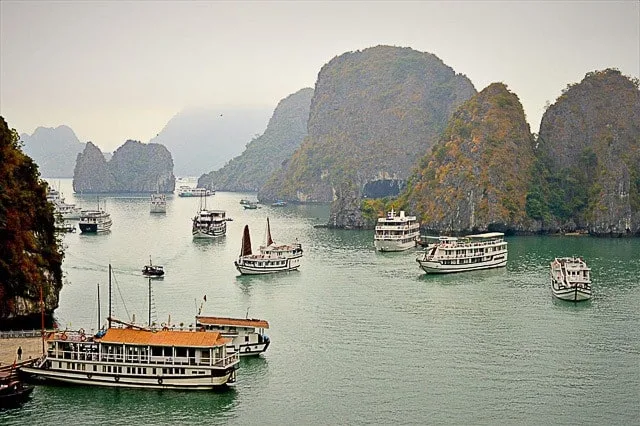 The best way to visit Halong Bay with kids is via a 1 or 2-night cruise on a junk boat. There is a stack of different tours to book, from party boats to more private and luxurious boats — and everything in between
We found a company with a boat that caters to families and had a great experience. Most services provide a shuttle from Hanoi to the bay. Regardless of the boat you book expect to have opportunities to swim, kayak, fish for squid, learn tai chi, hike and explore the lime caves at low tide.
Note: You can also book a kayaking tour where you sleep in huts on an island in the bay. It's reasonably comfortable, the food is usually good and you do a lot of kayaking away from the other tourists. It's an option for families who want a unique camping experience or who might feel cooped up on a boat.
Pin it for later!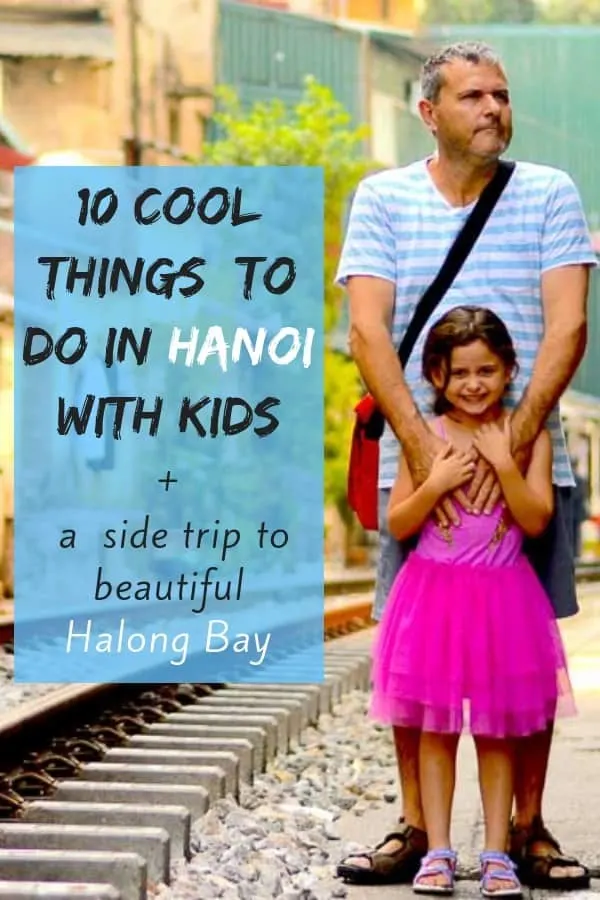 Melissa Delaware is the creator of and writer for Thrifty Family Travels, which details her family's travels both locally and across the globe. Together they experience new cultures, indulge in local delicacies and explore every corner of our beautiful earth. Thrifty Family Travels hope to inspire other families to travel and to show them all the fantastic places the world has to explore.