Turks & Caicos is known mostly to travelers from "up north" as an easy place to get to for a beachy resort vacation—the sort of family vacation where you might not even leave the resort.
But the islands have plenty family-focused activities, food and culture to offer for families with tweens and teens. So much in fact, that my wife Susan and I relocated our family from Canada to the island of Providenciales a few years ago and have never looked back (especially in winter).
Here are some of our five favorite things to do with our tween boys, 10 and 12-years-old, on "Provo," the island where your visit is most likely to start.
Read More
• How to Plan A Vacation Your Teen Will Love
• In you need it, Tips For Turks & Caicos with toddlers and kids.
• The Best Things To Eat & Do in Curacao With a Teen
5 Activities Turks & Caicos Teens Love To Do With Their
We Go to Grace Bay Beach
Grace Bay Beach, routinely ranked as the best beach in the world, is also our favorite Turks & Caicos beach.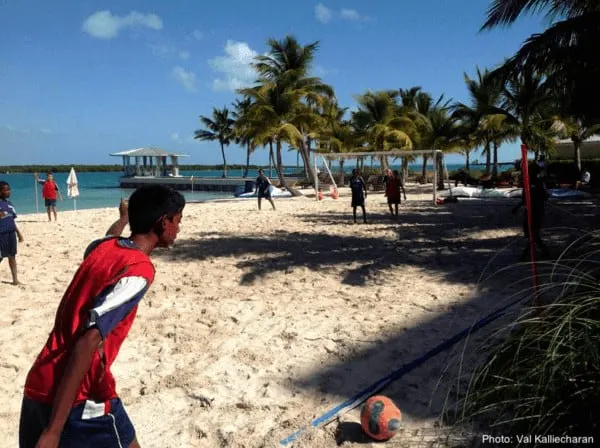 The Coral Gardens reef on the west end of the beach is also a great location to take kids snorkeling. Our boys have been snorkeling there since they were 3 and 5.
Floating around in waist-deep water we can can usually follow turtles around and watch them eat the turtle grass (what else). We can also spot stingrays (they're as docile as sheep) and listen to the parrotfish chomp on the coral.
It's pretty easy to find a swath of empty beach where we can kick a soccer ball around or toss a Frisbee. We also take our boogie boards and ride in with the surf or try keeping our balance on skim boards in the shallows.
Planning a Turks & Caicos trip?
Book the lowest resort rates Trip Advisor.
Find a beautiful beach-front apartment on VRBO.
Find the best airfares and lowest car rental rates on Kayak.
We Go paddling
We love to go Stand Up Paddle boarding (falling off is part of the fun) up and down Grace Bay Beach, where the water is usually pretty calm.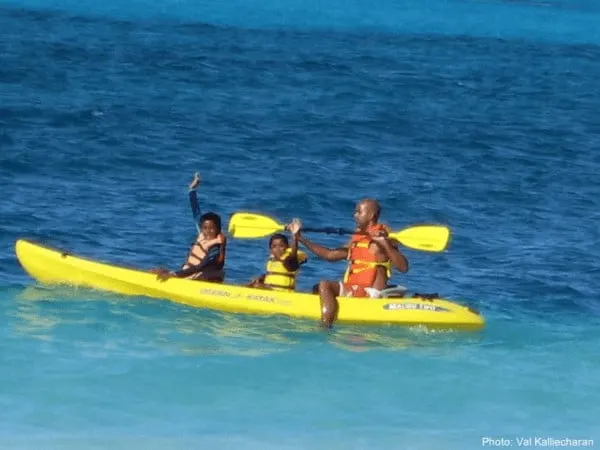 It's also easy to rent kayaks and head over to the mangroves just off the eastern tip of Provo by Mangrove Cay to look for cool fish and baby lemon sharks. We can also hop off in some shallow parts around the point to look for iguanas.
If your resort doesn't have equipment for you to borrow, it's fairly easy to find stores to rent SUP boards and kayaks.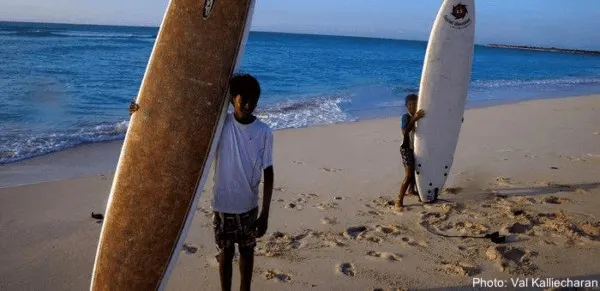 Now that the boys are older we're trying out surfing and let me tell you, it is cool! If you're thinking of bring your board to the islands be warned, our waters are pretty calm. But on a day when you can manage to catch a wave it's awesome. Some resorts lend surfboard and there are a handful of surfshops in town.
We Take a puppy for a walk
Potcake Place is a local dog-rescue charity that is a favorite spot with our sons. Potcakes are mixed-breed dogs found throughout the Bahamas and Turks and Caicos.
The dogs get their name from the congealed peas and rice mixture dogs were often fed from the bottom of cooking pots.
Potcake Place wants to educate people about how to love and care for island strays on Turks & Caicos, so anyone can come and take their dogs a walk and give them some love and attention.
It's right in the heart of the "downtown Grace Bay" area. It's easy to fit in a visit to the shelter if you head into town for some eating and shopping.
We Visit Amazing Caves
Susan and I have taken our sons to the massive cave network near the village of Conch Bar on Middle Caicos, and they absolutely love it.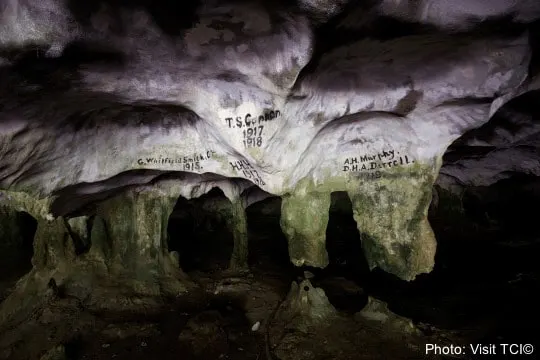 The caves served as homes for the island's early native inhabitants and were mined for guano in the 19th century. In the caves you can spot signs of this history, like initials and dates carved into the rocks.
The trip to Middle Caicos, almost 25 miles from Grace Bay, is the start of the adventure. To see the largest above-ground cave system in the Caribbean visitors travel to the end of a short dirt road flanked by brush.
The cavernous entrance is like something out of Indiana Jones, and the caves themselves—a mix of tunnels and stalactite-filled chambers—are endlessly fascinating for kids.
There is a map at the outside of the cave system, but hiring a guide is an option if you'd like some help navigating the caves as well as someone to tell you about their geology and history. While some of the chambers are roomy, this is a not an excursion for the claustrophobic.
We Enjoy authentic Caribbean Cooking
After you work up an appetite caving, head to the Five Cays Settlement on the south shore of Provo, clear across the island from the Grace Bay Tourist Hub.
Once there, look for a pastel pink-and-blue outdoor fish shack called Bugaloo's, named for Berlie "Bugaloo" Williams, the first person on Provo to start a "conch shack."
Bugaloo was known for wading into the water to snatch up some fresh conch fresh and than cook it for customers in a tiny plywood shed in Blue Hills.
This iteration is a proper restaurant with tables and a bar, but it's beach-front and still pretty casual. Locals who go for the homestyle conch and crabcakes and for live music on the weekends.
Our kids love it! If your kids won't eat the fried conch and shrimp, don't worry, you'll find a burger and grilled chicken on menu, too.
Hope that when you go, it's low tide. When we hit it right we can send the kids play in the sand on the beach while we sip a cocktail from a chair planted right in the shallow water!
Arriving
Provo airport has direct flights to Turks & Caicos from several North American hubs including Dallas, New York and Toronto.
Pin it for later!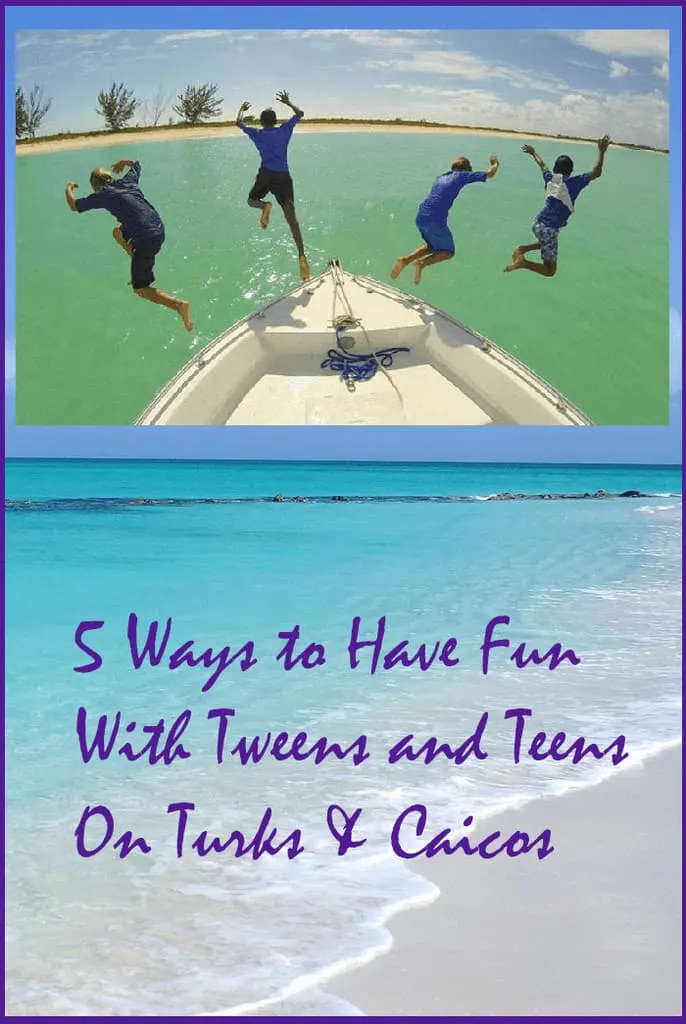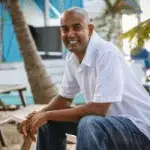 Val Kalliecharan and his family relocated to Provo in 2008. There, he and his wife started in Turks and Caicos vacation planning, an agency that helps families plan and book vacations to the Turks and Caicos Islands. You can read his Turks and Caicos Blog.