We only visit the Hamptons in the off season. In the spring or fall, when the tasting rooms are quiet. the beaches are empty and the permit-parking regulations are suspended, there are quite a lot of fun things to do on a weekend getaway from New York City.
I can't imagine dealing with the crowded restaurants, heavy traffic, no-parking rules and party scene that typifies this string of beach towns during the summer.
But we enjoyed two midweek spring-break getaways to Long Island's East End when Tween Traveler was 6 and again when she was 13. We also had a brief fall weekend visit, too, for a family wedding. We did some of the same activities on all visits and discovered new things to do, too.
Looking for more getaways near NYC?
•Here are 10 Awesome Getaways you can plan today
• Consider: Mystic CT has a fantastic aquarium and historic village.
Great Hamptons Hotels For Families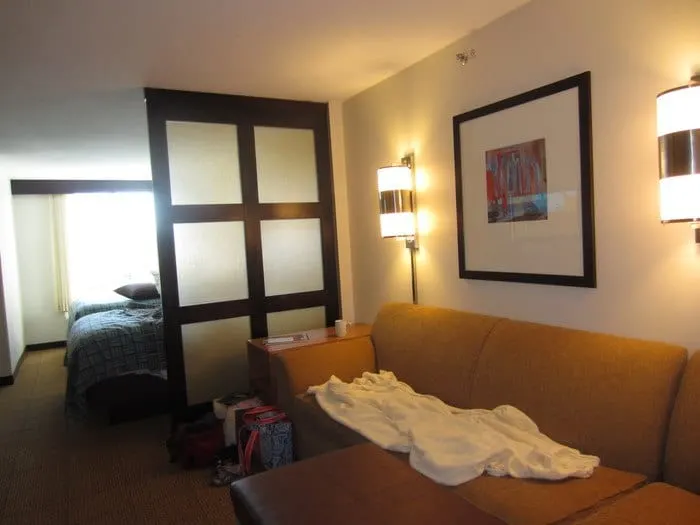 1. On both of our Hamptons visits we stayed at the Hyatt Place East End in downtown Riverhead. Being right in town makes it easy to park and walk to dinner at the end of the day.
The rooms to be pretty spacious and I like that all the rooms have a fridge and a sitting area that's separated from the sleeping area by a half wall.
The indoor pool is a decent size with a big window to let the sun in. It was pretty warm on our most recent visit (it was very cold the first time, so this was a welcome improvement). In the summer there's an outdoor pool with a poolside bar and grill. Neither pool has a hot tub.
In normal times the complementary breakfast is generous and pretty good. During out covid visit an employee served potatoes, scrambled eggs and bacon, and we could help ourselves to extra like boiled eggs, yogurt, juice and coffee and tea.
There's also a bar in the lobby and family sized booths where we saw families eating take-out dinner on both visits.
• Book your room at the Hyatt Place East End
• Or settle into a beach-front vacation rental.
If you want to treat the family to an upscale weekend retreat try for a room at the extensively and expensively refurbished Pridwin Hotel & Cottages on Shelter Island.
Enjoy the gameroom, bikes, yoga classes and sea views year-round. Warm up in spring and fall with fireplaces in the common rooms and cottages. Take advantage of the tennis, pool, paddleboards and kayaks as weather permits.
The restaurant is a little frou-frou for my taste but there is a nice bar and outdoor terrace. Cottages are perfect for families who want to spread out a bit.
Shelter island sits between the forks and has ferries to both of them. It can be a good base for exploring the far East End and Montauk.
In general, the Riverhead area is your best bet for affordable hotel brands with pools. The off-season rental market has been tighter than it would usually be lately. But you can still also find affordable vacation rentals for longer stays, both further out around Greenport, Shelter Island or Montauk, or in the towns just west of the forks like Rocky Point.
• Reserve your cottage or seaview room at the Pridwin.
Or book another great family friendly Riverhead hotel
11 Kid-Friendy Things To Do & Places To Eat & Drink On A Hamptons Getaway
Start With These 4 Kid-Friendly Museums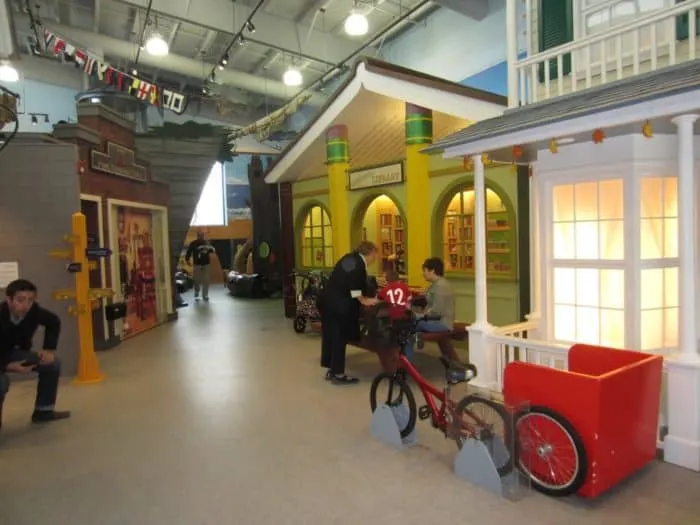 A 6YO Tiny Traveler loved the Children's Museum of the East End in Bridgehampton. Three hours after arriving I could only lure her out with the promise of ice cream.
It has a sizable indoor playground is great for rainy days. But the real draw is the pretend play the museum encourages with costumes and a collection of sets including a ship, lighthouse and a town's main street with a farm stand, soda shop, workshop and library. A compact mock-up of a potato chip factory had her enthralled.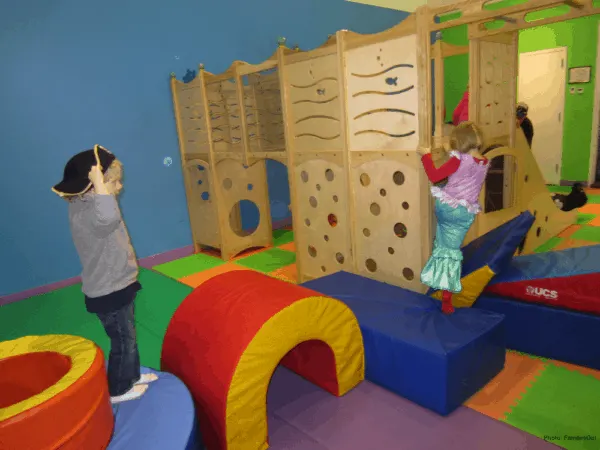 2. I was lukewarm on the Long Island Aquarium in Riverhead. It's expensive relative to other regional aquariums and not nearly as well executed.
That said, Tiny Traveler enjoyed seeing the butterflies and penguins, exploring touch tanks and feeding tiny minnow to the rays.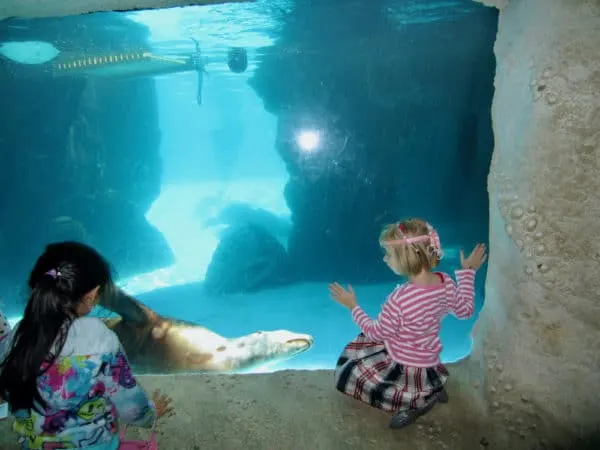 The bird room had a handful of squawking parrots, but the kids liked petting the one perched on an interpreter's hand. I couldn't decide whether the Dr. Zaius statue in the monkey habitat was mildly amusing joke or unbelievably cheesy.
Tip: The Hyatt Place is right next door to the aquarium and often has packages that include a one-night stay and tickets to the aquarium. It's an extremely easy and popular getaway from NYC with young kids. Check in to the hotel, go to the aquarium and walk to dinner in town. The next morning you can enjoy the free breakfast, take a swim in the hotel pool and be home by early afternoon. You don't even need a car, though if you ahve one you can outelt shop on the way home.
3. Local parents have recommended the small South Fork Natural History Museum across the road CMEE. They also tipped me off that there's a nice walking trail behind it. Alas, we didn't get to the first time we visited and I worried Tween traveler would be too old on our latest getaway.
4. We also didn't get to the smallish Railroad Museum of Long Island in Riverhead.
In the warm weather kids can ride a scaled down outdoor train on the weekends. A collection of working Lionel trains are a novelty for kids and return to childhood for grandparents and some parents. This is a good bet if you're looking for things to do with toddlers
Then Get Outside For Farms & Beaches
Visit a farm stand
In the summer and early-to-mid fall it's not hard to find farmstands on the main roads through the North Fork. Look for local tomatoes, corn, apples, pears, pumpkinsand hardy fall greens.
On the South Fork, families with younger kids will want to seek out Seven Ponds Orchard in Water Mill (near Southampton). It's not as well known as some of the other Hamptons farms but it's a local favorite.
In the fall families can pick apples and pumpkins. When you're done picking produce, take advantage of a playground, hayrides and a small corn maze. The farm stand is a fantastic place to stock up for your beach house, or on your way home to the city.
Hit Long Island Beaches and Nature Centers
One advantage of visiting the Hamptons and the rest of the East End off-season is that the parks, beaches and beach parking that are reserved for residents in summertime are open to the public.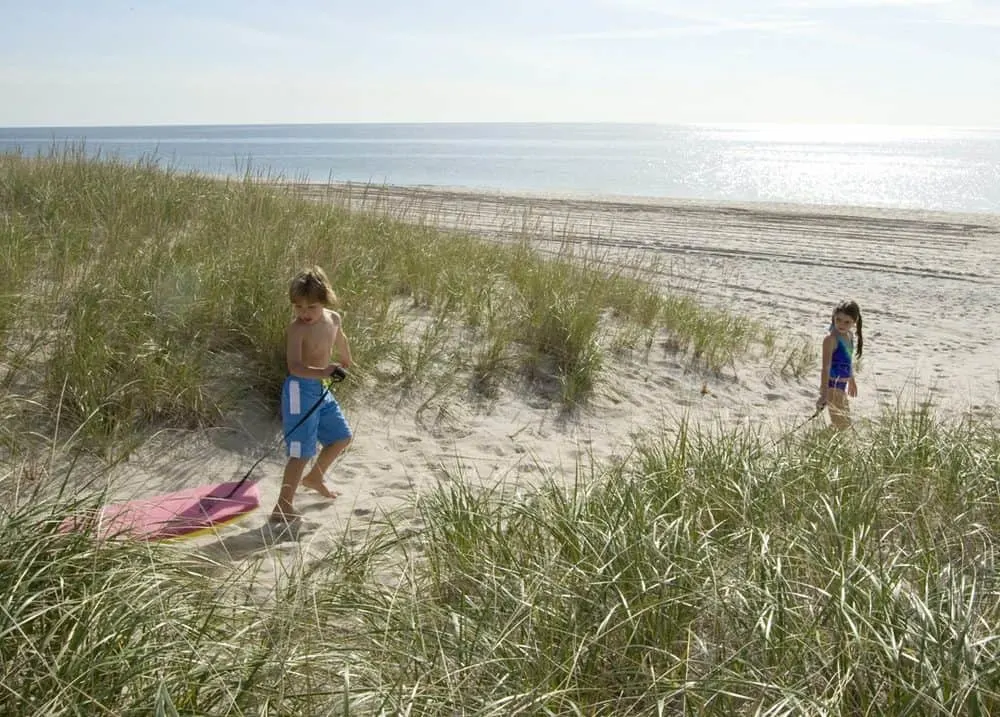 1. On a sunny March day we had the tide pools and dunes on the long stretch of Southamton Beach largely to ourselves. We took a good long walk, collected stones and shells, put our toes in the water (very briefly) and ran arund until we were tired and cold. This is an Atlantic Ocean beach and it can be windy.
2. The North Fork doesn't have the long stretches of beach that the Hamptons do. But we took a nice morning walk and collected more stones on bay-facing South Jamesport Beach (top), which has a parking lot and playground.
• Iron Pier Beach and Bailie Beach Park are two beaches on the Long Island Sound that have room to stretch your legs or kick a soccer ball, too.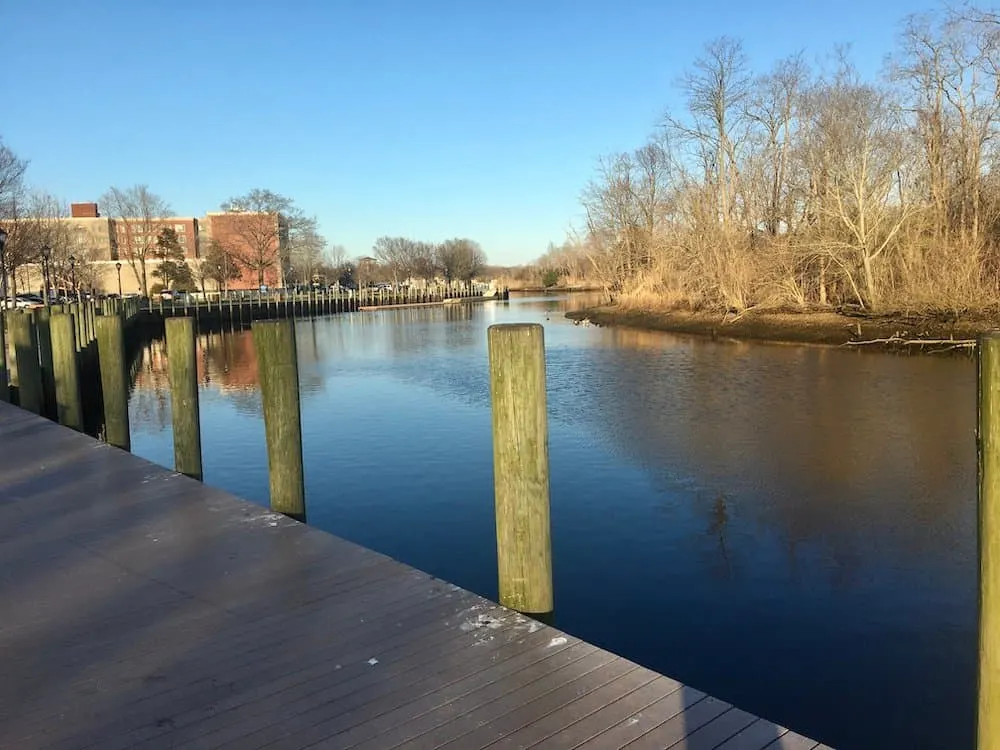 3. A quick and easy way to get outside is the Peconic Riverfront Park in Riverhead. It's quaint and scooter and stroller friendly and you're likely to see ducks, herons and other sea birds. Just head toward the river from Main Street and you'll find it.
4. The Quogue Wildlife Refuge, a nature center with seven miles of walking trails, is open yearround. Indoors, you can visit native animals that teh staff have rescued, including a bobcat, owls, falcons and eagles.
• The Elizabeth Morton Wildlife Preserve, another nature center in Sag Harbor is open all year round, too. It's a great, free outing with kids. Keep your eye out for turkeys, chipmunks, and other local wildlife as you walk along any of several scenic trails. One popular trail leads you to a lovely bay beach where you can take a break and have a picnic.
• Winter Only: Look For Seals: One thing you can only do in the wintertime is go seal watching from the shore. The Coastal Research and Education Society of Long Island offers seal walks from December in to early spring.
Or you can try your luck on your own at Montauk Sate Park and Cupsogue Beach County Park in Westhampton. Either way, dress very warm and bring binoculars.
Leave Time To Shop
There is an enormous Tanger outlet center just west of Riverhead, where the LIE ends. It's two adjaceent collections of outlets with every store you can imagine.
I usually leave time for some shopping on the way home, and have found some really great deals, especially ons portswear and winter coats in particular. But we choose three or four stores to hit depending on who needs what. A full exploration of Tanger takes the better part of a day.
Kid-Friendly Restaurants, Wineries & Tasting Rooms On the East End
North & South Fork Restaurants We Liked
1. Jerry & the Mermaid, a clam shack next door to the Hyatt Place, the Aquarium and a marina, could be pretty run of the mill and still be busy. But someone in the kitchen cares about the food and does creative things like offering spicy-sweet Long Island duck wings in lieu of the usual Buffalo chicken wings.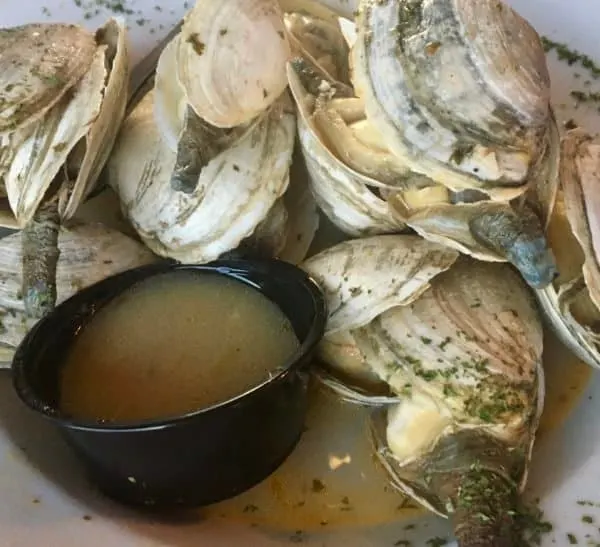 On our most recent visit steamer clams and frogs legs were on the specials board. We skipped the frogs but did order the steamers (thin-shelled clams unique to New England). They were the biggest steamers I'd ever seen in my life, steamed in wine and garlic and served with drawn butter. A win.
We also shared a generous house salad, the duck wings and meaty fried clam strips. All the fried-fish baskets come with waffle fries, which was handy since we would have ordered them anyway (who can resist waffle fries?).
The staff is friendly and helpful. When we couldn't agree on a salad dressing the waitress brought both on the hside without us asking her to. They carry local wines and beer. And they have a kids menu, from which Tiny Traveler ordere a hot dog from on a previous visit.
There were plenty of families and larger groups in the dining room and on the enclosed porch. But a lot of families at the hotel next door get take-out from here and they'll deliver to the hotel, too.
2. One of the play areas at the at the Children's Museum looked like an old-fashioned soda shop. On the wall we saw photos of its real-life local counterparts, including Sip'n Soda, a 1950s luncheonette in Southamton. Feeding a 5YO, it was a no-brainer to head there for lunch.
I had a burger and a vanilla ice cream soda. Tiny Traveler had a hot dog and scoops of Oreo-cookie ice cream in a "fancy" soda-fountain dish. She loved it. I enjoyed it. And it was a bargain, especially for the South Fork.
• There are similar retro soda fountains on the main streets in Riverhead (Star Confectionary Store, below) and Bridgehampton (Bridgehampton Candy Kitchen). They all serve breakfast and lunch and make their own ice cream.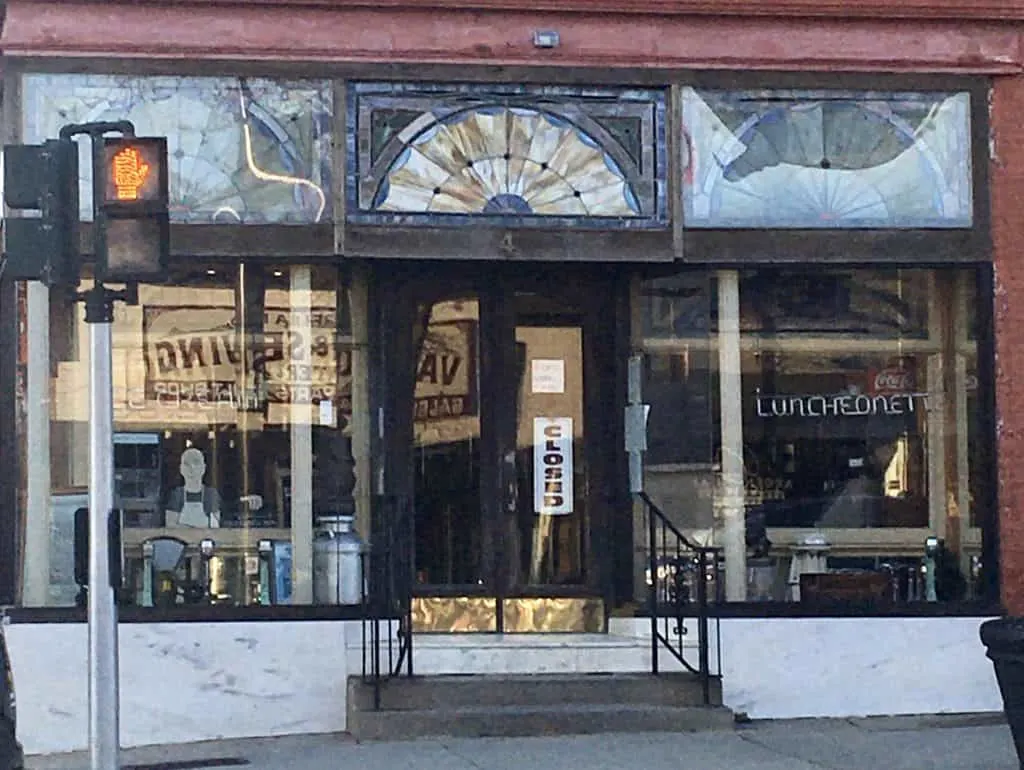 3. On our recent springtime visit we parked in Southampton and strolled up main street looking for lunch. 75 Main caught our eye.
The brunch and lunch dishes people were eating at sidewalk tables looked good. And a table full of teens eating on their own made us think it would inexpensive. Wrong. We forgot, this is still Southampton. Lunch for three with two glasses of local wine and a Sprite ran close to $150.
At the very least, lunch was very good. Tween Traveler had a side-order steak and skinny, crispy fries. Rich had eggs Benedict that were good but could have used a small salad. The two eggs on muffins looked a lonely on their large plate. My pepper stuffed with quinoa, mushrooms and vegetables was that rare combination of healthy and tasty.
Tip: We chose pretty casual places to eat, where jeans and sneakers were fine. But Bridgehampton, East Hampton and Southampton have their stylish cafés and bistros, especially at dinner time. If you plan to try any of these, make reservations, pack something stylish and leave your comfortable mom shoes home for the evening. Also, check reviews or call ahead to find out how they feel about kids.
Treat Yourself At 2 Chocolate Shops
1. Lured by a sign promising free chocolate tastings at North Fork Chocolate, three miles east of Riverhead, we sat in the parking lot waiting for it to open one morning. We weren't disappointed.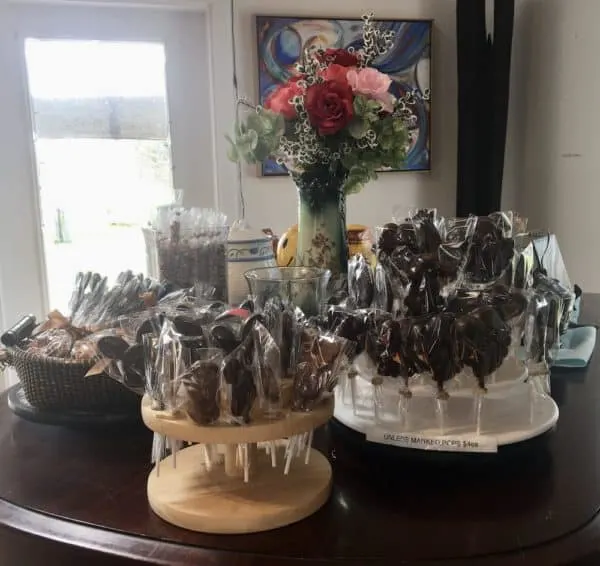 The store itself is big and bright. Chocolate bars, lollipops, truffles, chocolate-covered pretzels and s'mores are displayed in inviting ways. A piano was covered in chocolate bunnies and other animals for Easter.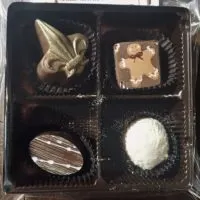 There is a cozy couch and a welcoming porch where customers can sit and enjoy chocolate, ice cream coffee and tempting pastries.
You can buy a "tasting" of four truffles for a small sum. A box of four truffles is a few dollars more. The only difference is the wrapping, so unless it's a gift, go for the sampler. Tween traveler and I couldn't agree on four truffles to share. So we each got our own tasting. They use a lot of local ingredients in their truffles from honey and fruit to wine and beer.
She went for rasberry, strawberry and vanilla fillings. Mine incorporated local rum. honey and apple cider. They were excellent: The chocolate had a good meltiness and the flavors were interesting and well-balanced.
Yup, we absoutely went back for two more tastings on our fall weekend.
2. On an afternoon in Southampton we stopped into The Fudge Company, a small store on Main Street that makes old-fashioned and very kid-friendly fudge, candy and chocolate. Among other things we bought a bag of non-pareil pretzels. The mix of soft chocolate, crunchy non-pareil and salty pretzels was pretty addictive.
Tween Traveler also bought salt-water taffy. It was chewy and not hard, which is a sign of good taffy. But her flavor choices were too sweet for me so left her to it.
Explore Some Family Friendly Long Island Wineries
The North Fork is full of wineries and vineyards that have only gotten better over time. The days of hitting a bunch of wineries in one day seem to be over (especially if you have kids). They still offer flights for sampling. But the popular thing to do these days is to settle in with a picnic (BYO or purchased from the winery) and a couple of glasses of wine or a bottle to share.
This approach makes a winery visit more family friendly, especially in the quiet off-season. Look especially for the wineries with outdoor terraces or picnic areas, where kids can roam around a bit while you sip.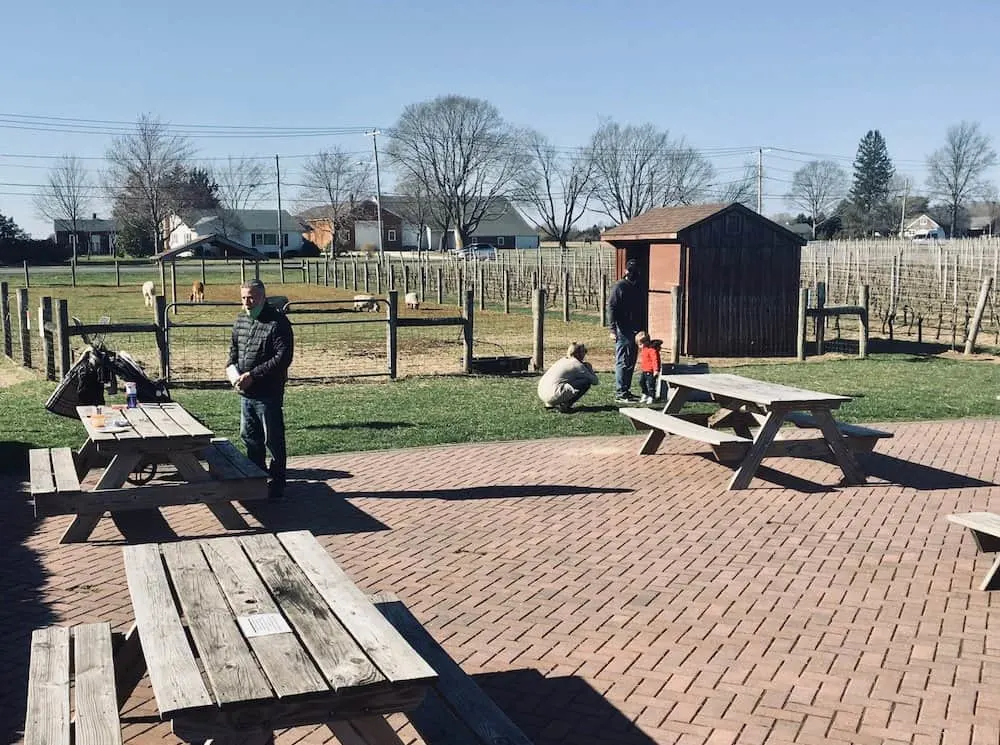 1. On our latest visit we stopped into Jason's Vineyard, which has alpacas, sheep and a half dozen picnic tables next to its vineyards, making it one of the best wineries to visit with kids along.
It was a sunny, warm April afternoon. Kids ate, visited the animals, explored the empty covered deck and even played catch on a patch of grass near the tables while their parents sampled the reds, whites and rosés.
We shared a flight that included a dry rieseling, a steel-tank fermented chardonnay, a rosé, a meritage (red) and a very rich and port-like dessert wine. We liked both whites and the dessert wine but it was the rosé that we went back to order by the glass.
Tip: The Jason who owns the winery is Greek and the longboat on the bottles and the logo is for argonauts, not vikings as we first guessed.
2. On our previous visit, Tiny Traveler snuggled with me by a fireplace and had a snack while I tasted a flight of reds and whites at Roanoke Vineyards. Afterward, with permission from the staff, I showed her the rows of budding grape vines out back.
Had it been a smidge warmer I would have sat on their outdoor patio and let her run around on the grass.
Sample The Hamptons' Beer & Cider
A cluster of microbreweries and hard cideries has sprung up on the East End, many of them in and around Riverhead. Most aren't open for lunch on off-season weekdays so we never get to the during spring break. We fared better in the fall when it was a weekend and the height of apple season. If you can't get to the tasting rooms look for local brews on restaurant menus.
1. Woodside Orchards is a small working farm and cidery across the road from North Fork Chocolate. They always have dry and sweet ciders and might have pumpkin, cinnamon, berry or something citrusy, depending on the season.
It was a great place to stop on the way home on our October weekend (after our return visit to the chocolate shop). We picked up a jug of regular cider, a bottle of tart hard cider and sugar-coated apple cider doughnuts, which sustained us on the the ride home.
2. Riverhead Cider House, 15 minutes north of town, has a big, barnlike tasting room that was hopping on a Saturday afternoon in October.
They have a dozen of their own ciders on tap– an ambitious program for a young cidery. But I've been told they took on a new cidermaker a couple of years ago and that he is skilled and doing good things. And I would agree with this.
The basic apple ciders are good and the brewer knows how to incorporate other fruits, like berries and passion fruit or lemon in a cider-shandy, without making them too sweet or losing the apples.
The tables were mostly high tops and while they also sell local wine and beer, their soft drink menu was limited. They have a kitchen that serves up pizzas that were better than I expected, sandwiches and shareables like chips and dip. Tween Traveler was happy to sit at a high top with us, munch pizza and play cards. But despite their having a kids menu I'm not sure how well you'd fare there with younger kids.
• Blue Point Brewing Company, one of the more established breweries out here, has a brewpub in Patchogue; its Toasted Lager is one of my go-to local beers in Brookly and goes great with the local oysters that are usually on their menu. This is one of those places I keep trying to get to and somehow missing it.
• Peconic Brewing Company has a very attractive deck overlooking the Peconic River right in Riverhead, steps from the aquarium. And it has tempting bar snacks like Buffalo cauliflower to go with its brews. It's a handy and easy way to reward yourself for an afternoon at the aquarium with the penguins and Dr. Zaius.
Get to Know Eastern Long Long Island
Which fork to choose?
The East End of Long Island splits into two forks just beyond Riverhead, which is about 80 miles from Manhattan.
From there you can explore the North Fork, which is densely populated with farms, wineries, local restaurants and small pocket beaches.
Or you can choose the South Fork, which includes the Hamptons towns and Montauk. It has long stretches of beach, scattered wineries and stylish towns with boutique hotels and upscale restaurants.
Keep in mind that Montauk Point, the furthest tip of Long Island, is 50 miles from Riverhead, driving on local roads, not highways. I recommend saving it for its own weekend. Trying to fit it into a broader visit will be exhausting and more driving than you want to do.
Shelter Island sits between the forks; you get there by ferry from Greenport on the north fork and North Haven on the south fork.
Your Riverhead homebase
We have used Riverhead as our base for all three visits and I think it's the best Hamptons town for families on weekend getaway. It's easy to explore both forks from here. Plus, it has family-friendly hotels with indoor pools and reasonable rates. And it has a handful of casual restaurants that you can walk that are good, not insanely expensive and kid friendly.
If you mostly want to hang out around Riverhead, you can take the Long Island Rail Road and rely on taxis when you want to get away from town. To really explore the forks though, and to get to the beaches, you'll want a car.
Weather
It's always 5 to 10 degrees cooler at the beach, and beaches out this way can be windy. Bundle up for winter weekends. Layer in the spring and fall when days are sunny but cold; definitely pack a fleece and something waterproof. Remember to pack sunscreen; I've gotten some of my worst sunburns on spring and fall beach days.
Pin it for later!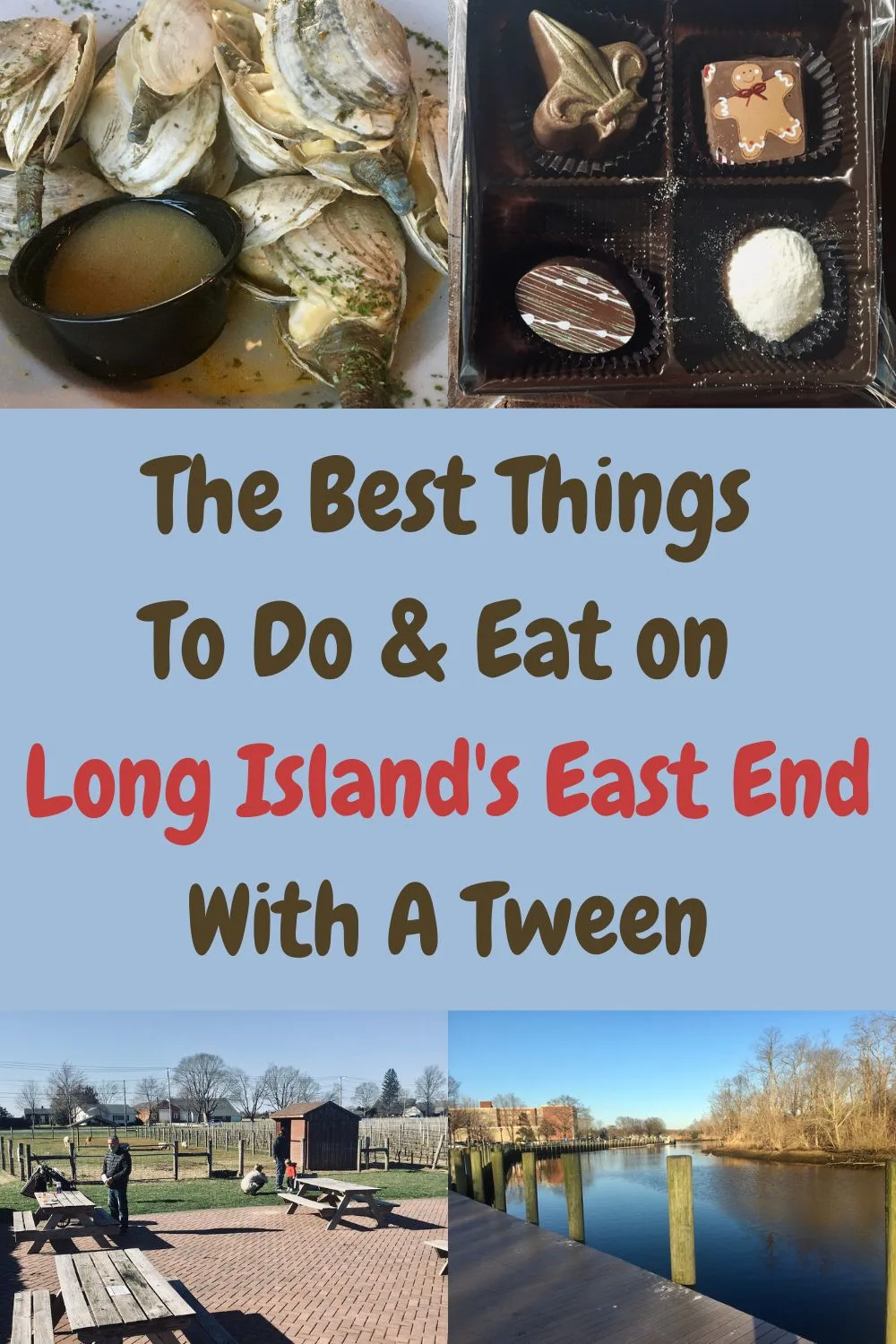 I had help on this post from Jennie Magaro, co-founder of Hamptons Family Concierge, a travel-planning service that will customize itineraries, plan events and schedule services and activities for families visiting the Hamptons.