Vancouver City doesn't lack for easy weekend destinations. But I do think that my adopted town of Sidney by the Sea is a bit of a hidden gem.
My young family settled down in Sidney, on Vancouver Island in British Columbia, because we wanted a friendly, walkable town with ample local outdoor markets and plenty of cheap or free things to do with kids in the summertime.
This former fishing town on Vancouver Island perfectly fit the bill. Some of the things that make Sidney a pleasant place to live also make it a fun place to visit with kids. It's ideal for an easy weekend getaway from Vancouver or Seatle. It can also make a great sidetrip from Victoria or a relaxing stop on a longer road trip around Vancouver Island.
Here are the things we make sure to do with any families who visit us in Sidney by the Sea.
More Weekend Getaways From Vancouver
• 15 Things To Do in Seattle With Kids
• Top Summer Adventures With Kids in Whistler
• Your Guide To Olympic National Park With Kids
10 Things To Do On Your Relaxing Sydney Weekend With Kids
1. Enjoy Market Night
Did I mention markets? The Sidney Street Market is more a weekly street fair than green market. It typically stretches out along Beacon Street on Thursday nights in June, July & August.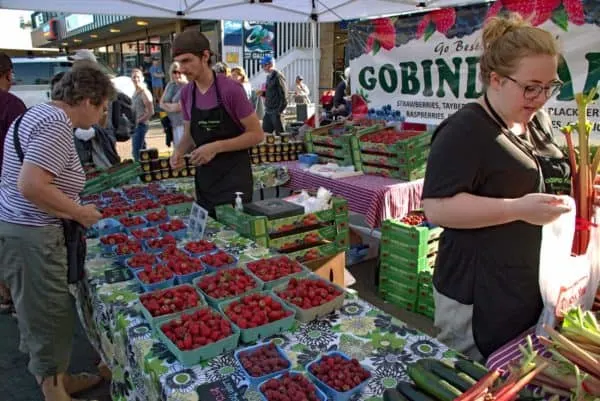 Expect live music, items made by local artists and artisans, prepared foods, local honey, fresh bread and, of course, seasonal local produce. Find berries to eat on the spot and jam to take home while listening to a local band.
Tip: For 2021 they've moved it to Sunday at the Mary Winspear Center, where it will primarily be a farmers' green market.
2. Hit the beach
The most accessible beach—and popular— for visitors is Glass Beach.
At the foot of Beacon Avenue, Sidney's main drag, a walkway stretches along the coast to a sandy beach that's home to a large eagle population.
But our favorite beach is a nameless patch of sand off of Goddard Road, a 15-minute walk up 3rd Street from the town center.
It's hidden from view by a thick forest of towering Douglas Firs, but if you manage to find it you'll also find a white oyster-shell shingle, and lots of local families wading in the tidepools looking for sea creatures.
It's a particularly handy beach with smaller kids but teens get a kick out of the tidepools, too.
3. Stroll the SeaWalk
Even when it isn't warm enough to go to the beach, you can stroll along the Waterfront Walkway and take in the beaches, the sound, a marina and more. It's less than three kilometers, which is a manageable distance with even young kids (though it never hurts to bring the stroller for the littlest ones).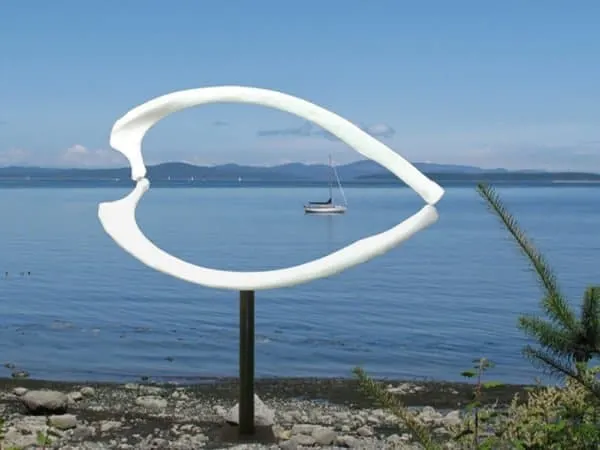 For a different kind of walk, start in Beacon Park and follow the sea wall that stretches down the Saanich Peninsula. Along the way you'll spot a series of 9 outdoor sculptures, all different and each suited to its location.
If you're really ambitious, download a map of the town's system of pedestrian paths and walking trails to explore all over town, including parks and woody inland trails.
4. Get out on the water
We love the rich marine history of the town, where many people still work in boatbuilding or fish for salmon and halibut for a living. During long summer evenings we like taking our kids crabbing off the Sidney Pier (be sure to pick up a license first).
At least once a summer we still take a short ferry ride from Sidney Pier to Sidney Spit Marine Park, an uninhabited, forested island that's popular as an anchorage with sailboats traveling to Alaska.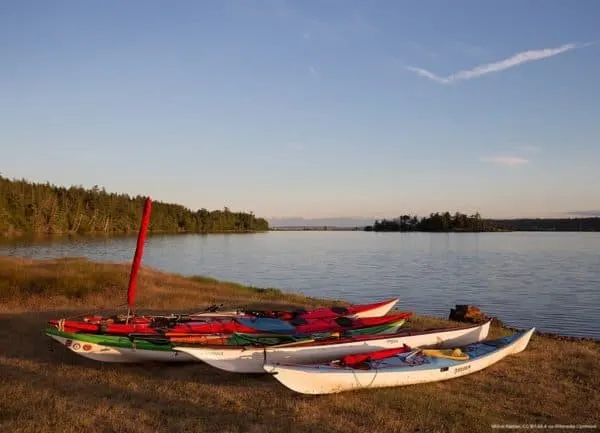 Our family is still a little too young for it, but many people with tweens and teens launch sea kayaks from Glass Beach to explore the Salish Sea and its nearby maze of islands
5. Spend a day at the aquarium
The Shaw Ocean Discovery Centre is a newer attraction that's been drawing us back to the town lately.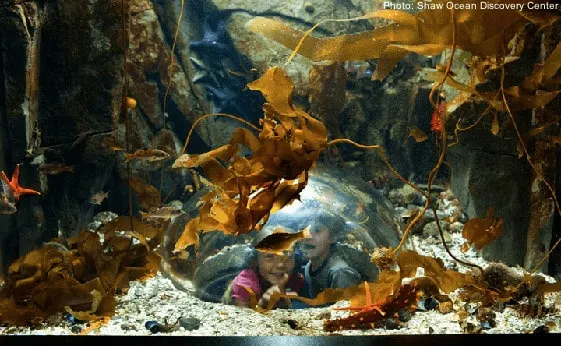 One of the most unique and innovative aquariums in Canada, the Shaw Discovery Centre does a great job of explaining the ecology of the Salish Sea, the local name for the body of water stretching from Puget Sound in Washington State through the San Juan Islands.
There are plenty of hands-on exhibits that have staved off boredom during our rainy winter season.
6. Browse Booktown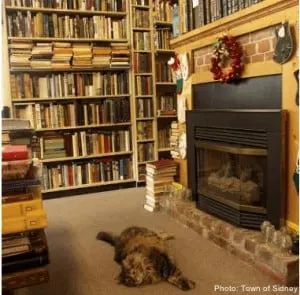 In an era where bookstores in many cities are going out of business Sidney still has about ten independent and used bookstores dotting Beacon Avenue, earning it its status as Canada's booktown.
You'll find a children's bookstore, a bookstore devoted to gardening.
My favorite would have to be the Haunted Bookshop. It always has what I'm looking for, no matter how obscure the topic.
As an added bonus, it's just around the corner from a large toy store, an asset I confess I've used to bribe my kids to give me more time with books!
7. Hop on a Bike
The opportunities for cycling are one of the chief reasons I wanted to live here. Motorists are used to and generally respect cyclists and there is a plethora of bike routes around town.
There's a genuine bike culture, too, with dozens of bike shops offering rentals, specialty parts, advice on where to ride and a sense of community.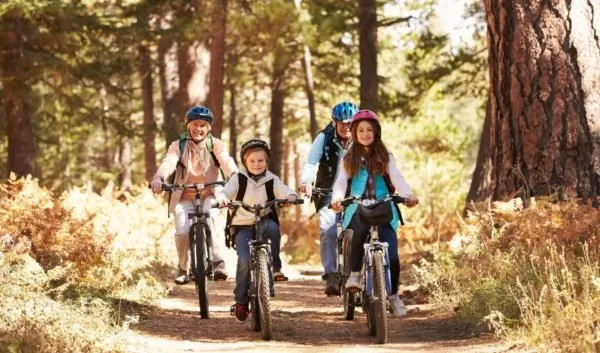 Sidney lies along the Lochside Regional Trail, which takes you out of town, along the coast, through forest and past farms.
It connects with the 55-kilometer Galloping Goose Trail, a 55-kilometer rail trail that will take you from Victoria to Sooke.
If your children are old enough, it's entirely possible to do the round-trip to Victoria and back in one day.
The route passes through forests and farming country, but here are times where riders must share the road with cars.
8/9. Rainy Day Options
There's an independent movie theater with weekend matinees. These can include classics as well as current indie fare.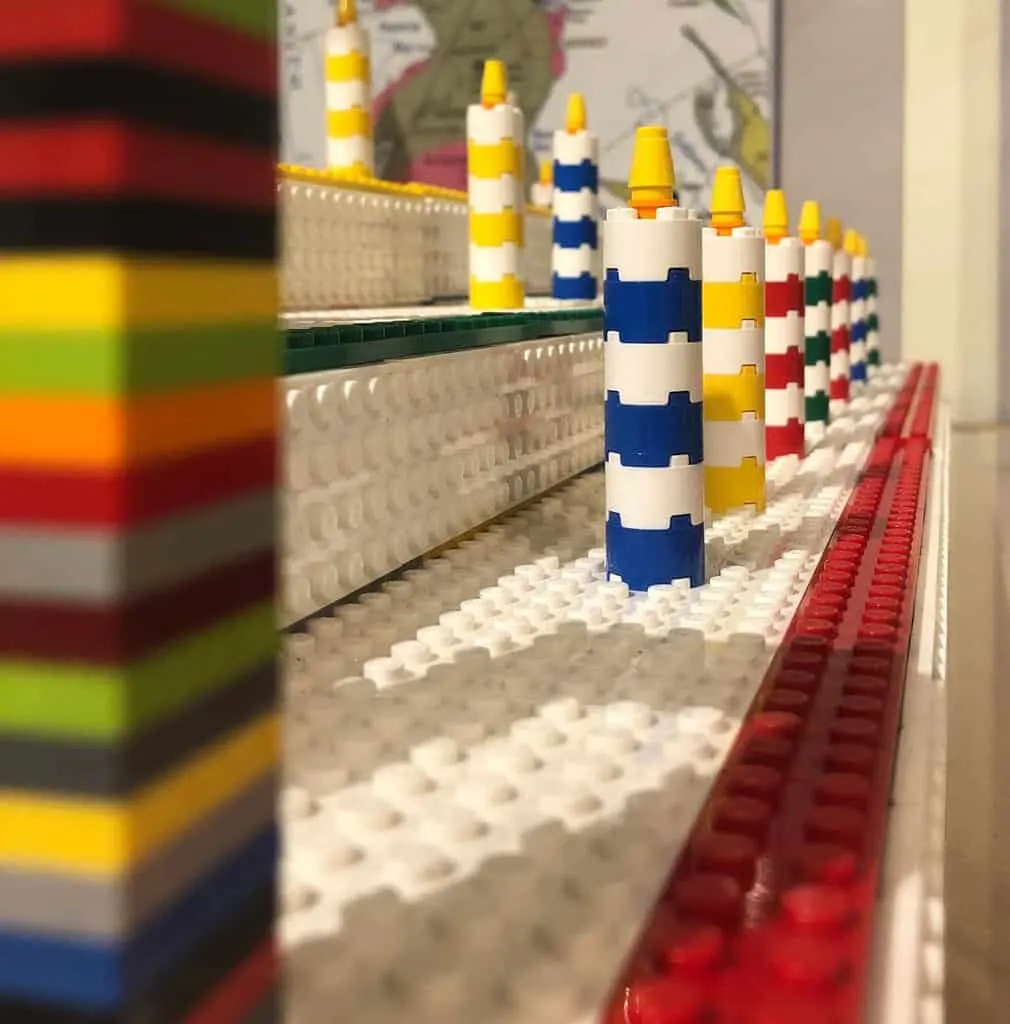 The Sidney Museum is your stop for loval history but kids and teens will want to stop by for the annual Lego expo. It usually happens in winter but is staying until May in 2021.
10. Sidetrip from Sidney
A sidetrip I strongly recommend is to Butchart Gardens, the most famous attraction in the area, about 15 miles away across the island.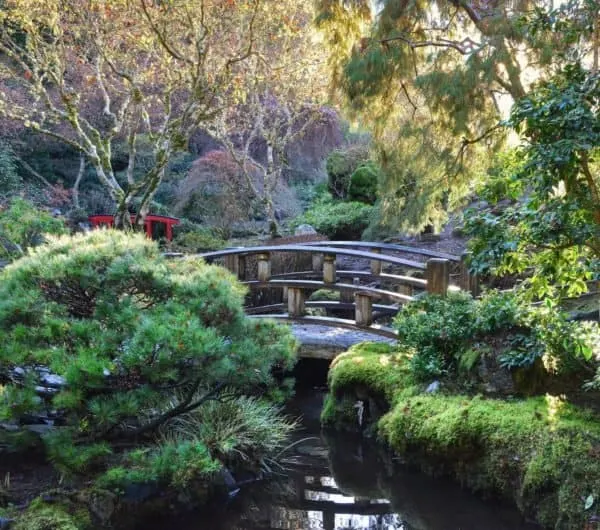 Follow meandering paths over tiney bridges and through 55 acres of sculpted gardens, plus 26 green houses. It also has a small carousel for the little kids. Check its events schedule for wonderful fireworks shows on weekend evenings in the summer.
Practical Information For a Sidney Vacation
Getting to Sidney
Sidney is on northeast side Vancouver Island, near the tip of the Saanich Peninsula. It's a 30-mile drive from Victoria, which sits at the south end of the island.
It's a two-and-a-half hours from Vancouver and four hours from Seattle. Most of the ride from Vancouver is on the ferry and from Seattle you need to cross the border before boaring the same ferry from Tsawwassen.
Victoria Internatonal Airport is a few minutes from Sidney with flights from Vancouver (several daily), Calgary and Seattle.
Sidney Weather
As with much of the Pacific Northwest, Sidney has a rainy season that runs from September or October through March.
Temperatures range from the 50s at night to the 70s during the day in summer, and from the 40s to the 60s in spring and fall. Winters are pretty moderate, with temperaturs hovering in the mid 30s and 40s.
As with anywhere in this region, pack a rain jacket. Expect chilly mornings and evenings and be prepared to peel off layers in the afternoons in summer. I'd also pack shoes that can get wet for activities like kayaking and wading in tide pools.
Sidney Hotels
It will be hard to find better value than the Sidney Waterfront Inn & Suites. It's right in town, on the water, and has its own small beach, free breakfast and free parking, Ask for a room facing the water.
The Sidney Pier Hotel & Spa has a picture perfect location on a the water. It's more airy, modern and upscale. It has family rooms and suites and an onsite bar, which is handy for a nightcap after the kids go to sleep.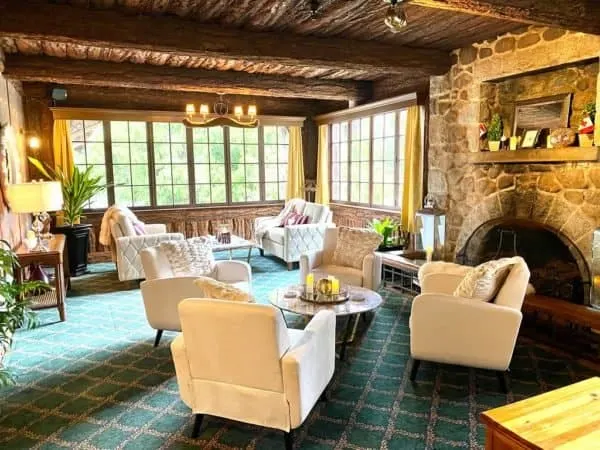 If you're traveling with older kids and want something a little different, book one of a handful of rooms at the Latch, a woodsy boutique hotel on the water a few miles from town. It was built for a Lieutenant Governer in the early 1900s and hosted the future King King George VI and his brother when they toured Canada in the 1920s.
Pin it for Later!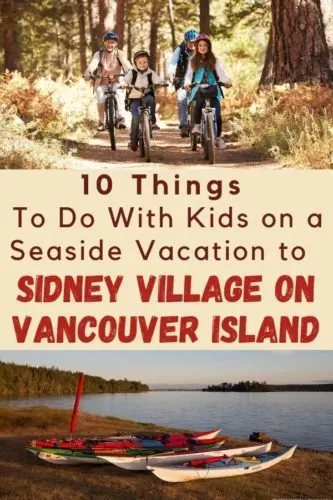 Nevin Thompson and his family live in Victoia, BC and love exploring their region.
Photos provides by the Town of Sidney, the Capitol Regional District, Shaw Ocean Discovery Center, the Sidney Museum, Butchart Gardens and The Latch.