We weren't planning a Spring Break trip to Florida. At all. But then I won two free nights in a cute "cabana cabin" at a Camp Margaritaville Resort In Auburndale, FL. It's near Orlando and pretty much right-smack-dab in the middle of central Florida. So we booked an additional night and used our cabin as a base for a coast-to-coast four-day road trip.
We landed in Tampa on the Gulf Coast, made our way to Cape Kennedy Space Center on the Atlantic Coast and then returned to Tampa to fly out. It wasn't a restful four days by any means. But it was fun long weekend and an action-packed road trip can be a great family bonding experience.
Here are all the stops we made across Florida, all the things we did and ate and our experience at Camp Margaritaville.
---
More Road Trip Resources:
• 8 Tips for a Wonderful Disney Cruise
• 8 ways to help car sick kids
• Essential road-trip safety for families
---
A Weekend Road Trip Across Central Florida With A Teen:
The Good, The Bad & the Yummy
Central Florida road trip itinerary:
Day One: Land in Tampa; lunch at Bahama Breeze near the airport; Bok Tower Gardens; Camp Margaritaville
Day Two: Universal Studios Florida in Orlando
Day Three: Cape Kennedy Space Center; dinner in Cape Canaveral
Day Four: Margaritaville; Florida Southern College for Frank Lloyd Wright Buildings; lunch at Big Ray's Fish Camp on the Riverwalk; fly out of Tampa
Universal Studios Florida in one day: Can you & should you?
It's always ambitious to try to do a big theme park in one day. But we have a 14-YO, not a 4YO, who had realistic expectations and the stamina to spend 12 hours at the park. And our plans were not ambitious. At Universal Studios Florida we were all about the Wizarding World.
We wanted to do the four big Harry Potter rides, take the Hogwarts Express, drink butterbeer and wander around Hogsmeade and Diagon Alley with our expensive interactive magic wand. Anything we had time for beyond that was gravy.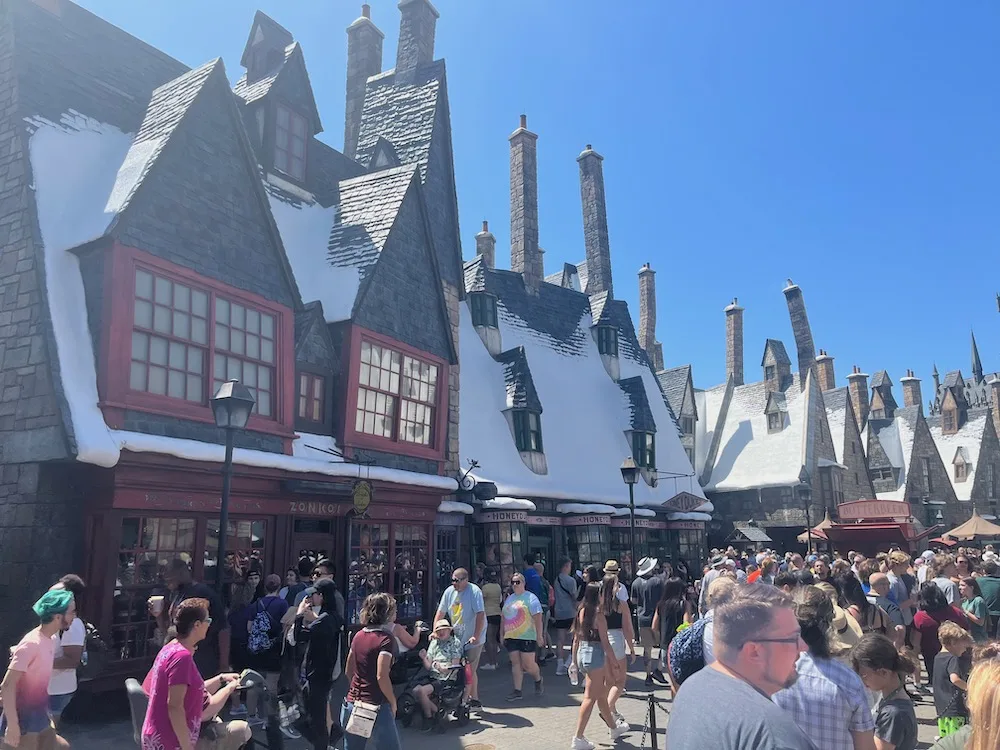 First, the good: the Harry Potter worlds are incredibly well done. Hogwarts Castle, Hogsmeade and Diagon Alley come to life down to the slightest detail. Part of what your (very) expensive admission covers is the opportunity to walk around these immersive settings. Hogsmeade, with its slightly askew snow-topped roofs and the castle looming above it, is very picturesque and that section has three of the four major Wizarding rides. But I think there is a bit more to see and do in Diagon Alley.
One touch I really loved: The Hogwarts express leaves you on a random London street and the entrance to Diagon Alley isn't signed. You have to find it. The dragon atop Gringotts periodically spews fire and you feel the heat from a good 40 feet away. You can wander down Nocturne Alley, which has some of the most fun effects to trigger with the interactive wands.
Tip: The wands can be finicky; the trick is to look for a tiny red infrared light and aim your wand at it. We liked Nocturne Alley because it's always dark there, making the light easy to spot.
There are ads for things like family size brooms painted on the walls in Diagon Alley and a street theater troop acts out the Tales of Beedle the Bard. This is low-tech by the theme park's standards but they use very cool puppets and worth making a point of seeing.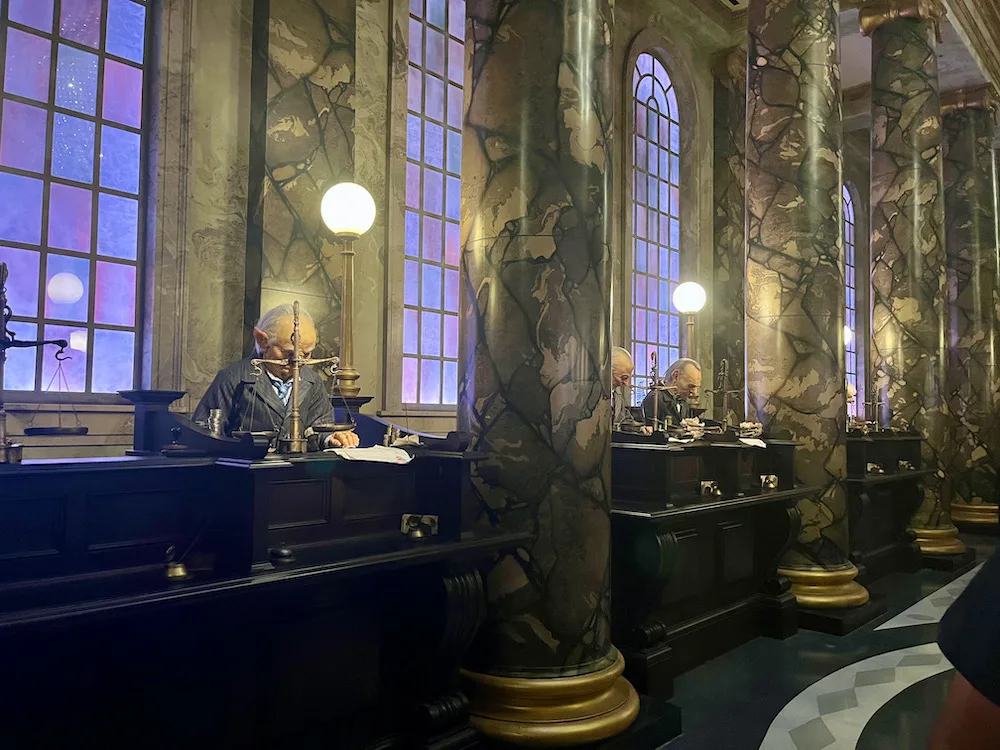 The Forbidden Journey ride in the castle and Escape from Gringotts are more immersive than any theme park rides I've been on. You feel like you are careening toward the quidditch pitch and flying through the womping willow on the former. On the latter you feel like you're about to run off the rails in the Gringotts caves while being toasted by a dragon and hexed by Voldemort and Bella LeStrange.
Tween Traveler and I chickened out of Hagrid's Magical Creatures Motorbike Adventure when we saw it up close. But Rich went on and thought it was very fast and tremendous fun. An employee told us that people come to the park just to ride this relatively new coaster and you have to accept that the line for it will never be short.
Tip: Consider the single-rider line here. You'll most likely be in a sidecar rather than on the motorbike and you won't be paired with someone you know, but Rich only waited ten or 15 minutes when the wait on the regular line was close to two hours.
Tween Traveler and Rich rode the Flight of the Hippogriff, a relatively small but fun roller coaster, while the castle light show was going on. They could see the light show from the coaster, which Teen Traveler found especially fun.
Definitely stay for the light show. They do it every 20 minutes as it starts to get dark. As soon as one show clears out, position yourself for the next one. An employee told us the prime spot was in front of the stage where the Triwizard show happens during the day. So that's where we stood and it was perfect viewing.
Note: Hogsmeade is in the Islands of Adventure park and Diagon Alley in the Universal Studios park. If you want to experience both and ride the Hogwarts Express between them you have to buy a two-park hopper ticket. This made a day at the park cost about as much as the round-trip flight to Tampa, or possible more when you add in what we spent shopping and eating at the park.
Now for the not-so good: There were points in the day where we thought the park should be called Universally Long Lines.
Especially frustrating: The wait time for Hogwarts ride measures how long it takes to get to the castle entrance and the Gringotts wait time tells you how long it takes to get inside the bank. The castle is really cool inside and its entertaining throughout the walk through. And once you're inside it takes about 20 minutes to get to the loading platform for the ride.
But once you get to the doors of Gringotts, which is very, impressive, it takes another 45 minutes to an hour to get on the actual ride. Much of that waiting happens in a very long, very boring corridor below the bank. It turned what we thought would be a reasonable 90-minute wait into a tedious two-and-a-half hours. Instead of walking away from the ride saying, "that was so cool!" we walked away saying, "that was a long line!"
Afterward we were pretty much done waiting in any lines for anything for the rest of the day.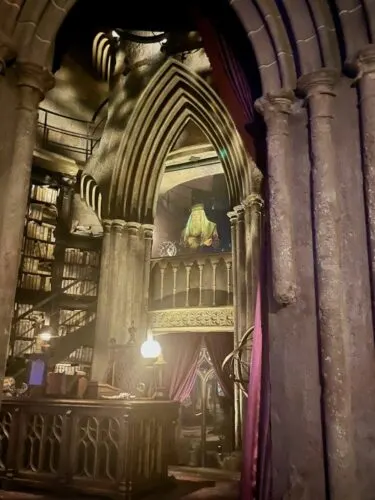 There were a few rides we were curious about—the Simpsons ride is supposed to be great and the Men In Black and Jimmy Fallon rides seemed likely to be immersive and fun. But they all had 30-to-60-minute waits and after we escaped from Gringotts we weren't having it. In general, the higher the thrill level, the longer the wait. We didn't want to do any of the really big coasters, which made planning our day easier.
We walked back to Hogsmeade instead of taking a return trip on the Hogwarts Express because the wait for that grows quite long later in the day. But walking back gave us the opportunity to see the rest of the Universal Studios park, including Springfield and the studio lot, which was fun.
We wound up riding a couple of the Seuss Landing rides. Yes, they're for younger kids, but after the adrenaline rush of the Harry Potter rides they were soothing. They bring all the Dr. Seuss books you read as a kid to life and immerse you in them. Anyone who loved these books as a kid can appreciate the visuals. And they had minimal wait times.
My Advice: I always advocate staying at a theme park's hotels. Had we not had our free cabana cabin I would have stayed at Universal and it would have been worth it. You get an extra hour before the park opens to the general public where you can hop on the most popular rides.
If you get this hour use it to ride Escape from Gringotts and then hop over to Islands of Adventure for Hagrid's Motorcycle Adventure. Or just ride one of them twice in a row. Seriously, getting to do Gringotts twice with minimal wait would make that hour worth it.
Plus, if you stay at one of three premier hotels (Loews Royal Pacific, Loews Portofino or the Hard Rock Hotel) VIP line passes are included with your room. These hotels aren't as expensive as you might expect and they could turn out to be quite a good deal. Because…
If you don't stay at the park VIP passes can add $100+ per person to your tickets during busy weeks. If you have just one day you have to either splurge or prioritize well and accept that you won't get to everything. A general rule of thumb is that the higher the thrill level, the longer the line. On peak periods some VIP queues will still have a line, but it will be 30-45 minutes, not two hours.
Once the castle lights shows start, people line up to watch and then tend to leave. So between 8:00 and 10:00 is a good time to get onto some popular rides with less of a wait. We did the Hogwarts ride a second time and were at the castle doors before the line started. Tween Traveler and Rich road the Hippogriff coaster three times in a row with no wait, which made their day and ended our theme park day on a high note.
Restaurants & shopping at Universal Studios
If you aren't set on eating at the Wizarding World pubs, Springfield had promising food options at Universal, including Bumblebee Man's taco truck and Lisa's Teahouse of Horrors. In Islands of Adventure the Port of Entry has Confisco Café's global menu. The Circus McGurkus Café has standard pizza and burgers but really wild theming. And the Seuss train passes through the top of the "big tent."
We really wanted to eat at either the Leaky Cauldron or the 3 broomsticks and they were both packed at lunch. So we detoured to San Francisco for a lunchtime snack— conch fritters and a beer or Rich and I; lemonade and pretzel for our teenager.
Then we had dinner around 4:00 at the Leaky Cauldron with no wait. You have to use their app to order food and they seat you once your order is in. For some reason the park's wi-fi chose that moment to flake out on me so it took a few minutes to sort out how to order. Servers deliver your meal to your table.
Eating on and with plastic detracted from the "pub" experience but the food was surprisingly good. Teen Traveler's Toad in the hole has a sprinkling of fresh thyme on top and tasty pork sausages inside. The fish & chips had 3 pieces of freshy fried cod or haddock with fat, British style chips and malt vinegar on the table for them. The Wizards Brew and Dragon Scale beers were good, too.
Teen Traveler managed to drink two glasses of butterbeer: one at 10:00 AM from a cart in Hogsmeade. The other at the Leaky Cauldron.
If we had had another day or were staying at Universal Resort we would have made a late dinner reservation at one of the CityWalk restaurants outside the park. Antojitos looked promising for Mexican food and VIVO for Italian. They would have had table service and real plates and utensils, which we didn't have much of on this trip.
We had just eaten dinner and weren't hungry enough to dive into cones from Florean Fortescue's Ice Cream Parlour, which would have been fun. Orange marmalade, sticky toffee pudding and clotted cream add an English accent to the otherwise typical flavors. Of course, they have strawberry-peanut butter, Harry Potter's favorite
Tween Traveler managed to restrain herself from spending ALL her souvenir money at Honey Duke's sweet shop, which was good because there is a lot of shopping in Hogsmeade and around Diagon Alley.
We did a fair bit of shopping at the souvenir shop below the castle because it has the most Hogwarts-house-themed items. Teen Traveler got a Ravenclaw shirt there. I really wanted a snitch or snowy owl Christmas ornament, but they were out of the former and don't make the latter. Instead I got a tiny marauders' map ornament that unfolds and lights up, so our Christmas tree can solemnly swear to be up to no good.
There are a few places to buy wands so if one store is super crowded ask a park person for an alternative.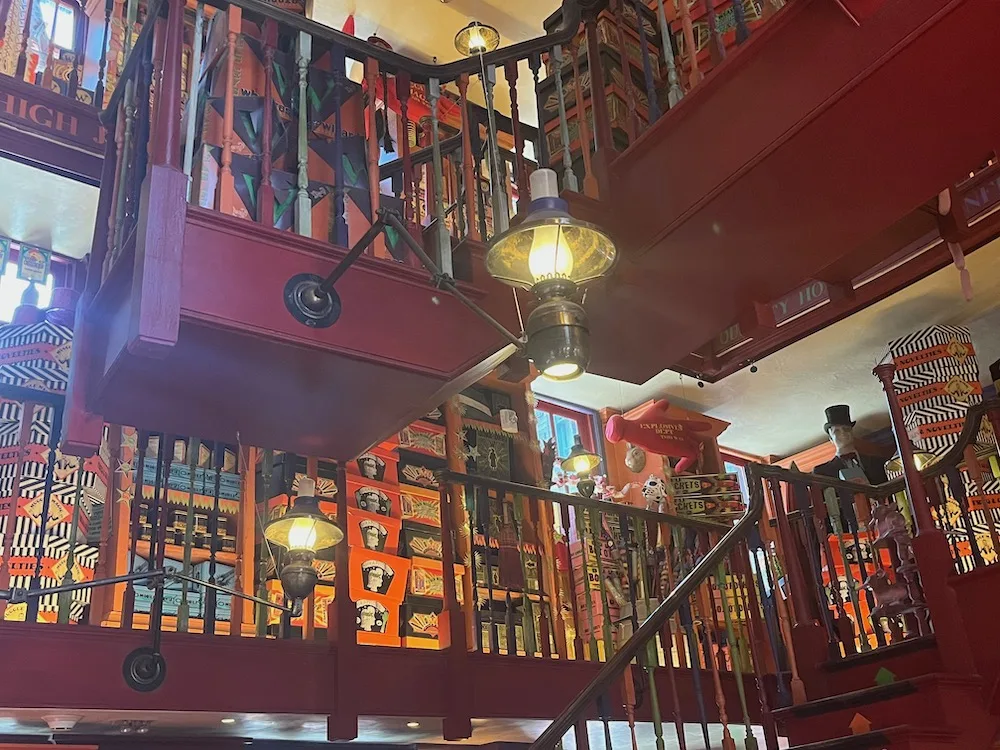 There is a candy shop in Diagon Alley that has all the same items as Honey Duke's. It shares space with Weasley's Wizard Wheezes, where you can buy playing cards, games and magic tricks. Next door there's a Quidditch shop with sporty house paraphernalia, clothing for your favorite "pro" teams and even quidditch equipment.
Head down Nocturne Alley to peruse Borgin & Burke's. Stop in to admire the displays and by some dark-arts themed souvenirs if you're inclined that way.
Cape Kennedy Space Center Visitors Center
Cape Kenneday Space Center was the furthest point on our Florida road trip.
All I can say is, OMG this place is huge. And it has so much to do. And it's all even more fascinating than you expect it to be. Plan to spend the whole day at the visitors center and still really can't see everything there is to see.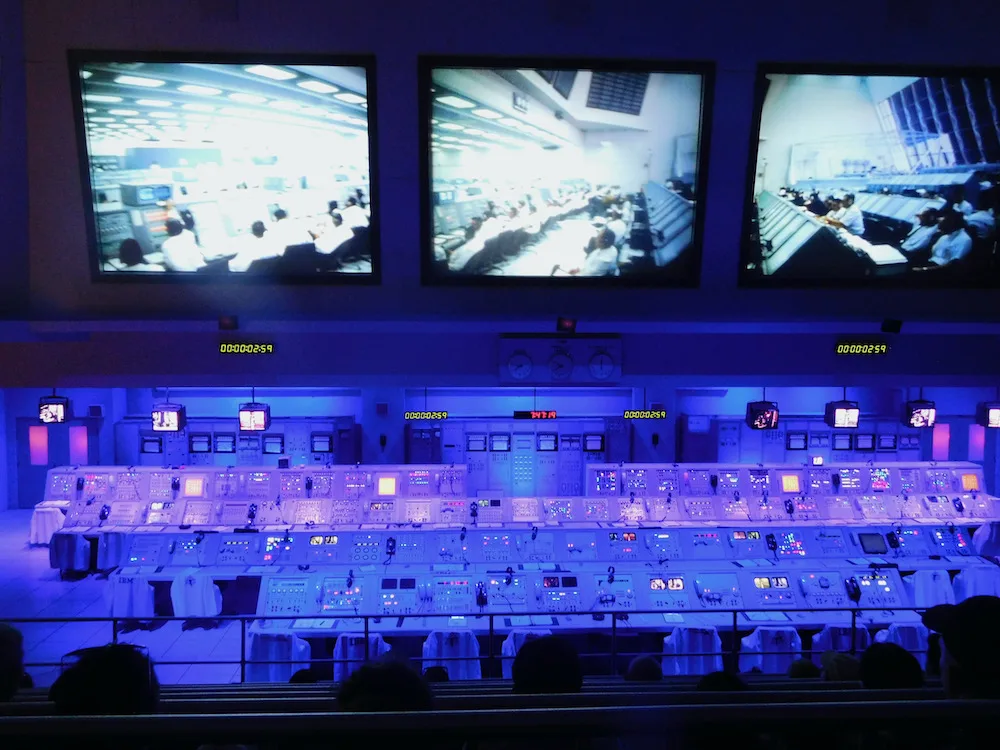 It makes sense to start your day at the Apollo-Saturn V center. It's a bit away from the main visitor's center and getting here, looking around and getting back takes about an hour. I've been told the line for the bus gets longer as the day goes on.
One of the highlights was a movie that showed the minute-by-minute action of actually getting the Eagle landing capsule from the ship to the moon. It was a very, very, very close call, which I never knew.
We also saw the control room for the Apollo flights with its 1960s IBM computers. I considered that the phone in my pocket has more computing power than a few of them combined and it made the mission all that much more impressive to me.
The main exhibit has rockets, space suits and other artefacts from these missions. Teen Traveler liked learning about the technology behind the "space pen." I liked asking questions to a hologram of Jim Lovell.
If you're lucky you'll see a rocket sitting on the launch pad across the water. We saw an Artemis rockets being readied for a coming launch.
Tip: Much of the NASA property is a nature preserve so keep your eye out for alligators, birds and other creatures in the canals and grasses that line the road.
Back in the main center we next tackled the Space Shuttle building. You'll know it by the giant shuttle launch rocket out front. There is a lot to do and we spent more than hour here.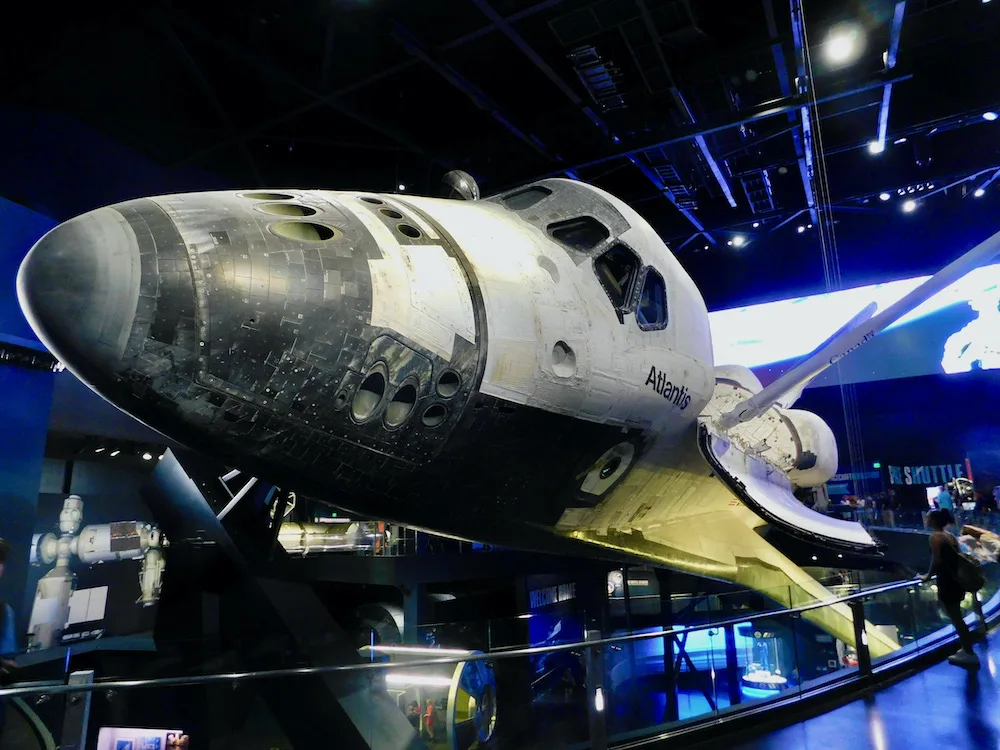 By the time we got there I thought I'd seen enough movies for the day but I learned a lot about the Shuttle Missions that I didn't know. For example, they began thinking about creating a reusable rocket almost immediately after we got to the moon. They have the Atlantis, which flew 33 missions and looks like it has.
They exhibits go into the tools they use to make repairs on the international space station, the Hubble telescope and the shuttle itself using helpers like big mechanical arms and tools that can make small precise repairs in the hands of big fast spacesuit gloves.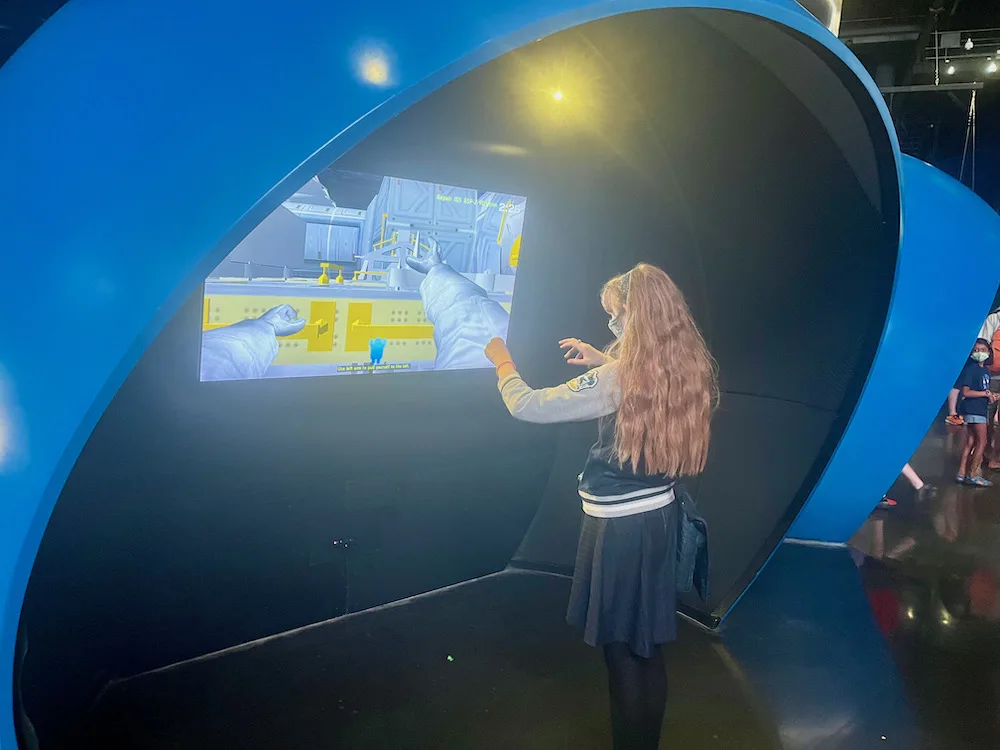 This building has some of the most fun hands-on stuff that is included in your standard admission. Teen Traveler got very caught up in a simulator where she could us hand motions to guide one of these giant arms. They also have a space-shuttle launch simulator which is pretty cool. And a giant slide to represent the speed the shuttle experiences on re-entry.
I found a lot of the shuttle information more practical and easier to understand and relate to than the Apollo Missions, which are awe-inspiring but completely removed from day-to-day life.
Another building explains the challenges, goals and details of the mars missions. They have a few different Mars rovers, which will interest any kid who has done any robotics. I found this exhibit the least engaging but Teen Traveler thought it was very cool.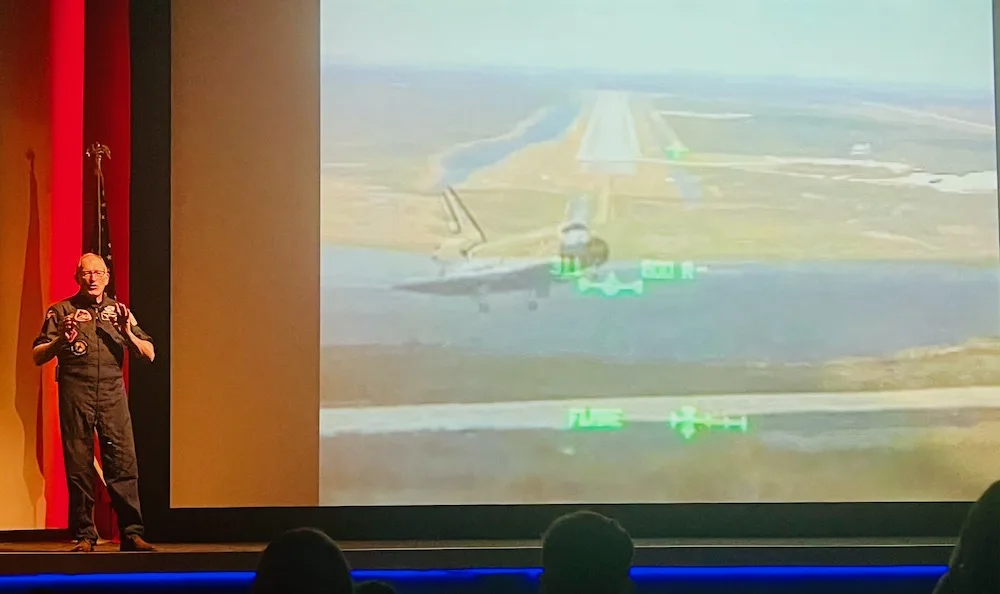 We made a point of getting to the auditorium for two presentations. One was a round-up of all the projects that NASA is working on or has in the pipeline, including the multi-phase Artemis mission. Following right after that was a Q&A with an astronaut; that day's astronaut had flown a series of Space Shuttle missions.
Note: This is different from the "meet an astronaut" opportunity, which costs additional money and gives you one-on-one time with him or her.
They have a couple of IMAX movies; we saw one about people whose job it is to hunt for asteroids in space to make sure they aren't on a collision course with earth.
On the same building as the IMAX theater there is a Lego building area and an elaborate kids play area. These could suck some kids in for an hour or two. Their proximity is hand if you're visiting with kids who are a mix of age and want to do different things in this building.
Lunch & shopping at Cape Kennedy
There are hot dots, DOTS ice cream and popcorn to be had around the complex. But just one café if you want a real lunch. Teen Traveler has really good macaroni & cheese with bacon added. Rich and I shared a decent Cuban sandwich and a lively salad. They also had good brownies and warm cookies.. Nothing is close enough to leave for lunch and come back so if you don't want to deal with the café it's BYO.
The gift shop is huge and we actually spent close to a half hour in here. Upstairs is kids clothes and a lot of STEM toys. If you don't want to splurge on an expensive building kit, you might want to stay on the ground floor. We were so excited about seeing the Artemis rocket on the launch pad we all bought t-shirts and hoodies to celebrate NASA's mission to return to the moon.
Tip: The gift shop in the Apollo Center has items that are unique to the Apollo mission and not sold in the main gift shop. So if a T-shirt or other Apollo souvenir strikes your fancy, buy it here. We put off buying a cute Snoopy t-shirt because we didn't want to carry it all day and then couldn't find it later on.
Dinner in Cape Canaveral: A sage idea
After 48 hours of quick-service meals (albeit good ones) we wanted our last dinner to involve table service and real plates and cutlery. So we took a small detour to Cape Canaveral to try the highly recommended Sage Bistro.
Sage is a casual, very friendly "from scratch" restaurant with a locavore mindset. They make everything from the salad dressings to the desserts. They have an extensive wine list and reasonable prices. We chose a Pinot Gris and an Italian rosé; both went well with the local seafood we had.
Teen Traveler was adventurous and ordered sesame-crusted tuna with jasmine rice and stir-fried string beans. She thought it was really good and now wants to eat everything crusted with sesame seeds.
Rich and I both ordered Grouper, a meaty fish. It could have used a bit more of a sauce. But it was mild and the accompanying rice pilaf, sauteed onions and string beans went really well with it.
We had chocolate covered cheese cake bites for dessert. They were just the right size and luckily they came three to an order so we didn't have to fight over them.
Bok Tower Gardens
Florida is full of old estates with beautiful gardens that are always worth exploring. A quiet day in some gardens might seem like an odd fit for an action-packed Orlando-area vacation. But after a couple of days of special effects, surround-sound and thrill rides, Bok Tower Gardens can be a nice respite for your senses, especially if you're traveling with grandparents or younger kids.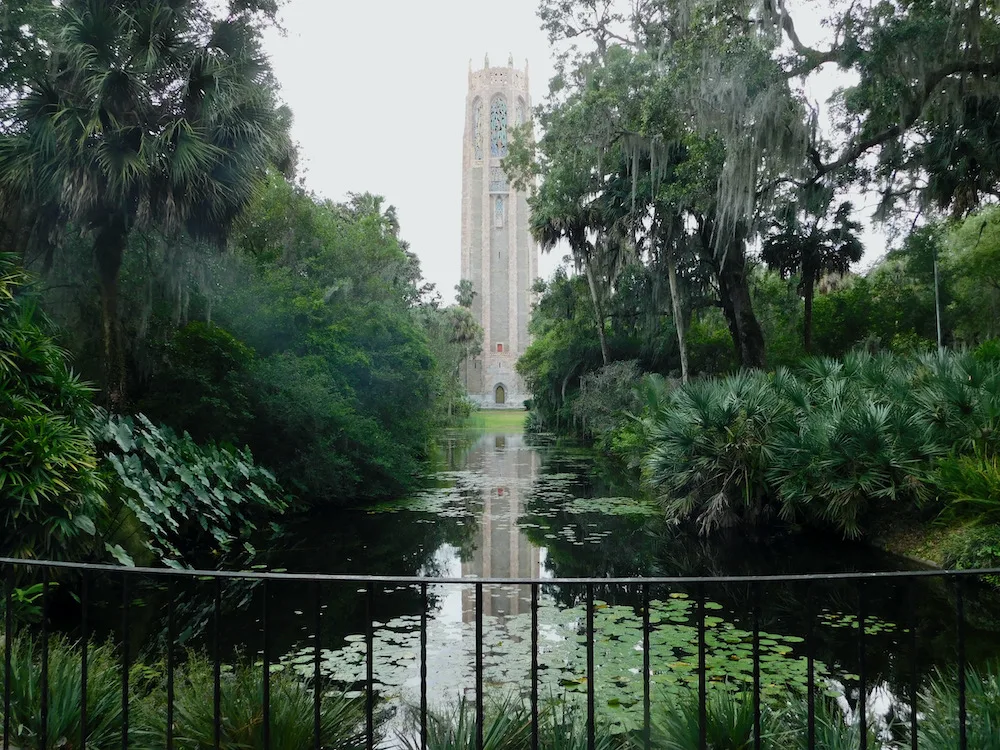 Bok Tower Gardens are lush and green in a Jurassic-park way with lots of giant ferns, palm trees and other flora. It was mid-April and already fairly hot when we visited. In March or even February the azaleas and magnolias would be blooming, along with the flowers in the endangered plants garden, and there would be more color.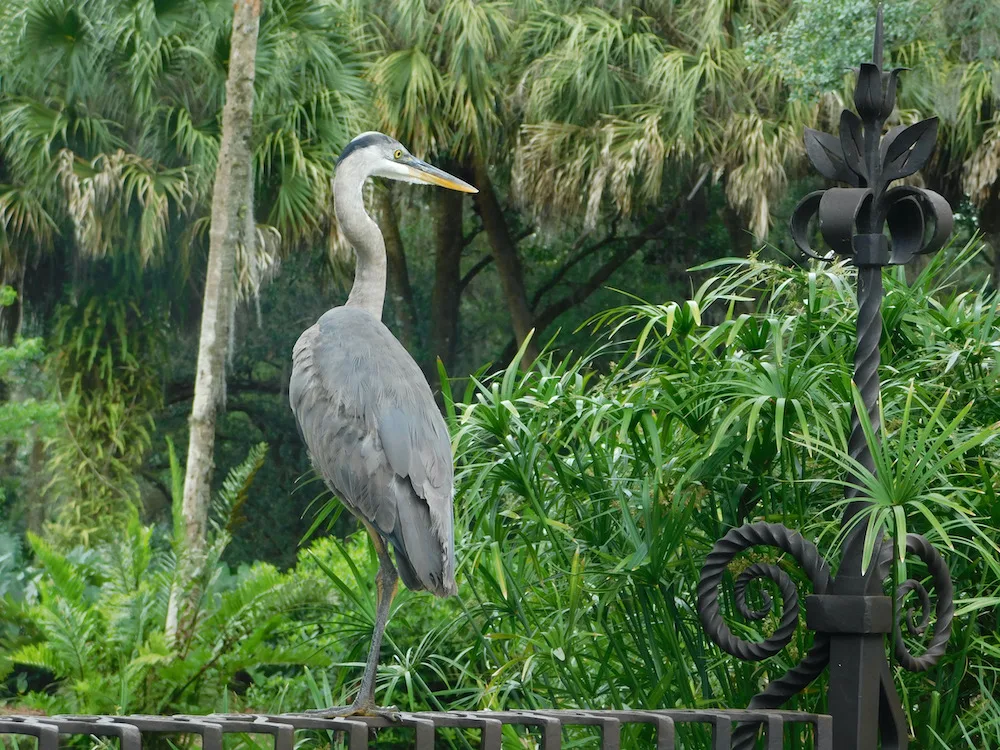 It's a great place for bird spotting. We saw a couple of giant bird hanging out by the tower. In the morning or late afternoon, when it's cooler you would probably see more and you might spot some of the gopher turtles or indigo snakes that make their home here.
The centerpiece of the gardens is the "singing tower," where 23 carillon bells ring on the hour. These brass bells don't move, just their clappers do, sort of like a giant piano. And they're played on an instrument that looks like a piano with strings attached. Because the bells don't swing they have a more controlled ring and you can play music on them. It's a very pretty musical sound when they play so try to catch them.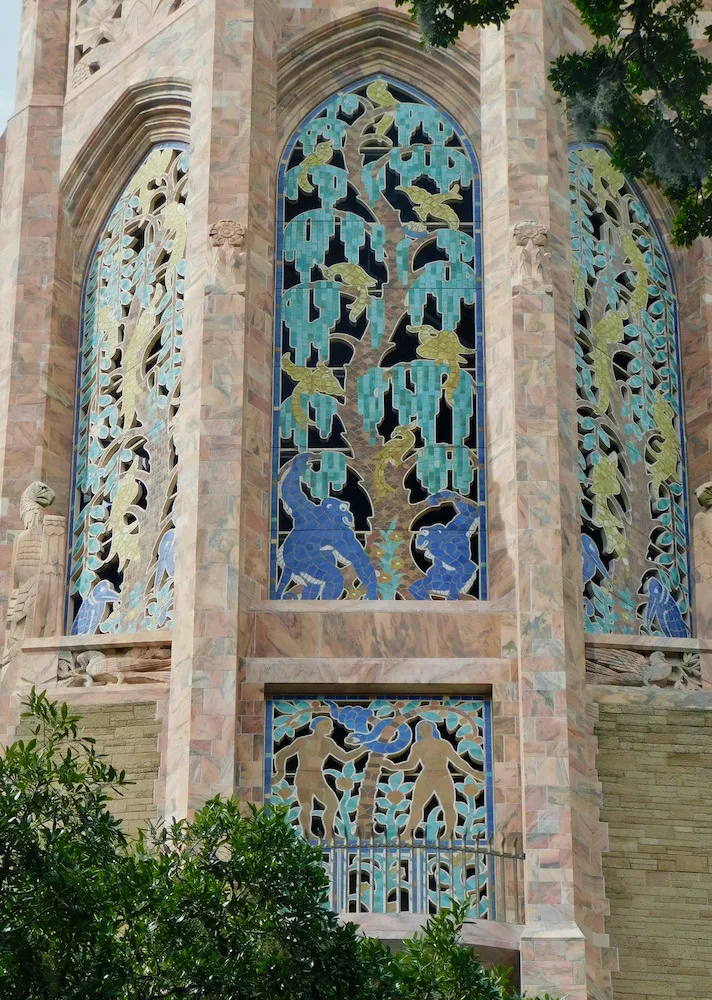 The tower itself is far more impressive than it looked on the website. It's Florida cochina covered in marble. Sculptures and mosaic tiles depict the Garden of Eden with Adam & Eve and all manner of animals from cranes and jellyfish to foxes and baboons. It's really very pretty. There is a reflecting pond but I think it has to be the right time of day for the reflection to be really clear.
The shady lawn behind the tower overlooks orange groves. It's a nice place to picnic or just throw down a blanket and relax while young kids run free and get some ya-yas out.
Hammock Hollow is a large and well-done children's discovery area. There is a rock area to climb on with cozy places to hide, a giant spider web, a xylophone that mimics the bells in the tower, and a sand box, all connected by a winding trail.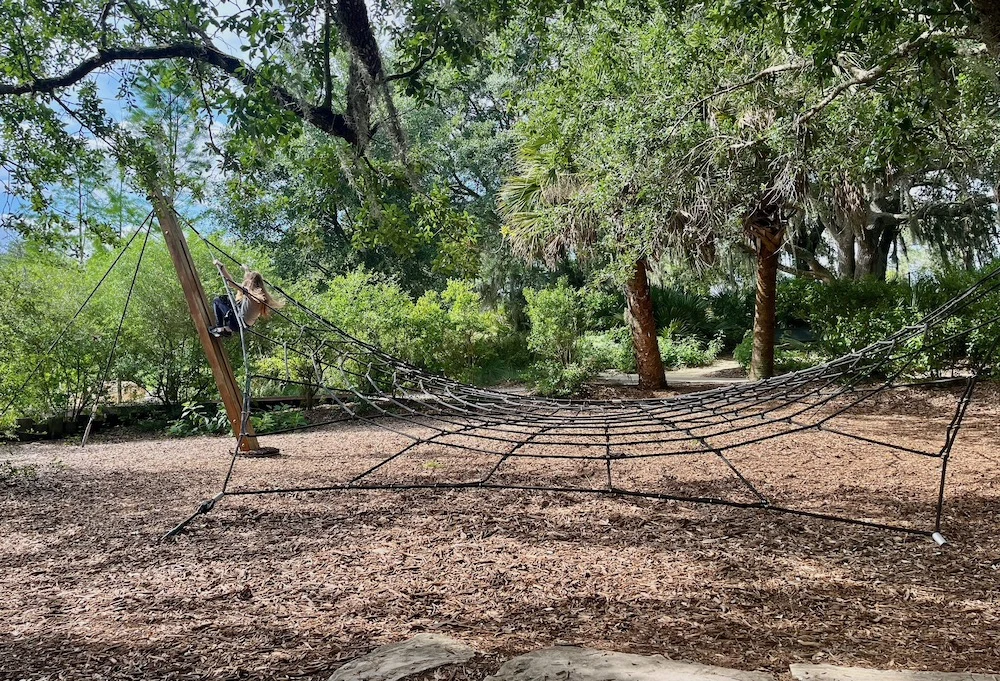 When she was younger Teen Traveler would have easily spent an hour exploring this area. Even now she had to do some climbing on the spider web. They have comfortable chairs under the shade of a tree for parents to chill out in while the kids run around.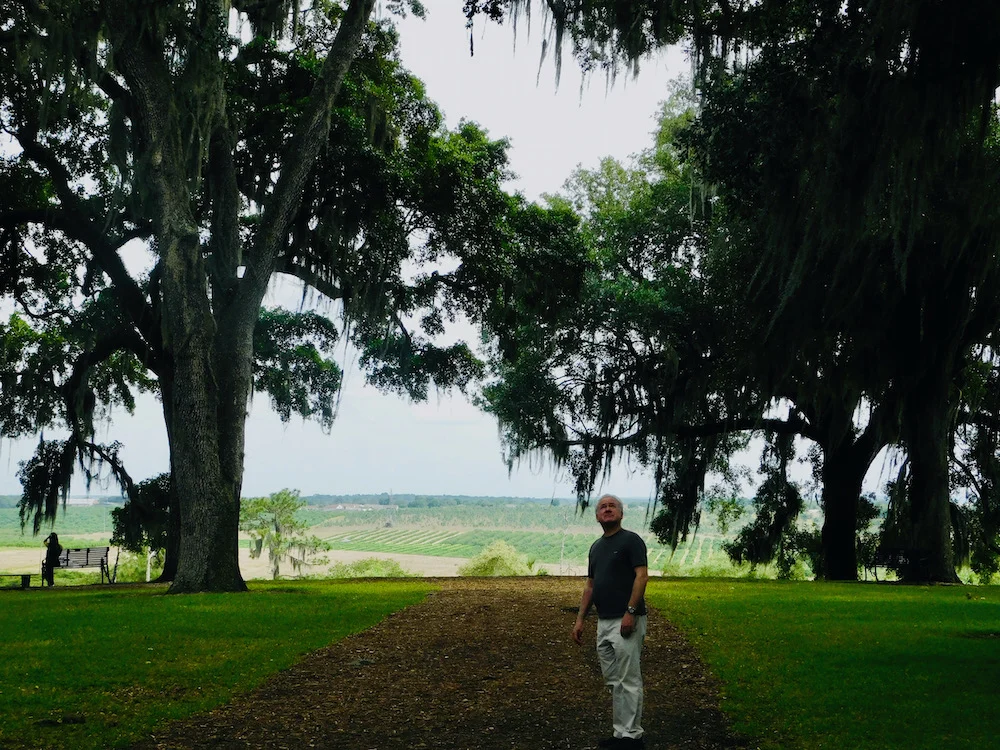 You can spend one hour or four hours depending on how leisurely you walk the trails and how much you stop to hang out. A mansion on the grounds was closed when we were there. Visiting that part could add up to an additional hour to your time there.
The gardens have café with outside tables next to a nice water feature but we didn't eat there.
Frank Lloyd Wright at Florida State College
We made a quick detour on the way to airport at Florida Southern College in Lakeland because we read it has 13 frank Lloyd Wright buildings. It has also made a few lists of most beautiful southern colleges.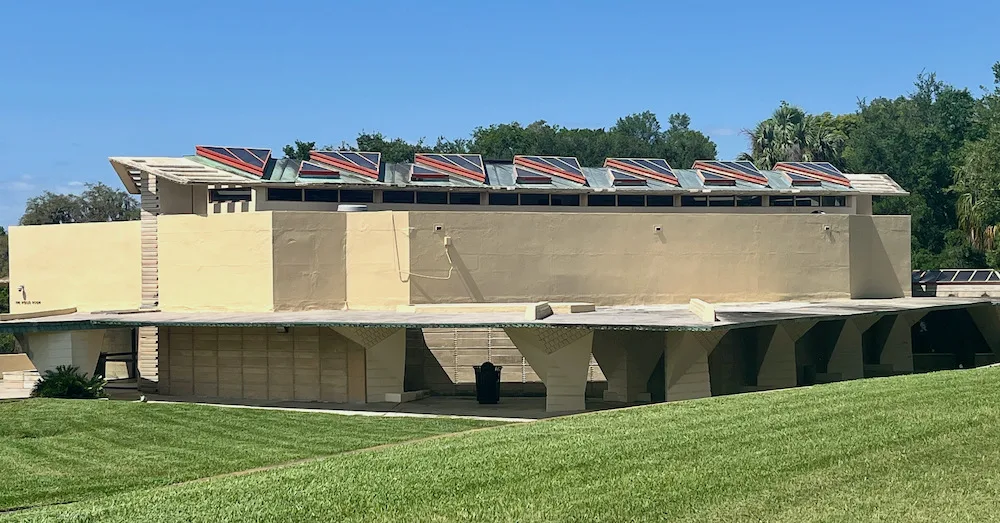 The campus was lovely but this is kind of in spite of the Wright buildings, which are easy to spot. On the west side of the campus look for a collection of concrete buildings with with lots of straight horizontal lines in the designs. The college's Miller Planetarium is the only building Wright ever designed with a dome. There is also a "water dome" fountain that is picturesque.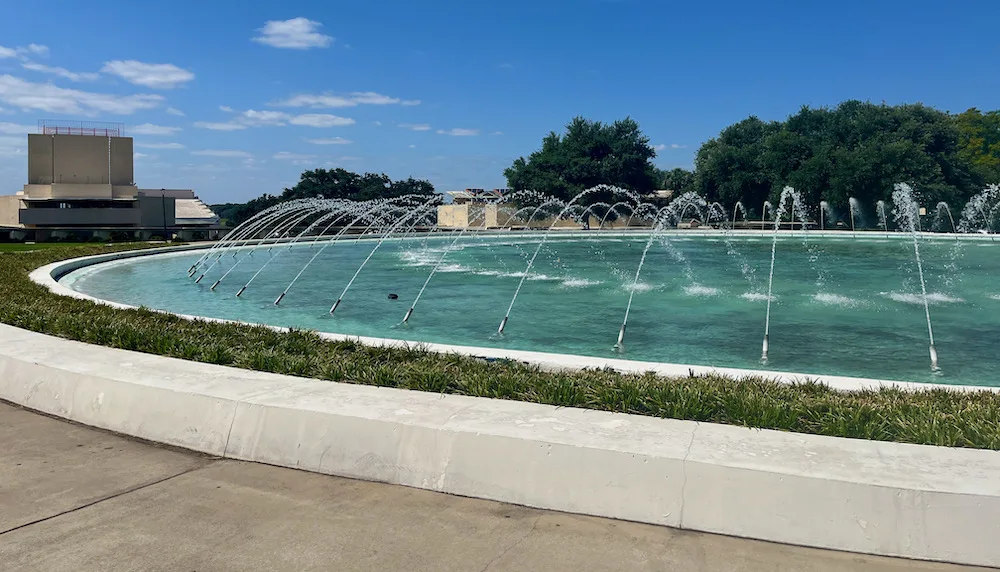 To be fair we only gave ourselves a half hour to see the campus, not really enough time to appreciate anything. If you're an architecture fan and want to see the campus properly you can go to the Frank Lloyd Wright Visitors Center/Sharp family Tourism Center, a brown and yellow house across from campus on Frank Lloyd Wright Way.
Here you can purchase a map for a self-guided tour of the Wright buildings. If you're lucky you'll time it right to join a tour of his Usonian faculty house, which demonstrates one of his typical home design styles from the period.
2 lunches in Tampa
The Tampa Airport is pretty much right on the edge of the city and it's easy to get around Tampa from it. I liked what I saw of Tamps; it seems like a city with lots of opportunities to get outdoors and explore. I'd certainly go back to get to know the city better.
After we landed we had lunch at Bahama Breeze, less than ten minutes away from the rental garage at the airport. It's a chain but most of its outlets are in Florida so we weren't familiar with it. This one has huge deck and a water view. It was busy but the service was good.
We liked the Caribbean flavors, like the well-seasoned Black beans with yellow rice. Rich and I shared a green salad. Then I had good grouper tacos (with grilled, not fried, which I like) while he had fish chowder large chunks of fish and a Cuban half-sandwich.
Beef empanadas were seasoned in a Jamaican than Latino style with earthy flavors like nutmeg and mace. They also had a lot of veggies. Overall Teen Traveler did not approve. She ate my rice and beans and we took had the empanadas for breakfast the next morning. They were actually better the next day.
Key lime pie was tall with an even taller layer of merengue. Not quite traditional but good. The crust had something in it that I liked but couldn't place.
For lunch before our flight out we found Big Ray's Fish Camp, which overlooks a busy marina next to the convention center. It's an outpost of a sit-down restaurant with a service window and tables by the water. There is a separate bar next to it for beer, wine and soft drinks.
Everything is cooked to order so the service was a little slow. If we didn't have a plane to catch we wouldn't have cared; it was pleasant sipping our drinks and watching the marina activity.
The onion rings were excellent onion rings and the garlic-parmesan fries had a kick. Teen Traveler had a shrimp basket and I had a shrimp po'boy. For both the shrimp was just dredged in batter, not encased, so it wasn't heavy and we could appreciate the shrimp. Rich had a grilled grouper sandwich that was well-dressed and a good size for lunch.
At the main restaurant you can have fried Key lime pie but alas the outpost doesn't have dessert. Next time.
Explore more Florida vacation ideas.
Staying at Camp Margaritaville RV & Cabin Resort
I will say right up front that we have never stayed in an RV park. When I told my family this is what we would be doing over spring break they looked at me dubiously (to say the least). But our cabana cabin was cute and had everything we needed and the resort had a lot of amenities. The 75 cabins at Camp Margaritaville Resort probably cost as much as a two or 2.5-star hotel would in central Florida and this is a nicer option.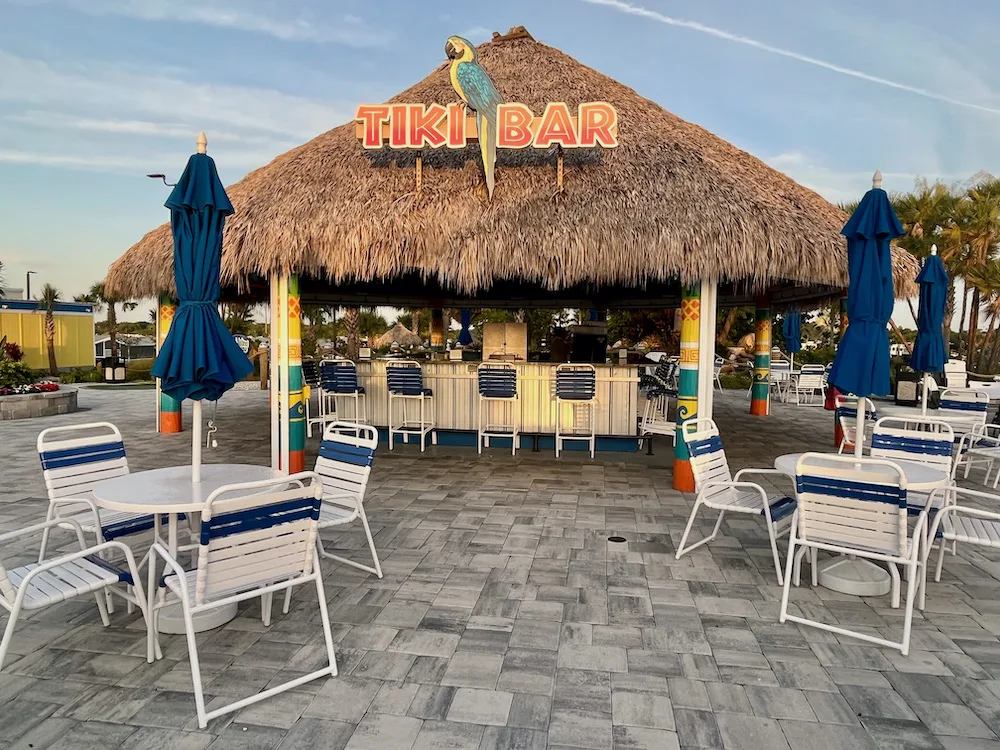 My only regret is that our packed activity schedule didn't allow us as much time as we could have used to make ample use of the well-maintained mini-golf, tiki bar with local beers on tap, two large pools – one with a slide – cornhole, gaga ball and hammocks.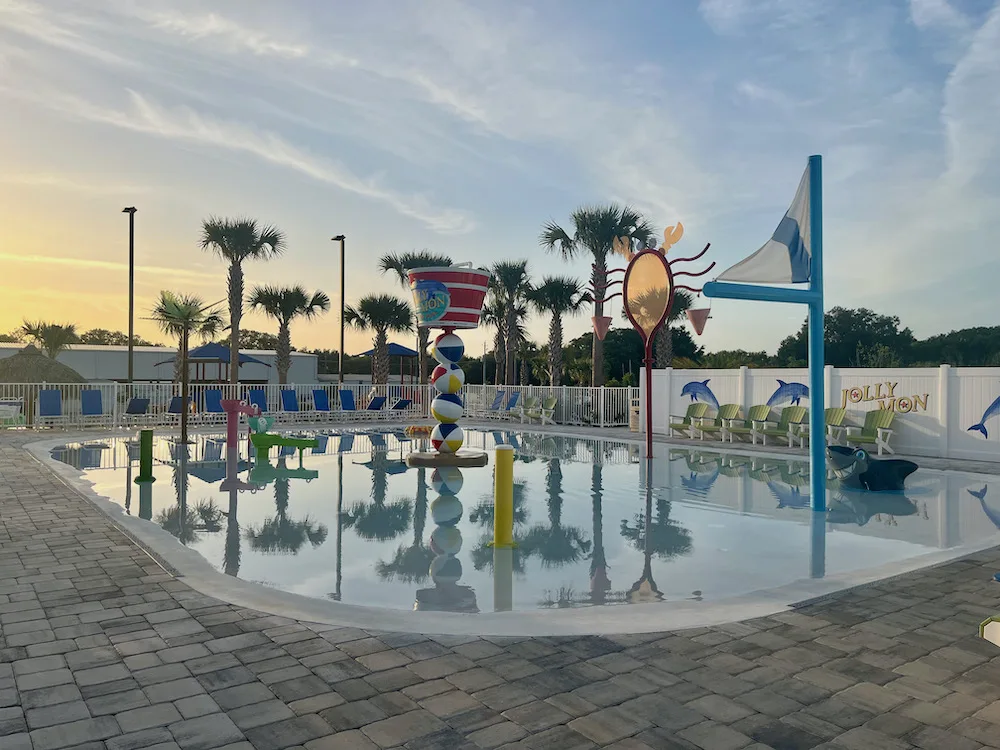 There is a splash pad for younger kids and dogs get their own playground (barkaritaville). The resort is relatively new and not 100% complete. The game room was sparse and they are still adding more cabins. There's a store that has very basic groceries and convenience items like sunscreen and oven mitts. They have coffee in the morning if you don't want to brew your own.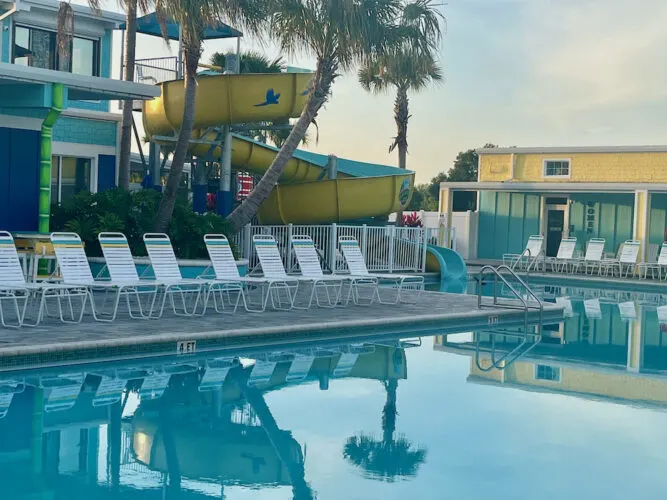 Margaritaville has made a concerted effort to make this a nice, upscale RV resort and most people we saw were families and retirees. Kids roamed on skateboards and bikes while parents lingered over morning coffee on their porch or afternoon cocktails at the tiki bar.
The pools close when it gets dark and the whole resort is quiet by 9:30. There's a gated entry point and the staff there is very friendly and helpful. Gardeners were cleaning the grounds and working on the landscaping while we were having coffee on our porch one morning. RVs have concrete driveways to park on, shrubbery and palm trees between sites and palm awnings over the picnic table.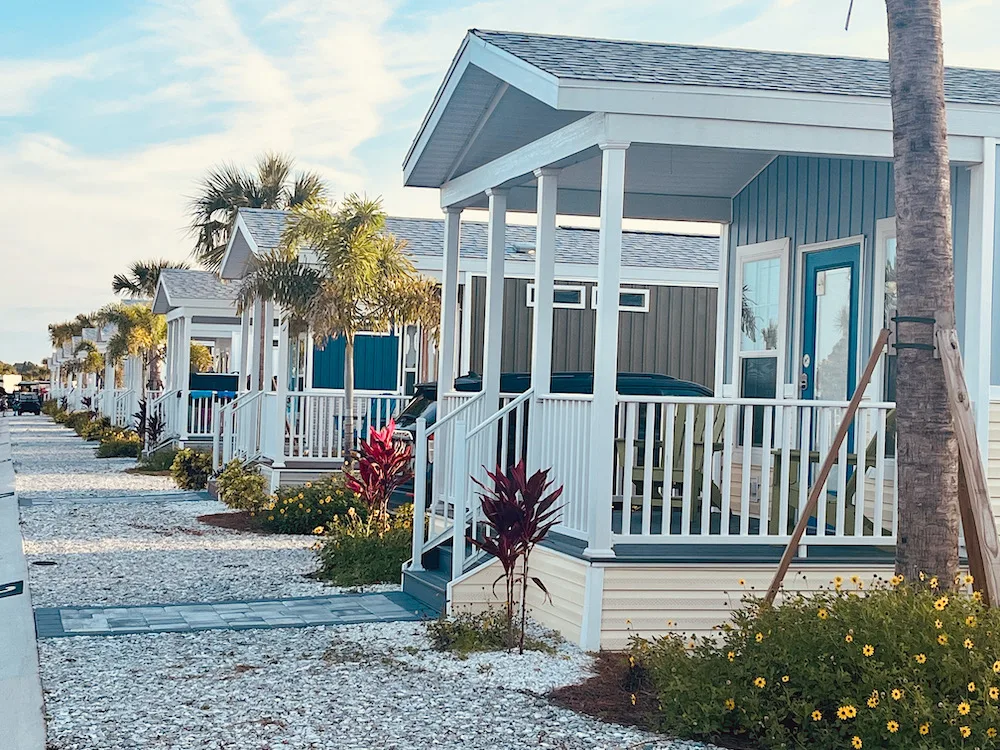 Our cabin was cute with blue and white colors outside, sea green and white inside and a not-surprising beachy motif. There was an open living room and kitchen, a bathroom with a set of bunk beds across from it and a bedroom with a queen-size bed in the back. Louvres over all the windows allowed for light and privacy.
It's designed in the same compact way that cruise ship cabins are (or RVs) with a lot of built-ins and storage above and below the beds. We didn't unpack but would have done so and stashed our bags if we were staying the week.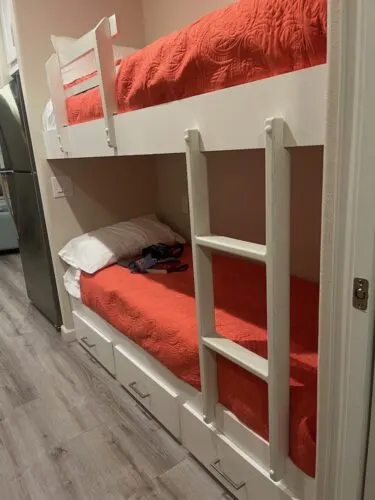 The couch in the living room pulls out so the cabin technically sleeps six. But unless four of the people are kids, it would be pretty cramped. Tween Traveler liked having her own bed instead of the pull-out couch she often gets in a hotel room. But she right smack in the middle of the cabin and felt like she could have used more privacy and a bit more space to call her own. The bunk beds each have their own power outlet, though, which she highly appreciated.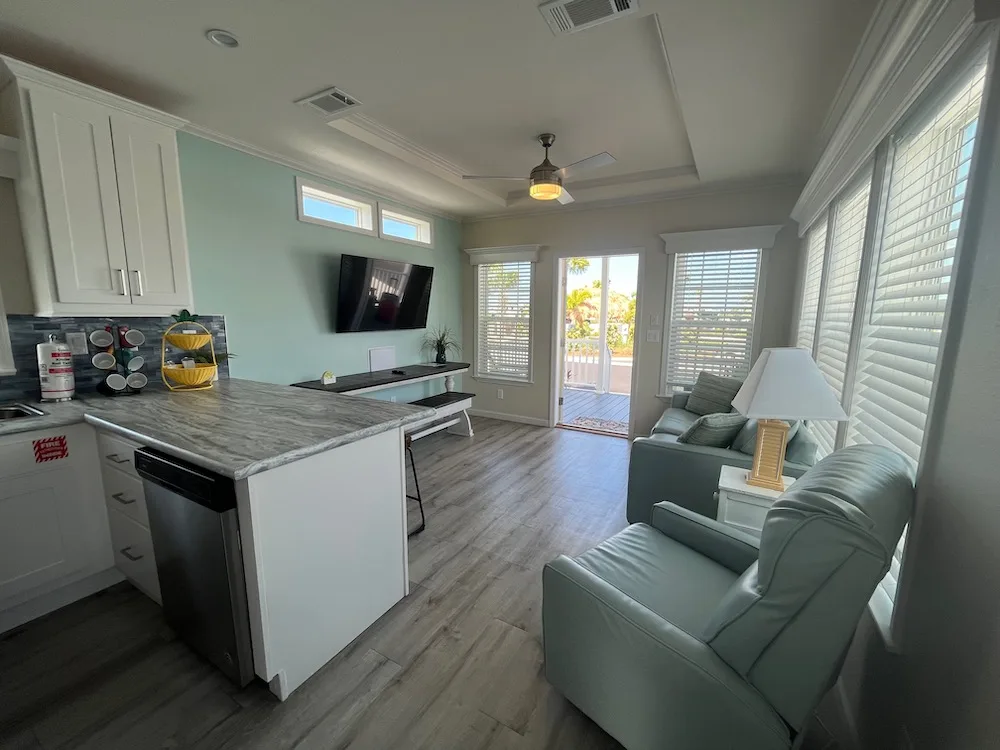 There's no dining table inside. The kitchen counter has two stools and there is a long skinny table with a bench. You can eat inside in a pinch and it's fine for informal breakfasts. I think they count on Florida weather allowing you to eat most meals at the picnic table next to each cabin's outdoor grill.
The kitchen has an electric stove and oven, microwave and dishwasher. They have a Keurig machine and I would have preferred a standard coffee maker, honestly. They give you a few pods when you arrive and you can buy more at the camp store or the supermarket. There's an apron for your car, AC/heat and ceiling fans.
Shopping & eating at Camp Margaritaville
We found convenience stores, a supermarket and a Walmart near the resort for groceries. And our welcome packet included a list of nearby restaurants.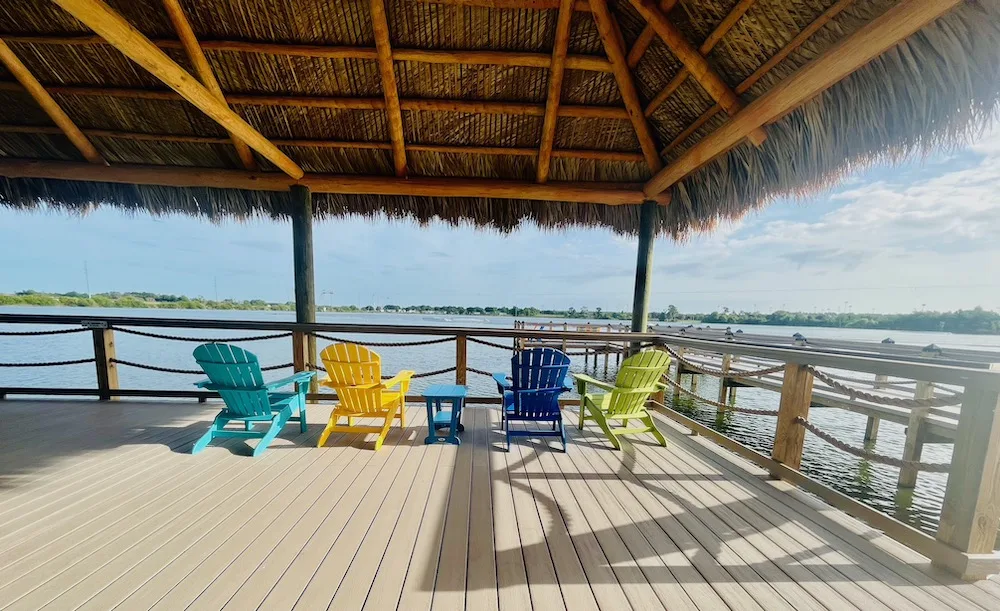 Feed Frenzy, a burger bar, and Frank & Lola's Pizzeria opened in May so we didn't have a chance to try them. The License to Chill bar and snack bar will open sometime this summer. There's a covered deck and long dock with colorful Adirondack chairs the overlook the lake next to the back pool. It's an ideal place to sit and sip a frozen concoction in the evening while the kids linger in the pool.
There was a pizza-themed food truck near the back pool when we were there.
The Elite Cable wakeboarding park is next to the RV park. We had easy dinner at the Elite's grill the night we arrived. We ordered fried shrimp and oysters baskets, all cooked to order, then sat on the porch and watched wakeboarders try to navigate ramps and other obstacles while being towed by overhead wires.
It's fun to watch and if you have a free morning, your teen might want to try it. You can also see the wakeboarders from the pier next to Margaritaville's back pool.
Practical Information for this Florida road trip
Airports: Camp Margaritaville is 55 miles from the Tampa airport and 48 miles from Orlando. We flew in to Tampa because the fares were better.
Driving and traffic: Camp Margaritaville is 15 miles from Legoland Florida and it's new Peppa Pig theme park. Based on the age of the kids we saw I would expect most families staying probably paid a visit. It's 25 miles from Bok Tower.
It's 25 miles to Disney World and 35 to Universal studios. On paper those distances looked very easy when we were planning the trip. But the combination of commuters and tourists make Orlando traffic heavy by 7:30. Plan to leave for the theme parks before 7:00 to get there when they open. For every extra 10 minutes you wait to leave after 7:00 you'll sit in an additional 10-20 minutes in traffic.
It took us more than an hour to get to Universal and barely a half hour to drive back in the evening. It took us more than two hours to drive 85 miles to Cape Kennedy and 90 minutes to drive back.
Tolls: Almost every road in Florida is a toll road. We spent $25 on tolls driving to and from Cape Kennedy, all in $1 and $2 increments. You can direct your GPS to avoid tolls but most of the time it will add to your drive.
If your car rental company gives you the option, rent a Sunpass electronic toll tag. You can skip the cash lanes and don't have to worry about winding up on roads that don't have cash lanes and instead photograph your license plate and send you a bill. We incurred a toll on one such road and the state of Florida charged us an $8 fee for the convenience of paying a $3 toll by mail.
Packing tip: I was determined to travel light to Universal and Cape Kennedy because I didn't want to carry backpack and have to check it to go on the rides. But if you plan to stay into the evening you want to bring some hoodies and sweaters because it does get cool. We left ours in the car instead of tying them around our waists and I wish I had mine by the time we were leaving.
Pin it for later!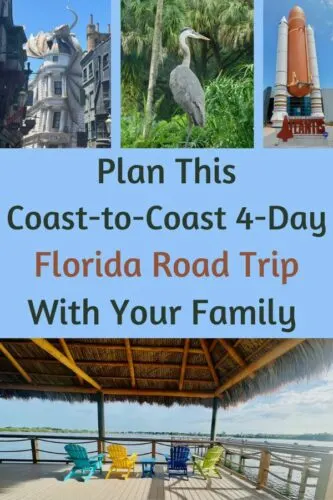 We won two free nights at Camp Margaritaville and tickets for the three of us to Bok Tower Gardens. Otherwise we paid for all lodging, activities and food.
Photos by FamiliesGo!©