Teen Traveler would return to London anytime, partly because she liked everything and everywhere we ate on our two vacations there. English food has a lot of dishes that are familiar to American kids and foods that just have kid appeal (who wouldn't want to eat something called Toad in the Hole).
As a major city with a rich immigrant history, it also has every kind of ethnic food for families that are a little adventurous.
I'm suggesting a few specific restaurants but many of the places we ate at and liked were not destination restaurants . They were places we happened upon, like the stylish tapas bar we tried before seeing a show on our first visit (and couldn't find again).
Or La Roche, the Lebanese/Moroccan café down the street from the London Coliseum. We wanted to eat after an evening play and it was simply the only place we could find that was open late and had tables free. Nevertheless, it was fairly inexpensive and good.
Take my suggestions as a guide and make your own delicious food discoveries with your kids and teens.
The Best London Foods & Restaurants To Eat in With Kids & Teens
1. Pub food
Pubs are very kid-friendly during the hours when they are serving food, generally up to 9:00 pm. They're relatively inexpensive, have reliably good food these days, and almost always have something kids will eat.
Frequently, when we needed a quick meal and didn't feel like trawling Google we'd scan the neighborhood we were in for a pub that looked busy with people eating, not just drinking. Around Leicester Square we liked the Bear & Staff and the Sherlock Homes pubs. On the South Bank we liked the White Hart, which had board games along with good food.
Teen Traveler almost always ordered fish & chips and never had a bad batch. Rich and I would order meat pies, sausages and mashed potatoes, or toasties (grilled cheese sandwiches with quality English cheese and other fillings). Entrees frequently came with a fresh side salad on the plate, which I really appreciated.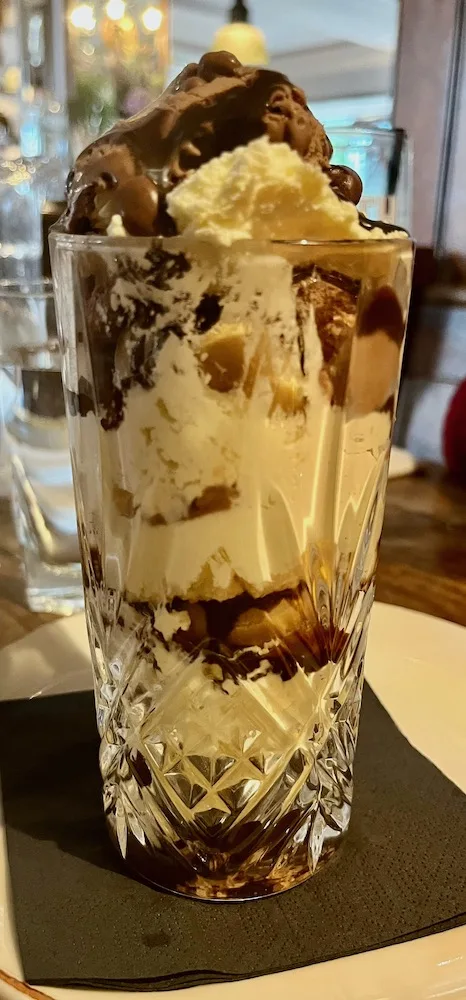 cheese and other fillings). Entrees frequently came with a fresh side salad on the plate, which I really appreciated.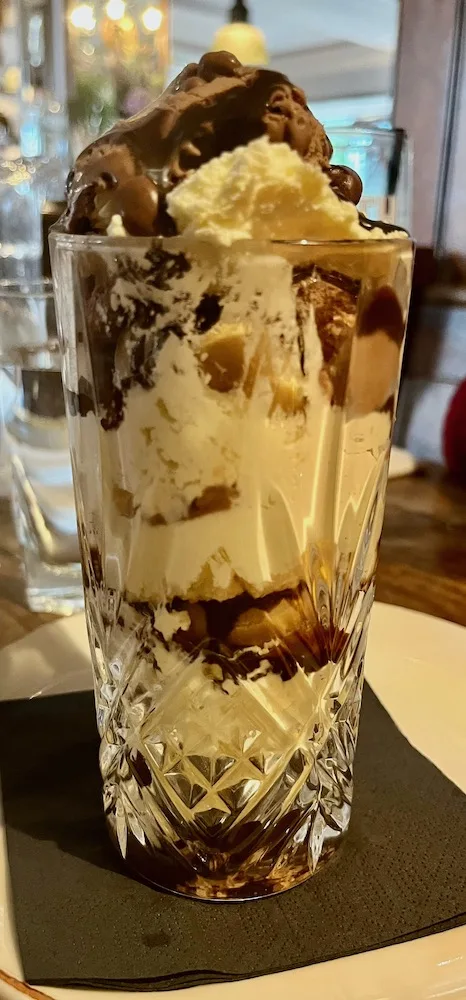 The pubs often had surprisingly good desserts, too. We had an Eton mess in one place (a bowl of crispy merengue, whipped cream and berries). In another we had a warm-brownie sundae and a profiterole Knickerbocker glory (a fancy parfait in a tall glass).
2. Afternoon Tea
If your kids want to feel fancy, book an afternoon tea. You can drink tea from a pretty China pot, and often champagne if you're feeling splurgy. Kids can drink tea if they wish, but Teen Traveler prefers hot chocolate, usually in an equally pretty China cup.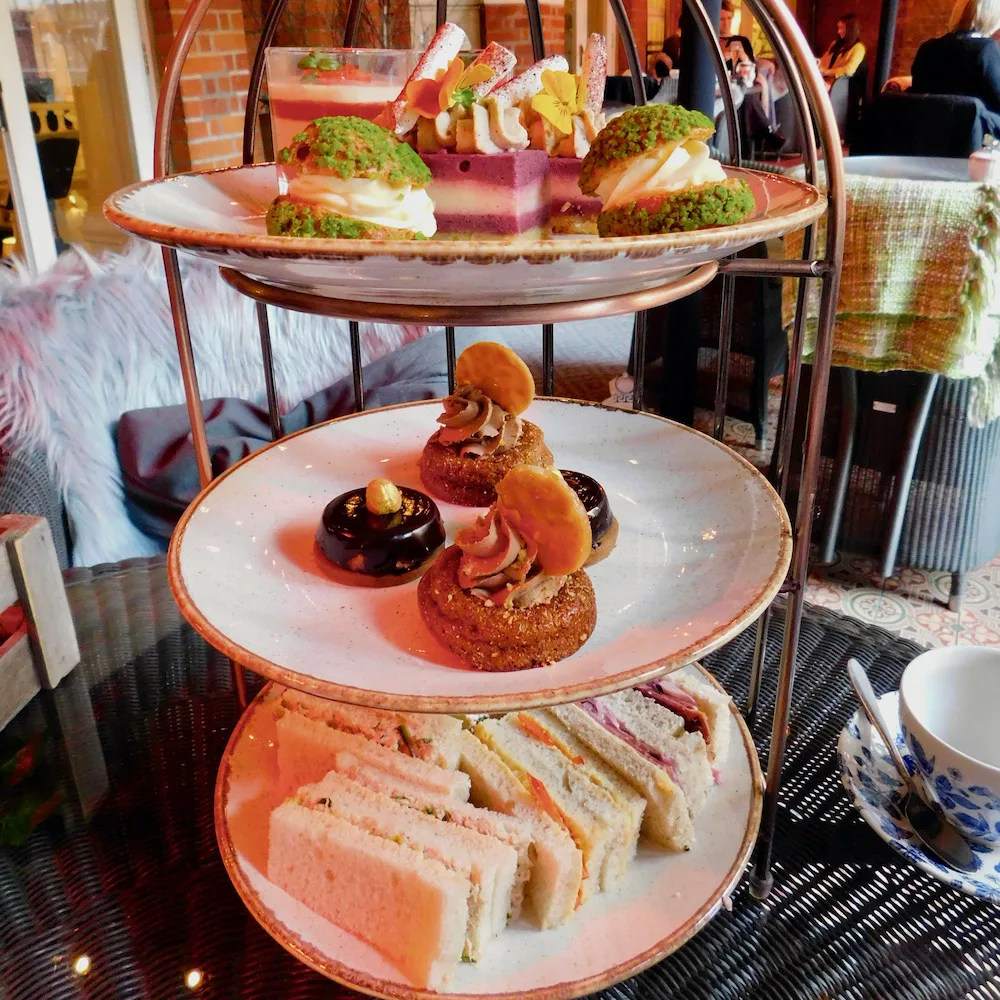 You'll get a tiered tower of tea sandwiches, pastries and cookies— sometimes kids get their own tea menu— but not always. A good tea ends with a plate of warm scones with clotted cream and jam. Save room for these; clotted cream is one of England's greatest inventions.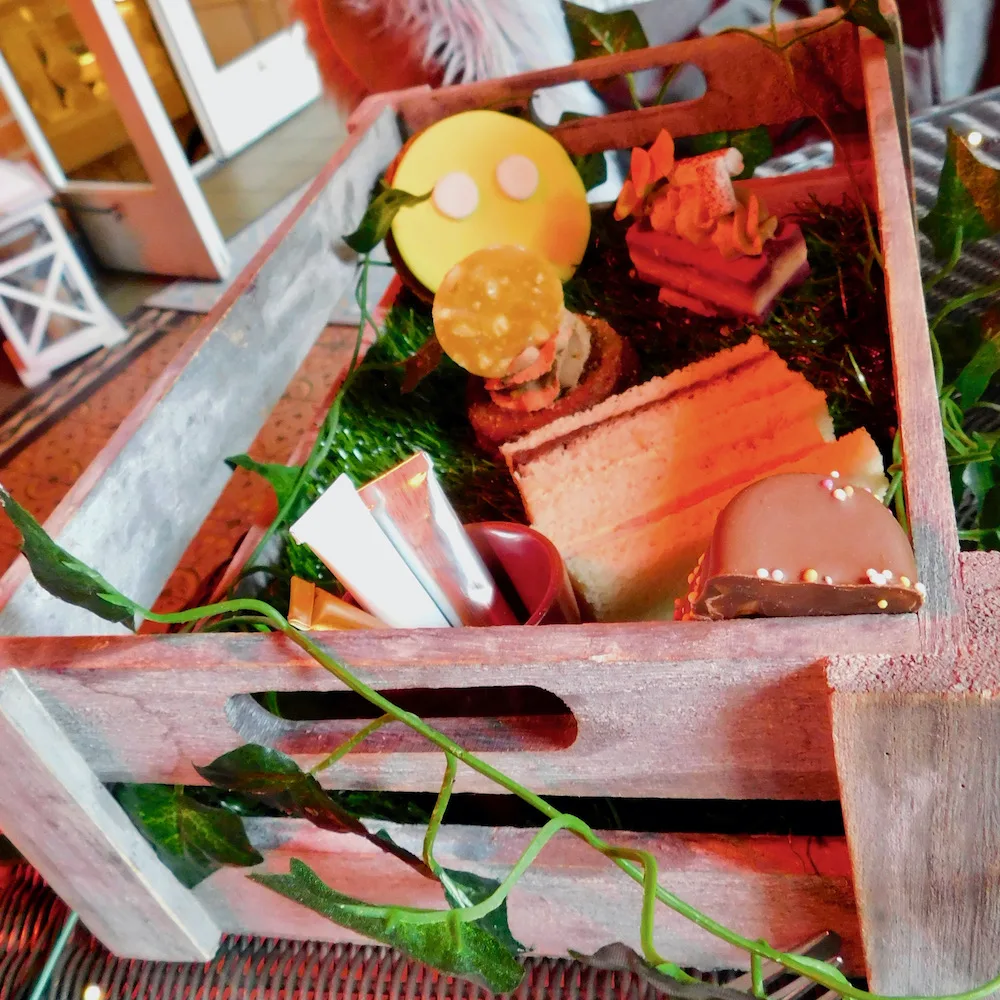 You can read about the wonderful afternoon tea we had at St. Ermin's Hotel. Many other hotels and cafés do an afternoon tea as does Fortnum & Mason, in its Jubilee Tea Room. We really wanted to book a Fortnum tea but didn't get to it. It's one of the pricier ones but based on our experience with the store's tea and pastries, it's sure to be amazingly good.
Read More
My Teen's 11 Favorites Things To Do in London (+hotel recommendations)
Plus, A Plan for an Easy Day Trip to Cambridge With a Teen
3. Food at Trucks & Market Stalls
London seems to be awash in food trucks and indoor and outdoor food markets, especially during the summer. They're inexpensive and have a mind-boggling variety of foods to try. There are usually clusters of them in one place, too, which means everyone in the family can eat what they want.
London markets always have at least a few food stalls. In the food hall at Old Spitalfields Market, we each took £10 and went off to find something to share.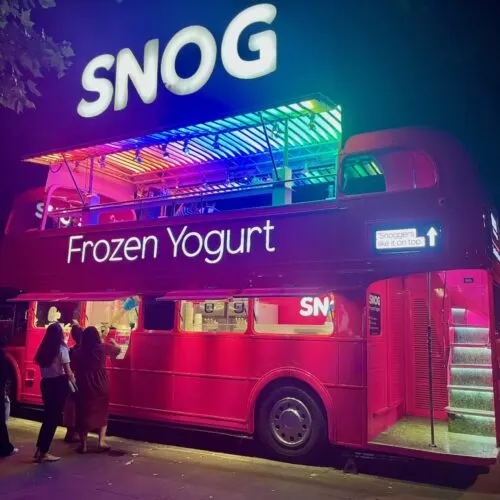 Teen Traveler found a British-style bagel piled high with barbecued pork. Rich chose Chinese hand-pulled noodles with beef. I bought what was essentially a Turkish quesadilla with mozzarella cheese, spinach and lamb inside. For dessert we had freshly made Taiwanese cakes filled with vanilla custard.
Try to get here before noon or after 1:00. At lunch hour it's packed with nearby workers. You can even take a guided tour of Spitalfields market and nearby Brick Lane, London's culinary melting pot.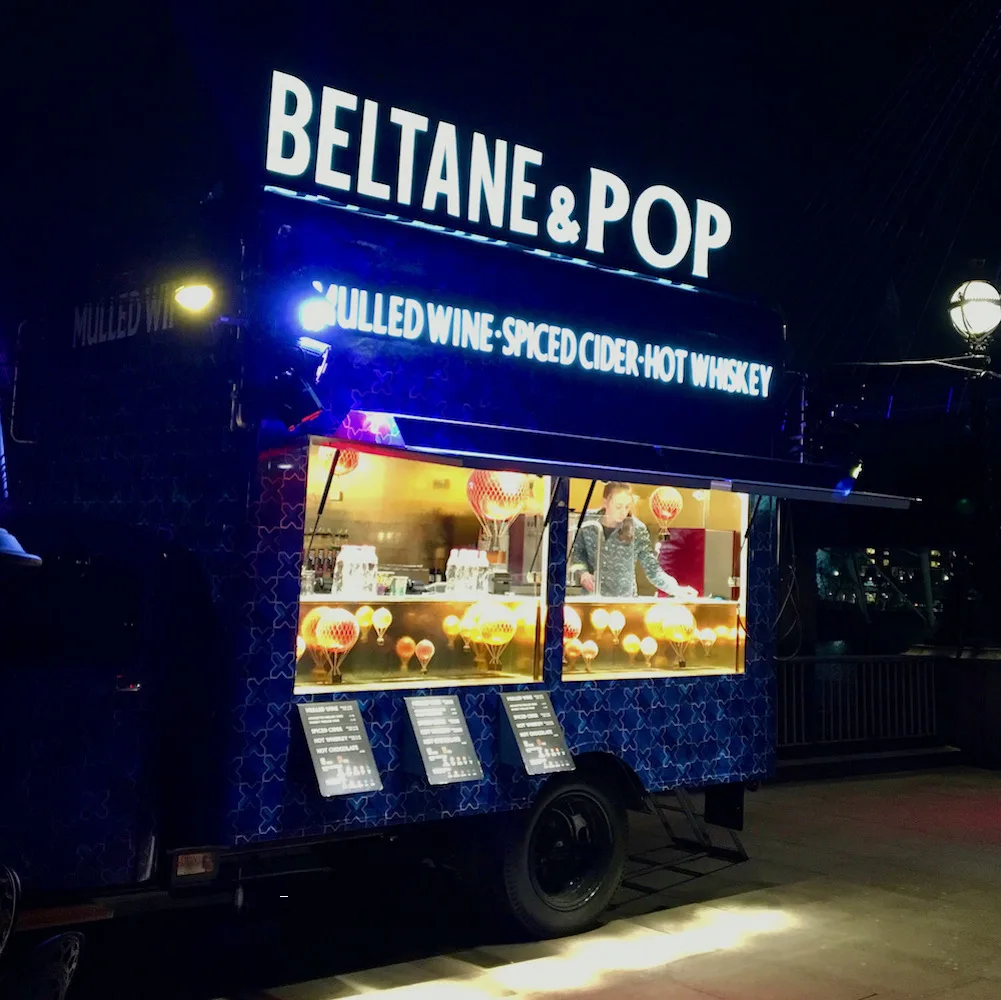 The South Bank between Blackfriars and Westminster bridges has food stalls and trucks that vary by time of day and by season. We had a tendency to wander by after dinner and so went for the popular frozen yogurt, dispensed from a pink double decker bus, or made-to-order mini doughnuts with chocolate sauce. But there were plenty of savory options too, including Philippine and Mexican.
4. Local microbrewed beer
As my regular readers know, my family loves trying out local brewpubs when we travel. We found an outpost of Brewdog near the Tower of London and thought it looked inviting for an afteroon break after exploring the Tower.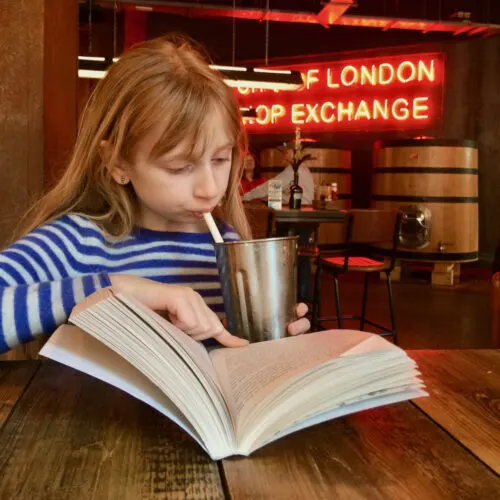 It's a big kid-friendly space and the dessert menu includes shakes and sundaes. Tween Traveler happily sipped on a vanilla shake while Rich and I tried their hoppy IPAs and summer wheat beers.
The brewpub has a kids menu that includes a "hoppy meal" with a choice of burger and different types of fries. In addition to Tower Hill they have pubs in Canary Wharf, Shoreditch, Camden, Clerkenwell, Chancery Lane, Paddington, SoHo, Covent Garden and Waterloo. I'm sure the spaces differ but the desserts and food are similar at all of them.
5. Desserts at Fancy Food Halls
The upscale department stores like Selfridge's and Harrod's have fancy food halls, while Fortnum & Mason is basically one big fancy food hall. They can be good places to pick up charcuterie, cheeses, breads and salads for a fancy picnic. But they are also great places to stop for a tasty and pretty afternoon snack.
At the Foodhall at Selfridges people crowded around a counter that had more than a dozen different kinds of over-the-top cupcakes. And you can find gelato and all manner of fancy English chocolate and biscuits.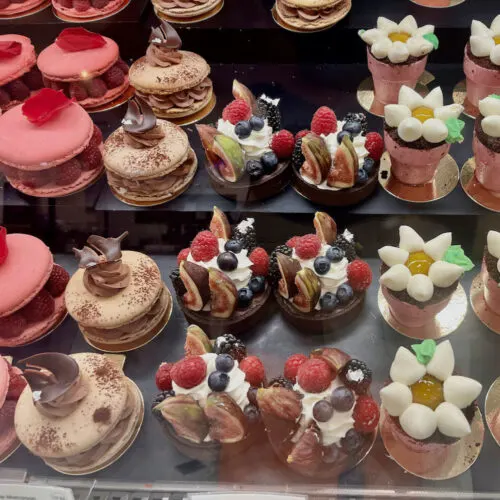 But we discovered a pastry counter where everything looked amazing. There were rainbow swirled merengue kisses, cakes that looked like potted flowers and more. It was hard to choose but in the end we settled on a classic chocolate éclair and a salted caramel éclair. Neither disappointed.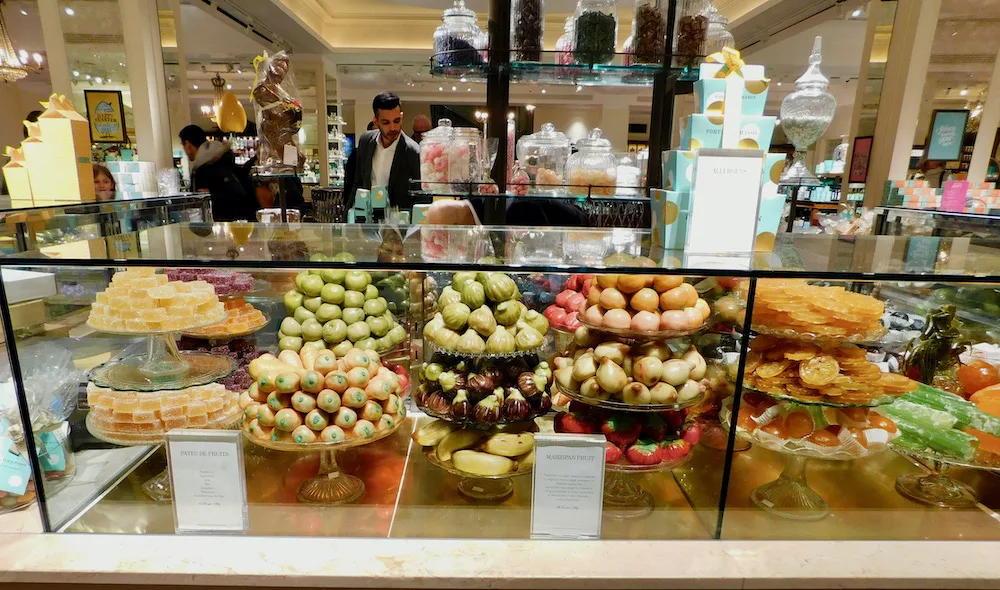 Fortnum is awash in candy and chocolate when you visit at Easter time. But in any season you'll find gorgeous marzipan fruits, fancy boxed biscuits to go with your Fortnum tea, and a pastry counter. Teen Traveler happily recalls a raspberry cream puff from her first visit but they didn't have them the second time around, so we stuck with our favorite: Eclairs.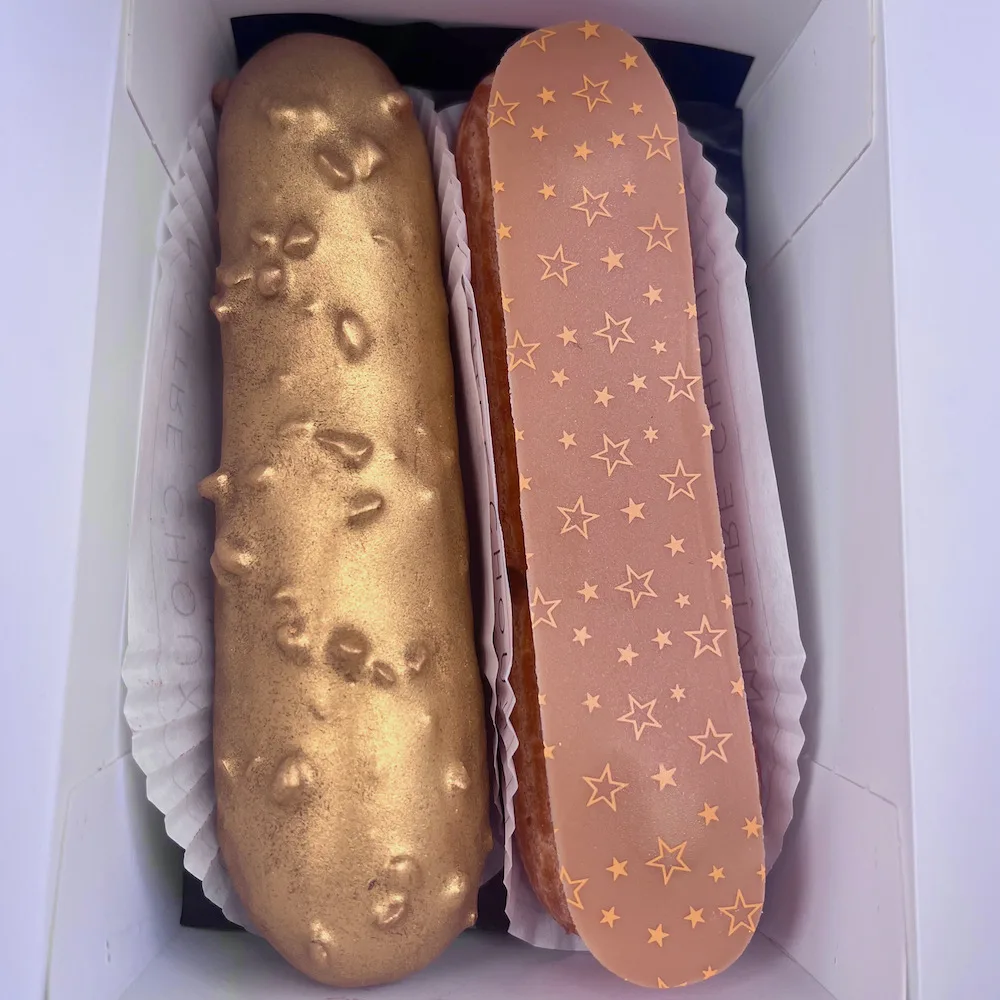 She chose a chocolate-hazelnut eclair that was wrapped in gold-colored chocolate sand studded with nuts. I went with a butter caramel one topped with a thin panel of chocolate painted with stars. We ate them on the sidewalk outside the store, which seemed too pedestrian for the way they looked, but nonetheless they were excellent.
6. Kid-Friendly Indian at Dishoom:
There is a lot of good Indian food in London, if you know where to look. A restaurant owner in NYC steered me to Dishoom, a sit-down Indian restaurant with a few locations around the city, including one in the theater district (but good luck getting a reservation there).
It's possibly one of the best and certainly one of the most popular Indian restaurats in London and it's very kid-friendly.
The food is Bombay Indian, with some Iranian and English accents. You'll find the usual tandoori, tikka, rice dishes and breads. But there are also unusual items like a Bombay style grilled cheese with English cheddar, garlic and chili peppers, okra fries and several lamb dishes I hadn't seen before.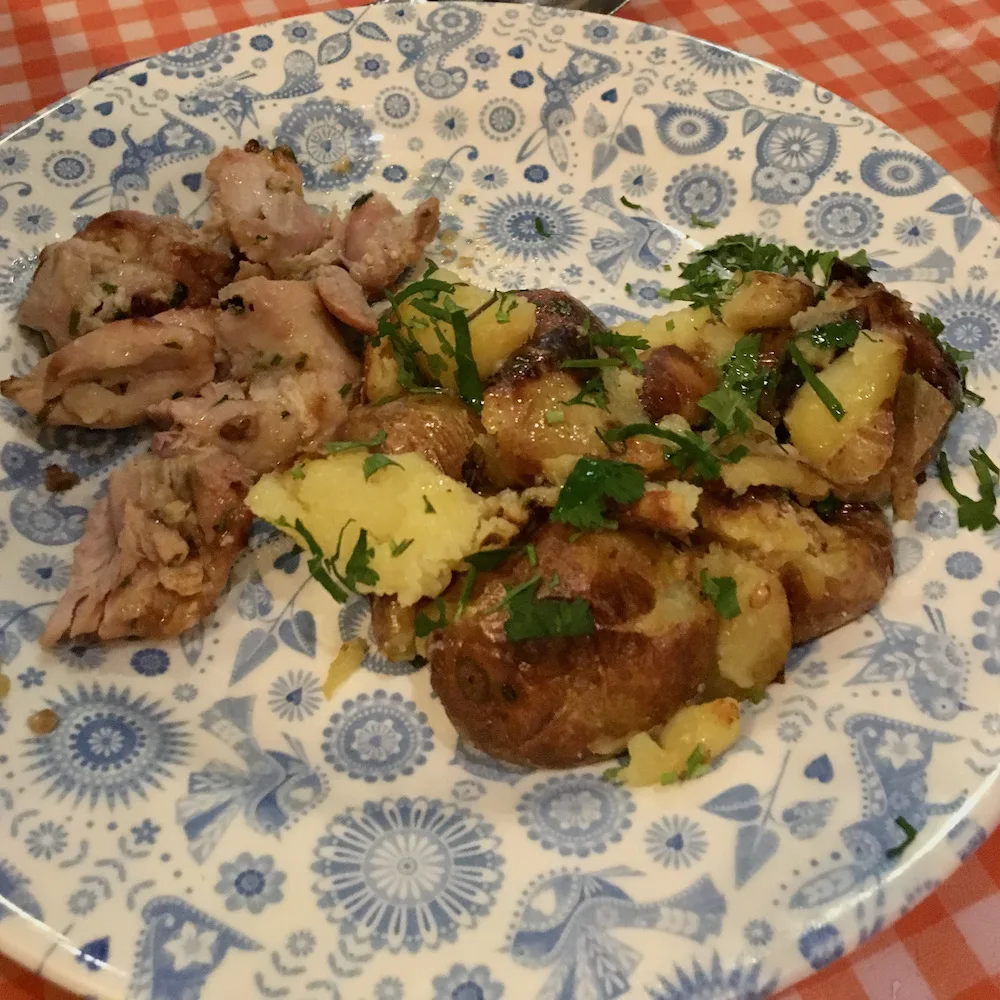 The menu is built to make it easy to share a few things and I would encourage you to try at least one dish that's new to you.
It's worth noting that Dishoom has a kids' menu, which I've never seen in an Indian restaurant. All the kid's dishes are mildly seasoned and served with potatoes browned in ghee (clarified butter). I'm not sure how authentically Indian the potatoes were but they won our then Tween Traveler over to Indian food. She also had a bottle of Pallonji's Raspberry soda, which she said tasted like Swedish Fish, much to her delight.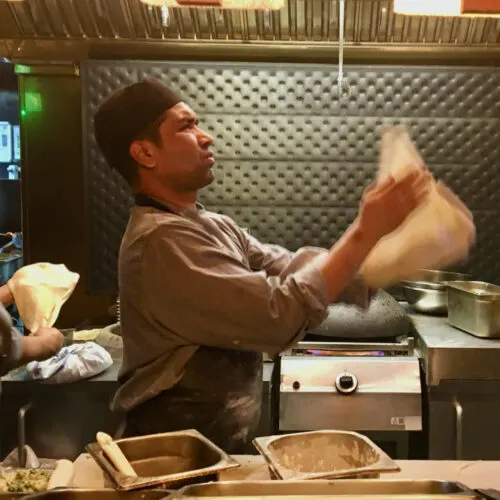 Tip: At the Carnaby restaurant you can walk by the kitchen downstairs and watch the guys toss and shape their various flat breads.
Read More
• 20 Awesome things to do with Kids in London
Plus, 5 Side Tips to the English Sea Side
7. A Full English Breakfast
You can't leave the U.K. without starting at least one morning with a full English fry-up. Eggs, meaty bacon, sausages, beans, a roasted tomato, mushrooms and toast. It's a beautiful thing, hard to mess up and will keep you going until mid-afternoon.
We stopped into Doggett's Coat & Badge for an English breakfast one morning. We were a little skeptical because it's right alongside Black Friar's bridge, across from a train station. It's the sort of place that gets a ton of foot traffic and so might feel it doesn't have to try very hard. But this wasn't the case. Our fry-ups were everything we hoped they would be. And I had mine with breakfast tea, served in a pot as is proper.
8. A Sunday Roast
Sunday roast is another of Britain's top contributions to civilization. Most pubs offer it on Sunday afternoon, roughly between 11:00 and 5:00, but plan to eat before 3:00, when they can start running out of it.
Sunday roast is a plate of roast beef (or sometimes lamb or chicken) with roasted vegetables, potatoes, airy Yorkshire pudding and gravy. Sometimes there's an additional side vegetable, too.
We had it for the first time in Edinburgh and now seek it out anytime we're in the British Isles on a Sunday.
We had ours at the Mad Hatter Pub on the South Bank. The meat was a medium and we prefer medium rare. But the roasted veggies, the Yorkshire pudding and the gravy were spot on. They also gave us a pot of shredded horseradish, which is lovely, and a side of cauliflower in cheese sauce, which Teen Traveler liked a lot.
9. South Bank Ethnic Food
Both times we've been to London we've stayed on the South Bank. Partly because we can find hotels that are good values and have pools. And partly because there is a lot of interesting food tucked away on the side streets.
Steps from the Tate Modern on Holland Street we found Capricci, a tiny Italian restaurant with a small but very interesting menu. Rich had pasta with a chicken-liver ragu (not everyone's thing but he loved it), I had a risotto that was a bright pink from pureed beats and topped with creamy cheese and crispy prosciutto. Teen Traveler had sausage and beans with broccoli rabe.
On another night we found Bala Baya, an Israeli restaurant with a friendly staff and good mezze on a tiny lane parallel to Great Suffolk Street, off of Union Street. We shared excellent hummus, "kebab dumplings," and fried cauliflower with yogurt and pomegranate syrup of which Teen Traveler liked, plus a steak tartare flavored with harissa and garlic that everyone was ordering and that Rich and I loved.
For dessert we ordered "burnt" baclava, it was filled with chocolate and hazelnuts and it was toasted with a tiny blow torch, which gave it a toasted marshmallow flavor. It was amazing.
That same alley had an African restaurant where we wanted to eat but couldn't get a table, and Spanish and Italianr estaurants.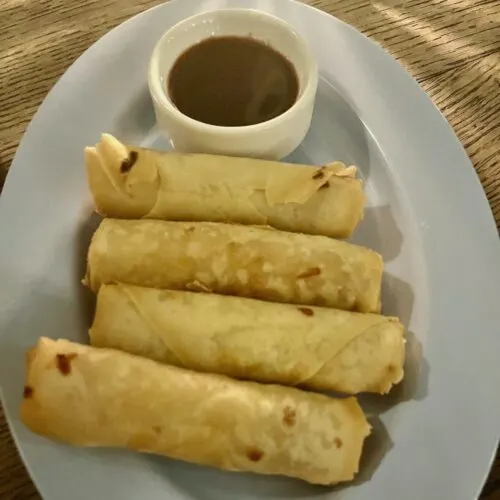 Half a block down Union street we found Mc & Sons, which was very busy on weekends but on a weekday night we settled in to a table and enjoyed excellent Thai food, including crispy duck spring rolls, a spicy ground-chicken salad and pad see ew with tofu. It was the sort of gastropub experience you only find in London.
Down a bit further there was a small Vietnamese café and back on Great Suffolk Street Gordon Ramsay has a restaurant serving upscale British food and a faux-casual place doing gourmet pizzas.
There were other places we just never got to that looked good, too, including Japanese and casual British fare.
10. Classic British Baked Goods
Having watched a lot of Great British Bake-Off we were eager to try all the British baked goods we saw on the show. But we didn't come across a lot of bakeries.
So we were glad to happen upon Konditor one morning on the way to Waterloo station. The shop makes stellar versions of British classics including an excellent Victoria sponge, scones, a variety of gourmet custard cream biscuits, lemon tarts, and a cupcake based on Cadbury's Curly Whirly chocolate bar. You'll find hot cross buns at Easter and fruit cakes at Christmas.
But if British pastry baked goods are not your thing, we can also recommend their coffee, almond croissants and crackly chocolate brownies.
In addition to the shop on Cornwell Road on the South Bank, they have shops on Bow Lane in The City and on Grays Inn Road on the edge of Farringdon.
11. Good Theater-District Gelato
If you're around Leicester Square or Covent Garden, look for La Gelateria on New Row, just off St. Martin's Lane. It's easy to spot because there's often a line.
You can get the typical hazelnut, pistachio, cookies & cream, chocolate, vanilla and so on. Or be a little daring and try pine nut, licorice or honey, rosemary & orange zest. The flavors are good and the texture is the kind of creamy that can only come from full-fat milk.
We stopped here on the way back to hotel pretty much every time we saw a show.
Pin It for Later!