We've begun to make nighttime ghost tours a regular thing we do when we visit U.S. cities. They usually take place in the oldest part of town. They mix history with apocrypha and tall tales, making them an informative and entertaining way too see a new place
They also make for good staycation fun and are ideal Halloween activities with teens and tweens. If you don't live in these 10 places you can probably find a ghost tour near you.
Some are led by people with lanterns, some by people in period costume (who might also be carrying lanterns) and some have ghosts pop up during the tour to tell their own stories. In general we prefer walking ghost tours to the ones on trolleys. We appreciate when the tour ends near some place that's good for some late-night refreshment. If that place has its own ghost story, so much the better.
When my Traveler was younger I always considered the recommended minimum age for a tour. But every kid is different and you are the best judge of how much spookiness yours can tolerate. A good rule of thumb is that the later they start, the scarier they want to be. Anything that starts after 10:00 pm can be seriously grim and not aimed at families, though older teens might find these appealing.
Here are some of my favorites along with a few that my fellow travel writers highly recommend.
Read More: 13 Horribly Fun Halloween Festivals Across the U.S.
10 Kid-Friendly Ghost Tours Across the U.S.: Which 1 Is Near You?
Newport's Haunted Harbor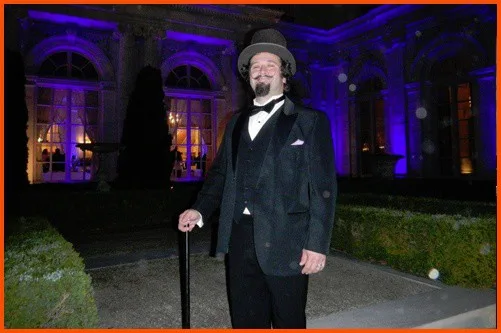 The Ghosts of Newport, in Rhode Island, leads a very kid-friendly Olde Town Ghost Walk, a lantern-lit stroll along this harbor town's more shadowy lanes. Your guide will tell you tales of ghost ships, lively graveyard crypts, tavern brawls that ended badly and perhaps of Gilded-Age ghosts who have yet to move out of their famous summer "cottages."
This is a seasonal tour but the season is long. Tours depart on most nights from May through Halloween. This year there are tickets available through December 31st. Maybe you'll happen upon ghosts of Newport's Christmases past.
---
• Fun Ideas for a Weekend in Newport
• An indoor pool and outdoor fire pits overlooking the harbor make the Harbor View Hotel ideal for a fall getaway.
---
New Orleans' French Quarter Fiends
New Orleans, Louisiana is widely considered to be among the most haunted places in the USA, with a dark, twisted history dating back to the earliest days of slavery. From voodoo, colonial occupation, and the Civil War to pirates and an "anything goes" attitude towards excessive behavior, the city of New Orleans is filled with haunting stories of murder, tragedy, sinners and saints.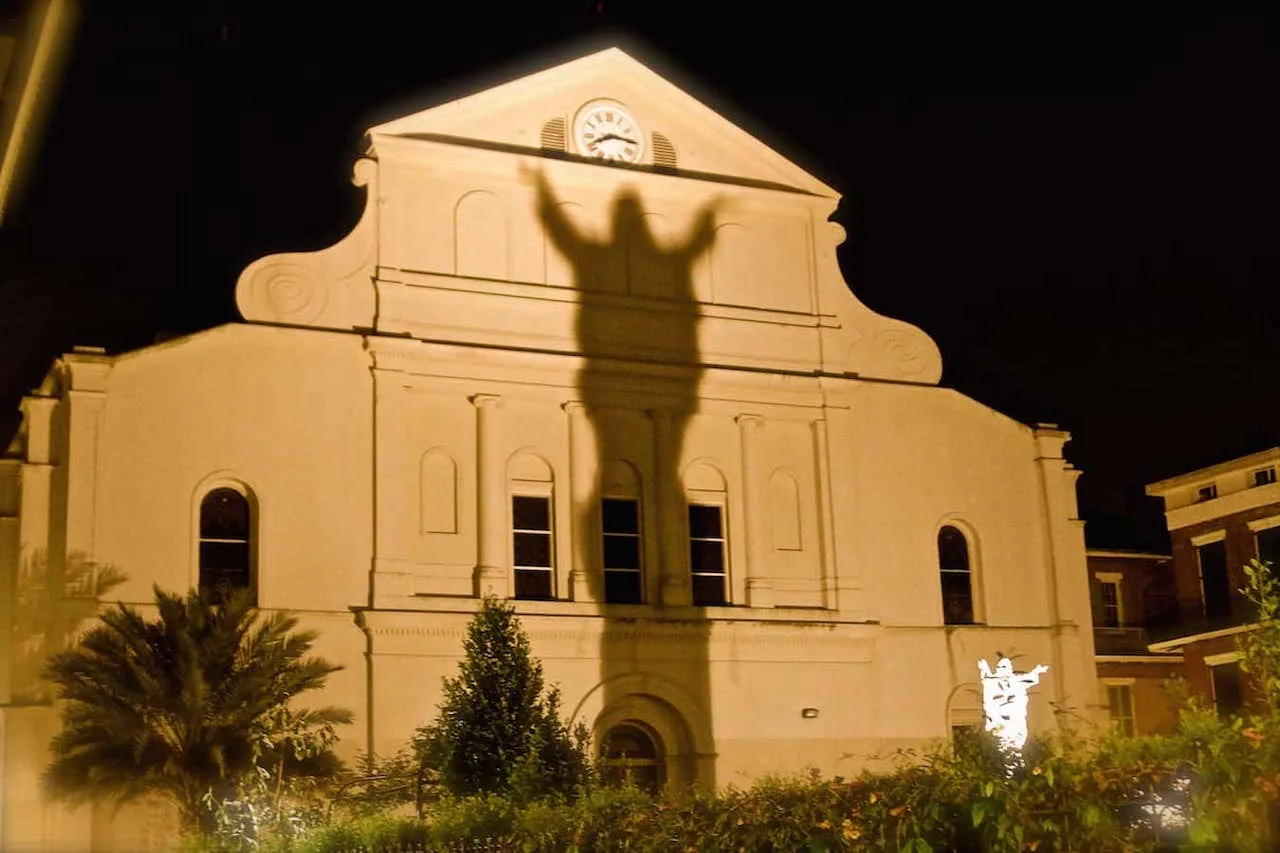 Taking a nighttime walking New Orleans ghost tour with Haunted History Tours is a great way to hear these macabre stories, which have inspired films and TV shows. Local guides lead small groups through the French Quarter (also known as the Vieux Carré), the oldest neighborhood in New Orleans, bringing its most chilling and horrific tales to life.
From the mysterious massacre of the sultan's house and the Civil War spirits said to haunt the Beauregard-Keyes House to the witch of the French Opera House and voodoo queen Marie Laveau's grave at St. Louis Cemetery, each of them is worthy of fireside storytelling.
The spookiest story of the evening is that of Madame Marie Delphine Lalaurie (played by Kathy Bates on American Horror Story: Coven), a socialite serial killer known for the brutal, inhumane torture and murder of the enslaved Africans she employed.
Some of these true stories might be a bit grisly for younger kids, but my tween-age daughter loved them. The only downside of the tour is that it runs fairly late and involves 2 hours of walking and standing, so she grew very tired by the end. Still, the tour is a must-do for anyone who loves history and/or horror, offering an entertaining and informative combination of both.
— From Bret Love & Mary Gabbett of Blue Ridge Mountains Travel Guide
---
• Book the Haunted History walking tour.
• If your fellow travelers aren't up to a two-hour walk, consider the hour-long Haunted History carriage tour as an alternative.
• A French Quarter vacation rental lets you enjoy bon temps like a local.
---
Savannah's Witching-Hour Walk
If you're looking for kid-friendly ghost tours in Savannah, then the Witching Hour Paranormal Tour is a good one to consider! The owner, Brigid, is typically the host, and she has a great sense of humor. She's also a good storyteller and kids tend to be riveted by the tales she weaves about Savannah's spookier side.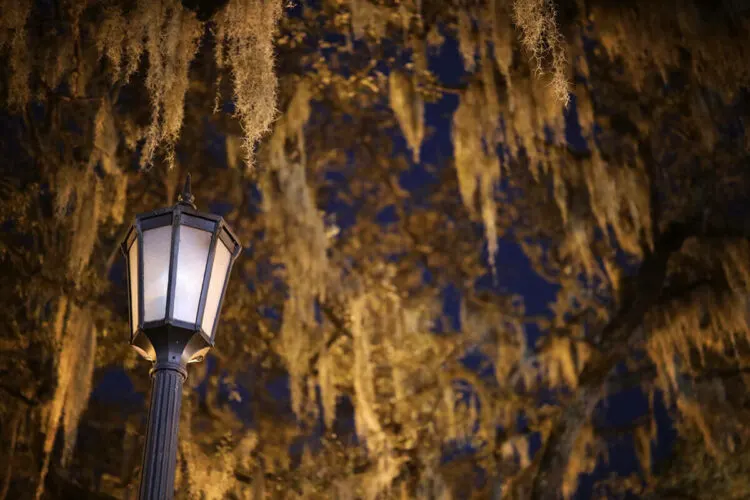 The tour group meets in a shop in the Historic District and then heads to Wright Square , one of the most haunted squares in the city. That's where the guides hand out dowsing rods (also known as divining rods) and teach guests how to use them to communicate with spirits.
Kids love the hands-on experience and have fun watching the rods move in response to their questions. One of the most memorable moments during my tour was when the host lit a cigarette and set it on an old wall in front of the historic Owens-Thomas House, then invited the spirit who haunts the home to "take a puff." It's fascinating to watch as an invisible entity appears to smoke the cigarette!
The tour also winds past Colonial Park Cemetery and to the tavern at 17Hundred90 Inn, where guests can go inside for a bathroom break. Adults can also purchase a drink to go, should you need something to steady your nerves!
Overall, the tour is a great way to delve into the history of the city while keeping kids and adults entertained. It's more enthralling than it is frightening and kids as young as 8-years-old can definitely enjoy it.
— From Erin Clarkson of Savannah First Timer's Guide
---
• Read about more things to do in Savannah with kids.
• And consider these other nighttime tours of the city.
• Enjoy Savannah charm and style in a beautiful vacation rental
---
Savannah's Spooky Cemetery
If you are looking to doing some exploring around the Savannah area, one of the cool and spookiest tours to experience is the Bonaventure Cemetery Journey. This easy, informative family friendly visit isn't a full-on Savanah ghost tour — it takes place in daylight. But it highlights Bonaventure's main attractions and shares both ghost stories and the factual history around some of the significant Savannah citizens who are buried here.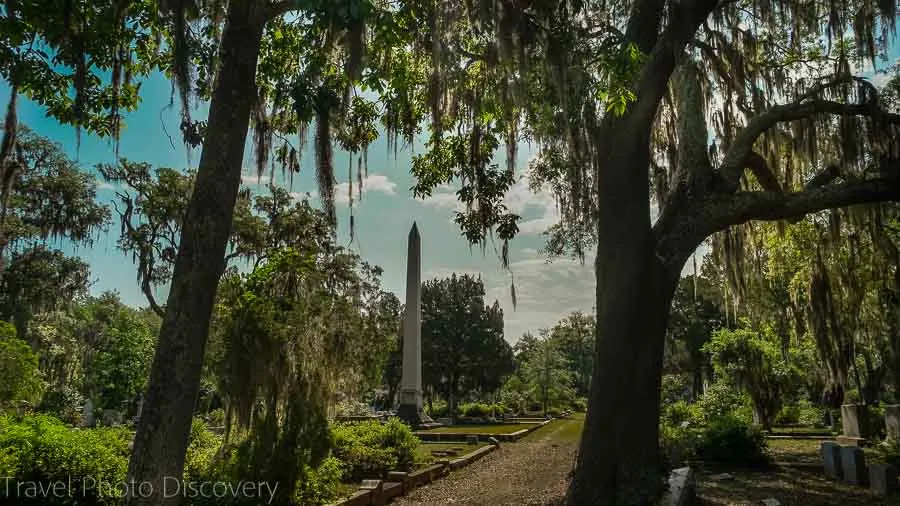 Shannon Scott, who leads the tours, is a master storyteller. He shares some of the more bizarre, ghostly and morbid tales of how death was celebrated in Savannah itself and at this famous cemetery. For example, he reminded us that this burial ground also served as a park when the city was dank, filled with sewage and not a very healthy environment.
Bonaventure cemetery is famously eerie, but these are daytime tours, ideal with kids who are too young or too easily spooked for after-dark ghost tours. But they're only done when the cemetery is open to the public.
— From Noel Morata of Travel Photo Discovery
---
• Book Shannon Scott's Bonaventure Cemetery Journey
• With an outdoor pool and Bay Street location, the Kimpton Brice Hotel offers a family-friendly respite from both ghosts and tourist crowds. We enjoyed our stay with Tiny Traveler.
---
Louisville's Macabre Mansions
Louisville Historic Tours' Old Town Walking Ghost tour is an excellent way to explore one of the "most haunted neighborhoods in America," the lovely Belgravia area. We learned fascinating pieces of the city's history and got to admire some its most beautiful Victorian architecture.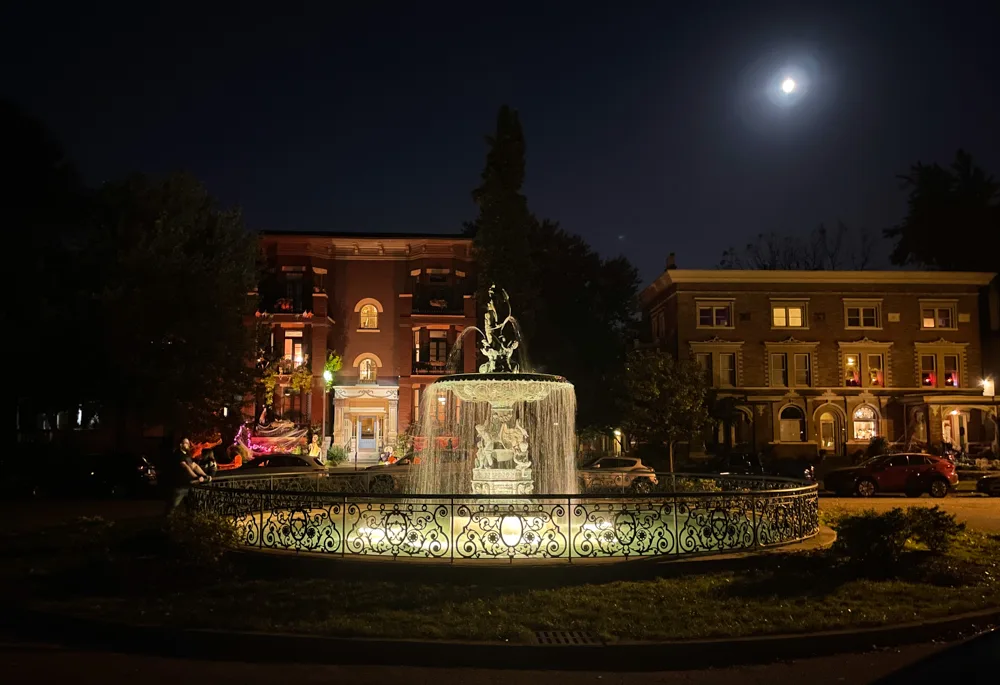 The walking ghost tour takes place nightly in and includes stops at churches, courtyards and parks to tell the spooky stories that happened here over the centuries.
A few of the stories are truly macabre and creepy and there are a few "surprising" moments, but there wasn't anything troubling enough to give our kids bad dreams.
With nearly two hours of walking, the tour isn't ideal for those with mobility challenges. The minimum age is 6 years old, and our 7YO and 10-YO kids had a great time. It was one of our favorite things to do in Louisville with kids!
— From Melissa Conn of The Family Voyage
---
• Book the Old Town Walking Ghost Tour.
• Book your own Victorian home in Old Louisville.
---
• You Might Also read about Key West and Bermuda ghost tours.
---
Boston Cream Pie with a Side of Specters
We did two walking ghost tours in Boston. They visited some of the same spots but had very different stories to tell. One focused on the ghosts and the sad stories that have left them unsettled. The other told tales of the unfortunate people who have encountered these troubled specters (is there any other kind)?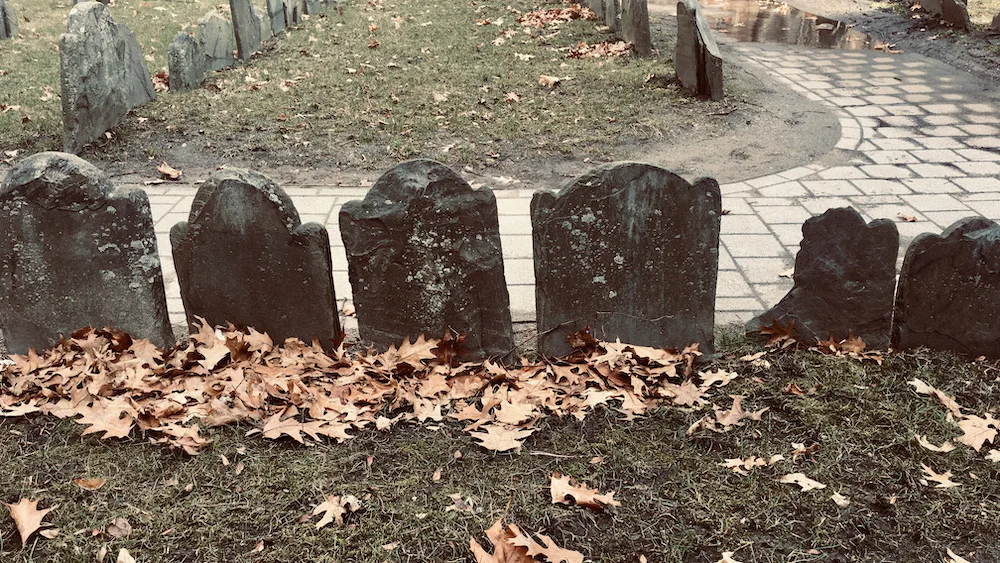 Boston's ghost tours usually start at the Common. Over the centuries the Common has been home to a traditional cemetery and mass graves for Revolutionary War soldiers and cholera victims. It was also home to the tree citizens used to gather around for local hangings. It's easy to see that this popular city park has a lot of people who might want to haunt it.
Most tours wander past a nearby colonial cemetery and the Parker House Hotel, still haunted by its original owner among other notable ghosts. The Hotel's Last Hurrah and Parker's bars are good places to visit after your tour is done. Indulge in a slice of the hotel's signature Boston Cream Pie. If it's a chilly night, or a glass of very good Irish coffee, too.
---
• Read more about our experience on Boston's Ghost Tours.
• Book a Haunted Boston or Boston Ghosts walking tour.
• Book a room at Parker House Hotel to be steps from Boston's best ghosts
---
St. Augustine's Spirited Side
The Ghosts & Gravestones tour I did in St. Augustine is the exception to my no-trolleys rule. This is largely because one of the stops on this ghost tour is the Old Jail, which is outside of town.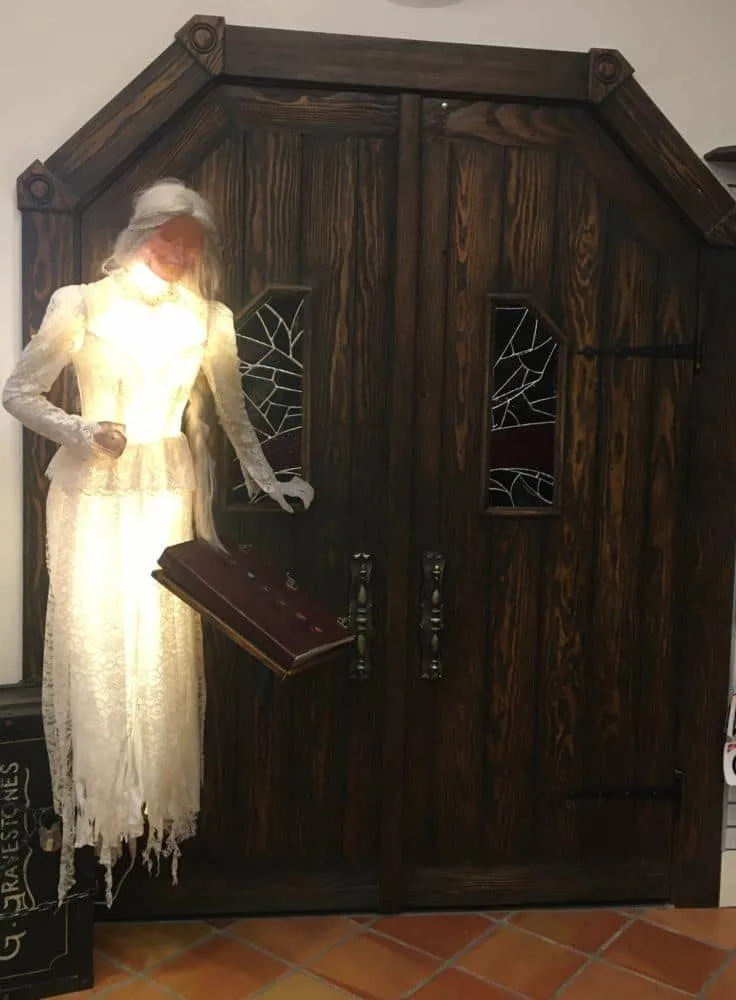 Old jails are creepy and I admit I had to psyche myself up to go inside at night on a ghost tour. I'm glad I did, though, because it was not nearly as creepy as it could have been.
The G&G tour had good local history and stopped at a cemetery, the city gates and an old-fashioned drug store and wax museum. It shouldn't surprise you if one of the wax "statues" turns out to be restless spirit or if one of the jail's former residents shows up to explain that he didn't do it.
---
• Read more about my experience in St. Augustine.
• Book the Ghosts & Gravestones tour.
Stay in your own ghost-free historic-quarter cottage in St. Augustine.
---
Bewitched Colonial Williamsburg
Our first ghost was in Colonial Williamsburg when Teen Traveler was just out of 3rd grade. There are quite a few walking ghost tours; not all are in the historic center and not all are kid-friendly. My primary criteria at the time was for it to be fun and a little thrilling without keeping our 7YO awake all night. I decided to go with Colonial Williamsburg's own walking ghost tour because it seemed likely to be well done and very family friendly.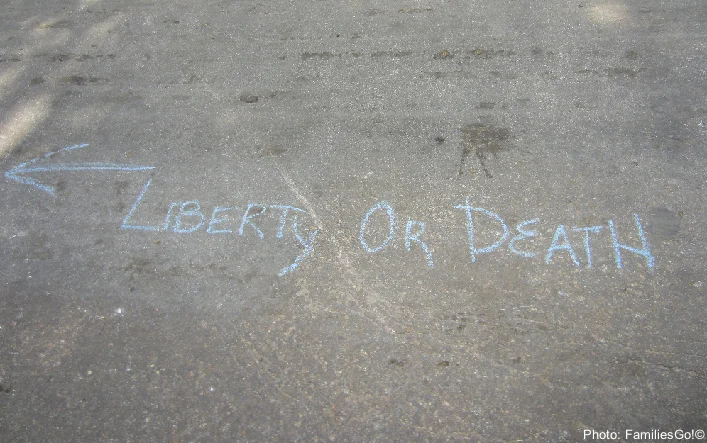 Several families were on the tour with kids as young as 6 or so. And the tour began at 7:00pm, which is still daylight in the summer. Our tour guide was in costume and lit a candle lantern when it did eventually grow dark.
We walked Duke of Gloucester Street and heard tales of thwarted love and heated arguments in the town's homes and taverns. Lately the tour has begun going into some of the buildings on the tour, which makes it worth an encore if we ever visit the area again.
If you want to eat dinner at Josiah Chowning's Tavern before the tour, make a reservation. It's busy on weekends and every night in the summer. After the tour there was room for us to sit down for drinks and snacks (savory for the parents; sweet for the Tiny Traveler).
---
• Read more about our summer fun Williamsburg.
• Book a stay at the elegant and family friendly Williamsburg Inn.
• Read reviews for Haunted Williamsburg and other area ghost tours.
---
Philadelphia's Founding Phantoms
The latest ghost tour we tried was in Philadelphia. I chose the Spirits of '76 walking tour, partly because I can't resist a good pun. And mostly because they limit the size of the group. We were about ten people, which makes it easier to hear the guide and have casual conversation. And with fewer people to herd the guide can lead the group from one stop to the next more easily.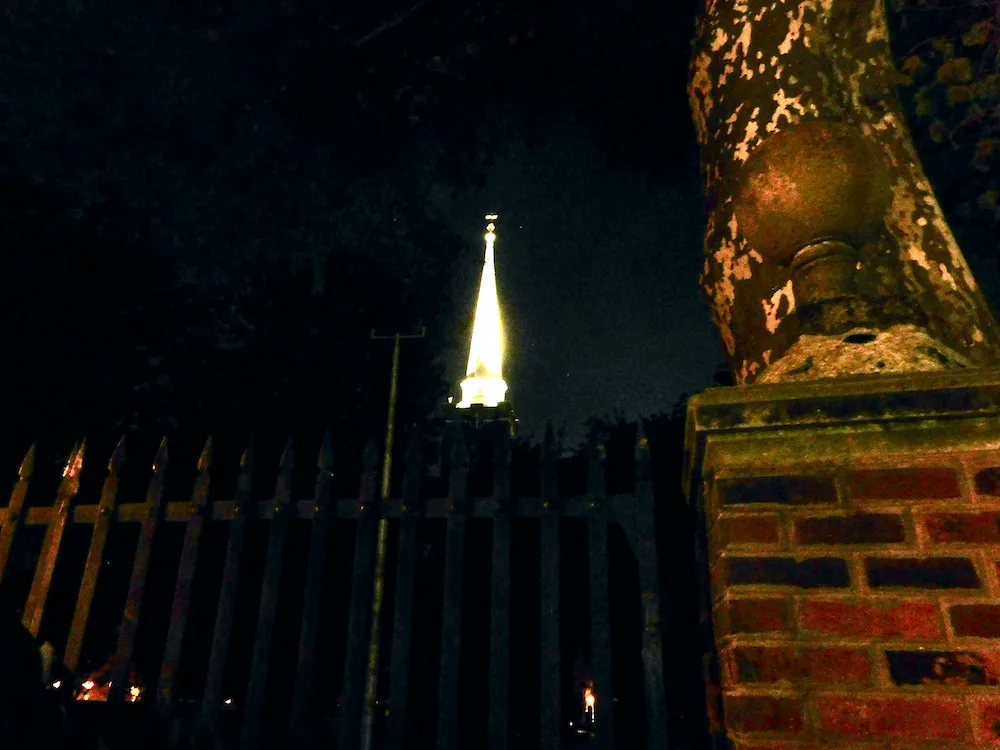 Philadelphia's Old City streets are lined with colonial-era buildings, churches and row houses . As you walk around you wonder what they all are. Our tour guide told us as much about the people who lived and worked in these building as about the people who died in them and are still hanging about.
---
• Read more about our many weekends in Philadelphia with our daughter at various ages.
• Book the Haunted Philadelphia Spirits of '76 tour.
• We liked the Doubletree by Hilton Center City because it's central to everything and has a pool.
---
New York City's Ghostly Greenwich Village
I always encourage families visiting New York City to get out of midtown and explore the city's oldest neighborhoods, which are all south of 14th street. Greenwich Village was once a bucolic village, far from the walls of the small city at the tip of Manhattan island.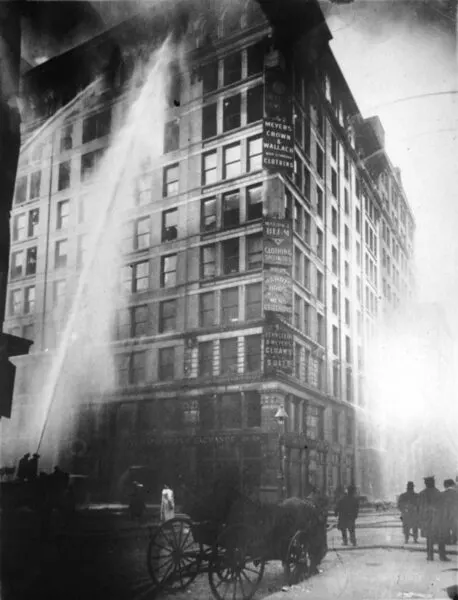 It has been home to one of the worst disasters of the Industrial Revolution in 1911, to Brownstones that housed the City's elite, to bohemians, artists and the gay and lesbian community. Now NYU's open campus sits surrounds its epicenter, Washington Square Park.
This is the neighborhood most ripe for a NYC ghost tour and the Greenwich Village Haunted Ghost tour is ideal because it caps the group at 20 people. Trying to navigate the busy and narrow Village streets in a group any larger would be unwieldy. The tour begins and ends at Washington Square Park, which has a wealth of history and ghosts all on its own, and makes engaging stops in between.
---
• Lighten the mood after your tour at one of NYC's top dessert spots.
• Book the Greenwich Village small group Haunted Ghost Tour.
---
Pin it for later!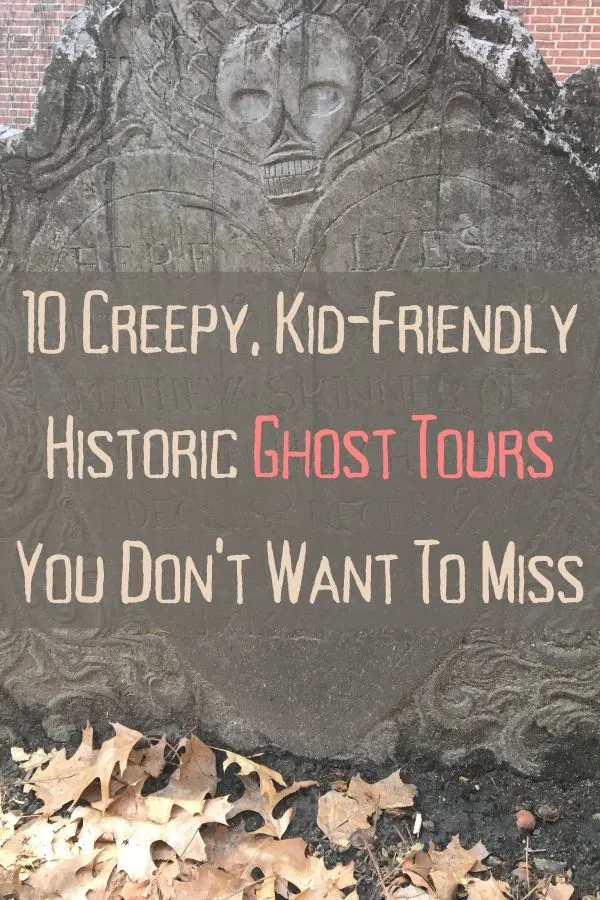 Photos: Sleepy Hollow (Paul Brennan/Pixabay) Olde Town Ghost Walk (Ghosts of Newport); New Orleans (Blue Ridge Mountains Travel Guide); Savannah (Savannah First-Timers Guide); Bonaventure Cemetary (Travel Photo Disovery); Louisville (the Family Voyage); Boston, Williamsburg, St. Augustine (FamilieGo!©); Philadelphia (Teen Traveler/FamiliesGo!©).