London is high on most families' vacation bucket lists, and it'ss often the first place a family travels to in Europe.
It's easy to see why, the people speak English, there's a lot of familiar, kid-friendly food, and the city has attractions and activities you know you want to see before you even pick up a guidebook.
But which of those attractions will kids like best, where can you reliably take toddlers, and what will teens want to do in this famous U.K. city? And which will engage parents as well?
We have the answers!
We asked moms and dads who have lived in or spent considerable time in London to tell us their favorite things to do with their kids. Some are obviously kid friendly and others might surprise you.
Most will work with a wide age range, except where noted. Make a goal to try them all on your next visit and tell us which London sights your family liked best!
---
You might also like:
• 11 awesome Things To Do in London with Teens & Tweens
• 5 U.K. Seaside Towns
• Edinburgh's Royal Mile with Kids
• 5 Reason To Take a Family Sidetrip to Wales
---
20 Must-Do Activities For A London Family Vacation
Museums
Aside from being one of many famous London landmarks, the British Museum holds a historic treasure trove from mummies to the Rosetta stone and admission is free, though you can book family tours, which can help you get more out of your visit in a short time.
It has some good resources for families. Ask at the family desk about organized activities and gallery-based backpacks on weekends.
Tween Traveler was interested in visiting on a recent trip to London because the Rosetta Stone plays a key part in a the Kane Chronicles by Rick Riordan and she wanted to know what it looked like.
The challenge of the British Museum is that it's large and often pretty crowded. You can ask for Family Trails guides at the information or family desks. These will send you on a scavenger hunt of sorts through several rooms at the museum. But truth be told, Tweeny Traveler was a bit old for it and was bored after two rooms.
I think this is one of those museums where it's best to choose one or two rooms to thoroughly explore and then break for ice cream.
The first room to right when you walk in houses the museum's original collection. It's a jumble of the stuffed birds and animals, bones, stones, sample boxes and scientific tools you would expect to see in a 19th century museum. It's exactly the sort of stuff that kids find fascinating.
The first room to the left has the museum's "greatest hits" including the rosetta stone and Elgin marbles. The third floor has a small but exotic collection of clocks and other time-keeping instruments. This was Tween Traveler's favorite room.
Skip the Egyptian room with kids unless you're lucky enough to visit on an off day. It was by far the most crowded and kids can't really get a good look at anything.
Tip: The security line outside the museum is long but don't let it discourge you, families with kids have a separate line that moves much faster.
Age Group: 8 and up
The Science Museum is also free and designed to appeal to adults as well as kids and has a variety of activities for different age groups.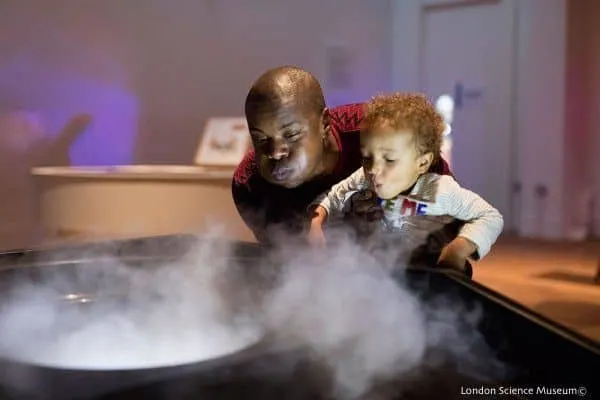 Age: All ages welcome but 6YO and up will get the most out of it.
• Teens will like the VR experience and learning about super viruses.
• School-age kids will like the interactive math gallery and Wonderlab.
The Free-admission Natural History Museum offers everything a natural history museum should, including galleries that cover dinosaurs, evolution, the ocean and space.
Age: All Ages, though teens and tweens who have been to similar museums elsewhere might pass on this one.
Tip: All three of the above museums are free. Special activities and exhibits usually require tickets in advance and some of these have a fee.
The Transport Museum in Covent Garden offers a look at the 200 years of transportation in London via a wider range of exhibits than you might expect in a bright and airy space.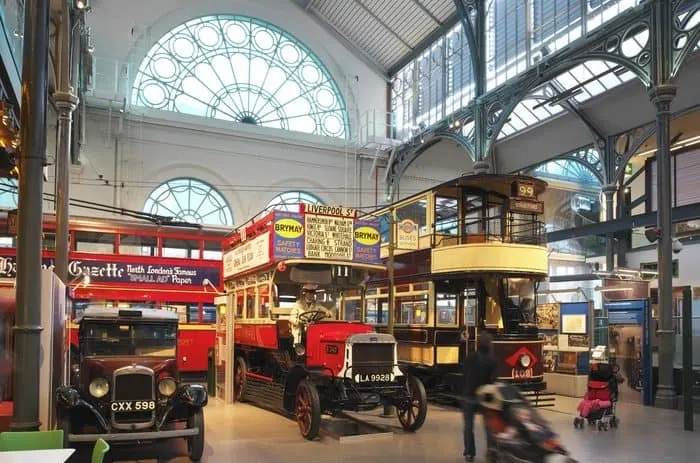 It also offers guided tours of unused Underground stations and other spots in "hidden London," which will appeal to teens and some tweens.
Even if you don't have time to visit the location, pop into the gift shop when you're in Covenant Garden. With its side variety of toy trains and vintage transit posters it's one of the most fun museum gift shops I've visited.
The museum is free for kids but charges admission for those over 18. Teens can visit the museum for free without a grown-up.
Age: All ages. Good toddler activity.
5. Ships along Thames
The Golden Hinde is a replica of the ship Sir Francis Drake used to circumnavigate the earth in the 1570s; In 1979 a crew of 15 retraced Drake's trip in it.
The Cutty Sark is the last remaining tea clipper, making cargo trips to and from China in late 1800s; it was one of the fastest ships of its kind in its day.
Both of these ships are in drydock, not on the water, which we found surprising and a little odd.
The Hinde, located just west of London Bridge on the south bank of the Thames, has an audio tour and costumed interpreters available on most days. You can book in advance to take part in its Escape Room, which is pirate themed and involves ghosts. Little Kids like their periodic pirate takeovers, which are included with the regular admission costs.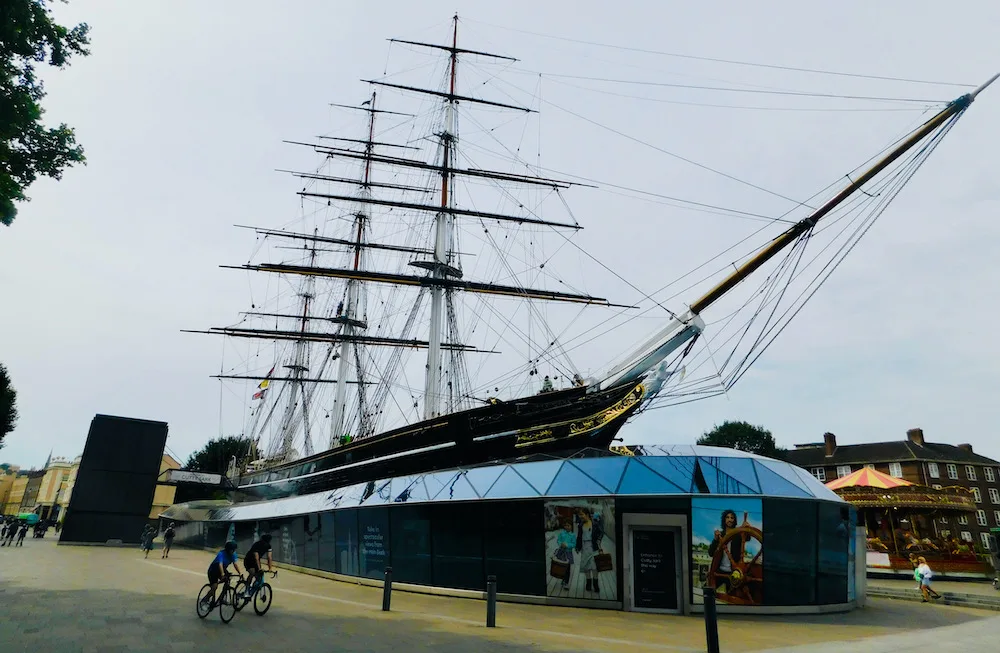 The Cutty Sark is in Greenwich next to the Royal Naval College. It also has an audio tour and customed interpreters on weekends and school holidays. Adventurous visitors can pay an extra fee to try climbing the rigging, and for something different you can book afternoon tea below the hull.
The HMS Belfast is a 9-deck WWII-era warship that docked in the river midway between London and Tower bridges. This city on the water has new interactive exhibits and displays to engage younger visitors more. Families can help the crew prepare for the D-Day invasion during school breaks by deciphering coded messages and more. There are periodic World of Warships events in the control room, which will appeal to the gamers in your family.
Unless your family is super interested in maritime history I'd pick one ship for your visit, probably the one that's closest to other thngs you'll be doing.
Age: Preschoolers might just like exploring the older ships. Ages 7-10YO and up are more likely to listen to the guides and learn about history from a unique vantage point. Tweens and Teens are most likely to be intrigued by the escape room and climbing.
---
Planning a trip to London or the U.K.?
Find the best deals on London hotels on Trip Advisor.
Stay in a your ideal London Neighborhood with a VRBO vacation rental.
I like Kayak for finding the best air fares.
It's easy and much cheaper to take the fast train or the underground to Central London from Heathrow or Gatwick.
---
Palaces & Castles
6. The Tower of London
We've all heard of the Tower of London and know of some of the grisly things that have gone on there, but until you visit London, most people don't really know what it is: a royal palace, fortress and prison.
The Yeoman Guards, or Beefeaters, are all members of the British military who have served with distinction; being appointed as one is an honor.
Their tours, which are highly entertaining and informative, are a must for any visit and with any age child. And they're happy to pose for photos and to answer questions.
But don't mess with them. They're also there to protect the Tower and its valuables and are all business when they need to be. Some live onsite with their families.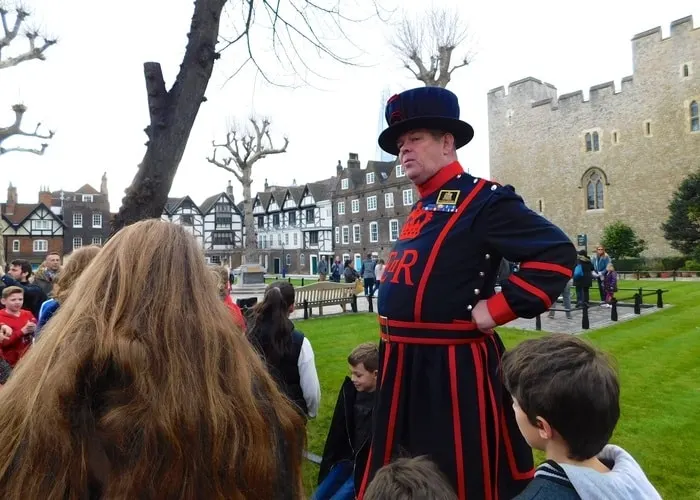 The crown jewels are stunning. Absolutely stunning. The line to see them can be long but it moves fast. A moving sidewalk inside the vault where the gems are displayed ensures this.
Surprisingly, Tween Traveler wasn't at all interested in them. So she and her dad went to explore the armory instead. In additional to the old weatpons, Tween Traveler liked the interactive stations, including one where you can try out your sword-weilding skills. And there's a giant dragon made from armaments.
On weekends and school breaks look for special family activities such as a game called Guard the Castle. Kids ages 5-15 pay a little less than half-price. Under 5s are free and those 16 and up pay full admission.
Age: Best for ages 8YO and up.
7. Hampton Court
Hampton Court is a quick train ride from central London and a giant leap into history. The palace offers costumed tour guides, court jesters, a working Tudor kitchen, and multi-sensory experiences for preschoolers. All this, plus the Magic Garden lawn maze and truly Elizabethan playground make the England if King Henry VIII come to life in a very family friendly way.
You can get a family ticket and explore everything including the maze and playground. The website has a great guide to spending 1, 2 or 3 hours at this amazing estate that is genuinely one of my favorite places to visit in London and ideal for exploring English history with kids.
The maze isn't open during the winter months, but the castle is. During school breaks look for special activities, especially in the kitchen. Renassaince chocolate making was on while Eileen's were visiting over the UK's winter break week.
Age: You can safely take toddlers and preschoolers to enjoy the grounds and some parts of the buildings.
• School-age kids will like the hands-on history lessons.
— Cat Jordan
8. Buckingham Palace
I can't leave Buckingham Palace off the list. While it's another of London's most popular tourist attraction it's also impressive in every way.
The changing of the guard (see below) still thrills kids and adults alike. There is something about the pomp and splendor that has all of the watchers straightening their backs and standing to attention.
You can enjoy the palace from the outside for free all year round. Here's a brief preview.
The State Rooms at Buckingham Palace are open during the summer (when the Queen is away) and there are some cool kids activities like a giant jigsaw puzzle and dress-up opportunities.
After your palace visit, take a walk in St James Park, which has a great playground. It also has lovely walking paths and lots of birds to feed including pelicans, quite a rare site in London.
From there go passed the Horse Guards parade, which you might know them from Madeline in London. — Cat Jordan
---
How To See The Changing Of the Guard With Kids
Few things epitomize a visit to London for Americans like going to see the changing of the guard. Even on a winter's day when London tourists are far below peak numbers, we joined hundreds of people outside Buckingham Palace to watch. Here is what we learned and our best tips for taking kids to the changing of the guard.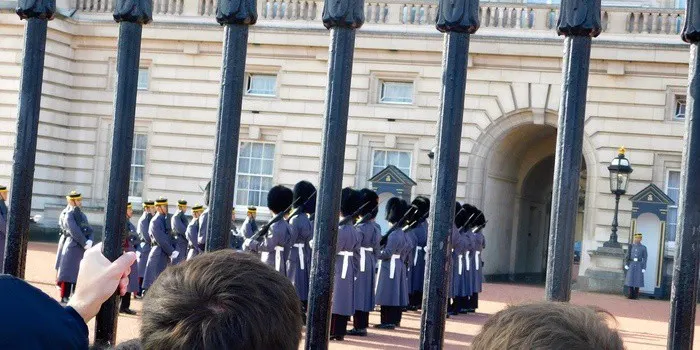 Most of the information available on how to see the ceremony is aimed at military enthusiasts. It's highly detailed but unhelpful. If you go with a baby use a front carrier; it's way too crowded for a stroller.
Don't take toddlers or preschoolers. The crowds are too big and the wait is too long for their attentions spans.
All of the action that you want to see–the military bands playing, soldiers marching, guards changing–happen in the courtyard behind the palace's front gate. Ignore all the people crowding Victoria's statue and the street in front of the palace. Get at close as you possibly can to the front gate. And wait.
Once you have a spot by the gate, don't leave. You'll never get it back.
The action happens between 10:45 and 11:30. But you have to be in place by 10:00 at the latest for a good spot. Bring books, screens, snacks, maybe even breakfast to keep yourself and the kids occupied while you wait.
If you are facing the street in front of the palace you'll see horse guards, carriages, marching bands and soldiers march up and down the side streets into and out of the palace grounds. One group of soldiers will march right by you. This was okay but not worth the wait, especially for Tween Traveler, who found everything about the exercise underwhelming.
Don't pay for a guided tour of the ceremony. They can't guarantee you a good spot, which is really the only thing that matters for getting the most out of it.
I agree with Cat: After the show is over head to St. James Palace to see the horse guard return. Or just wander into St. James Park, which is gorgeous, even in winter, and has a lovely playground.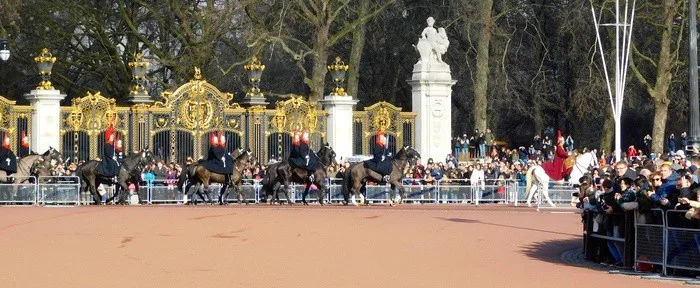 ---
9. Windsor Castle
Built in the 11thcentury, Windsor Castle is the oldest and largest occupied castle in the world. Queen Elizabeth is the 39throyal to live here so it is a treasure trove of both history and royal opulence.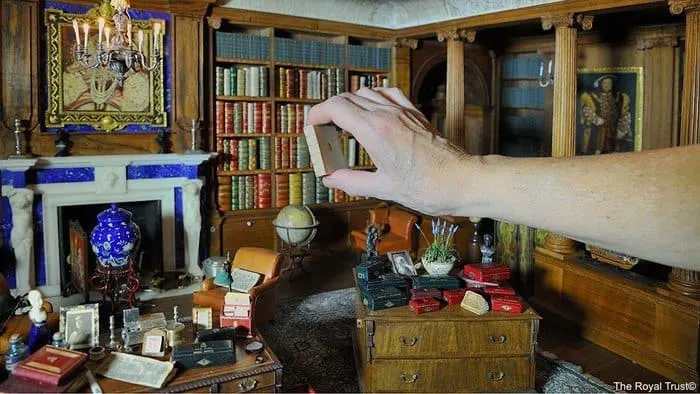 The Castle is steeped in history but not boring. Take a guided tour of the grounds, stop by St. George's chapel and admire the meticulously detailed 1920s doll house.
A life-size version of the Queen's famous corgi dogs will help you follow the kids' trails through this famous royal home. What could be more perfect than a photo with one of these larger-than-life pups?
If all the history and finer starts to make kids fidgety, take them outside to expend their extra energy in sprawling Windsor Park.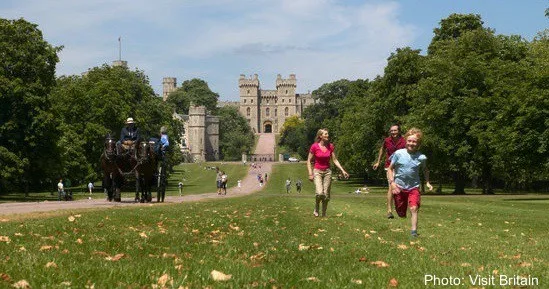 Tip: Windsor Castle is technically not in London, but it's an easy train ride out of Paddington Station. Give yourself extra time at the station to check out the Paddington Bear statue and shop.
Age: 8YO and up. — Cat Jordan
---
10. Kensington Palace
Kensington Palace is the offiicial residence of royals Kate and William and their three cute kids. The palace is nestled in Kensington Gardens, which has plenty of pretty places for your kids to roam.
There are fabulous things to see inside as well. The Palace runs a number of kid activities, storytelling events and scavenger hunts.
For the grown-ups, look for revolving special exhibits like "Fashion Rules Restyled," which explores the history of royal fashions and style. It included some of Lady Diana's and Queen Elizabeth's most beautiful dresses, which you and your girls will love.
Ages: 8 and up, or younger if you're willing to spend more time on the kiddo activities. — Cat Jordan
---
Shopping
This is one of those places that can be hard to leave once you walk in with a child, but the London Tower of Toys is an essential thing to do with kids.
There is a "grand opening" every morning with giant bears, acrobats and more.
Catch a royal bear wedding in the afternoon. Or explore a huge Lego department with a Lego center where kids can do some building. You can also buy unique London-themed building kits.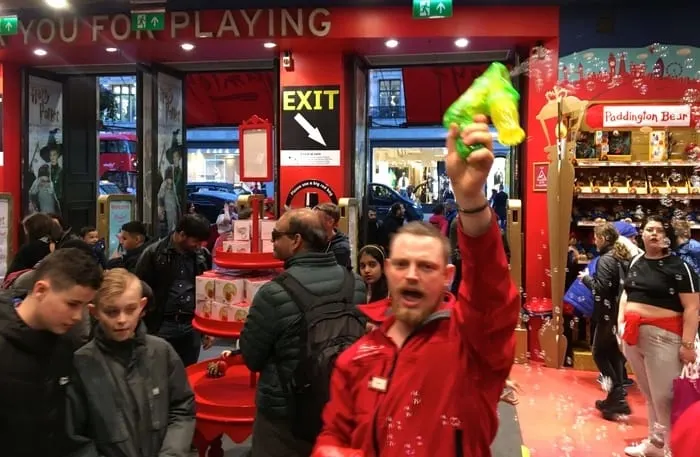 We made the mistake of visiting Hamleys while UK kids were on a school break. And it was a madhouse.
Music was playing outside, employees were tossing around flying toys inside, kids were being placed in Hogwarts houses via a Lego sorting hat in the Harry Potter Department and scattering Legos across the upper floors.
I thought Tween Traveler would find it all overwhelming and walk out after a few minutes but she persevered. She made sure to visit every floor to see what each had. And she spent a good amount of time cuddling all the giant stuffed animals.
Still, based on our eperience during February break I would not go near the store in December.
Age: Good for kids of all ages, but at your own risk. Consider:
It's a prime setting for a meltdown with younger kids who might be overwhelmed by the crowds and options.
Tween Traveler was happy to look around and not buy anything. Some kids will want to buy everything in sight.
Aside from huge Star Wars, Lego or Harry Potter fans, interest probably peters out around age 10.
Tip: If you need the restroom while you're there, they are on the very top floor. Take the escalators. The elevators are impossible.
12. After-Christmas sales
Boxing Day (December 26) is the day the winter sales start across London, from the luxury boutiques on King and Bond streets to the more mainstream shops on Oxford and Regents streets and in Covent Garden and Westfield.
Through January, pick a neighborhood and wear good walking shoes to find famously great bargains.
Age: Teens will thank you.
School-age kids will happily spend the afternoon at Kidzania (see below) while you bargain hunt.
Exploring Neighborhoods
13. Soho
This West End neighborhood is home to much that teens will appreciate more than younger kids. Ample shopping includes Carnaby Street boutiques, Hamley's toy store, an the instrument shops of TinPan Alley.
Liberty is a luxury department store in an early 20th century Tudor Revival building that incorporated the broad beams and timbers of two British ships. It's worth a peak inside.
Several area theaters house popular musicals.
Restaurants can be decidedly grown-up around here, but the Breakfast Club, Yalla Yalla, Dishoom, Honest Burgers and Venetian tapas spot Polpo will do for families looking for reasonable pre-show dinner.
Tip: We found that for the most part only high-end and hotel restaurants in London take reservations. You'll probably have to wait for seating in any place around Leicester Square, so leave plenty of time to eat before your show.
Age: Best for tweens and teens.
14. The South Bank
The easiest way to get a feel for the South Bank is to start at Westminster Bridge and walk along the River Walk to Millennium Bridge. If you aren't footsore yet, keep going to London Bridge.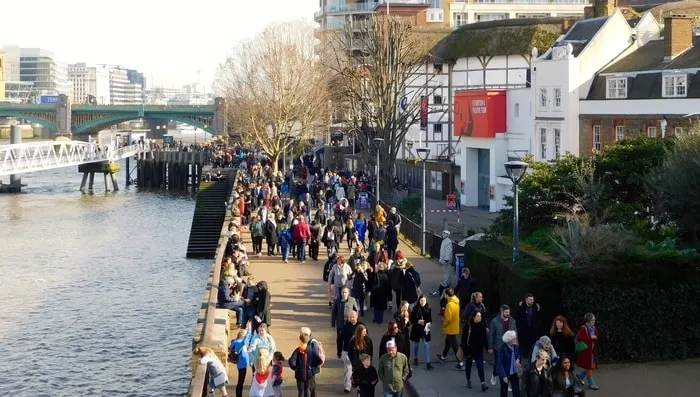 Along the way you'll pass South Bank arts centre and the Royal Festival Hall, the London Eye and Jubilee Park, London Dungeon and the Aquarium as well as the Tate Modern and the Globe Theater. You'll also get great views of the skyline and distinct landmarks like St. Paul's and Westminster (photo 0p!).
Take a break by stopping at any of the several coffee bars, pubs, food trucks and cafés that dot the esplanade. Teen traveler loves the truck that makes fresh mini doughnuts to order so keep an eye out for that.
Jubilee Park has a nice playground for small and big kids.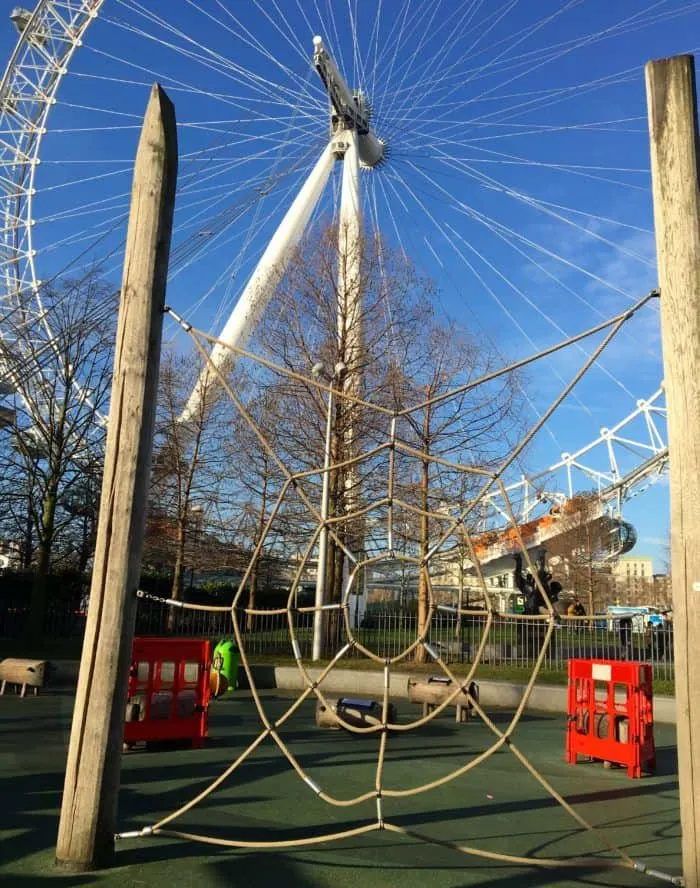 Shakespeare'sGlobe Theater gives tours and demonstrations on most days and has special family tours and workshops on school holidays. It organizes the family activities by age, with some for school-age kids and other for middle-schoolers, which we appreciated.
Read more We took a Tour of The Globe.
The Tate Modern is free to visit, so stop in and see what's on. It's a risk-free opportunity to give your kids a taste of modern art. There is often something interactive for kids on the first floor, especially over school breaks.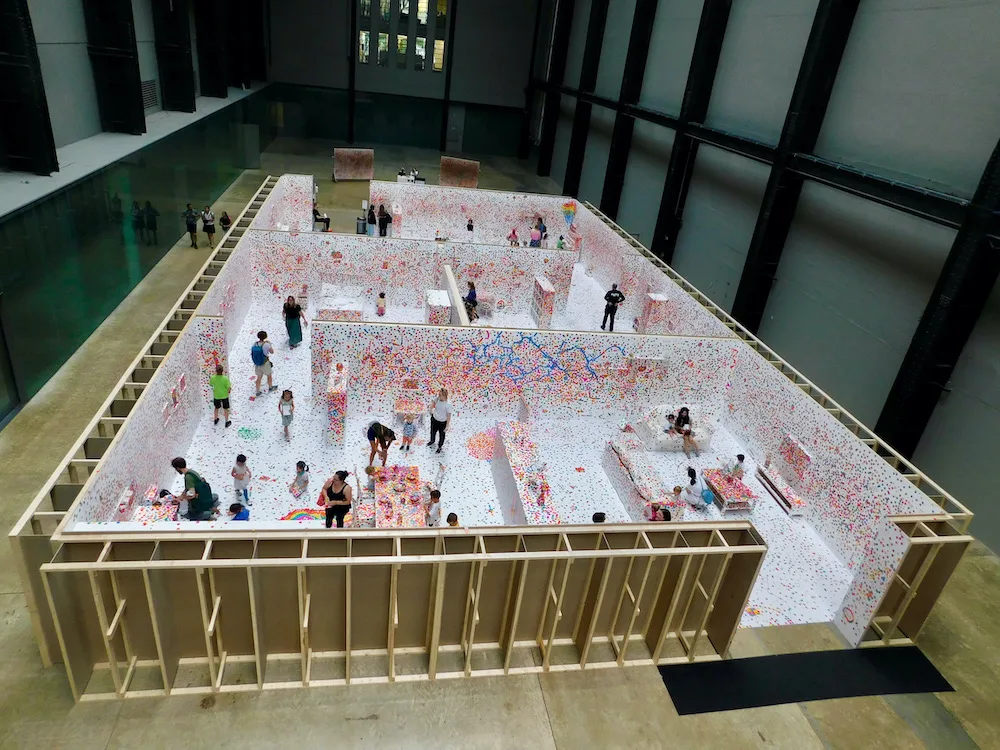 Age: Different ages will like different aspects.
Just for fun
This is the large, rambling city park you need when your kids are tired of sightseeing. Wander the paths, go boating on the Serpentine, find the shaded, woodsy playground, kick a soccer ball around, even take a swim on a rare warm day.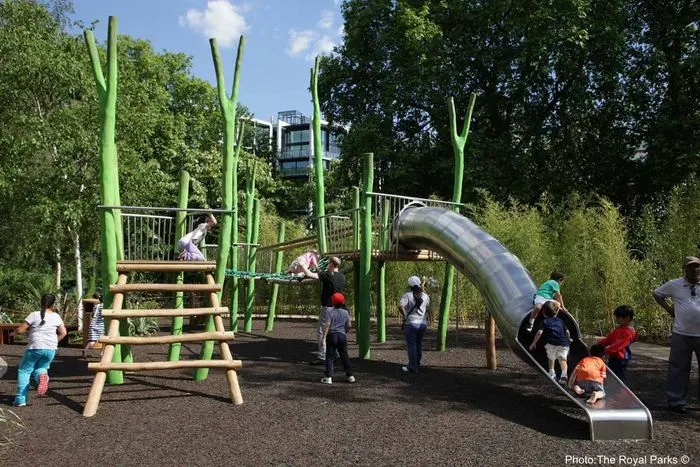 Age: Kids of every age will find something to like. It's definitely a good toddler pick.
This indoor entertainment mecca describes itself as a city run by kids. Kidzania has outlets in several cities around the world and tends to be a popular activity wherever it opens.
It's the sort of attraction our family generally avoids on vacation because it's for kids only, not for families, but lots of families do love it, especially those doing longer stays with kids. During four-hour sessions kids choose professions, earn "money," open bank accounts and do leisure activities. It takes playing "grown-up" to a whole new level.
Age: Kids from 4YO to 7YO need an adult chaperone, who "gets" to watch the fun on screens in the lounge.
• 8YO-14YOs can be dropped off and collected later, which is an option if you want to do something your kids aren't interested in or just want couple-time on your trip. But I think it's possible kids' interest wanes somewher between ages 7 and 11.
17. Ice Skating
You won't mistake the outdoor rinks at Somerset House or Hampton Court for your local hockey rink. If you visit London in December or early January take a turn on these ice ponds that enjoy very splendid British backdrops.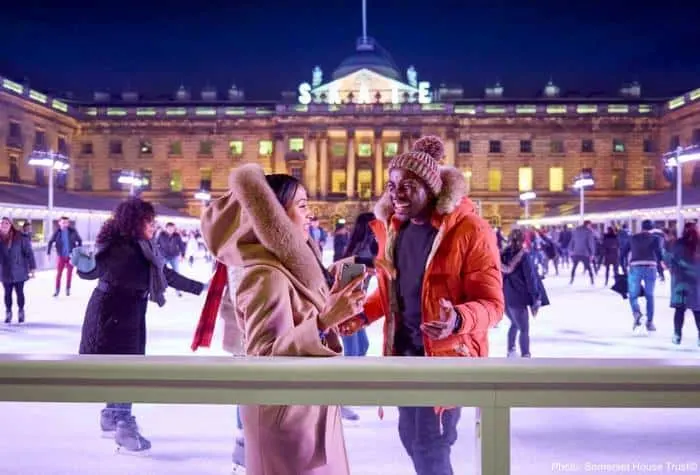 Tip: Somerset House also has a constantly changing roster of special exhibits and events indoors and out. Over the holidays and summer check for family friendly ones like the show all about Charles Schultz and his Peanuts comic strip that we saw over winter break and the carnival they held during our summer visit (top).
Age: 4YO and up.
18. Harry Potter Mania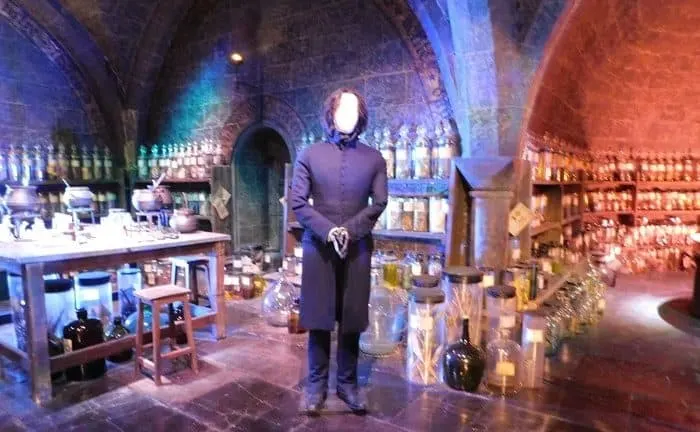 Fans of a certain teen Wizard will need to go to the Warner Brothers Studio Tour. You'll walk through Diagon Alley and the Great Hall, Bow to Buckbeak in the Dark Forest, fly on a broom and see plenty of props and costumes.
Read More: Our review of the studio tour.
Age: Take any kid who has seen the movies.
• Tweens and teens will most appreciate learning "how the magic happens."
19. More Harry Potter Mania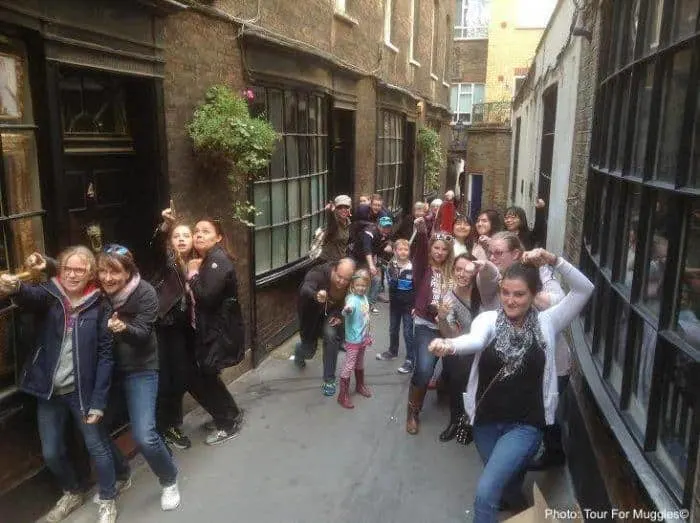 If you didn't manage to get tickets to The Cursed Child or the Warner Brothers tour you can still give your kids a dose of Potter with the Tour For Muggles, a walking tour of filming locations and spots that "inspired" J.K. Rowling when she was writing the series.
Age: 8YO. Best for kids who have seen the movies and can handle a one-two hour walking tour.
During the holiday season Hyde Park shines with carnival rides, ice skating, giant ice sculptures, live shows and warm and yummy things to eat and drink.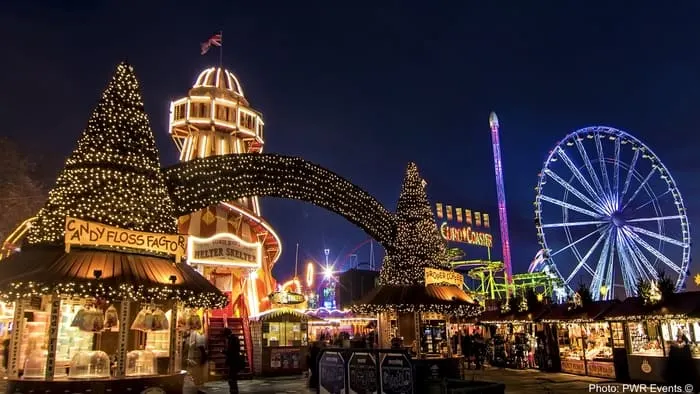 Age: All Ages.
Getting to London
You can get to London easily on most major carriers. It's worth checking out budget airline Norwegian, known for its low fares and bare-bones flights. It lands in London Gatwick. Icelandair and Aer Lingus can offer excellent off-peak fares.
There is easy public transport to and from central London from both Heathrow and Gatwick.
The train to and from Gatwick is about £10 for every traveler above age 12 and goes through a few different stations including Black Friars. A taxi will be upwards of £125, quite a difference!
The train from Heathrow is quite fast and about £20 per person over age 12. It's quite a long walk from the terminal where U.S. flights land to the London Express. If you have time you can also just take the Tube.
The London Express goes to Paddington Station. Depending on how much luggage you have and where your hotel is, you might be able to walk or catch the underground. We took a taxi from Paddington on our first visit to the city and just took the undergroun on our second. We were less jetlaggs and it was easier to get closer to our hotel.
Locals tell me that if you don't want to deal with the trains, Uber is less expensive than London's famous black cabs. I think the black cabs provide exceptional service and I favor supporting local cabbies over Uber, but there's no denying the savings.
Pin it for later!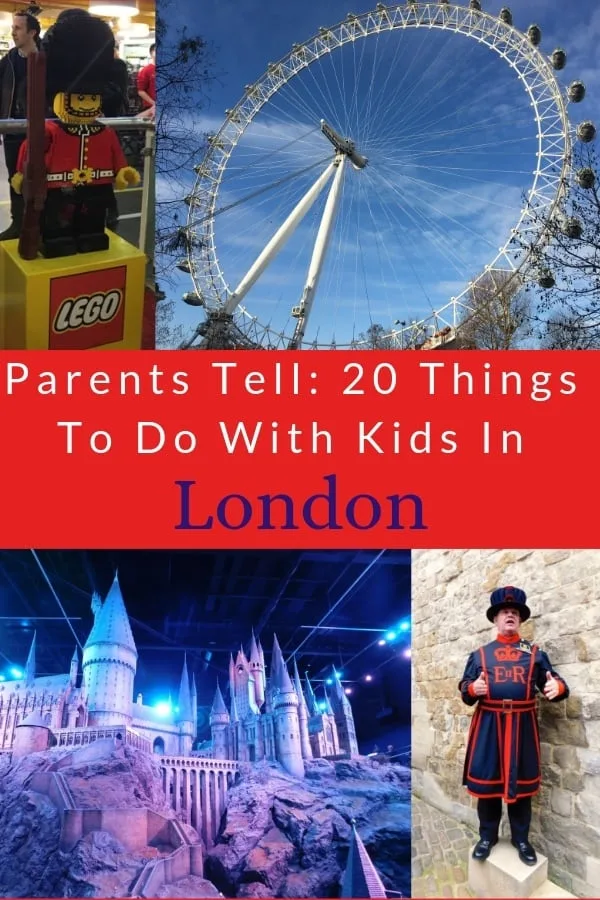 Thanks to ‪Helen Hookway, Tamara Boorstein, Cat Jordan, Suzanne McGee, Joe Buscemi, Dan Shrage for contributing their great ideas.