Cape Cod With Kids: Where to Stay, Play and Chill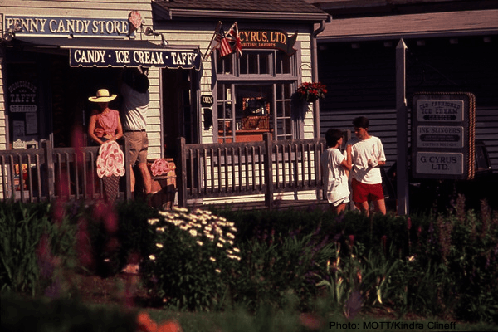 Last week's post should leave you with a full stomach, ready to explore Cape Cod by land and by sea. Below are Lisa Antinore's best picks for what to do with kids on Cape Cod.
Stay
Chatham is considered by most people to be quintessential Cape Cod, and I agree. It's our favorite town, along with Harwich and Yarmouth. But Yarmouth is your best bet if you're traveling with children due to its proximity to everything fun. Keep in mind that the Cape is small enough that no matter where you stay you'll be able to explore most of it over the course of a week.
We like Ocean House in Yarmouth or the Sandpiper in Harwichport (try to snag one of two private seaside cottages, though neither have pools. When we need a pool or want a suite we opt for the simple but clean Gull Wing Suites or the Red Jacket, both in Yarmouth. When we're really living it up, it's the Chatham Bars Inn or the Wequasset, near Orleans, both conjuring classic, upscale New England. The Hawthorne, right next to the Chatham Bars on one of the nicest stretches of Shore Road, is probably the best value on the Cape. Prices for all these places vary anywhere from $250- $1,500 a night; book ahead.
Drive
Don't, don't, don't drive along route 6; it's sterile, and you'll never get a feel for the Cape. Whenever you can, opt instead for scenic route 6A.
Route 28 through Orleans, Chatham, Harwich and Yarmouth is the rustic Cape with lots of cranberry bogs, marshes and placid little lakes with rowboats.
For the Cape Cod of glossy coffee table books take a quick drive out of Chatham down Shore Road (perpendicular to Main Street). The homes are unbelievable and you'll also pass the Chatham Bars Inn with its gorgeous beach cabanas. The Chatham lighthouse is at the end of Shore Road. If your family likes stargazing, bring a telescope and head here, as my husband and son like to do.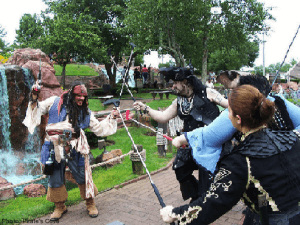 Play
There is nothing better for kids than Grand Slam on Route 28 in Harwich. Batting cages (with waffle balls for little ones) and bumper boats with water ammunition. Our son adores this place. (Just bring towels and mosquito repellent.)
Also on Route 28: Bud's Go-Karts is quite a thrill (littler kids can drive with an adult). Pirate's Cove is the grandest of the mini-golf places and our absolute favorite. And you'll find one of a few outdoor trampoline places. Count on ten minutes of bouncing for about $5. After months of gymnastics classes our son is something of a champion jumper. Needless to say he enjoys this place.
Skull Island is our number two-mini-golf destination. It also has go-carts, an excellent driving range, batting and soccer cages, and an indoor arcade.
The ZooQuarium  in Yarmouth seemed like a glorified pet shop to us, but my son enjoyed the petting zoo, the tidal pool and the tarantula.
The five-minute self-guided tour at the Cape Cod Potato Chip Factory is a low-risk adventure and the little guy was interested to see how the muddy spuds make their way into those cute little bags. (We didn't mind the free samples, either, particularly the jalapeno cheddar.)
One of the best and cheapest things to do is to buy a bucket and one of those long-handled nets you'll see outside all the cheesy beach stores. Fill it with some chicken or ham, stand on a rock jetty (make sure kids have water shoes; it's slippery), lower net into water, wait one minute and voila! You'll have a net filled with crabs in no time. This was our son's favorite pastime last year.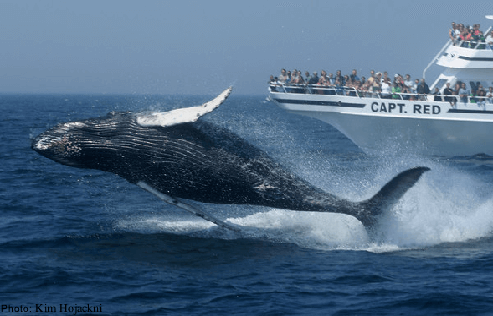 Chase Whales
I heartily recommend a whale-watching cruise.  We've taken good trips out of Barnstable, but our favorites are on the Portuguese Princess in Provincetown. The captain is very knowledgeable and they have a high rate for sightings. Just keep in mind that trips can be long for very little kids and the water can be very choppy.
Read
Falmouth has a quaint Main Street and is home to one of our favorite children's' book stores, Eight Cousins.  The town is not as crowded as some others, but this is because it's out of the way. And except for a very nice playground and the water, it doesn't have much for kids to do.
 Watch
 The drive-in movie theater  in Wellfleet always shows at least one kid's flick and is a slice of Americana. There's a super and fairly large flea market on the grounds on weekends.
 Relax
 Race Point Beach outside of Provincetown is part of the Cape Cod National Seashore and consistently ranked one of the top beaches in the world. We often head here for late-afternoon beach time on our way back from P-Town and rarely encounter crowds.
Skip
Aside from taking older kids to the intimate and moving John F. Kennedy Museum, we see no reason to go to Hyannis. Though it can be fun to drive around looking for the Kennedy compound, spot it, peek through the hedges and be asked to leave by some men in black.
By that time you'll hungry again anyway.
Lisa Antinore is a food writer from Queens, NY. Her family owned a motel in Truro, Cape Cod, for 30 years. You can read her food writing on Chow Hound.
One Response
Comment on this post