Let me tell you why you need to come to Brooklyn for a day during your next New York City visit with your kids:
It's less crowded than Times Square. It has abundant art and architecture. Restaurants are less expensive and more family friendly. It has historic neighborhoods full of families.
DUMBO is one such neighborhood. Just across the river from lower Manhattan, its popular with local families as well as with visitors.
Here are the basics that you need to spend the day exploring with your kids. But a stroll around this evolving waterfront area will always turn up new gems.
Read more:
All My NYC Advice and Tips from a local mom (me)!
Your 1-Day Guide: Brooklyn's DUMBO Waterfront With Kids
Head To A Neightborhood Called DUMBO
DUMBO is short for Down Under the Manhattan Bridge Overpass, where most of this quickly changing neighborhood sits.
Once a busy area with warehouses and other businesses serving the nearby piers, it now has a booming tech and design industry and growing residential population that's converting those warehouses to all kinds of new uses.
You might want to consider a walking tour of the area to become familiar with it before you wander around on your own.
The area you'll be exploring extends beyond DUMBO, under the Brooklyn Bridge and through Brooklyn Bridge Park, which is built along a series of those former piers.
Historic Brooklyn Heights, the Brookly Navy Yard and up-and-coming Red Hook are nearby.
Skyline Views + More
You'll find a few references to Walt Whitman as you walk around. He lived in a few different places in the area and worked for the Brooklyn Daily Eagle, which made its home on Old Fulton Street in a building that now says "Eagle Warehouse."
Pier 1, also called Fulton Ferry Landing, is rimmed with words from a Whitman's "Crossing Brooklyn Ferry." It has great views of the skyline, the Brooklyn Bridge and the Statue of Liberty. On any warm weather weekend you'll find a steady stream of couples taking wedding photos.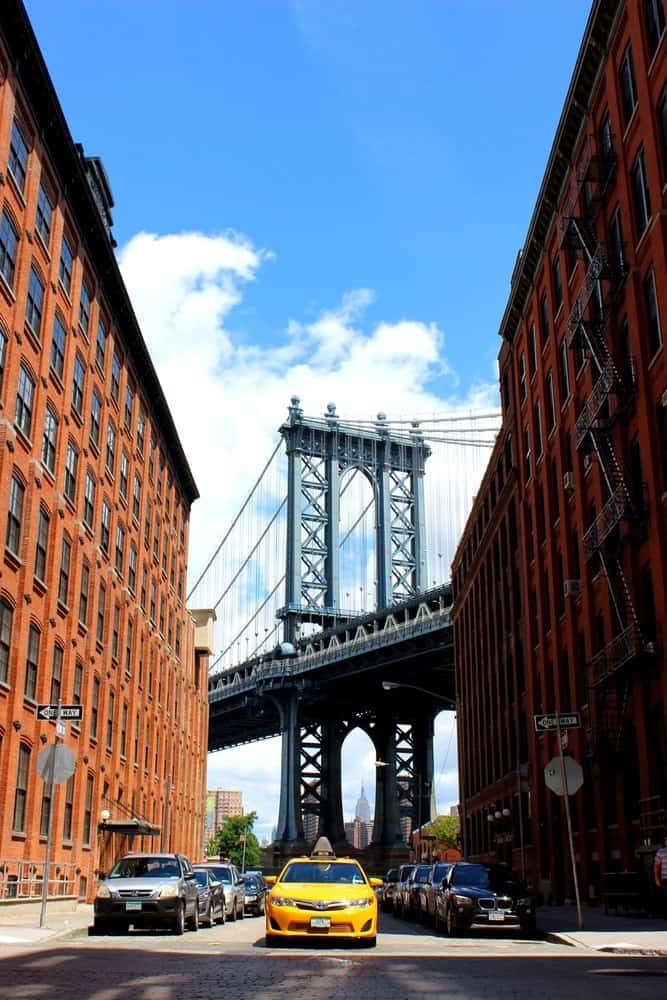 Washington Street between Water and Plymouth streets is one of the most photographed — and Instagrammed— spots in New York City.
Stop by to take your photo of the Manhattan Bridge, or just watch all the other tourists dodge taxi cabs and cyclists while trying to get their own selfies and perfect shots.
Brooklyn Bridge Park's Cool Playgrounds
You can start your day at Pier 6, at the south end of Brooklyn Bridge Park. The Playground here is one of the best in the city and keeps kids busy through their tweens. The first time I saw this playground I wished I were a kid again.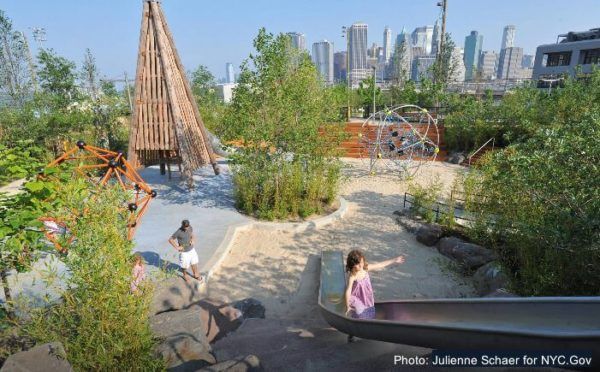 It has a large water area with sprinklers, a stream, rocks, and water-play features. Kids flock to it on warm days. Some parts are designed for older kids but you see all ages splashing here.
There are also giant slides, tarzan swings and funky climbing structures for big kids. And an enormous sand-pit area with more water and play houses for younger ones.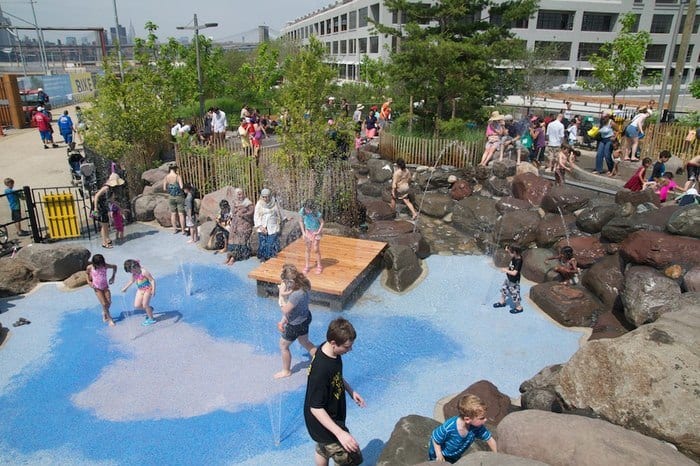 Tip: Kids go barefoot in the water-play area. But crocs or sport sandals are handy, especially in the sand, which can get hot. Some kids wear bathing suits, but I find that in summer kids' clothes dry pretty fast.
Tip: The playground is designed into four discreet zones. If you have kids of different ages they'll want to wander in different directions. If you aren't comfortable letting them explore on their own it will be handy to have more than one adult.
If you walk past the ferry pier toward the water, Pier 6 also has an excellent lawn for picnicking, running around or just stretching out and people watching.
There are toddler-only playgrounds at Pier 5 and Pier 1. And you'll find more sprinklers scattered around.
Pier 2 has an outdoor roller skating rink on Pier 2 during the summer. It has great prices and views but not the best floor.
A public pool is scheduled to come to Pier 2 in the summer of 2020. We'll see if it opens on time.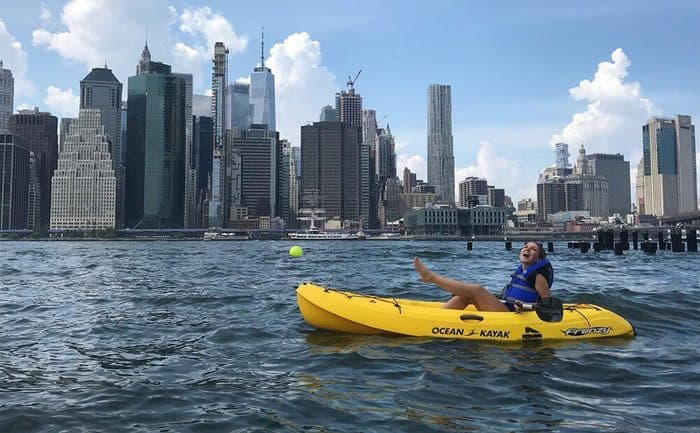 There is kayaking in warm months and nice walking paths between piers 2 and 1. The park usually has interesting, often interactive, outdoor art work that changes each summer.
You have to veer away from the park to go past the famous River Café restaurant and under the Brooklyn Bridge.
Take a left on New Dock Street or Old Dock Street, a block apart, and the greenway continues as Empire Fulton Ferry park.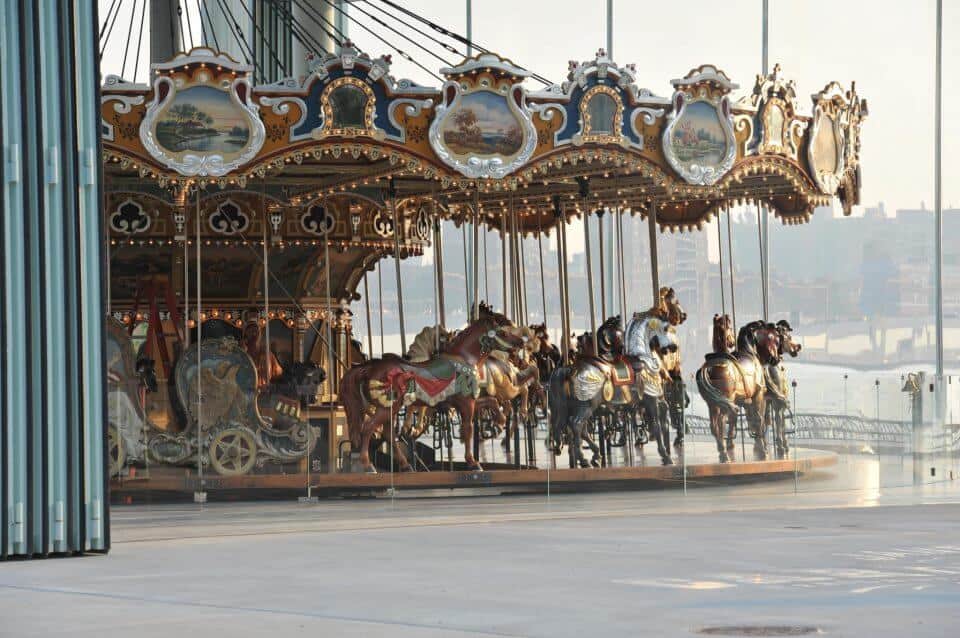 The attraction here is Jane's Carousel. It's glass-enclosed and must have the best views you'll ever enjoy on a merry-go-round.
There's an expanse of green grass, a small beach for skipping stones and an older, but sometimes less crowded ship-themed playground.
Directly under the Manhattan bridge you'll find The Cliffs at DUMBO, a seasonal outdoor climbing gym.
Read About the Best Carousels across the U.S.
Take In Brooklyn Culture + Shopping:
As you walk around the streets between the two bridges notice the exposed cobblestone streets embedded with a maze of trolley tracks.
These take you back to the days was a busy working waterfront and ferries carried commuters across to Manhattan instead of subways.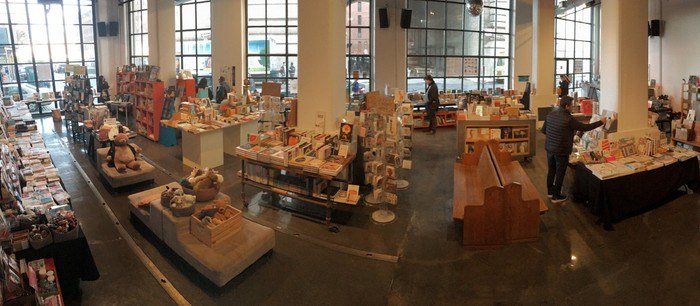 Seek out Powerhouse Arena, one of those small indie bookstores that has become a rarity. You'll find funky books about New York culture, the latest fiction and great photography books.
The well-curated kids section has a selection of graphic novels and books with characters that reflect Brooklyn's diversity.
It's under the Manhattan bridge on Water Street. There's more shopping back toward the water along Water Street and in Empire Stores Warehouse.
The Brooklyn Historic Society has an outpost inside 55 Water Street.
Places to Eat:
Outdoor vendors in Brooklyn Bridge Park change a bit from summer to summer, but you'll find food options around most of the piers.
Eat charred, thin-crust New York pizza at Fornino's on Pier 6 (it's busy with families but there's plenty of seating upstairs and down and in the park).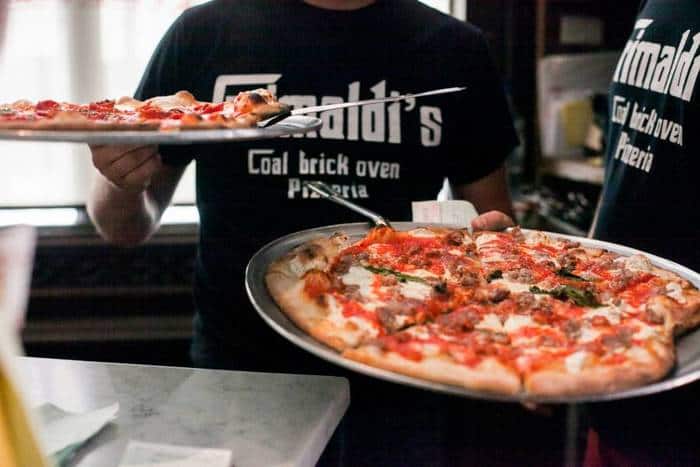 You can also find great pizza at Grimaldi's and its offshoot Juliana's in DUMBO. If you can brave the lines you're in for treat.
Shake Shack has an outpost under the Brooklyn Bridge and Luke's lobster has its own hut nearby. The lobster rolls are pricey; but the delicious crab rolls are a deal.
A Time Out Market has opened on Water Street to feature some of the best food from around the city.. It's not laid out as well as the one in Boston, and definitely doesn't have enough seating, but you can take your food outside onto the grass or up to the roof in the warm weather..
It's hard to say what purveyors will come back after Covid but at the moment look for great Mexican food and hot-honey chicken.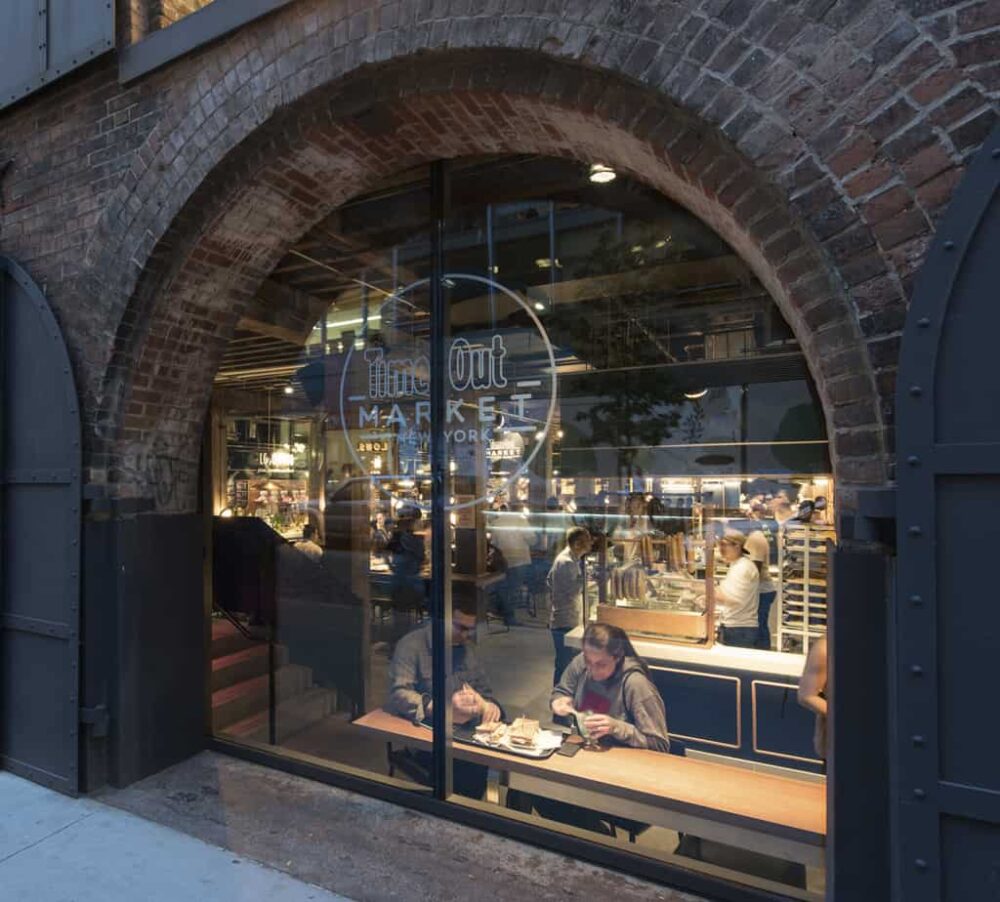 Blue Point, one of my favorite regional breweries has opened up The Hull, a downstairs tasting room inside Seaman's restaurant across the street from the food hall.
Superfine is a few block back from the water on Front Street. It has a slightly grungy hipster vibe but brunch is really good and they're kid-friendly during the day.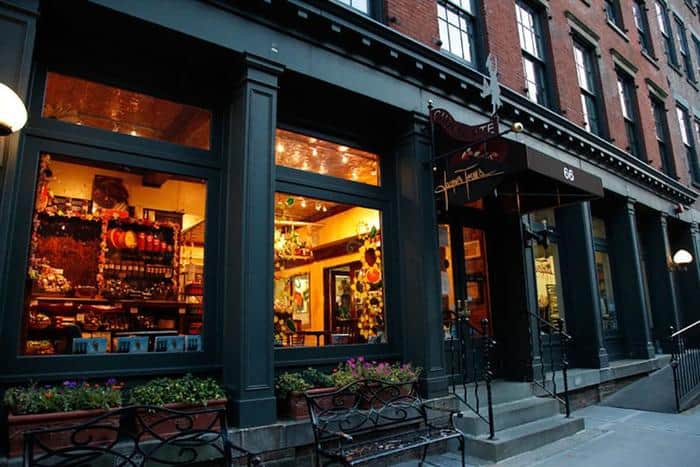 Now for the fun food: Chocolate lovers must visit the cocoa-based paradise of Jacques Torres.
Ample Hills, Tween Traveler's favorite ice cream maker has two spots in the park, by the tots playground on Pier 2 and in the little white fireboat house on Fulton Ferry Landing.
Tween Traveler always gets ooey gooey butter cake. I alternate pistachio squared, peppermint pattie and sweet as honey.
Ample Hills is another reference to Crossing Brooklyn Ferry, by the way.
Read about
19 more Places in NYC to get unique and delicious desserts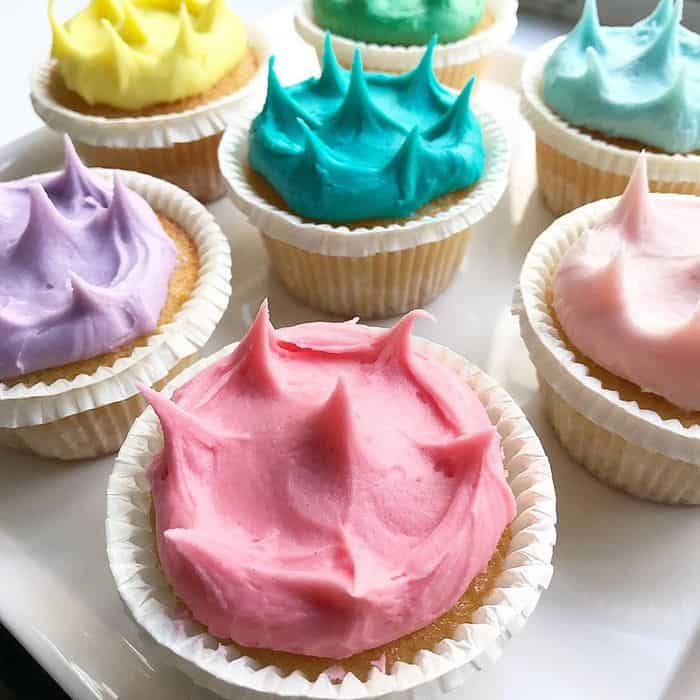 Almondine is a yummy bakery. It's our go-to morning spot for lattés, almond croissants and jelly doughnuts.
One Girl Cookie is a good place to end your day. mom and dad can enjoy a glass of beer or glass of wine while kids try to choose between the layer cakes, whoopie pies and cupcakes with spikes of colorful frosting. Tea cookies are the right size for small hands and less than $1 each.
---
Plan This Trip!
• Find the cheapest time to fly to New York with Flighthub.
• Extend your Experience by booking a stylish, kid-friendly Brooklyn hotel via Trip Advisor.
• Be a temporary Brooklynite with this brownstone garden apartment
---
How to Get there:
Walking: Take the E (World Trade Center), N/R/W (city hall) or 2/3/4/5 (Fulton Street). Then find your way to the pedestrian ramp for the Brooklyn Bridge.
This is one of my favorite walks in New York City. The views from the center of the bridge are amazing and the bridge is graceful and timeless.
Tips: New Yorkers use the bridge to commute and exercise. When you stop to take photos or admire the view, step to the side so people can pass.
Pay attention to the markings for the pedestrian and bike lanes. Cyclists trying to get to work will tell you in blunt New Yorkese that you are in their way.
When you reach the Brooklyn side there will be a point where you have two options: You can continue to the end of the bridge, which leaves you sort of in the middle of nowhere in Downtown Brooklyn. Or you can take a set of stairs off to the left. They look dodgy, but they're safe. At the bottom turn left and you'll be in DUMBO in a few short blocks.
Subway. Take the A or C to High Street, the F to York Street or the 2/3 to Clark Street. All are the first stop in Brooklyn.
Driving: I don't recommend it, but if you arrive by car take the easy way and pay for a parking garage. Street-parking is tight and there are a lot of places you can't park.
You don't want come back from your explorations to find your car ticketed or worse, towed off to the nearby Navy Yard tow pound.
Ferry: Part of New York City rediscovering its waterfront is the effort to bring back ferries and water taxis. You can catch a ferry from 2 docks in Manhattan that will leave you at one end or the other of Brooklyn Bridge Park (the DUMBO stop is closer to the stores and restaurants).
It costs the same as a subway ride (kids are fee) plus $1 for every bike you bring with you.
Tip: The Ideal day would be walking over the bridge one way and taking the ferry the other.
You might also like
Reading about historic Governor's Island, which you get to by ferry from Manhattan daily and from Brooklyn on summer weekends.
Pin it for later!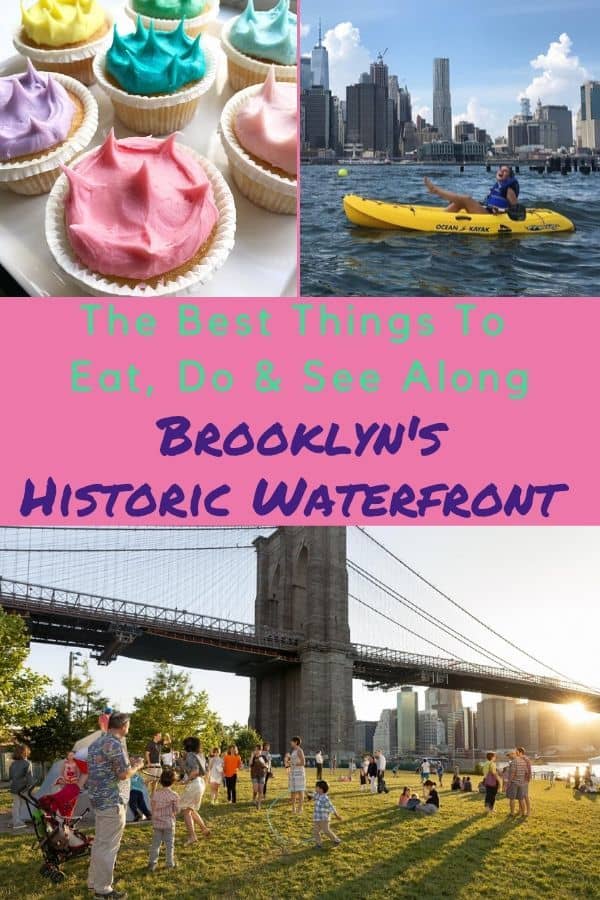 *Photos courtesy of NYC Go except Taxi Cab (Pixabay), Pier 6 water playground and Kayaking (Brooklyn Bridge Park), Time Out Market (Time Out) and One Girl baked Goods (One Girl Cookies).