We visited Kuching, on the Malaysian side of Borneo, for a chance to see endangered animals in the wild and learn more about native tribal cultures. It was like stepping into the pages of National Geographic for the weekend. Here are five activities we highly recommend on a Borneo vacation with kids.
5 Unique Things To Do in Borneo With Kids
1. Visit Orangutans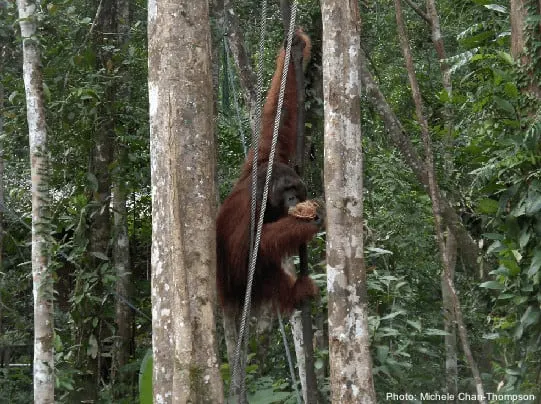 Try to visit the Semengoh Wildlife Centre, 30 minutes from Kuching, at feeding time (9:00 -10:00 AM and 3:00-3:300 PM). The center teaches rescued orangutans to survive independently, but while they're learning, fruit is left out twice a day to supplement what they forage in the jungle.
We walked along a paved road for 15 to 20 minutes to get to the first feeding platform. We were advised to keep our distance, be quiet and hide food and drinks. We were rewarded for our effort as orangutans gradually emerged from the rainforest for snack time. Our three children, ages 7 to 12, loved watching Ritchie, the big alpha male, break open coconuts by smashing them against a tree trunk. Meanwhile, Hot Mama protectively kept her baby with her at all times.
Tip: No tripods, strollers or wheel chairs are allowed in the feeding area. There was a good size crowd of people, but everyone could easily see.
2. Take a River Cruise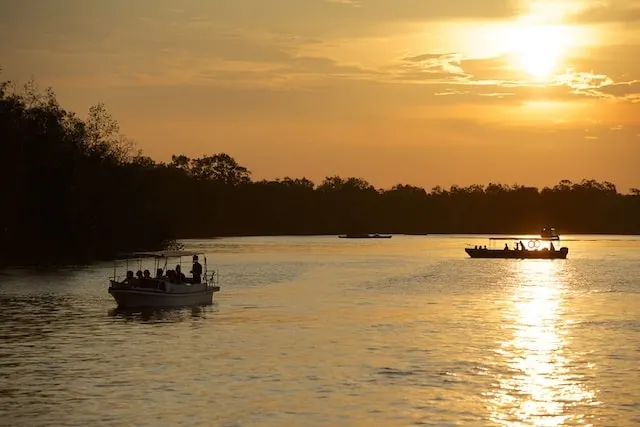 The cruise along the Santubong River at sunset was definitely the highlight of our Borneo vacation for my children. My son simply loved being on the boat. But better still, we got to see snub-nose Irrawaddy Dolphins, endangered Proboscis Monkeys and crocodiles in their natural habitat (fireflies, too!). We stretched our legs strolling around a Malay fishing village and got a glimpse of life along the river.
These sunset cruises are not as popular as daytime wildlife cruises on the river. But you can find tour companies that offer them and I highly recommend it.
We booked our 3-hour cruise, which left from a dock about 40 minutest outside of Kuching. The trip was expensive by local standards (a little more than $50 for adults and $25 for kids), but with modern motorboats and life vests for everyone, including preschoolers, they are worth the price.
3. Hang out with Headhunters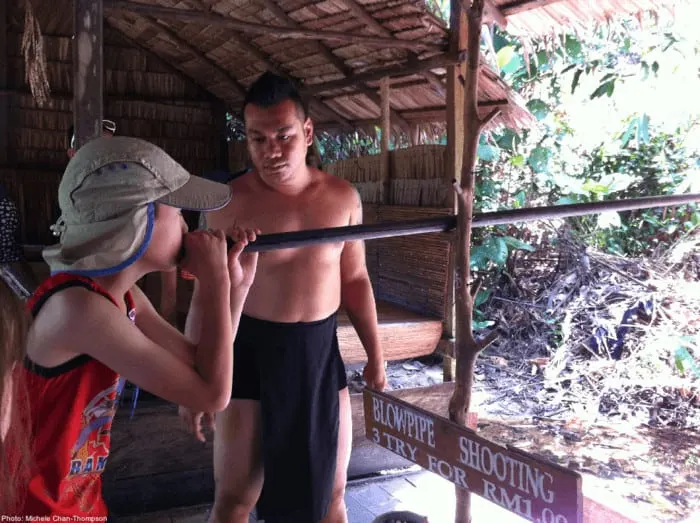 The Sarawak Cultural Village is nestled between resort hotels and created for tourists, but it was worthwhile and fun nevertheless. We learned quite a bit about Borneo's several native tribes by walking around a mix of traditional longhouses and huts and observing traditional chores, foods, handicrafts and rituals. The kids enjoyed hands-on activities shooting blowguns and milling rice. One house even featured headhunting skulls and explained that custom.
Do not miss the Cultural Show (it runs twice daily in an air-conditioned auditorium). The music, dances and feats of skill fascinated us.
We joined a tour because it provided transportation and a very informative guide, but families can easily take a shuttle and go at their own pace (count on three to four hours). Most of the staff speaks English. The restaurant serves snacks and lunch. The boardwalk around the village is stroller friendly, but some of the houses are on stilts and have stairs.
You can easily combine this and time at Semengoh Wildlife Preserve into a day trip.
Tip: The village is near Damai Beach, 45 minutes from Kuching and close to the boat dock for the Wildlife River Cruise.
4. Trek The Jungle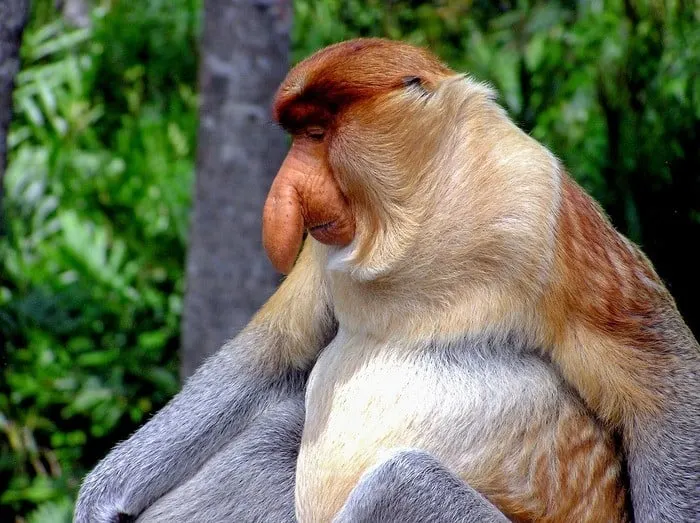 Borneo's Bako National Park has well-tended trails with plenty to see. Book a tour or do what we did and take a bus or taxi less than an hour from Kuching to a boat to the park. You can grab a map and hike on your own, but the guides you can hire at headquarters will point out hard-to-spot plants and animals such as carnivorous pitcher plants and flying squirrels.
Tip: If your kids are older and you don't mind animal intruders, stay overnight in the park's basic cabins for your best chance to see animal activity. You may even see proboscis monkeys come by in the early morning.
5. Eat Like a Local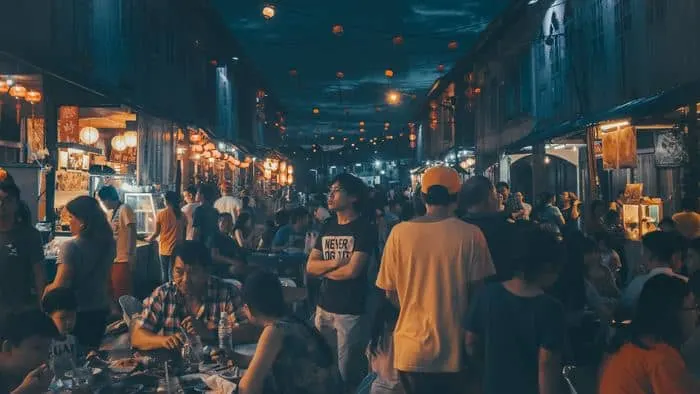 The Top Spot, located a couple blocks from the Pullman, is one of the best hawker centers I've been to. This bustling, open-air food court has an abundance of foods to please everyone: seafood and vegetables, fresh coconut juice, kid-friendly satay and even some western choices.
Take a look around before committing to a stall. If you go with seafood, you can select exactly which fish you want and choose how it's cooked. Go early for dinner as it gets crowded.
Where to Stay
The central, modern Pullman Kuching is a handy hotel if you are staying in this city with kids. Families can book a roomy family room, but we opted for a few regular rooms. The hotel is a short walk from the waterfront esplanade and connects to a small shopping mall with a convenience store. There's a large pool, wading pool, and a small playground. There are fine places to eat nearby.
If you're very adventurous and want a more rustic Borneo experience, you can arrange a homestay at a traditional longhouse.
Pin it for later!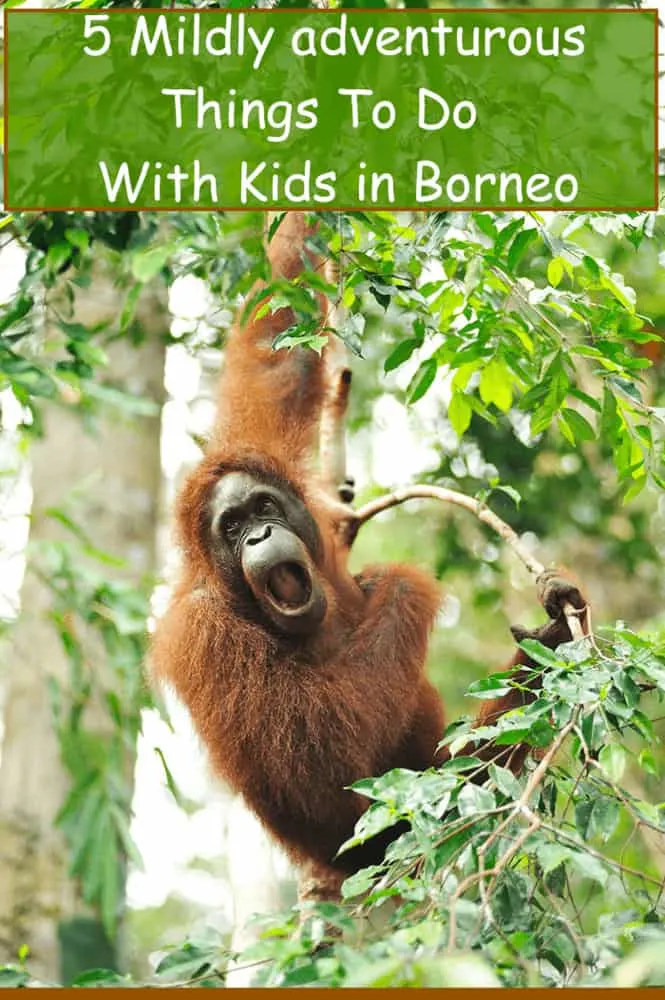 Michele Chan-Thomson, her husband and three children have lived in Texas and Malaysia. Read about their adventures in Southeast Asia and worldwide in her blog Malaysian Meanders.