The Mayan Riviera in Mexico has everything my family likes in a winter beach getaway: sun, kid-friendly surf, culture, direct flights from New York and good value for our money. We've been there a few times, finally going to an all-inclusive resort for the first time last winter at the popular Bahia Principe Grand Coba
GBP has four resorts that form one seemless, sprawling complex about an hour from the Cancun airport. Here is all you need to know if you are thinking about staying here for winter break or spring break with kids.
Read about my kid-free vacation at the resort's adults-only luxury hotels.
And About the Best Things To on the Mayan Riviera With kids.
And Fun day trips to Costa Maya & Cozumel
We review Grand Bahia Principe Coba
The Layout
Coba is the Bahia resort aimed at families. It has the biggest pool–with graduated entry­–plus a water-play zone and the resort's main kids club.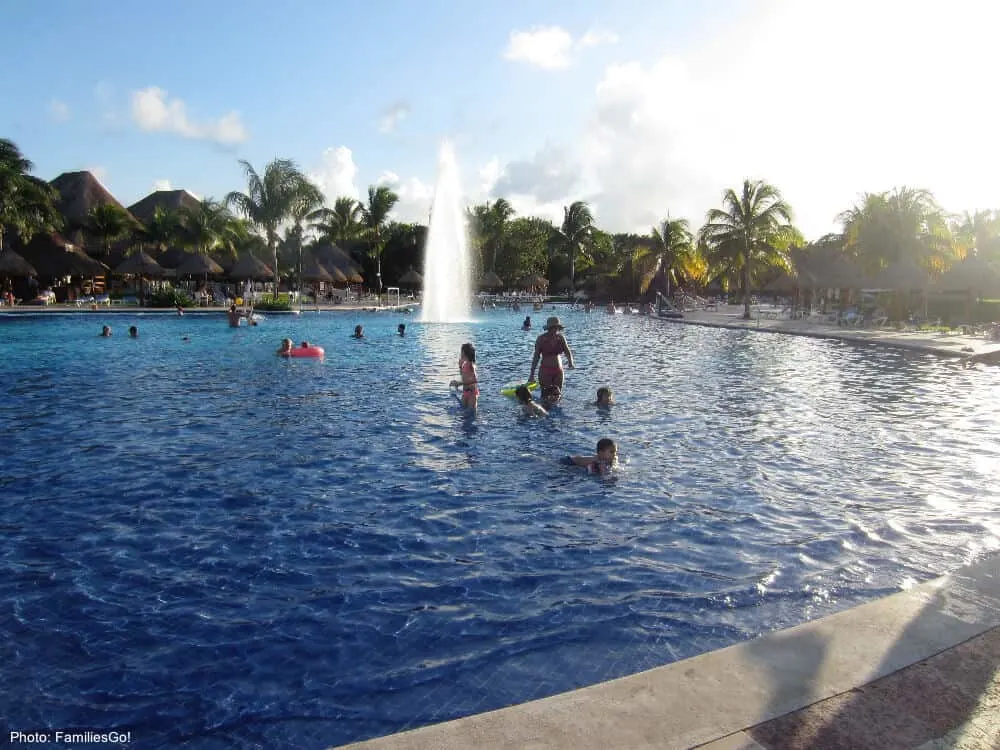 The one thing Coba doesn't have is beachfront. But the Grand Tulum and Luxury Akumal resorts do and trams run between the resorts all day long.
With kids I think it's handier to have the family pools nearby and travel to the beach when you want to than the other way around.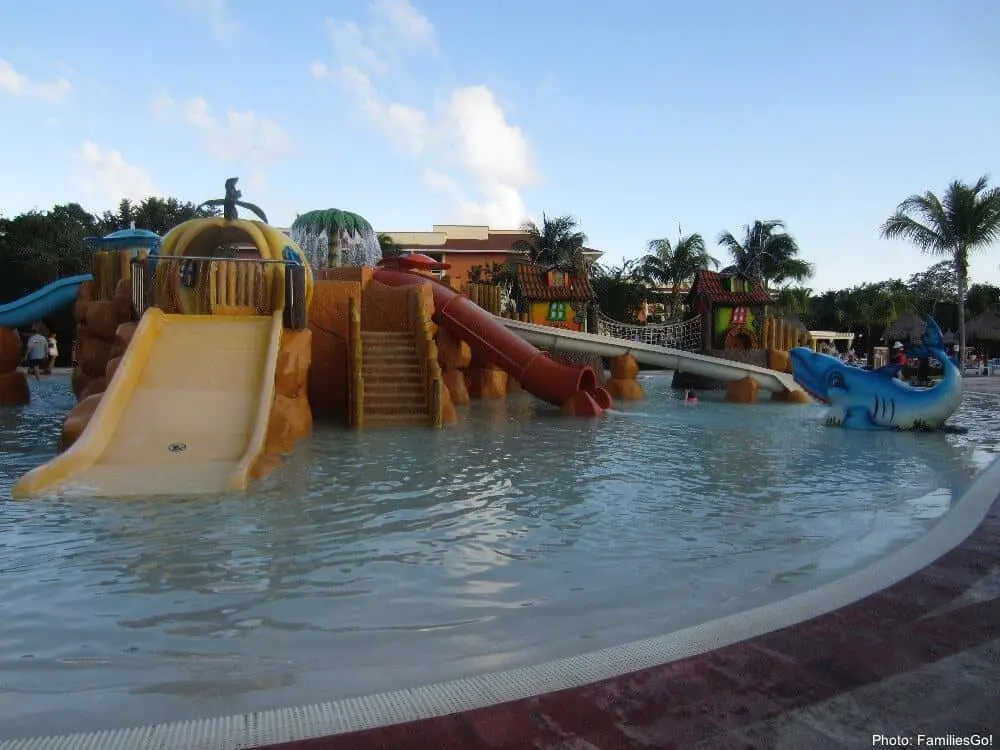 It's worth looking at a map and thinking about where you would like your room to be before you book. For us the ideal was a room close to the kids' pool and the main building. But others might want to be closer to the beach or the main pool or in a more secluded area.
The Activities
As is always the case at big resorts, you can quite easily do nothing Bahia or seek out as many shows, sports, classes and excursions as you're interested in. We didn't do many activities but they were there if you wanted them.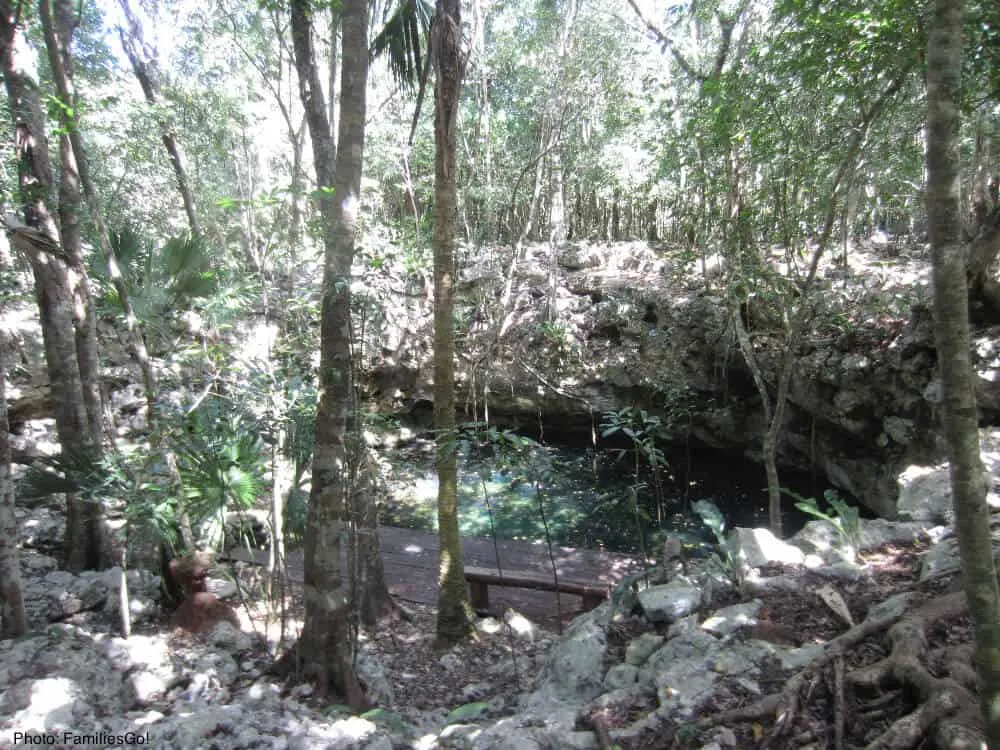 Nature Walks: A fair amount of the property is undeveloped jungle and they run free nature tours daily, which I recommend.
We took a short bike ride and then a guided walk through the jungle, passed a cenote (fresh water pools) and up to the top of a fire tower.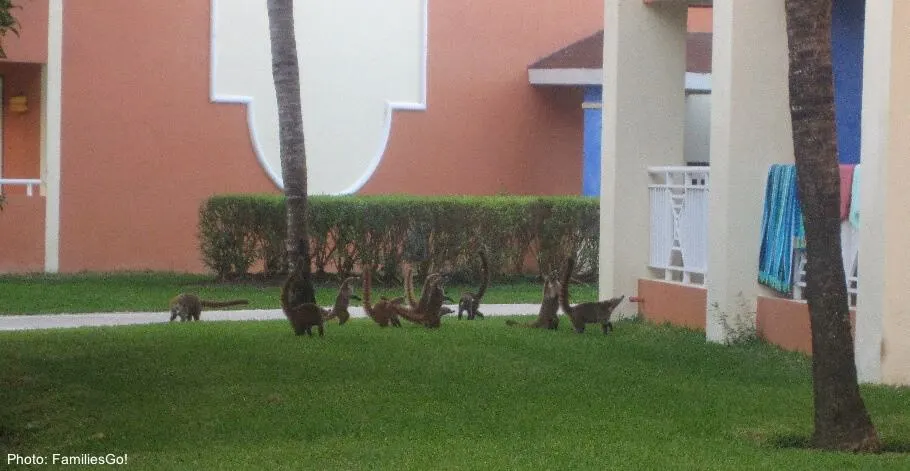 We learned about the birds, animals, plants we saw all over the property and about Mayan culture.
Our trained guide was a local and had genuine enthusiasm for his subject matter. You can also borrow the bikes to ride around the property on your own.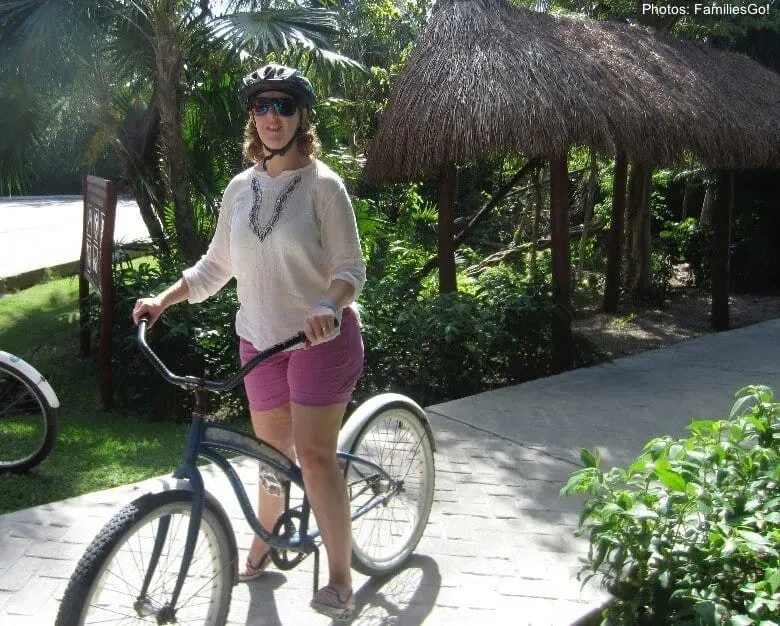 I would recommend this for kids who can can bike about mile with no problem, including one short, steep hill to cross a highway overpass. If you consider putting a smaller child in a bike seat, be prepared for a no-speed bike with foot breaks.
Snorkeling: We considered a snorkel excursion, but discovered we could bring our masks and see quite a few fish around the rocks that mark off the swimming area.
In some parts fish swarmed around us as soon as we walked into the water because too many guests ignore the resort's request that you don't feed the ample wild life on the property. It made for easy fish viewing, but I definitely don't encourage it.
Note: On a more recent visit the resort has had to put up nets to keep seaweed out of the swimming area. Unfortunately it means fewer fish make their way in, too.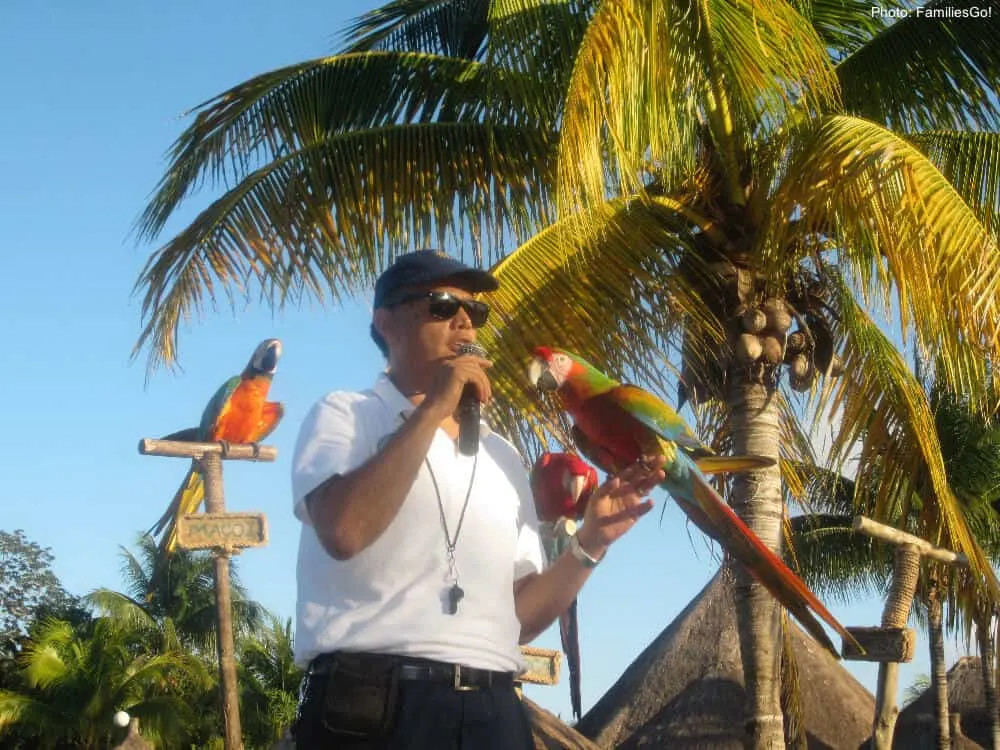 Dolphinarium: There is a free 30-minute show here every day if you're into that kind of thing. They do it mostly to draw attention to their other for-fee dolphin experiences, which we did not even consider doing.
Pool Activities: There is an assortment of activities around the main Coba pool all day long aimed at various age groups. Tiny Traveler enjoyed a Mexican-style kids party, complete with a piñata and ice cream. We all enjoyed an impressive parrot show.
Special Events: Our stay coincided with Carnevale (Mardi Gras) so we got a special treat: A very loud and colorful parade staged by the employees, who clearly do it as much for their own fun as the guests. It tends to coincide with winter break; if you catch it, I recommend it.
Off the Resort: You can find plenty of sightseeing and Mayan culture and history within a daytrip distance, particularly the ruins at Tulum or Coba or some of the eco parks. The desk can help you rent a car or book a tour.
If you book a snorkel tour they'll probably pick you up in a panga right on the beach. The last time I snorkeled here i found the water pretty rough out by the reef. Take teens and kids who are strong swimmers and keep an eye on them.
The Spa: We tried the spa on a subsequent visit. The treatment are good and an excellent value, especially for a resort spa. Coba's spa has some treatments for kids and teens, too.
The Kids Club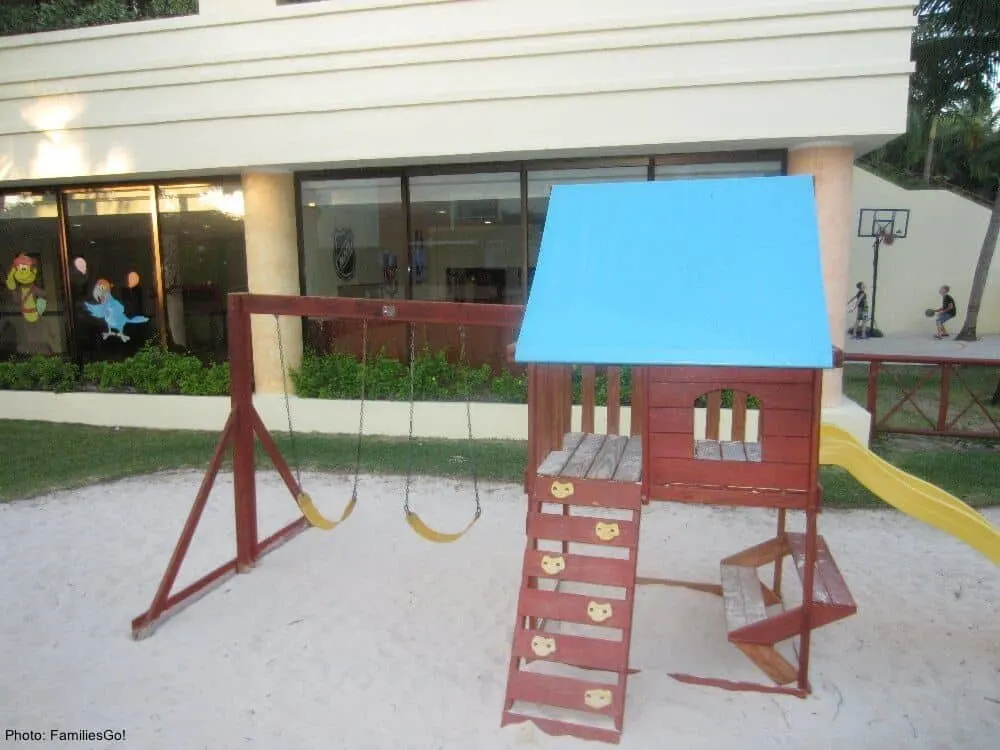 The kids club was weak. A few of the staffers were friendly and energetic but others seemed like they would prefer to be elsewhere. None spoke English very well. Activities rarely started on time.
Our friends didn't use the club at all. Tiny Traveler enjoyed a nighttime pirate party and happily joined in on art projects here and there. But she wasn't clamoring to go as she has been elsewhere. A little more staff training would definitely improve things.
Note: The evening sessions last one hour but they give you a grace period at the end. If you make a reservation at one of the sit-down restaurants near the kids club you can manage a dinner for two and just about make it back for pick-up.
The Dining
The dining, a mix of buffets and sit-down restaurants, was better and more varied than other all-inclusives we've been to. Our package included just about any buffet or restaurant at any of the resorts.
The best meal we had, not surprisingly, was at Tequila, a Mexican restaurant at Tulum. Make sure to order the Mexican coffee, mostly for the fun of watching them make it.
All the buffets are similar, but some are bigger and more varied and others are smaller and easier for grabbing a quick bite. We usually chose one close to the beach for lunch and then hit the sand afterward.
The sit-down restaurants and all but the smallest buffets had a kids' menu or section. At the buffets it was mostly sandwiches. Tiny Traveler and her friend preferred the burgers, hot dogs, roasted corn and other veggies, chicken dishes, pizza and choose-your-own pasta at the regular buffet. The ice cream, which change flavors every day, was really good.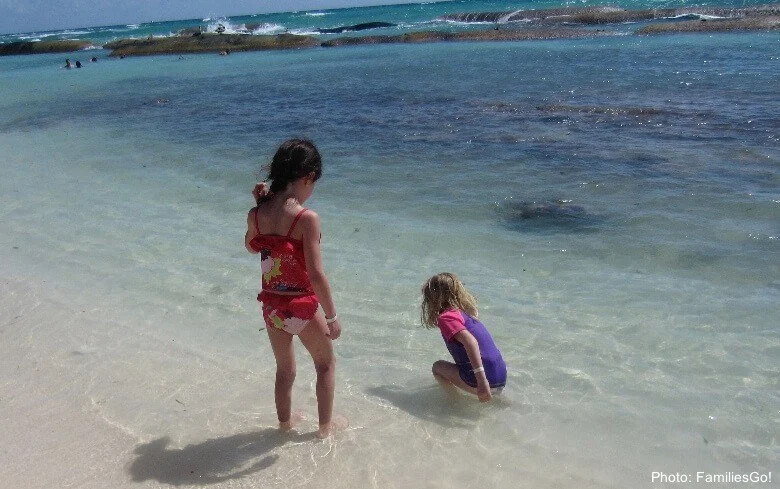 The drinks were real drinks and well mixed. We alternated through the day between tropical cocktails or beer and fresh limeade, which the kids liked, too.
The Bottom Line
Grand Bahia Principe didn't blow our minds, but we didn't expect it to. Having been to this part of Mexico before, we were happy to make this a strictly R&R week without sightseeing (unusual for us).
While everything wasn't perfect, there was more that we liked than that we didn't. Over all I think it provided a good value and an easy beach getaway with kids. And we'd absolutely go back
Pin it for later!