Paris parks are green, full of fun things to do and present kids with well-needed breaks from site seeing. They also provide a taste of local Parisian life.
But, these city parks will present more opportunities for your kids to separate you from your money than local U.S. parks. Be prepared to stumble upon carousels everywhere and to sometimes pay for public playgrounds and bathrooms.
On the upside, the bathrooms are fairly well-kept and there are always places for parents to sit and read a guidebook or check your travel apps.
Better still, it's likely you can find good espresso, sandwiches and pastries, and even chilled wine and beer nearby.
If you're looking for things to do in Paris with kids, look no further than the nearest park, particularly these five
---
You might also like:
• Essentials To Pack for Paris
• Our Favorite Family Attractions in Paris
• How to Make the Most of A Day in Reims With Kids
---
Cool Things To Do With Kids In 5 Paris Parks
Tuilleries Gardens: Paris' Central Park
Given its central location—across from the Louvre and at one end of the Champs Elyssé— you are likely to find yourself near the Tuileries Gardens quite a bit.
This might be the most famous of the Paris Parks and was Tiny Traveler's favorite park because of the Trampoline Garden. Kids can bounce their hearts out for a generous five minutes for a few euros.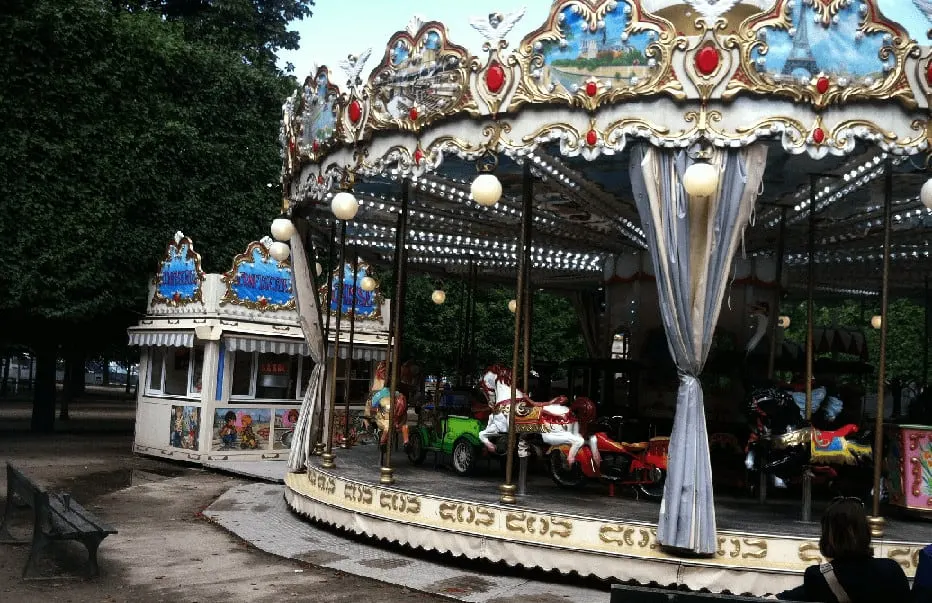 There is a good-sized and nicely done free playground, where your child is likely to run into other English-speaking kids (Tiny Traveler did).
The permanent carousel is also a few Euros. In the summer months there is a temporary carnival that we somehow managed to avoid.
Jardin Luxembour: Classic Paris
The Jardin Luxembourg is an easy place to stop if you're spending time in St. Germaine, Montparnasse and even The Latin Quartier. And it's worth going out of your way for.
There is an amazing, huge playground where tourists and local kids all mix together. Tiny Traveler swung on the zip line a dozen times or more. There are playhouses, lots of things to climb on, good slides and a toddler area.
I didn't see teens in the parks too much, but at most this playground in particular I saw older kids than you would at many U.S. playgrounds; easily kids through middle-school age.
You have to pay for both adults and kids to enter (more for adults), but I noticed that local parents sat on benches just outside the fenced-in play area and just paid to send their kids in (not toddlers of course).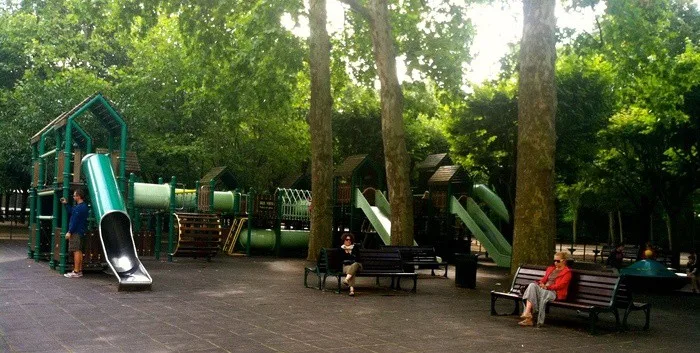 This most classic of Paris parks also has a beautiful old-fashioned carousel where the horses swing instead of going up and down.
Small kids will love it; just get their horses swinging for them before the ride begins. Older kids can sit on an outside horse and try to catch gold rings with a stick.
Kids can also ride real horses, rent sailboats to launch in the large central fountain and try a Guignol puppet show in a nice-looking theater.
We didn't manage to catch a puppet show here, but enjoyed them in other parks..
Park de la Villette: A Cool Urban Experiment
The Park de la Villette was a favorite because it exemplifies very clever urban renewal. It was also a lot of fun and had a lot of things for free, something you can't take for granted in Paris parks!
The undulating Wind and Dunes playground looks like it was designed by Dr. Seuss. The dragon playground, with a giant dragon slide at its center, was closed for renovation and we all looked at it longingly.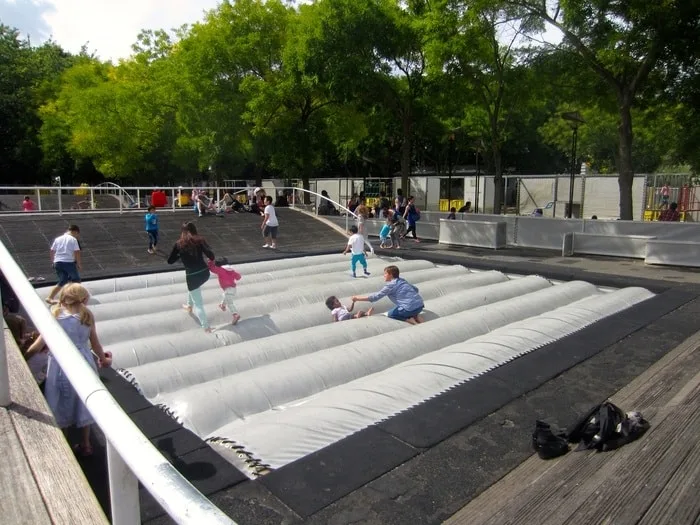 It was too nice a day for the Science Museum so we wandered paths, bridges and lawns, coming upon outdoor classes and concerts (both official and impromptu).
At the inevitable amusement park (the only thing besides snacks that wasn't free), Tiny Traveler chose an old-fashioned bicycle-chariot ride. I'd never seen anything like it but all the kids clamored to do it.
The park sits at the far end of a canal where they build a Paris Plage (beach) in the warm months. It's fun to walk along to see all the people and assorted activities. Plus, we found the only free carousel in all of Paris (score!),
Jardin Acclimitation: A Pricey Afternoon Out
Guidebooks rave about the Jardin Acclimitation and I'm not sure why; it was our least favorite among the Paris parks listed here.
We assumed it was a regular park with some added features. Turns out it's a small fun park where you can spend quite a bit of money in an afternoon, which is fine if you know what you're getting into.
It's €3 per person to get in. Admission includes two pretty good playgrounds. Head for the much bigger one at the back of the park, which has more to do and good water features.
It also includes a quite good Guignol puppet show and a very, very small zoo with the fluffiest rabbits I've ever seen.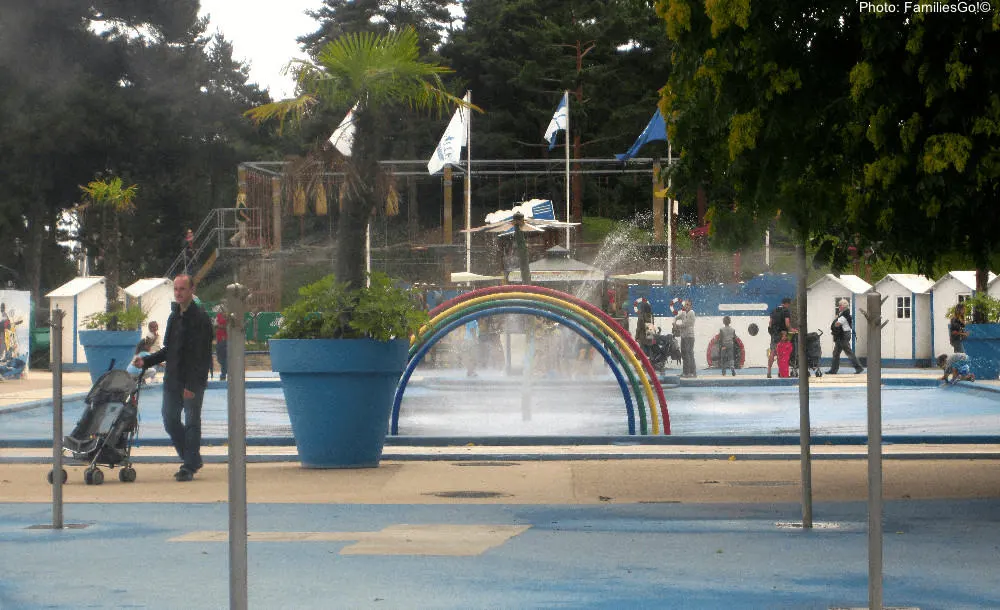 It's impossible to get out without going on at least a few of the rides. Ticket are a few Euros each, but the better rides require two tickets. If a child is too small to ride on her own, you need tickets, too.
Tweens will like the rope courses and roller coasters. Tiny Traveler loved a ride where kids are zipped into large plastic balls and roll around in pool. (she still loves this as a tween). Little kids will go for the boat ride, train and steeplechase. Teens will be completely bored.
Planning a trip?
Find the best rates on hotels in Central Paris on Trip Advisor.
Enjoy a stay in your own Parisian apartment with VRBO
Fodor's Around Paris With Kids gave us some good ideas.
Square St. Lamber: A Nice Local Park
If you rent an apartment in the residential 15th Arrondissement or go shopping on the Rue Du Commerce, check out Square St. Lambert, which was our local park.
It has a fountain, manicured flowerbeds and lawns, separate playgrounds for bigger and smaller kids and a small but good Guignol theater that is open daily in the summer. It was a great local find.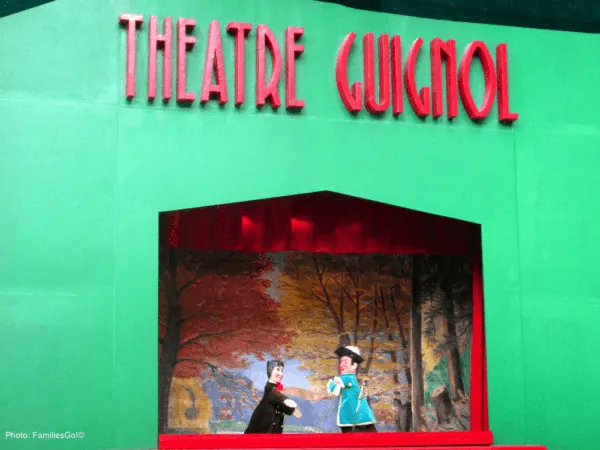 So, What The Heck Is Guignol?
Guignol is Punch-and-Judy-style hand-puppet shows. In every episode, the good king or baron assigns a task to the hero Guignol.
Then the evil duke sends his servant to foil Guignol. But with the help of the kids in the audience­–who shout directions and warnings to the puppets– Guignol outsmarts the bad guys and saves the day.
Before it's all over several characters get bonked with sticks, which Tiny Traveler found hilarious. It's low-tech Parisian kid culture and you should try it at least once, even if you have no French.
Pin it for later!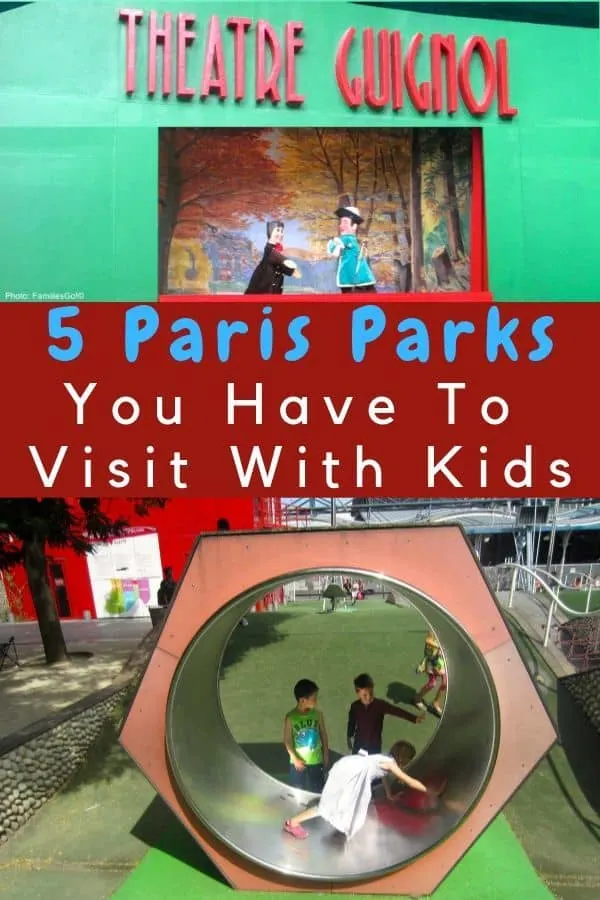 *This is a sponsored link. Nevertheless, Plum Guide's rentals really very, very nice.
Photos by FamiliesGo!©.