Panama is less well known than some of it's Central American neighbors (hello Costa Rica), but that's all the more reason to go. It's home to unique eco systems, idyllic islands, incredible wildlife (some of the best bird watching in the world!), beautiful beaches and plenty of kid-friendly adventures. There is something for everyone. (Read about Costa Rica or Belize, too.) Here are five places in Panama that we love for family vacations.
5 Unique Things To Do With Kids In Panama
Go Sailing in the San Blas Islands
If we were to recommend just one thing to do in Panama with kids it would be to go sailing in the magical archipelago of San Blas (left and above). Positioned off Panama's north coast in the Caribbean Sea, this network of coral islands stretches 226 km south and is breathtakingly beautiful.
Unlike many other Caribbean islands, the San Blas remain gloriously removed from modern life. Only 49 of the 365 islands are inhabited by the indigenous Kuna (or Guna). This group has strict rules about protecting its land; you won't find any luxury hotels or chain restaurants here.
Visitors can camp on one of the islands or charter a boat for sleeping and traveling between them. We highly recommend the latter!
Look for Whales near Panama City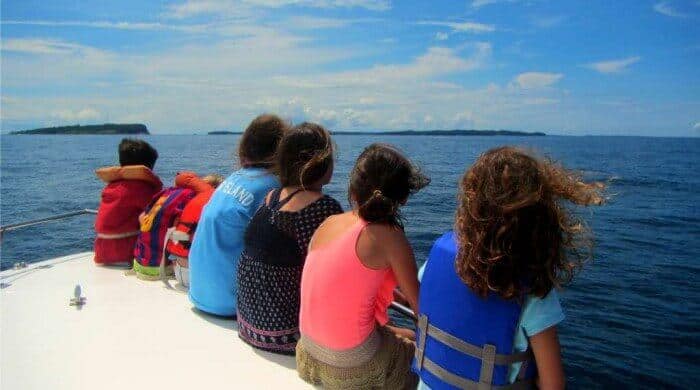 Panama is the only place in the world where Humpback whales from both the Northern and Southern hemispheres come to breed and give birth. From July to October, thousands of these magnificent creatures travel from Antarctica to the warm Pacific Ocean. From December to March smaller numbers of Humpbacks arrive from North America.
We always try to pick a tour company that practices responsible tourism and who keep a respectful distance from the whales (not all do). If you go, bring binoculars and keep an eye out for dolphins. Pacific bottlenose dolphins, Spinner dolphins and more hang out in these waters.
Hug a Sloth in El Valle de Anton
Panama has incredible amount of wildlife and Casa Mariposa, a small, no-frills guesthouse in El Valle de Anton, offers one of the most unique experiences. Located roughly two hours southwest of Panama City, it offers a handful of rooms…and a handful of sloths!
Ursula, the owner, adopted two three-toed sloths (Sammie and Dahabie) when their mother broke her neck in the wild. These adorable animals are now very much at home at Casa Mariposa and our children quickly fell in love with them. They learned quirky sloth facts and got to hug the little creatures as well.
Smell the Coffee in Boquete
The small town of Boquete sits some 1,200 meters above sea level on the Caldera River and has a temperate climate not found elsewhere Panama. It's leafy environs, cooler climes and fertile volcanic soil make Boquete a prime coffee-growing region. We think it produces some of the most flavourful coffee in the world!
There are lots of coffee plantation tours where you can learn about the growing process. Each tour finishes with a coffee tasting where parents can sample different flavours and strengths (do it early in the day!).
Boquete is also full of adventure activities that the kids will like and that will help you work off your caffeine buzz. Our children love zip-lining, pony rides, jungle treks to waterfalls, mountain biking, rainforest treks, and birding tours where we searched for the elusive but resplendent quetzal.
Explore Panama City
Panama city is well worth a couple of days; there's plenty for families to see and do. The obvious starting point is the Panama Canal, an incredible system of locks and artificial lakes that connects the Caribbean Sea to the Pacific Ocean. The Miraflores Visitor Centre has an exhibition area where kids can pretend to steer a container ship through the locks!
The spectacular and hard to miss Biomuseo, The Museum of Biodiversity, is in a striking, brightly colored building designed by Frank Gehry. This would be reason enough to stop by, But be sure to head inside. This fantastic museum has lots of hands-on activities for kids, plus a 10-screen 'Panamarama' cinema room showcasing the country's diverse ecosystems.
Pin it for later!
Katja Gaskell & Victoria Westmacott are the co-founders of globetotting.com. Katja has written for Lonely Planet and numerous travel websites, magazines and newspapers. She and her family have lived in Australia, India and Mexico and travelled well beyond. Victoria has worked in television production in the UK and has lived and worked in the UK, Spain, New York, Vietnam, India and Panama.
This blog was part of Weekend Travel Inspiration. Visit our partners:
• AlbomAdventures
• ContentedTraveller
• TheCrowdedPlanet
• Malaysian Meanders
• ReflectionsOnRoute
• Safari254