I believe you can make almost any destination work with almost any age child—if you set your expectations accordingly. But some places and age groups match up more ideally than others. Costa Rica, for example, was made for a vacation with teens and tweens.
A vacation in Costa Rica provides daily opportunities for teens to try new things, see new things, be adventurous and stretch themselves. And they can do it all safely, while having a whole lot of fun.
Here is my comprehensive guide to the best things to do with teens and tween in Costa Rica and where to do them. I also offer some handy tips and basic information for making the most of your vacation here.
Note: We used *Costa Rica Family Holidays to plan our trip because I've worked with them before. They know Costa Rica well and understand how families with kids of different ages travel. We wanted to cover a lot of ground in a short time and they helped us do that. They also recommended out-of-the-way activities and hotels we might not have found on our own. And they took care of all our transfers which made the trip super easy and relaxing.
Planning Help
• Printable Costa Rica Packing List
• How To Explore Costa Rica with Young Kids
• 7 Unique Costa Rica Hotels With Kids & Teens
• 21 Costa Rica Foods Your Kids Will Love
The Top Things To See & Do in Costa Rica With Teens & Tweens
Fun On Zip-line Canopy Tours
Flying near Mañuel Antonio
Rich and Teen Traveler used our last morning in Costa Rica to go on a canopy tour with Titi Canopy Tours. It was Teen Traveler's absolute favorite experience and it ended the vacation on a very high note.
They flew along a series of ziplines through a stretch of jungle canopy adjacent to Mañuel Antonio National Park. Rich rode one of them upside down and they also did two adjacent lines where dad and daughter could race. There was also a Tarzan swing (where Teen Traveler admits to screaming) and an opportunity to rappel through the trees.
The entire excursion was about three hours including pick up and drop off at the hotel. If they had wanted a longer day Titi could have organized other activities for them to do in tandem with the zip-lining.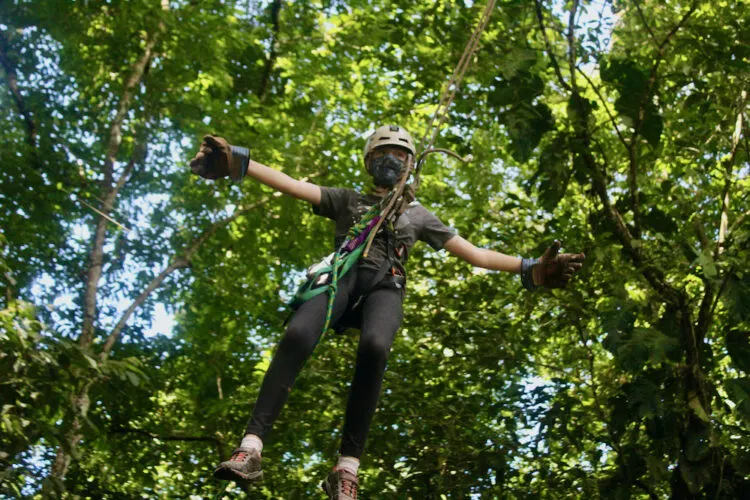 Flying near La Fortuna
On a previous visit to Costa Rica my group went to EcoGlide Arenal Park near La Fortuna.
This course has 12 canopy cables; the fastest can hit speeds of 60 mph and the longest is 420 meters. Half-way through the tour you traverse a suspension bridge and there is an optional Tarzan swing (also where people tend to do the most screaming.)
CR Family Holidays favors EcoGlide park because they work with tourists with a range of abilities. They help visitors who can't walk to reach the starting platform.
Those who can't hold on and operate the break can arrange a "taxi," where they partner up with a staff member. Call ahead to arrange this extra help.
In both canopy parks, kids who want to zip-line but are too light or not confident on their own can also choose to "taxi."
Both places provide helmets and essential gear and show you what to do. Wear closed-toe shoes and practical clothes, tie long hair back and attach a strap to your sunglasses.
Horseback riding
There are a lot of options to go horseback riding, and it's common for the rides to be combined with a picnic, a swim in a waterfall or a dip in some thermal pools.
We had a fairly typical experience at Hacienda Guachipelin, the ranch-resort and adventure center where we stayed at the start of our trip.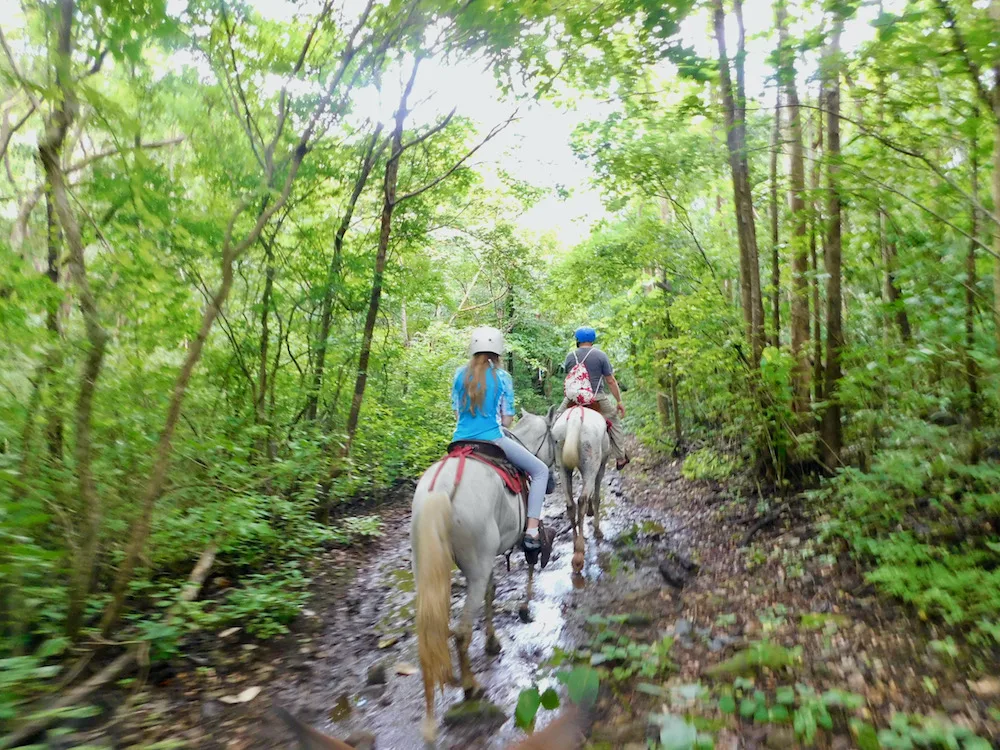 Costa Rican horses are smaller than the typical U.S. horses and were more comfortable to ride on. The trail was just rugged enough to be interesting with some narrow paths through the forest and a fair amount of up and down hill. The horses plodded through some streams that were swollen enough from recent rain for our feet to get wet. We saw a lot of bright blue butterflies and neon green lizards on the trail
We made two stops: the first was at a tall waterfall with a swimming hole below it. We climbed down to the bottom and took photos but it started to rain so we didn't swim.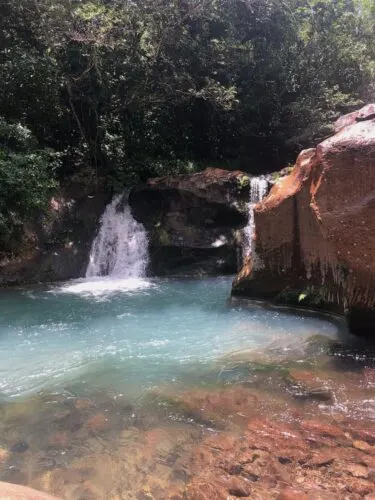 The sun was back out by the time we got to our second stop. We ate pack lunches and then went down a few steps to a small waterfall with crystal clear pool below it. It was as cold as you might expect but it felt good after the horseback riding and the guide gave us plenty of time to enjoy it. Afterward it was a short and fairly easy ride back to the stables.
The horses were easy going and Teen Traveler, who still isn't entirely comfortable on horses, was able to manage hers fairly easily.
Planning Help
Read about 6 great hotels for families
Adventures in & on the water
There are a lot of things to do on the water in Costa Rica and they don't all get your adrenaline pumping; some are scenic and relaxing.
Tubing and rafting rapids
Look at the reviews for any river tubing or rafting trip in Costa Rica and you'll find complaints both that the rapids were utterly flat and far stronger than expected. This isn't a flume ride at a theme park. Rivers swell in the rainy summer and shrink in the dry winter. In fall and spring they're somewhere in between.
We went river tubing at Guachipelin on a river with grade 2 and 3 rapids. Toward the tail-end of the rainy season they were mostly 3s and approached a few 4s.
We went over a handful of waterfalls that were two or three feet high and went though some narrow and very fast stretches between large boulders. It kept us on our toes and got our adrenaline flowing, but we never felt in danger and had a lot of fun.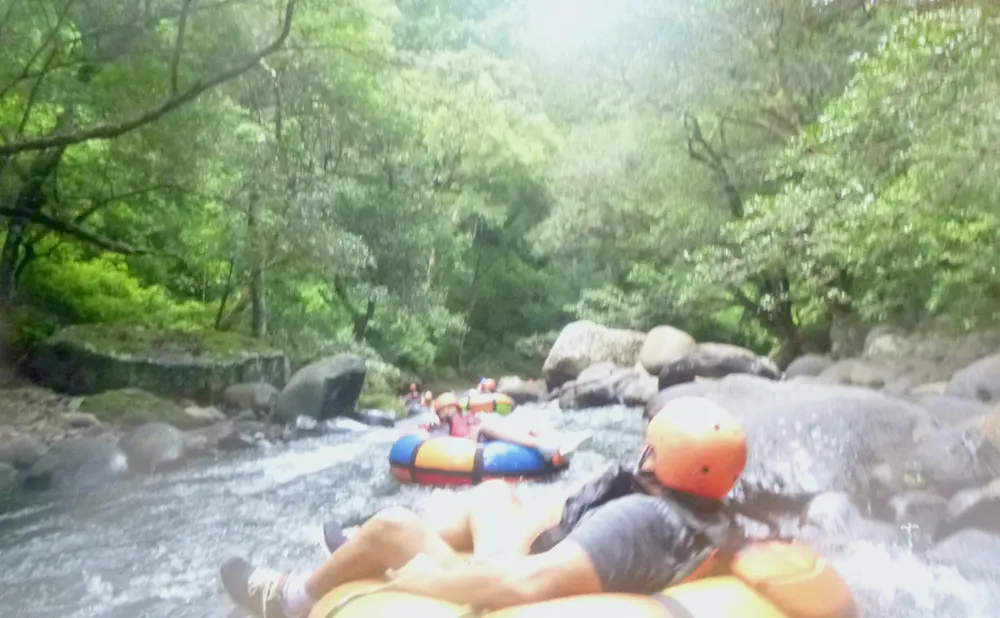 We had a large team of guides with us and they seemed to be everywhere. They broke up bottlenecks in the narrow sections, stood at the bottom of the waterfalls to keep people from toppling over and generally helped anyone who needed a hand.
This is the kind of adventure that is far easier with a tween or teen. It was impossible for the three of us to stay together for any length of time. Teen Traveler was old enough to not be nervous on her own and we trusted that she'd be okay with all the guides around.
If you have kids you would really want to stay close to for the whole trip, save the rapids excursions for the late fall to early spring when the waters are lower.
Tip on Tipping: Nobody remembers to bring money with them on the rafting and tubing trips. But the guides work hard and have real expertise. Since we were staying at Guachipelin, I was able to return to the adventure center with a tip for the team after we returned. But if you're on a day trip, remember to slip some cash into zip lock bag in your pocket or keep some handy in whatever you bring with you on the bus.
Swimming in a celestial river
Our most unique experience of the trip was swimming in Rio Celeste near Volcán Tenorio. Particles suspended in the river give it a transparent sky-blue appearance.
Our resort, Rio Celeste Hideaway, had hiking trails to two swimming holes in the river. Both were right below short waterfalls with a groupings of rocks thta generated rapids and pools. The river also had pockets of warm volcano-heated water, often inches from freezing cold water. It was fun switching between them.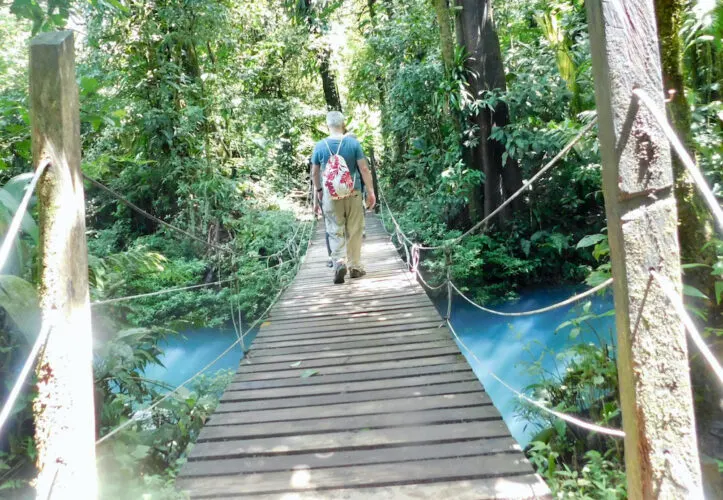 Teen Traveler scrambled on the rocks while Rich and I used the rapids and waterfalls for a natural massage. A teen with good judgement and decent swimming can enjoy either area, but with smaller kids I'd stick with the pools further from the hotel. There are more shallow areas and no very fast rapids. The pools closer to the hotel has a stronger water fall and some strong currents we had to watch for.
The trails are part of a tapir preserve. They're very shy so we didn't see any, but Teen Traveler caught sight of an agouti dashing across the trail.
Make sure you only swim in designated swimming areas in Rio Celeste, parts of the river are way too hot to be safe.
Soaking in natural hot springs
All the volcanoes heat underground rivers, generating natural hot springs all over Costa Rica. If the adventure resorts you visit have thermal pools definitely include them in your day. There are usually several pools with varying temperatures so leave time to explore them at your leisure.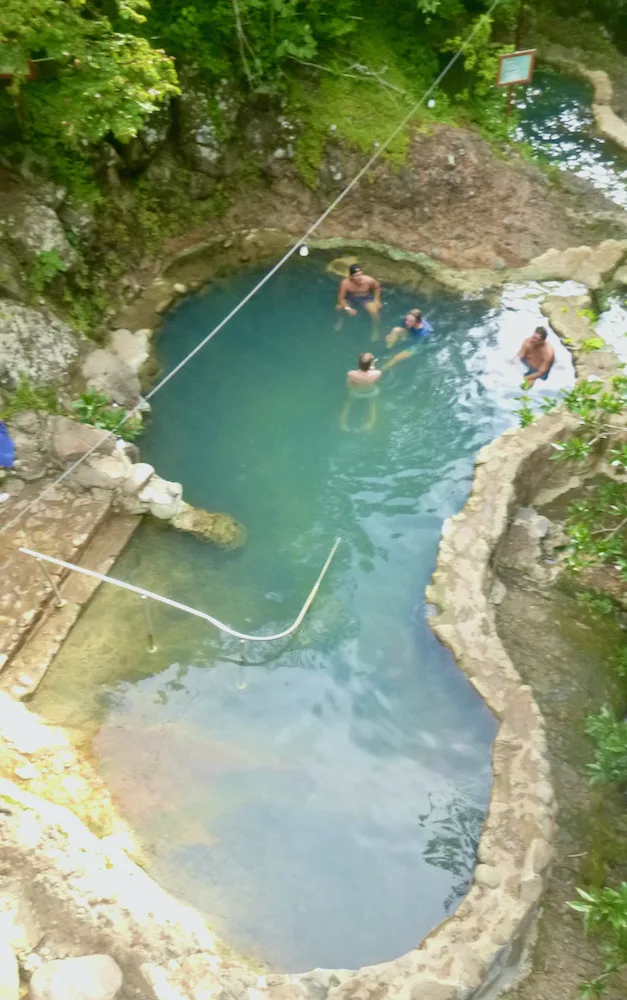 We soaked in the springs at the Hacienda Guachipelin at the base of Volcán Rincon de la Vieja and really enjoyed it. A half dozen pools ranging from cool to hot straddle two sides of a river that we crossed via rope bridges.
Rich and I liked the pools that were warm but not hot and Teen Traveler spent most of her time in the cool river. Part of it had shallow rapids and there was small waterfall that tumbled into a pool deep enough for swimming.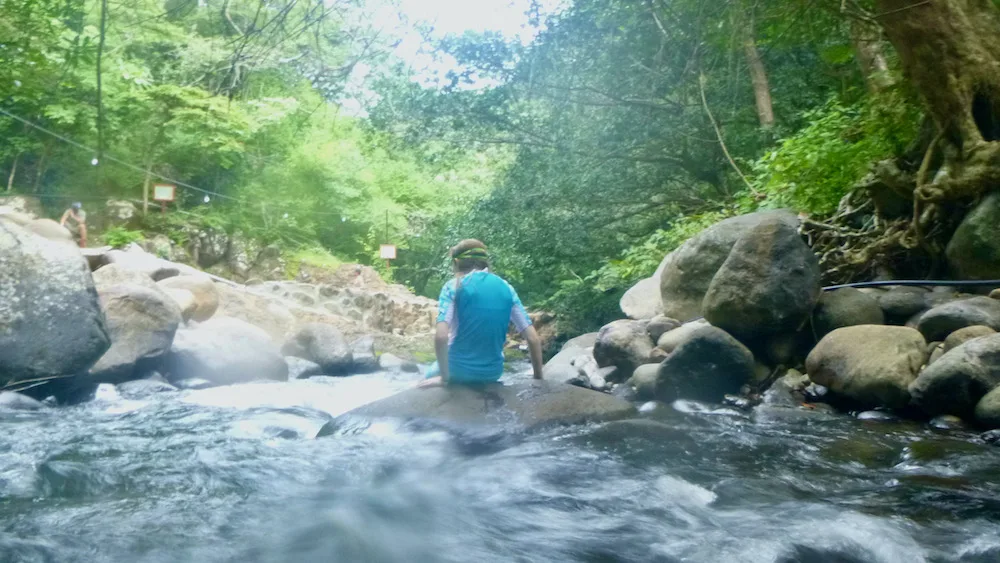 There was mineral-rich mud that most people were slathering on but we didn't want to deal with the mess.
For these types of rustic springs bring your own towel. Sport sandals are better than flip-flops on the trails to and between the pools. Most have small lockers for valuables but count on basic if any changing facilities.
Outdoor springs like these are casual and generally kid friendly, but adults do come to relax. Roughhousing, yelling and lots of splashing won't go over well unless you find a spot well away from the other bathers.
Sprawling Thermal Water Parks
If you want a less rustic, somewhat over-the-top experience, there are pool-and-spa complexes around La Fortuna that have lockers, stone paths, water slides, restaurants and even swim-up bars.
On my previous visit I spent a fun evening at the sprawling Baldi Hot Springs, where I enjoyed waterfalls, a natural steam room and a series of large pools with varying temperatures.
A sizeable kids' area has slides, a soaking bucket and splash pads. The adults-only area has the hottest pools. And it features a fake volcano that was reminiscent of a King Kong movie. If you can leave your kids on their own for a bit definitely check it out.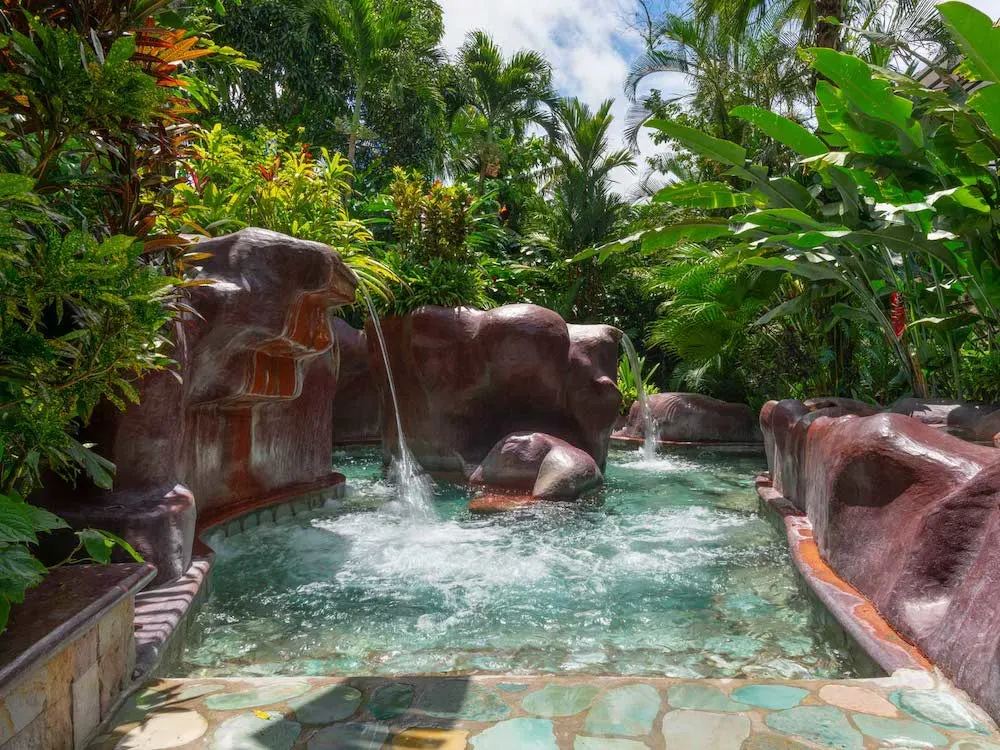 Be wary of the tallest slides in the main pools. They're fast and shoot riders halfway across the pool like skipped rocks. Watch a few other people ride them before you decide whether to let your teens loose on them.
The swim-up bar has good drinks and bar area near the front has tasty snacks with some Costa Rican specialties, but the buffet wasn't anything special.
Baldi seems to focus on appealing to adults more than other water parks in the area but kids are welcome, will definitely be able to amuse themselves and tweens and teens can wander on their own.
Wildlife spotting on the Pacific Ocean
Manuel Antonio National Park's protected area extends out into the water off its coast. The best way to take advantage of this is with a catamaran ride from Marina Pez Vela in Quepos.
After spending so much time surrounded by woods and rain forest, being out on the open water on the Ocean King catamaran was a nice change.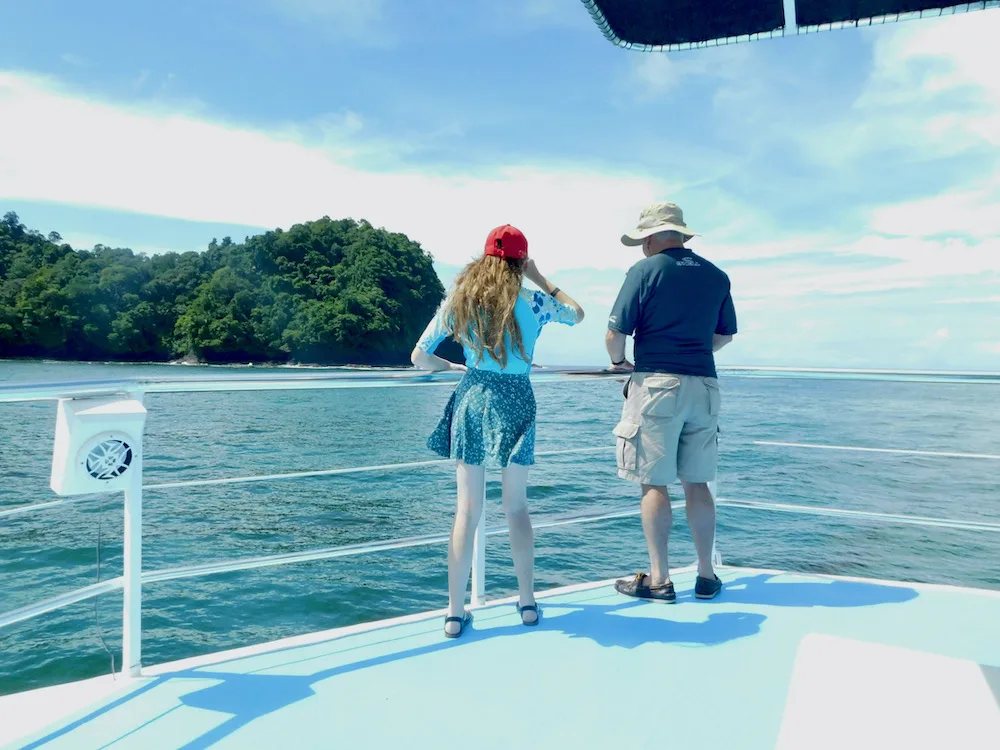 August was a good time to see all kinds of baby creatures and this extended to marine life. Our captain parked for a bit when we caught a mama and baby whale cavorting. And we had a family of pod of adult and baby dolphins following the boat for a while.
I have to say one thing I appreciated in all the guides we had, is that they leave wiggle room in their tours so that they can improvise based on what nature serves up on any given day. They'll stop for a while to watch whales playing or change paths to seek out animals that are being elusive.
We stopped in a sheltered cove to have lunch, swim and snorkel. The rain had churned up the water and the visibility wasn't very good so the snorkeling was not very good. But teen traveler and Rich enjoyed jumping off of the boat's top deck and going down its slides.
Lunch—fish kebabs, macaroni salad, fruit and cookies— was good. They had plenty of fruit juice, mild cocktails and beer. Even though this wasn't the most active excursion we were in the sun and wind for a few hours and we drank plenty of their fresh juice to stay hydrated.
A Spa Morning in Mañuel Antonio
Since I am a chicken when it comes to heights and high speeds, while my family went ziplining in Manuel Antonio, I went to the spa.
Our hotel's spa didn't have an appointment for me. So I took the hotel shuttle down the road to Hotel Issimmo, a boutique inn with a very nice spa and friendly staff. I had a wonderful hour-long massage in a stone-grotto-like therapy room for not a lot of money.
If I had time I would have stayed for lunch or at least a coffee at their al fresco restaurant with amazing ocean views. If you can swing it, time your treatment to follow it up with sunset cocktails here.
Best Places To See Animals
The amazing thing about Costa Rica is that nature is everywhere. You can spend a day exploring and not see many animals and then have a troop of monkeys pop up in the trees next to the place where you're having lunch.
Wild Kingdom…Poolside
We had the best wildlife experience of the whole trip during a rain shower at Parador Resort's pool.
A mama sloth with a baby hugging her belly climbed down through the tree next to the pool and then along a rope that the hotel hung so the sloths could travel between trees without having to come to the ground. Let me tell you, there is absolutely nothing in the world more adorable than a mama sloth with a baby sloth wrapped around her.
A few minutes later we saw another sloth climbing down to a lower branch to get away from the heavy rain. It's unusual for sloths to be that active and even some of the hotel staff came out to watch.
Just as the sloths settled down a large troop of white-face monkeys appeared out of nowhere, swinging through the trees and even climbing on the hotel balconies. I stood in the rain for a half hour watching it all.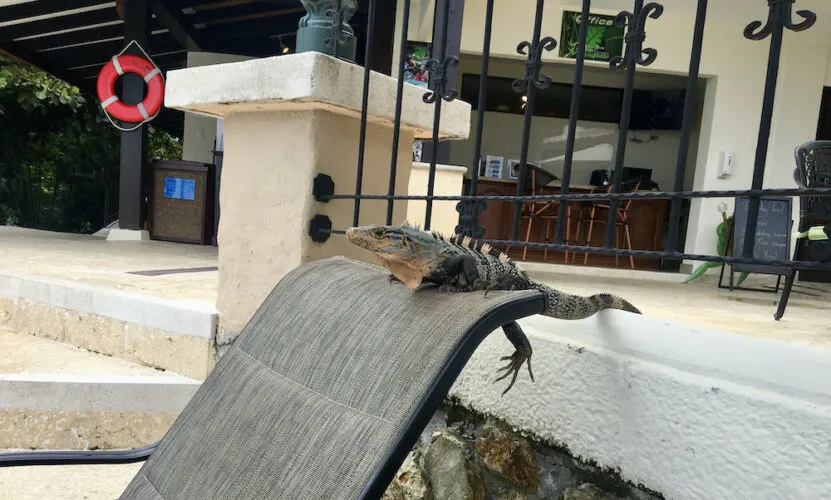 On another day we were having lunch by the pool when an iguana jumped onto one of your loung chairs. I think he wanted in on the chicken skewers. A staff member waited for me to take a photo and then shooed him away.
Night walking tours
We took a nighttime walking tour on the property of Rio Celeste Hideaway. Just walking along the hotel's pathways we saw red eye and hourglass frogs (two of the latter were mating), an enormous katydid, a sleeping viper (the best kind) and a small blockhead snake. We also found a tiny bird asleep in its nest and a golden-thread spider (whose web has a golden glimmer when light hits it).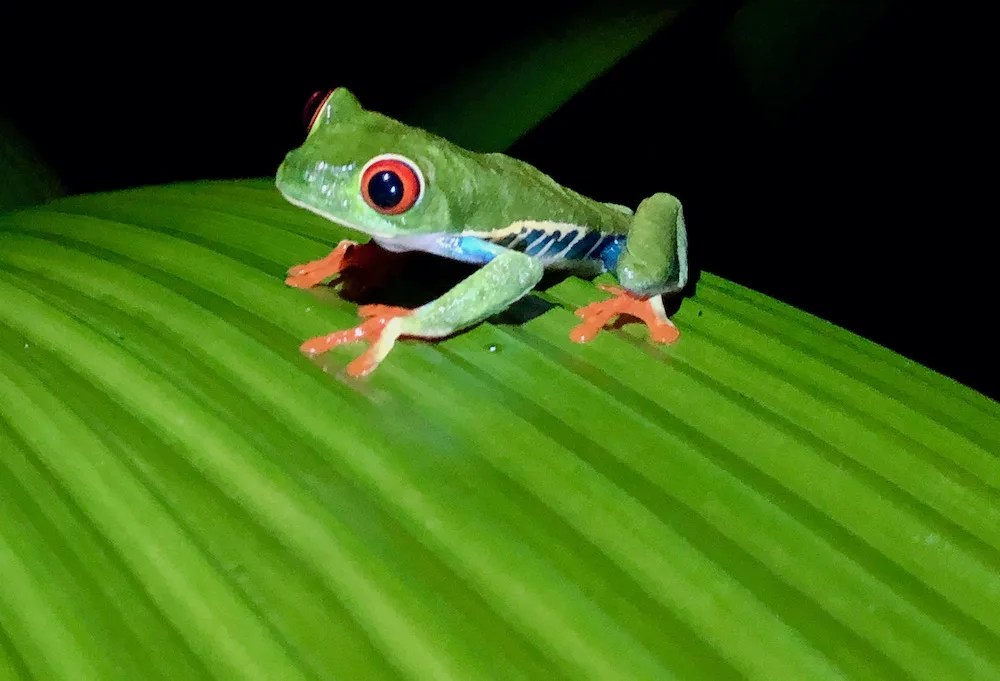 Nature doesn't appear on cue but hotel's naturalist had a good instinct for searching under the right leaves and up into the right tree branches to find all these tiny creatures.
We enjoyed this so much we booked another evening tour at Hotel Parador. On this one our guide took us along the hotel's walking trails where we found yellow frogs the size of your thumbnail and larger bull frogs, along with some tadpoles.
We saw a troop of leaf cutter ants, which are amazing to watch as they carry bits of leaf in long single lines. We looked under leaves and stones and found spiders big and small, bizarre insects and cicadas. I'm not a bug person—at all—but in this context it was all pretty fascinating.
In the forest at dusk we ould also hear a cacophony of cicadas, for more than we could see. It was amazing how loud they were in the quiet of the woods just steps from the resort.
Mañuel Antonio National Park
Manuel Antonio National Park is a 1,700-acre park with three types of rain forest, more than 100 different mammals and nearly 200 types of birds. It's one of the spots people visit in Costa Rica specifically to see animals. Lots of animals. And for the most part the park doesn't disappoint.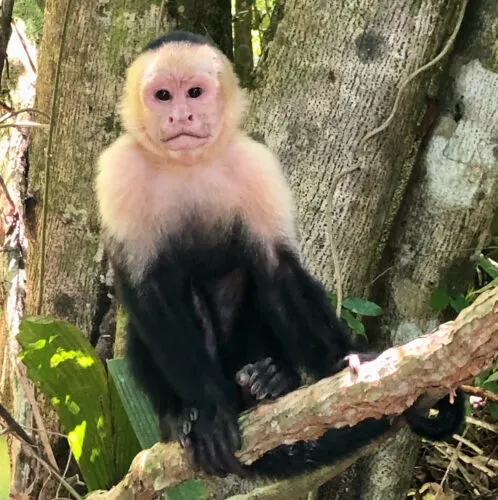 You enter Mañuel Antonio along a mile-long straight path that is essentially its Main Street. With a wooden boardwalk running parallel to a packed-dirt road, it's very accessible. The park gets far less accessible beyond the café at the end of this path, but if you have a stroller or someone with limited mobility with you, you can spent quite some time along here and feel like you've seen a lot.
This is also the part of the park the guides focus on. You definitely want a guide and ideally you shold book ahead to make sure you're getting an official guide who knows his or her stuff. The "guides" offering their services outside the park are often not licensed.
All the naturalists carry powerful telescopes on tripods. They can spot a sloth or lizard from 50 feet away, fiddle with their telescope for a minute and, yes! That's a sloth, a gray basilisk, a tiny bird! Our guide lifted some giant leaves to show us a colony of sleeping bats.
We also paused for about ten minutes to watch a troop of white-face monkeys chasing a clan of howler monkey mamas and babies through the trees all around us while the male howlers stood their ground and keopt their pursuers at bay. (The white-face monkeys seem cute but they're more aggressive and consider baby howlers a tasty breakfast).
After our guided tour finished we did the mirador trail on our own. It's all uphill, culminating in the scenic overlook that gives it its name. It's mostly a paved path or wooden stairs in good condition. We saw more white-face monkeys and a squirrel monkey with its pointy bat-like ears and long tail. They're adorable and this is the only part of Costa Rica where you find them.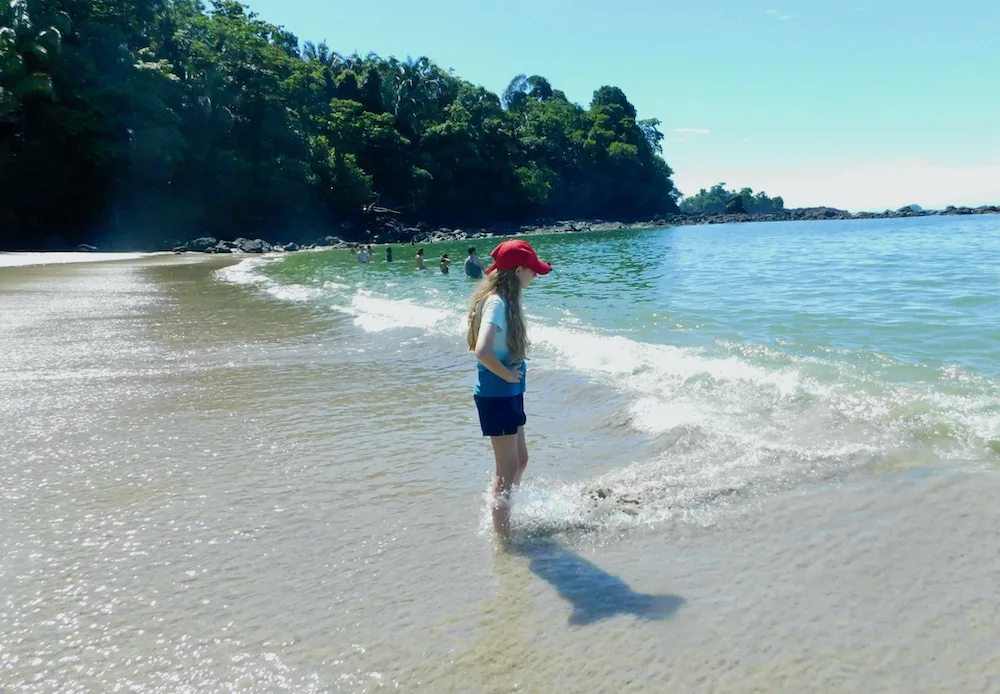 After our hike we changed into bathing suits and headed to Cove Beach, a protected half-moon of sand with trees for shade and a calm bay to bob around in. The park café up the road will sell you a lock for its free lockers for a few dollars and we bought one to secure our cameras and wallets while we swam. This is the most popular beach with park visitors but it didn't seem crowded.
Escondido Beach is protected and calm, too. You need to hike to it and we didn't want to get all sweaty after cooling off in the water. A lot of people probably feel that way so there's a good chance you'd have it mostly to yourself if you made your way there.
South Beach has a trail behind that we walked along with our guide, but it has bigger waves, rip tides and trees that give off a noxious gas if you sit under them. So, probably not the best place to enjoy some sand and surf.
Restaurants Around Mañuel Antonio
There is a vibrant local dining scene around Quepos and Mañuel Antonio.
Every local person we talked to told us to go to Ronny's Place, and it was a good recommendation. It's up on a cliff with an amazing sunset view. We shared fruity red sangria, a fish ceviche, black bean soup and rice with shrimp. Teen traveler was feeling less adventure and chose barbecue pork ribs and rice.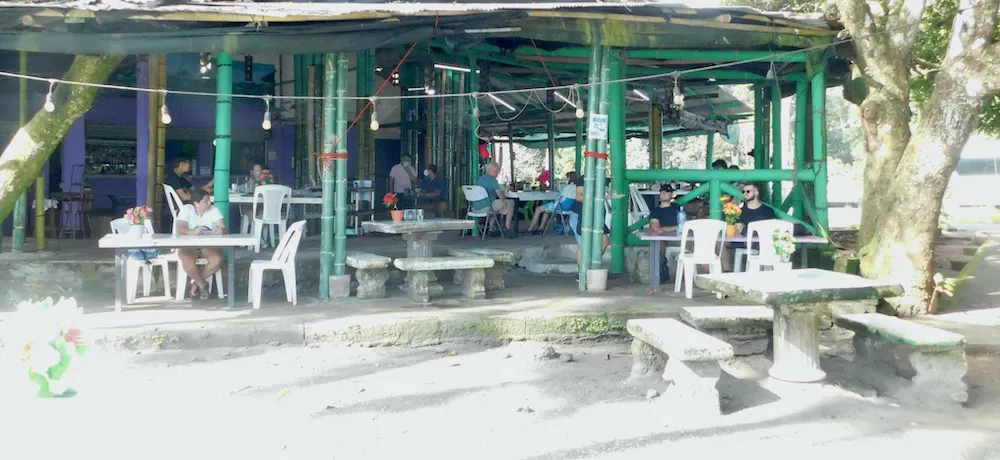 On the day we visited Mañuel Antonio we just missed the hotel's shuttle bus. While we waited for the next one we had a snack at Café de Mar, a laid-back place with a view of the public beach. The service was friendly and we enjoyed some very good tacos ticos (Costa Rican-style crispy rolled tacos) filled with beef and piled high with lettuce, tomato and shredded cheese.
TIp: The public beach is scenic and there are lifeguards. But the surf is rough and when the tide is in the beach is very narrow.
Another local recommendation was the Runaway Grill at the Marina in Quepos. The attraction here is the balcony with a view of the marina and another great sunset. Sadly, there was practically a monsoon happening the night we were there and we had to sit inside.
It's the least Costa Rican place we ate, but the food was good. We shared shrimp fajitas, fried calamari, warm edamame and another ceviche. It's a good choice if you have picky eaters who will welcome something familiar or you need a break from Costa Rican food. If you are at the marina for another activitystop for a drink and the view at the very least, especially if it's a nice day.
After dinner we crossed the plaza to Gelateria Amorosi for good and very reasonably priced gelato. They had local flavors like coconut (my choice) or passion fruit and familiar ones like mixed berry and caramel brownie. Tween Traveler went all out, choosing chocolate gelato with chunks of Ferrero Roche balls mixed in.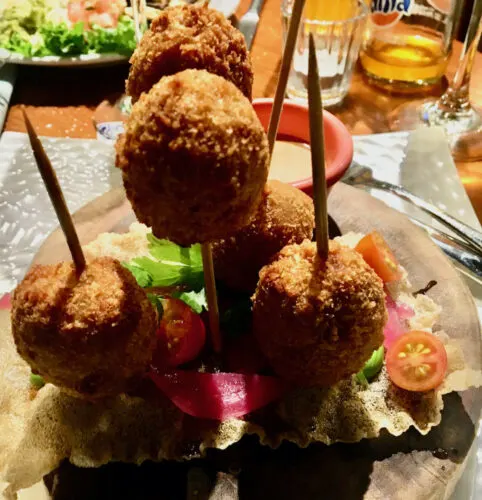 We had tapas at the Hotel Parador's Don Juan Bar one night when we didn't feel like venturing out. Crispy potato croquettes were our collective favorite. But we also liked the garlic shrimp and a cheesy chicken quesadilla. They have a chocolate lava cake for dessert that was so good we came back for it after dinner at Ronny's Place the next night.
Tip: We took a few taxis while here and they were all $10. It seemed to be the flat rate between the hotel and Mañuel Antonio, the marina and area restaurants.
Also Read: The Best Things To Eat With Kids in Costa Rica
A nature walk in Volcan de Tenorio National Park
The reason we went to Rio Celeste was to spend a day hiking in Volcan De Tenorio National Park. We had a guide here, too, which was helpful because there is a wide variety of plants and trees and without someone to point out what things are and why they matter it all just looks like a lot of green leaves.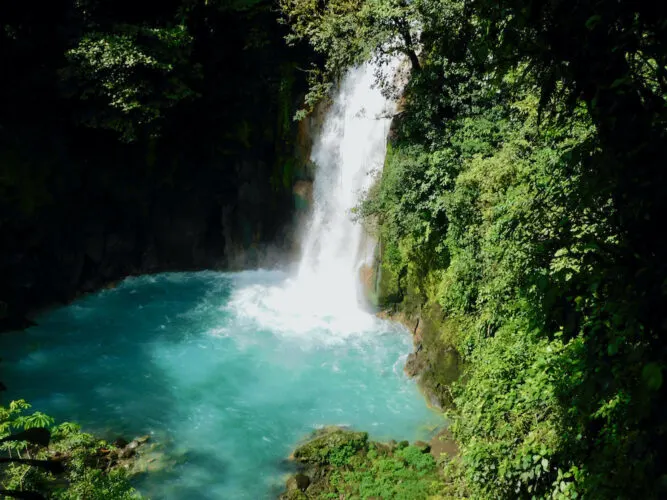 The highlights in this park are the views of Rio Celeste. There is a discreet point in the river where it's the usual river green and then suddenly turns distinctly sky blue. They haven't been able to figure why and it's kind of nice to know that nature can still stump us.
There is also a tall waterfall that you can hike down to the bottom of. It's probably 10 flights of stairs to the bottom, and then back up again. But it's very pretty and worth hiking at least part of the way down.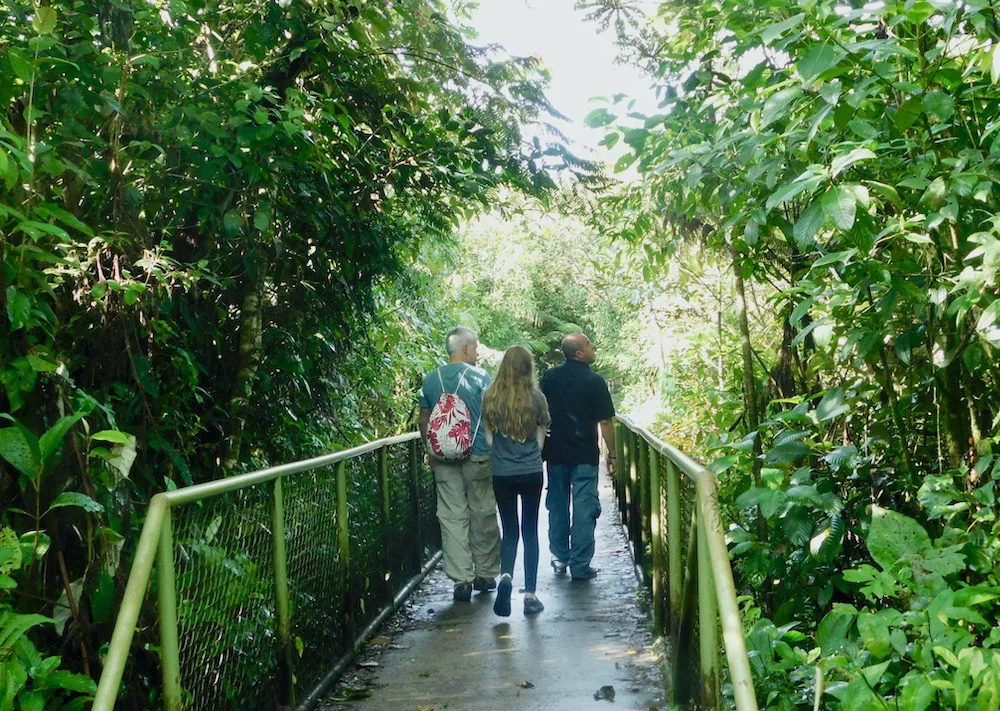 We saw turtles, butterflies, some colorful birds and a few monkeys scampering in the trees but otherwise this was more of a scenery hike. This doesn't mean it wasn't enjoyable. We liked the challenge the trail presented and we saw interesting things.
Tip: The trails in Tenorio have a lot of ups and downs, rudimentary steps and a lot of large stones. It's definitely a place for proper hiking boots.
Doing It All in One Place
If you are short on time or want to simplify your plans there are opportunities to do several activities in one place. Most are ranches and activity centers where you can buy a day package or stay on site to spend a few days trying all the activities at a leisurely pace.
If your hotel doesn't double as an adventure center, they can book excursions for you with hotel pick-up, so you don't have to book everything on your own.
Hacienda Guachipelin is one such center. In addition to the horseback riding, tubing and thermal pools that we enjoyed, they have ziplining, canyoning, guided hikes and mountain biking.
The hacienda also has small waterfalls, swimming holes and hot springs tucked all over the sprawling ranch. If you come in your own car, get a property map and check some of them out.
A day at Buena Vista Adventures & Eco Lodge
Kelly Stilwell of Food, Fun & Faraway Places spent a day with her family at Buena Vista Adventures, just 15 miles from San Jose airport, near the Rincón de la Vieja.
She says: We started the day zip lining with howler monkeys just overhead and gorgeous rainforest below. This is a must-do. Don't be afraid. The guides make sure you're tightly buckled and you can control your speed to make this a slow ride for seeing the sights or a daredevil dash to the next platform.
Next, we braved a serious water slide; it's 400 meters long and the water is powerful! You must wear a helmet. My kids went three times, but their Dad and I decided to just watch after the first go-round. It was pretty scary (and this is coming from a person who zip lined upside down earlier in the day.)
We paused for a buffet lunch that was included in the package. It's not easy getting up the mountain (as you'll see), so most of what we ate had been grown right there. This was some of the best food we ate in Costa Rica. I loved the eggplant and the cookies were delicious. We all went back for seconds.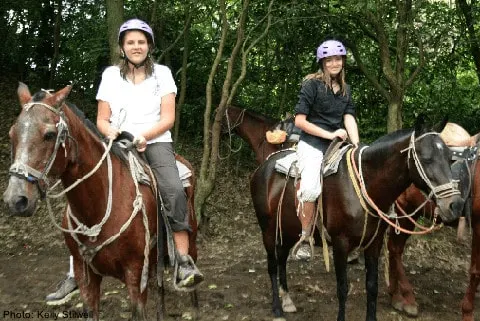 After lunch, we saddled up for a 45-minute horseback ride to the spa!
This was not your typical resort ride. We galloped and trotted along tight paths through the rainforest. These horses are well trained. However, my youngest got her foot tangled in a vine on one of the narrower paths; her horse kept going and she fell off. We were wearing helmets so she was scratched up and shaken but able to ride on.
After changing back into our swim suits, we kicked back in the sauna to open those pores, then we had a mud bath. My family had so much fun slathering on the mud! Our skin felt wonderful afterward.
I must admit I didn't enjoy the cold shower to rinse the mud off, but the hot springs we plunged into afterward took the chill away. There are three different temperatures of volcano-fed springs. You can alternate between them for as long as you like.
You can take a tractor back from the spa, but my family opted to ride our horses back. We were alone on the return trip and it was a wonderful way to end our day. The sun was beginning to set and we had the scenery all to ourselves.
Practical Stuff: There is an Eco-Lodge if you want more time here, which you well might. In addition to Kelly's package, they have hanging bridges, nature walks, access to cultural experiences and additional restaurants.
A night on the town in La Fortuna
As much as Teen Traveler was enjoying our jungle and river adventures, half-way through the trip she expressed a desire to feel some cement under her feet. So on the night we stayed outside of La Fortuna we took a cab into town.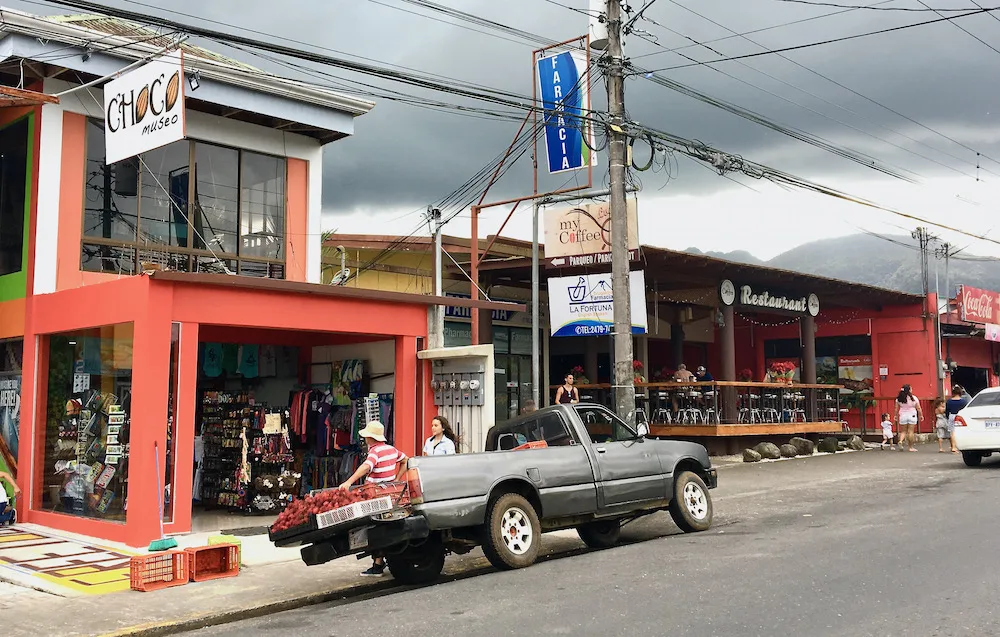 La Fortuna is a typical backpacker town with a mix of hostels, small hotels, lively bars, cheap restaurants, tour booking companies and shops. This isn't a bad thing by any means. It's a fun place to spend an afternoon or evening.
We admired all the fruit we don't see at home in the market stalls, browsed souvenir shops, bought Lizano and the ingredients for granizadas at a small supermarket and enjoyed some good people watching.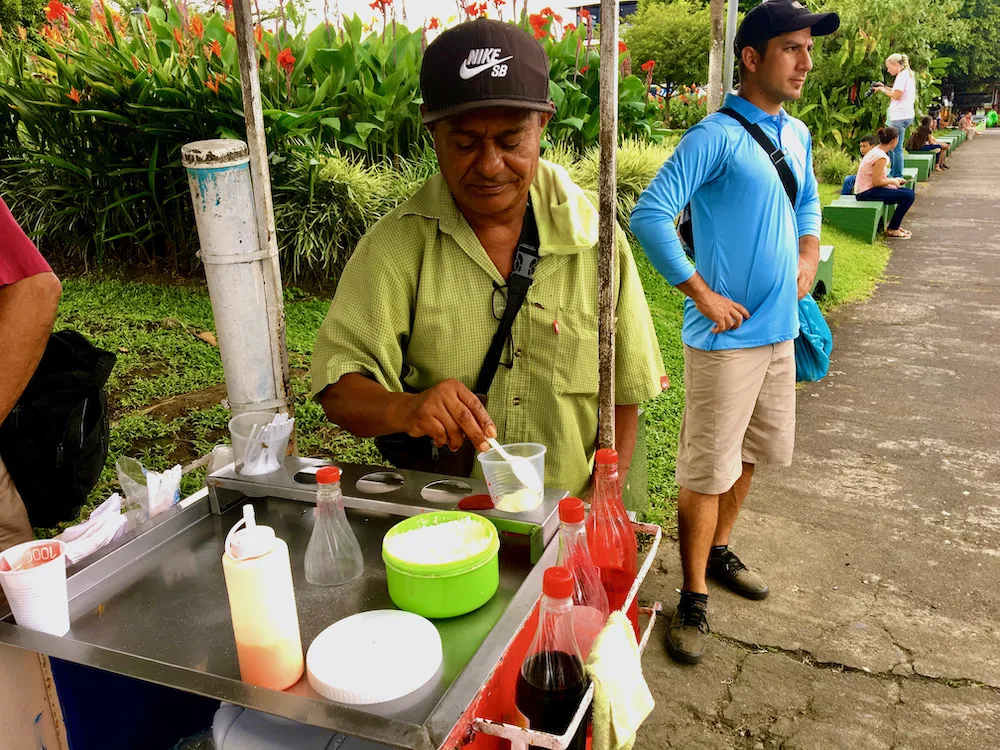 We picked a restaurant that had a nice front patio and ate inexpensive arroz con pollo, shrimps and casado with rum cocktails and beer. For dessert we bought a bright blue granizada and coconut paletas from a stand next to the town square. The square was also where we found a taxi back to our hotel.
Basic Information
Getting to Costa Rica
There are plenty of flights into both San Jose and Liberia from the U.S.; many connect through either Miami or Houston. We flew into Liberia and out of San Jose, which allowed us to see more of the country with less on-the-ground travel. It's a common strategy and you can do the reverse, too.
Phones and Wi-fi
Our mobile plan had a $10 per phone/per day roaming charge, so we paid it on one of our three phones and the other two used it as a hot spot. That said, cellular service is definitely spotty in remote places; don't count on it when you're out adenturing.
Because most of the resorts are spread out over large, leafy properties, Wi-Fi wasn't always reliable in the hotel rooms. We could always get it in and around a hotel's main building, though. So you can sit in the lobby, grab a drink at the bar or lounge by the pool while you do your online stuff. Or better yet just turn the phone off and immerse yourself in Costa Rica's pura vida.
Advice on Photos
A lot of the adventure parks, especially the zip-line places, will take photos of your group throughout the day. They're cameras are positioned to get great shots and you don't have to worry about the person taking the photos not being in the photos. When this is on offer, take advantage of it. The packages are inexpensive, you'll have great photos and you can leave your own camera safely on the ground.
Costa Rica Guides
Costa Rica takes its tourism industry quite seriously. There are a lot of rules around sustainability for hotels and adventure centers. And licensed guides have to meet a long list of requirements including two years or more of training in everything from first-aid to history, botany and ornithology. Adventure guides receive additional training.
Reputable, licensed tour companies and travel agents sub-contract to reputable, licensed guides, drivers and adventure centers. Hiring someone to plan your trip means only have to research one company; they'll do the rest of the legwork for you.
How To Get Around or,
Should You Drive in Costa Rica?
Costa Rica is a small country but the roads wind around mountains and volcanoes and through a lot of countryside. Backroads aren't always paved, paved roads are rutted, signs are not great and cellular service is spotty. It can take a surprisingly long time to go very short distances.
On our trip we saw a head-on collision on a one-lane bridge and a car that had broken its front axle pulling over by a trailhead. We met a couple who took four hours to do a drive we did in less than half that time because they kept getting lost.
This is why, as independent as we like to be, Rich and I were happy to let CR Family Holidays book all our transfers for us. We always had someone local who could navigate the detours, shortcuts and backroads while we looked at the scenery or napped.
If I haven't dissuaded you yet from renting a car, go for something with four-wheel drive. Make sure you have good insurance and get a built-in GPS so you aren't reliant on Google Maps. If you want to cover any long distances, consider replacing some of your driving with flights.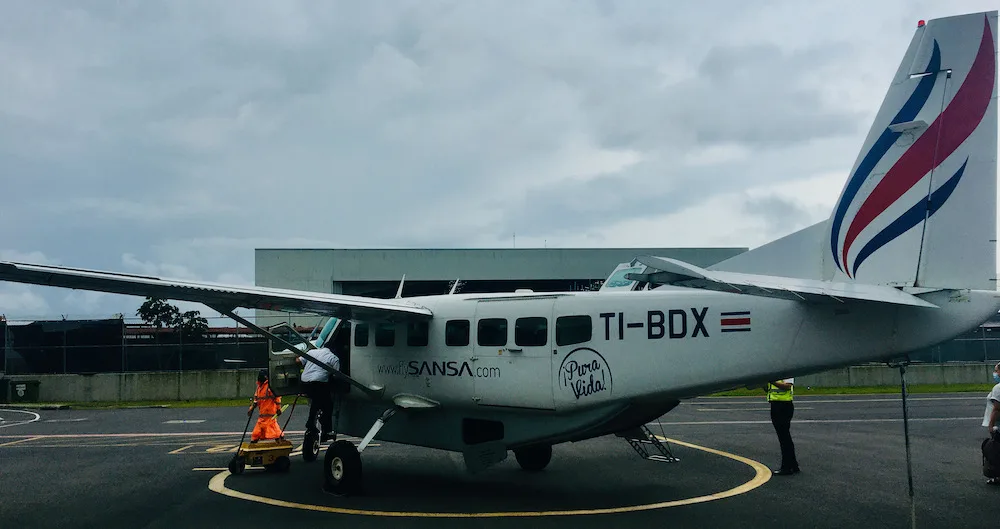 We took an internal flight from La Fortuna to Quepos. It's only 150 miles but it's a five-hour drive. The flight was a little barely an hour including time to change planes San Jose.
Costa Rica Weather & Clothes
I visited Costa Rica in both the dry and rainy seasons and the weather seemed very much the same for both. It's cooler at higher altitudes, warmer in the valleys, humid in the rain forests and jungles and dry on the coast. There are insects everywhere.
Shorts or very light long pants and t-shirts or tank tops were fine for activities. Clothes that wick sweat are ideal. Tween Traveler and I often wore light hoodies at night and we got a lot of mileage out of our rain jackets in the summer. Hiking boots are essential. Flip-flops are fine for going to the pool but for activities like tubing you need shoes that can get wet and stay attached to your feet.
Planning Help
Print my complete Costa Rica packing list
A tip for cellular service
For most of our travel outside the U.S. our cellular service charges us $10/phone/day in roaming fees. This adds up, even when we agree that only one of us can have roaming service at a time. So I was very happy when a fellow traveler writer introduced me to Airalo. It was a where-have-you-been-all-my-life moment.
Airolo is an app that provides virtual SIM cards, so you can access a local cell network without having to replace your actual SIM card and risk losing it. In most international locations now I can all the data I need for about $5/phone/week.
For $15, all three of us can have full use of our phones for a weeklong trip, instead of $70 for one of us to have cell service a time. Big difference! Will I be using Airalo for all our overseas trips from now on? Yes, I will.
Pin it for later!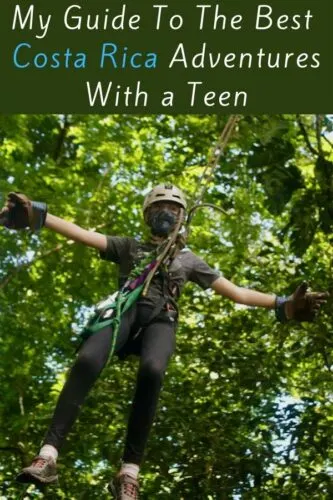 *We paid for our vacation but receive a small media discount for some of the hotels and activities.
Kelly Stilwell, contributor to Mommy Magazine, Baltimore's Child, and FamilyCorner.com is a freelance writer in Florida. A former stockbroker, Kelly now spends her days writing about travel with her teens. Read her work at Food, Fun & Faraway Places or follow her onTwitter.
Photos of Buena Vista Adventures are by Kelly Stillwell. We bought the photos of Titi Canopy from them. Baldi photo courtesy of Baldi Resort. All other photos by FamiliesGo!©