US Route 101 is one of the most breathtaking roads in America. it winds along 363 miles of the Oregon coast and is ideal for a road trip with kids.
Traveling between the mouth of the Columbia River and the old-growth redwoods of Northern California, we encountered charming costal towns and enticing beaches about every 30 miles along the Oregon coast road.
This isn't just happenstance. A local historian explained to me this is the approximate distance a horse could travel in a day.
We spent the better part of this past summer driving coastal highway 101 in sections. This strategy allowed us to enjoy an unhurried, in-depth appreciation for the diversity and natural beauty of the entire coast.
Some towns, like Cannon Beach, are well known for romantic vacations. And of course, Tillamook draws busloads of hungry tourists in search of ice cream and cheese.
Here is one Oregon Coast itinerary that we did with our kids and really loved. I hope it will help you explore at least art of this fabulous seaside route.
Read More:
• You might want to spend a couple of nights in Portland, OR before beginning your road trip.
• If your road trip takes you north from Portland, You can have great coast experiences at Olympic National Park
• And also check out Seattle for a few days.
Oregon Coast Road Trip: 5 Quintessential Stops To Explore With Kids
2 Stops West of Portland
Cannon Beach
We began our Oregon coast drive at the north end, west of Portland.
Visitors stop at Cannon Beach to see Haystack Rock. Its's one of the coast's most distinctive sites and has popped up in quite a few movies including Twilight and The Goonies.
When the tide is out you can walkout to to the rock and find some of the amazing tide pools that the Pacific Northest Coast is known for. You can spot starfish and other amazing tiny creatures. The beach is also a good place to spot puffins and other sea birds.
A Cannon Beach Hotel: I highly recommend spending your first night at the Hallmark Resort & Spa, which offers freshly-baked cookies to its human guests on arrival, a bowl of dog biscuits for dogs.
It's modern, with a beachfront setting and two indoor pools and whirpools. Families can rent one or two-bedroom suites with kitchenettes; some have nice decks for enjoyng the view.
Rockaway Beach
Rockaway Beach is an excellent place to fly a kite, so keep a couple in the back of the car. Near constant winds and a wide, sandy beach are a perfect combination and likely on any random sunny afternoon.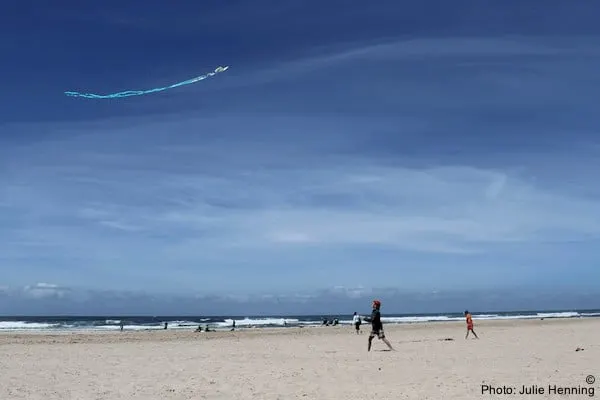 When your neck is sore from looking into the sky, wander down the main drag in search of an ice cream cone or watch a glass-blowing demonstration at one of several local art studios. Sea Breeze on Main Street has Tillamook ice cream has well as salt-water taffy.
A Rockaway Beach Hotel: The area leans toward inexpensive motels and RV Parks. For a full-service hotel, book the Rockaway Beach Resort. It has large family-friendly rooms with kitchenettes and sitting areas, an indoor pool and whirlpool and a beach-front setting.
2 Central Coast Stops
Neskowin:
Our next stop on this road trip was Neskowin, 46 miles south of Rockaway Beach.
We arrived at low tide, which meant we could walk out to Neskowin Beach State Recreation Area and look down near the shore for 2,000-year-old remains of decayed cedar and spruce tree trunks.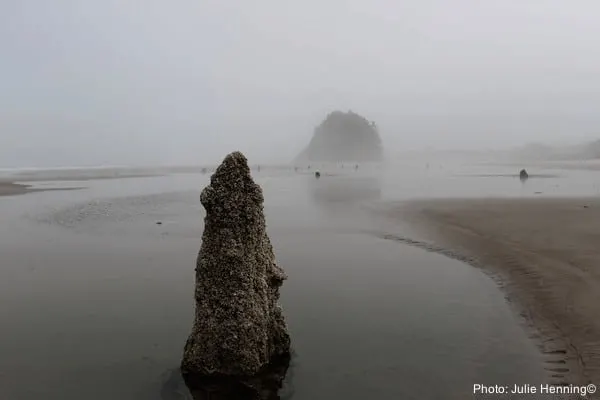 Another low-tide activity we enjoyed is buying a clamming license so we could dig for our dinner.
We found a bucket full of hard-shell steamer clams under the Girabaldi public pier, near Tillamook, earlier this summer, and you'll find popular clamming spots all up and down the coast.
Tip: Tillamook is a bit less than halfway between Rockaway and Nescowin. You can stop at the famous dairy to have their ice cream as well as breakfast and lunch items made with their cheese.
A Lincoln City hotel: Hotels are a bit scarce in Nescowin itself, so we drove a bit further south to Lincon City. My pick for an overnight stop there is the cheerful, nautically themed Surftides Lincon City.
It looks like a typical roadsise hotel from the outside. But inside you'll find a modern boutique hotel with a curved indoor pool, a stylish restaurant and outdoor firepits. The rooms are roomy; some comes with seating, jacuzzi tubs or eating areas and a microwave.
Newport:
One of the larger costal communities, Newport is 38 miles south of Neskowin. Here we had fun watching the fishing and crabbing boats come in to port in the afternoon.
Before you get to town you'll pass the Yaquina Head Outstanding Natural Area (that's what it's called), a seaside nature preserve with a lighthouse and interpretive center. There's also a rocky beach where you'll find tide pools close to shore.
We like to dine at Rogue Brewers on the Bay, a two-story pub inside the Rogue Brewery. It overlooks a marina on Yaquina Bay. In addition to having many, many Rogue beers on tap, it has typical brewpub food plus local oysters, clam chowder with bay clams and a salad with PNW hazelnuts.
If you get stuck with a rainy day, take a brewery tour. Brewing is chemistry and kids can get into it.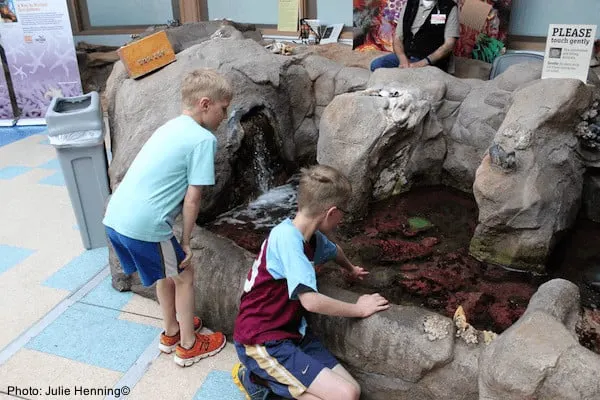 Another indoor option for families with younger kids is Oregon Coast Aquarium with its touch tanks and other Hands-on fun. Or try the free Hatfield Marine Science Center at Oregon State University. The Brewery, aquarium and science center are only a few minutes apart and just across the bridge from Yaquina Bay Recreation Area, which has scenic views, a beach, a small lighthouse and space to run around and explore.
A Newport Hotel: In the lively Nye Beach district, the boutiquey Inn at Nye Beach looks like a row of connected beach houses in front. In the back there is a small infinity pool , a nice fire pit and a gorgeous stretch of beach.
It doesn't scream family as much as some other places but you'll find a room to suit your needs and breakfast is included.
1 Stop West of Eugene
One of our favorite destinations is Florence. At the southern end of the Oregon Coast, 49 miles south of Newport it was our last stop on this road trip.
It's located in the heart of the Oregon Dunes National Recreation Area and is the birthplace of sandboarding.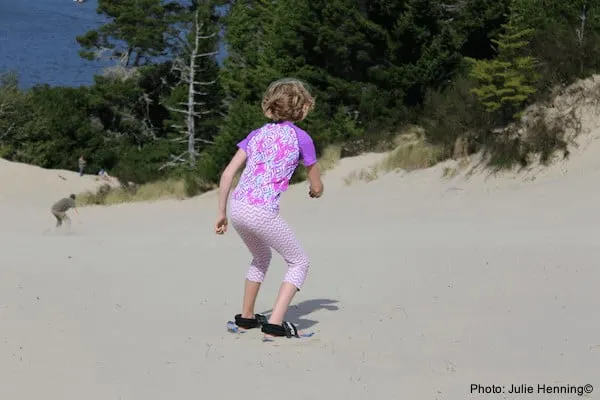 We found plenty of shopping and dining options in the historic downtown district, some feature farm-to-table and ocean-to-table fare for those who like to eat local.
Just north of town are the sea-lion caves and the highly-photographed Heceta Head Lighthouse. The first floor is open to the public and the staff has activities for kids from about 11:00 to 3:00 during the summer. You can't go to the upper floors because it's still a working lighthouse with an automated beacon.
Florence is also home to the enormous Sea Lion Cave, the largest sea cave in the U.S. and home to a large colony of Stellar sea lions. On the walk to and from the caves you might spot whales and will certainly see plenty of different kinds of sea birds. This reserve is privately owned and one of the stops along the way that you'll have to pay to explore.
Florence Hotels: You'll find small hotels and familiar chains if you want to stay in town overnight. The latter might be a bit more reliable if not very exciting.
If you want a pool, the Best Western Pier Point Inn, just across the bridge from the historic center, is a good bet. It's had a recent refurbishment, which is always nice. In addition to the indoor pool there is a hot tub and sauna. Plus it has nice river views and free breakfast.
The Old Town Inn has cute, roomy rooms, a friendly inn-keeper and a great location right in town. It's a more than fine option to rest your head for a night if you want to be able to walk to dinner, shopping and breakfast.
Anywhere On Your Road Trip
You can't go wrong stopping anywhere along the coast that might tempt you.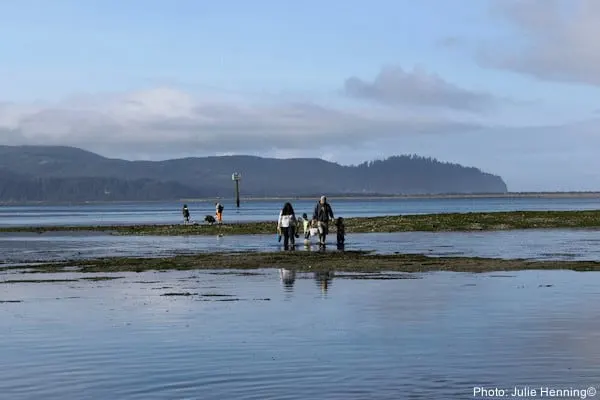 Walk on the beaches or explore one of the many state parks, natural forests, wildlife refuges and marine reserves that dot the coast. Each town has a chamber of commerce or visitors center with maps, tide tables and suggestions for local activities.
Pin it for later!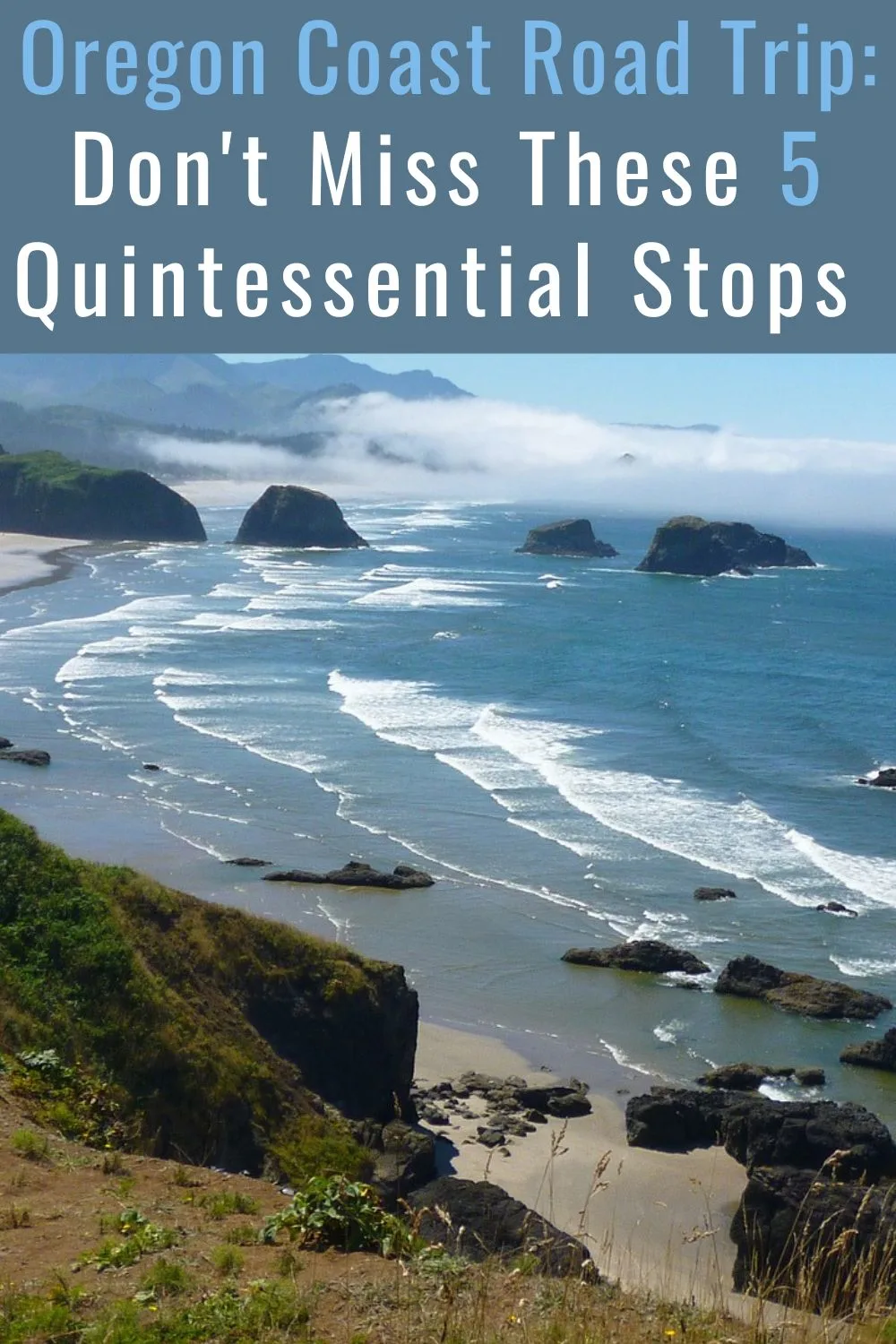 Julie Henning is the new owner (but longtime editor) of the family travel website Road Trips for Families. She recently moved to Eugene, Oregon with her husband, three kid, and black lab.