In a bookstore in Portland, Oregon we spotted a book called This is Portland: The City You've Heard You Should Like. It pretty well summed up our experience in this Pacific Northwest city-of-the-moment.
We didn't dislike Portland. We found things to do with kids and teens, and good, inexpensive places for families to eat. But as cities go it was too low-key for us. Tween Traveler said more than once that it didn't feel like a city.
We can see why people like living in this low-density city with its many parks and locavore, maker sensibility. And I have to say that with all the beer, coffee and live music we might have had more fun on a couple getaway.
We stayed two nights and didn't quite get to everything we wanted to do. Here are some fun things we found to do, some things we think you can skip, and things local friends highly recommend doing with tweens that we didn't get to.
Portland was part of a road trip that included:
• Seattle
• Olympic National Park
• Vancouver &
• Whistler
• You can also drive the other south from Portland, down the Oregon Coast
A Kid-Friendly Portland Weekend:
Fun Thing to See, Eat & Do
4 Neighborhoods To Explore
Portland is a largely low-rise city that spreads across two sides of the Willamette River. The most fun and distinct neighborhoods we found were mostly on the east side of the river.
1. Our local millennial relatives sent us to Division Street, between about SE30th Avenue and Cesar Chavez Boulevard. It's a fun stretch to walk along in search of food and drinks. You can also admire some only-in-Portland stores, including one called Barber + Beer, and another proffering growlers of Kombucha.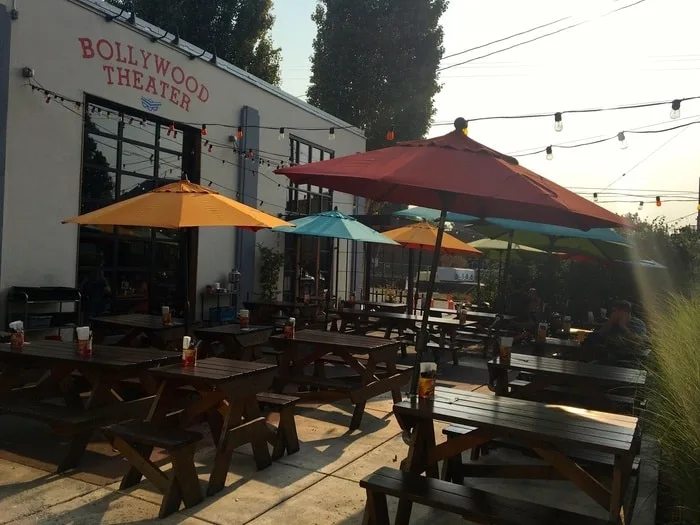 Pok Pok is a popular Thai place known for its spicy wings and Bollywood Theater has Indian food and ample outdoor seating. Olympic Provisions Public House features local beer and sausage and has other food as well. They're all casual and definitely kid-friendly.
We returned twice to up-and-coming Pinolo Gelato for its rich, classic flavors. Chocolate, coconut, bacio, and seasonal peach, honeydew and watermelon were all winners with us.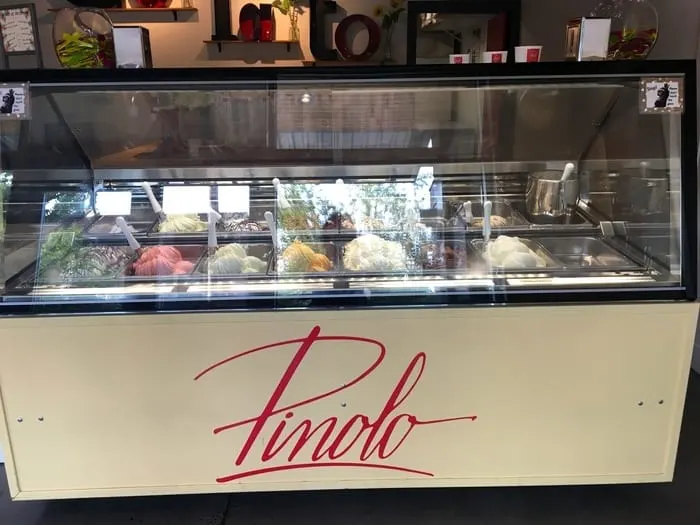 2. With its rose gardens and colorful craftsman gothic homes, Ladd's Addition is a small planned community that's worth a quick bike or drive through. It's easy to find on a map because of it's distinct X=shaped blocks in the middle of Portland's east-side grid. Tween Traveler sat in the car and read during this brief excursion, but it was worth the small detour.
3. Our relatives also sent us to leafy Sellwood and its namesake park, where tween traveler found a so-so older playground and a big green field that's ideal for kicking around a soccer ball.
Next-door is the historic Sellwood Pool, which made us long for our bathing suits with its colorful slide, sprinkler area for little kids and plenty of room to swim. Admission is only a few dollars and it's definitely worth keeping in mind if you visit in the hot weather.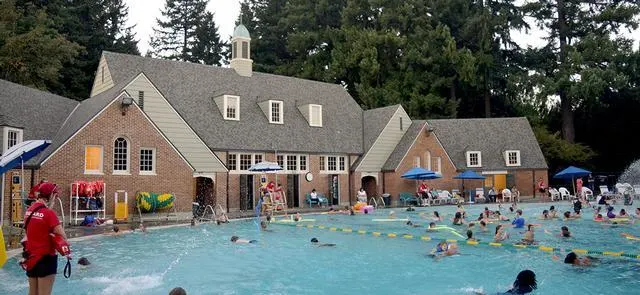 Sellwood's main artery, SE9th Avenue has its share of nice looking restaurants and a small food-truck court, but we visited between mealtimes and didn't get to try anything.
4. Our relatives have written off the Pearl District on the west side as "too touristy," but we wound up wandering through it a few times on our visit because it's adjacent to downtown and has far better eating and shopping.
One of Tween Traveler's favorite stops on our Pacific Northwest road trip was Powell's, the famous new- and used-book store that takes up the entire block it sits on. Its many rooms are organized by color; kids books are the rose room.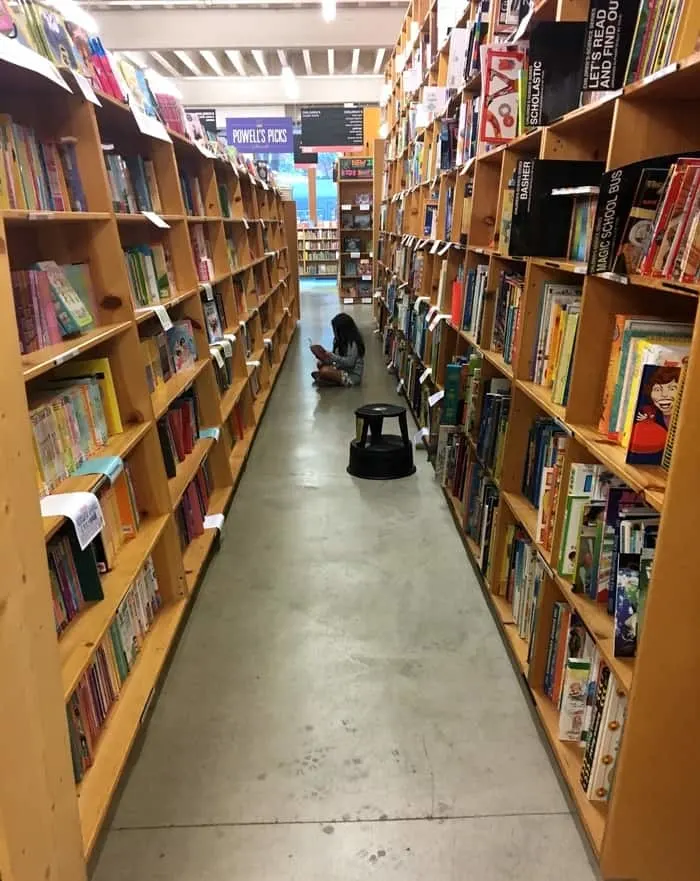 It's a good idea to agree on a meeting place in Powell's because everyone in your family is going to wander off in a different direction.
While your kids peruse their favorite authors you'll want to stop by the rare book room with its 9,000 volumes that date as far back at 1480.
Neighborhood To Avoid: Downtown
Our local relatives warned us to avoid downtown, and indeed, there isn't much to see or do there (Pioneer Square is the main attraction and pretty bland).
Also, dining options are more interesting in other neighborhoods, and this is were much of the city's large homeless population congregates.
That said, it has a lot of hotel options and is central to the rest of the city, which is easy to get around. If you stay downtown, and chances are good you will, think of it as a handy jumping off point for exploring other parts of the city.
An Afternoon at OMSI
Tween Traveler gets far more out of science museums now than she did when she was younger and she really liked the Oregon Museum of Science & Industry, which has particularly good hands-on stuff for this age.
We spent most of our time in the giant Turbine Hall, which is full of interactive activities that require math, spatial-relationship and problem-solving skills. There is also a robotics game, chemistry and physics labs and a water-play area that was a magnet for young children.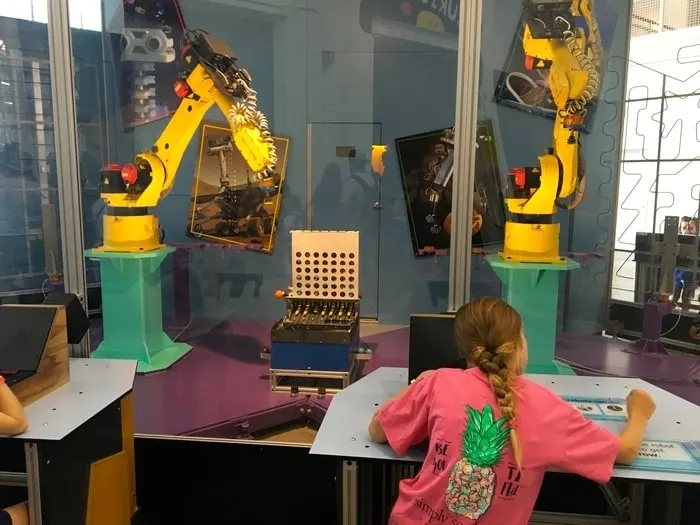 A temporary robot exhibit absorbed us enough that we never even got to the top floor with more interactive fun in paleontology, life-science and watershed labs.
An IMAX movie, planetarium show or submarine visit can round out your visit, but all the possible add-ons do add up. There's always a special exhibit on and if it appeals to your group that one add-on plus OMSI's regular activities could easily fill a day.
Note: There is a nice river promenade outside OMSI with a bike rental nearby. It's worth a stroll and is a good place to eat lunch if you bring your own.
Things We Wanted To Do
Portland has long, fairly flat greenways on both sides of the Willamette. And there are plenty of places to rent bikes (our hotel even lent adult bikes to guests). Seeing at least a bit of the city on two wheels seems like an essential and enjoyable thing to do.
On a longer visit I absolutely would had made time to visit Oaks Park, which sits on the river below Sellwood. It offers a classic roller-skating rink (I looooove roller skating), go-carts, mini-golf and a small collection of carnival rides and games. We could hear roller coaster riders screaming from Sellwood Park.
We also regret not having time to explore Mount Tabor. With its scenic reservoir, playground, many walking trails and a volcanic peak with great city views, it would have offered something for all of us.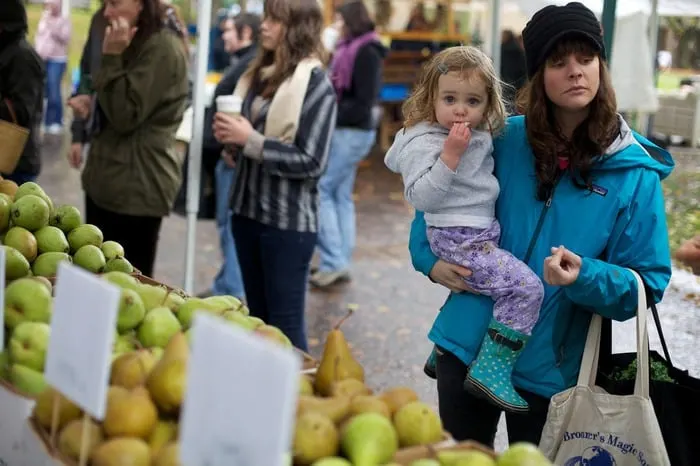 The city's biggest farmer's market is at Portland State University year-round on Saturdays. Nearly 200 vendors rotate among 140 stall spots according to the season. Look for prepared foods, artisanal chocolate and pink organic popcorn anytime and produce like local marionberries in summer.
Plan This Trip
• Try life as a Portland hipster with a vacation rental in a hot neighborhood.
• Or book the lowest rates available for Portland hotels.
• Find the lowest airfares to Portland.
——-
• Buy This is Portland, the City You've Heard You Should Like
or a more traditional guide like Walking Portland or Frommer's Portland.
Eating and Drinking in Portland
Restaurants We Liked
We liked almost everything we ate in Portland, partly because there really seems to be a local coffee place or microbrewery on every block.
We started one morning with cheap, freshly made chorizo and egg tacos from the food-truck court near our hotel.
Heading out of town we stopped at Coco Donuts, and really liked its light, cakey, just sweet enough cream-filled and glazed doughnuts.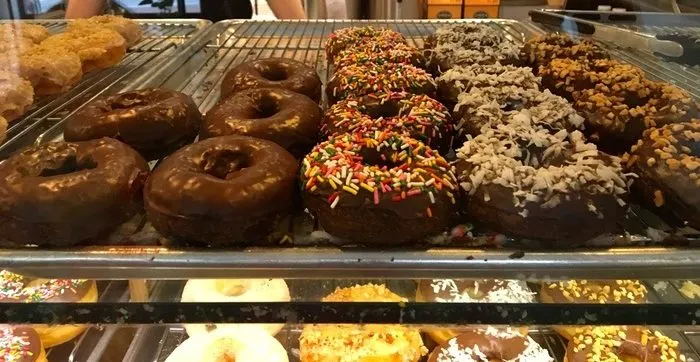 Our best lunch was at Teote House Café, near Ladd's Addition. Choose any of their well-seasoned meats to top a salad or a bowl of rice and beans.
Most dishes come with an arepa. There's a good kids menu, homemade soft drinks like pineapple-mint and blueberry-sage, and a great covered back deck with a fire pit for cooler days.
We weren't sure Oven + Shaker would be kid-friendly because of it's cocktail focus. But we went early in the evening they were very friendly to us.
We shared rosemary-laced fried chickpeas and a margarita pizza. Tween Traveler drank local vanilla root beer while Rich and I drank regional wine and cider.
We thoroughly enjoyed both the food and beer at Deschutes Brewery Public House in the Pearl District and Hopworks Urban Brewery on the East Side.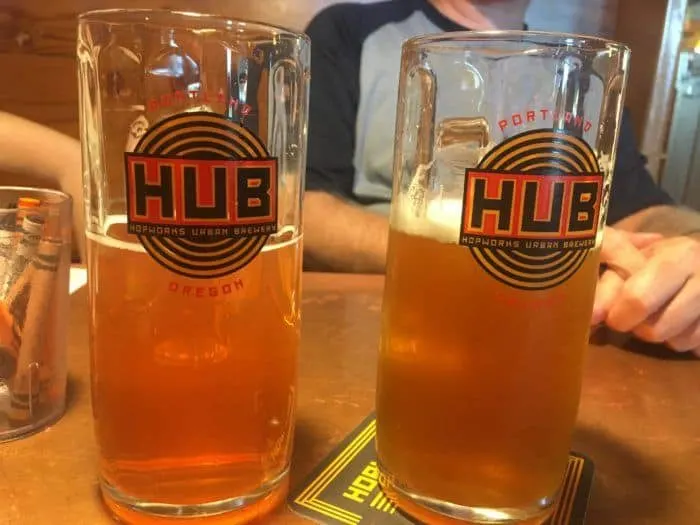 The former always has a selection of beers it doesn't sell elsewhere. The burger, crab-filled crab roll, soups and charcuterie board were generous portions and excellent. The kid's menu is pretty standard.
Hopworks is popular enough with families that it reserves one side of the brewpub for them with booths, chalkboards and toddler toys.
The kids-menu includes a New-York-style pizza slice, quinoa bowl and black-bean burger. I added mushrooms and jalapeños to my mac & cheese while Rich had a burger topped with local cheese and bacon.
Dining that disappointed
Portlad is known for its food trucks but we found the scene underwhelming. It's possible we didn't find the right food truck court; there are a lot of them.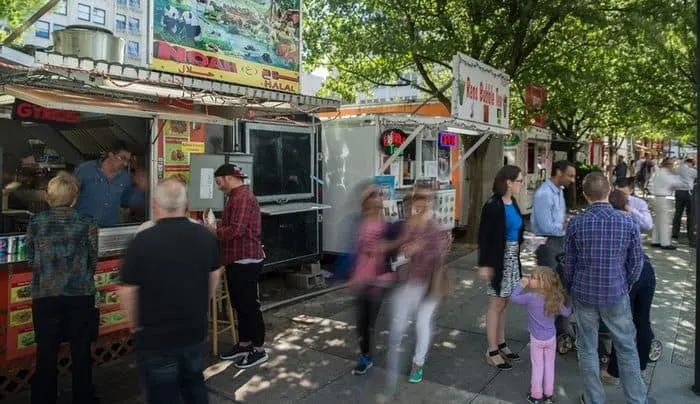 In a city known for its hip, local food we expected the food trucks to turn out unique and creative dishes. Instead we found the same Asian, Middle Eastern and Mexican offerings over and over again.
They're cheap and convenient and the food is cooked to order (we did like our egg tacos), but we can't say they were anything special. If i went back I would strongly consider a food truck guided tour that would hopefully lead me to the real gems.
Food We Skipped
We skipped trendy Salt & Straw, where the ice cream flavors were too esoteric for us.
We saw plenty of people walking around the city carrying bright pink cake boxes filled with Voo Doo Donuts, but their neon colors and super-sweet flavors didn't appeal to us.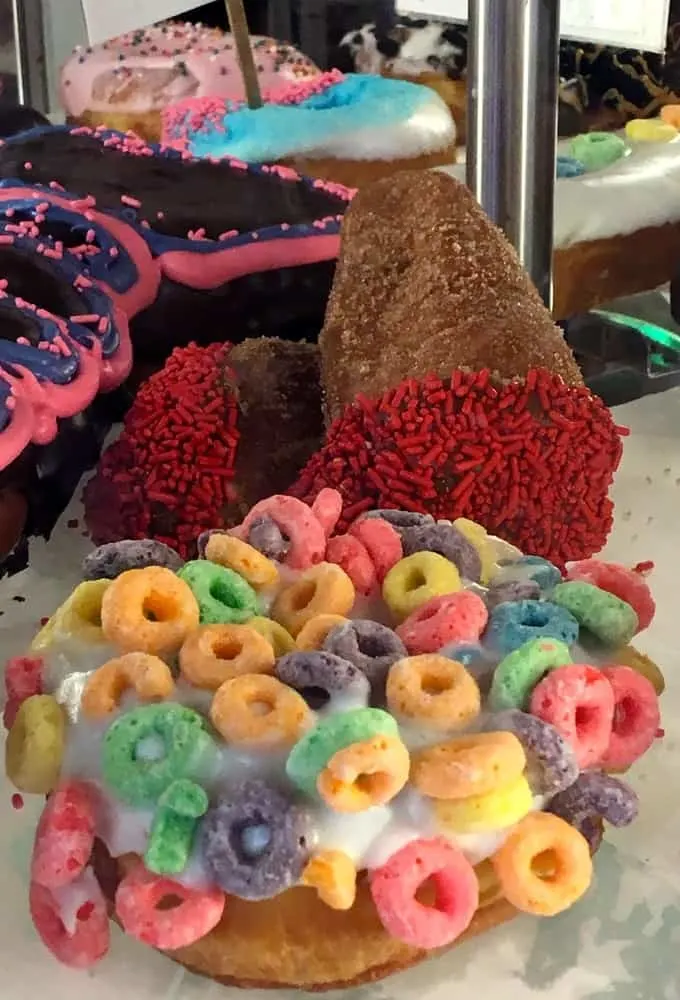 Tween Traveler, who is a classicist when it comes to doughnuts looked briefly at their revolving case, spotted a doughnut piled high with Fruit Loops, announced, "that's just wrong," and turned on her heel to walk out.
Portland Hotels
For something a little different book a room at the Kennedy School, a former elementary school that McMenamin's has turned into a hotel and lifestyle center.
Sleep, eat and drink in former classrooms, watch a movie in the auditorium, or relax in the spa's soaking pool (kids are allowed during the day). Even if you don't stay there, drop in to check it out. You can enjoy telling your kids you're spending vacation at school.
There is a concentration of independent and chain hotels downtown. We opted for the boutique Dossier Hotel for its location and the good price we found.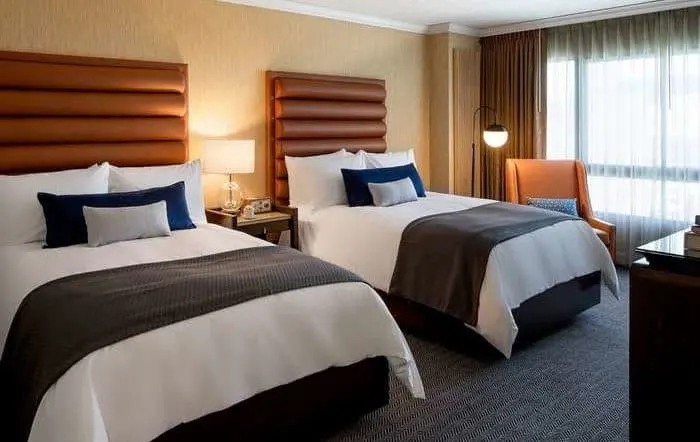 It's the sort of hotel where the staff is more than friendly to kids, but they definitely don't cater to families.
There is complimentary coffee and tea but no juice in the morning; at happy hour there is local beer and kombucha (which Tween Traveler adamantly eschewed).
Guests have member access to the Knot Pines Wellness Club across the river. Had we come on a kid-free weekend I would have made a beeline there for the yoga classes, sauna and hydrotherapy baths, but it's definitely not for kids.
The double room was fine for our needs with a big bathroom and very nice toiletries. The biggest food-truck court in Portland and a Target are both a block away and there's a Whole Foods within walking distance.
Pin it for later!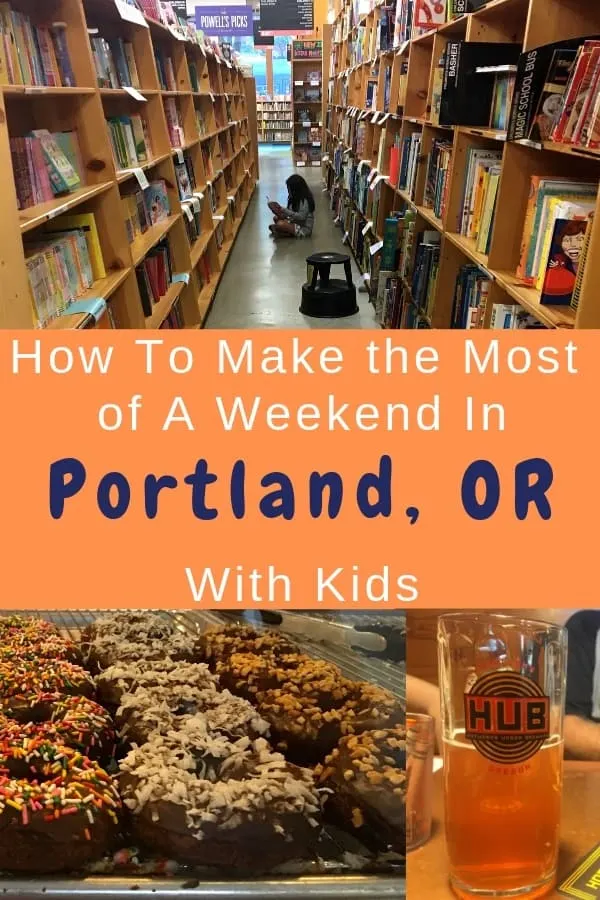 All photos by FamilieGo!© except the farmers market (PSU Market) and the Dossier Hotel (Dossier).