The last leg on our epic Pacific-Northwest summer road trip was Seattle, where we have long-time friends. Partly because we have good friends there it was our third visit to the city—the first with our tween.
We'd done the touristy things we wanted to do on previous vacations, so this time around we were looking to explore lesser-known neighborhoods and eat good local food. These are some of the gems we discovered.
Mix them in with some of the popular tourist attractions and you'll have a great weekend getaway in Seattle with you your kids.
Other Stops on This Pacific Northwest road trip:
• Portland, OR: 2 Nights in Portland With a Tween
• Olympic National Park: Why We Love This National Park
You can visit Olympic NP from Seattle in just one day! Book online
• Whistler, BC: 9 Whistler Summer Adventures With Kids
• You can also take a road trip down the Oregon Coast
A Seattle Weekend Getaway: 15 Unique & Fun Things To Do & Eat With Tweens
Kayaking on Lake Union
Our time at Olympic National Park and Whistler had us in an outdoorsy mood and we thought it would be fun to see the city from the lake, after seeing the lake from so many different sides of the city.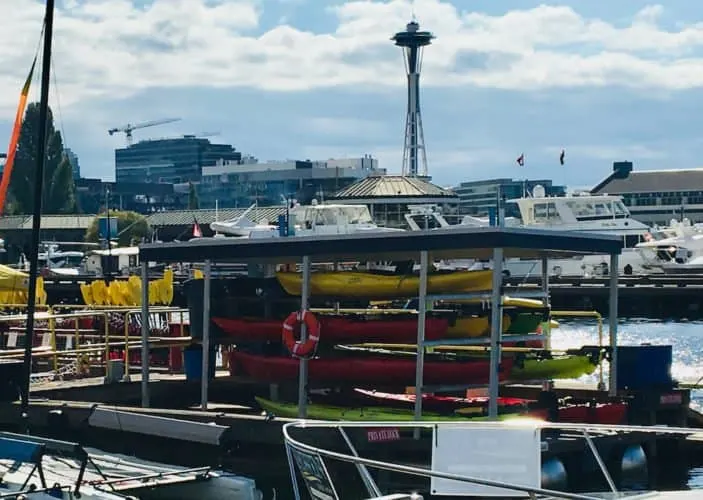 We rented kayaks from Moss Bay, on the south-east shore, but there are other outfitters around the lake as well. They gave us touring kayaks, which have a narrow shape so that they are fast and easy to maneuver.
They feel a bit less stable than the sit-on-tops we're use to and have a rutter that you steer with foot pedals. This took some getting used to, but I got the hang of it. Rich and Tween Traveler shared a double and I had a single to myself (as usual).
Because the kayaks were fast we were able to paddle the length of the lake and back in about an hour. We glided by a houseboat community and managed to reach Gasworks Park.
The park is just what it sounds like, a former gasworks converted into a grassy waterfront park. Much of the industrial infrastructure is still there making it an interesting urban-development landscape. We could have turned left toward the locks the connect the lake to Elliott Bay, but we weren't feeling quite that ambitious.
On our return to the south end of the lake we did indeed have great views of the city. Alas, I didn't want to risk bringing my camera onto the kayak so we just had to enjoy the views in the moment, which we very much did.
Lunch on Lake Union
The Pacific Northwest has fantastic oysters and crab. We make sure to we eat at least one meal in a Seattle restaurant that specializes in seafood on every trip.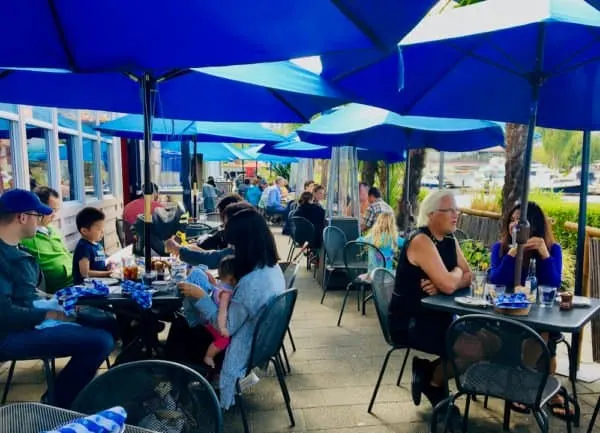 Before our kayaking excursion we had lunch at Duke's Seafood. We picked it mostly for its proximity to Moss Bay and its enticing lakeside patio. But it was a really great lunch and the tab was pretty reasonable for a waterfront seafood restaurant.
Rich and I each had a bowl of soup — outrageously good lobster bisque for me; rich, herby clam chowder for him. The we split a Dungeness crab cake sandwich, on sourdough with fresh aioli and sweet potato fried. The crab cake has an ample amount of crab, which I like to see.
Tip: The "dingy" of soup is small. Given how good the soups are, get a cup or a bowl.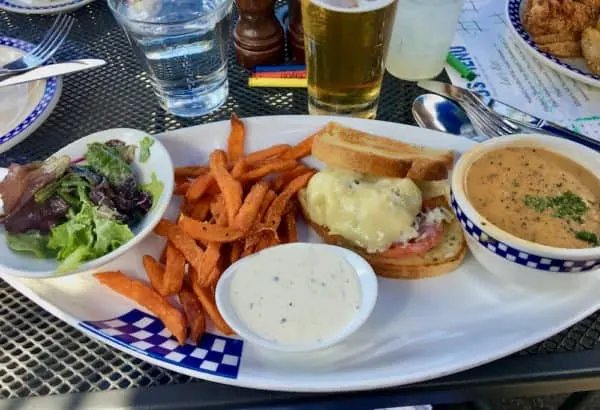 Tween Traveler ordered the cod and chips off the kids' menu. It was made in-house with fresh cod. The kids menu also had shrimp and grilled chicken. I always like tipping my hat to restaurants that give kids' dishes the same attention they give everything else.
They have a good cocktail menu but with an afternoon of paddling ahead we stuck to Pacific Northwest beer.
Explore the Elliott Bay Shoreline
A Fun Waterfront Park
Seattle has some large and very nice parks when you get away from downtown. We drove out to Golden Gardens Park, about 20 minutes northwest of downtown.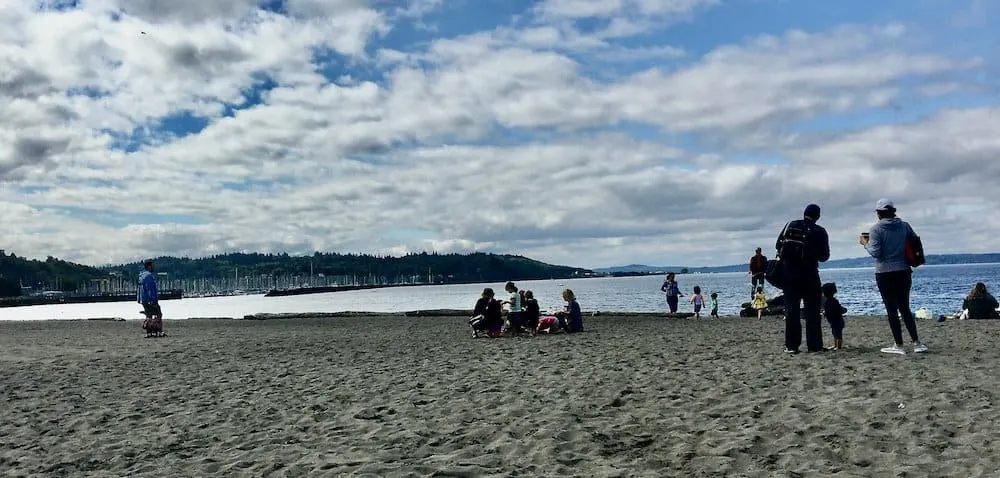 It has a wooded area as well as a beach, cement boardwalk and playground. Rich and I took a ten-minute stroll along a beach to the park's marina and back while Tween Traveler happily availed herself of some fun climbing structures.
On the way there we passed through Bellmar's busy Market Street and the funky Fremont neighborhood. Both looked interesting with local restaurants, doughnut shops and stores. We probably would have stopped to walk around had it been close to either breakfast or lunchtime, or even time afternoon coffee.
Tip: Keep your eyes peeled for the troll when you pass under the Fremont Bridge.
Ballard Locks
On our way back to downtown we stopped at Ballard Locks (the ones we chose not to kayak to). They have a botanic garden with scenic walking paths on one side and a small park with lawns and a promenade on the other.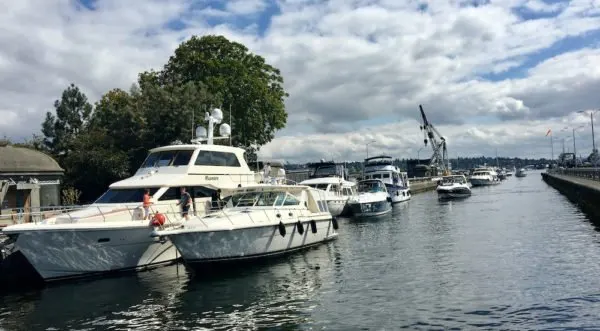 You can walk along and cross the locks. If you're lucky, as we were, they'll have to raise or lower the water to let boats through while you're visiting—a bit of engineering that's always cool to see.
If it's spawning season look for leaping salmon on the salmon ladder and keep your eyes peeled in summer for seals to pop their heads up in the bay.
Try not to get stuck on the middle peninsula though. It takes a while to close the locks and your kids interest will peter out quickly.
More Great Parks
If you really want a day outdoors, and especially if you have bikes with you, Commodore Park, on the locks' south side, connects to the Kiwanis Memorial Preserve with a series of more wooded paths.
From there you can segue into Discovery Park. Discovery Park is pretty large, with a good size beach and green hiking trails that open up to offer nice views of the bay here and there.
Taiwanese Food + Shopping
Our friends led us one morning to the University Village Shopping Center, an upscale outdoor mall, just north of the University of Washington. Our destination was Din Tai Fung, which specializes in Taiwanese dumplings and noodles.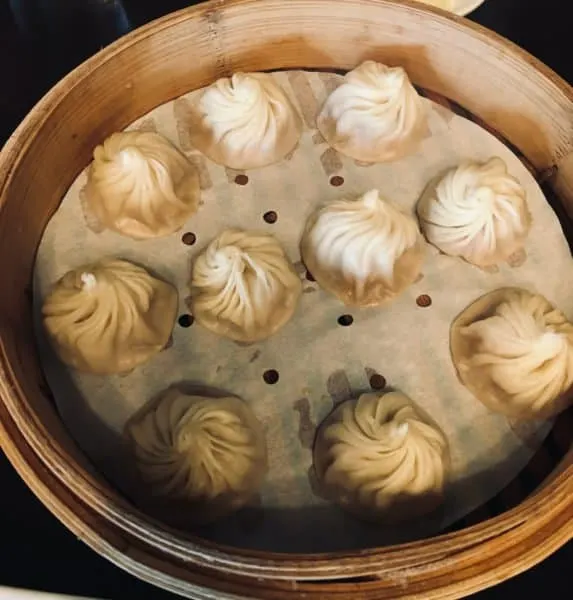 Our group of seven shared soup dumplings and mon-shaped pork and shrimp dumplings. The adults ate a spicy cucumber salad that the kids eschewed, but they dove into sauteed string beans and chicken with small, chewy Taiwanese rice cakes.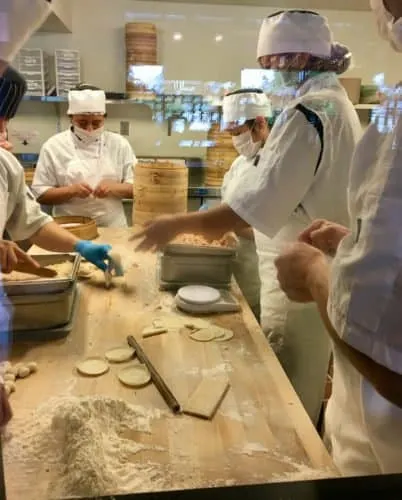 If you go early in the day you can stop by a window on the kitchen and watch the cooks fill dumplings with speed and precision.
It's pricier than dim sum in your typical Chinatown restaurant, but definitely worth a detour if you are fan of Asian food in general and dim sum in particular.
If you've never been to an Amazon bookstore you can visit one here in the company's hometown. They definitely have a different feel than other bookstores.
The selection is small and sales driven and all the books are displayed with the front covers showing, the way you would see them on the website, rather than with the spines front.
The mall also has a Tesla showroom, which was certainly a novelty for us (no test drives, unfortunately) and the Froglegs Cooking Academy which offers cooking classes for kids as well as for kids and adults together. Drop your kids off for a class and indulge in lunch date for two nearby, or take a class as a family.
Two Neighborhood Farmers Markets
Phinney Ridge
Visiting green markets is one of our favorite things to do in any city. We offered to cook dinner for our friends on our last night and so headed to one of the city's several very good green markets for ingredients.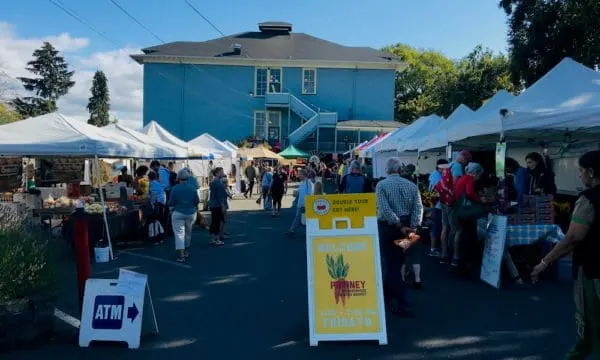 The Phinney market was lively on a Friday afternoon with musicians, plenty of produce and locally made foods including seasonally-flavored ice pops. It also has a trio of cool metal slides between the market and parking lot.
We picked up fresh mozzarella and summer tomatoes for caprese, mushrooms to sauté and put atop steak, and fresh pasta to toss with garlic and olive oil.
Phinney Ridge, on the north side of the zoo, looked like a funky neighborhood, so we took a short walk when our shopping was done.
Just a few blocks away we found Phinney Books, a small used book store with a nicely curated selection.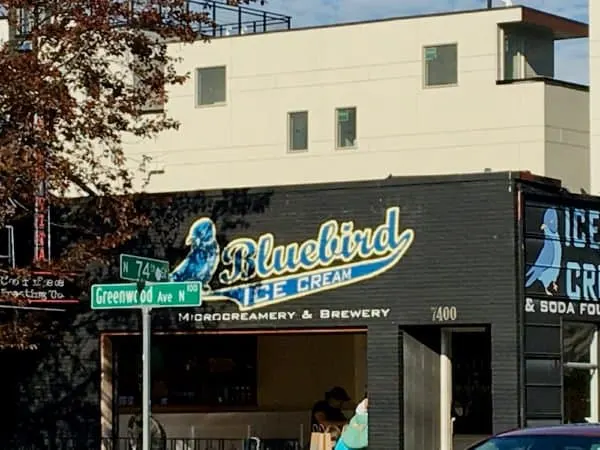 Across the street was BlueBird Microcreamery and Brewery, which makes its own ice cream, soda and beer, perfect for making kids and parents happy after a day of sightseeing. We suddenly regretted buying those lemon and blueberry ice pops (though they were good).
Capital Hill
Seattleites must like combining green markets with books and ice cream.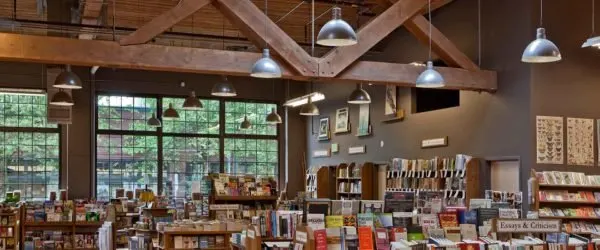 Had we gone to the Capitol Hill Farmers Market, south-east of the lake, we could have also visited Elliott Bay Books, and enormous bookstore with big windows, a large selection of popular books and frequent author events. This is a must-stop on our next Seattle vacation.
Around the corner from Elliott Bay you'll find Molly Moons homemade ice cream. Here you can try flavors like cinnamon role, honey-lavender and frosted berry tart, as well as the more typical flavors. The rich and creamy ice cream is also sourced almost entirely from Pacific-Northwest ingredients.
Pike Place Market
Yes, we've been here before, but we stop by on every visit. It's fun, you get to see men throw fish and there's always some new. In addition to the fresh food purveyors, look for crafts and artisanal products to bring home and fresh flowers at good prices.
If it's your first visit, consider a food tour to point out the highlights and provide some samples before you explore on your own.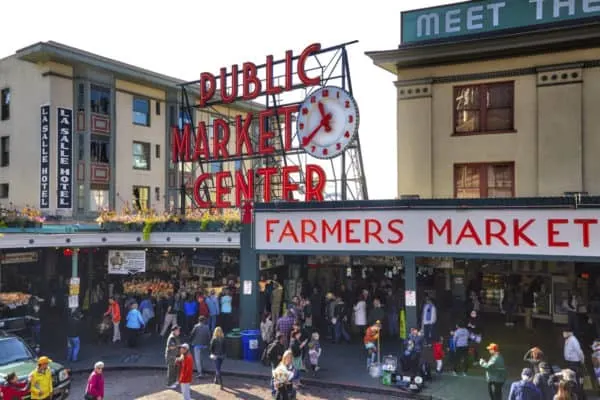 In summer look for regional produce like Marionberries and mushrooms. There are often buskers performing around the edge of the market; they have their own Twitter feed to tell you who's performing when..
Tip: The most famous purveyors that are in all the guidebooks have the longest lines. There's so much good stuff here that I urge you to skip the lines and seek out the hidden gems.
You'll find a good number of restaurants in and around Pike market, from all parts of the world and in all price ranges. So visit in time for lunch!
This time around we wanted to check out the food offerings in the relatively new purveyors' hall on the lower level.
We snagged a table on the patio at Old Stove Brewing Co. The highway disrupts the bay view in a little bit but it was still a nice place to sit out on a sunny day.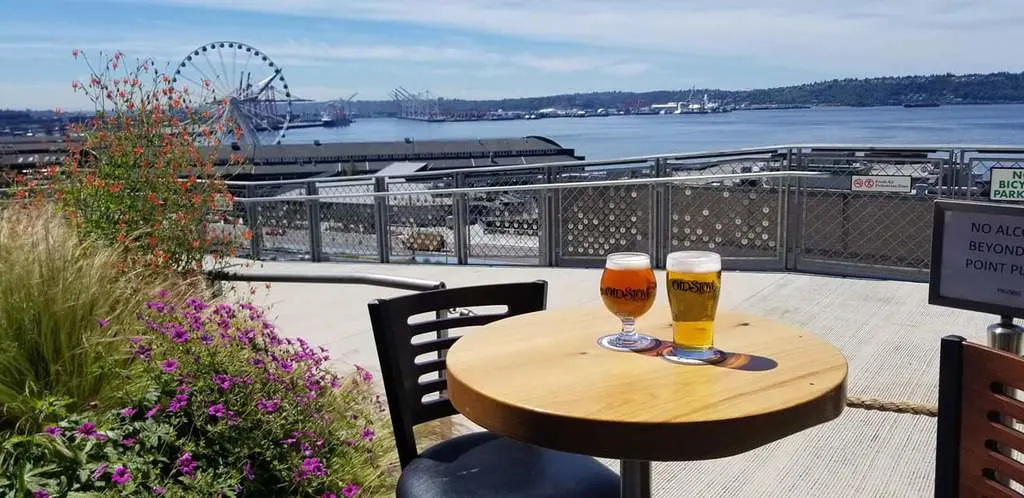 It's hard to resist warm pretzel nuggets with house mustard and cheese sauce made in house from Pike Market's Beecher's cheese. So some wings and a plate of mussels and clams cooked in beer that was more than enough to share.
The wings had Indian spices and raita on the side; they were a nice change from the usual Buffalo wings.
Like a lot of microbreweries, Old Stove has a lot of IPA beers, which I'm not keen on. Rich ordered one and I found a refreshing Belgian blonde ale.
We thought we would head next door to Indi Chocolate for dessert, but it's not really a chocolate shop. They offer a menu of gourmet hot chocolate and small selection of pastries to go with it. Probably a good place to go if you visit the city in winter!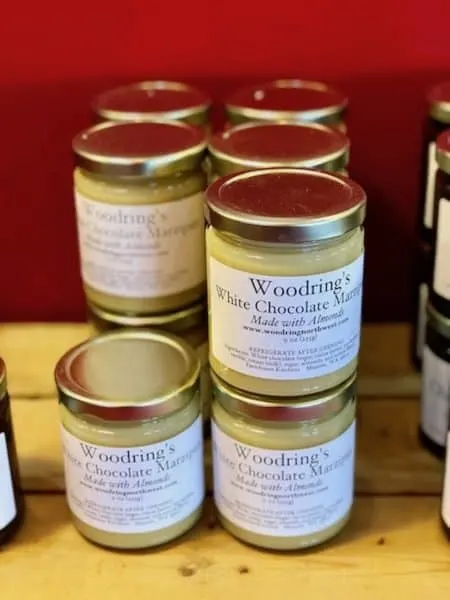 We walked around the market to buy some fruit for a snack and do a little sampling. The one souvenir we bought was a jar of white chocolate marzipan spread from Woodring Northwest Specialties.
It was the most unique and best chocolate spread we've ever had and were really sad when the jar was empty. It's pretty impossible to sample the chocolate and caramel sauces here and not bring one home.
On a previous trip we had lunch at Emmet Watson's Oyster Bar, which is named for a legendary Seattle reporter and has been there forever. It has a small, very old-fashioned bar, vinyl booths, blue checkered table cloths and a small patio.
Their sign promises beer, wine and food for thought. The place delivers a no-frills atmosphere and perfect local seafood. Raw oysters, fried oysters, shrimp cocktail, chowders. It's all really good.
The only thing that would stop me from bringing very little kids is that the place is that the place is very small and there's nowhere to hide if they get restless or cranky. It's fine to bring kids and teens as long as they eat seafood; it's not a place where you'll find chicken fingers and pizza.
Yup, More Book Stores
Seattle has more independent and used bookstores than anyplace I've been in a long time. There are actually four (4!) reputable and quirky indie book stores within a stone's throw of the Pike Place:
Left Bank Books publishes its own radical literature and sells used books that are in the spirit of the store.
BLMK Literary saloon is proud of the piles of books it has everywhere and promises to find the perfect book for you if you can tell them what you're looking for.
Lamplight Books and Lion Heart Book Store are small spaces packed tight with new and used books including many classics.
Favorite Things To Do From Past Trips
The Seattle Underground Tour
As you'll learn if you take Seattle Underground tour, Seattle 1.0 was built of wood and was continually knee-deep in mud. After the fire of 1889, they rebuilt the city above the mud. This tour takes below the streets, where you'll learn the history of this pioneer town and see remnants of the original buildings below Pioneer Square.
Like a lot of pioneer towns, Seattle has a colorful history and, especially if you get a lively guide, this is a fun and slightly different city tour.
Seattle's Top Sights
If it's your first time to Seattle, you'll want to do at least some of the city's top attractions, incuding the Space Needle, MoPop, a harbor cruise, the Chihully Garden and the Aquarium. If you plan to visit at least three of them, consider using a CityPass. They've saved me money on past trips and often allow you to skip the line, too.
REI Flagship Store
If your family is outdoorsy you really have to spend an hour at the giant REI store on Yale Avenue.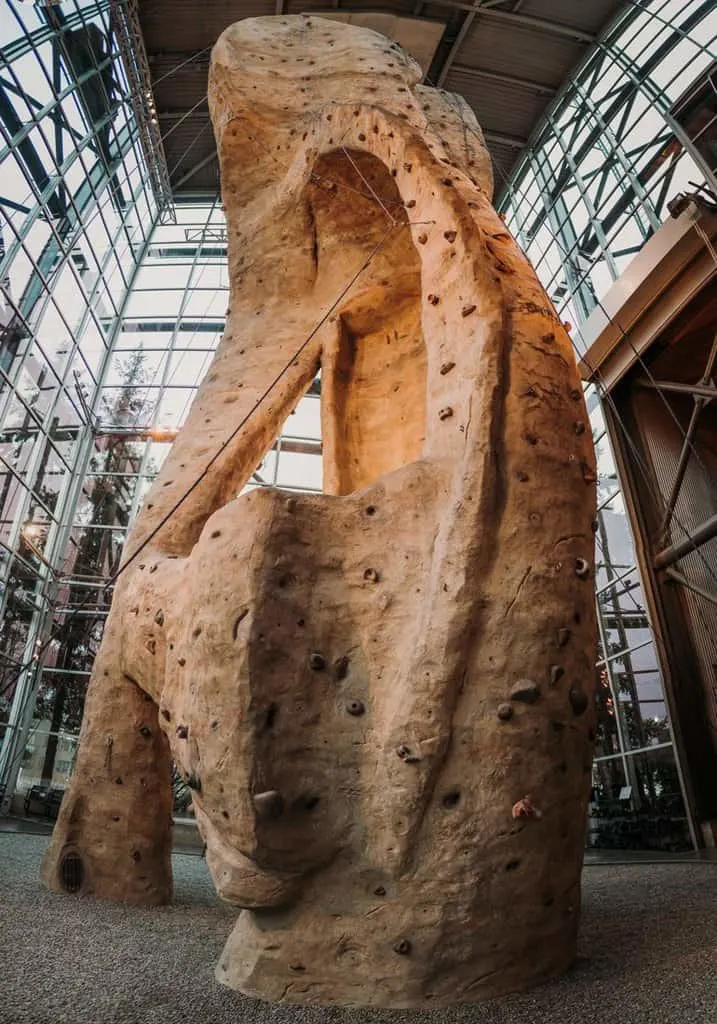 First of all, the store has a 65-foot-tall glass-enclosed climbing wall! Anyone 13YO or older can pay for two hours of climbing. Anyone 5YO and up can buy a 15-minute "sample climb." In a city where it rains a lot, this is a handy indoor activity.
It also has a Ranger Station where you can get information and passes for the area's state and national parks and Forest Service recreational areas.
You can also have clothes and outdoor gear repaired and rent what you need for pretty much any outdoor activity you can do nearby.
And if all of that doesn't entice you, you're bound to discover some piece of outdoor clothing, guidebook or camping equipment that you can't live without because the selection is large.
The Museum of Pop Culture
MoPop sits next to the Space Needle, inside a trio of metal shells designed by Frank Gehry; one is iridescent purple. It's pretty hard to miss.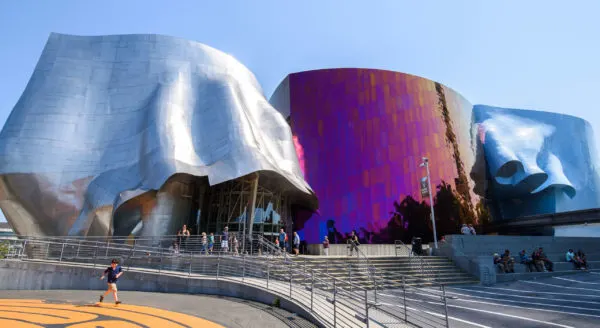 We visited back when it was the Experience Music Project. Now it strives to house an impressive collection of artefacts from a broader swath of pop culture.
Alas, our tween is fairly oblivious to pop culture, so we didn't go back. And that might have been a mistake.
The museum defines pop culture so broadly it's always worthwhile to see what exhibits, movies and events they have going on.
At the moment they have a Science Fiction collection Rich would appreciate. And our whole family would enjoy Fantasy Worlds of Myths & Magic.
I mean, who can resist checking out weapons from the Lord of the Rings movies and costumes from the Narnia series. The even have the Wicked Witch's hat from the Wizard of Oz.
Practical Information for Your Seattle Weekend Getaway
Seattle Hotels
I really recommend staying Downtown. Most of what you want to see is there or close by and Seattle doesn't have much in the way of public transit.
Luckily, it's not that hard to find good downtown hotels with reasonable rates. I think these are two stand-outs.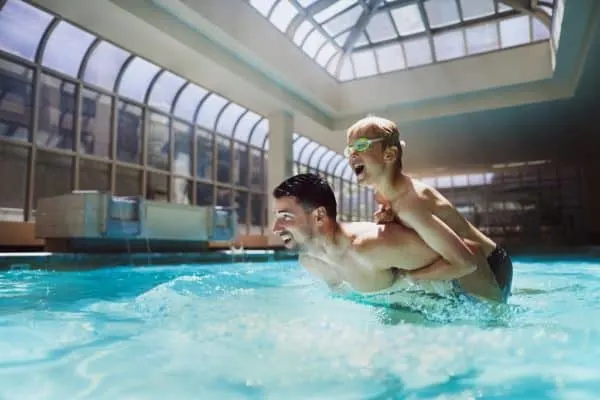 If you want a hotel that's right downtown you can't beat the Fairmont Olympic Seattle. Upscale comfort you'll appreciate and a glass-enclosed pool for the kiddos. This hotel is also offering some very good rates right now.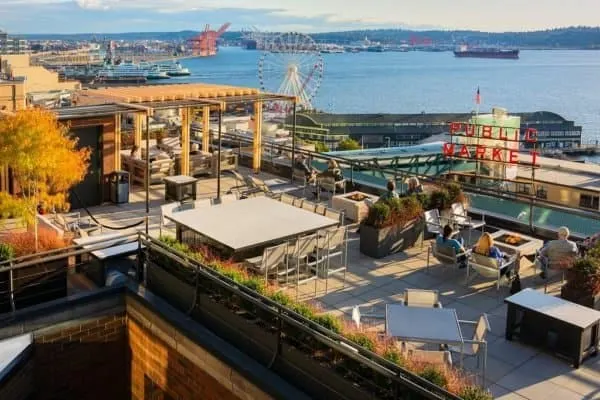 If you're staying with a baby or a teen and don't care as much about a pool, then the Inn at the Market is an easy choice. It overlooks the bay and Pike Place Market. It has nice public terraces with outdoor fireplaces, colorful, modern room details and roomy suites.
If you don't stay Downtown, or you plan on venturing to neighborhoods beyond it, plan on having a car.
Seattle Weather
The Pacific Northwest is known for rain, especially from mid-fall to mid-spring. I'd pack rain jacket at any time of year, and consider water-resistant boots in winter.
On the other hand, climate is pretty temperate.
Summer days can be warm but it can cool off at night. Oddly enough, summers aren't very humid. Light pants, capris or summer dresses are ideal for sightseeing; have a light sweater or hoodie handy after the sun goes down.
Seeing Seattle's Top Sights
If you're visiting Seattle for the first time and do want to visit popular attractions like MoPop, the Space Needle, the zoo, aquarium, science center or Chihully collection, a CityPass can save you a good amount of money and let you skip the line during peak hours.
Pin it for later!