Hotel: Hyatt Regency Montreal
Where:
Montreal, QB
The Location:
We like the Hyatt Regency Montreal because it's not in the middle of anything but it's convenient to everything. It's on Catherine Street just a few blocks from the heart of downtown. It's only a few blocks from the historic old town and from Blvd St. Laurent with its restaurants and shops.
It also connects to Underground Montreal from the Complexe Desjardins next door. And it has two metro lines nearby that will get you pretty much anywhere in the city in under 30 minutes.
It's across the street from two art museums and opposite the Place des Festivals, where special events take place.The Complexe Des Jardin atrium has bakeries, a liquor store, a small supermarket, and some other conveniences, which we found handy during two weekend stays. It also hosts a lot of events, including a large cheese tasting that was going when we were last there.
The Vibe:
The Hyatt Regency Montreal is bland from the outside, like much of Montreal in winter, but has a cosmopolitan artsy vibe, with vibrantly painted elevator doors and funky sculptures and other art inside and out.
A lounge next to the bar has a long, skinny, very modern fireplace and was usually empty, so we would often pause there on our way in to warm up, have a snack, etc.
It doesn't scream kid-friendly visually but the hotel definitely attracts families.
The Amenities: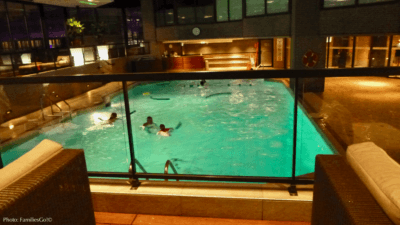 The most important thing for families to know is that the Hyatt Regency Montreal has a very nice indoor pool with a glass atrium and an outdoor deck, should you visit in winter.
When I was searching for a hotel we found that several of the brand-name hotels in the same area had outdoor pools (in Montreal? I don't get that).
There is always staff on hand at the pool during the day and they usually throw a bunch of noodles and other toys in to the water, which Tiny Traveler loved.
There is a co-ed sauna and steam room downstairs with the changing rooms. It's worth trading off watching the kids at the pool to take turns using them, especially if you are visiting in chilly weather.
There was no concierge, but the front desk staff could answer all our questions about getting around. The reception floor had a small lounge with a very long, slim, modern fireplace. It was handy for pausing, warming up, finishing snacks when we came inside.
There is a parking garage with a valet and self-parking.
The Room: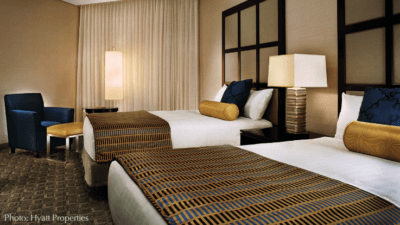 Our standard room was nice and roomy with a reading chair and ottoman and plenty of floor space to spread out our suitcases. We also had a long baseboard radiator, which came in handy for drying wet bathing suits.
The rooms have big windows for taking in the city. The bathroom was small but I can live with that as long as the room has extra space.
The Bottom Line:
We definitely recommend the hotel for anyone visiting the city and particularly for families. The first time we stayed here (on a kid-free weekend) there was a family who told us they frequently book a weekend at this hotel during the winter just to use the pool. We recommend you get out of the hotel and see some of this really fun city. But it's nice to know you have the pool and steam room to come back to in the afternoon.
Plan Your Trip To Montreal
Read More:
• What do with kids on visit to Montreal.
• what to eat with kids in Montreal.
Pin it for Later!
This blog was part of Weekend Travel Inspiration. Visit our partners: