Question for FamiliesGo!:
We want to do a multi-generation vacation in a national park, but some members of our family need to stick to paved walkways and relatively flat surfaces. I'd like to know which national parks have ample paved trails, good scenic drives and other activities for visitors with mobility issues, so we can see as much as possible all together.
My Answer:
There are lots of people who prefer accessible trails in National Parks. You might be a disabled traveler in a wheelchair. You might be parents of an infant or toddler who want to use your stroller. Or you might be one of many travelers who can walk perfectly well on paved, relatively flat paths but can't handle rugged trails and steep inclines.
The National Park Service & Accessibility
The good news is that the National Parks Service wants everyone to be able to enjoy its beautiful parks. It's always working on ways to improve accessibility across all parks.
For starters, U.S. citizens with a permanent disability can purchase a lifetime Access Pass for only $10. It provides free admission to 2,000 national parks, recreation lands, monuments and wildlife reserves managed by five government agencies. And it garners discounts on some park extras, like campgrounds, swimming and some guided tours.
Better still, once you're in the parks, most have a scenic drive and at least one paved trail or boardwalk. In some parks, mobility impaired visitors are allowed drive on roads not open to the general public to increase the amount of park they're able to see. Visitors carrying a handicapped parking permit can take advantage of designated parking spots at visitors centers, scenic overlooks and trailheads, among other places.
Some parks provide rugged wheelchairs that can handle uneven terrain. Others have accessible shuttles or boats that take you into the interior. It's a good idea to find out how big a wheel chair they can accommodate before you go. And if a family member uses a scooter ask whether the boats or shuttles can accept them; these accommodations vary by park.
Keep in mind that the visitor centers and lodges are a quintessential part of a national park visit and many are at least partly accessible. Visitor centers have exhibits and movies and some ranger talks happen at or near these spots.
Park lodges frequently have porches or decks, cafés and restaurants with picture-perfect views. Quite a few have accessible amenities and rooms. Call ahead to learn about the accommodations at any specific lodge or restaurant you would to visit.
Here are 13 popular national parks and how accommodate visitors with a range of physical abilities and limitations.
More Vacation Planning Help:
• Your Checklist For a Memorable Family Reunion Vacation
• Here's The Upside of Traveling With Grandparents
• 4 U.S. Wildlife Preserves You Have To Experience
Multi-generation Travel: 13 U.S. National Parks You Can Take the Grandparents To
Accessible Trails at Badlands National Park; South Dakota
—By Erin Moreland at The Simple Salty Life
In what feels like the middle of nowhere, Badlands rises up from miles of endless grasslands and prairies to form a rocky ridge filled with sharp spires, eroded buttes, and towering pinnacles.
Despite its intimidating name, Badlands is an amazing park and more than 17% of its trails are wheelchair friendly, making it the most accessible National Parks in the U.S., according to research by the organization Aging in Place.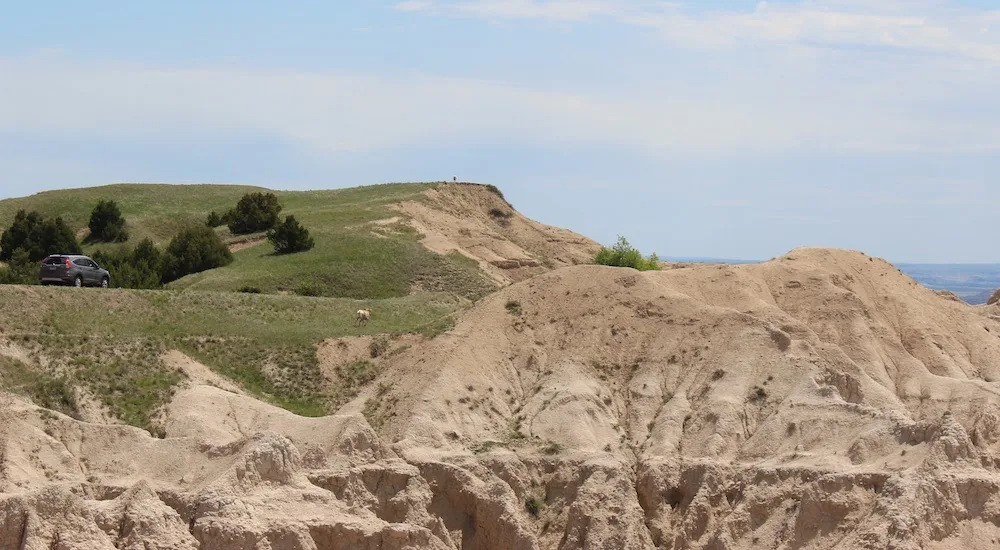 The best and easiest way to see the park is by driving the Badlands Loop Scenic Byway, a 39-mile-long road that weaves through the park. It's considered one of the top scenic byways in the U.S. and is a road not to be missed.
Along this drive there are several overlooks with short paths from their parking areas. Some parts of the park have boardwalk paths. And there are also several short hikes with tightly packed dirt trails that are manageable with wheelchairs and strollers.
• Learn more about accessibility at Badlands National Park.
• Book a motel or guest ranch near Bandlands.
•Schedule a private park tour that can accommodate your family's needs
Accessible Trails at Bryce Canyon National Park; Utah
— By Agnes Stabinska at the Van Escape
There are many things to do in Bryce Canyon National Park for people with limited mobility. The most exciting is the 38-mile scenic drive with 13 viewpoints along the way. Even without getting out of the car, the views of the famous orange hoodoos are spectacular.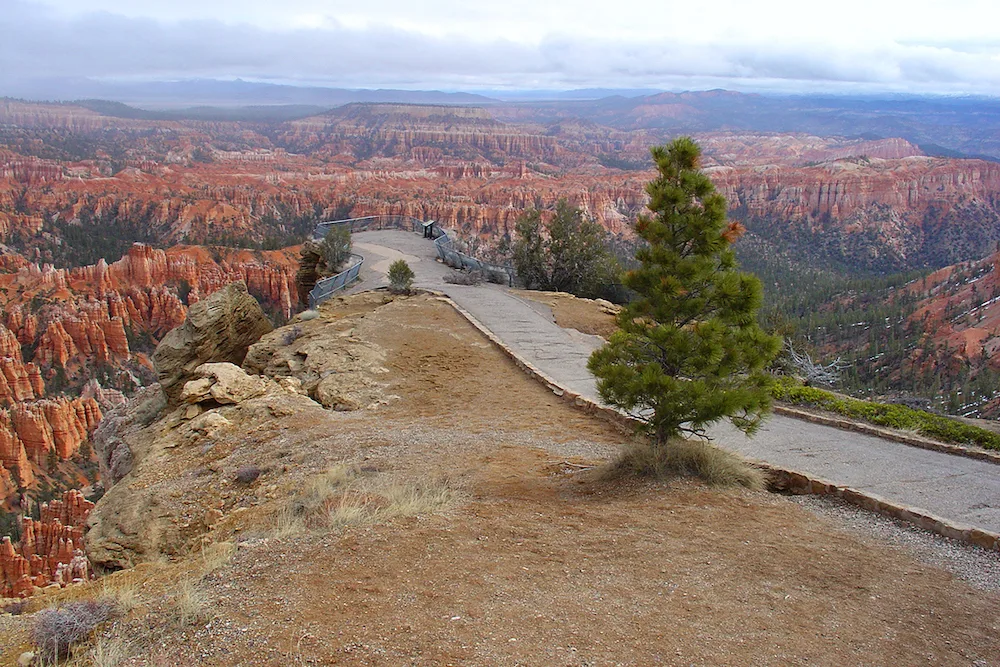 But Bryce Canyon is accessible in other ways, too. Most parking lots at the overlooks have handicapped parking and ramps for visitors with wheelchairs. All the stopping points along Southern Scenic Drive are paved and provide relatively flat access to the overlooks.
For example, a half- mile section of the Rim Trail between Sunset and Sunrise points is wheelchair accessible. And I believe the view from this overlook is the best in the park.

The visitors' center has a lowered information desk and an accessible auditorium and restrooms.

Keep in mind that Bryce's impressive elevation ranges from 8,000 to 9,100 feet. Even if you aren't that active it's easy to become dehydrated and tired. Start drinking a lot of water a few days before you visit and consider putting drinks with electrolytes into your daypack.
Read more about the Bryce Canyon area.
Learn more about Accessibility at Bryce Canyon.
Book a comfortable hotel or lodge near or in Bryce Canyon.
Accessible Trails at Death Valley; California
— By Kris Esparza at JJ and the Bug
Many of Death Valley's facilities were constructed before today's accessibility standards, but its 3.4 million acres still offer scenic drives and paved trails that make the park accessible to people with a range of physical abilities.
In fact, three of the park's must-see sights offer accessible options. Badwater Basin is 282 feet below sea level, making it the lowest point in North America. Its 200 square miles of salt flats are an unforgettable sight.
The parking lot at the basin's entrance has accessible parking spots and restrooms while a ramp leads to a wooden boardwalk that takes you onto the flats. The surface of the salt flats beyond the boardwalk is firm and wide, making it accessible for a broad range of adventurers!
Artist's Drive is a spectacular scenic drive through mountains painted with red, orange, yellow, blue, pink, and green pigments due to mineral-rich volcanic deposits. Visit this breathtaking location any time during the day for an incredible experience, but sunrise and sunset magnify the effect with the interplay of shadows and light.
The breathtaking sights from Zabriskie Point, one of the most photographed locations in Death Valley, are second to none. From this iconic overlook, you can see badlands and salt flats that stretch for miles! Though there are accessible spaces and bathrooms in the parking lot, it is important to note that the ¼ mile paved path to the viewpoint is on a graded hill and may require assistance.
Death Valley is full of breathtaking sites, and these three are a must-see during your visit. However, there's much more to explore! Take your time to bask in the beauty of this incredible National Park – you won't regret it.
• more about Accessibility at Death Valley.
• Book a room at a resort of hotel near Death Valley.
• See Death Valley on a day trip from Las Vegas
Accessible Trails at Everglades National Park; Florida
— By Lori Sorrentino at Travlinmad Slow Travel blog
When it comes to exploring national parks that are accessible to everyone, the swampy Everglades might seem a curious choice.
But the very nature of its swampy, grassy landscape has necessitated construction of elevated boardwalks and paved walking paths. Their addition in recent years allow visitors to see areas of this unique wilderness that were previously unreachable.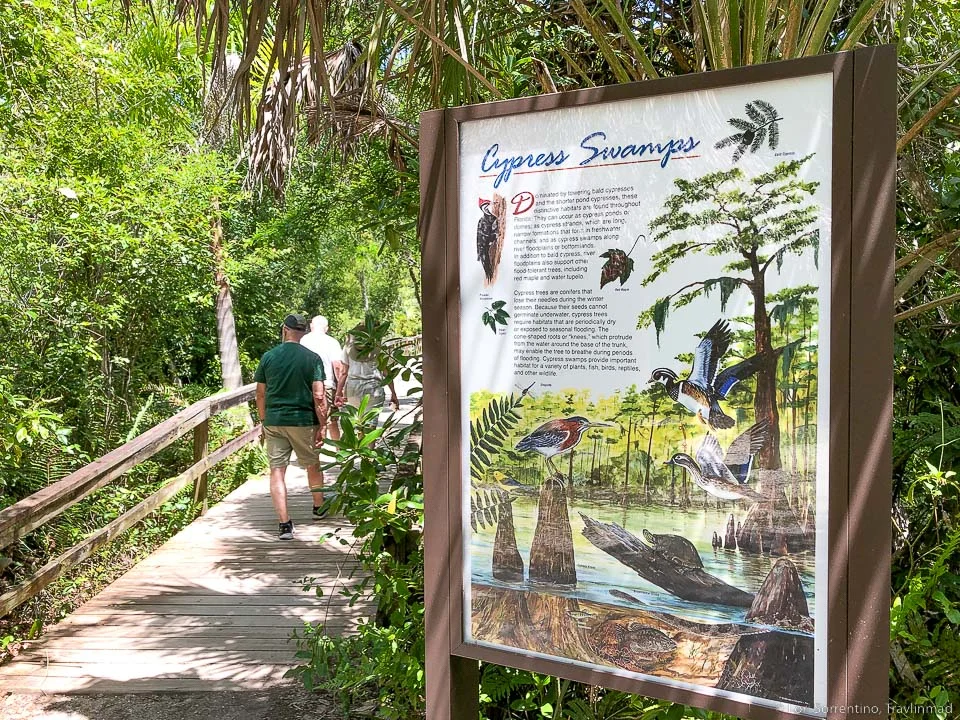 The Shark Valley Visitor Center is one of the best places to access the park with several ways to do so. People with wheelchairs or strollers can easily ascend the gradual, elevated ramp to the Shark Valley overlook, a 45-foot observation deck with far-reaching views over the Glades. Visitors with other mobility issues can arrange a golf cart ride to the top.
The Shark Valley eco tram tour is also of the best eco tours in the Everglades and one of our favorite ways to enjoy it. The 15-mile tour is excellent. It begins with one short step aboard a covered open-air tram car.
If you'd like to explore on your own, there are plenty of flat, paved walkways you can follow in other parts of the park. But don't worry if you can't travel far into the interior. You can glimpse the local wildlife the Everglades is famous for pretty much everywhere!
• Learn more about accessibility at Everglades
• Explore the Everglades by airboat
• Book an amazing resort in nearby Miami, Marco Island or Key Largo.
• Read my Post about Miami, Marco Island or the Keys.
Accessible Trails at Grand Canyon National Park; Arizona
— By Eileen Gunn at FamiliesGo!
The great thing about the Grand Canyon is that the best vantage point for viewing it is from above. You'll find plenty of accessible, breathtaking vistas along the south rim, which is the most popular and accessible side of the canyon. This is why Aging in Place deemed this national park the second-most accessible on in the country.
Start with the 12-mile-long virtually flat pave trail around the rim. Walk as far as you want to. A free park shuttle stops at intervals along the way. You can see the entire Rim Trail using this shuttle, or you can walk as far as you're able, then take the shuttle the rest of way back to the lodge. In the evening you can also take this shuttle to and from the overlooks with the best sunset views.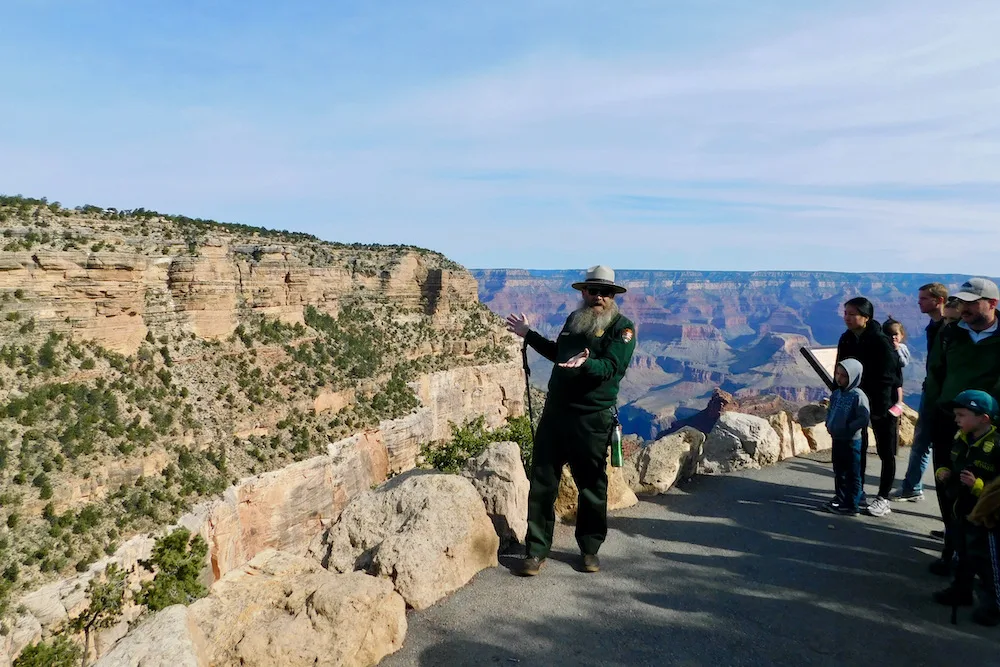 There are additional shuttles to carry visitors beyond the Rim Trail along Hermit Road or along Desert View Drive to Yaki Point.
A 1.3-mile stretch of the Rim Trail between Verkamp's Visitor Center and Yavapai Geology Museum (which is itself accessible) has been redesigned as the Trail of Time. This fully accessible path has time markers, informational signs and small hands-on exhibits meant to make geologic time and the slow evolution of the Canyon more tangible to visitors.
Hermits Road is one of those places where people with impaired mobility can drive with a special permit from the visitors centers. It has several overlooks along the way that provide excellent "windshield views." It ends Hermits Rest, which has accessible facilities.
Desert Drive circles the rim in the opposite direction of the Rim Trail on provides a very different vantage point that gives you a sense of how long the Grand Canyon is. The route also offers overlooks you can admire from within your car. The Desert View Tower, where most people end this drive is not itself accessible but there are outdoor overlooks where you get a sense of the length off the canyon, a different view than from the Rim Trail.
• Read more my full Grand Canyon itinerary
• Learn more about Accessibility at the Grand Canyon
• Book a great hotel near or inside the Grand Canyon
• Appreciate the Grand Canyon from above on a Scenic Helicopter ride
Accessible Trails at Grand Teton National Park; Wyoming
—By Kristin Secor at World on Wheels
Whether you are a wheelchair user or someone with limited walking ability, the accessibility at Grand Teton National Park is quite good. All visitors can watch for wildlife and take in iconic sites such as the Chapel of the Transfiguration. Better still, much of the park can be seen on scenic drives and by stopping at the paved overlooks.
For example, the Chapel of the Transfiguration is just one of the stops along the drive through the park. There is a paved parking lot and a short, paved area leading up to the church. There is a flat entry and visitors of all abilities can admire the simple, breathtaking interior overlooking the mountains.
For visitors that are in search of the park's wildlife, including elk and moose, make sure to drive up Signal Mountain where elk are often spotted along the road. On the other hand, moose are unusually spotted on Moose to Wilson Road. Other wildlife that you may be lucky enough to spot include pronghorns, black bears, and grizzly bears.
Additionally, there are some short hikes that are suitable for people with impaired mobility such as a portion of the trail by Jenny Lake and a compacted dirt trail by String Lake. The accessible portion of the trail at Jenny Lake starts at the visitor's center and heads to the left. This paved trail will allow you to be in awe of the mountain range with beautiful lake views. This trail is fairly short and paved and ends at the wooden bridge where accessibility gets trickier. The boat ride at Jenny Lake is also accessible.
• Learn more about accessibility at Grand Teton.
• Book a ski-town hotel in Jackson Hole as a base for exploring Grand Teton
• Book a sunrise 4X4 excursion to see the best of Grand Teton's wildlife.
Accessible Trails at Hawai'i Volcanoes National Park; Hawaii
— By Lynli Roman of WanderBig.com
Hawaii Volcanoes park is a top destination for visitors to "the big island." And the National Parks Service has worked hard to make it accessible to everyone. On any given day you'll see people of ages and abilities enjoying this national park, thanks to well-paved roads and wide, flat paths connecting parking areas to scenic overlooks.

A few scenic drives are on roads that have been cut through lava fields; these are a can't-miss part of any visit to Hawaii Volcanoes.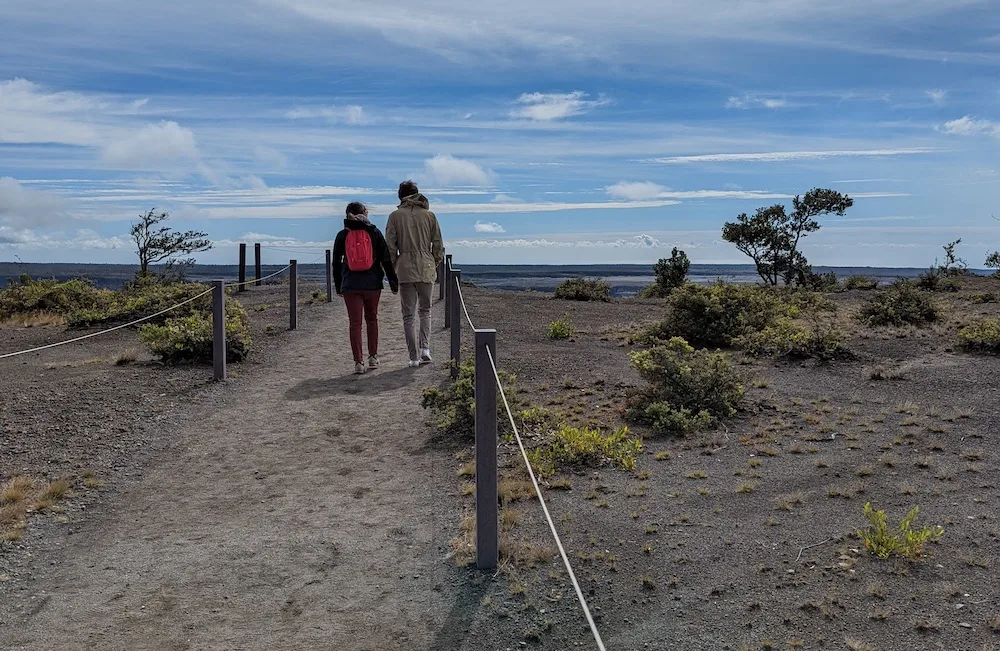 One of two most popular routes is the Crater Rim Drive, which takes visitors around Kilauea Caldera. The other, Chain of Craters Road takes drivers out to an incredible coastal overlook.
The park also has three wheelchair-accessible paths: Devastation Trail, Kūpinaʻi Pali(Waldron Ledge) Trail and Kīpukapuaulu Trail.
• Learn More about accessibility at Hawai'I Volcanoes National Park
• Book a beachside resort to complement your national park visit.
Accessible Trails at Joshua Tree National Park
— By Maureen Hochdorf at MommyMoAdventures
There's a reason why Joshua Tree was one of the Top 10 visited national parks in 2022 – the scenic desert views are spectacular!
You can drive through the entire park and see stunning scenery all along the way. The drive can be accessed at the West Entrance (Joshua Tree Visitor Center, North Entrance (Oasis Visitor Center), and South Entrance (Cottonwood Visitor Center). Make sure to pick up a map of scenic viewpoints throughout the park.
For paved trails, the best one is at Cholla Cactus Garden, where you'll see a plethora of gorgeous cholla cacti. This is an amazing walk at any time of day, but the best time to see the garden is at sunrise or sunset when golden hour takes over the garden.
The Oasis of Mara and Lower Keys Overlook trails are also paved and wheelchair accessible.
Tip: If you'll need to use accessible parking you'll need to obtain a temporary parking placard for non-residents from the California DMV .
• Learn more about accessibility at Joshua Tree
• Book your stay in nearby Twentynine Pines
• Involve the whole family in a Joshua Tree guided scavenger hunt
Accessible Trails at North Cascades National Park; Washington state
— By Julie Espinosa at Family Travel Lifestyle
North Cascades has incredible scenic mountain views, turquoise lakes and plenty of wildlife. This rugged mountain park is also very accessible for park goers with impaired mobility.
For starters, Highway 20 runs right through the park and a lot of it can be seen from this road. There are multiple turnouts and overlooks where visitors stop and take pictures.
The main overlooks, Diablo Lake and Washington Pass have accessible parking, paved pathways and accessible restrooms.
There are several other trails throughout that park that are fully paved or have boardwalk paths and accessible picnic tables. We took the Rainy Lake trail, a fully paved, wheelchair and stroller accessible trail out to a gorgeous alpine lake.
• Learn more about accessibility at North Cascades
• Book a ranch, inn or small hotel near North Cascades.
Accessible Trails at Sequoia National Park; California
— By Kristin Dahlstrom at Scotland Less Explored
Eight of Sequoia's trails are partially paved, but only three are considered fully wheelchair accessible. This isn't the best park for taking a "walk" in the woods. But the reason to come to Sequoia is for the gigantic trees.
A scenic drives that you can take via a shuttle or your own car take you to the best spots for admiring these most famous individual trees and most impressive groves. A disability parking badge from the visitor center lets you use parking spaces and parking areas set aside for visitors with impaired mobility.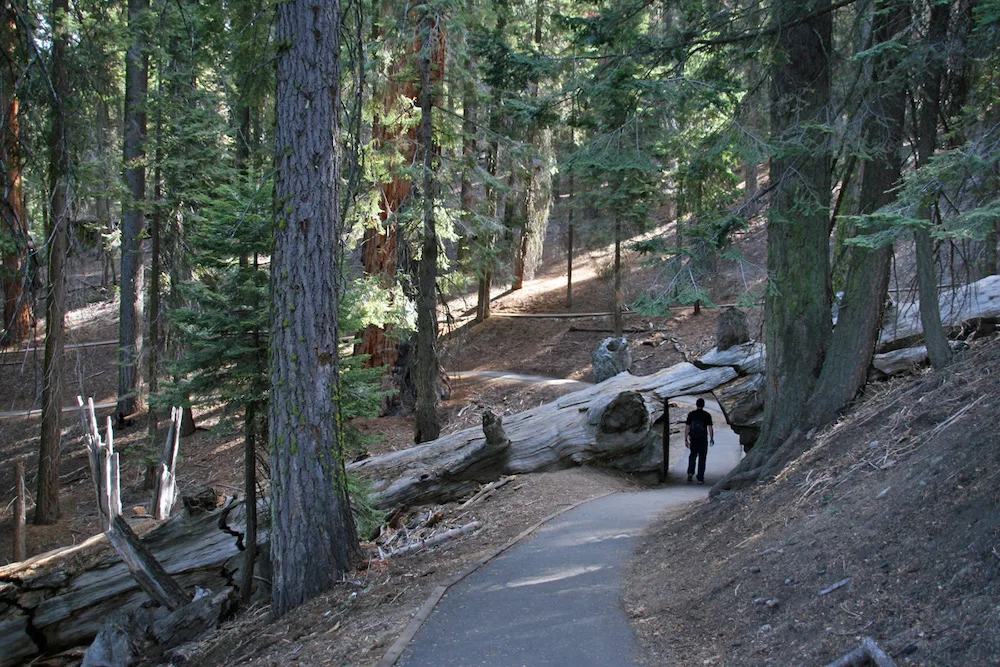 One of the other best things in the park that everyone can see is Tunnel Log, a fallen tree that has a tunnel cut into it wide enough for a car to drive through. You can't drive through it anymore but the short trail to it is paved and level.
The park is also home to General Sherman, the world's largest tree. It is 275 feet high and 36 feet wide. The main trail to the tree is half a mile on a paved path but there are a few steps. If you have a disability parking badge then you can park close to the general highway from where a wheelchair accessible trail leads to the tree.
The Giant Forest has 2,000 acres of sequoia trees. This is where the busiest lodge and visitor center is. You can see the trees via a scenic road. The Big Trees Trail is a paved path that takes you into this amazing grove of trees. But in winter bad weather can sometimes close it.
Whilst driving keep an eye out for black bears since they are often seen along the road and even in the trees.
• Learn more about accessibility at Sequoia.
• Explore a series of short videos about accessibility at Sequoia.
• Book a comfortable lodge near Sequoia.
Accessible Trails at Yellowstone National Park; Wyoming/Montana/Idaho
— By Jurga Rubinovaite at FullSuitcase.com
Yellowstone, one of the most diverse and beautiful National Parks, straddles three states. And it's extremely easy for anyone to visit and enjoy it.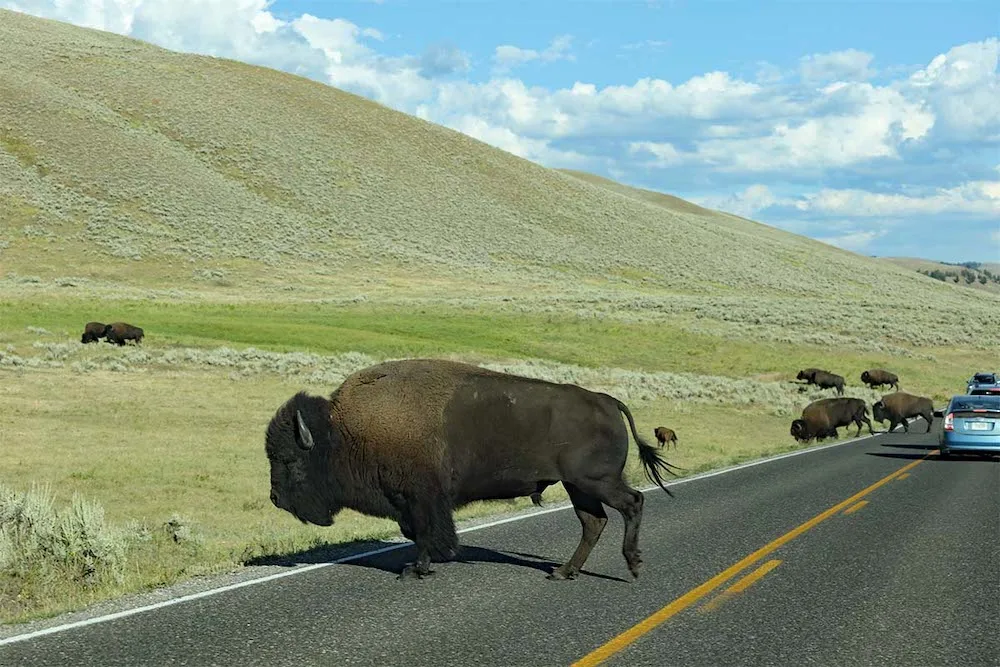 Visitors can drive through the park and have a choice of scenic roads with easy access to some spectacular vistas and incredible wildlife viewing opportunities. You're almost guaranteed to see bison on and next to the roads in Hayden and Lamar valleys, without ever having to step out of the car.
You can reach most of the main sights and attractions in Yellowstone using your car and paved walkways and boardwalks. For example, you can see the Old Faithful geyser, the colorful Grand Prismatic Spring, and access several of the park's other geothermal areas with a stroller or a wheelchair. Finally, some of the nicest viewpoints at the Grand Canyon of the Yellowstone River are also accessible with strollers and wheelchairs.
• Learn more about accessibility in Yellowstone.
• Book a lodge on the Wyoming side of the park, maybe with hot springs!
Accessible Trails at Yosemite National Park; California
— By Karilyn Owen at No Back Home
Yosemite National Park in California is one of the most iconic national parks in the US with for good reason. The natural beauty of this park with its stunning mountains looming overhead, roaring waterfalls and viewpoints you can stare out at for days has inspired passersby throughout history.
Yosemite offers a wonderful array of sights for visitors, regardless of their mobility, and is great for a multi-generation visit with kids. From a free shuttle bus with wheelchair lifts and tie downs to boardwalks and paved pathways throughout the park, visitors can easily see most of the main sights in the park.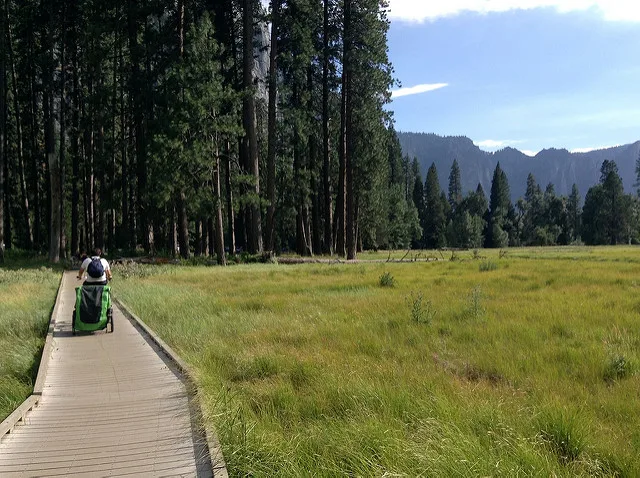 The wheelchair-accessible shuttle has park rangers on board to tell you everything they know about the park (which is a lot); it's a great introduction to the park for visitors of all ages and abilities.
At stops along the scenic drives, visitors with handicapped placards on their cars can take advantage of designated parking spaces to take in the view with minimal walking. And they can drive along roads closed to other private vehicles.
Viewpoints like Glacier Point and Tunnel View are easily accessible from the attached parking areas, while major sights like Yosemite Falls, Bridalveil Falls, Vernal Falls bridge and others have paved pathways. While not all these are flat trails, they can be accessed with wheelchairs and strollers. Additionally, wooden boardwalks allow access through the many meadows and the historical areas.
• Learn more about accessibility at Yosemite.
• Record your trip with a private sightseeing & family photo session.
• Splurge on a stay at the luxurious Tenaya at Yosemite, just outside the park.
• My guest writer loved her stay.
Book one of several more lovely lodges in or near Yosemite.
Accessible Trails at Zion National Park; Utah
From the main entrance on Zion's West side, most the park shuttle bus that goes for seven miles along the canyon floor. The bus ride is narrated and you get to see quite a bit, including tiny rock climbers hanging on to the canyon walls below Angels Landing.
The last stop on the shuttle is Riverside Walk. A one-mile mostly paved trail that runs to parallel to part of the river and ends at a main ford in the river. It's not as "thrilling" as many of Zion's trails, but it's popular because it's very accessible and gives you the best sense of Zion being a canyon carved out by a river.
The first part of the Emerald Pools trail is paved or packed dirt with a short incline that strollers and wheelchairs can manage. It takes you to the lower pool which has an overhang creating a waterfall you can walk under. The overhang is one of the spots in the park that has "hanging gardens," where plants grow downward from the top of the cave.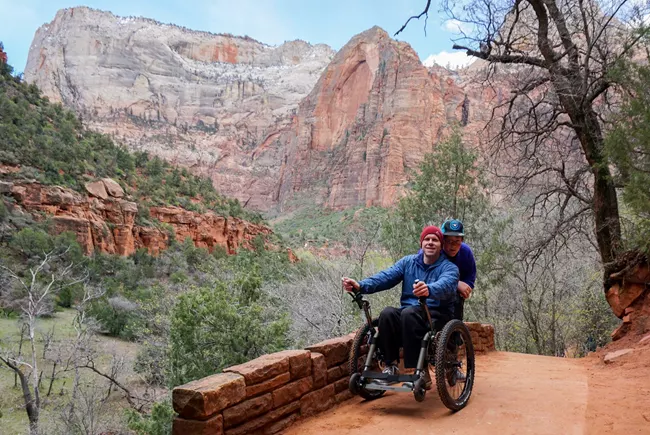 Closer to the lodge you can step of the shuttle and make your way up a very short incline for a picture-perfect view of the Court of the Patriarchs, one of the more dramatic views the park offers.
From the visitors' center you can also access the 1.5-mile long Pa'rus trail, which wide and paved. It takes you along a stream and will offer some nice views. It ends at the Canyon Junction shuttle stop, the first one in the part of the park that is only accessible by shuttle.
If by chance your group includes people who don't walk well but are fit enough to sit on a horse, a stable in the park provides very slow, easy rides into the Court of the Patriarchs. They use trails no one else does and you get some unique or gorgeous views. Make reservations ahead; it's very popular and space is limited.
• Learn more about Accessibility at Zion National Park.
• Take a virtual hike before hitting Zion's accessible trails.
• Read my full Zion vacation itinerary.
• Appreciate Zion's size and varied terrain with a helicopter tour.
•
• Book a stay at Flanigan's Resort, which we greatly enjoyed.
Book one of Springdale's other cool resorts & hotels.
Pin it for later!