A lot of people use Gettysburg as a stopover en route to other Pennsylvania destinations, like Pittsburgh or Hershey and Lancaster. And this is a shame because you need at least 48 hours to see the main attractions thoroughly and without rushing. And there are enough things to do to easily fill a three-day weekend in the area.
I admit we made a 24-hour stop in Gettysburg to break up the drive from NYC to Nemacolin Woodlands Resort.
For others making a brief stop I offer up a 24-hour itinerary. Battlefields are not scintillating attractions for kids. So I'll tell you what engaged our kid and what we could have done better.
I also include ideas for things we would have enjoyed with more time, in case you take make advice and stay longer than we did.
Where To Stay: Gettysburg Hotels
Gettysburg has plenty of three-star hotels for well under $150 a night. We chose the 1863 Inn of Gettysburg because it was right in the center of town, where you want to be on a short visit.
I never stay in hotels with outdoor corridors, but you need to get through the lobby to get upstairs so I didn't mind this time. The room was roomy and the free breakfast was standard.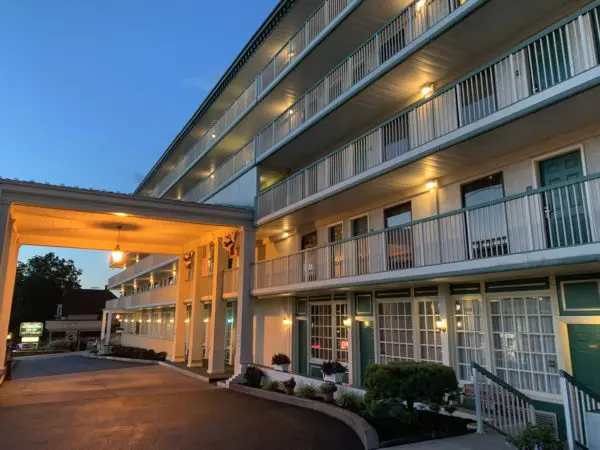 The pool had oddly short hours for an unattended swimming area, from 10:00 am to 9:00 pm. We got to the hotel as it was closing in the evening and left before it opened the next morning, much to Tiny Traveler's chagrin.
Opening it from 8:00 am to 10:00 pm, which is more typical, would allow more guests to fit swimming around all the sightseeing people want to do while in town.
However, we discovered later in the day that Tiny Traveler left her beloved stuffed Bear at the hotel. We called the Inn, and the staff found him and mailed him back to us with a note about how much he missed us. For that alone the 1863 Inn gets high customer service marks from us.
---
Book your stay
1863 Inn of Gettysburg
Or Try a different family-friendly hotel in town.
2 Days in Gettysburg With Kids: My Best Tips On What To see & How
Top Tip for Touring the Battlefield:
Keep it Brief
Here's the thing about Gettysburg: The battlefield is remarkably well preserved and you can meticulously track the progression of the fighting that happened here across the open fields.
So all the talks and tours take visitors through the three days of officers' decisions and troop movements that led up to the Union's crucial victory.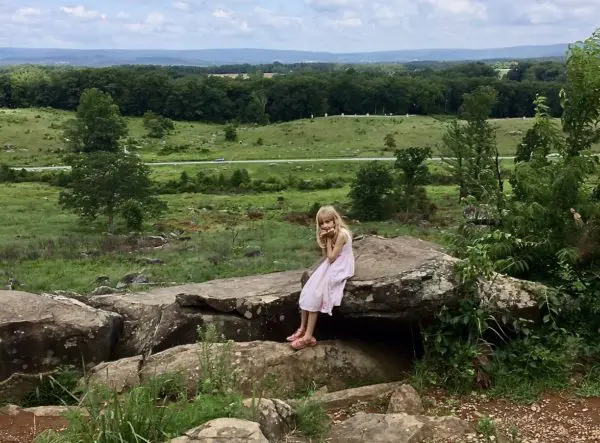 Kids' patience for this sort of detail is limited. Organize your activities with the expectation that they will get bored sooner rather than later. Make a point of mixing the battle-related activities with other things to do.
Spend Time at the National Park Visitors' Center
All national parks tell you to start at the Visitors' Center but in this case you really want to.
It's the most impressive National Park center I've been to. A great deal of thought (and funds) obviously went into creating and organizing the exhibits at this museum.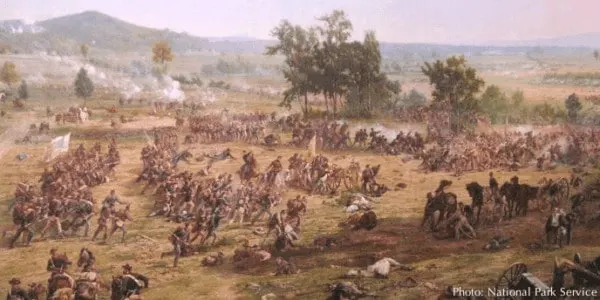 Start with the movie, narrated by Morgan Freeman, which gives you an overview of how and why the war began. It explains the events leading up to and following the turning point at Gettysburg.
After the movie, follow the crowd upstairs to the cyclorama, a restored 360º depiction of the battle with props laid out in front of the screen to create a 3D effect.
The account of the fighting that the ranger gives while highlighting parts of the screen is moving. All three of us were impressed by it.
Then there are a museum exhibits, which examine the times and the war more broadly. It's well done with some good interactive screens.
One lets you see what portion of each Southern state's population was white, slave and free blacks, which tells you a lot about why each state took the side it did.
I was surprised to learn that only a small portion of white southerners owned slaves. It made me ponder what motivated the non-slave-owning Southerners to volunteer to fight.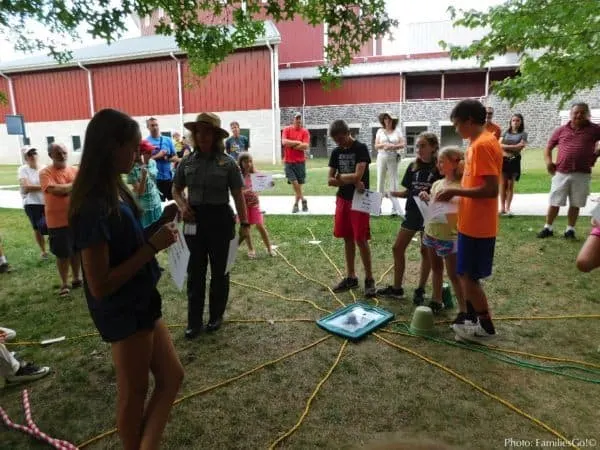 There are a lot of Ranger programs, both at the visitors' center and on the battlefield. If anyone can get kids engaged in history it's a National Park Ranger. Find a schedule and set aside some time for one or two.
Make a point of reading, or better still hearing, the full Gettysburg address at some point during your visit. It's a short, stirring speech and still very relevant to today's political climate.
Learn About Gettysburg Citizens
Kids like stories about real people and every single person and building in this small town was drawn into the Battle of Gettysburg in one way or another.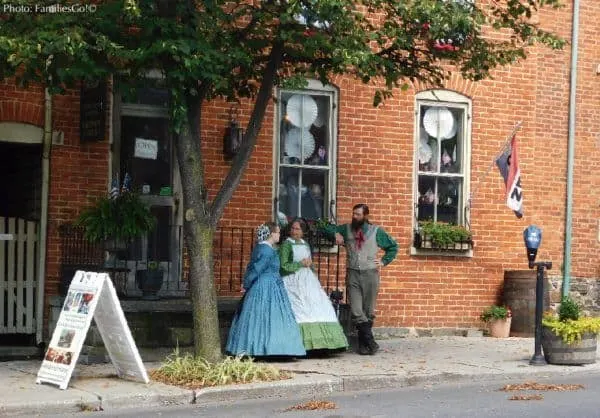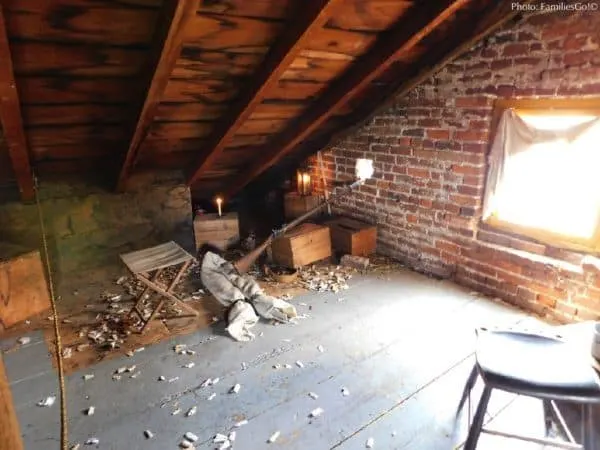 So take time to explore the civilian side things at the Shriver and Jennie Wade houses, where costumed guides give tours.
The tour shows you how the Shriver house, like most in town, was taken over by soldiers of one side or the other. They raided pantries and used attics for cover; hence the attic floor covered in shot paper (above).
The tour guide at the Shriver house explained that this family was one of wealthiest in town while the Wades were among the poorest. The contrast in the details of their homes, their day-to-day lives and how they spent the three days of fighting is worth exploring.
We only got to the Shriver house but the story of the family interested Tiny Traveler enough that I wish we'd had time to see the other one, too.
A few people recommended that we take a ghost tour while in town. I really wanted to, but it was too late to join one by the time we finished dinner. This is something worth making time for, though, especially if you have a second night.
Explore the Lincoln Train Museum
Anyone visiting with very small kids might consider taking time out for the Lincoln Train Museum.
Walk through a turnstyle to enter and explore a collection of model trains, Lincoln's funeral route in miniature and a recreation of the train car that carried his coffin.
The civil war coincided with the rise of the railroad and trains played a large role in both Lincoln's presidency and the war.
Driving the Gettysburg Battlefield
Yes, the Gettysburg National Military Park is the reason people visit. and you can't visit without driving around at least part of the battlefield.
But expect your kids to be bored. Tween Traveler refused to get out of the car about 15 minutes into this activity.
Aim for one or two stops along both the confederate and union sides to get their respective views of the other army. And if your kids let you do more than that, go for it.
If you find a ranger along the way, stop and listen.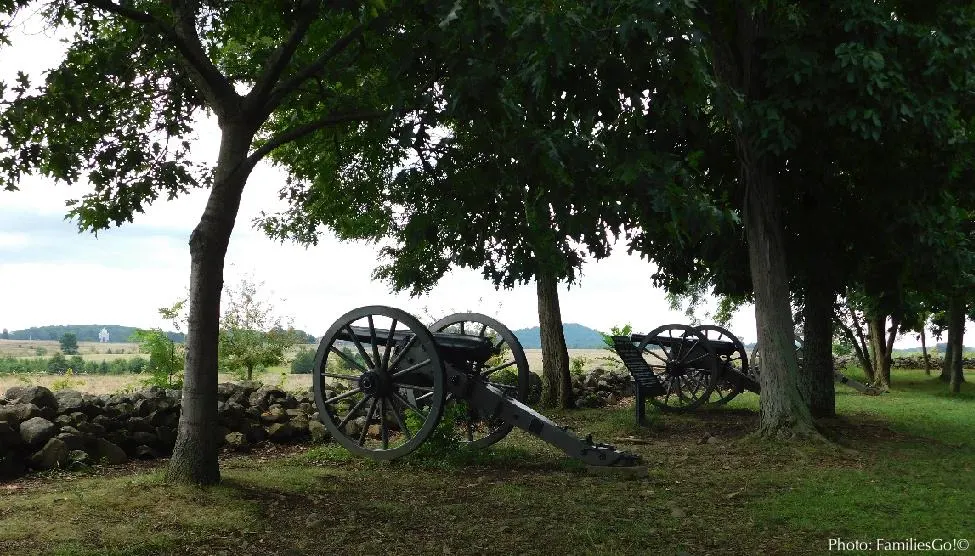 Pause somewhere around stops 4 and 5 along Seminary Ridge where the Confederates started out.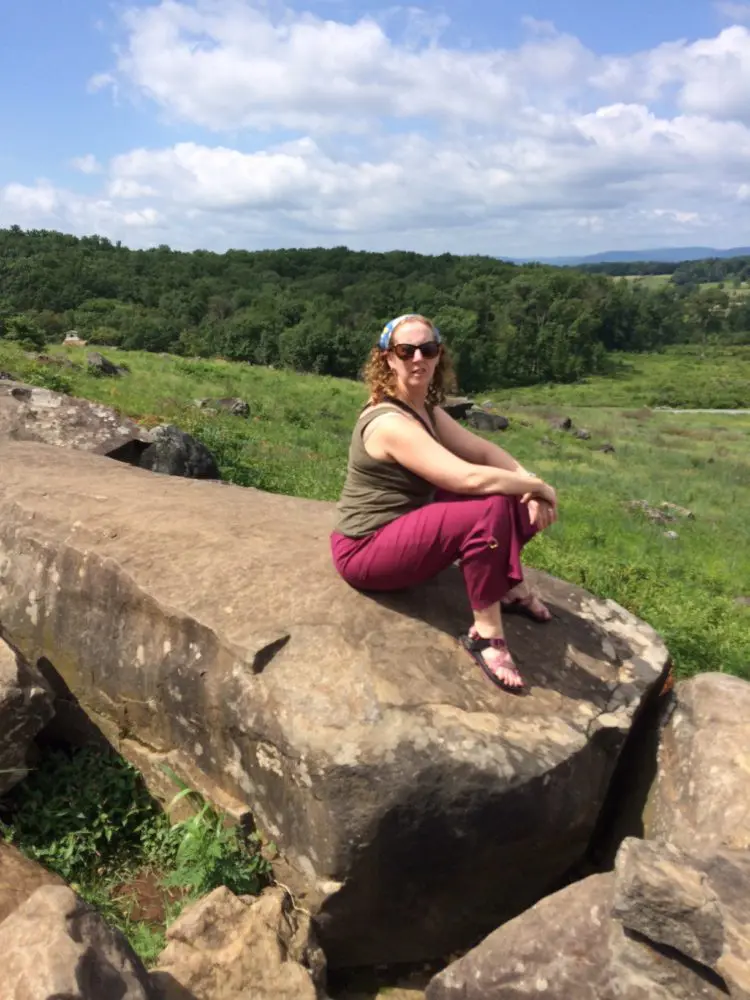 Little Round Top is a good place to stop on the Union side, both for its vantage point and the rocks that Tiny Traveler enjoy scrambling around on while we listened to a ranger talk we happened upon.
It's hard to resist climbing atop the Pennsylvania memorial further on because it's so big and right in the middle of things, just in front of Cemetery Ridge. It's a good spot for photos
If you have the time, budget and kids who are old enough, I would do a tour of the battlefield on horseback. You'll be able to get to places you can't in your car. Better still, the scenery is lovely and the kids will enjoy riding horses, even if they get bored with historical stuff.
Tip: If you would like to read up on this turning-point battle before your visit but aren't big on military history books, try Michael Shaara's The Killer Angels.
It's a character-driven narrative that I enjoyed reading. It gave me a fuller picture the logistics the rangers and signs around the battlefield explain and helped me to understand the significance of these various maneuvers and of the battle itself.

Time out to Eat: Some Gettysburg Restaurants
The Appalachian Brewing Company has a restaurant just outside of town that's worth a visit for lunch or dinner. The pub food has some interesting twists, like roasted Brussels sprouts with a Korean kick.
The brewery dives into Pennsylvania's German roots with its bock, wheat and Octoberfest styles and the more obscure Zoigl, which is worth a try in summer.
If you don't dine here you can take a break with beer and craft sodas in their outdoor beer garden.
Had it been less packed, we probably would have opted for The Pub, with its attractive room and decent bar menu, right in the center of town.
Instead we had a mixed experience at the tavern at the Farnsworth House.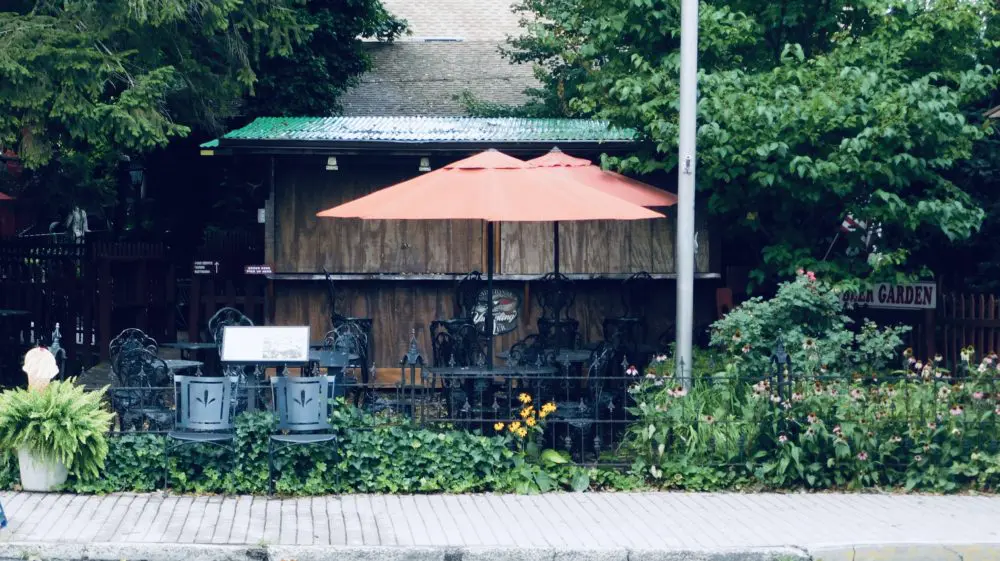 My game pie and pumpkin fritters, the house specialty, was really good, but
Rich and Tiny Traveler shares fish 'n' chips that were only Okay.
The service was painfully slow, but I'm pretty sure we just caught the one bad waitress.
I wish the Inn would serve its pub menu in their beer garden, which is lovely and perfect with kids.
The best thing about the tavern is that it's right across from Mr. G's, a popular evening spot with house-made ice cream, outdoor seating and old-fashioned ring toss games.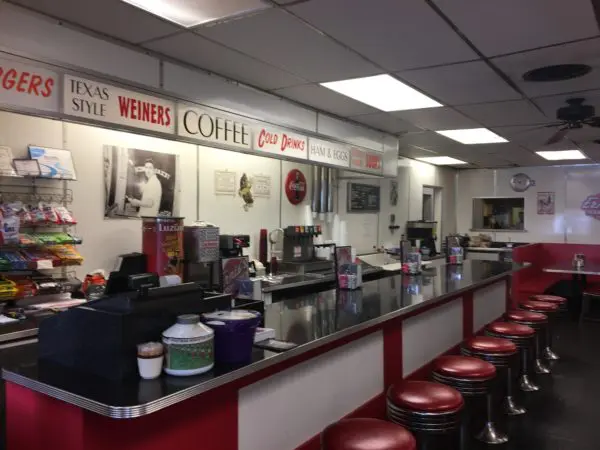 The director at the Shriver house suggested we have lunch at Ernie's Texas Lunch, a genuinely old lunch counter in the center of town.
Two loaded "Texas wieners", a hamburger, a side of thick onion rings, two iced teas and a root beer all added up to a smidge more than $20 with tip. And it was as tasty as it was bad for us.
Detour For Candy & Elephants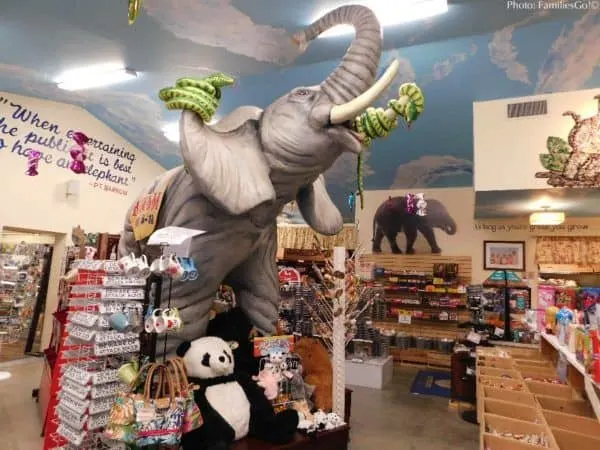 On your way out of town, reward your kids for their patience at the battlefield with something fun, a detour to Mr. Ed's Elephant Museum and Candy Emporium.
Tiny Traveler loved running around the quirky magic forest behind the shop; it's a great place to let kids run loose before or after a car ride.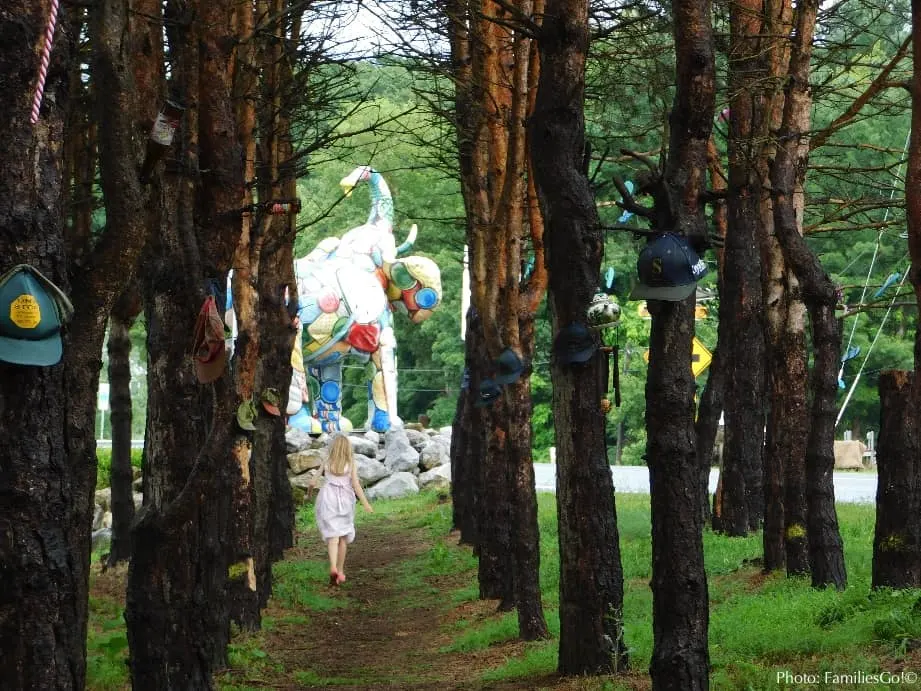 Admire the hundreds of elephants inside and out, sample some fudge, then splurge on a bag of assorted sweets.
Sucking on Swedish fish and root beer barrels will keep your kids quiet on the ride to your next destination.
Pin it for later!