Albuquerque was both the first and last stop on a spring break New Mexico road trip that also included Taos and Santa Fe.
It's a flat and sprawling southwestern city and everything is connected by Freeway. It didn't instantly charm us the way Santa Fe did or offer the adventures that Taos did. But it has some unique museums and more opportunities to get outdoors than we expected.
We ate good food, stayed in cool hotels and had a fun time. I would definitely recommend it as a stop on a southwest road trip or for an easy family weekend getaway with school-age kids, tweens and teens.
Unique Things to do in Albuquerque With Kids
Museums
We went to two museums in Albuquerque they were hands-on kid-friendly science museums, but they each focused on unique niche that made them different from the usual science museums.
1. The National Museum of Nuclear Science & History
The Museum of Nuclear Science & History is just that. It explores both the social history and science of nuclear energy. The hands-on activities were not the same things you see at every science museum.
For example a section on nano technology was engaging and taught us about a relatively new area of science.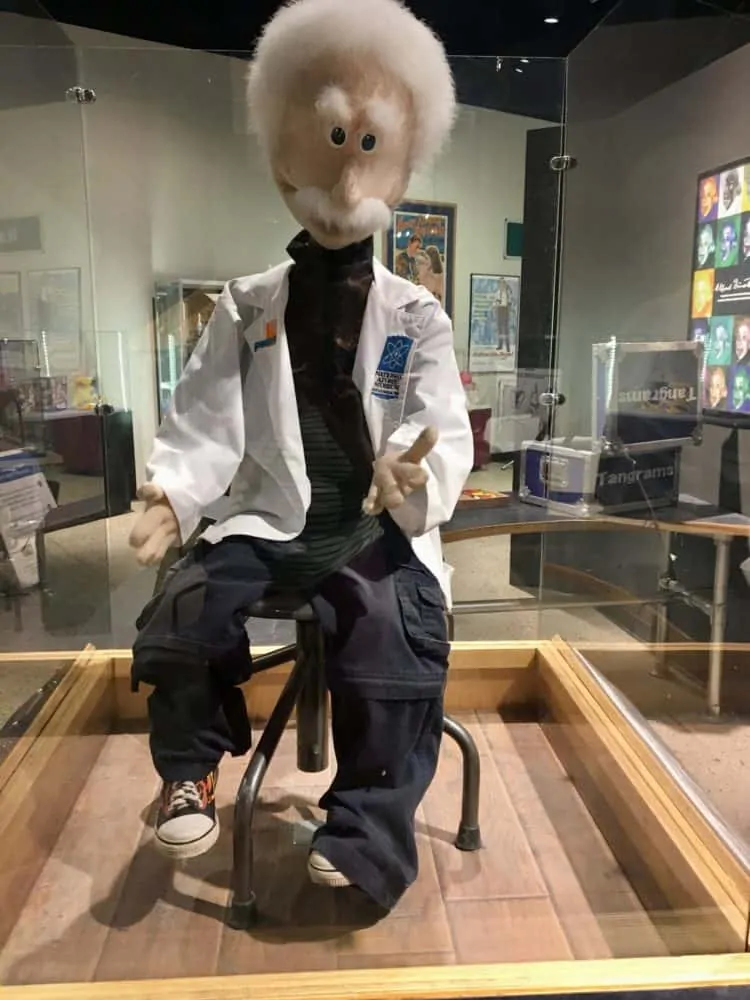 Tween Traveler declared it "awesome" and Rich, who is both a science and history buff could have spent more time there than we did. I never loved science, but I appreciated the social and historical content.
While it receives corporate sponsorship for nuclear energy companies, it's also a Smithsonian affiliate. It's exhibit about nuclear energy's place among alternative energy sources is very, very upbeat. But it's examination of the cold war, early nuclear testing and the decision to use nuclear bombs to end WWII is even-handed and honest.
It's exploration of uranium in pop culture includes a copy of Doc Brown's time traveling DeLorean.
Little Albert's Lab is the main hands-on area though there were cool interactive elements in all the science-themed exhibits. My favorite was "ask Albert", where a child-size robotic Einstein puppet answers questions about science.
Outside they have planes and rockets, which many people love. But that stuff bores Tween Traveler to tears so we skipped it.
Read more about our New Mexico Road Trip
• 3 Unique Albuquerque Hotels For Families
• Top Ideas for a Taos Getaway Weekend
• 3 Days in Santa Fe With Kids
• The Best Hotel in Santa Fe's Old Town
2. Anderson-Abruzzo International Balloon Museum
Since we couldn't take a hot-air balloon ride we did the next best thing and visited the Anderson-Abruzzo International Balloon Museum.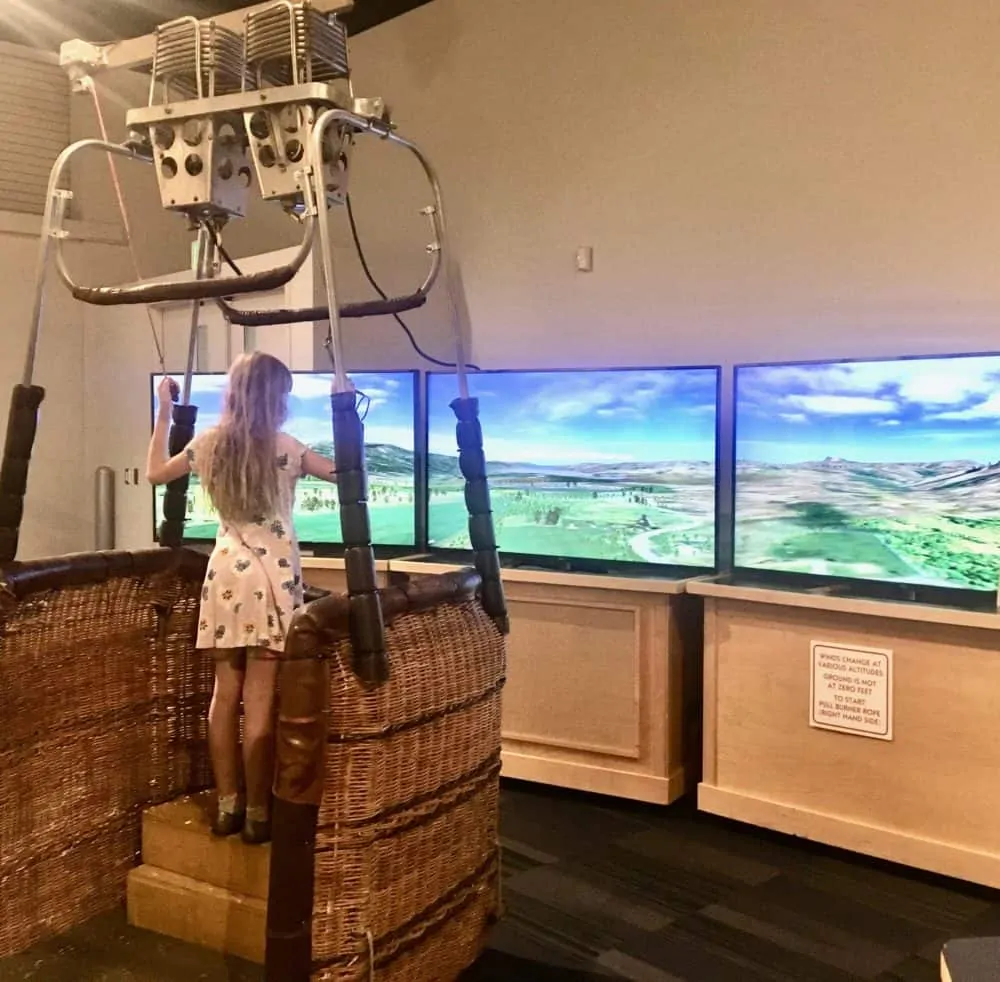 We spent the most time in balloon school room, which is the most hands-on. We all took several turns at a simulator where you step into a balloon basket and use two ropes to launch, steer and land a hot air balloon without being blown away or crashing.
Tween traveler liked making small hot air balloons and testing them over air jets. And she liked designing her own hot air balloon on a computer screen.
There are two short 4-D movies, one about the city's balloon festival and the second a five-minute ride in a balloon. They capture some of the experience of ballooning, but I'd love to see them add a VR hot-air balloon experience, which would do an even better job of recreating the smooth weightlessness of a hot-air balloon ride.
I really liked the exhibit on an 1897 balloon expedition to the Arctic Circle. It includes journal entries and photos from the members of the expedition team.
Their story takes you through rooms that look like a balloon hanger, a Victorian Parlor and an Arctic base camp. Touch screens help you to follow them on their journey, learning about the conditions they faced, the technical challenged and decisions they had to make.
Tween Traveler preferred the weather lab, which explores how major weather events begin and develop and of course how the technology related to ballooning has contributed to better tracking and forecasting.
Neither museum is enormous: they're actually about the right size for a school-age kid's attention span. Two hours is ample time at the balloon museum and Three hours will let you do everything you want to at the nuclear museum.
Essential Albuquerque Sightseeing
3. The Sandia Peak Tram
The Sandia-Peak Tram was one of the most fun things we did. If you time your visit so that you can catch one of the last trams down you can see the lights of the city in the valley below, which is a nice sight.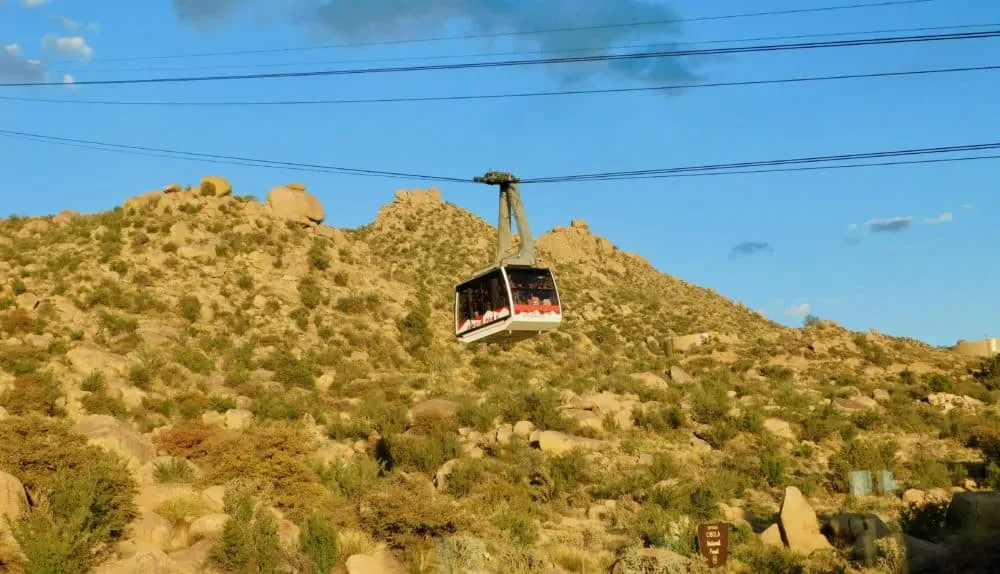 On the ride up you hear a bit about the area's history and geology, and at the top you can take in a few optimally placed look-out points and hike a bit if you like.
The experience helps you to appreciate that Albuquerque, like many Southwest towns began as a remote outpost in a brown desert valley. It's a pretty but also intimidating landscape.
The difference in temperature between the bottom and top of the peak is dramatic. No matter how warm it is, bring hoodies for everyone. We went up late in the day and weren't wearing shoes for hiking in rocky terrain so I can't report on the trails. If you want to hike, I would go up in the morning or mid-to-late afternoon when the sun isn't quite so strong.
Dinner on Sandia Peak
After your tram ride you can stop into the Ten/3 restaurant for lunch, a drink or dinner.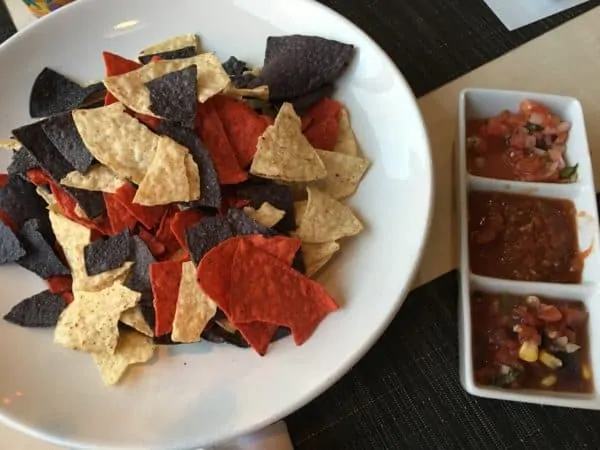 If you're visiting the restaurant in daylight, snag a window table on the mountain side so you can watch the Tram go up and down. If the sun is going down try for a window table on the city side. You'll see a great sunset and the city lights in the valley below.
I opted for the cocktail of the day, a blood-orange margarita. It looked great but didn't have enough lime and was a little too sweet for me.
But the food is good. We shared tortillas with a trio of salsas—a pico de gallo, a black bean and corn and a chunky red salsa—they all had a kick and were all good.
We also shared fried Brussels sprouts with pumpkin seeds and a pomegranate glaze drizzled alongside a trio of creative tacos. My favorite had slices of duck with apricot glaze.
4. Old Town Albuquerque
We spent an hour or so walking around the Old Town, but it was a hot afternoon. And while charming, the Old Town is less organic to the rest of the city than Santa Fe's. It feels set aside and a place only tourists go.
There are some good restaurants tucked away here though, so a good way to thing to do is to pair lunch or dinner with a guided stroll around town.
The historic highlights to seek out include the central plaza where the city was founded in 1706 and, across the street from it, the Church of San Felipe de Neri, which was built in 1795, but dates to the founding of the town.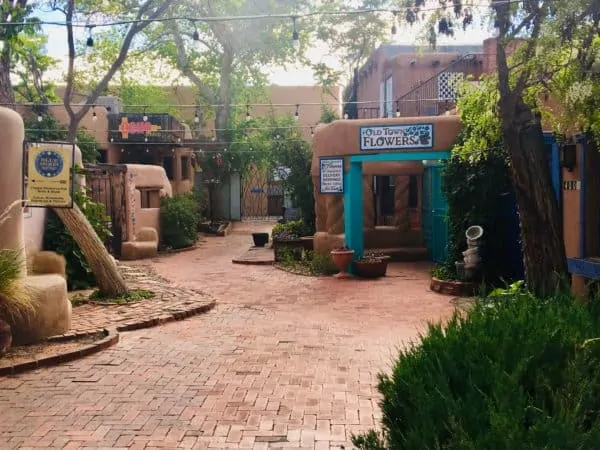 Just down the street and easy to miss is the intimate Chapel of our Lady of Guadelupe. It was built about 50 years ago by and for the students of the Sagrada Art Studios, but you would never know it hadn't been there for 300 years.
Its stained-glass window, made by the Sagrada's founder, is beautiful. It's a calendar of catholic feast days surround the sky and sun in colors that fit the southwest. The founder made three more windows, of which two are in storage (a shame) and the third in private hands.
The chapel is a popular wedding venue and its courtyard is an oasis from the hot Old Town streets and has quite a few tucked away corners and some quirky art. Tween traveler liked it. Little kids could spend quite some time exploring it and checking things out.
There are also plenty of places to get ice cream, coffee, t-shirts and tchotchkes.
A Charming, Delicious Old Town Restaurant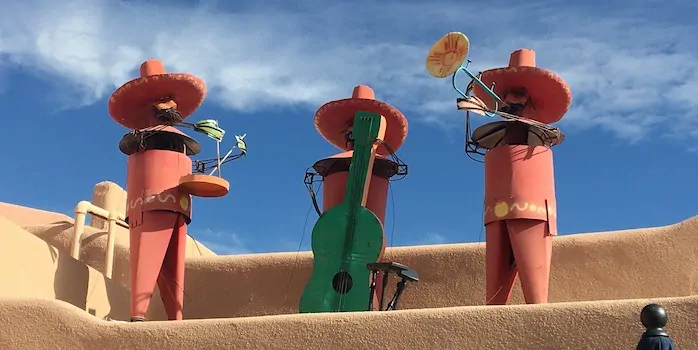 We had breakfast at the Church Street Café in the Old Town. You can't miss it because of the colorful decorations outside.
Inside it has a series of small rooms and a charming interior courtyard that wasn't open when we were there but would be a lovely place to have lunch or an afternoon drink.
It was probably one of our favorite meals. The huevos rancheros with blue-corn tortillas and green chile sauce was a reasonable size and really good.
Tween traveler discovered buñuelos, a puffy fried bread they cover in cinnamon and sugar, or honey if you prefer. It was the first of several sweet fried breads she has on this trip. The good coffee is served with warm milk, which I love.
5. Kid Favorites Close To Old Town
There is a lot of kid-friendly stuff bordering old town, including the Natural History and Explora Museums on one side and the BioPark, which is home to the zoo and aquarium and a botanic garden.
The latter's kid-friendly sections include a Japanese Garden, butterfly pavilion, fantasy garden with a large dragon topiary and a sizeable model train collection.
The Albuquerque Museum has an eclectic mix of history and art collections. It's one of those museums where it's always worth checking the website to see what's going on currently.
Also nearby is the new Sawmill neighborhood with a growing collection of shops, hotels and restaurants, including a stylish microbrewery.
Sawmill Drinks With A City View
We returned to the Hotel Chaco on our second pass through Albuquerque because we didn't get a chance to enjoy its rooftop restaurant the first time around.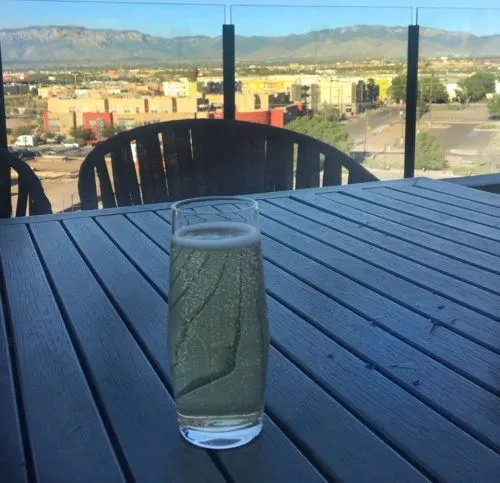 You'll find some creative dishes and lots of healthy options if you stop in for breakfast or dinner (no lunch), but we just had an afternoon drink.
There plenty of couches where you can have drinks and snacks while playing cards or a small board game. But we chose to just take in the stellar view of the city and surrounding mountains.
Outdoor Actovities In Alburquerque
6. Find Petroglyphs
We also really like Petroglyphs National Monument. It's a good idea to start at the visitors' center to pay your park fee and see a movie about the glyphs and the tribes that drew them. Don't forget to get your National Parks passport stamp.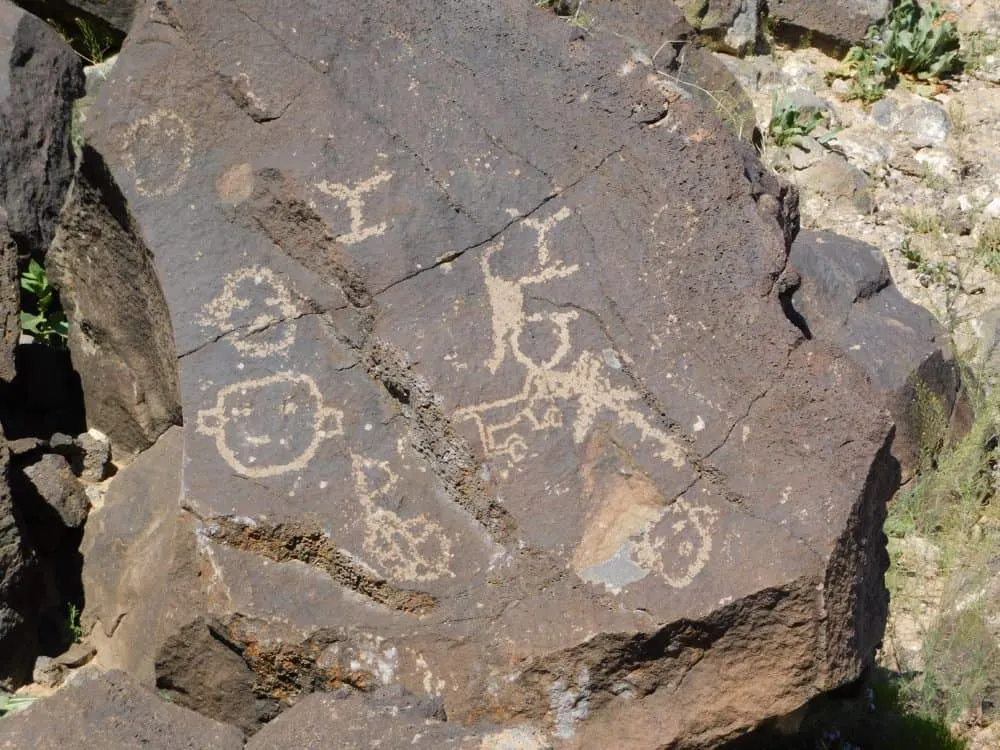 But there are no trailheads at the visitors' center. From there you can drive to any of three sections. We followed our GPS to Piedras Marcadas Canyon, which is hemmed in on all sides by houses. The trailhead is across from a Valvolene station, but a few feet into the trail and all of that falls away quickly.
There are about 800 petroglyphs spread across the whole park. In addition to being a fairly easy walk, this section has a lot of them, making it a good choice with kids.
Whenever you see a little turnoff from the trail follow it; it will probably lead you to some petroglyphs. Make sure you make it to stop #6 on the trail map; it's the big reward.
There's a plethora of pictures and rocks that kids can climb around on. Some kids will want to hunt for every single picture and some will look at a few and be done. Engage little kids by having them guess what each petroglyph means.
There's not a lot of wildlife but we saw a few jackrabbits from a distance. They're enormous, which makes them easy to spot.
The walk is fairly flat but there are a lot of loose stones and uneven terrain. Definitely a place for closed-toe shoes. It can be chilly in morning and early evening but for most of the day it's all sun and pretty hot. Hats, water and sunscreen are a must even if you're only doing a short hike.
7. Bike or Walk the Paseo de Bosque Trail
Looking for an easy walk one morning we drove to the Alameda Open Space parking lot, where we picked up part of the 16-mile Paseo de Bosque trail, which follows the Rio Grande, passing through Tingley Beach and Rio Grande Valley state park.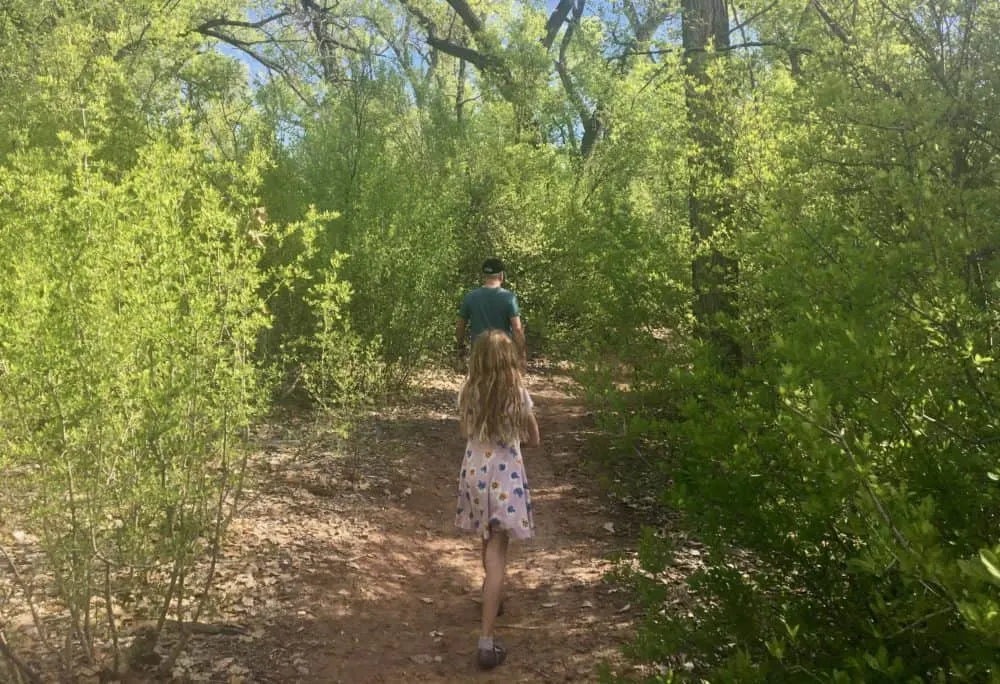 The trail is popular for cycling and there were plenty of walkers in the morning as well. On one side of the trail we passed a public garden and a farm.
On the return trip on the far side of trail we followed one of several narrow offshoots that lead through a short crop of woods to the river. Tween Traveler liked "exploring" the woods and putting our toes in the river.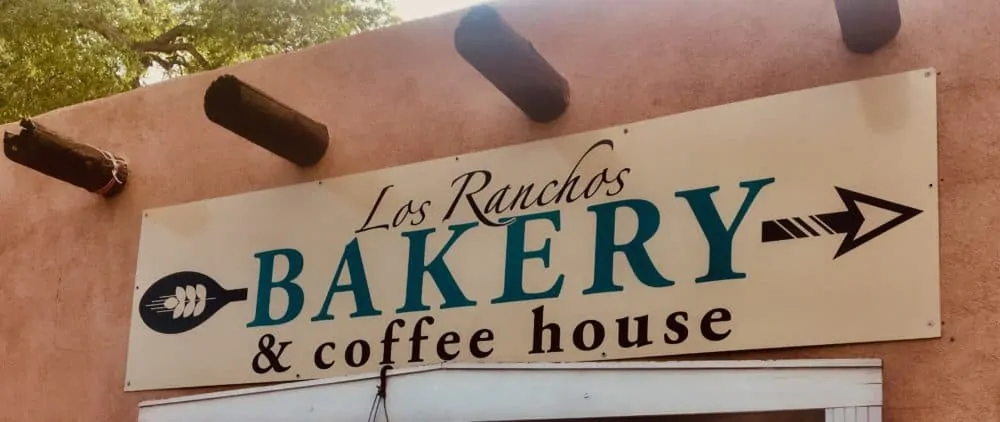 On the way to the Bosque Trail we stopped into Los Ranchos Bakery on 4th Street NW. It's a plain, bright shop on a road that has an odd mix of farm-to-table restaurants and feed-and-grains stores.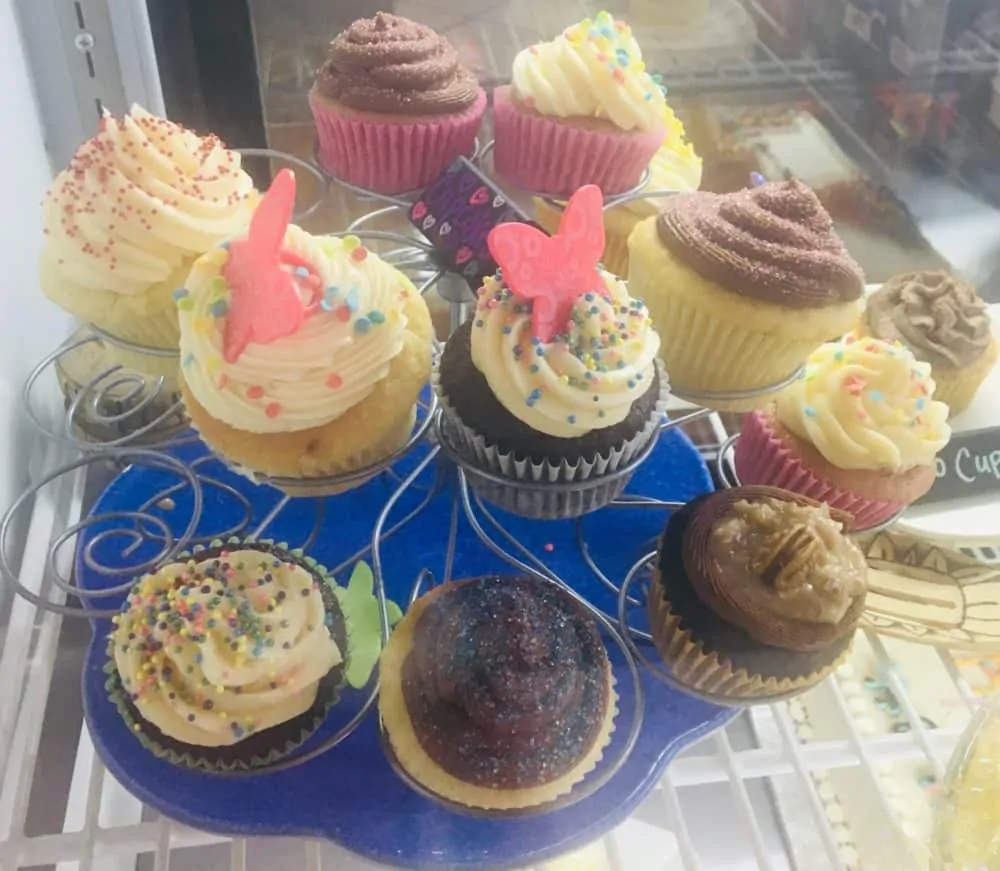 But the baked good are not plain at all. We were sorry it was too early for cupcakes because theirs looked delicious. We had lemon-poppy seed and blue-corn-piñon scones. They were just the right amount of crumbly and good even without butter. It was a good find in an unlikely place.
Experience Native American Culture
8. The Gathering of Nations
Our main reason for coming to Albuquerque was the Gathering of Nations, the largest gathering of North American native tribes in the U.S. It's mostly U.S. tribes but a few from Canada and Mexico come, too, and the marketplace had people from as far as South America.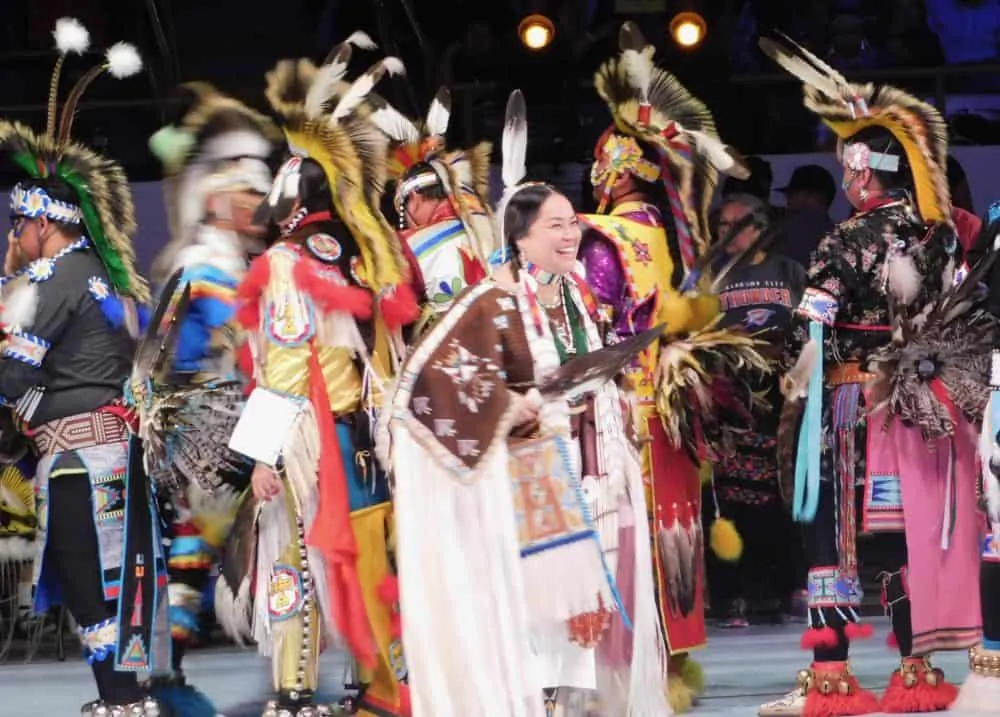 The must-see event is the opening ceremonies on the first night of the gathering. It's spectacular. About 100 tribes in full native costumes parade into a large arena while about a dozen groups of men bang rhythmically on communal drums.
It's hard to get photos that capture the scope and energy of it so you'll have to trust me that it's impressive.
We had mixed feelings about the rest of the Gathering. It's meant to be a coming together of nations to celebrate the best of their common cultures. But non-Indians are welcome and it's also meant to let outsiders learn more about Native American culture and undo some of the negative stereotypes that exist about native Americans.
And to that end it came up a bit short. At the opening ceremonies an announcer declared the name of each tribe as they came in.
But it would be have be helpful for him to say something about them, where they're from, what they're noted for, what's notable about their tribal costumes, or whatever. He also occasionally declared some of the participants "royalty," but didn't explain what that meant.
We stayed for some of the dancing competitions and part of the Miss American Indian pageant.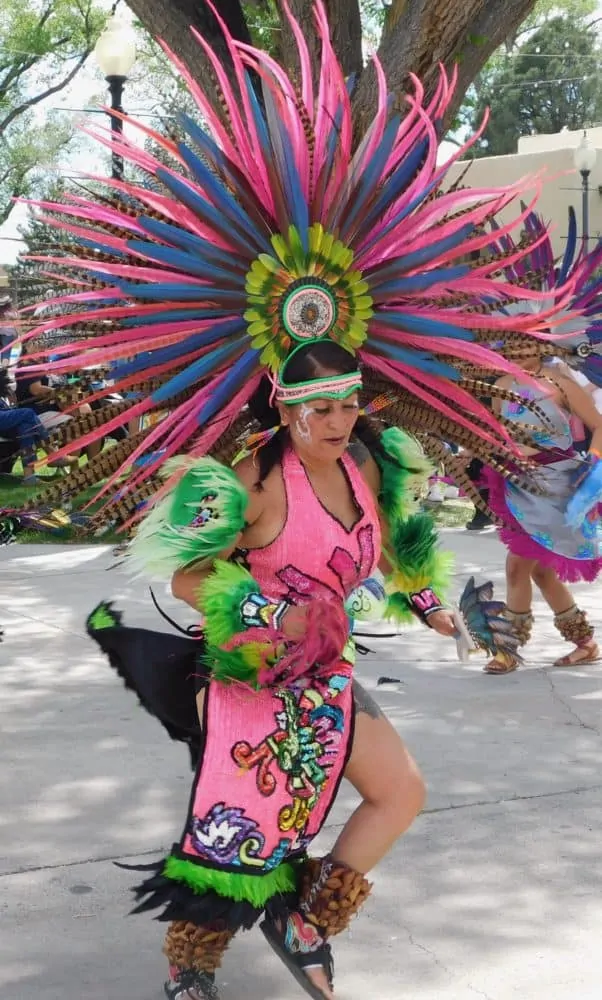 I really liked this pageant because it's a measure of the young women's knowledge of and participation in their culture, rather than what they look like in a bathing suit. Every body type from tall and skinny to short and plump was represented and I thought that was a very positive thing for young girls to see.
We were told that we couldn't miss the parade of horses because it's unique and impressive, so went back the next day for it. It turned out to be about a half dozen riders and horses walking up the street one by one.
This is where I really wished the announcer would have been more enlightening. Who were these people, why were they in the parade? What was special about them? What did their costumes represent? Without some context it was underwhelming.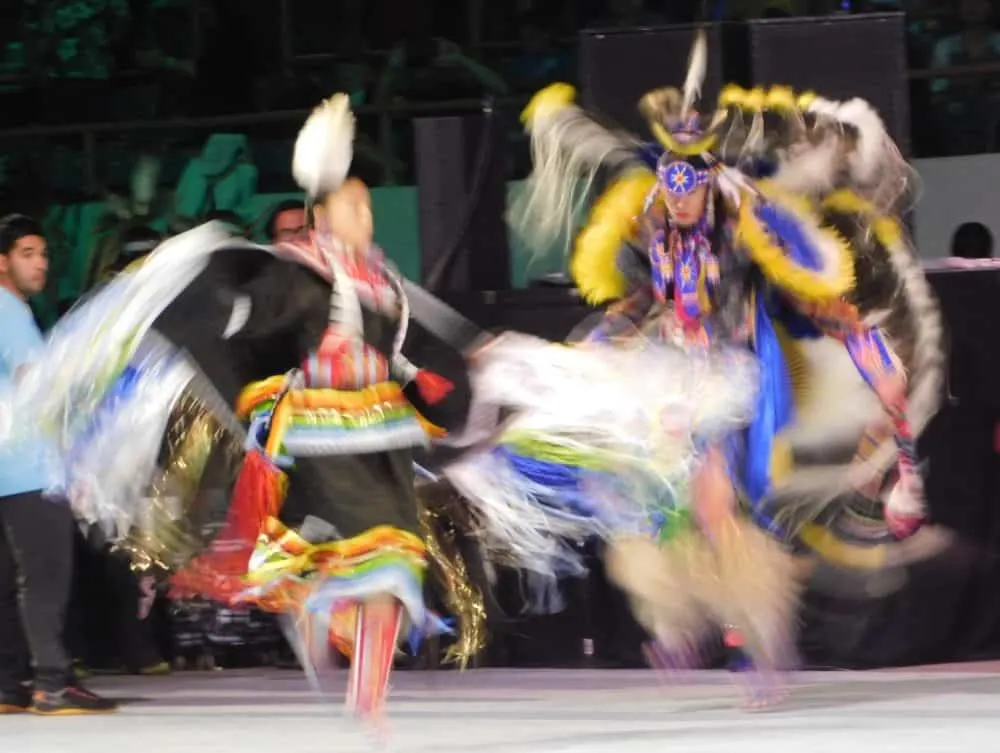 Beyond that there are food vendors, some selling native American food and some selling the usual fair food: lemonade, hamburgers and so on. There is also a large marketplace.
I bought a beautiful wrap sweater from the South American who made it. It's cut nicely and is incredibly warm. But you have to shop carefully, especially when it comes to jewelry, because the quality here varied a lot, especially the turquoise and silver.
9. Pueblo Cultural Center
We also spent time at the Pueblo Cultural Center, which I would encourage anyone spending time in Albuquerque to visit. It has a handful of permanent exhibits, which are interesting and provide context for all the native culture you encounter in New Mexico. And it's small; you can see it all in well under an hour.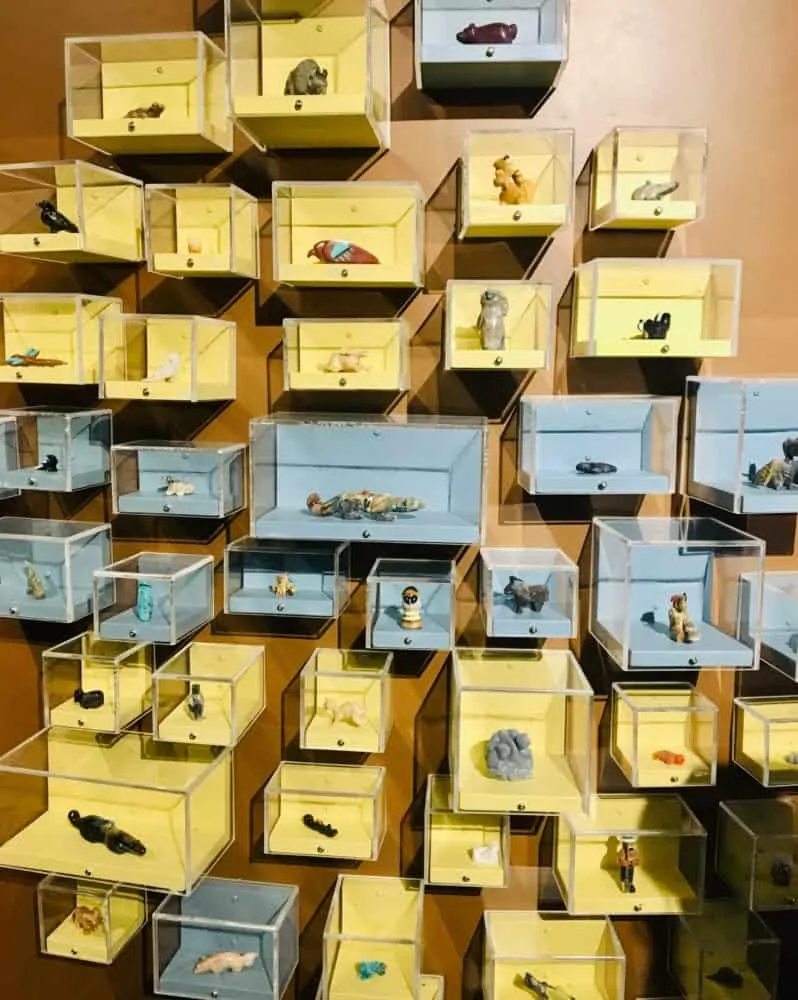 As a cultural center it holds special events all year long and these are really want you come for. During the Gathering they had extra events going on all weekend. We saw some really impressive dancers who were in high school. Because the center's mission is education, the hosts explained who we were seeing and why and their dances were all about.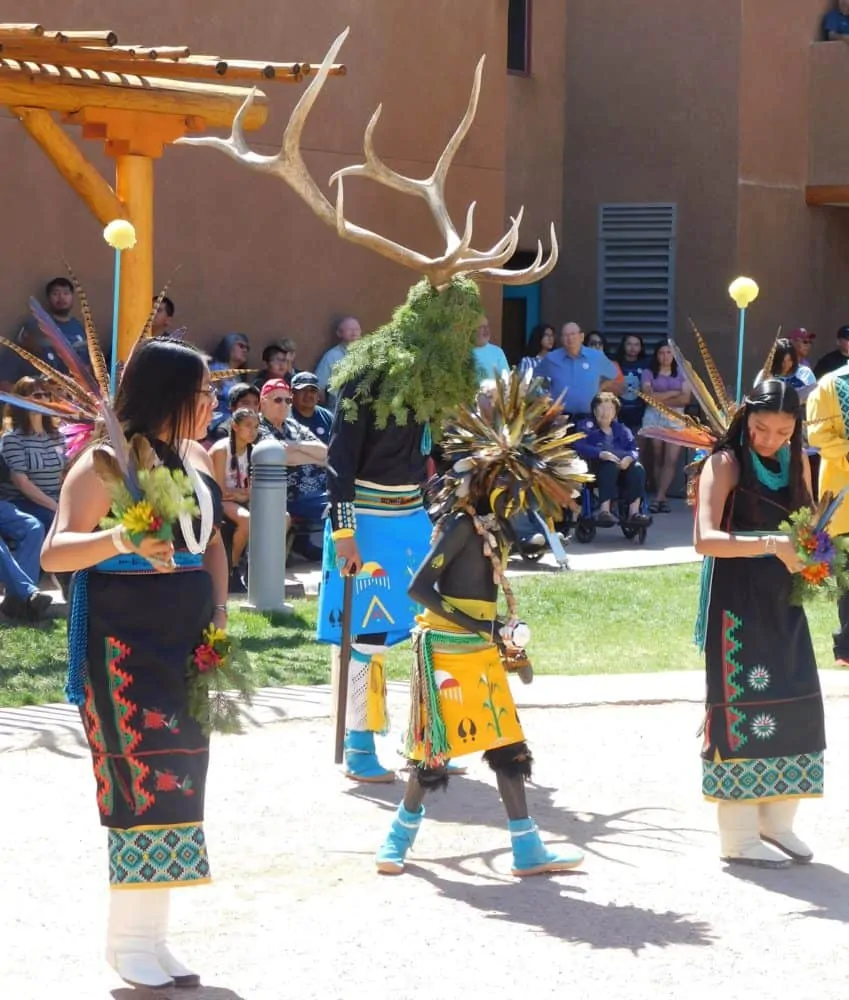 They vendors set up around the edge of the courtyard where the dancing was. The vendors here are vetted artisans and the jewelry, pottery and silver we saw was beautiful. It wasn't inexpensive but you could talk at length to the artisan and be confident you're getting quality.
If you do come to Albuquerque for the Gathering I would recommend getting tickets for opening night and spending the rest of the weekend here.
Kid-Friendly Pueblo Lunch at the Culture Center
Locals come to dine at Pueblo Harvest even when they aren't visiting the culture center; it's that good. Plus, the portions and prices are both pretty reasonable.
The menu is traditional southwest food with a twist, like the chicken and blue-corn waffles that Tween Traveler tucked into happily.
The turkey sandwich comes on green chile pueblo oven bread and the Native American beef burger comes on a bun flecked with green chiles. I had just-spicy-enough posole, a southwestern hominy stew that I love.
More Kid-Friendly Albuquerque Restaurants
1. Breakfast at the Range
The Range is a mini chain with four restaurants around Albuquerque. They're known for big breakfasts, pies cakes and enormous cinnamon buns. Rich had great huevos rancheros with pork adovado, pinto beans and red chile sauce.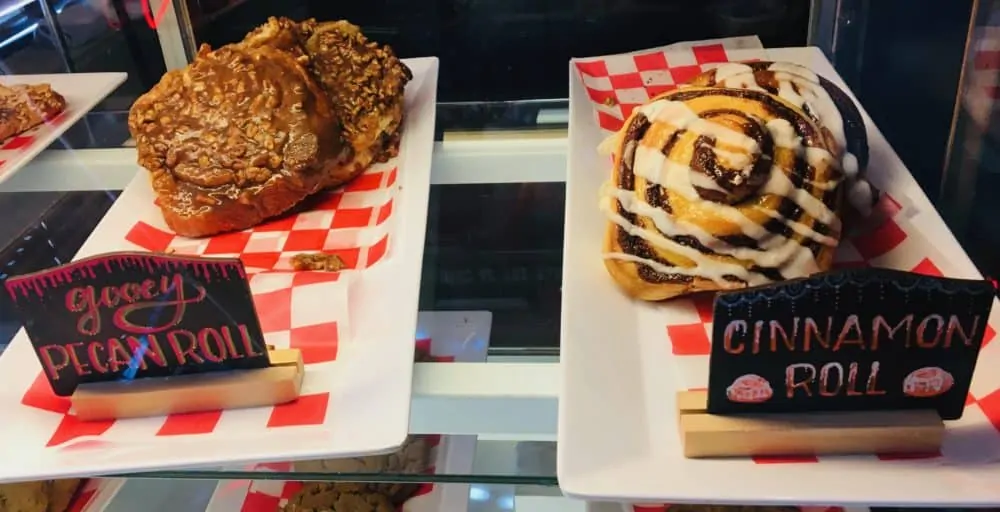 I'm usually an egg person but couldn't resist blue corn pancakes with blueberries and piñon. They were worth the calories. It was a really good, if filling breakfast. My only quibble is that they charge extra for maple syrup, which is a really odd thing to charge extra for.
2. Lunch at the Route 66 Diner
The Route 66 Diner, out near the University of New Mexico campus is pretty much essential if you have kids with you. It's a classic 50s diner with fountain drinks, daily pie flavors and juke boxes on the table.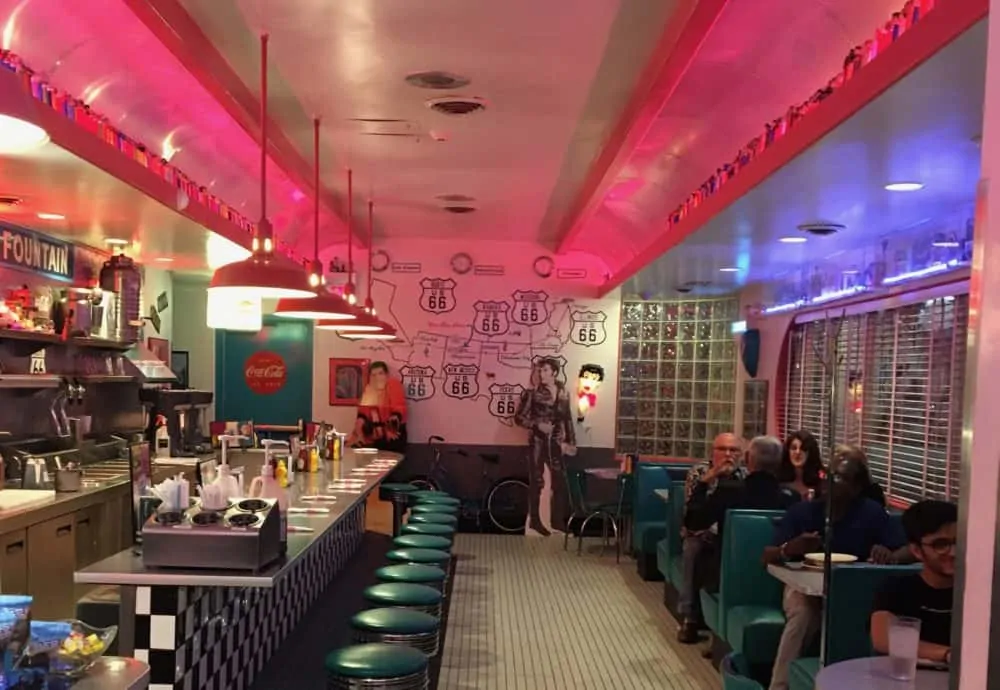 Tween Traveler had to ask what the juke box was and was delighted when its 1950s repertoire include "Purple People Eater," one of her favorite songs at the time.
The food is way better than your average diner food. Rich's chicken-fried steak and gravy has plenty of black pepper and his mashed potatoes had skins on.
My classic patty melt came on rye bread with caramelized onions. Onion rings were big and crispy. The highlight for Tween Traveler was a Boylan's cream soda float with a large scoop of vanilla ice cream.
3. Dinner at El Pinto
Our last dinner before heading to the airport was at El Pinto. It's in a beautiful ranch house that's about 15 minutes from downtown, but you feel like you've escaped to the New Mexican countryside.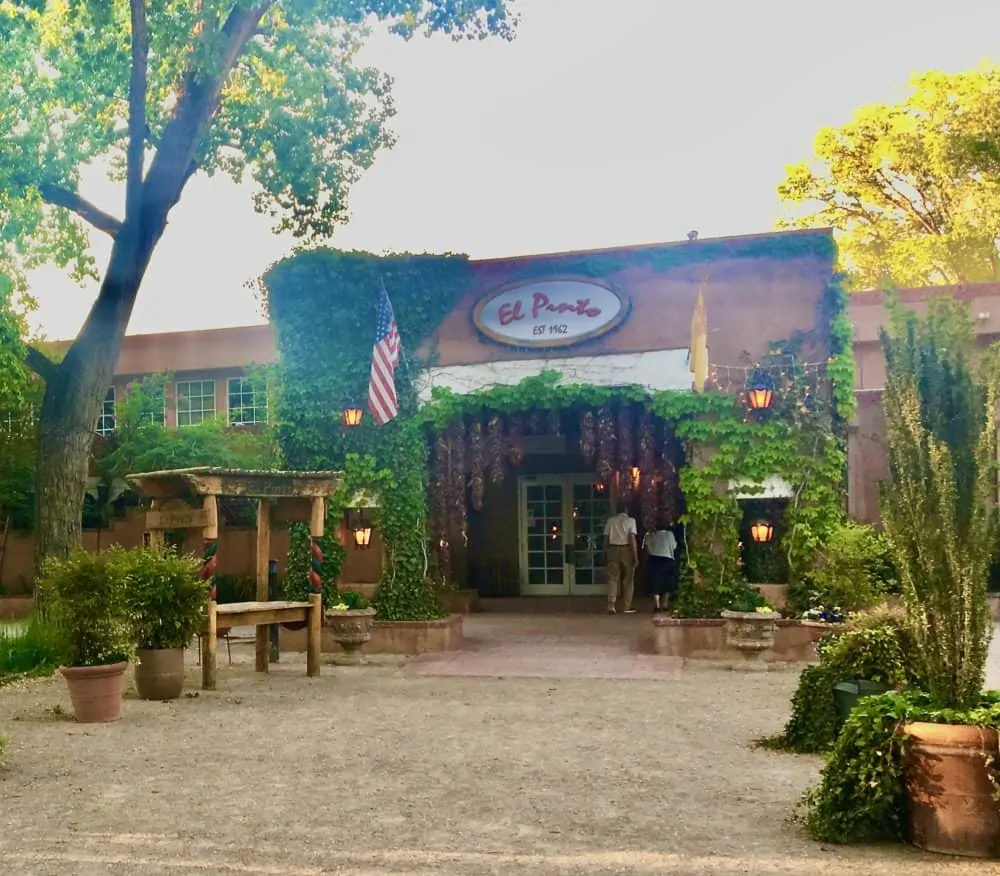 It's a beautiful old-style ranch house with a tequila bar inside and a lovely outside patio that sprawls endlessly (it seats 1200 people!).
Despite feeding so many people every night the food is really good. They make their salsas and sauces and the eggs come from their own hens. Portions are big so try to order conservatively, which is hard. Rich and I could easily have shared or a few appetizers.
We started with flash fried green chile strips, which come with a red chile ranch dip. They were surprisingly not hot and really addictive. They also bring fresh, airy sopapillas to the table with a squeeze bottle of honey. They're just the thing to take the edge off the chile sauce, so how can you resist?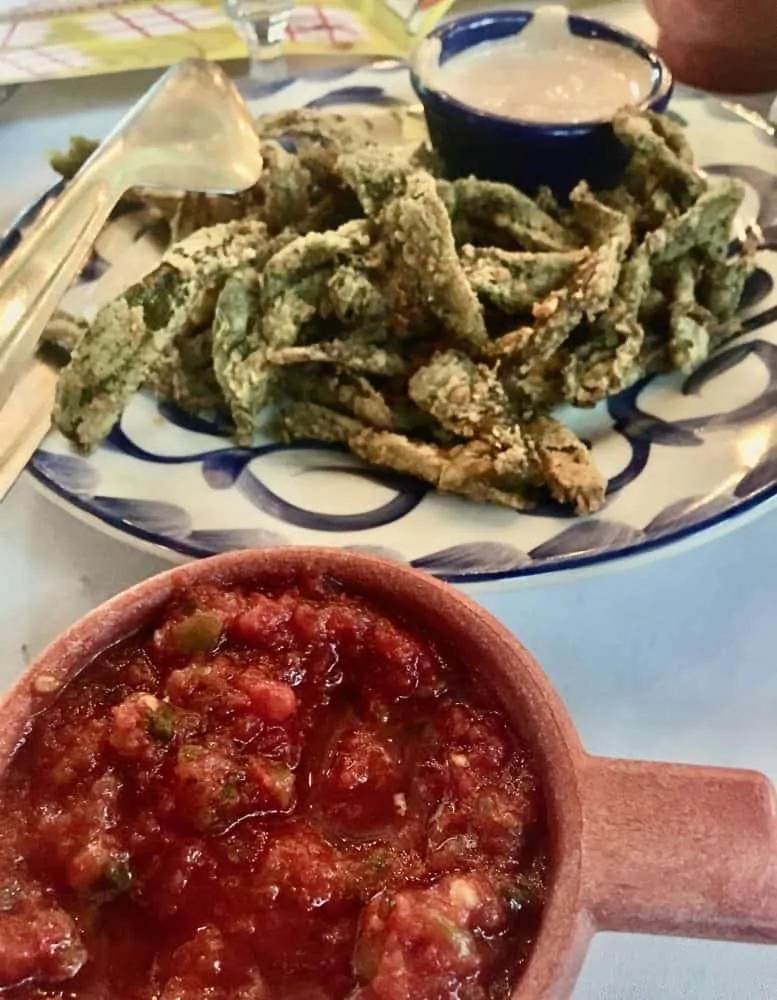 I ordered one of the dishes they're known for, ribs slathered in chunky red chile and cooked until they're falling off the bone. They were spicy. And they came with pinto beans, potatoes and salad. If I weren't getting on a plane I would have taken half of it home.
Rich had a New Mexico favorite, enchiladas with red and green sauces. Tween Traveler had a kid-size burrito with steak and beans and a side of Spanish rice. We were so full we didn't even have dessert!
Some Albuquerque Basics
Plan Your Trip
• Viator has an Old Town Scavenger Hunt your family can do together.
• And has a one-hour balloon ride across the Rio Grande Valley.
---
• Find the best flights to Sunport Airport on Kayak.
• Shop for the best hotel prices on Trip Advisor
• Book a vacation rental with your own pool on VRBO.
1. Finding Kid-Friendly Hotels in Albuquerque
There are plenty of hotels around the city and it's quite easy to find one with a pool. I liked staying in the Sawmill district because it was up and coming and we could walk to the Old Town and to some nearby shops and restaurants.
But no matter where you stay you'll be driving to most of the things you do, so it doesn't matter too much which part of the city you stay in.
2. Albuquerque Weather
No matter what time of year you go, put sunscreen on if you'll be outside. The sun is strong. From April on it's good idea to do outside activities in the morning or late afternoon when it's cooler.
As is the case in most of New Mexico the temperatures fluctuate quite a bit from morning to night and from down in the valley to up in the hills. It's a good idea to always have a hoody or sweater to handy.
3. Getting To Albuquerque
Albuquerque is an hour to Santa Fe, two hours to Taos and Gallup, three hours from the Texas border. It's five hours to Flagstaff and another 90 minutes to the Grand Canyon's south rim.
The city's Sunport airport is the place to fly into for most New Mexico destinations. It's a small airport, which makes it easy to navigate.
If you have a long wait for a flight, the microbrewery has good food and beer and there's a quiet lounge on the 3rd floor where you can work or let a baby sleep.
Pin it for Later!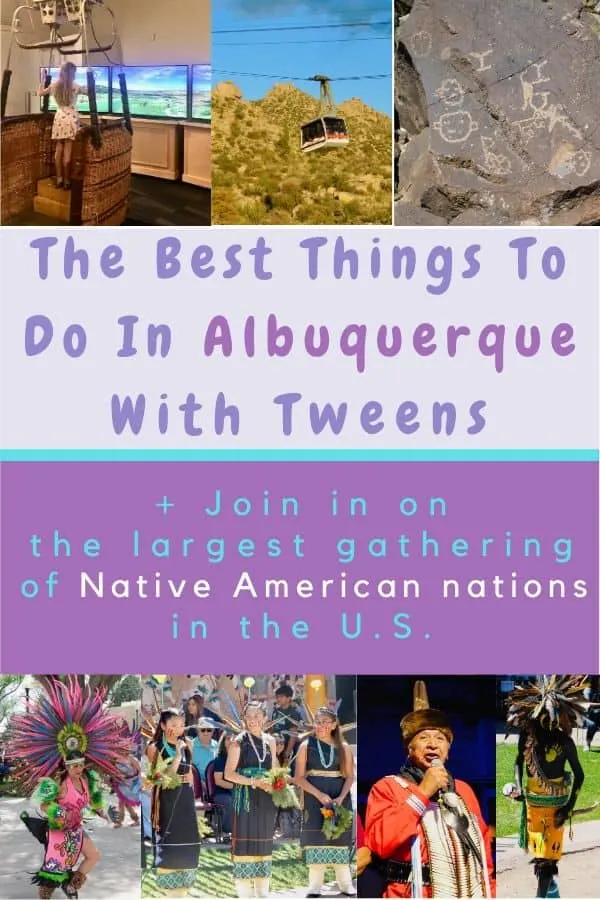 We partnered with Visit Albuquerque on this visit. We had media passes to the two museums, the Gathering and the cultural center. El Pinto, Route 66, the Range and Ten/3 hosted us for our meals at those places. We made no arrangements for specific coverage and chose which museums to visit. My opinions are always my own.
Photos by FamiliesGo!©