Staying organized and packing efficiently is one of the biggest challenges to traveling with kids. A good travel bag—durable, well designed and washable—helps tremendously.
No one needs all the suitcases, carry-ons and daypacks we list below, but one of them might be just the thing you need.
We chose these bags because they look good and are designed to be practical. They are durable and some do more than one thing (versatility is essential for travel). There are options for parents and for kids who are ready to pack and carry their own stuff.
Most of them are pretty affordable, too. If none of these bags suit you, their best features can help you to know what to look for in your own choices.
9 Practical Bags for Travel With Kids
Weekend bag with a baby or toddler:
BB Bags Extra Large Duffel
I love this duffel for weekends and other short getaways with babies and toddlers.
It folds up compactly into its own pouch for storage but unfolds into a roomy duffell where you can easily pack for you and the kiddo.
Plus, it has a side access pocket to separate particularly smelly or stained laundry from the rest of your clothes. It also comes in black.
The go-every-where shoulder bag/backpack:
Fossil Camilla
As a shoulder tote or backpack this bag will take you from week to weekend away and back again.
It can fit your water bottle, laptop and a few folders, or your diaper bag basics and a tablet; or your book and a few toys and snacks. All along with your sunglasses, wallet and lipstick.
It has an inside pocket to keep your phone handy, too. It's always great to have a practical bag that doesn't quite scream mom."
Shop
Fossil Camilla
Carry-ons that carries your preschooler:
Trunki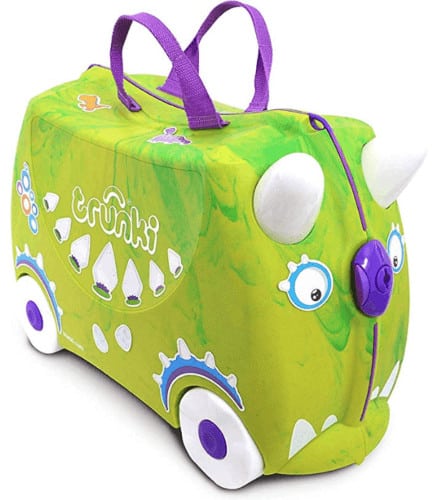 We never had Trunki, but I've always coveted these bright-colored cases when I spot one at the airport. Preschoolers love pulling it along on their own.
When they get tired, or you need to move along quickly, sit them on top and pull both together– handy when you don't want to bring a stroller.
The company sells it as a carry-on where you can stash toys and a change of clothes. But I know some parents who use it as a weekender suitcase, too.
Bonus: When kids hit school-age it works for sleepovers, too.
Jetkids ride-on suitcase & airplane bed
Stokke makes some very cleverly designed kid products and their new Jetkids line is no exception. This ride-on suitcase has a secret:
You can disassemble it to turn your toddler's airplane seat into a kid-size bed.
Beyond that (like that isn't enough), the wheels swivel and there is a shoulder strap as well as a strap for kids to hold on to.
They seem to advise putting your kids stuff in a backpack in the suitcase so you can easily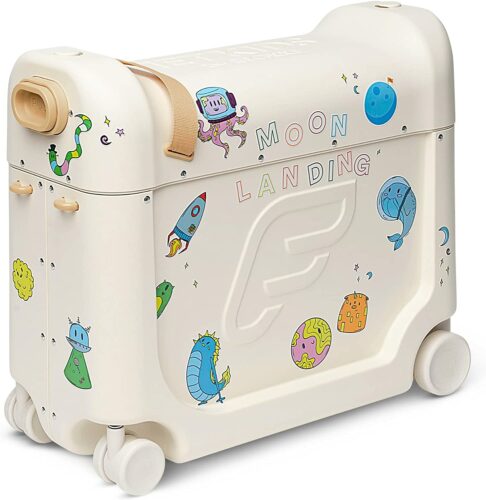 Backpack to keep you organized:
Fjällräven Raven 28L backpack
I love a backpack with lots of compartments. This LL Bean backpack one has two roomy compartments two side pockets and two discreet front pockets.
The middle pocket is ideal for a laptop or tablet and a few cords.
The deep main pocket carries hoodies, guidebooks, and other bulky items.
The font pouch keeps snacks easy to reach and the front zipper keeps phone and cash both secure and handy. The side pockets can hold a water bottle and are snug enough to keep keys convenient.
The Kids-carry-their-own bags:
Obersee Bag & Backpack
By age 6 or 7 kids can start packing their own bag (with parental review) and carrying it, too.
Small wheeler bags like this are ideal for a weekend or beach vacation. I like that the backpack isn't too big; it keeps kids from packing more than they can carry.
Both suitcase and matching backpack have a front pocket that's insulated. It comes in a range of patterns to suit boys and girls.
The only downside is that it has two wheels, not four, which can sometimes make rolling easier for kids.
Backpack for bigger kids:
Herschel Supply Co. Heritage Youth
I love this Herschel backpack because it comes in little-kid and big-kid sizes.
And it offers a range of colors that are kid-friendly but not too cute, so kids won't outgrow it the way they will bags with fairies or dinosaurs on them.
It has a handy outside pocket and water bottle holder, and an inside pocket to help kids stay organized. And the padded straps are just right for small shoulders.
Daytime wallet that turns evening purse:
Dakine Jive or Herschel Supply Co. Alder
I love small purses like these by Dakine and Herschel because i can pop one into my backpack or shoulder tote during the day and the day and use it on its own when we go out to dinner at night.
There's room for wallet, keys, phone, lipstick, and even a pocket camera or crayons and a small notebook for the kids.
The Bag That Goes in Any Suitcase
Miamica Travel Laundry Bag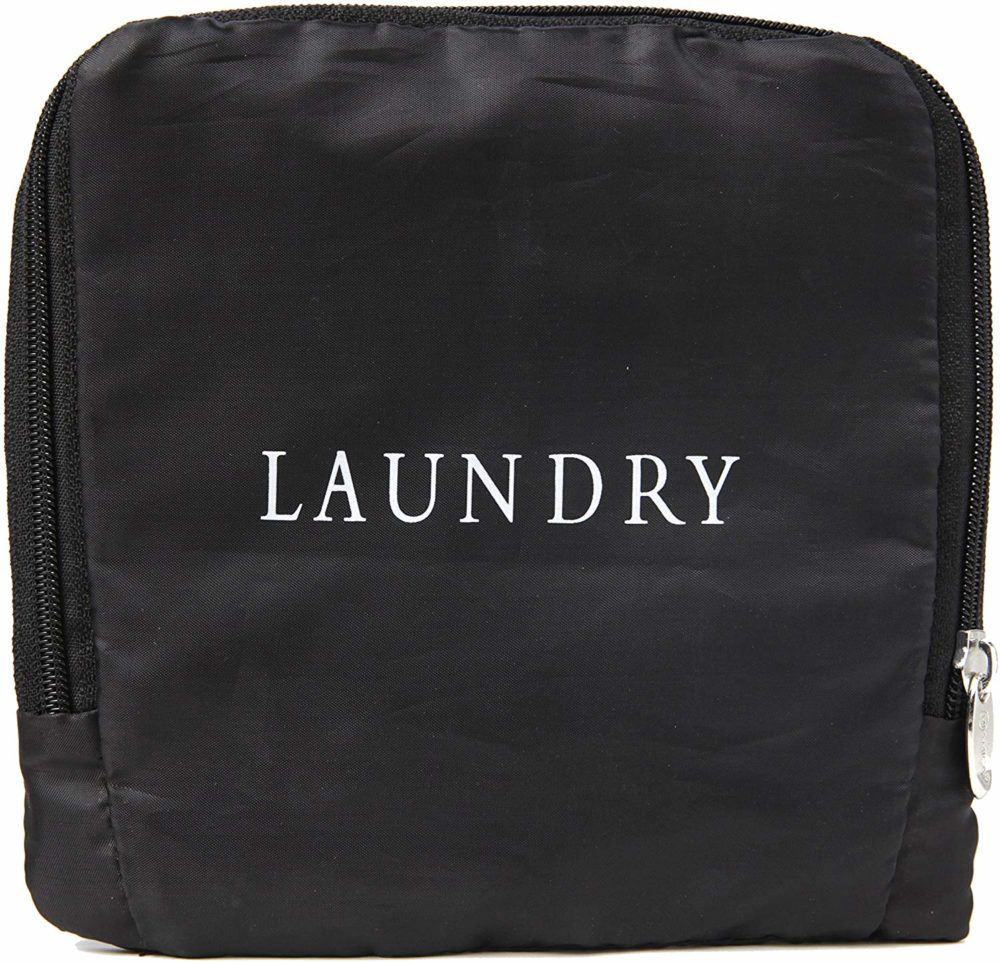 Kid laundry can be especially…messy. That's why this laundry bag is ideal no matter what kind of travel bag or suitcase you use.
It folds up compactly into a zippered case. When you open it's a drawstring bag that's moisture-proof and will keep the kids' dirty clothes well away from your clean ones!
Readers' Pick:
Baggallini Expandable Carry-On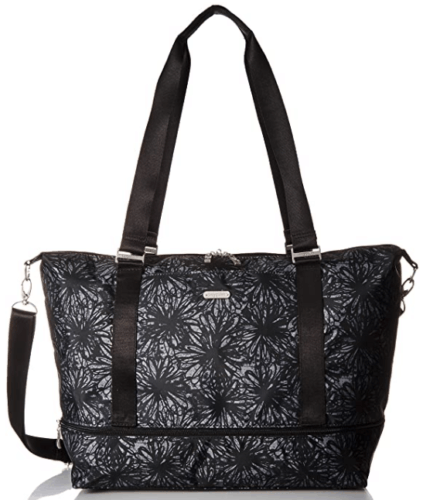 Baggallini is a new brand to me. But it has a lot of nice-looking bags that are ideal for travel from cross-body handbags with tons to pockets to anti-theft purses, to handy mini-bags for money, passport and phone.
Readers have been buying the brand's carry-on and weekend bags because of handy features that a bottom zipper to make a bag instantly deeper.
Great for the traveler who likes a bag that can do more than one thing. It's also handy if you like to shop on vacation and you tend to bring home more than you packed.
Pin it for later!