Staying organized and packing efficiently is one of the biggest challenges to traveling with kids. Really good travel bags that seem designed for families—durable, well designed and washable—make packing and organizing easy.
No one needs all the suitcases, carry-ons and totes I have here. But you'll probably want at least one.
I chose that look good and are designed to be practical. They are durable and some do more than one thing (versatility is essential for travel). Either I've used them personally or my readers love them
Most of them are pretty affordable, too. If none of these bags suit you, their best features can help you know what to look for in your own choices.
Try these travel essentials, too
• Summer Sandals That Look Great and Travel Well
• Beauty Short Cuts for Summer Vacation
• Summer Vacation Clothes Designed With Moms in Mind
You'll Want At Least 1 of These 8 Smartly Designed Travel Bags For Families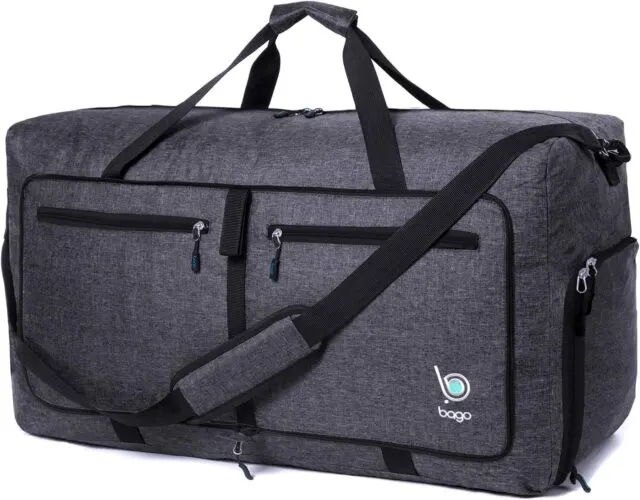 The Best Weeked Bag for Families: Bago Travel Duffle Bag
I really like this weekender duffle by Bago and it's been popular with readers since I posted it here. It's roomy, waterproof and folds up flat for storage.
It comes in a dozen colors. And it has a side zipper compartment that's handy for shoes, but can also to keep dirty baby and toddler clothes separate from your clean ones. Two zipper pockets keep small items handy.
You can choose from 40, 60 or 80-liter sizes. The smallest one is a great mini-weekender when you're going away without the kids.
The 60-liter works for a family weekend getaway. The largest one is ideal if you are packing for yourself and one or more kids in a single bag.
Tip: Packing cubes are handy with a duffel. They allow you to fit more and keep you organized so you aren't always searching the bottom of the bag for the thing you want. They also keep your shoes away from your clothes if the sidepocket is doing laundry duty.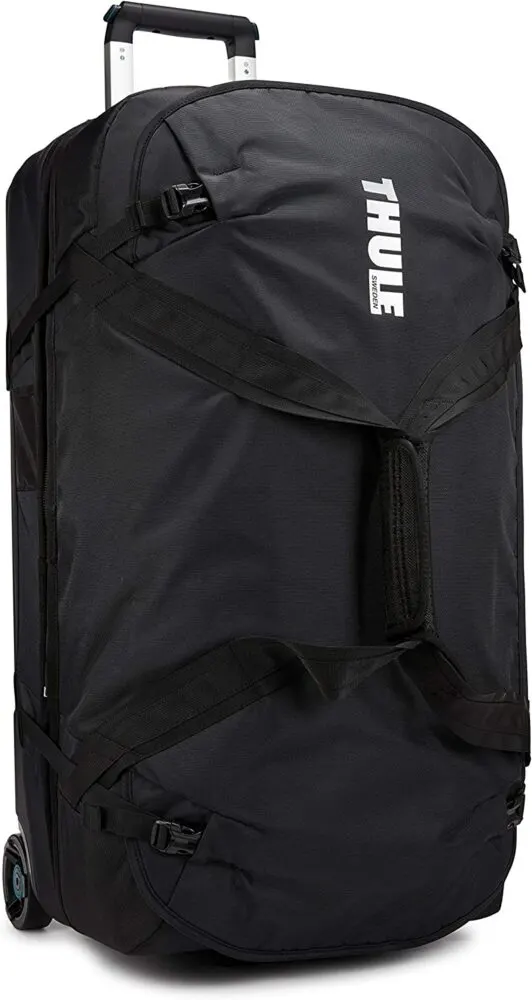 The Best Big Suitcase: Thule Subterra dual duffle bag
One of my resourceful readers turned me onto the very clever Thule Subterra Bag that's 2 bags in one.
The bottom is a large structured duffle on wheels. Then you add an unstructured duffle on top and secure it with compression straps to minimize the space it takes up.
You can use either one on its own. And it comes with a strap that you can use to attach a backpack, laptop bag or diaper bag to as you're schlepping through the airport.
Use the top bag for shoes and gear or to separate your kids stuff from yours, or for your dirty laundry. There are so many ways to organize better with this.
Readers have also been buying this Borealis Laptop Tote to use as a carry-on because it's as practical and made well as you would expect from the North Face.
It also folds flat when it's empty and becomes a backpack in a cinch.
It's water-repellent, zips closed on top, stays upright, and has a padded pouch for your laptop.
An external zipper pocket keeps phone and money easy to reach. There's a deep water-bottle pocket and has plenty of room inside for "mom" stuff like sunhats, snacks, a small diaper-changing kit, sunscreen, extra jackets and a small toy or two.
There are rip cords for attaching a windbreaker or hat that you want to keep handy, or for items that are too bulky, sandy or wet to put inside.
Use it for the beach, picnics or even a roomy city tote.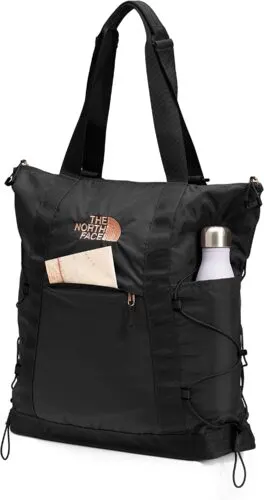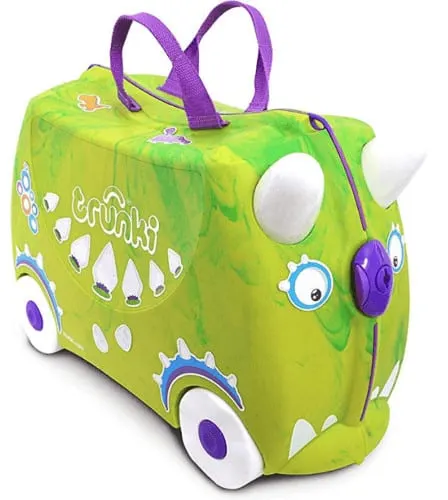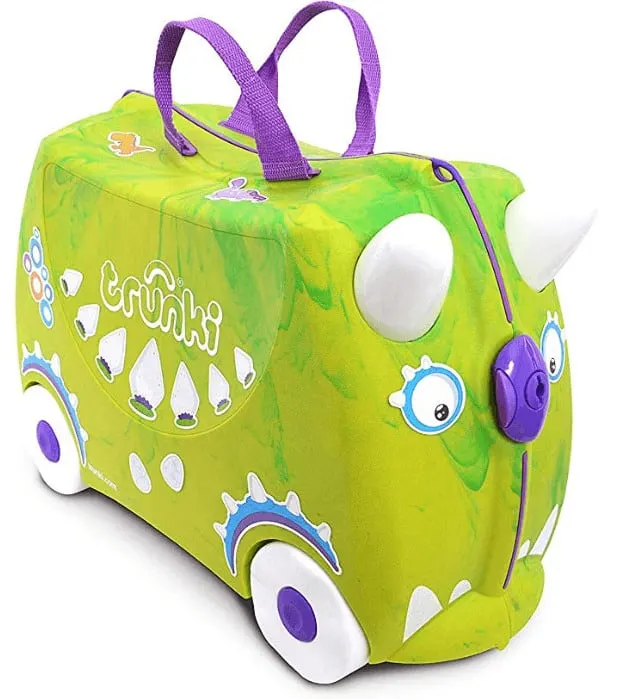 Best Bag for Air Travel With a Toddler: The Classic Trunki
We never had Trunki, but I've always coveted these bright-colored cases when I spot one at the airport.
Preschoolers love pulling it along on their own. When they get tired, or you need to move along quickly, you can sit them on top and pull both together; this is quite handy when you don't want to bring a stroller.
The company sells it as a carry-on but parents use it as a weekender suitcase, too.
For a carry-on you might put a soft bag inside it with the things your child will want on the plane. Then you can stash it up above and let them put the small bag under their seat.
Bonus: When kids hit school-age it's handy for sleepovers.
I love anything that keeps me organized withouth taking up a lot of space or being complicated to use. Like this Valante Family Travel Document Wallet, that a few of my readers have recommended.
It has space for your several passports, plane tickets, reservations and receipts. And it lets you keep some cash, a credit card, pens and your phone in one place. It seems like it would be while you're going through the airport.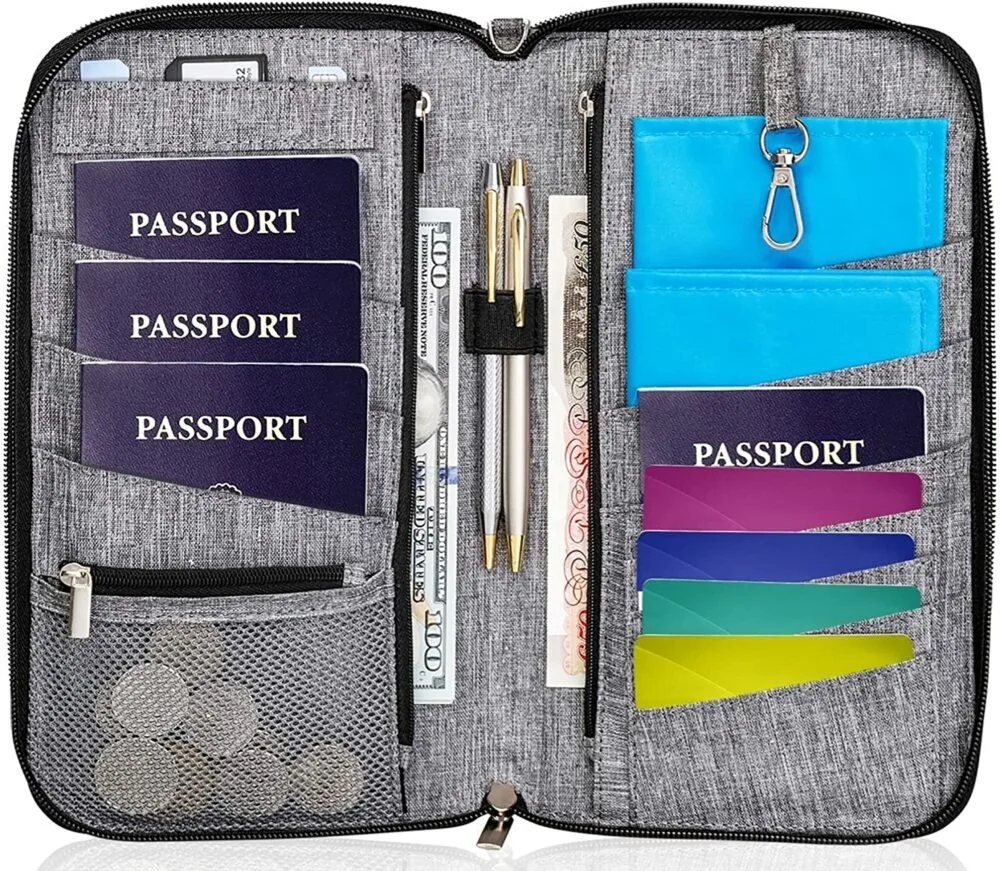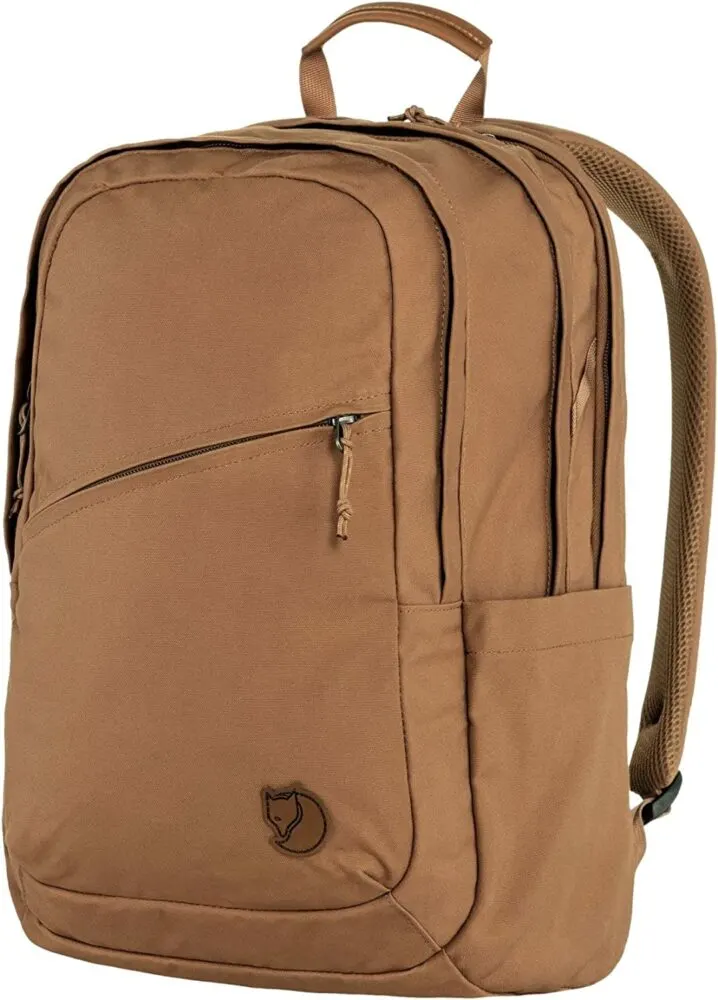 Best Backpack for Travel With Kids: Fjällräven Raven 28 backpack
I like Fjallraven's quality, but its signature boxy backpacks aren't roomy enough for me. So I appreciate the Raven 28.
It looks less sporty than most "practical" backpacks and has comfortable straps. Plus, it has three roomy compartments, two side pockets and a discreet front one.
The big pocket has padding for a laptop and a mesh inner pocket, plus room for bulky items like hoodies.
The two smaller main pockets and two side pockets let you keep water bottles and snacks away from electronics, paper and clothes.
The front zipper keeps phone, cash and keys both secure and handy.
The Best Crossbody Bag For Busy Moms: Nautica's Diver
I bought Nautica's Diver Crossbody bag for our trip to Universal Studios last spring because I wanted a bag i could keep with me on all the rides.
I've been using it ever since. It's light and has room for all the basics. I even managed to fit a foldable sunhat in it.
It's ideal for moms who want all the other things they carry for the kids.
2 inner pockets hold sunglasses, keys and lipstick, an outer zip pocket keeps my phone handy. And an inner zipped pocket is handy for stashing some cash and cards when I don't want a separate wallet.
It comes in some bright colors that are fun for the summer, but muted lilac, black or navy blue are great all year round.
It's nylon so I can wipe it or or pop it into the washing machine and it dries quickly.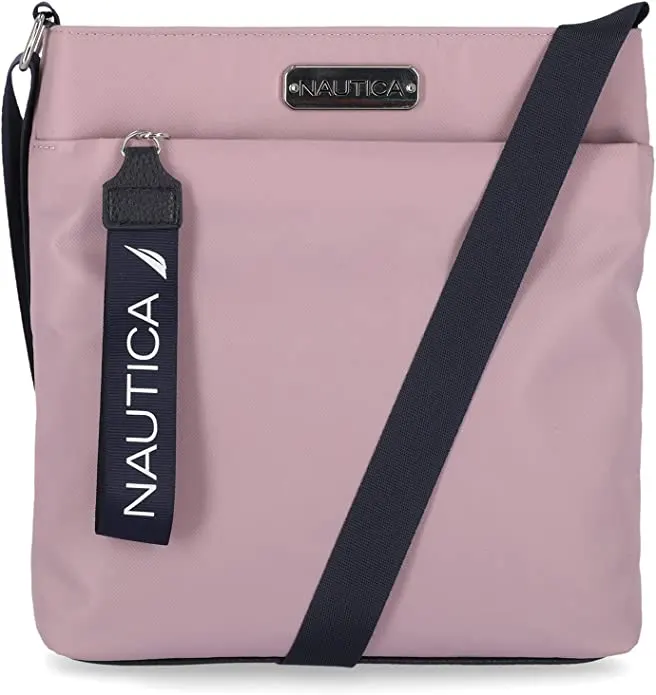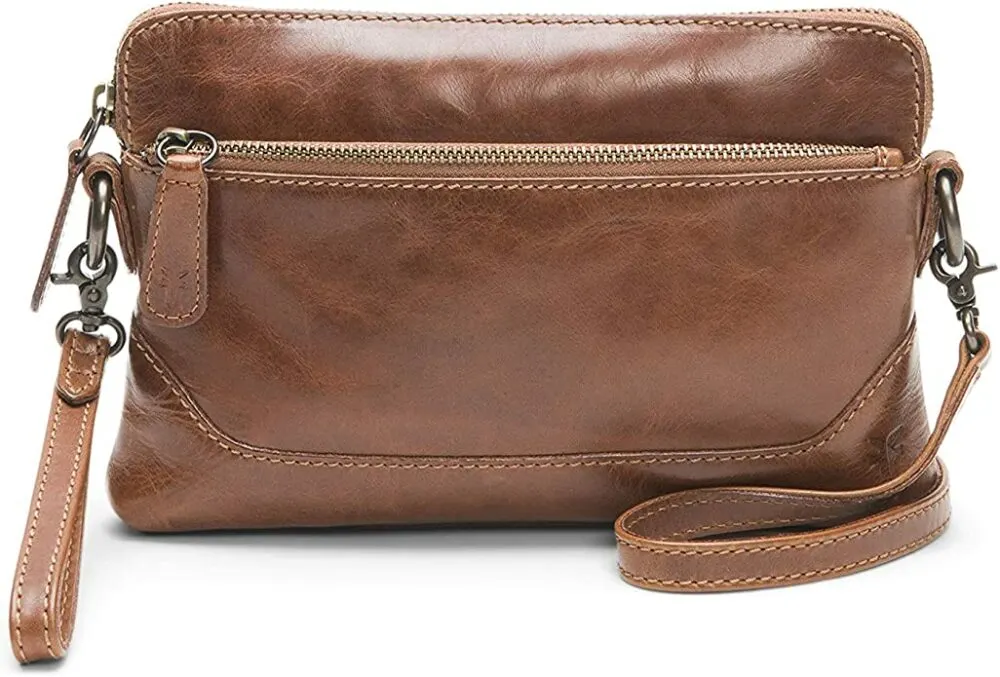 This Melissa crossbody wristlet from Frye qualifies as a travel bag for families because mom doesn't always want to schlep a large bag everywhere she goes, like to dinner.
It has slots for credit cards and I.D. and a main pouch for cash. Or use the secure outside pocket for cash and put phone, lipstick, keys inside.
It's small enough to tuck into a diaper bag, backpack or tote by day. At night you can wear it as a wristlet or use the detachable strap for a compact crossbody bag.
It comes in a dozen colors but I really like the classic cognac.
Pin it for later