My first cruise was on Royal Caribbean's Adventure of the Seas. I began the trip as a cruising skeptic and ended up a huge fan. My love for cruising truly soared, though, once I started sailing with kids.
My family has so far sailed on more than 20 ships with a variety of cruise lines. Eight of those vacations have been with Royal Caribbean, which puts in a strong effort to be one of the best cruise lines for both kids and parents.
Based on our experience, here are five easy hacks to help you plan a trip and make the most of your own first family cruise vacation.
---
Explore Our other ideas for Cruise Vacations
Read Elaine's Guide to Cruising With Kids
---
5 Pro Tips For Planning A Royal Caribbean Cruise With Your Kids
1. Pick the Best Ship For Your Family
Royal Caribbean has more than two dozen ships at ports throughout the world. While just about all of them have a wealth of activities for kids (and parents), they do vary in their amenities and the experiences they offer.
Here are a few options for families:
• Ships for families that love water activities
Water activities can really vary across the fleet. Newer ships tend to have the more daring slides and splash zones, followed by refurbished ships. Wonder has the new Playscape water park for little kids. If a ship has the Perfect Storm slides it's likely to have the newest, splashiest water features.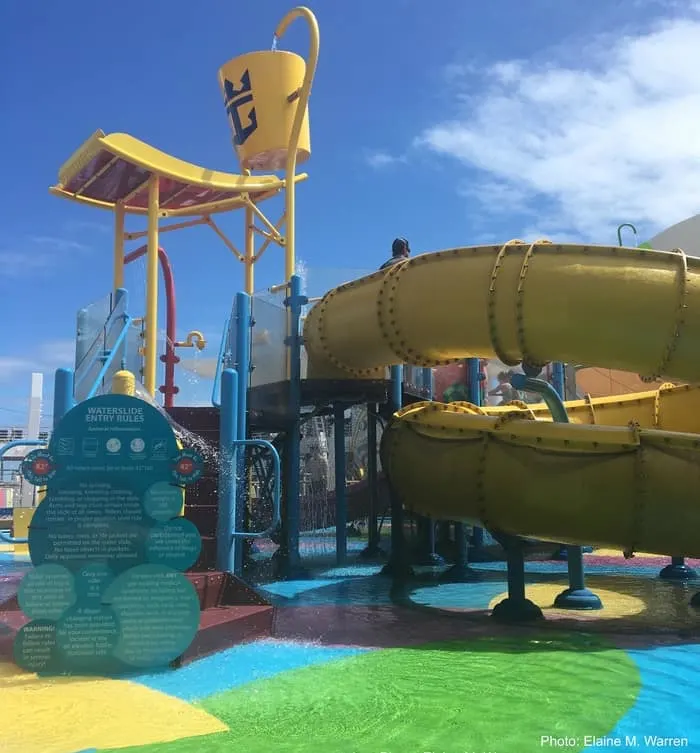 In addition to the regular pools, some ships have an H2O Zone splash pad for kids. The H20 Zone includes lots of toddler and preschool favorites like spray cannons, water geysers and wading pools.
It usually includes an area for kids in swim diapers (for health reasons cruise ships rarely allow kids with swim diapers into the pools).
Where to Find it: Allure, Anthem, Freedom, Oasis, and Quantum.
Moving up the chain, some ships Royal Caribbean ships have the more elaborate Splashaway Bay. A more tricked out splash park here includes a large tipping bucket, and small and medium water slides (far right).
Where to find it: Majesty and Ovation, Spectrum, Wonder and probably the Icon.
One large step up from Splashaway Bay is the Perfect Storm. This is a set of two or three very large water slides for true thrill-seekers. These slides have a 48-inch minimum height requirement.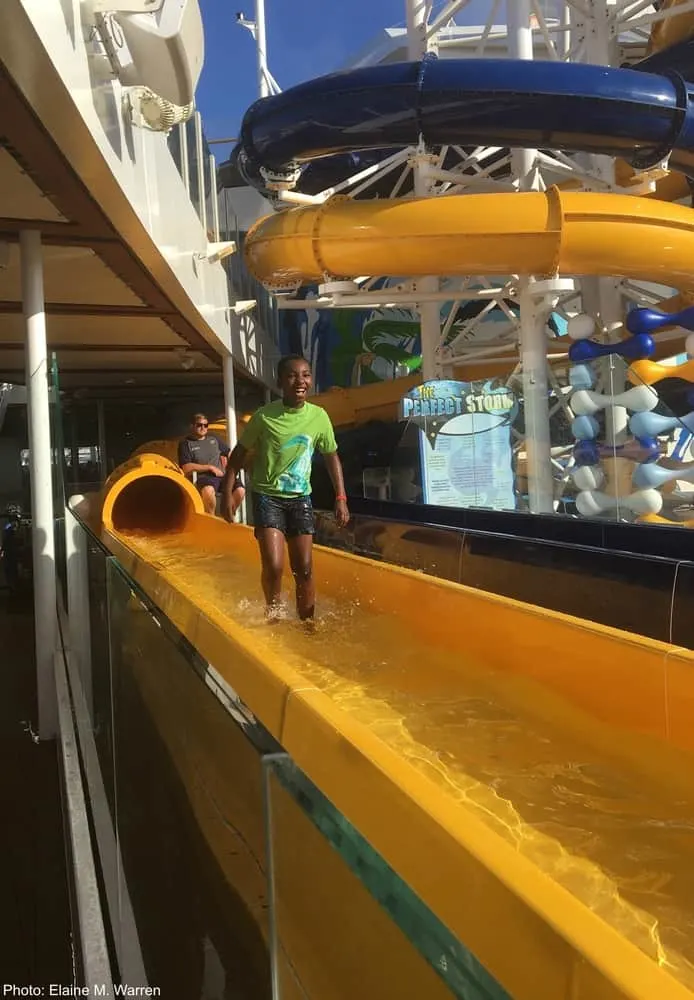 Where to find it:Adventure, Harmony, Liberty and Symphony. The refurbished Independence and Mariner have the two-slide version (Mariner doesn't have Splashaway Bay.)
• Ships for Families With Teens
Almost all of the ships have one or two adrenaline-pumping activities like a Flow-Rider surf machine or climbing wall. But the newer the ship the more you'll see archery, soaring zip-lines, indoor skydiving, laser tag, immersive computer games and augmented reality games.
Where to find it: The Spectrum, Symphony and Icon
• Ships for families with babies and toddlers
Cruise lines are getting better at catering to families with babies and toddlers. But if your cruise includes kids younger than 3YO it's worth noting that Royal Caribbean offers more than most when it comes to child care options and activities for babies and toddlers.
Where to find it: For a while you would only find drop off nurseries on a few ships, but the list is now long enough that it's easier to name the ships that do not have a drop-off nursery: Adventure, Explorer and Jewel.
2. Tips for Choosing the Best Cabin for Your Family
If your family needs more space than typically found in a standard cabin, but you don't want to spring for the price of a full suite, seek out a ship that offers "Spacious" or "ultra spacious" cabins.
These state rooms are quite spacious and significantly less expensive than a true suite. They can generally sleep up to six people are available in the interior, ocean-view and balcony levels to suit most budgets.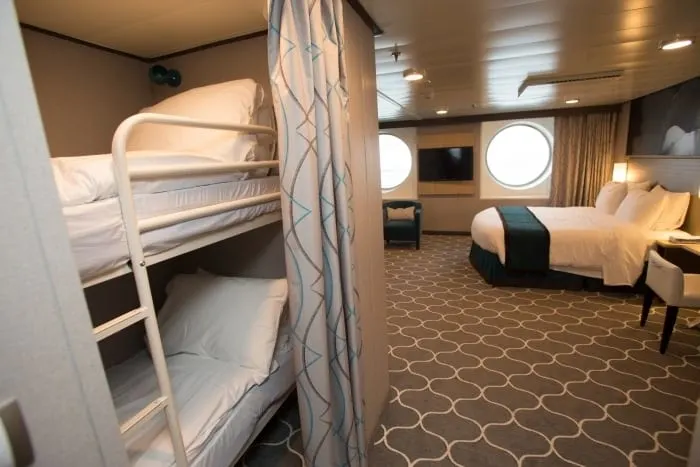 These larger cabins are not always obvious and they sell out quickly. So be sure to call Royal Caribbean and ask about them specifically when you make a reservation.
If your kids are old enough for a little independence you can also book two adjacent rooms (connecting or not) or rooms directly across the hall from one another.
Sometimes booking two cabins for two people each can be more cost-effective than booking four people in a suite. After boarding, the adults can get key cards for both rooms from guest services.
Don't forget to print my Cruise Vacation packing list!
3. Nail Down Some Dining Arrangements Early
When you book Royal Caribbean cruise, you will have a choice between fixed seating in the main dining room at a specified time or "My Time Dining" where you can eat at any time between 6:00 and 9:30.
If you're traveling with small kids and that main-dining-room experience is important to you, I strongly urge you to get fixed seating on the early side. This guarantees you a table every night without extra waiting or lines.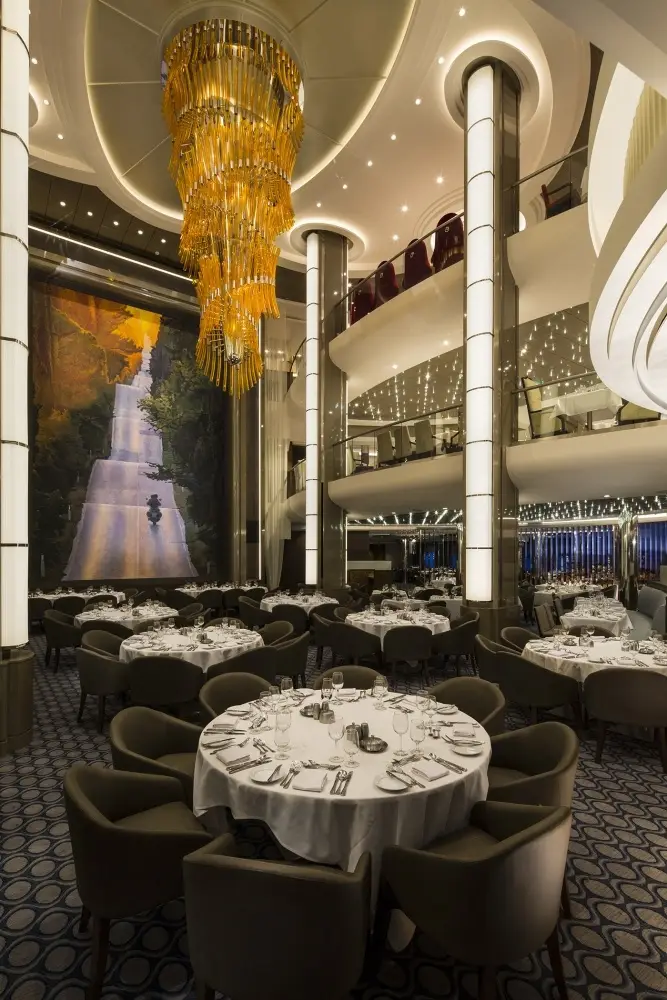 If you choose My Time Dining, make your dinner reservations at the first possible opportunity (online, if possible) to avoid undesirable 9:00 p.m. reservation slots, or waiting in line for the chance to be seated earlier.
Keep in mind the main dining room isn't your only option. A buffet and other casual restaurants will be included in your base price and there are restaurants that are add-ons, too. But not all of the included options are ideal for dinner.
Moreover, the main room provides the classic cruise-ship dining experience, which you'll want on at least a few nights.
Tip:If you're making reservations before getting onboard, check the timing of the evening shows and kids activities. If your family doesn't want to do those things those can be good times to dine. If you do want to do them, keep in mind lots of other people will be planning dinner around them, too.
4. Be Choosy With Your Add-Ons
• Comparison shop your shore excursions
Booking your shore excursions through the cruise line is convenient, but you can save money if you do a little comparison shopping online.
For example, On a cruise we took that stopped at Bonaire, Royal Caribbean offered a beach excursion package at a nice resort that included a buffet lunch for $94.
A competing excursion company offered the exact same beach resort but without the lunch for $40 per person. Confident that we could find lunch for four people for far less than the $216 difference, we chose the local option.
Note: If you don't want to handle the ports of call entirely on your own, you can find many well-reviewed and reliable excursion companies online. Two that we have used with much success are Shore Excursions Group and Resort for a Day.
Get the All-Inclusive Photo Package and Max Out
The ships always have photographers stationed at embarkation and in every port and roaming its private islands.
The photographers also travel all over the ship throughout the day, visit the primary dining venues at dinner and set up prominent photo stations.
With the all-inclusive photo package, you get a copy of every photo that includes at least one member of your cabin party (no matter who else may be in the picture). You don't have to worry if you miss a shot. And honestly, a lot of their photos will be better than yours.
• Consider an all-inclusive Internet package
Royal Caribbean's "Voom" Internet package boasts the fastest Wi-Fi on the seas. The base fee usually includes unlimited Internet use for one to four devices. Then the price increases with each additional devices.
Tip: Each package links to a specific password and not a specific device. The numerical limit only applies to the number of devices that can be used at once, not to the total number of potential devices.
Depending on how much social posting and email checking your family needs to do you might not need a package for the total number of devices you have.
But if keeping in touch with home isn't essential and you don't want your teens burying their heads in screens for the whole trip, you can alwaysve some money by skipping this package and limiting Wi-Fi use to a portion of your port days.
• Skip the Soda Package
On the surface, the soda packages can look rather attractive: You get a special souvenir cup that has an embedded chip linked to cool self-serve soda machines.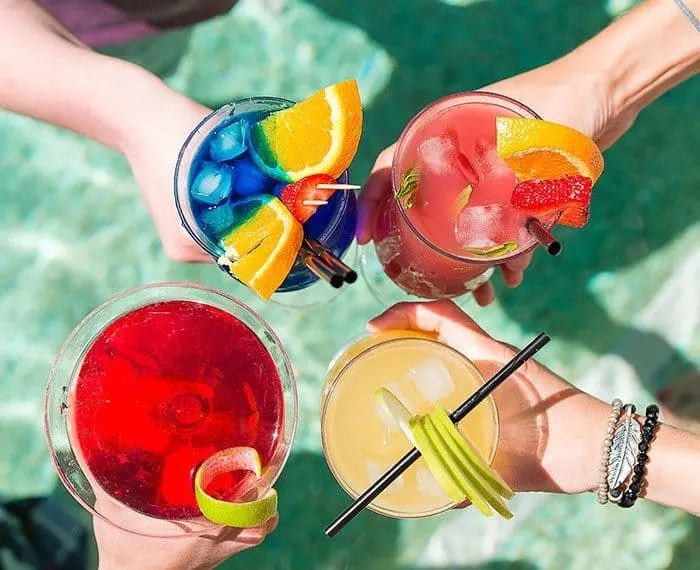 The machines dispense many different fountain drinks including flavors not commonly found on shore. In theory, you get unlimited refills in your cup via the machines as well as from the bars around the ship.
In reality, there aren't all that many machines around and they're often out of service. Plus, the kids you have to remember to cart around the cup AND not lose it. All-in-all it's highly unlikely that your kids will drink enough to break even on the price. And you probably wouldn't want them slurping that much sugar, even on vacation.
5. Keep Track Of Packages You Buy Before Boarding
Prior to your sailing, you'll be offered various extras like beverage packages, Internet packages, photos and more. These packages will be advertised as discounted deals that are a better value than what you will find on board.
I have found this to be usually true, but not always. On two occasions we discovered better pricing during special sales on board. So once on the ship, look around. If you see a better deal than you received online go to guest relations and ask them to reconcile the difference.
Royal Caribbean provides a wide range of great choices for families with kids in different age groups and needs. Use these tips to craft a trip that's just right for your group.
Pin it for later!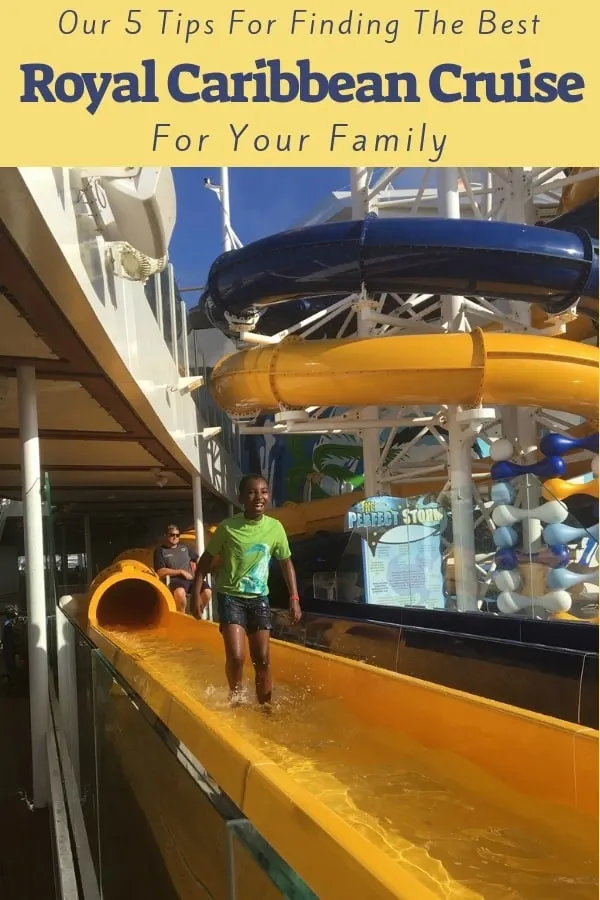 Elaine M. Warren and her two kids know that family cruising is an excellent and accessible way to explore the world. They have traveled through Europe, the Caribbean, South and Central America, Asia, Australia, and the Middle East on cruise ships. She writes about cruising at The Family Cruise Companion. You can follow her on Pinterest.