The Question:
How can we find discounts on a popular cruise?
I'm a parent looking to take a cruise the Royal Caribbean's newest Oasis-class ship, Wonder of the Seas but for a family of 7 the prices are extremely high. We have two young babies, plus a 7, 11 and 13 YO. I was wondering if you had any deal recommendations or tips for saving money on a cruise on a popular new ship.
FamiliesGo! Replies:
It's difficult but there are options
Wonder of the Seas is Royal Caribbean's newest ship, Like the four previous Oasis class ships that have launched since 2009, it has a few new tweaks. These include a new suite-class "neighborhood' of staterooms, a new AquaTheater and an underwater-themed Playscape play area for kids with slides, climbing walls and games.
New ships are always in high demand, and rates are often significantly higher than for other ships in the same brand and for similar itineraries on older ships and other lines. And the cheapest rooms typically sell out first. In short, your ability to save money is going to be limited, but here are some ideas for trimming the cost at least a bit: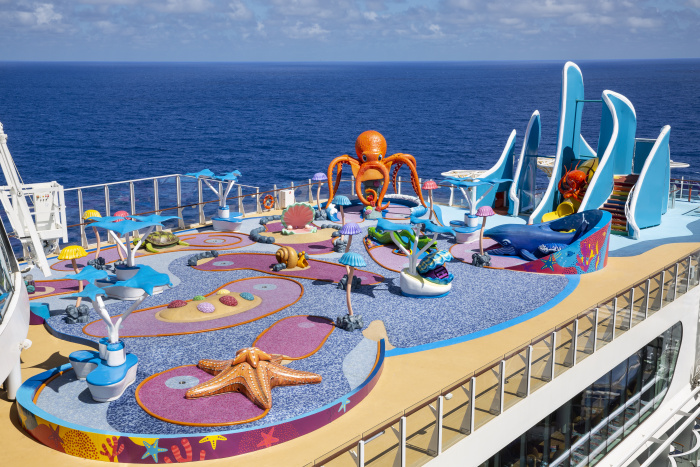 This ship sails the Mediterranean in summer and the Caribbean in winter. For the remainder for 2022, the least expensive, interior rooms are sold out on the Mediterranean cruises and the outside view rooms, the second least expensive option, have limited availability. If you look ahead to summer 2023, at the very least you should be able to secure the interior-rooms rates.
Staring in winter 2023 the ship will be doing week-long Caribbean cruises. These cost more than RC's other Caribbean itineraries but they start a bit lower than the Mediterranean trips and they still have interior rooms available. Plus, when I did a few experimental bookings the Caribbean sailings seemed to offer better discounts for kids.
Cruise companies sometimes offer three- or four-night trips on a new ship, for people who want to experience the latest offerings more than they care about a cruise destination. In this case you can book a three-night Florida-Bahamas cruise in December. It leaves from Port Canaveral. Rates start at $860 for an interior room and you'll have enough time to sample what's new on this ship. especially if you skip the port day.
Get even more ideas and tips for family cruise vacations
In general, I've had the best luck calling the cruise ship companies directly when I book. The agents can be very helpful. You can ask which sailings for this ship will have the best deals for your group and if there are any sales or new discounts coming up that you should wait for. They might even tell you when prices will start to drop for the new ship.
Regardless of how you actually configure yourselves when you get on board, when you book, put an adult in each room to maximize any kids-sail-free deals or discounted kids rates. These usually require a paying adult in the same room.
Sometimes you can save money by letting the cruise companies assign your rooms when it gets close to the sail date instead of you choosing them in advance.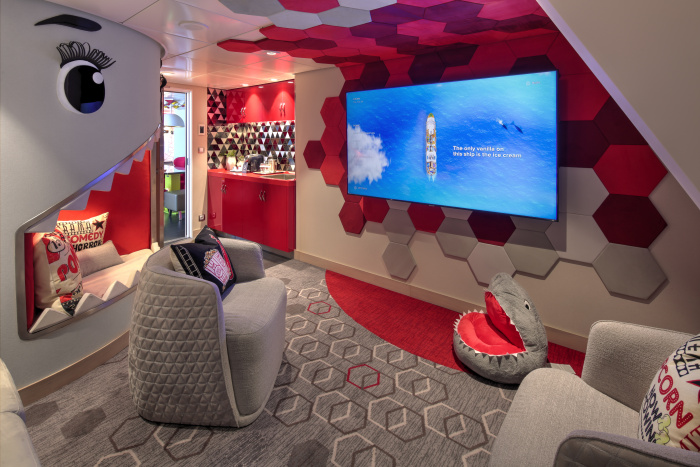 The rooms will be in whatever class you book so you can't get stuck with anything terrible. And once in a while you can even land a free upgrade. Just make sure that they can honor any requirements you have for adjoining or adjacent rooms if you choose this option.
It can't hurt to check for deals on sites like Cruise Critic, Cruise Direct, Cruise Compete and Cruise Plum. One of my cruise savvy travel writer friends likes VacationsToGo, but you have to register with the site to see the deals. Of course, for a new, in-demand ship prices you're not going to find huge bargains. Prices could be more or less the same as what the cruise company is listing — unless you wait until the very last minute, which isn't practical when you are dealing with school and activity schedules.
Finally, Symphony of the Seas and Harmony of the Seas are Oasis class ships that launched in 2018 and 2016, respectively, making them fairly new ships. They have many of the same room options, amenities, entertainment and activities that Wonder has, along with their own unique features. But their rates start well below Wonder's. You can always book one of those for this winter and look at Wonder for winter 2024, when demand and prices should slacken a bit.
A Note About Age Requirements
You don't say how old the babies are. Keep in in mind that Royal Caribbean's age policy does not allow infants younger than 6 months to sail on any ship. Babies need to be 12 months on cruises that have three or more consecutive days at sea. Port days at Perfect Day at CocoCay in the Bahamas are considered at-sea days for this policy. The company also requires there be someone 21 years or older in every state room unless the state rooms are connecting.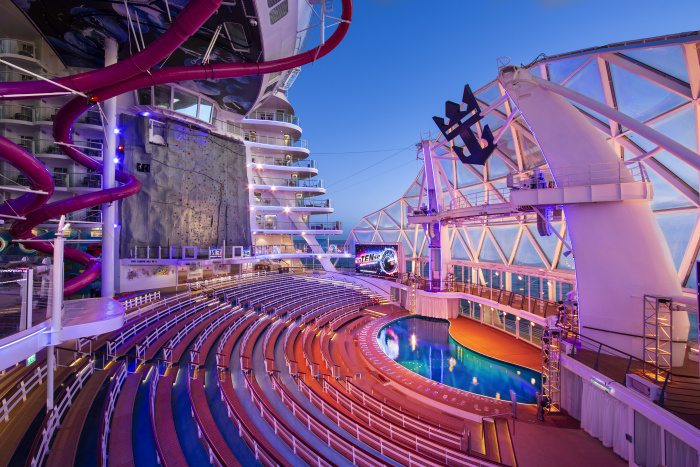 Ask FamilieGo! a questiion
Send me an email with your travel questions and challenges. I'll do my best to answer it.
Read more answers to readers questions in Ask FamiliesGo!
Pin it for later!