I've spent a lot of time exploring the east side of the Hudson River, but haven't spent a lot of time on the west side since I was a kid.
I recently had the opportunity to get reacquainted with the area between the Shawangunks and the Catskills, an area that's ideal for a weekend getaway from New York City.
I stayed overnight in New Paltz and Saugerties, two destination towns you can't go wrong with. I did this trip as a girlfriend getaway. But I could have enjoyed most of the things we did on a kid-free romantic weekend with Rich, too.
There are lots of opportunities to get outdoors up here, especially if you prefer your hikes and bike rides on the mellow side. There's good locavore food and fun restaurants.
There seems to be more beer, cider and spirits coming out of the Hudson Valley every time I visit. With Woodstock nearby, there are plenty of cool music venues, too.
Read More
• A Kid-Free Hudson Valley Weekend
• A Kid-Free Weekend in Bucks County, PA
• Cooperstown, NY: For Families That Love Baseball & Families That Don't
An Upstate New York Weekend For Outdoorsy Couples:
Where To Stay + Things To Do & Eat
Hotels and Inns for Couples
The Upscale Diamond Mills Hotel
The Diamond Mills Hotel feels like a place designed for enjoying a glass a wine, a good book and quiet conversation in a lovely space. In short, it's exactly the sort of destination hotel you want for a kid-free couple weekend.
The hotel sits where Esopus Creek turns into a tall, wide, thundering waterfall just before it empties in the Hudson.
The falls powered a paper mill that was built on the site in the 1880s and inspired the hotel's brick and stone exterior and boxy shape. The waterfall is the centerpiece of the property.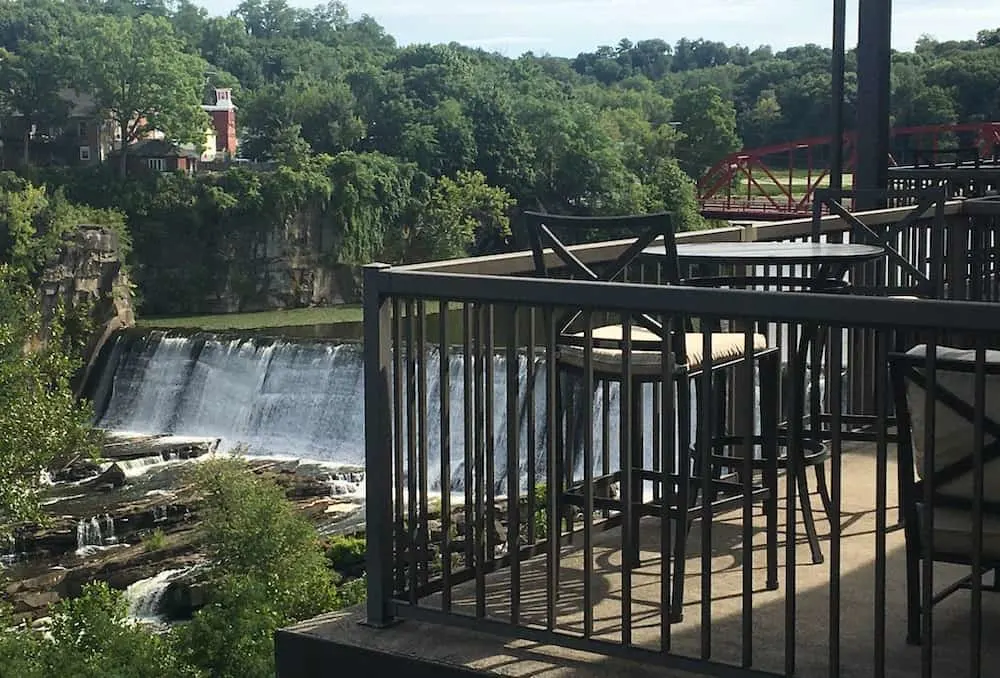 All 30 of the Diamond Mills' rooms face the falls and have balconies where you can sit out and gaze at them, ideally while sipping a local artisan beverage that you've bought on your day's excursions, as well as your morning coffee.
The high-top tables on the balconies aren't necessarily the most comfortable places to sit, but they do provide a great vantage point for taking in the scenery.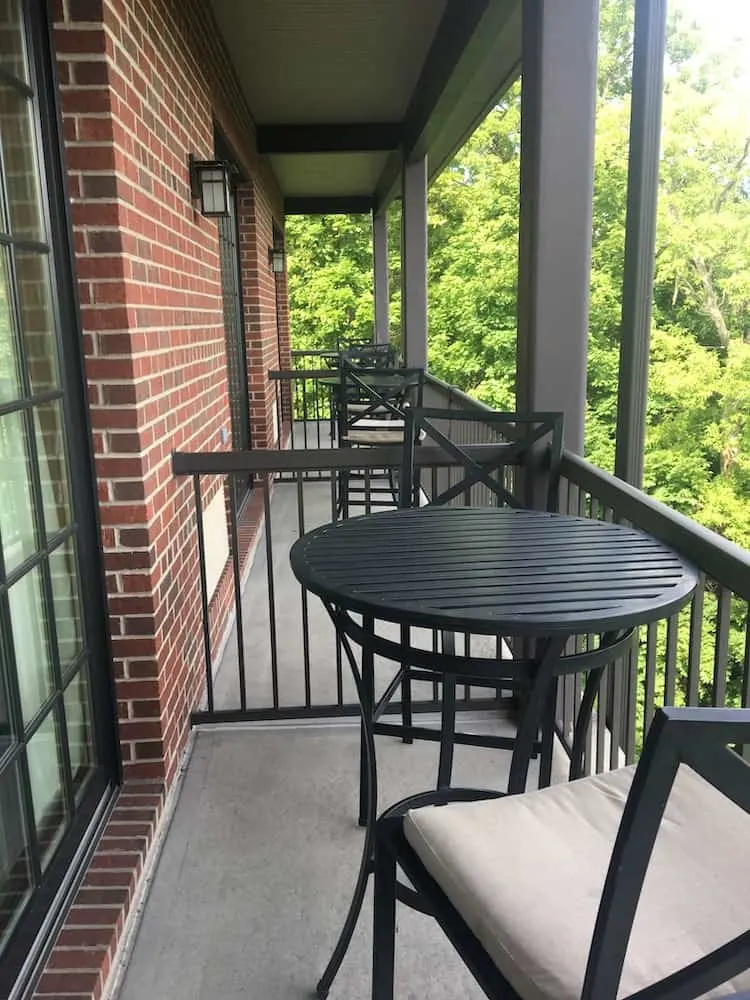 A handful of suites have large patios with outside living rooms. If I'd booked one of these I'd spend a lot of time here with my feet up and the latest best-seller on my Kindle.
The hotel re-opened after a brief Covid closure and the rooms feel bright recently spiffed up. They have ample room for two people to spread out. The bathroom is small, which is typical these days, but the sink is separate from the rest of it, which I really like.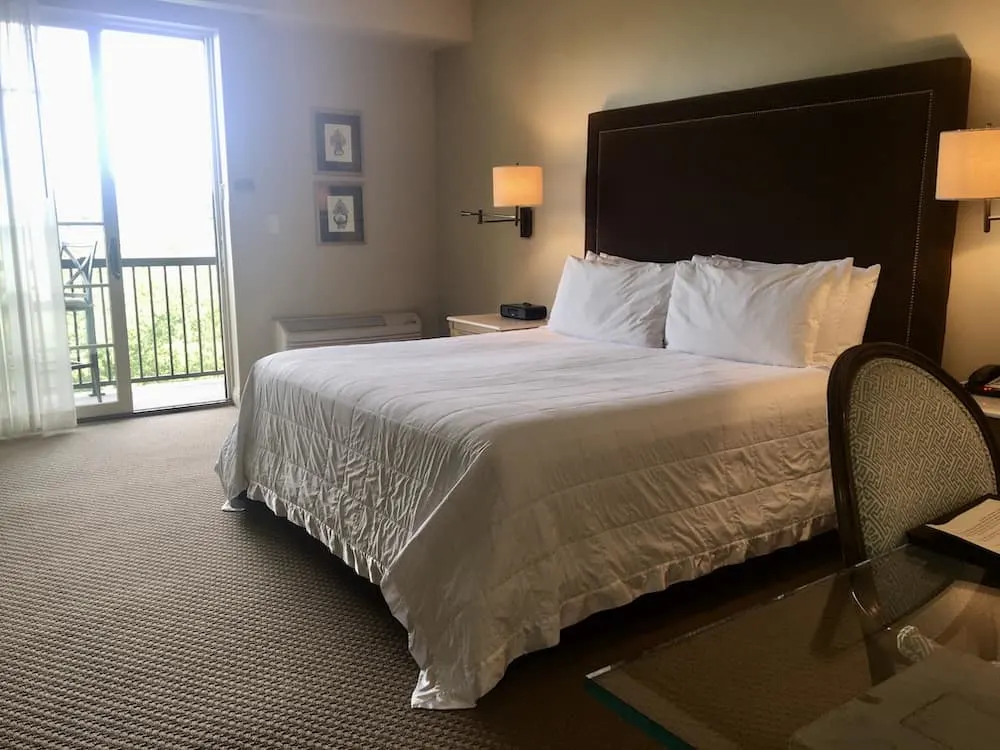 Tip: When you go, make sure to read the card in the bathroom that explains the lights, heat lamp and radiant floor, or you'll miss out on some nice pampering.
I wanted to leave my balcony doors open overnight for the cool breeze and white noise of the waterfall. Alas, it was still summer and too many gnats and mosquitos were finding their way in. If it were a few more weeks into autumn I probably could have.
There is a cozy lounge off of the lobby with its own creek-facing balcony and inviting chairs. Ask the front desk to point you to the outside stairs that will take you down toward the creek for a closer look at the falls.
If you're feeling guilty about leaving the kids behind for a weekend, pop into Krause's confectionary next door and pick up some chocolate-covered gummy bears for them; or some of the shop's fun molded chocolate. Guilt assuaged.
Tip: The setting is ideal for wedding receptions, which the hotel is banking on. During wedding season I'd make a reservation well ahead.
The Intimate Mountain Meadows B&B
We really enjoyed our night at Mountain Meadows Bed & Breakfast. It's the right choice for couples who want a more intimate experience and another lovely setting.
The Best feature of this B&B, which is on a residential road three miles outside of New Paltz, is probably the backyard.
It has four acres with a healthy, colorful garden that attracts humming birds, a chicken coop off to the side, a fire ring, Adirondack chairs and stellar views of Skytop Tower on nearby Mohonk Preserve (photo top).
We bought some local hard cider in town and spent our evening by the fire that our hosts Joe and Maria had made outside.
We made sure to use the s'mores fixin's they'd left in the kitchen, chatted with some of the other guests and watched a family of deer wander back and forth across the yard.
We returned to the yard in the morning to linger over coffee and plan our day.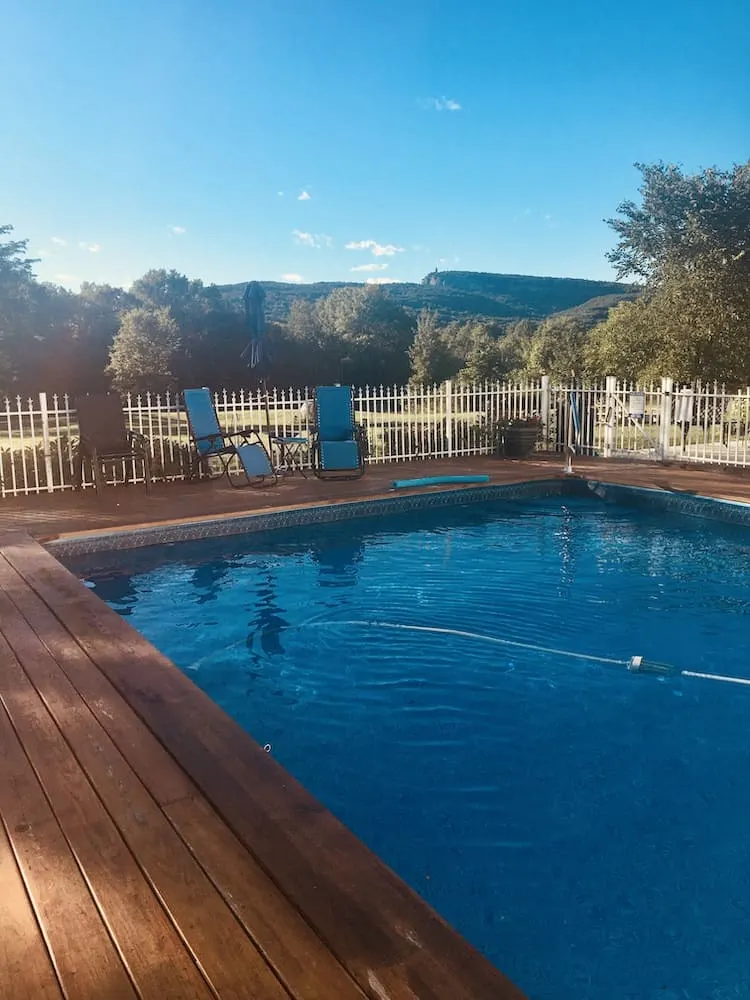 The B&B had a sizeable pool —bigger than many hotel pools I've swam in. There's a hot tub, too, which we couldn't use because of Covid 19.
Maria told us that in normal times they use it year-round. Some New-Year's-Eve guests have watched the Mohonk Mountain House midnight fireworks while soaking in it.
There's also a den with a fireplace and plenty of board games. The weather was too nice to use it, but it's where we would have settled in for the evening had it been raining or later in the fall.
Breakfast on the patio in the morning included mini vanilla scones with butter and whipped cream, and fluffy scrambled eggs with Italian sausage and a tomato and bread salad. It was so good I tucked in before I could take any photos!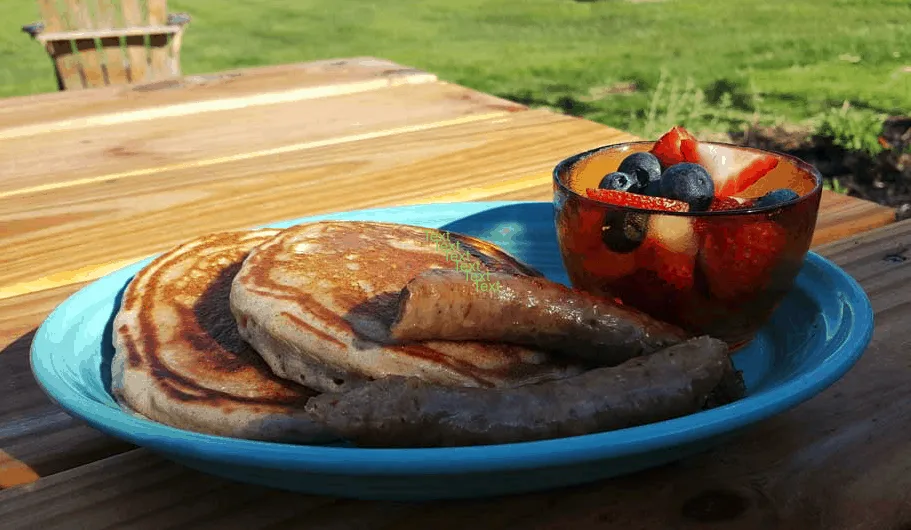 She told us she changes up the breakfasts every morning pancakes are one of her staples and most breakfasts have fresh fruit.
Maria is that unique person who loves running an inn and talking to her guests and equates hospitality with cooking and feeding people.
In addition to the delicious breakfast and s'mores, we had freshly baked oatmeal cookies in our rooms and she told us to help ourselves to the homemade strawberry sorbet in the freezer. We were also welcome to use the fridge if we had things we wanted to keep cold.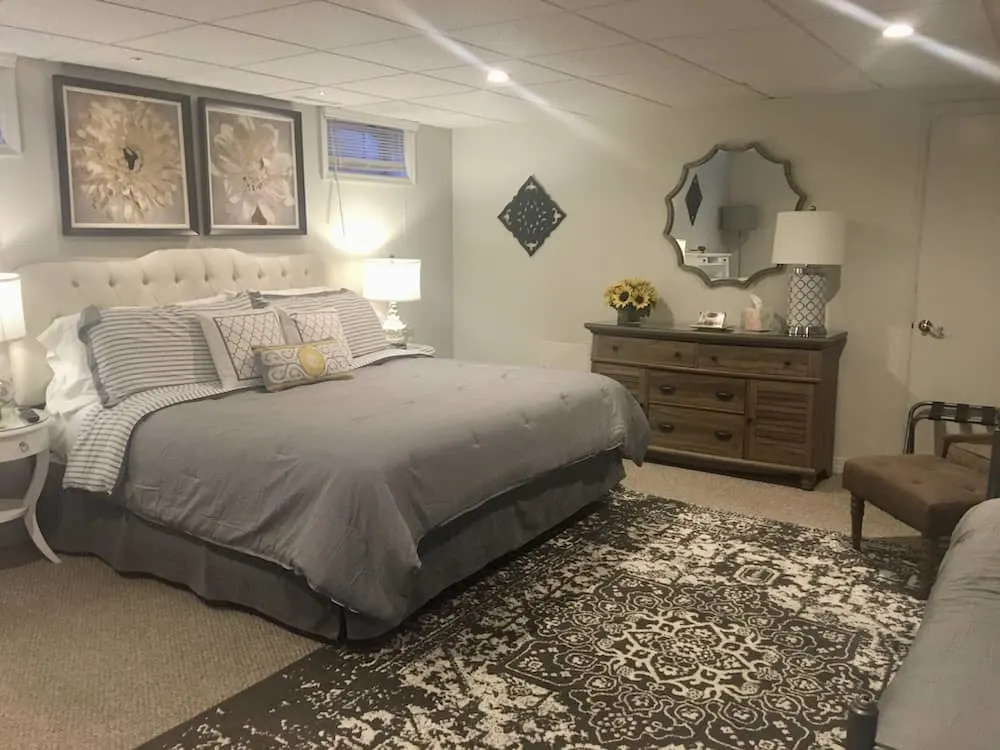 I stayed in one of two larger rooms that have a queen bed and day bed. My travel buddy has a small room with a full-size bed.
The bigger rooms are preferable if you like to spend time chilling in your room in the morning or evening. One has some mountain views. Two or three adults could share these rooms on a girlfriend getaway.
The smaller rooms are cozy but are fine if you're the kind of folks who are out all day or relaxing on the property and just need your room for sleeping.
Tip: The two rooms with day beds can work for family with one tween or teen or two smaller children.
Families are welcome and kids will like the pool and having the big yard there they can play tag or kick a soccer ball. But it's a small inn that's also the owner's home; loud and rambunctious behavior is not okay.
Covid Care: We wondered about staying in a such a small inn during a pandemic but guests wore masks and were respectful of each other's space.
The patio table was big enough for us to spread out at breakfast. And Maria told us she's been sending here sheets and towels out to a laundry services that uses very hot water and bleach.
Where To Hike & Bike in Upstate NY
Minnewaska State Park & Mohonk Preserve
Minnewaska State Park, only 12 miles outside of New Paltz and is a good size with a wide range of hikes from flat and easy to all-day uphill. Not surprising, it's one of upstate's most popular parks on fall weekends and holidays.
Our plan was to do the easy, scenic three-mile loop around Lake Minnewaska. But the upper parking lot closest to the lake was closed for construction and lower lot added a one-mile walk straight uphill to the hike.
We decided we weren't feeling that ambitious and changed course to the in-and-out Awosting Falls trail that was a bit more than two miles round trip.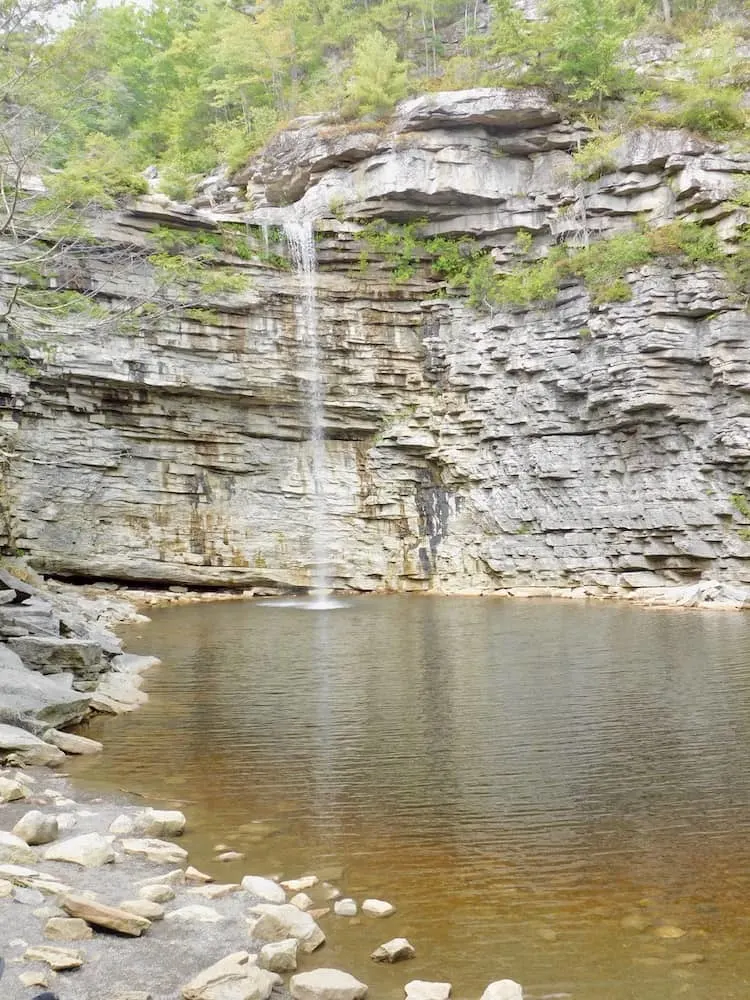 It was a fine choice for a scenic walk. The tall, skinny falls are at the start of the trail. You can climb over some rocks and get to the bottom of the falls, which some families were doing.
I think wading is discouraged but on a warmer day people probably would have been doing it anyway.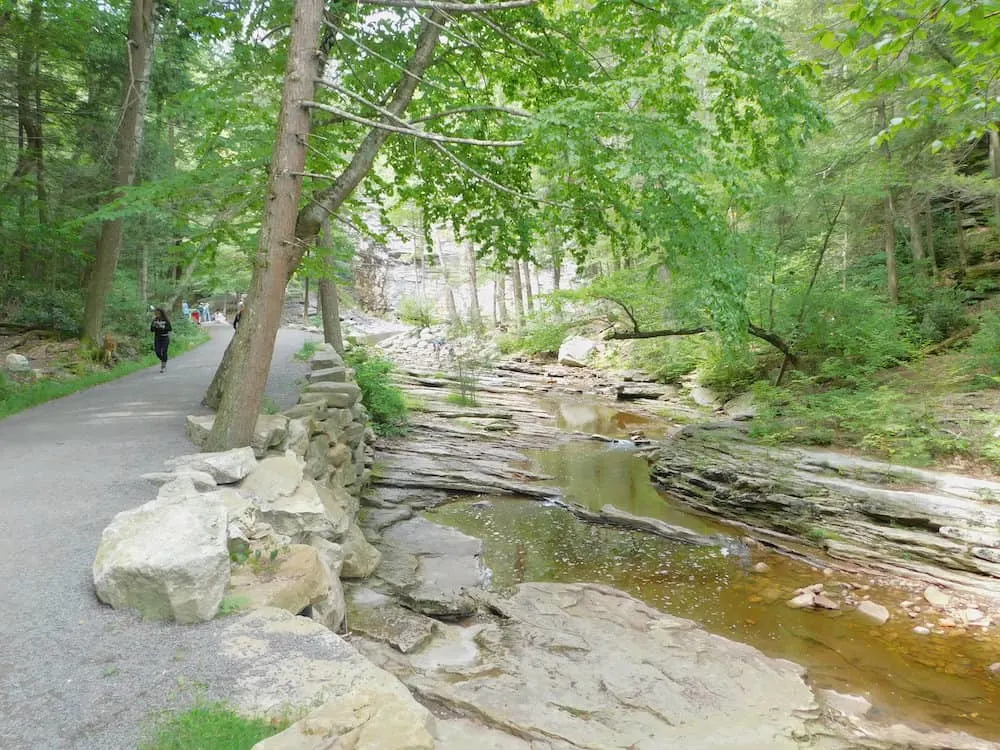 When the stream that flows down from the falls is low you can walk along the wide flat rocks of the riverbed, which is what all the kids were doing.
Or you can walk follow the packed dirt trail, which is also used for mountain biking. It curves and winds uphill a bit at the end, but otherwise it's a leisurely walk.
Minnewaska connects to the Mohonk Preserve, which has its own extensive network of trails.
A trail pass for the Preserve is $15 per day per person, so it's not a bad idea to park in the state park (fee: $10 per car per day) and explore the parts of the preserve that overlap with it.
However, more adventurous hikers might want to pay Mohonk's fee to hike up to the Skytower from which you you can see for miles around.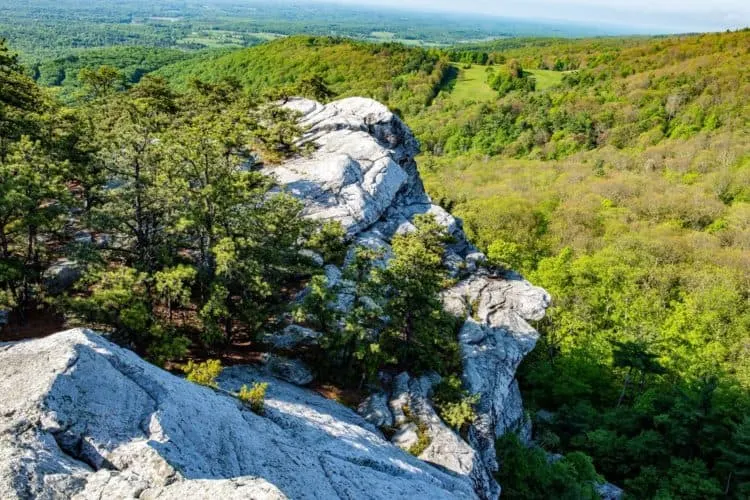 There are different trails up, all with a big elevation gain but some with easier going than others. The most famous, takes you up a ladder and through a tight passage called the lemon squeeze. If all my hikes are a bit to tame for you, try this one. Give yourself and few hours and bring water and snacks.
The Gunks are known for their great rock-climbing, too, but for that I recommend working with a local outfitter who knows the area well.
The Walkway Over the Hudson
I've parked on the Poughkeepsie side the Walkway over the Hudson, and have never made it all the way across the mile-long bridge, largely because I visited on insanely hot days with a small child in tow. Also, it's a bit of a trek from the parking area to the start of the walkway on this side.
The parking on the western side, near the town of Highland, is really the better of the two. The parking lot is right at the start of the walkway and it has real bathrooms and a snack bar. This is definitely the side to park on if you have a child who is planning to bike or scooter across the walkway because there's less uphill to contend with.
Turn right you can bike or walk across the walkway, enjoying some amazing views of the Hudson River and its banks and other bridges. You can pick up other bike trails on the other side.
You can also get off the Walkway to grab lunch in Poughkeepsie or on the riverfront patio at the Icehouse, which you'll see just below you.
If you turn left from the parking lot you'll be on the Hudson Valley Rail Trail, which will take you into New Paltz and beyond. This wide and relatively flat trail is popular with cyclists and we saw a lot of cars with bike racks in the parking lot.
Tip: Google Maps had a tough time finding the parking lot for the Walkway and initially sent underneath it. When you turn right off of route 9W onto Haviland Road, just stay on that road for about a mile. There are a few parking lots.
More About Upstate New York Bike Trails
The Hudson Valley Rail Trail is part of the growing Empire State Trail, a 750-mile multi-use trail proposed by Governor Andrew Cuomo in 2017.
Some 400 miles of it are accessible now and other parts are being built or renovated. The main trail will eventually run in one long stretch from Manhattan to the northern tip of Lake Champlain. And there will be branches as well.
The Ashokan Rail Trail
This Ashokan Rail Trail is a 12-mile long, wide, packed-dirt trail. It mixes sections that are woodsy with open sections that follow the Ashoken Reservoir. When it opens up the vistas are gorgeous, with the reservoir in the foreground and the Shawangunks rising up in the distance.
We actually found walking on this trail a little tedious. I think perhaps because it's so flat and you really want to get passed the woodsy parts to the open, scenic ones.
But I would really like to come back to the trail with our bicycles. The conditions are idea for biking and you could easily cover the a lot of trail, possibly all of it, in a day on a bicycle.
There are three trailheads, one at each end and midway. We parked at Woodstock Dike, at the east end of the trail, primarily because it's the first thing that came up when we typed Ashokan Rail Trail into our map app.
Next time around I'd aim for the trailhead at the other end, Boiceville Bridge, because it seems to offer the longest uninterrupted stretch of reservoir views.
It was cool under the trails, but sunny and hot along the water. Wear sunscreen and bring plenty of water. If you plan to do a good part of the trail bring lunch, too.
Esopus Bend Nature Preserve
I really think nature preserves are the unsung heroes of outdoor weekends. They never attract the crowds that larger state parks do. Partly for that reason they're ideal places to walk, enjoy the scenery and spot animals.
Esopus Bend is a 165-acre preserve with a trail head less than two miles outside or Saugerties. We spent a good hour hiking around.
We had views of Esopus Creek all to ourselves and spotted half a dozen deer, some water birds and a woodpecker. I'm sure early in the morning the bird watching is even better.
The trails can be muddy so hiking shoes are a good idea, even if the walking is pretty easy.
The nice thing about this park is that it has a series of interconnecting loops that are each only about a mile. You can take a short 20-minute walk or follow a few (or all) them and spend an hour or more.
It was humid in the woods and a big treat was finding our way to the meadow paths, an area full of tall grass that stretches into the creek. It's open and had a lovely cool breeze coming off the water.
These paths are bit of a maze and aren't marked. Take a picture of the trail map if you want to explore them and give yourself time to meander a bit.
Tip: If nature preserves are your thing, you might also want to check out the 180-acre Nyquist-Harcourt wildlife Sanctuary on the Wallkill River. Parking for the reserve is at the end of Huguenot Street in New Paltz.
Opus 40
Opus 40, six miles southwest of Saugerties, was one of two things we wanted to do and didn't get to. Because of Covid, we needed to reserve tickets online and we didn't check for tickets until the morning we hoped to visit. They were, of course, sold out. It's hard to be spontaneous in an epidemic.
They call Opus 40 a Sculpture park, but I'm not sire that term does this 50-acre oasis justice. It's a former stone quarry that an artist bought in the 1970s.
He began using the local stone to build mortar-free walls, ramps, steps, paths and small towers and pyramids until his structures covered more than six acres; the rest of the park is forest and meadows.
Nowadays you can explore Opus 40 on your own or take a guided nature walk. You can also take yoga classes from time to time, hear live music and see theater performances that use the stonework for staging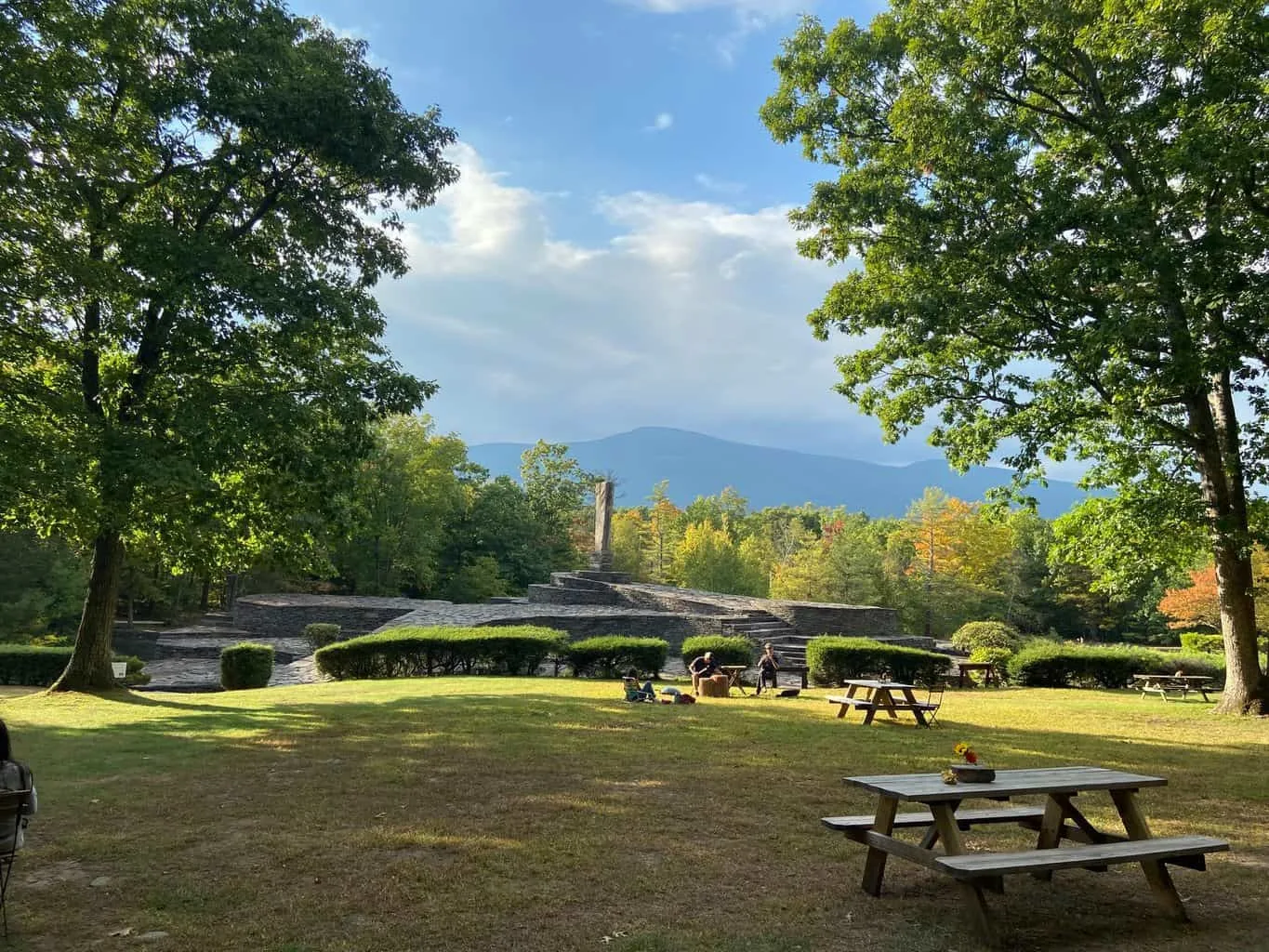 During the summer and into the fall they have picnic Fridays with live music and dinners you order with your ticket from the Dutch Ale House, a popular locavore restaurant in Saugerties.
On Sunday mornings you can head over here for more music and brunch from Bina's, a fusion restaurant that that uses a lot of Pakistani and Mexican flavors in its food.
The picnic dinner includes a choice of red, white or rosé wine or unspecified local ale. The brunch comes with a soft drink. You can only buy tickets and dinner in sets of two, so I guess your group can't have an odd number of people.
I think the Friday picnics are already on my bucket list for next summer. I'll be sure to get my tickets ahead.
Saugerties Light House
We also wanted to check out the Saugerties Light House either by foot or kayak because, how often do you see a lighthouse in a river. But the lighthouse property was closed and the local kayaking outfitter in Saugerties wasn't doing weekday paddles (Covid. Again.).
The kayaking is generally in Esopus Creek, between the falls and where it empties into the Hudson river.
Places To Eat & Drink on your Upstate Getaway
Saugerties Restaurants
• We were lucky enough to have dinner at the Tavern at Diamond Mills, a beautiful indoor and outdoor space with an upscale seasonal and local menu. If you want a splurgy romantic dinner during your weekend, have it here.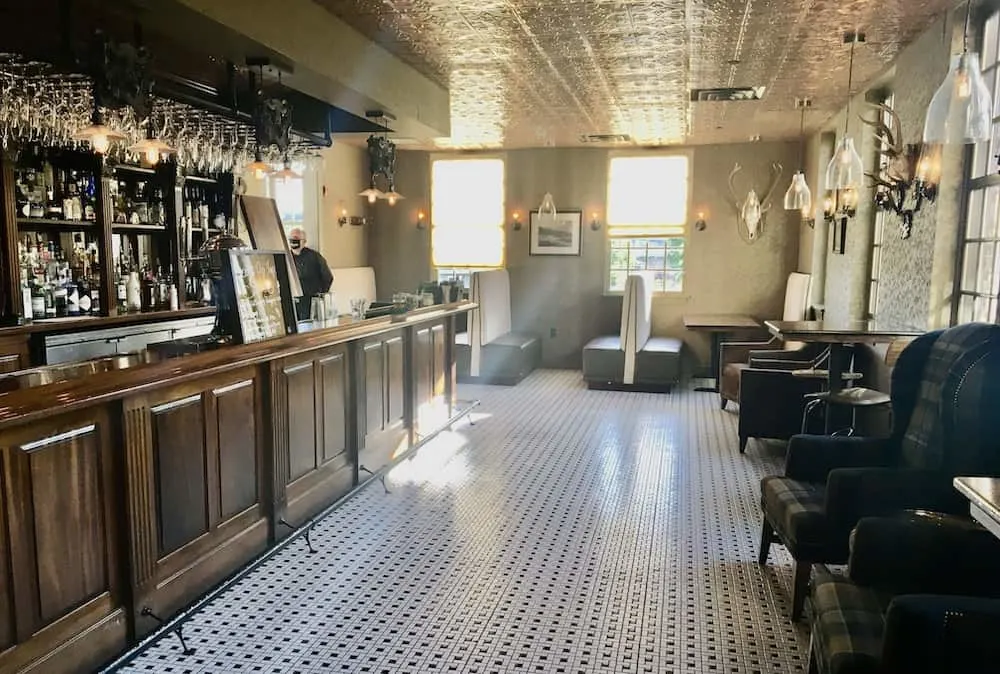 There's a narrow pub room with a tin ceiling, dark walls and old-fashioned lamps. It looked idea for lingering over a local stout or bourbon on a chilly day in the late fall or winter. The main dining room is modern, bright and airy with high ceilings and big windows.
We ate outside (because of the gorgeous summer weather and Covid). The large patio is—you guessed it—a perfect view of the Esopus Creek falls. So if you don't stay at the hotel, this your chance to admire them.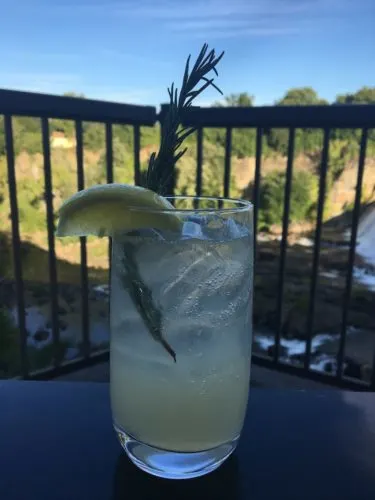 The craft cocktails feature local liquors, and you'll find some New York state beer and wine on the menu, too. No cider yet, but they tell me it's coming.
In early September they still had a summer menu. My friend and I shared a shaved Brussels sprout salad with raising, tangy local goat cheese and a subtle beet-juice dressing.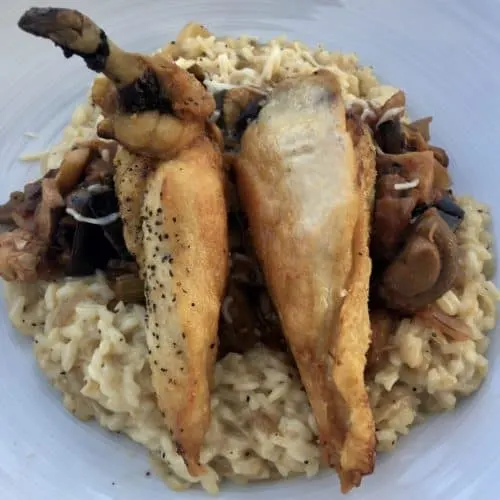 My friend had local trout over quinoa and beets. I had crispy, moist (local) chick over caramelized-onion risotto and summer vegetables. For dessert we couldn't resist a strawberry tart with a shortbread crust and pistachios.
Tip: On the first Friday of the month the Tavern hasa $30 prix fixe dinner offering a select handful of its seasonal starters, entrees and desserts.
• We had breakfast at the Village Diner, which really was the diner in every Richard Russo book. You can expect plenty of regulars, a friendly waitress, reliable eggs and properly browned hash-browns.
I had blueberry pancakes, a special for the day, and they were tangy and full of fresh berries. The drip coffee was pretty good, too.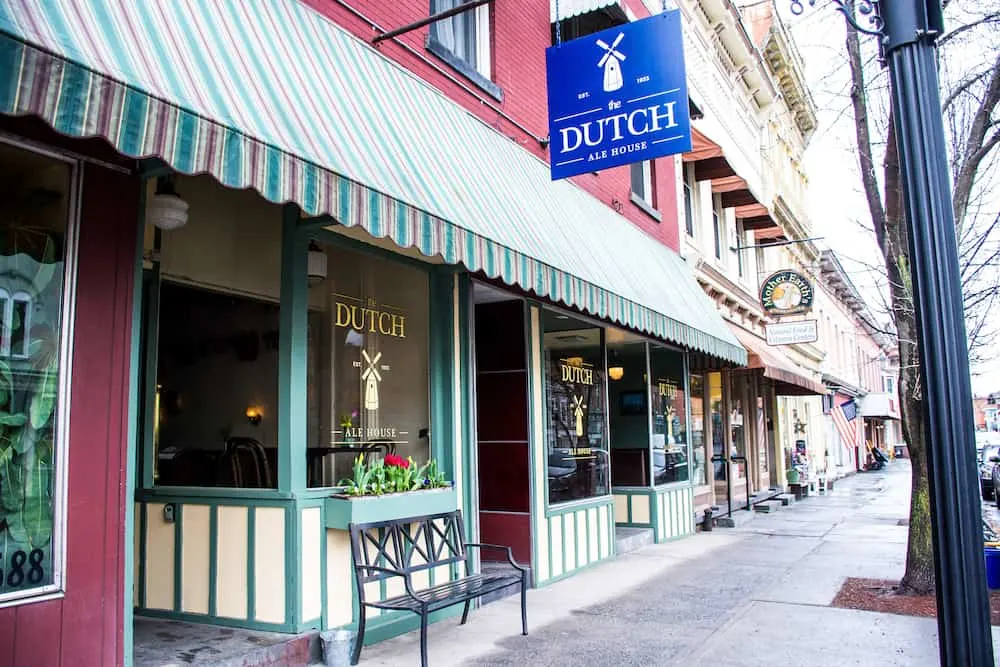 • You'll find plenty of places to eat along Main Street and Partition Street, right around the intersection where they meet. There are a handful of bakeries and coffee places for breakfast, and plenty of spots for comfort food at dinnertime.
• The Dutch Ale House is right in town offering locally sourced gastro-pub fare. Vegetarians like Love Bites and it has street tacos and margaritas on Friday. Stop into the Brine Barrelif you need picnic supplies for your day's hiking.
New Paltz Restaurants
The college town that it is, New Paltz has Thai, Indian and Mexican places and quite a few pubs that serve food.
• The brew pub that is now Clemson Brothers Brewery has been our go-to New Paltz stop for some 15 years now.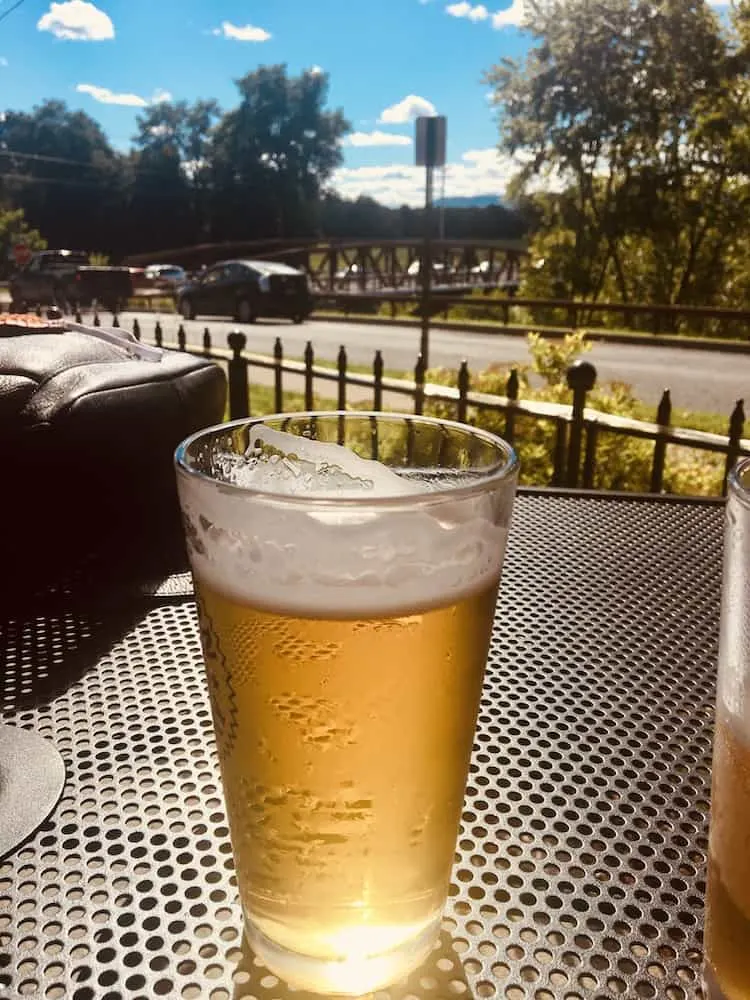 The patio still has a great view of nearby fields, a popular trail head and distant mountains and a Saturday afternoon; well passed lunchtime it was hopping.
The beer is as good as it was when it used to the Gilded Otter. The blueberry wheat I like in the summer still has just enough blueberry to be fun and not cloying. The Blonde Ale is a summer beer with a bit of substance.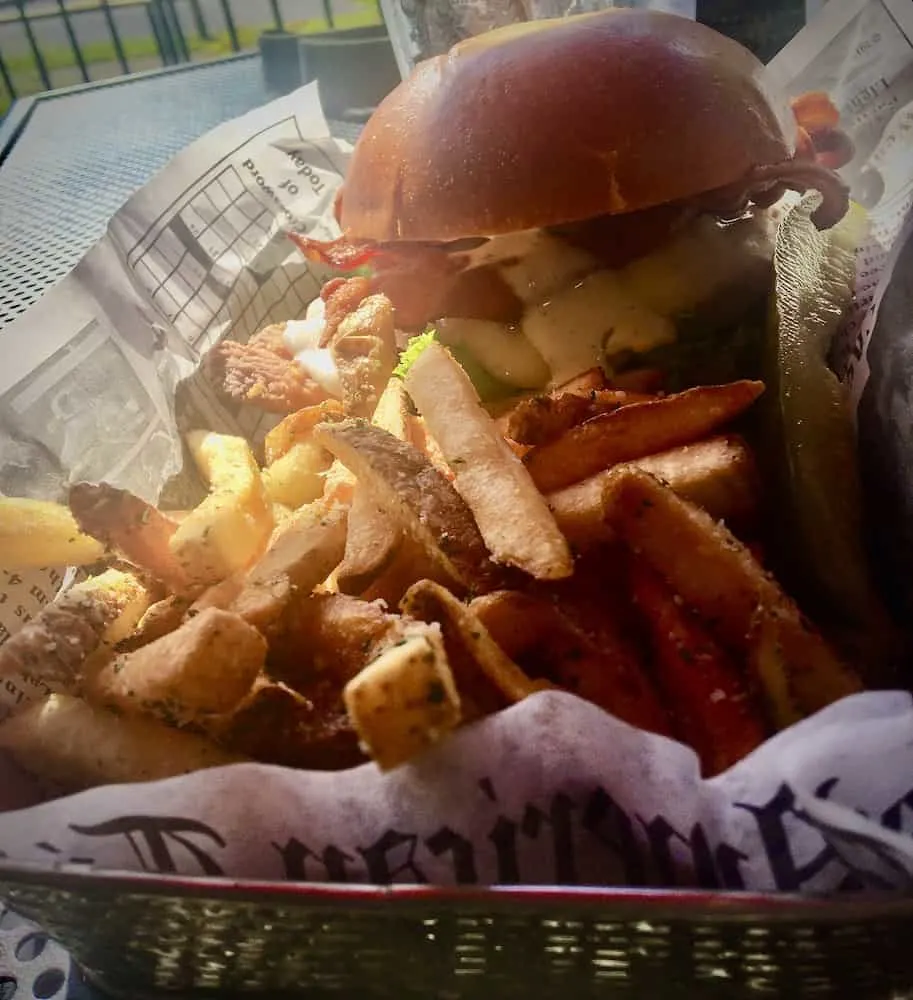 But the food was not the homerun it usually is. The fries were crispy and salty. My friend enjoyed her chicken-bacon-ranch sandwich, which filled out the bun and was well dressed.
But my short rib sandwich to be a riff on a Philly cheese steak and it didn't deliver. The filling lost in a hoagie roll that was too big for it and despite the promise of caramelized onions, cherry peppers and provolone it was dry and a little bland.
I'll blame Covid for throwing them off their game and try them one more time when it's passed.
• Jarr'd Wine Pub, across the road from Clemson in a cute shopping center, is the place to go for a light bite. It's the place you'll find the SUNY New Paltz professors rather than the students. Snack on tiny goat-cheese stuffed peppers, a plate of local cheeses or duck rillettes on their small front or back patios or their cozy indoor space (when it's allowed).
Maria at the B&B had us totally excited to visit Twin Star Orchards where they grow apples and make Brooklyn Cider. You can sit on their outdoor patio, admire the orchards, drink cider and eat wood-fired-oven pizzas and burgers. They even have homemade cider doughnuts.
Sounds like an excellent thing to do after a morning hike. And it is­—if you're in town on a weekend. Sadly, they were closed on the Monday and Tuesday we were in the area. Another activity to go back for.
Hudson Valley Hard Ciders
After being cheated out of pizza and cider on the patio we decided to try visiting one of several other cideries in the region. Alas, most are only open Thursday to Sunday, so we were out of luck.
If you plan your weekend getaway on a weekend, I recommend seeking out a few of the places on this map of cideries.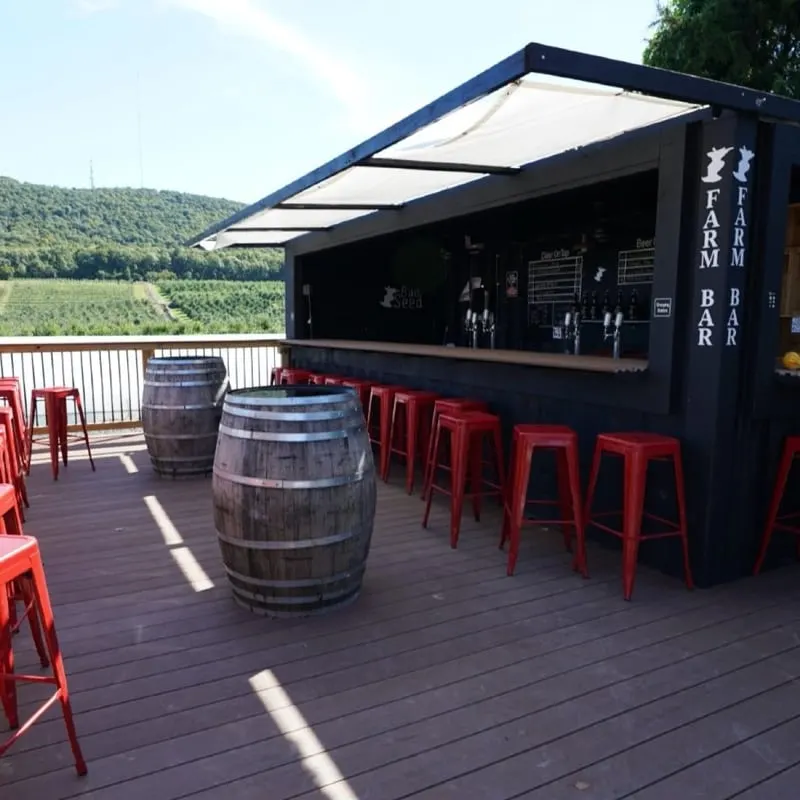 • As far as the ciders themselve go, I can tell you that I like Bad Seed, which makes ciders that are interesting and very dry. I've been told by a friend and local cider expert that both their cidery and farm taprooms are fun places to visit, sample the cider and grab a bite to eat.
• I've had good cider from Hardscrabble and Standard Cider Co., too, but have not heard anything about their tap rooms.
• Doc's Draft is made by the Warwick Valley Winery, which often has weekend events in the fall. It's more traditional and on the fruitier side than some of the others.
• Angry Orchard is owned by the Boston Beer Company and I would consider it less of a local craft cider than the others.
A Good Farm Stand
A Hudson Valley weekend isn't really complete without visiting a farm or a farm stand.
We stopped into Wallkill View Farm Market, a great farm stand just outside of New Paltz with seasonal produce, flowers and plants, baked goods, jams and much more.
I brought home tomatoes and peaches that were both better and cheaper than what we'd been getting at the city green markets over the summer. I even got a pint of tiny, really sweet, strawberries, a rare find in early September.
You'll pass it driving from New Paltz to most of the hiking spots nearby and it's worth a stop.
Live Music Venues Around Woodstock
This part of the Hudson Valley has been a draw for musicians and artists before and since the Woodstock festival brought it to the world's attention. If you aren't too tired from all your day's activities, there are quite a few music venues to discover.
• The Levon Helm Studios in Woodstock is known for the intimate shows that take place in the property's barn. Various acts come through to play (check the calendar).
But the space is mostly known for the Ramble, where anyone and everyone shows up to play with the legendary house band and you never know who you might see.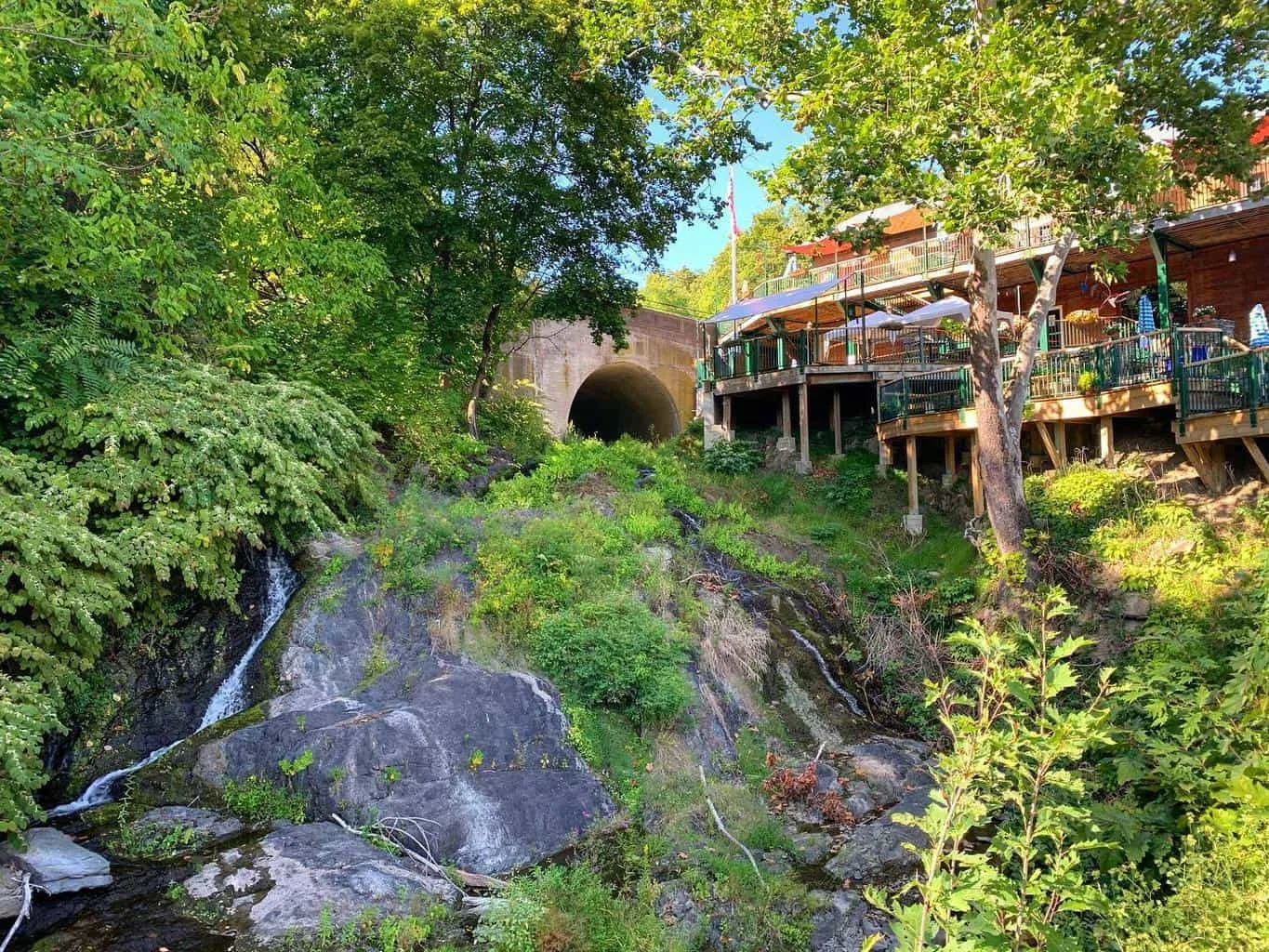 • The Falcon, about 25 miles south of New Paltz in Marlboro, is a music and art space in a former button factory. It has an art-filled taproom, a patio that overlooks a waterfall, a menu that features food from local farms and a long history of supporting an eclectic mix of live music.
In addition to its own shows, its website offers a curated list of other local music venues to check out. How can you not like that?
Practical Information For Your Upstate, NY Kid-Free Weekend
About New Paltz and Saugerties
New Paltz and Saugerties are not quite 30 miles apart. You can do any of the things mentioned in this post while staying in either time. I recommend finding time to walk around each town regardless of where you stay.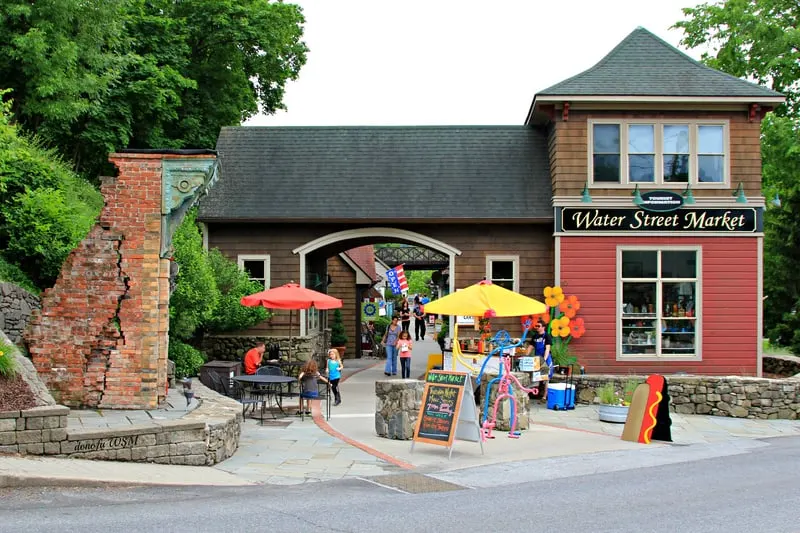 New Paltz is a college town that bustles with hikers and cyclists on weekends in the spring, summer and fall.
In addition to its shops and restaurants, New Paltz also has a trail head, a nature preserve, the SUNY New Paltz campus and historic Huguenot Street right in town. On weekends, driving through town and finding parking can take a little time.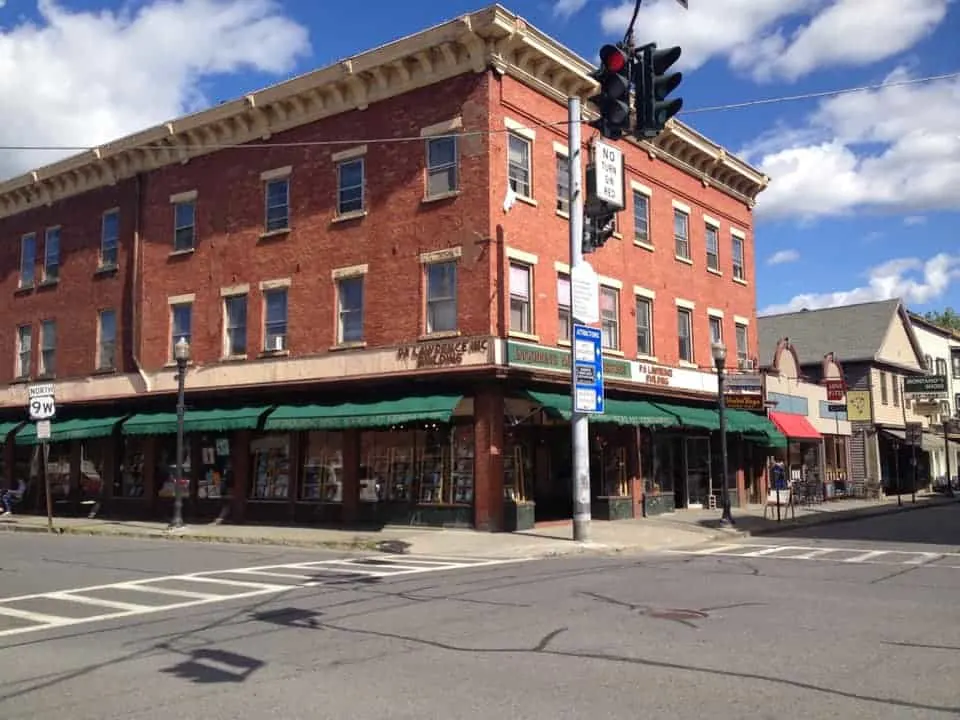 Saugerties feels a bit more like a town where Richard Russo might set one of his novels; good bones and a little worn around the edges.
But it has lovely early 20th century brick buildings and feels like a real town rather than a made-for-tourists town. The people in the shops and restaurants are a mix of locals and tourists.
It still has the relaxed, crunchy vibe that's drawn musicians and artists to the area for decades. And it has enough shops and restaurants to make for an interesting stroll around its main intersection; don't miss Inquiring Minds, a large bookstore and café with an eclectic stock of books.
When To Go
For me, fall is the ideal time to explore the Hudson Valley. The mosquitos disappear along with the humidity. Clear crisp days are ideal for getting outdoors and the temperatures dip just enough at night to make you appreciate the chance to curl up by a fire.
In September the farm stands still have summer tomatoes and peaches and are starting to get crunchy fall apples and tiny, super-sweet grapes that are ten times better than any supermarket grape you'll ever eat.
How to Get There
New Paltz is not quite 90 miles from New York City via the Palisades Parkway (my preferred route). It's 165 miles from Philadelphia, 116 miles from Hartford CT, 190 miles from Syracuse and 220 miles from Burlington, VT.
From New York City you can take Metro-North To Poughkeepsie and Amtrak's Adirondack line to Poughkeepsie, Rhinecliff (across from Kingston) or Hudson, NY.
Tip: You need a bicycle permit for Metro-North. Amtrak allows bikes, too, but check the rules before you go.
From the station:
Some intrepid people (people who pack lighter than me) hop on their bikes and go. You can also take taxis if you want an in-town weekend with a few select jaunts.
If you want to explore the wider Hudson Valley you'll want to rent a car. There are plenty of car rental companies around Poughkeepsie but not right at the train station. If you call ahead to arrange it some rental agencies will either deliver your car to you at the station or pick you up there
Pin It For Later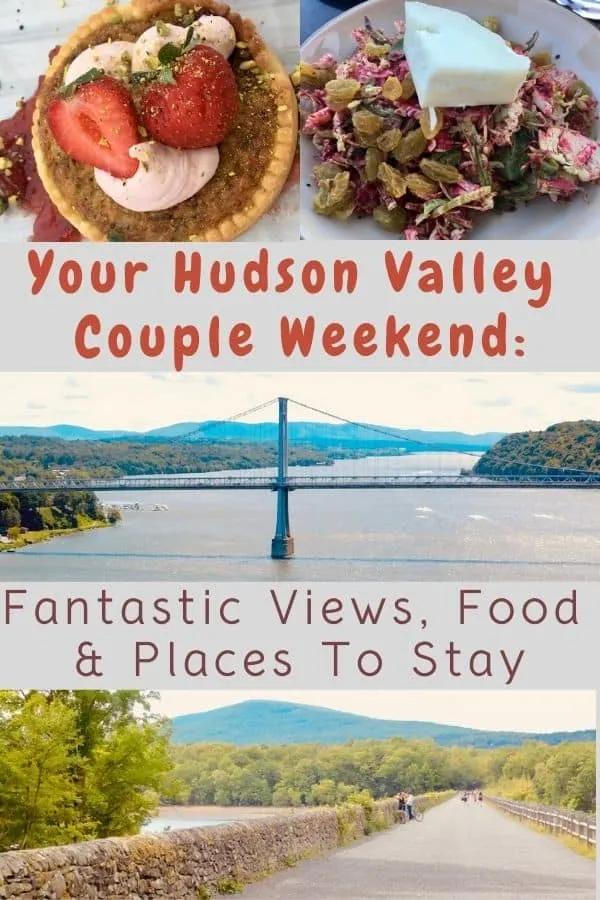 All photos by FamiliesGo!© except for the view from the Shawangunks (Mohonk Preserve), Opus 40 (Opus 40), downtown Saugerties (Ulster County Tourism), the Bad Seed tap room patio (Bad Seed), Water Street Market (Water Street Market) and Inquiring Minds Books (Inquiring Minds).
*We were guests of Ulster County Tourism at Mountain Meadow and guests of Diamond Mills Hotel at the hotel and Tavern. I didn't agree to and particular coverage in exchange for these opportunities. My opionions are always my own.