Roatán, Honduras was the stop I was most looking forward to on our NCL Getaway West Caribbean cruise. And the island didn't disappoint. Because of its small size, nice beaches, great snorkeling and light adventure activities it's an easy and fun port of call with kids.
Because it's so family friendly and has so many great things to do, Roatan is a popular port of call. As was the case elsewhere on this cruise, if we had a do-over for our one day on the Caribbean island there are things we would do differently to make the best use of our time.
Here is what we did, what we liked and didn't and what to know before you arrive with kids for your own Roatan port day.
8 Things To Know For Cruise Port Day in Roatan With Kids
Introducing Roatán: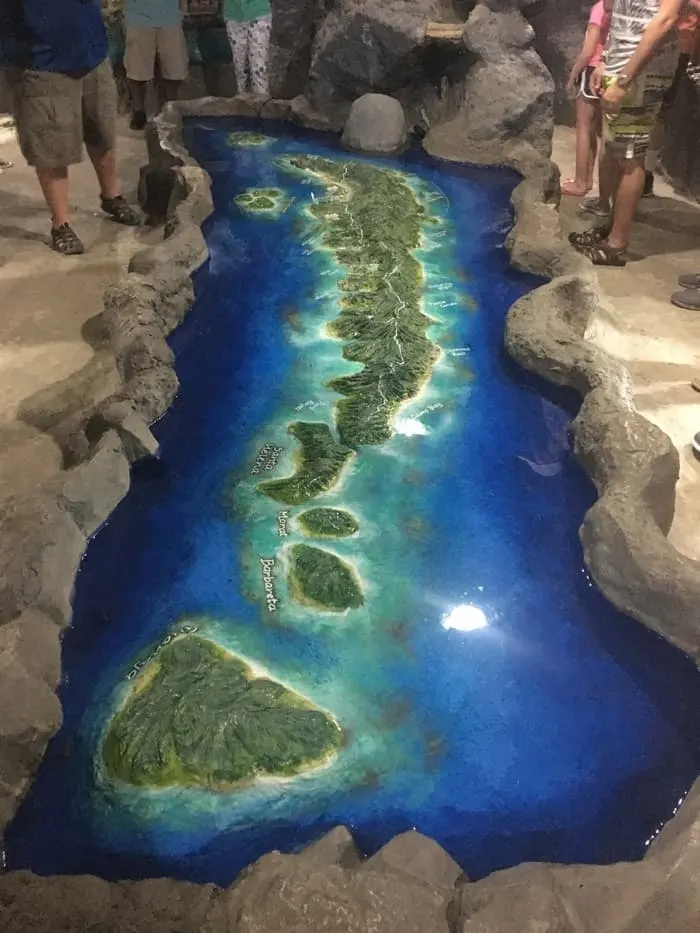 The most important thing for visitors to know about Roatán is that a barrier reef surrounds two-thirds of the island, not very far off shore, making it a popular SCUBA diving spot and growing tourist destination.
The tourism is spurring a building boom that is drawing mainland Hondurans and English-speaking expats in droves. In five years the island will look very different than it does now, for better and for worse, no doubt.
There are signs of rising prosperity—Pepsi ads, car wash services, new local housing— but Roatán is still rough around the edges.
Be prepared for ramshackle homes and stores on one side of the island, On the other side spiffy new dive shops, yoga studios, restaurants, hotels and condos are going up for the vacationers and expats.
---
A Short history of Roatan
Roatán is a small Caribbean island off of Honduras.
Columbus sailed through the area on one of his trips.
Several pirates also frequented its coast and came ashore.
It has been an English colony from time to time starting in the mid-16th century.
---
Top Things To Do on Roatán
Monkeys and Birds
We were traveling with a kid who hates snorkeling. Had I done my research and learned about Roatán's amazing reef I might have booked a snorkel trip anyway.
But since tween traveler loves monkeys, we booked a shore excursion to Gumbalimba Park animal preserve, which has friendly capuchin monkeys from the mainland.
As in Belize, the tour guide on the bus did a lot of talking, telling us about the island's history and current economic boom. The lesson continued in the park, which had bas-relief of the island, inside a genuine pirate cave.
While walking through the park we spotted one sloth in the trees, lots of large iguanas, a rodent-like local rabbit, fluffy-footed local chickens and toucans.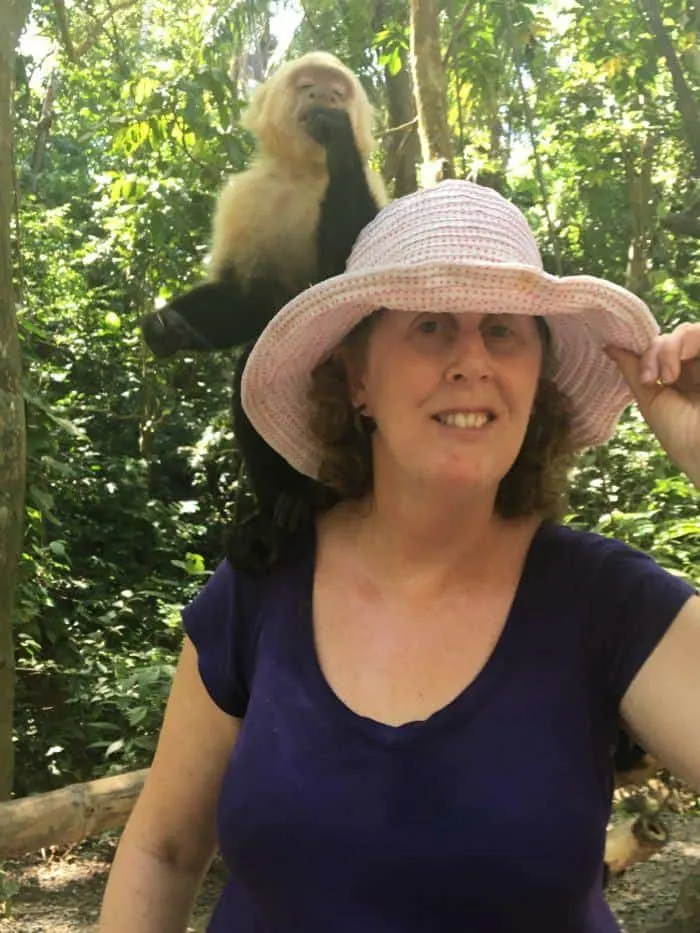 There are parrots, which will sit on your arms, shoulders and head for photos. They are heavy, with big claws that grab you snugly. It's not what you expect and nor is it the most comfortable thing. It's the kind of thing you have to do once.
From the parrots we moved on to the monkeys, which tween traveler couldn't get enough of. She let any little capuchin that came near her sit on her arms, shoulders and head and petted their soft fur. We took a lot of photos.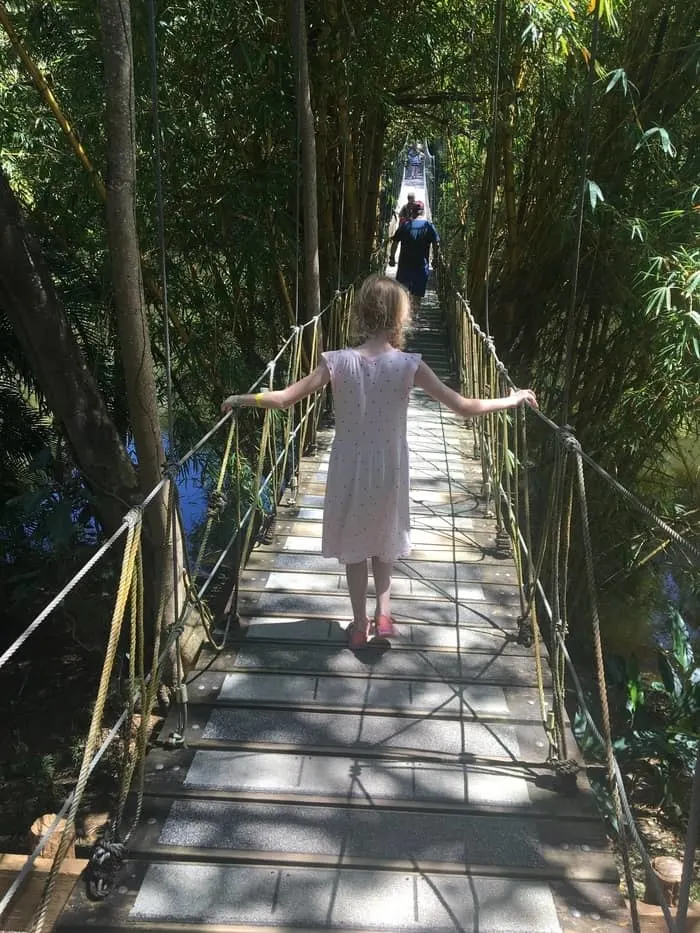 Note: Before you go near the parrots and monkeys the guide will warn you to have nothing in your pockets or in your hair. No food, hats, loose sunglasses or jewelry. And they mean it. We saw a bird bite the button off a man's baseball cap and another steal a woman's hair clip. The monkeys are known to be light-fingered with men's wallets and phones.
The tour ends with an insectarium, which had a large collection of mounted butterflies and bugs. It was odd looking at dead specimens after interacting with so many live ones. It's skippable unless you or your kids are fascinated by bugs.
Some people find Gumbalimba disappointing because it's not an extensive animal preserve and you really are going for the photo ops with the parrots and monkeys.
But I have to say that it was the highlight of the trip for tween traveler by a large margin. And getting the opportunity to interact with the birds and monkeys was unique. So we were satisfied.
We worried about being in a too-large group. But our tour was a reasonable size. We could always hear the guide and had ample time for what we wanted to do.
Tabayana Beach
After the park we headed to Tabyana Beach, which had decent changing rooms and lounge chairs along on expedias to rent, an inflatable water playground and alcoholic drinks for purchase.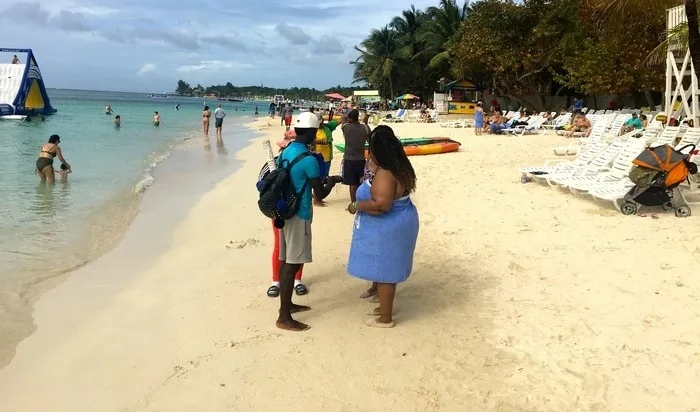 We would have rented kayaks or let tween traveler have a go at the bouncy things, which she was looking at longingly. But our tour was cut short by about an hour so we didn't think we didn't think we had time to get our money's worth from either.
We swam, ate lunch and swam again before we had to head back to the ship.
The water is calm and very clear, fine with small children. But the bottom was too sandy for there to be fish close to shore. Touts are allowed to walk on the beach, but have to stay near the water, so they won't bother you in your chairs.
The lunch that was part of our package included sweet and spicy grilled chicken and rice and beans for those of us who wanted some local flavor.
There was also barbecue chicken, burgers and hot dogs, good watermelon and pineapple, lemonade and cardamom-infused iced tea, which I really liked.
---
Want To Take This Cruise?
Find: the best prices for this trip on CruiseDirect.

Read: Our Review of the NCL Getaway
Read about other stops on this cruise:
• One Day in Belize and NCL's Harvest Caye Private Island
• Make the Most of 1 Day in Costa Maya and Cozumel
---
Other Roatán Excursions
It's easy to come ashore and spend the day on one of the island's pleasant beaches. On your own or through NCL you can SCUBA dive, snorkel, kayak, take glass-bottom boats or horseback ride.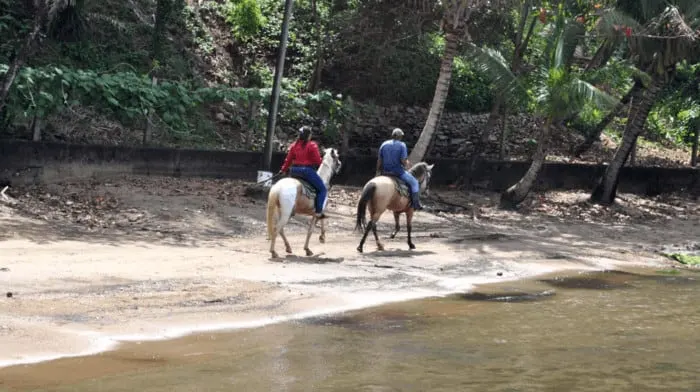 There are golf courses and a lovely and very inexpensive day spa, too, if you're looking for kid-free day.
There are other animal preserves besides Gumbalimba, and an iguana farm. But it's so easy to spot iguanas in the Caribbean that I can't imagine paying money to see them.
There's also a lot of zip-lining. You can swoop over the port, through the jungle or from the island's peak to the coast on.
Doing Roatán Excursions On Your Own
Do a bit of research about Roatán before you leave on your cruise. I was lazy and didn't. And I really wish I had because the island is small and we probably would have been fine making our own way around.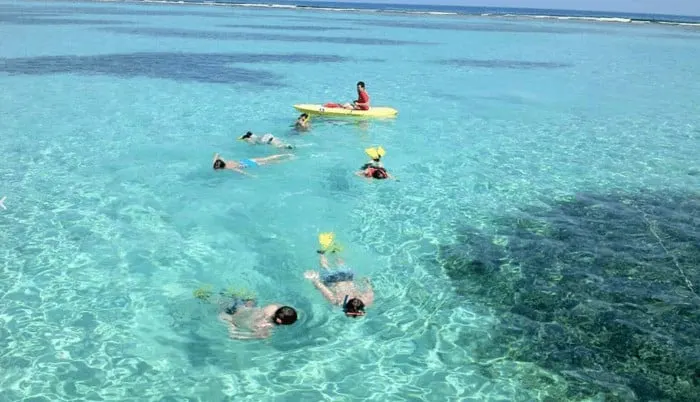 The website for Gumbalimba Park suggests that if you arrive in Roatán on a cruise ship you have to visit the park via the ship's shore excursions. This is not really true. We had family members do this same cruise a month after we did. They found a taxi, went to the park on their own and had the same experience we did for less money, even with the taxi ride.
They chose to return to the ship afterward, but I'm sure their driver would have taken them to a beach or a lunch spot if they had asked.
If you don't like all the activities bundled into NCL's shore excursions or just like to book things locally, there are tour and excursion companies on the dock. You can reach out directly to a tour company or activity vendor before you leave home, too. If you do, they might provide transportation.
Depending on the activity you can try your luck just showing up as our relatives did. Unfortunately that's a bigger gamble when you have kids along who are excited about an activity and won't handle disappointment very well if you're turned away.
If you do head out on your own, look for taxis on the street outside the dockyard or in the parking lot. Give yourself a good hour of buffer time to make it back to the ship.
Important Things To Know: Roatan Basics
Around the Port of Roatán
NCL ships pull into the Port of Roatán, Coxen Hole.
English is the first language on the island, followed by Spanish.
There is one well-worn road around the island and no detours around traffic jams. Bare this in mind if you venture out on your own.
The U.S. State Department considers Roatán reasonably safe for travelers.
Taxi fares are usually one way and sometimes quoted on a per-person basis ($1-$8/person depending on the distance). Clarify what you want (one way, round-trip or several stops) and the total price before you begin your journey.
Before coming in to port I asked at the shore excursion desk what we would find in and around Coxen Hole. The desk person responded emphatically that, "There is nothing there. Nothing."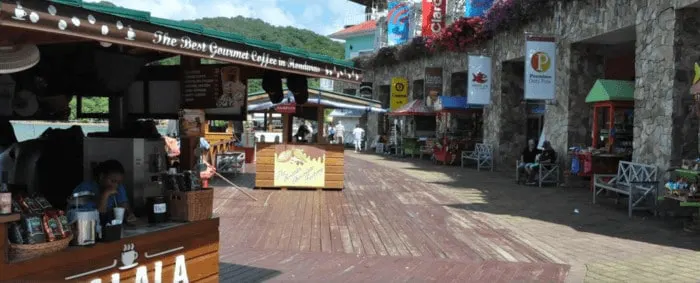 This is not quite true. The dockyard is small and colorful, with cheap souvenir stores, craft carts and a couple of outdoor bars and coffee stands.
The street just outside the dockyard is filled with local craft stalls, empanada stands and small cafes, one or two overlooking the water.
This stretch of road is not going to appeal to everyone. But we're an adventurous family. If we'd had the time we would have ventured down this street to window shop, bargain and try our luck with the empanadas.
Unfortunately, we only had a few minutes on the dock before we had to board so we couldn't look around as much as we wanted to.
Get Ready For Roatán's Busy Dock Yard
Because of the nice beaches and fantastic diving and snorkeling, Roatán is a hugely popular cruise stop. Two or three times as many people got off the Getaway here than at any other port of call on this sailing. And unlike in other ports everyone got off as soon as we docked to meet their shore excursions.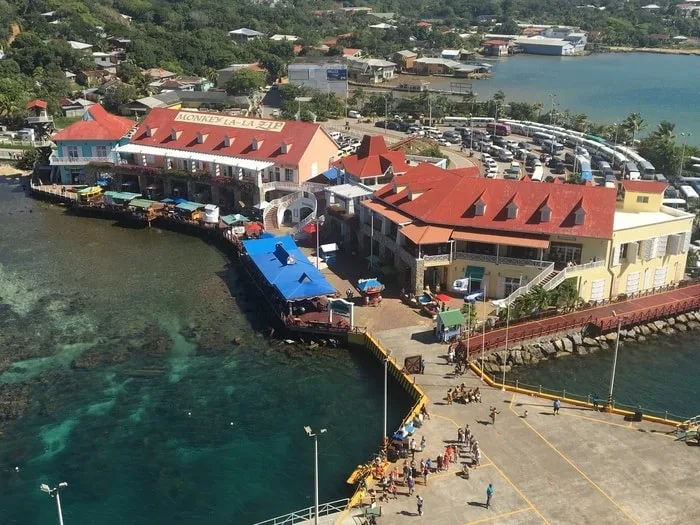 Takeaway 1: If you want to do a shore excursion, especially a visit to the reef, book it early on in your cruise, ideally before you leave home.
Takeaway 2: Be prepared to for a long line of people getting off the ship and for a fairly chaotic scene on the dock.
We were fairly assertive about tracking down the people leading our shore excursion and still only caught up with them in the parking lot.
By the time everyone in our group found the bus and we got out of the congested lot we were nearly an hour behind schedule. Walking out of the dockyard and flagging down a taxi helps you to avoid some of this and get on your way faster.
Sometimes the ships can extend the shore day by an hour to make up for these delays but ours couldn't. Instead our beach time was cut short by about an hour.
Moreover, we didn't want to take the very last shuttle from the beach back to the ship because we assumed it would be the most crowded. We also anticipated that it might be chaotic getting back on the ship. It was very busy, but not nearly as hectic as in the morning.
The best thing about our stop in Roatán was that we discovered a fun little Caribbean island we knew nothing about. We will be back, and we'll stay a while.
Pin it for later!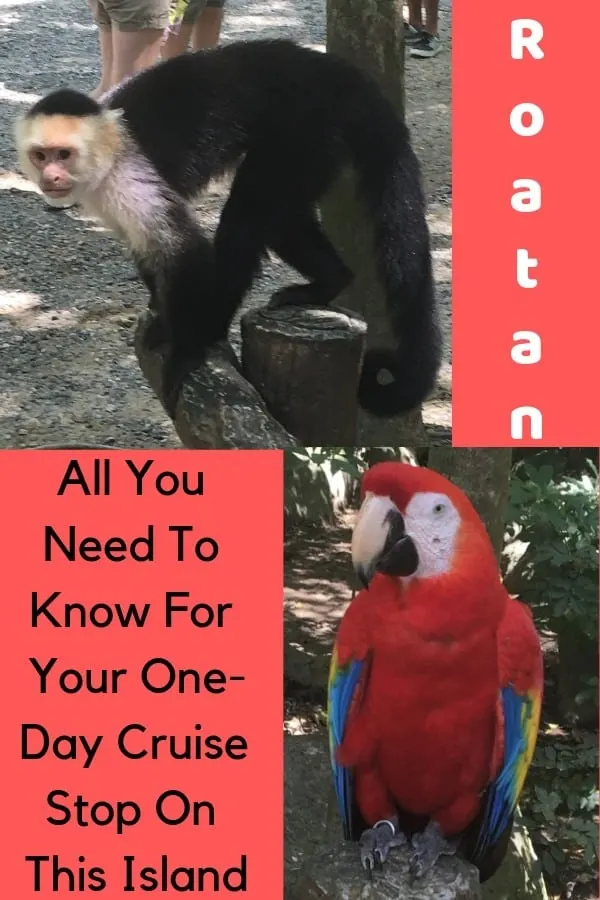 Thanks to Discover Roatan for the photos of the snorkling, horseback riding and Roatan dock shops. All other photos by FamiliesGo!©.