Not many parents plan for a Walt Disney World date night when they visit the resort, and we think they're missing out.
I hear it all the time from my clients, "This is really just for my son," or, "Just make sure the kids have the best time possible." But it will make your vacation better if you take advantage one or two of the many activities Disney offers for couples.
You'll handle your 4th trip through Buzz Lightyear's Space Ranger spin much better after a kid-free evening. And romance is easier to come by than you might expect. You might not even have to leave your hotel.
More Couple-Time Ideas:
• A Mini-break for 2 in Dublin, Ireland
• Enjoy a Luxury Kid-Free Break at Mexico's Bahia Principel Sian Ka'an
• 15 Cozy Hotels for a Parents' Romantic Getaway
The Child Care
Babysitting:
If your tots are younger than 4, or you have several kids with you, call Disney's babysitting service, Kid's Nite Out, which ranges from $18 to $25/hour depending on the number of kids.
Kids Clubs:
Disney World has cut back on its kids clubs but the two kids clubs they have will knock your kids' socks off. Don't make the mistake of coming back from your date night too early!
They both take kids ages 4 to 12, though admittedly many of the activities skew to the younger end of that range.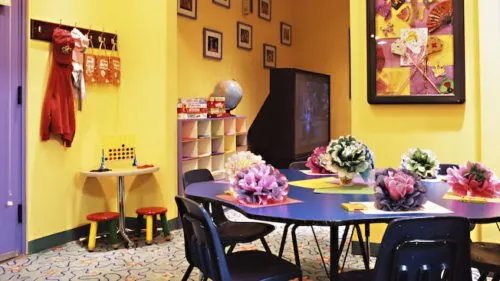 Camp Dolphin at the Swan & Dolphin hotels runs from 5:00 to midnight and charges $15 per child with a two-hour minimum. The fee includes dinner and a snack.
Camp Dolphin is a typical kids club with supervised sports, video and board games, Disney movies, arts and crafts. There are also a changing roster of themed activities with prizes and souvenirs.
Deal Alert! They'll comp up to two hours of childcare if you dine at Shula's Steak House or Todd English's Bluezoo at the Swan Hotel or Il Mulino at the dolphin. Certain spa treatments at Mandara Spa will also get you the discount.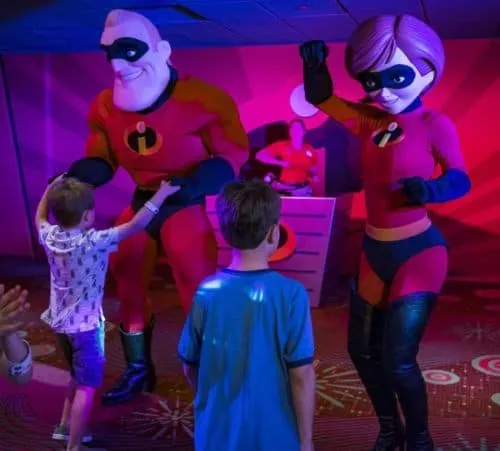 The newer Pixar Play Zone at the Contemporary Resort offers a kids-only evening that will have your kid asking you to go on another date, though at $65 per child you'll probably only do it once.
It runs from 5:00 to 10:30 with an hour of free play at arcade games before dinner and planned activities.
An evening at the Play Zone includes activities like Woody's Western round-up, space-range training, and building and testing Lego race cars. A dance party with Mr. and Mrs Incredible rounds up the evening. Woody and Jesse usually stop by for a visit, too.
Here are six Disney World date night ideas and where to find nearby babysitting. Reservations are a good idea at all the restaurants and dining events. Check the dress code for these upscale restaurants to make sure you pack the right date-night outfit.
More Disney World Tips:
• Disneyland vs Disney World: Which Fits Your Family's Style?
• Escape to Disney World's Wilderness Lodge
• All You Need To Know About Disney World FastPass+
6 Romantic Evenings At Disney World
Disney World Date #1: Indulgent Relaxation
Pamper yourselves with one of several treatments for two at the Bali-inspired Mandara Spa at the Dolphin Hotel.
Sip champagne in a hydrotherapy tub, get a couples massage or a pedicure that magically erase a few days of theme park walking.
If you really want a night to remember, follow your treatment with cocktails and a light meal at the Shula Lounge or Bluezoo Lounge.
Nearest Children's Activity Center: Camp Dolphin.
Disney World Date #2: A Night in Paris
One of the best date night dinner spots at Disney World is a window table for two at Epcot Center's Monsieur Paul will whisk couples away to Paris, with a view of skylines from around the world sparkling across the Lagoon.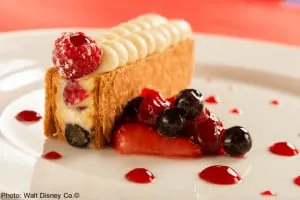 This dinner-only hidden spot is a tribute to Chef Paul Bocuse, the French chef whose restaurant received three Michelin stars for 48 years in a row.
Artisanal breads, velvety soups, and creative desserts round out main course dishes, from beef to scallops, that have their roots in traditional French cuisine.
Add in five-star service in an understated Art Noveau atmosphere and you have a romantic night for two.
If you can, time your reservation so you are still seated at 9:00 pm, when Reflections of Earth fireworks and light show explodes above the lagoon.
Nearest Children's Activity Center: Camp Dolphin.
Disney World Date #3: Boardwalk Romance
The Boardwalk is a dining and shopping destination similar to Downtown Disney, with variety of casual and sit-down restaurants and evening entertainment for your couple time.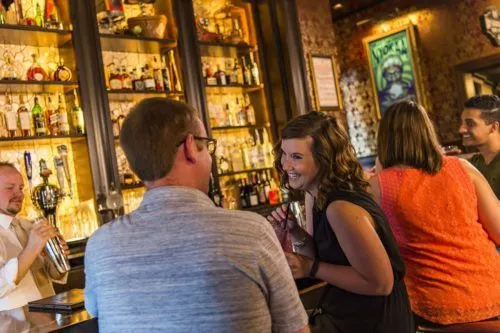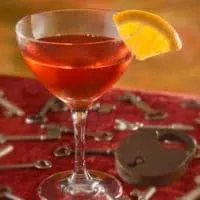 Start your evening with a cocktail at Abracadabar, which is meant to conjure a 19th century bar popular with the magicians of the day.
Move on to the Flying Fish for upscale seasonal fare that focuses on seafood dishes cooked in an open kitchen. The room has the space and opulence of the main dining room on a luxury cruise liner of yesteryear. The menu, features ingredients like scallops, pork belly and Wagyu beef along with seasonal specials and a sustainable fish entrée that changes from night to night.
If you still have time before collecting the kids head to the Atlantic Dance Hall, where you can dance to '80s and '90s hit without embarassing your kids. Or have a nightcap at Jellyroll's Piano Bar.
Nearest Children's Activity Center: Camp Dolphin.
Date #4: Victorian Elegance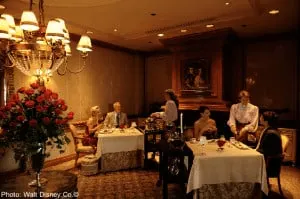 Zagat named The Grand Floridan's Victoria & Albert to its list of the top 15 Most Iconic Restaurants in the United States.
Carrying a AAA 5-star rating for 14 years in a row, the restaurant offers old-world elegance and New American cuisine. A semi-formal dress code and a no-kids-under-10 policy makes it possibley the top date-night restaurant at the park.
Feeling extra splurgy? The Chef's Table or Queen Victoria's Room offer multi-course meals and wine pairings that are very intimate and likely to make you glad that, unlike Peter Pan, you did grow up.
Note: Reservations are required at Victoria & Albert.
Nearest Children's Activity Center: Pixar Play Zone
Disney World Date #5: Fireworks!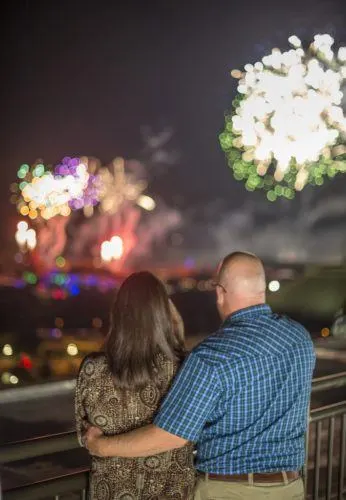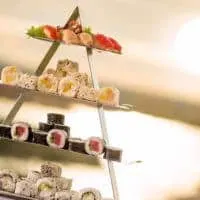 Snag a Saturday or Sunday reservation for Celebration at the Top: Savor, Sip & Sparkle. Join a limited number of guests in the Napa and Sonoma rooms of the California Grill. Sitting atop the 15th floor of the the Contemporary Hotel, it's another ideal spot for a romantic night at Disney World.
Sip California wine and beer while you nibble on sushi, hors d'oeuvres and small plates based on the restaurant's West-Coast cuisine.
Step out on a private balcony to see the Magic Kingdom's fireworks, with music piped in from the park. No one will notice is you sneak a kiss.
End your evening with coffee, after-dinner liqueurs and bite-size desserts.
Nearest Children's Activity Center: Pixar Play Zone
Disney World Date #6: Dine Al Fresco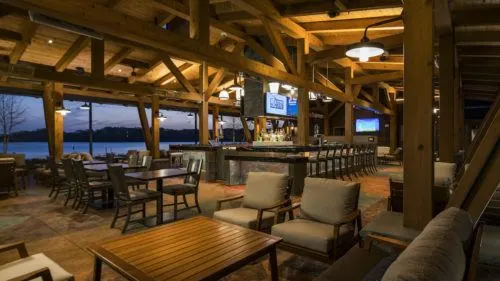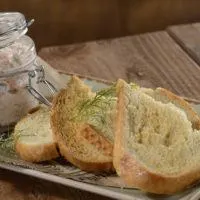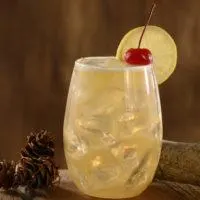 The Wilderness Lodge is one of the nicest and most grown-up Disney World's Hotels. For casual date, head to the Geyser Point Bar & Grill, a covered, open-air restaurant that sits on the lake.
It's a restaurant where you can try your luck as a walk-in, but make a reservation to increase your chances of getting a coveted and romantic lakeside table.
Watch the sun set as you enjoy fun cocktails, American craft beers and rustic American fare like bison burgers with Tillamook cheddar, portobello mushroom salad, fried oysters and salmon spread.
Stay for dessert (apple cider sorbet or coffee poured over chocolate gelato) so you have front row seats for the Electrical Water Pageant, which rises out of the water between the Lodge and the Contemporary. If you stroll outside, you'll catch the fireworks, too.
For a pre or post-dinner cocktail try the bar that sits in center of the grill, or at the intimate Territory Lounge off the Lodge's soaring lobby.
Pin it for later!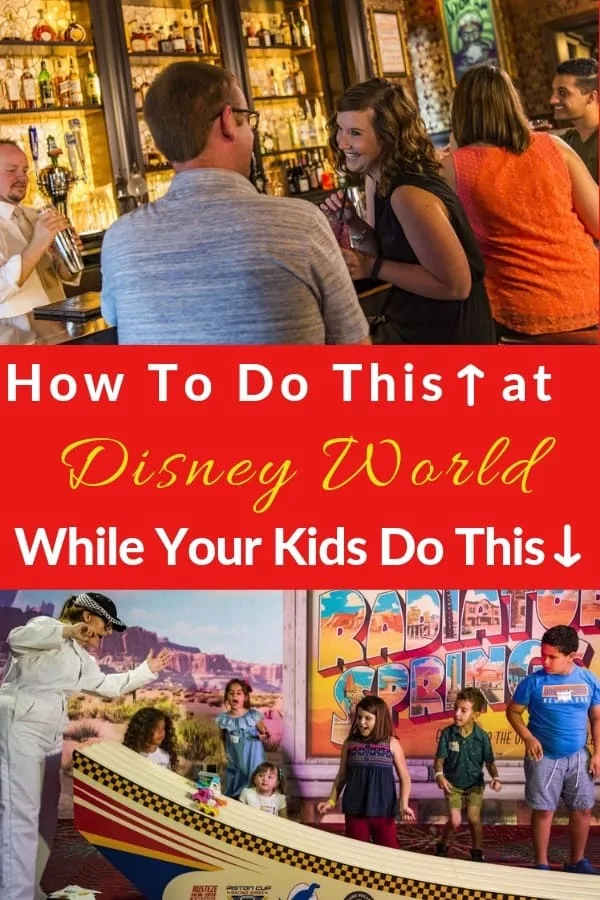 Natalie Reinert spent five years working at the Walt Disney World Resort in Florida, then created personalized Disney vacations . She writes about Disney for families at ThatDisFamily.com and tweets at @thatdisfamily She and her family call Florida home.