I love the Mayan Riviera, Mexico. It was one of the first places we traveled with Tiny Traveler because it's just so darn easy to get around and do things with kids if you want to, and to relax if you don't want to do much.
The Riviera Maya has great beaches. While the water off of Cancun's beach resorts can be quite rough, the further down the peninsula you travel, the calmer the water is, which is ideal when you're traveling with kids, especially young ones.
But the Yucatan Peninsula also has cultural attractions and light adventure activities to do with kids and teens. All you need to get off the beach and explore are a pair of sport sandals and a mild intrepidness.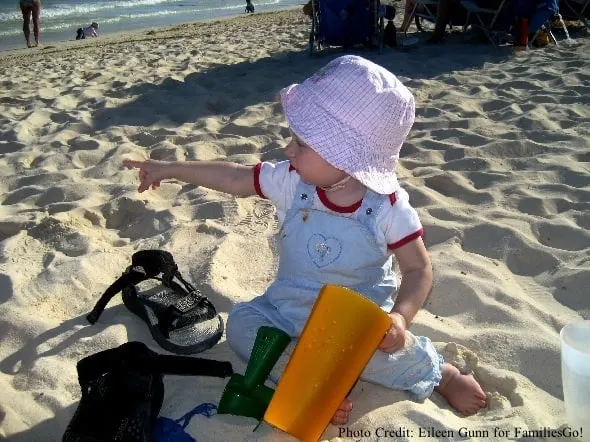 Here are few activities worth considering for a family vacation.
You Might Also Like:
• How to Enjoy One Day Each On Costa Maya & Cozumel
• Plan An Easy, Unforgettable Beach Vacation at Bahia Principe Coba Resort
• 5 Can't-Miss Things To Do in Panama With Kids
Our Guide To Riviera Maya For Families
5 Bucket List Things To Do In The Yucatan
Swim in a Cenote
The Yucatan is dotted with natural water pools and wells called cenotes. Some are underground or partly sheltered by rocks, others look like rocky, shallow ponds.
You can explore the cenotes both above and below ground, by scuba diving, kayaking or swimming, on our your own or via guided tours. They're worth experiencing.
How old your kids are and how well they swim will determine how you do it. No matter which you choose, be prepared for some very cold water.
On a recent trip, I visited the Multun-Ha cenote as part of a day tour to Coba (more about that later).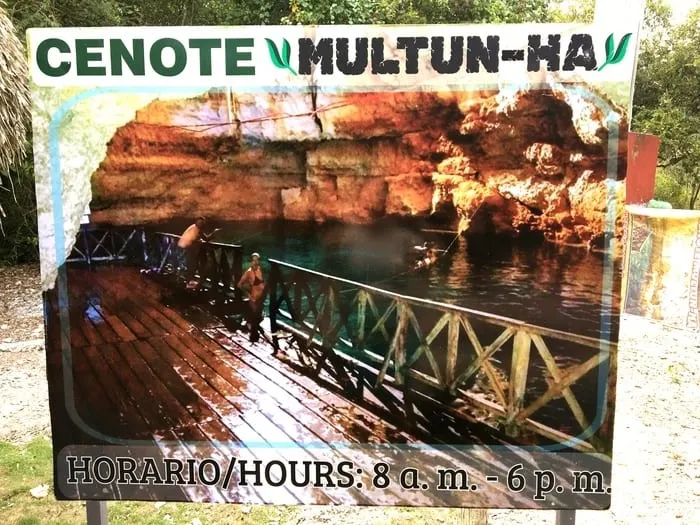 This is only one cenote—other sites have a few—but it's very nice. You approach what looks like a well and go down a long spiral staircase to a high-ceiling cave with a wooden dock that extends out over crystal clear turquoise water about 30 feet deep.
Look up the stalagtites. Look down and you can rock formations deep in water below, which is cool and a little unnerving. There were a handful of other people who came and went while we were there but there weren't enough people that we were in each other's way at all.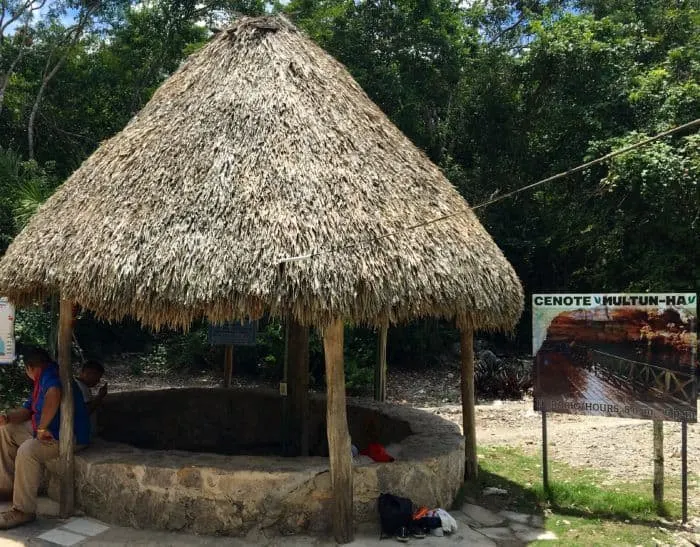 Tips: The stairs weren't treacherous, but wear shoes. There was a place to change, but we didn't bother.
They also have public showers and ask you to rinse off well before you swim to remove all the sunscreen and bug spray you have on so it doesn't pollute the clear water.
When Tiny Traveler was a bit more than a year old we took her to Kantun-Chi , one of the more low-key "eco parks." They had an underground river tour we would have liked to do but we thought it would be too cold for a toddler, and the guys at the admission booth concurred.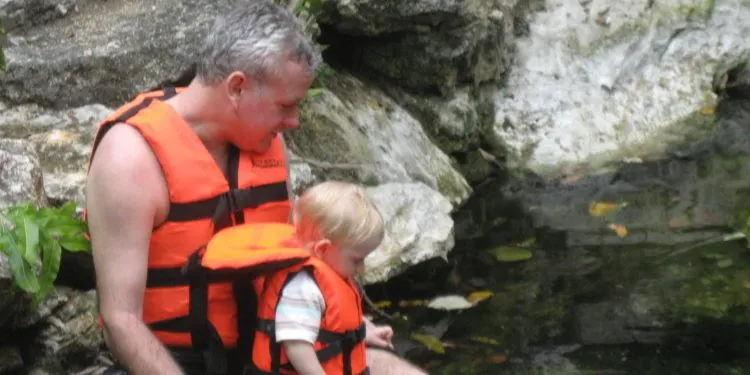 Instead, we took life jackets and a map showing us a path through the jungle to more than half a dozen cenotes; some were ankle deep and others were crystal clear pools 20 to 40 feet deep.
Tiny Traveler splashed in some of the shallow water, but she preferred wandering the trails and scrambling around on the rocks while we took turns swimming in the deeper pools. She napped soundly on the way home, always a sign of a good time.
As a tween there would definitely have been more jumping and swimming. The safety pup in me would put a swim vest on all but the strongest swimmers, even if they aren't required, just because the cenotes are so deep.
Tip: Some of the cenotes have fish down near the rocks. But the water is so clear that you can easily see them with goggles or a mask, so be sure to pack some.
Snorkel the Great Maya Reef
The Mayan Riviera's coast runs parallel to the Mesoamerican reef, one of the largest reef systems in the world. If your kids are old enough to swim safely in deep ocean, make the effort to go snorkeling.
Not that it will take much effort. Any hotel will run tours—often leaving right from its own beach. You'll take a zodiak a short way out to the reef, get your fill of snorkeling and be back in less than two hours.
Be aware that the water near the shore is calm because the reef protects the coast. Out by the reef the currents are strong and water is quite choppy. Definitely snorkel with a life jacket and fins, and keep kids close.
Riviera Maya has been fighting off an invasion of sargassum seaweed for a few years now. I don't think it's causing problems out in the open water around the reef, but on the beaches and close to shore it's a menace.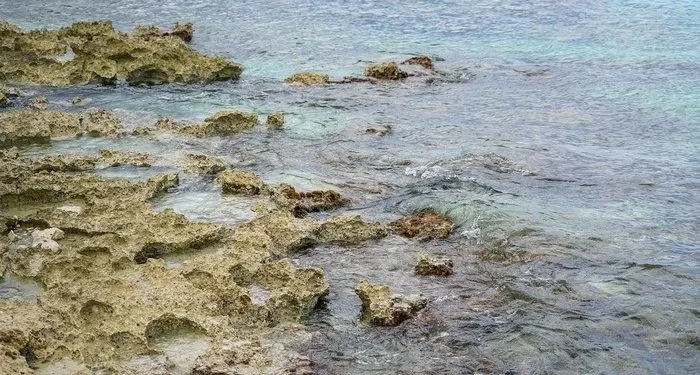 A few years ago it was possible to find snorkeling off the beaches, especially if you had a rocky outcrop nearby. It wasn't stellar, but it was pretty good and an easy (and free) way to snorkel with younger kids who can't handle the deeper water.
The resorts are putting up barriers to keep the seaweed off their beaches, and unfortunately it seems to also be keeping the fish from coming close to shore. Also, a good amount of seaweed gets through anyway which makes the water murky and not pleasant to float around in.
The local government is working on the problem, but in the mean time, check reviews of any beaches or tour companies to see if the sargassum is impacting their snorkeling.
Tip: We didn't see sargassum on the beaches in Cozumel, so you might consider a day trip to Cozumel for off-beach snorkeling or just seaweed-free swimming.
Explore Mayan Ruins
On my most recent visit to the Yucatan I went to the Mayan ruins at Coba. I'd always heard that Coba is underwhelming compared to other complexes but I didn't find that to be the case at all.
Coba is more in ruins than Chichen Itza, and areas around it are still being excavated. It used to get far fewer visitors than other area Maya cities. But it's main pyramid is the only one in the Mexican Yucatan that you can still climb (for now) and I think this is probably drawing more visitors to it.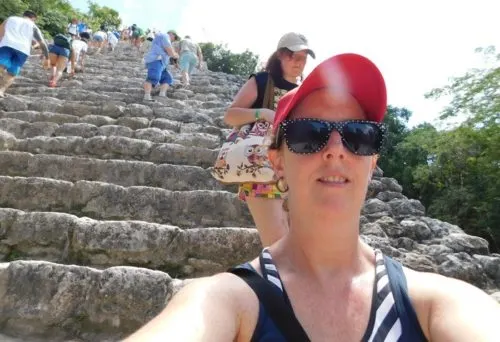 On the hot August day we were there, it wasn't packed by any means, but it was definitely busy. You won't be the only person climbing the pyramid as the photos posted on various tour websites seem to suggest.
This cluster of Mayan ruins is built alongside a lagoon and is somewhat spread out. There is pyramid, a ball court and other small structures a short walk from the entrance. Then the main pyramid that you can climb is about two kilometers away.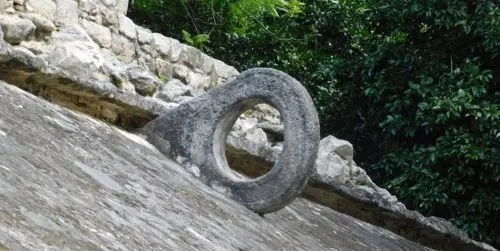 You can rent bicycles inexpensively to ride there and back or hire a cyclo driver. Even though it's not that far, don't walk. It's hot and buggy and there are no ruins along the way; just jungle. If you're lucky you might spot a monkey up in the trees.
The biking is flat and pretty easy. Any kid who can ride moderately well and can fit on the bikes available can do it. Take careful note of where you park your bike when you get to the pyramid. You'll need it for the return ride and it's easy to forget which is yours.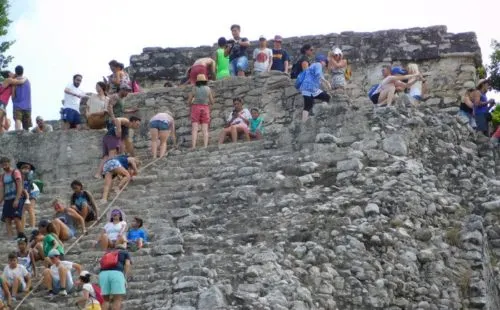 If you plan to climb leave your vertigo home and wear practical shoes. The stairs are rough, the incline is steep and many people come down on their bottoms. And stay hydrated; you want to keep your wits about you.
Tulum is a smaller collection of ruins right on the coast. It's not sweepingly grand like Chichen Itza or Coba, but it's an easy half-day trip and it reveals a lot about the Mayan way of life.
You what they built and why, and how large and sprawling their communities were across the Yucatan. I came away appreciating how much more advanced they were than European invaders gave them credit for.

It's doable with kids who can deal with a 45-minute tour. It's fine with a baby if you have a carrier and can protect him or her from the sun.
It would a frustrating place to visit with a toddler or preschooler because you're right next to the ruins but can't touch or climb on them.
If you need to cool off, there's a small beach below the ruins where you can swim (photo, top).
Tip: You can do Tulum and Coba in one day. They are close enough to each other and neither takes more than an hour or two.
The complexes and what they tell us about Mayan culture are different enough, too, for both to be interesting and to complement each other.
Chichen Itza, a large complex of Mayan pyramids and ruins, was the highlight to my first Cancun vacation in high school.
It's also a full-day trip that requires a long, boring drive into the jungle (and back again). It attracts large crowds and you can no longer climb the pyramids or get that close to them.
It's still a unique and spectacular destination.
The sightseeing-to-driving-time ratio is better for Coba and Tulum. But if you're traveling with teenagers who are at all willing to make the trek to Chichen Itza, go.
Just plan on giving a day over to it and join a group so you don't have to do the long drive yourself.
Tips: If you don't go with a group join a tour or hire one of the guides hanging around near the entrance.
They can explain what the ruins are and why they're significant. You won't get as much out of your visit otherwise.
Visit A Traditional Village
The last stop on our half-day tour that included Coba and the Cenote was a stop at a traditional Mayan village, which was easily the highlight of the day. One of the villagers showed us how they use raised beds with mixed plants to yield several kinds of produce in a small space.
He explained how they build their huts, weave hammocks, grow medicinal plants, keep a growing community of stingless bees for honey and how they cook.
Kids peeked out of huts at us curiously and women made tortillas that we got to sample with scrambled eggs from their chickens and herbs and salsa from their garden.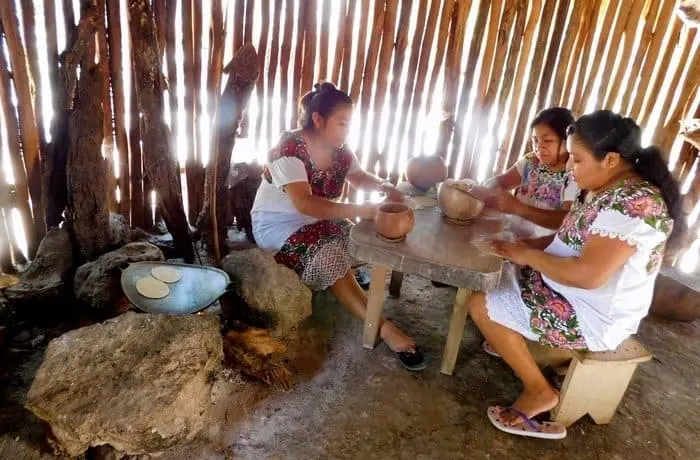 The Village is relatively new. As local families find the bigger towns becoming too crowded and expensive some are recreating traditional villages to live more economically.
Go Wild at Eco Theme Parks
Xcaret (top) and Xel Ha theme parks are pricey and more than a little gimmicky. But each has a huge variety of genuinely cool eco-adventure activities all in one place. They're a great thing to do if you're staying in a vacation rental and want resort amenities and convenience for a day.
They're also very handy if you need to entertain kids of different ages. Preschoolers and toddlers will be happy with the playgrounds, wading pools and tamer wildlife attractions (Xcaret has a butterfly pavillion and turtles) while older kids and teens can rock climb, zip line, snorkel and more.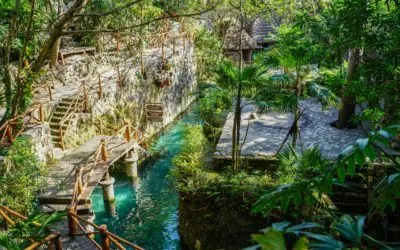 They have packages that include meals and drinks, which are probably worthwhile if you plan to spend the whole day.
A less commercial option with kids and teens is the Sian Ka'an Biosphere Reserve, a UNESCO site that offers bird watching, kayaking, fly fishing and small boat tours.
Mayan Riviera Hotels and Rentals
One of the reasons I've returned to Cancun and Riviera Maya as often as I have is that its resorts offer excellent value for families, especially compared to other parts of the Caribbean.
When Tiny Traveler hit her school-age years we returned to the Maya Riviera to stay at an all-inclusive resort and had a really fun time.
But with a toddler we didn't think we'd get our money's worth out of all the amenities and activities at a big all-inclusive resort. We also wanted to be able to prepare food for her and perhaps for ourselves as well. And we wanted space to hang out while she napped and after she went to bed.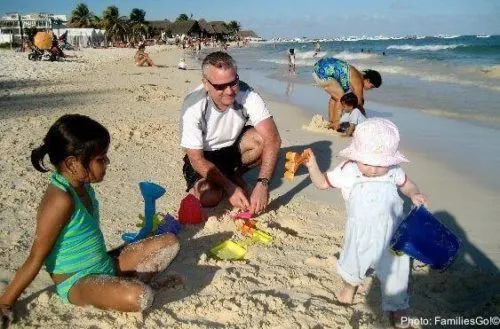 We rented a vacation condo one block off the beach, just beyond the end of the main strip in Playa del Carmen and it was just the right thing.
We also rented a playard from an expat who runs a concierge service and shopped at the bodega on the corner for organic milk, fresh eggs and cheese and good tortillas.
We made lunch and brought in dinner a few times, and we had a living room and large patio for reading and talking while our daughter slept. Every time we went to the beach local kids came over to play with her, which was probably the best part of the trip as far as she was concerned.
Practical Information:
Safety:
Cancun and the Mayan Riviera have largely avoided the drug and gang violence that has put other parts of Mexico off limits to tourists for now.
The State Department rates the area Yucatan area a Level 2 (exercise increased caution). But keep in mind that incidents have been rare, the peninsula sprawls and most of it doesn't have enough population density to attract trouble, especially around the resorts, eco parks, ruins and cenotes. They are rating Mexico as a whole a Level 3 because of a recent uptick in Covid cases and a slow vaccine roll-out..
To be on the safe side I would exercise more awareness of the neighborhood I'm in and who is around me in central Cancun and the larger towns.
Getting Around:
If you don't want to find your way on your own, tours are easy to find (hard to avoid?), especially if you're staying at a resort. Many of the tours will combine several activities like visiting ruins and a cenote.
Driving is very manageable in this part of Mexico if you want to go around on your own. Aside from going to Chichen Itza, one main highway runs the length of the peninsula. It's in reasonably good condition and clear signs direct you to the major tourist destinations and resorts.
Note: Car seats are not required for kids in Mexico. The one we got from Hertz was older than I would have preferred and the staff didn't know how to install it. If you still use a car seat this is one place I would recommend bringing your own.
What to Pack For Day Trips:
Sport sandals or hiking shoes that can get wet are your best bet for most of these activities. Kids can probably wear their Crocs as long as you think they provide enough support on uneven and rocky terrain.
No matter what you plan for the day, bring sunscreen, bug spray, hats, sunglasses, plenty of water and bathing suits, towels and goggles or snorkel gear for swimming.
A Handy Playground:
If you're in Playa del Carmen with kids under 10, head for the southwest end of town. Make your way passed the frat boy bars to the beach between Avenida Benito Juarez and the ferry dock.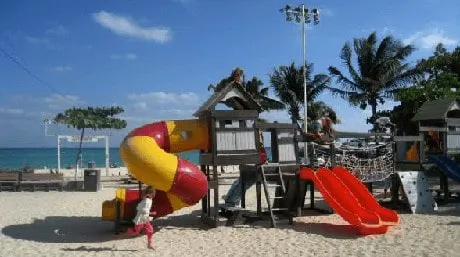 You'll find Parque los Fundadores, a pocket park with a colorful playground. There are small climbing walls, swings and a twisty slide. It's best on a cloud day or early morning. It's hot in the sun.
Bring water and look for the cheap snack vendors nearby when you need to cool off. Tiny Traveler was too small for much of it but kids 5Yo and up will love the chance to climb and swing in a place just for them.
Pin it for later!